If you're looking to hang a pair of curtains, you may be asking yourself which is better… a curtain pole or a curtain track. Both offer a great solution, but each have their own benefits and functions that may be better suited to your specific requirements and tastes. So, here's some insight into both options to help make your choice just that little bit easier.
When making a decision between a curtain pole or track you will need to consider:
The functionality you require – for example, do you need a bay solution, motorised option, ceiling fitting etc.
Curtain heading type – for example, if you have eyelet curtains, these are only suitable for a curtain pole.
Interior scheme / style – are you after a modern look or something more traditional?
Window size and shape.
Room size – it's important to ensure the proportions of the room stay balanced.
Fabric type – heavy embroidered fabrics and velvets lend themselves well to corded curtain poles, whereas light voiles are perfect on a slim curtain track.
Curtain Poles
Curtain poles are a fabulous, more decorative way to hang your curtains. Paired with your chosen fabric and the right set of finials, a curtain pole can make for a perfect design feature, bringing a sense of style to any window.
The functionality of a curtain pole is ideal for most types of curtain headings. If you have eyelet curtains, a curtain pole will be your only choice due to the design of the eyelets. The poles also complement pinch pleat, pencil pleat, goblet and gathered headings particularly well, helping to offset your curtain choice. Furthermore, some curtain poles can be bent, offering the ideal bay window solution for a variety of shapes, including L shaped bays.
We have categorised our curtains poles to help you refine your search and navigate to the best product for your requirements.
You can search by Material:
Or by Functionality: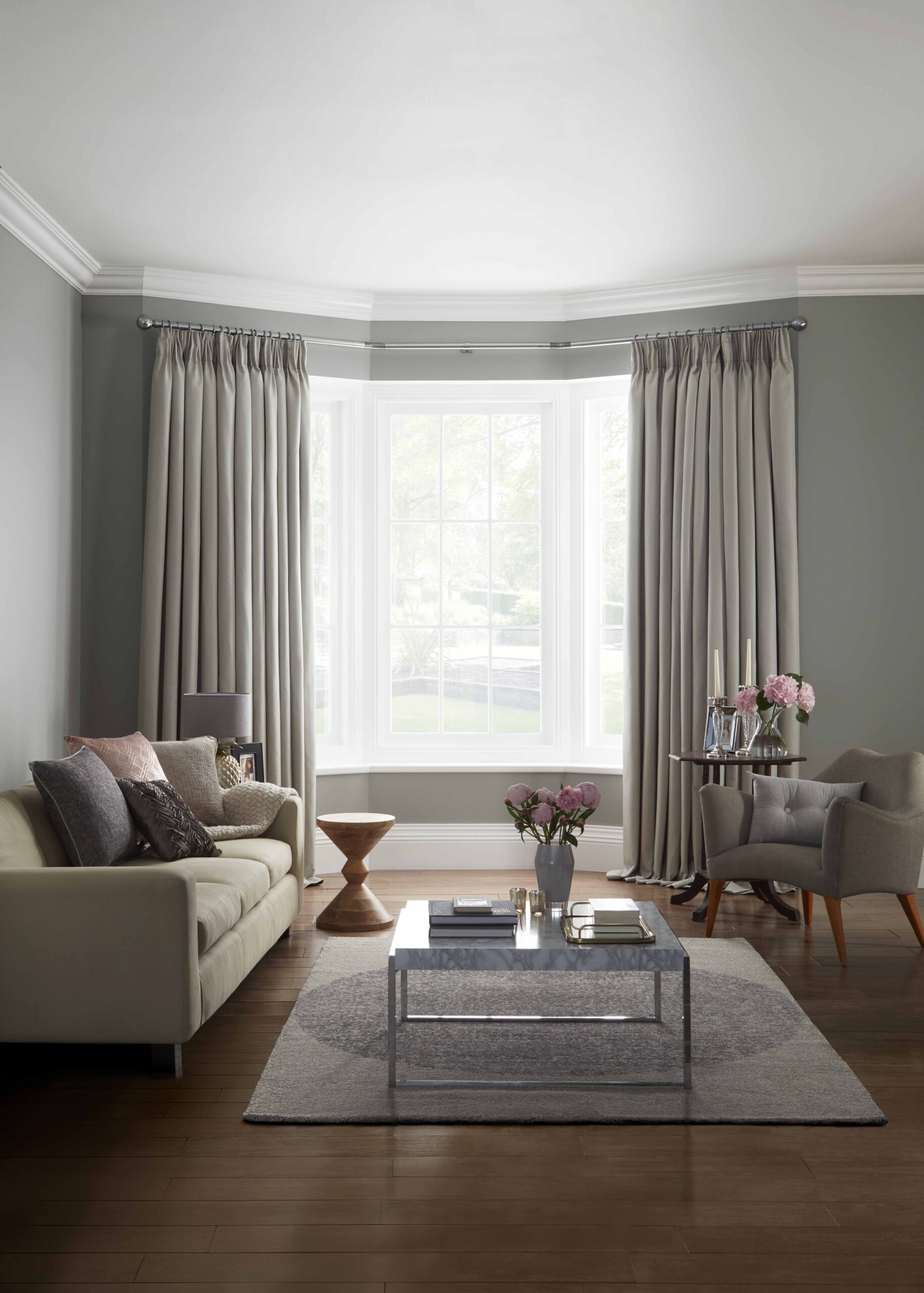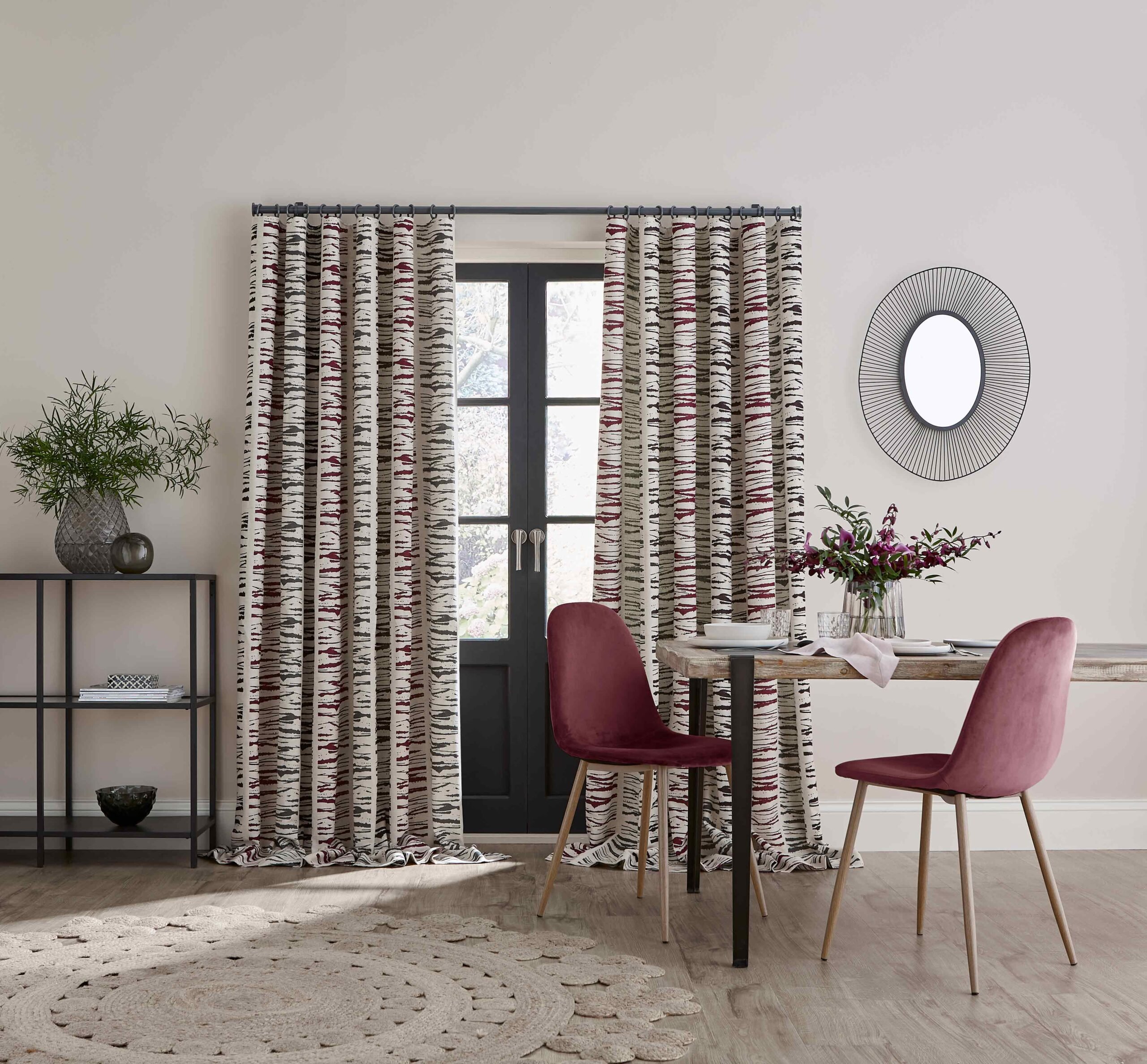 With a range of styles, finishes and colours also available, this type of window accessory is truly versatile, complementing a variety of interior design styles.
If you're hoping to achieve a more contemporary feel, you may wish to consider a metal curtain pole. We offer an extensive range of poles in a variety of gorgeous metal finishes, including the Jones Lunar, Jones Strand and Rolls Neo metal pole ranges. These collections are simply beautiful and offer a range of stunning finial styles to suit your individual taste. Alternatively, for a real "wow" factor you could consider the new Jones 50mm Esquire or Rolls Galleria 50mm ranges. These are perfect for that added touch of luxury and work particularly well in room with tall ceilings or at extra wide windows. They also work well with opulent fabrics such as a jacquard or velvet to balance the look.
For a more understated look, pair it down with the new Hallis Hudson Arc or Cameron Fuller metal pole ranges. These are available in a plethora of powder coated finishes for a modern, simple yet elegant finish to your window.  Finally, the Swish Soho range is also a popular choice.  This is a metal curtain pole featuring a wood effect laminate wrap. It is available in wood effect finishes to complement modern interior design styles and colour schemes.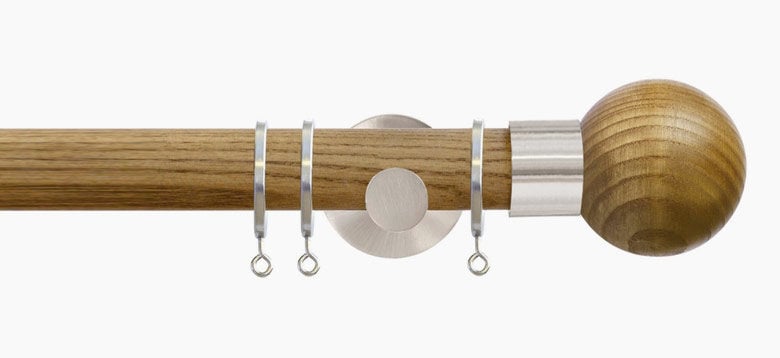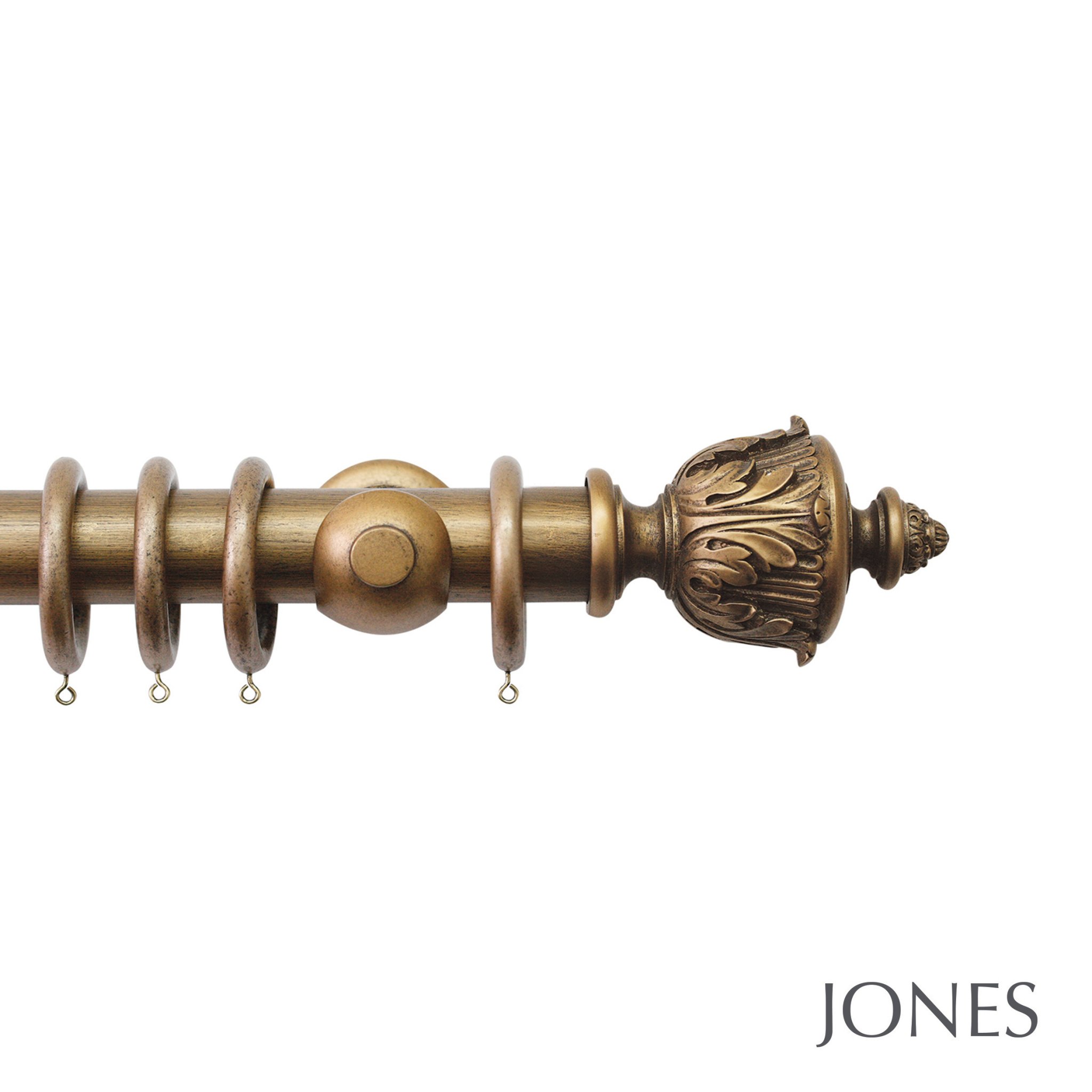 Our curtain poles are also available in variety of diameters, from slimmer 19mm poles to wider 50mm poles and beyond.  So, whether you're seeking a statement window dressing or more of an understated look, you can be sure there is something for everyone.
Curtain Tracks
When it comes to hanging your curtains, a curtain pole may seem like the most obvious choice. However, curtain tracks offer a more discrete, contemporary alternative, perfect for modern, minimalist interior design styles. The subtlety of a track enables the curtains to take centre stage, so if you have selected a particularly striking fabric that you'd like to showcase, then a track could be the ideal solution for you.
The curtain track market has moved on from the days when they were only available in white!  They are now available in a range of contemporary colours and diameters to suit your individual taste and interior scheme.
We have categorised our curtain tracks to aid your search and help your purchase decision.
You can shop by:
The functionality of a curtain track enables a smooth operation that is often quiet and effortless. They are also compatible with most curtain headings except eyelet curtains, so are quite a flexible option. The wave curtain heading is exclusive to curtain tracks with specially designed wave gliders to create the desired wave effect. Wave curtains are growing in popularity and are ideal for rooms with large windows, bi-fold or sliding doors. A main advantage to the wave heading is that it offers a nice, slim stack back. This enables the light to flood into a room and really show off the glazing. Please see our range of Silent Gliss track systems suitable for wave curtains.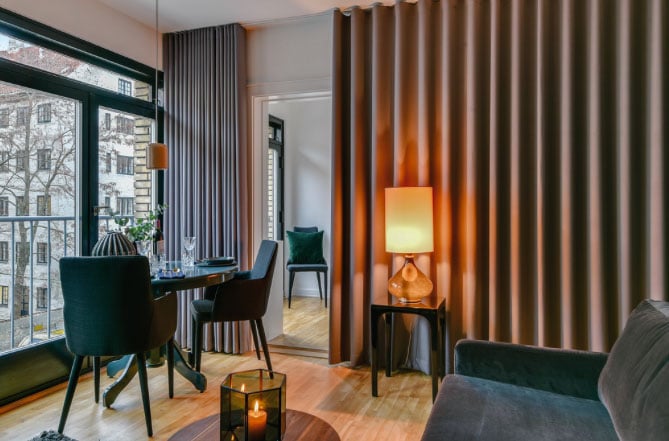 Curtain tracks can be easily bent to suit your desired angles, making them the ideal solution for bay windows. They can also be joined to achieve extra wide widths, ideal for wide windows and bi-fold doors often seen in extensions and modern interiors.
Curtain tracks are also ideal for ceiling fixing, particularly on tracks that use the clamp style brackets. The Silent Gliss 6840, Silent Gliss 6870 or Silent Gliss 6010 tracks are all great examples.  The clamp style bracket enables a flush fit to the ceiling for a neat, simple look.  A curtain track is also ideal if you'd like a single curtain drawing from one side of your window or door to the other.  The brackets don't interfere with the glider channel, enabling flexibility of where the curtains can draw to.  Finally, if space is limited where you are fixing the brackets, a curtain track may be a better solution. This is because the brackets are smaller.  Please see 'bracket tab' on the individual curtain pole and curtain track pages for bracket dimensions.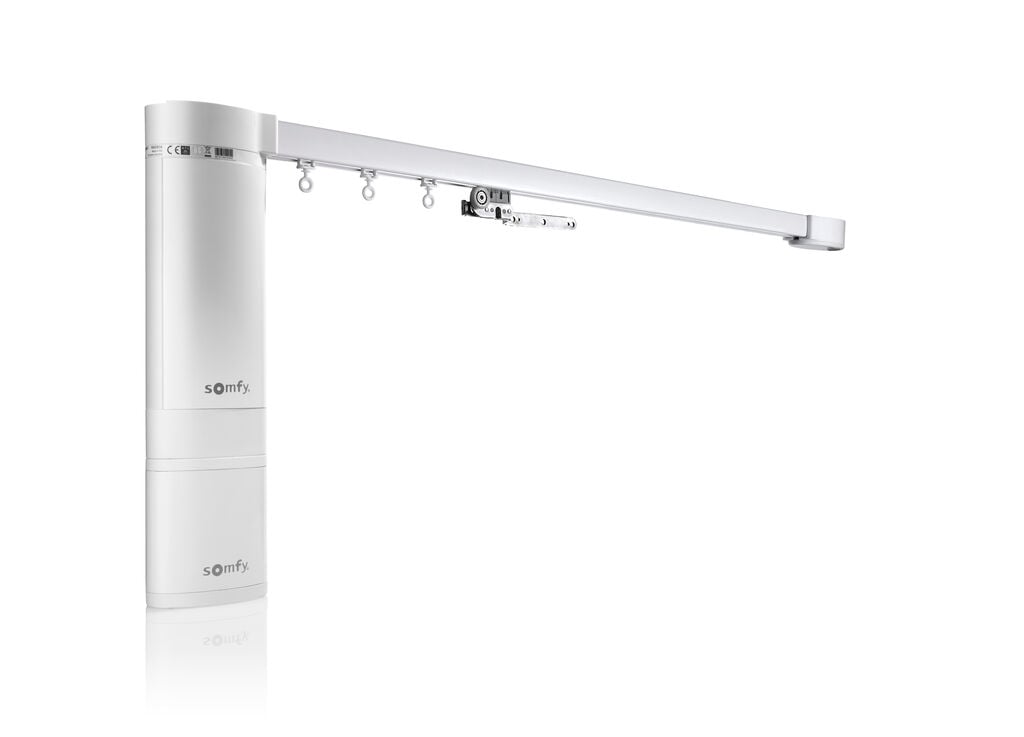 Another fantastic advantage of curtain tracks is that, not only are they available hand drawn or corded, but some offer an innovative motorised function. Please see our range of Silent Gliss and Somfy motorised curtain tracks. Offering a sleek finish with home automation capabilities, these tracks can provide an extra layer of privacy and security to your home for that simple, tranquil feel all year round!
Certain curtain tracks can also be recess ceiling fitted for a streamlined, hotel chic at home look!  The Silent Gliss 6243 is our most popular hand drawn ceiling recess track.  The Blindspace Reese Recess profile also offers a ceiling recess option for our motorised tracks.  This, paired with a set of full-length, floor to ceiling wave curtains can look really effective, offering a neat, luxurious, Showhome Chic feel.
What If I Can't Decide?
Curtain poles and curtain tracks each have their own benefits and styles, but what if you like elements of both and can't decide? If you like the look of a curtain pole but admire how the curtain tracks operate, then we provide a few options that may just solve your dilemma.  With the Silent Gliss Metropole and our range of corded curtain poles, you don't have to choose.
The Silent Gliss Metropole is a popular track range.  It features a round profile which mimics the look of a pole but offers the functionality and benefits of a curtain track.  For a simple look, opt for the flush or stud end caps. If you'd prefer something a little more traditional, the ball finials are also a popular choice.  A corded curtain pole also combines the beauty of a pole with the functionality of a track, so you can truly have the best of both worlds!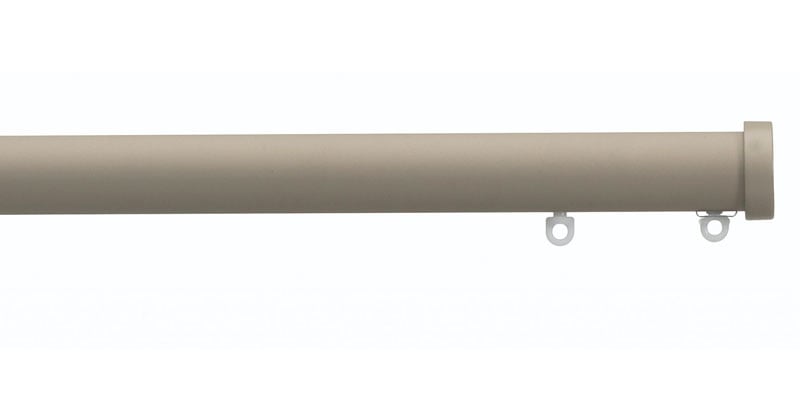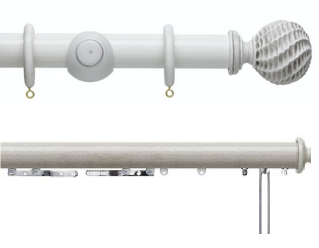 If you would like any help or advice regarding a curtain pole or track, please do get in touch and we will be happy to help!  Photos of your rooms / windows are always useful so we can give informed advice.
Email: sales@thehomeofinteriors.co.uk or give us a call on 01590 615775.