Silent Gliss System 6840 Uncorded Aluminium Curtain Track – compatible with wave curtains – round track profile
Silent Gliss 6840 curtain track is a neat, attractive curtain track suitable for medium weight curtains and compatible with the wave curtain heading available in 6 contemporary colours.  An upgrade to roller gliders makes the track suitable for heavier curtains so please select 'roller gliders' if your curtains are on the heavy side.  Purpose designed for ceiling fixing but face fix brackets are also available. This track has the same appearance from both sides so is suitable as a room divider.  The profile is curved slightly so looks aesthetically appealing.  If you would prefer a squarer profile please consider the Silent Gliss 6870 hand drawn curtain track. This track is supplied with the new 2C glider technology offering a quieter glide (14 2C gliders are supplied per metre of track).  10 roller gliders per metre are supplied as standard.  If you are choosing wave gliders the track will come with the calculated number of wave gliders for your track length.  The track comes complete with gliders, brackets, end stops and fixings. Any tracks ordered over 6m will be supplied in 2 equal halves (unless requested otherwise) with a connecting bridge.
This track is also suitable for the popular wave heading system. The wave gliders are evenly spaced either 80mm or 60mm apart and give a neat fold on your curtains for a stylish finish. Please note you do need to use specific wave heading tape so the wave gliders are not suitable for curtains with other heading types such as pinch pleat or pencil pleat. Please click here for more information on the Wave system.
This track is also suitable for bay or L shaped windows, however we do need to bend the tracks for you.  Please download our measurement form here.
Please note these tracks are all made to measure and cannot be returned or exchanged unless faulty.
Curtain Inspiration and Advice!
If you are also looking for some new curtains for your curtain track click here to view our range of Readymade Pencil Pleat Curtains.  For bespoke, made to measure curtains view our range of fabrics from leading fabric houses that can be made up into beautiful curtains with a variety of curtain heading and lining options.  Read our blog post on our hand made curtains and roman blind service.  
We are delighted to be offering a wide range of Laura Ashley curtains on our website.
Wave curtains
We specialise in the wave curtain heading and are here to offer help and advice.  We offer a made to measure wave curtain making service in a wide variety of fabrics including Silent Gliss, Clarke & Clarke, Prestigious Textiles, Ashley Wilde, Harlequin and Sanderson to name a few of the fabric houses we work with.  Click here for more information on the wave heading and shop suitable fabrics.  A wave curtain needs to be made specifically to fit your track length so the curtains arrive with the correct number of curtain hooks to match the number of gliders on the track.  If you order your track and curtains from us we will ensure these match so your curtains will be ready to hang upon delivery.  Please call us on 01590 615775 or email sales@thehomeofinteriors.co.uk if you'd like any fabric swatches sending out or would like to discuss your project in more detail.  The standard lead-time on our wave curtains is 3-4 weeks (subject to fabric availability).
Making your own Wave Curtains
Click here to shop our wave accessories including wave heading tape, wave hemming tape and Silent Gliss curtain hooks.
View our Trend Guides for Design Ideas and Inspiration.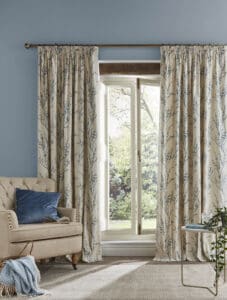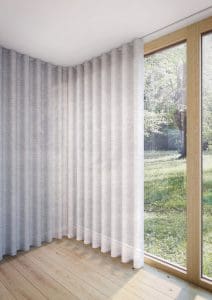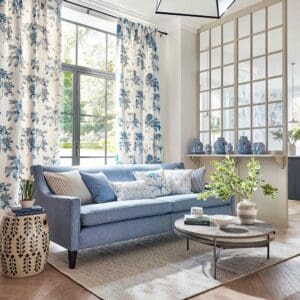 Curtains shown in images above:
Laura Ashley Pussy Willow Lined Pencil Pleat Curtains