Bespoke Design Service – complimentary service
At the Home of Interiors we pride ourselves on our personal, yet professional service and offer a range of Bespoke Design Services so you can choose the service that best meets your needs.  Free of charge appointments can be made with our Home Interiors Specialists who are passionate about all things interiors!  Their in-depth product knowledge and flair for great design will enable us to bring your vision to life.  Whether you are refreshing a room and looking for some inspiration, or embarking upon a home extension, new build or renovation we are here to help make the process easier for you.
We fully appreciate there is so much choice on the market, and feedback we get from clients is that there is often too much choice which can cause confusion.  We are here to do the sieving for you!  Should your project involve fabric or wallpaper selections, we will send you a curated range of samples that offers choice so you will still get a good selection, but without the overwhelm!
Curtain Tracks and Poles including Silent Gliss Metropole
All curtain track and pole enquiries can be dealt with more efficiently with a phone call or via email.  Photos or videos of your windows / rooms are great to help us visualise your space so we can give the most informed advice and recommendations.   Please get in touch sales@thehomeofinteriors.co.uk or call us on 01590 615775.
Our Design Service is ideal for clients who would like some advice on the best window treatment for their windows or some design inspiration including fabric and wallpaper selections along with paint colour choices.

Step 1:
Book your appointment
Choose the service that best meets your needs and book an appointment at a convenient time to suit you.
Our Bespoke Design Service will be unavailable over the Christmas period.  Please email sales@thehomeofinteriors.co.uk and we will be able to offer help, advice and recommendations by phone / email and can book a more in-depth appointment for the New Year.
Step 2:
Send us a brief / overview of your project
We will be in touch via email to request:
background information on your project to understand the scope.
any photos you have of your rooms so we can visualise your space.
inspirational images you have so we can glean an idea of your vision and style.
A notes section is available when you book an appointment so you can share details of your project.
Step 3:
Design Consultation
Whether we are meeting face to face, or virtually, or you have booked an initial phone discussion we look forward to meeting you and discussing your project in more detail.
Step 4:
Samples, Proposals and Quotations
Further to your meeting we will:
arrange for any samples to be sent to you.
follow up via email with a full proposal including links to any products we recommend.
provide quotations.
support you through the ordering process.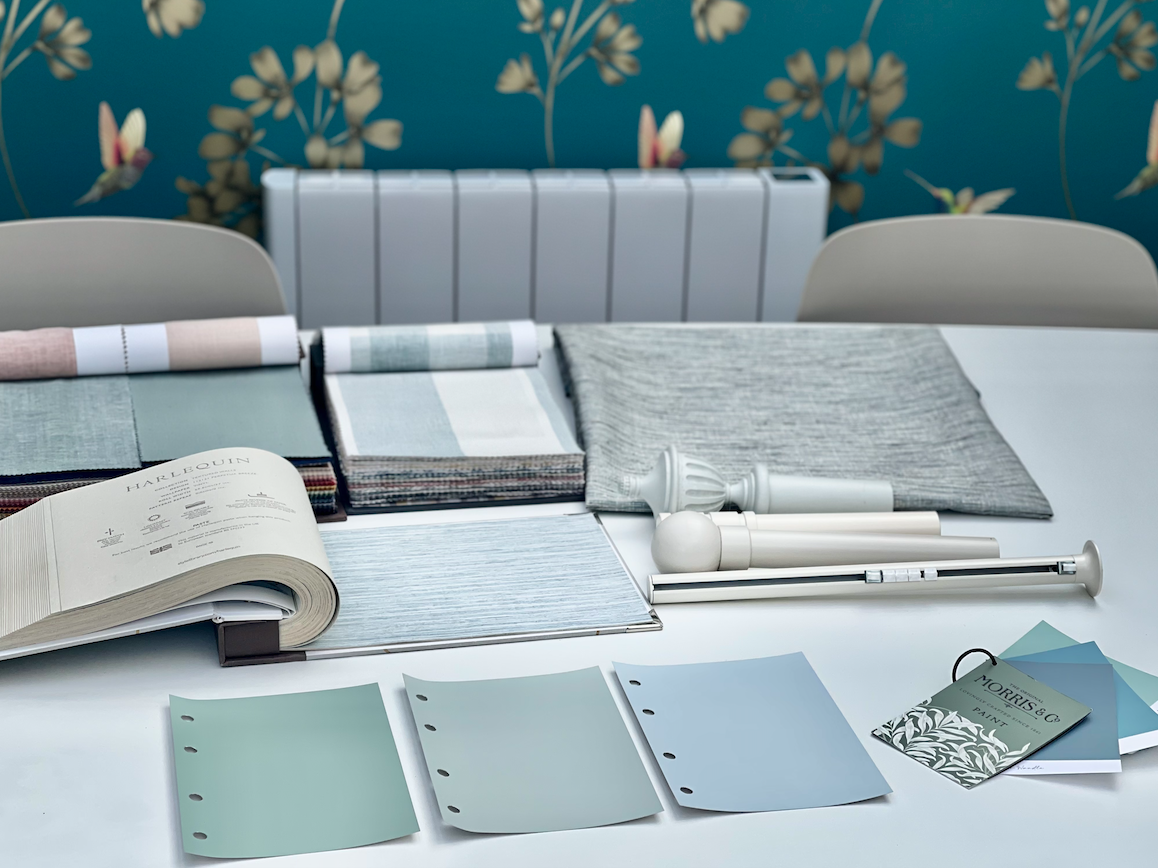 Our Design Service includes:
We also offer a range of homeware items to finish the look.  Please view our Trend Guides for inspiration and ideas.
Click here to view some of our previous projects.
We look forward to hearing from you and hope we can be of service to you with your project.
Debbie and The Home Of Interiors team x