Black is intrinsic to interior design and can create a striking design statement set against white backgrounds and natural materials.  Black window frames, bi-fold and sliding door frames along with Crittall style windows and doors are gaining in popularity and dominating Pinterest inspiration boards.  The 'Black' launch from Silent Gliss complements these interior design trends beautifully; balancing style and aesthetic with high performing, functional products.
Silent Gliss Tracks now available in Black!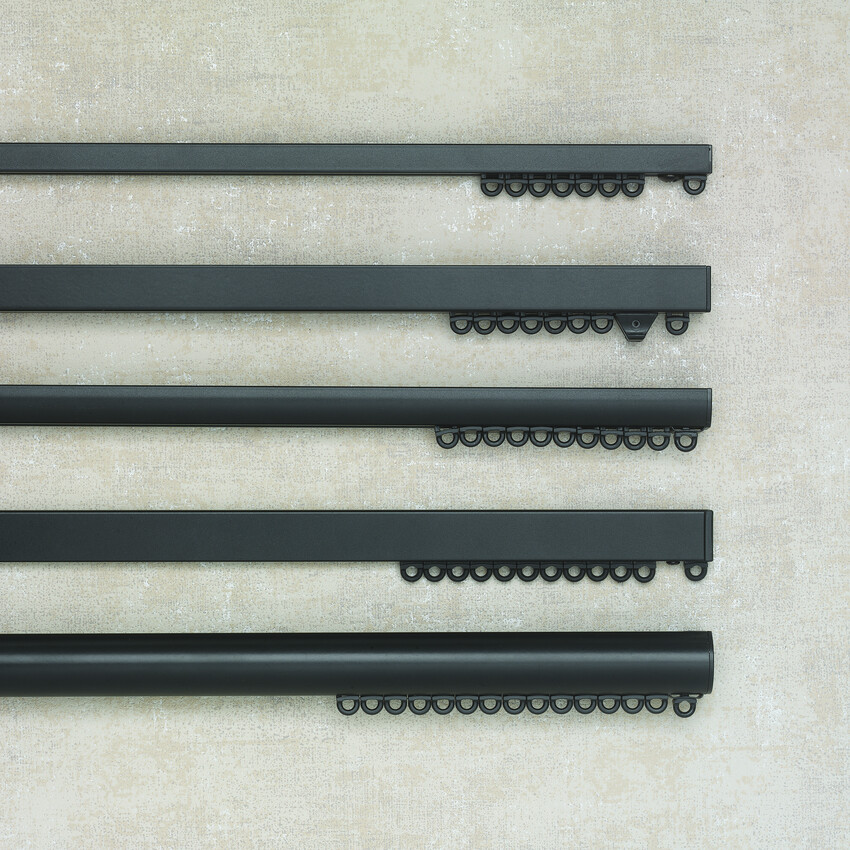 Silent Gliss Hand Drawn Curtain Tracks
The Silent Gliss best selling hand drawn tracks are now available in black and will be supplied with black gliders* along with black track components such as end stops, adjustable brakes and draw rod carriers for a sleek, polished look.
The Silent Gliss 1080 track is a popular choice for pencil pleat and pinch pleat curtains.  It is a hand operated, aluminium curtain track suitable for medium weight curtains and is available in 7 finishes to complement your interiors.
Wave Curtains
The Silent Gliss 6010, 6840 and 6870 systems are a popular choice for wave curtains.  They are all supplied with ceiling clamp brackets when top fixing for a flush ceiling fit.  Floor to ceiling wave curtains deliver an elegant, sophisticated look.
The Silent Gliss smart fix brackets are supplied for wall fixing which are colour matched to the track profile.
Black curtain hooks can be added to your track order for a cohesive look.
*Please note roller gliders and wave roller gliders are not available in black, but all 2C and standard 60mm and 80mm wave gliders can be ordered in black.
Recess Fitting
Recess fitting your curtain track into the ceiling will deliver a hotel chic at home look!  Recess profiles are now available in black to co-ordinate with your interiors.  The profiles are supplied with end masks and wedges to secure the tracks in place, which are now supplied in black when the black profile is ordered.
The following recess systems are now available in black:
Hand drawn tracks – Silent Gliss 6465, 6870 and 6970 (for heavy duty usage)
Corded tracks – Silent Gliss 3870
Motorised tracks – Silent Gliss 5600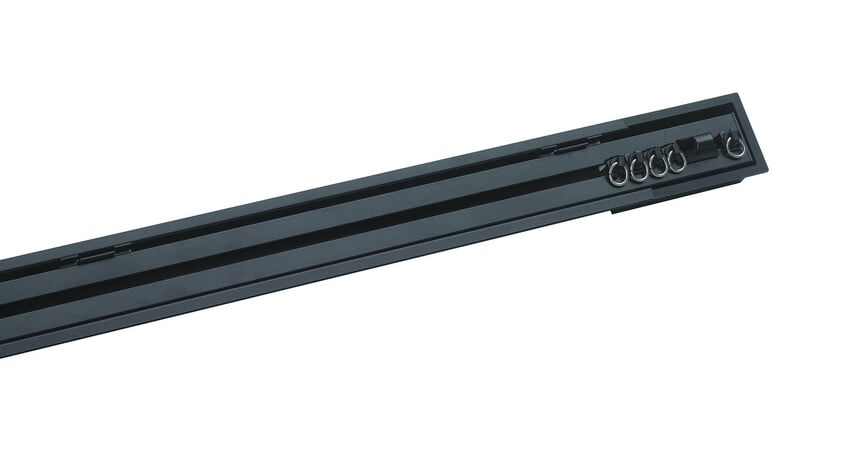 Silent Gliss Corded Curtain Tracks
A corded curtain track is a popular choice if your curtains are positioned in a location that makes them tricky to draw by hand.  They can be useful for curtains drawing behind a sofa or furniture.  They are also popular for delicate or light coloured fabrics so that you can open and close your curtains without touching them.
The Silent Gliss 3840 and 3870 tracks are now available in black for a corded operation.  The 3840 has a rounded profile, whereas the 3870 has a square shaped profile.  All track components will be supplied in black when a black track is ordered, including overlap arms, cords, enhanced wave (for wave gliders), brackets and gliders.
*Please note roller gliders and wave roller gliders are not available in black, but all 2C and standard 60mm and 80mm wave gliders can be specified in black.
Motorised – Silent Gliss system 5600
A motorised curtain track offers the ultimate convenience.   Your curtains can be opened and closed at the touch of a switch, or depending on your control options can be set to open and close at specific times during the day.  A motorised track offers increased security enabling your curtains to open and close whilst you are away from your property.
The Silent Gliss 5600 motorised curtain track offers a smooth, super silent and fast operation, and is available with hard wired or radio control options.  Now available in black for wall, ceiling or recess ceiling fitting.  When a black track is ordered the SG 9060 motor is supplied in black, along with the radio module, power cable and all other track components.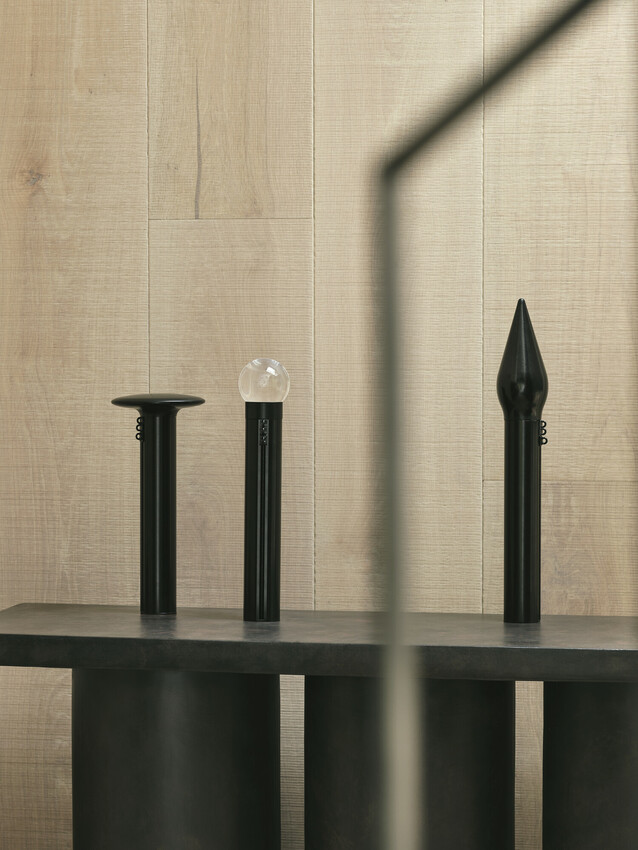 Silent Gliss Metropole now with black components
Whilst a black finish has been available in the Silent Gliss Metropole portfolio for many years, when a black Metropole is now ordered the track components are also supplied in black to complement the black finish.  For corded Metropoles, the overlap arm is however still white and the cord is black with a white fleck.
Black gliders and track components can also be specified on other coloured tracks within the Metropole portfolio.  The glider colour (black or white) can be specified when ordering your Metropoles and the track components will be supplied to match your glider choice.
Smart fix wall brackets and finials will be supplied the co-ordinate with the colour of the track.
Please note the black finish isn't available in the 23mm Metropole.
Layering
Layering offers flexibility in shading and privacy throughout the day.  A popular option is to feature a voile / semi-sheer on the back track, with a thicker or blackout lined curtain on the front track.
If space is limited depth wise, a Swiss Pleat voile layered with a Wave curtain offers a slimmer alternative to two layered wave curtains.
Double tracks can be ceiling or wall fixed.  For wall fixing the Smart Fix Universal Extendable brackets will be required to allow enough room for the 2 tracks to fit.
The Silent Gliss wave curtain heading tape is now also available in black.  This enables the top of the curtains to co-ordinate with your windows or doors from outside and complements unlined voiles / curtains in dark colours, or curtains with a grey or black lining.
Shop the Silent Gliss fabric range here.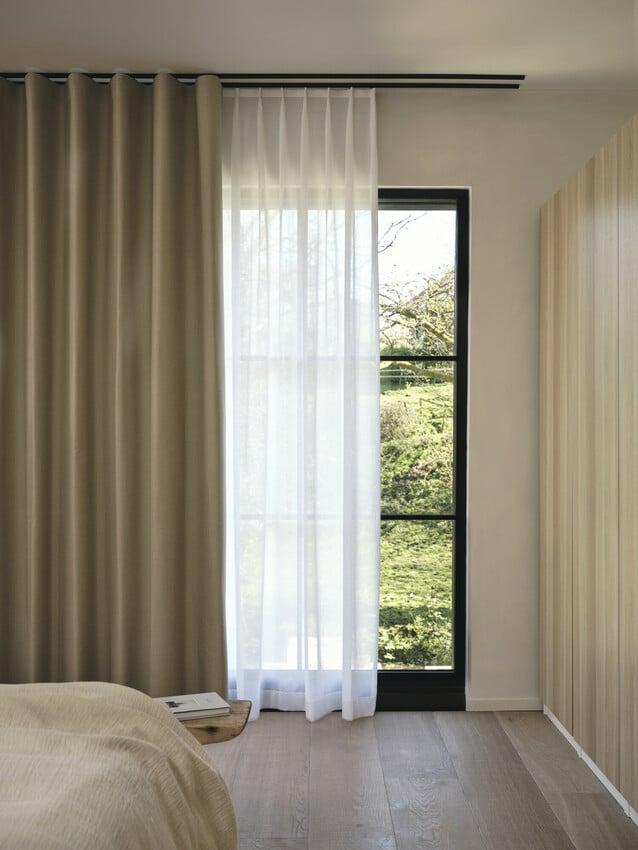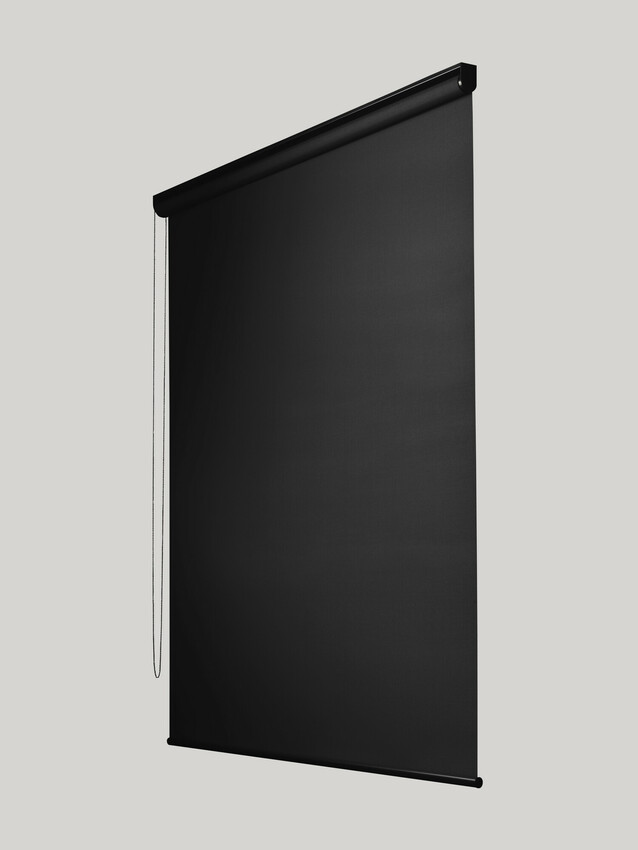 Silent Gliss Roller Blinds
The Silent Gliss Roller Blind systems 4910 (chain operated) and 4960 (motorised operation) are also now available with black headrails, brackets, bracket covers and bottom bars.  The operating chain colour remains in stainless steel.  The motorised roller blind system is also supplied with a black motor.
Round and rectangular bottom bars are available with metal end covers for a polished finish.
Silent Gliss Roman Blinds
The Silent Gliss Roman Blind system 2305 is now available with a black headrail, child safety drive and lift cord.  The operating chain is stainless steel with a black tint.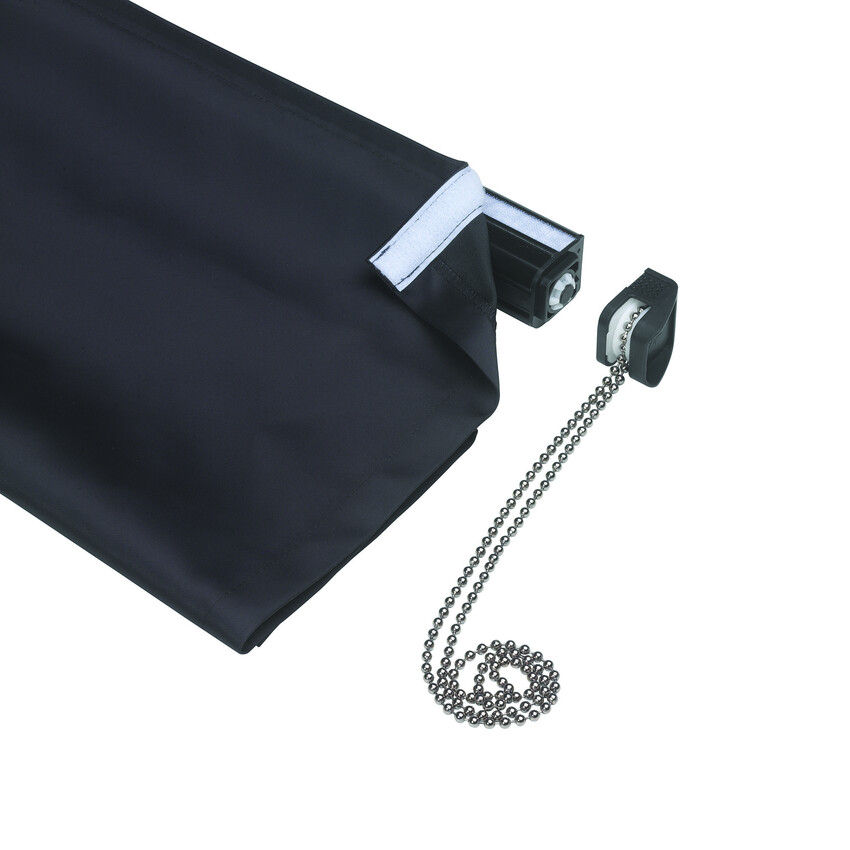 In Conclusion
The 'black' launch from Silent Gliss takes the design of curtain tracks and roller blinds to the next level, offering co-ordination in colour throughout the full product for a truly stylish, sophisticated look.  Design meets performance in the Silence in Black launch from Silent Gliss.
If you are embarking on a home project and would like any help or inspiration, please do get in touch. We offer a bespoke design service and can provide fabric, design and paint colour advice to help you create a home you love.
Email sales@thehomeofinteriors.co.uk or call us on 01590 615775.
Follow us on Instagram and Facebook: @myhomeofinteriors