Decorating your child's bedroom can be an exciting venture for both you and your little one. It incites creativity, fun and imagination for a scheme that reflects joy and personality.
A place to sleep, play, learn and retreat, your child's room should be the perfect balance of playful, practical and adaptable décor. Multifunctional use and choices that can accommodate their needs as they continue to grow are key to this setting and are a good consideration to carry through all elements from wall décor and colour schemes to furnishings and storage solutions. To help guide and inspire your creative project, we have pulled together some useful styling ideas and tips with acknowledgement of interior trends for 2023.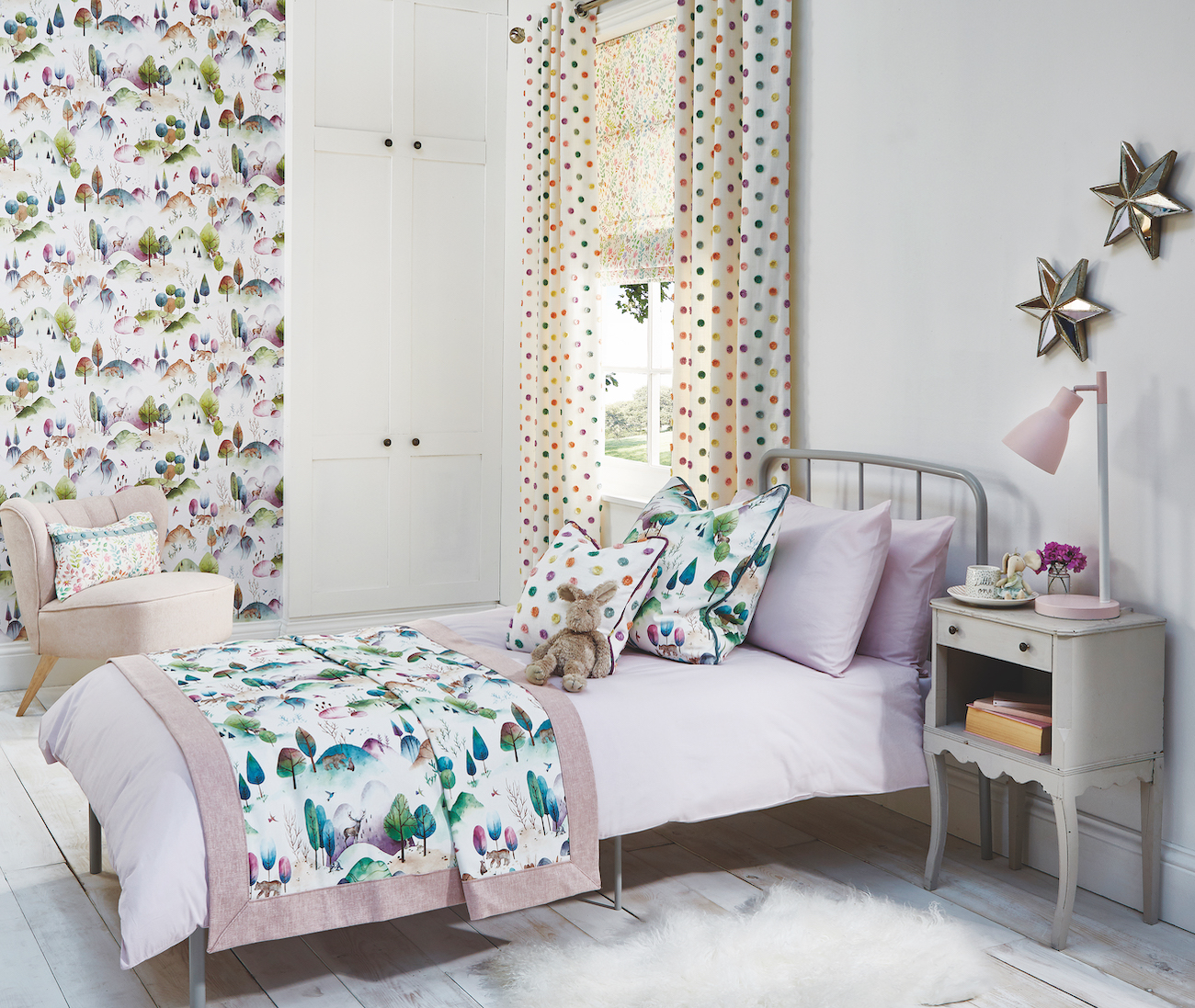 Paint
Your child's bedroom is the ideal place to embrace their colourful visions! Splashes of bold, vivid paint colour through walls and furniture bring an uplifting feel to the space as colour confidence continues to trend in the world of interior design. Deep tones through to softer pastels and stunning brights are sure to make a fun impact! Why not incorporate tones of your little one's favourite colour to radiate their passion and individual character! Image 1 below shows how Little Greene's Pale Lupin 278, Welcome 109, Yellow Pink 46 and Mister David 47 paint colours have made a splash with contrasting yellows against the beautiful painted whale design.
If you'd prefer a gentler, more calming scheme, you could consider a palette of natural greens, a popular on trend colour for 2023. Paints such as those in the Little Greene Green Stone family (shown in image 2 below) add an earthy feel to the space, bringing the outside in so your child can embrace the soothing effects of the natural world. Teamed with complementary warm neutrals, these tones work beautifully with organic and / or eco materials for a touch of nature-inspired comfort.
Given the setting, it may also be worth considering a durable, washable paint finish that is easy to maintain to keep the walls looking fresh! We would recommend Intelligent Matt Emulsion by Little Greene, Elite Emulsion by Zoffany or Active Emulsion by Sanderson. The Little Greene intelligent, water-based finishes (including Absolute Matt Emulsion) are also certified as child-safe under 'Toy Paint Regulations', formulated without any harmful or toxic ingredients so you can decorate walls, woodwork, cots and even wooden toys with confidence.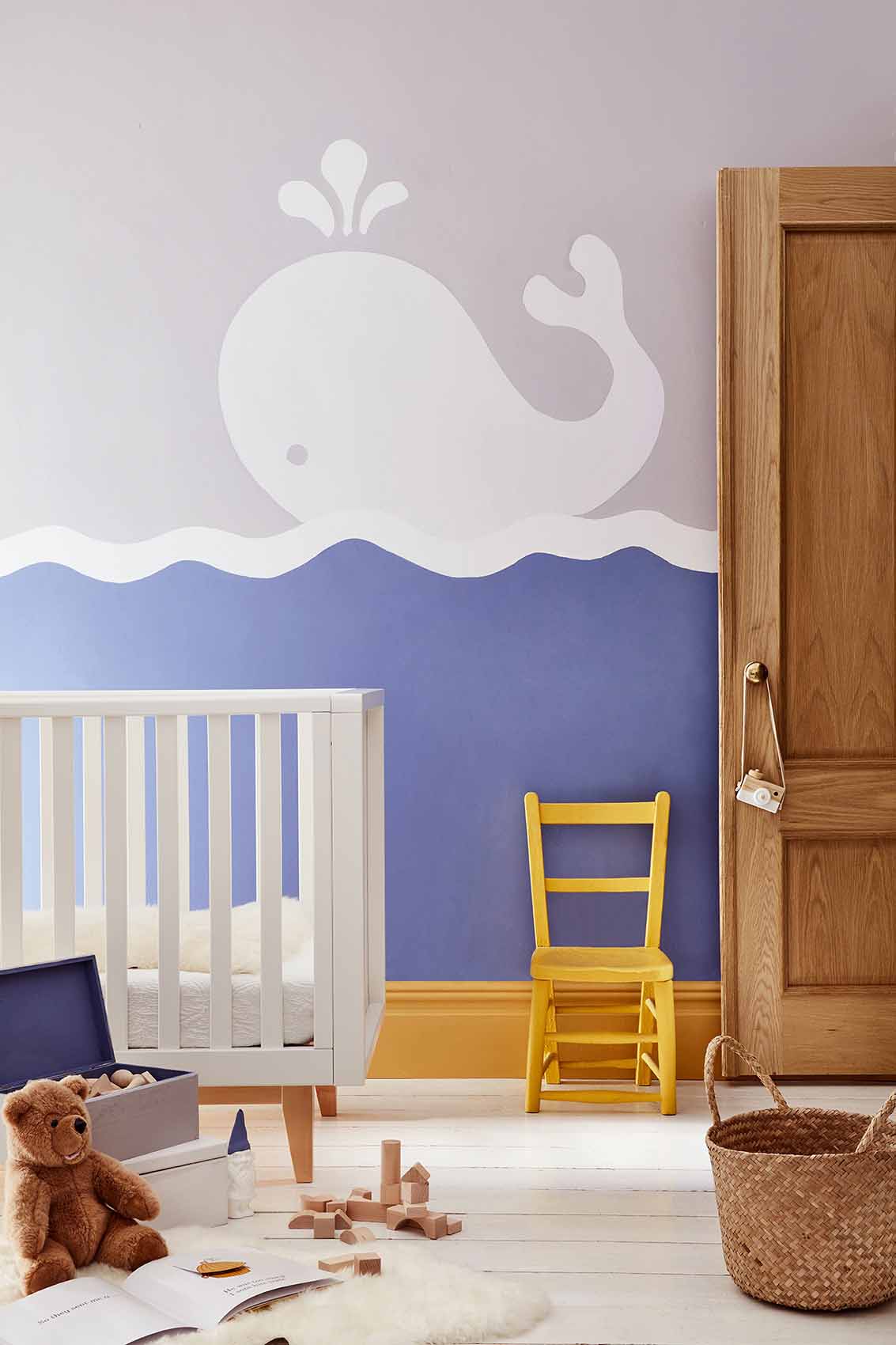 Wallpaper
Alternatively, you may wish to opt for a brightly patterned wallpaper. Designs featuring safari / woodland animals are a popular choice, working well to bring colour, as well as a playful theme to the room. We particularly love the Safari Park (image 1 below) and Peek A Boo (image 2 below) wallpaper designs from the spectacular Big Adventure collection by Prestigious Textiles. Other popular themes include marine life and outer space, creating a real sense of adventure.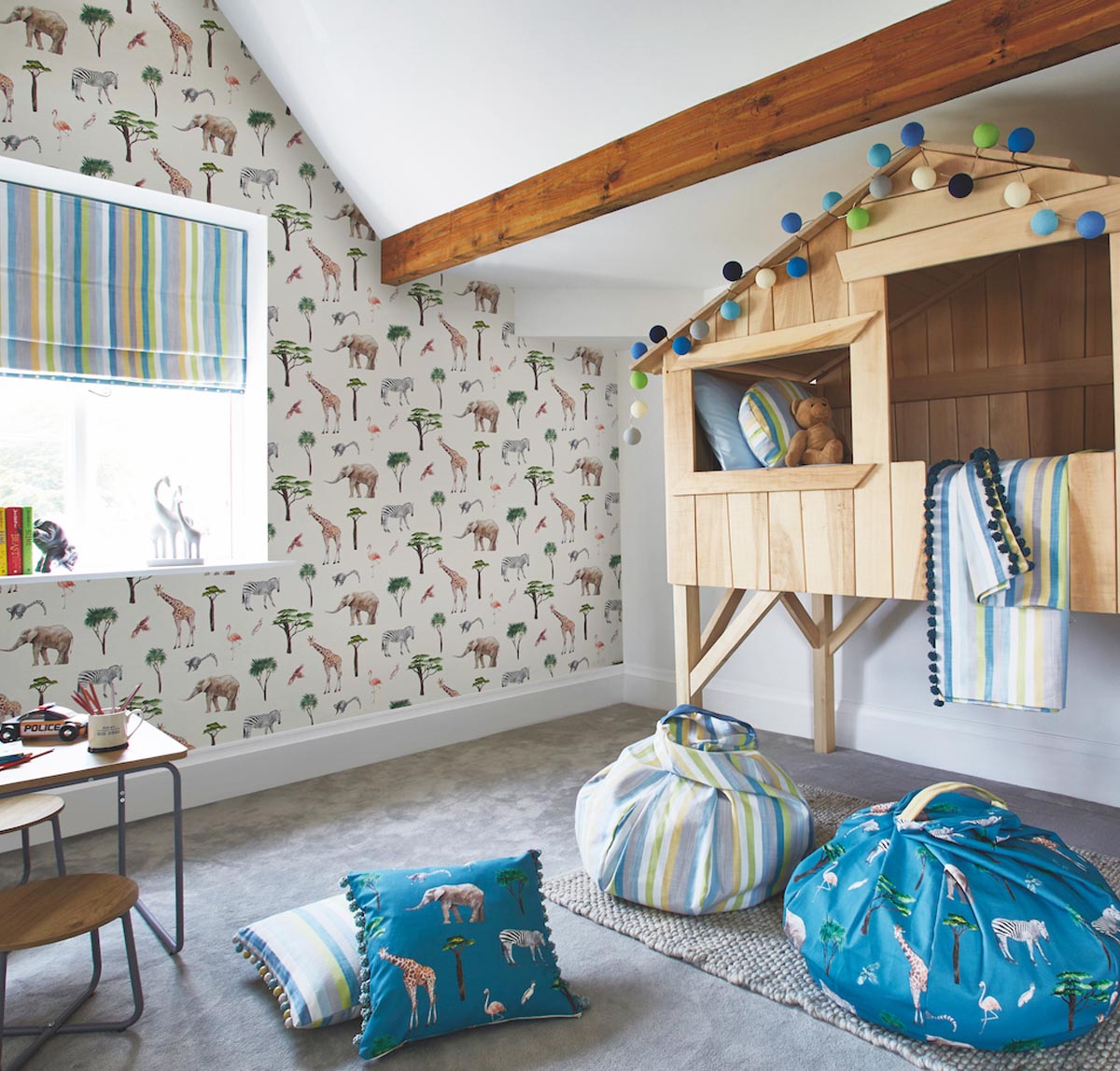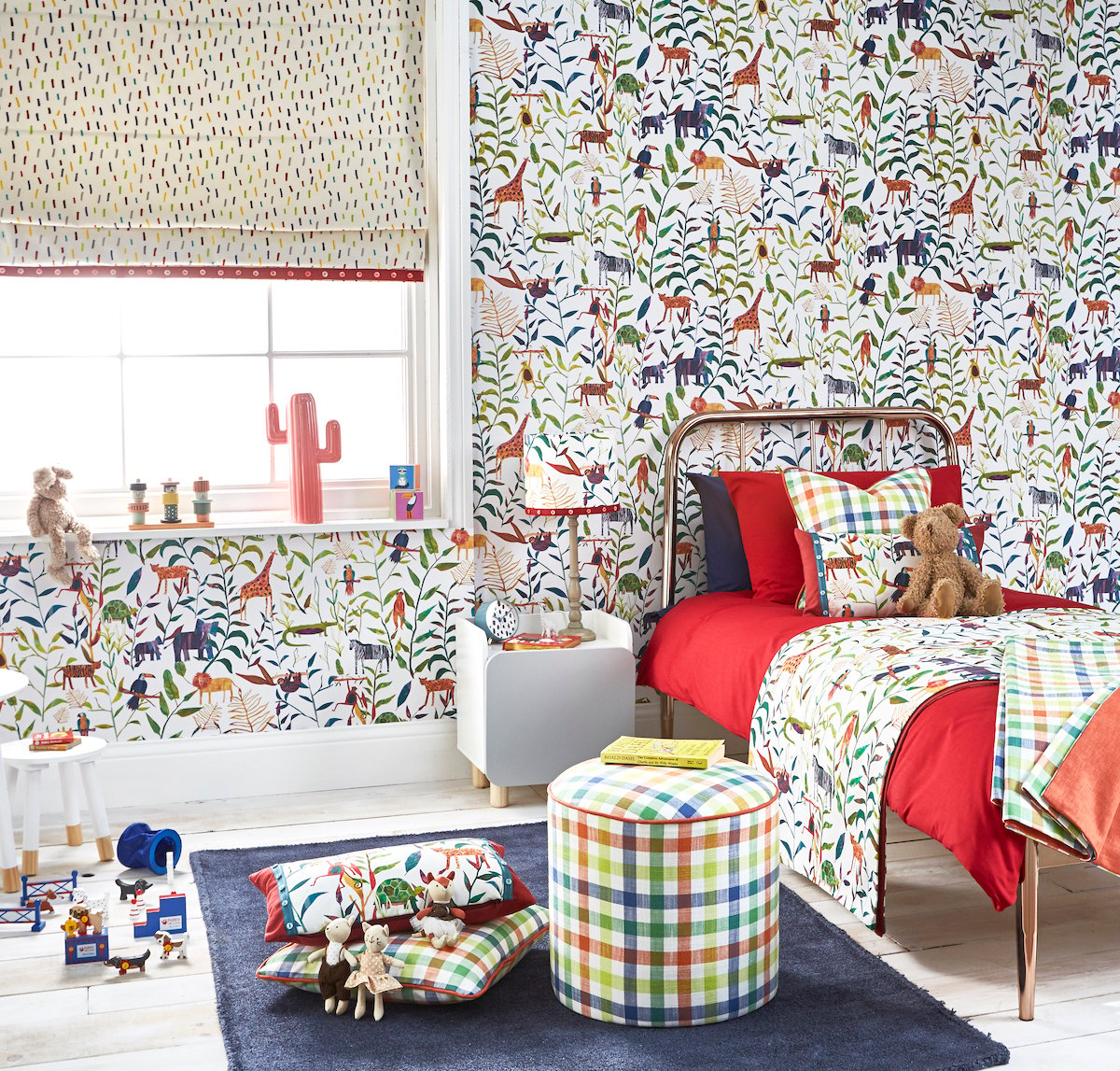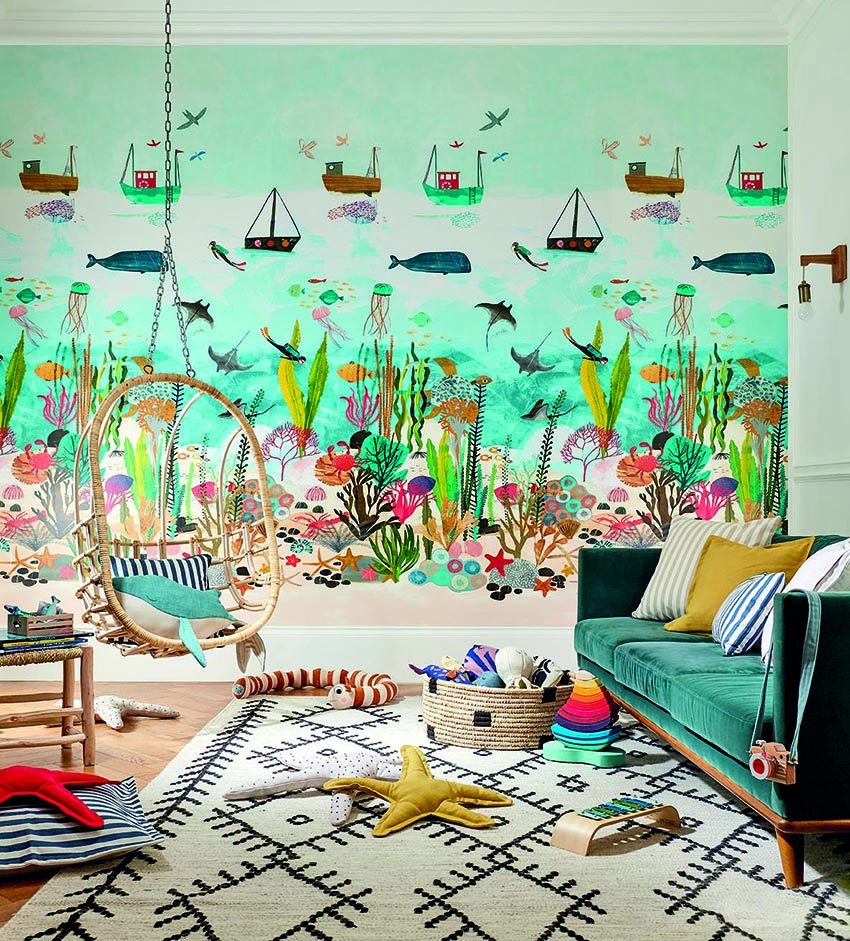 Window Treatments
Window dressings are an essential element of any child's bedroom. Functional and aesthetic, they are key to achieving your privacy / shading requirements throughout the day and night. Whether you're seeking a curtain or blind solution, you may wish to consider blackout options, particularly if you value a lie in as the lighter months draw closer!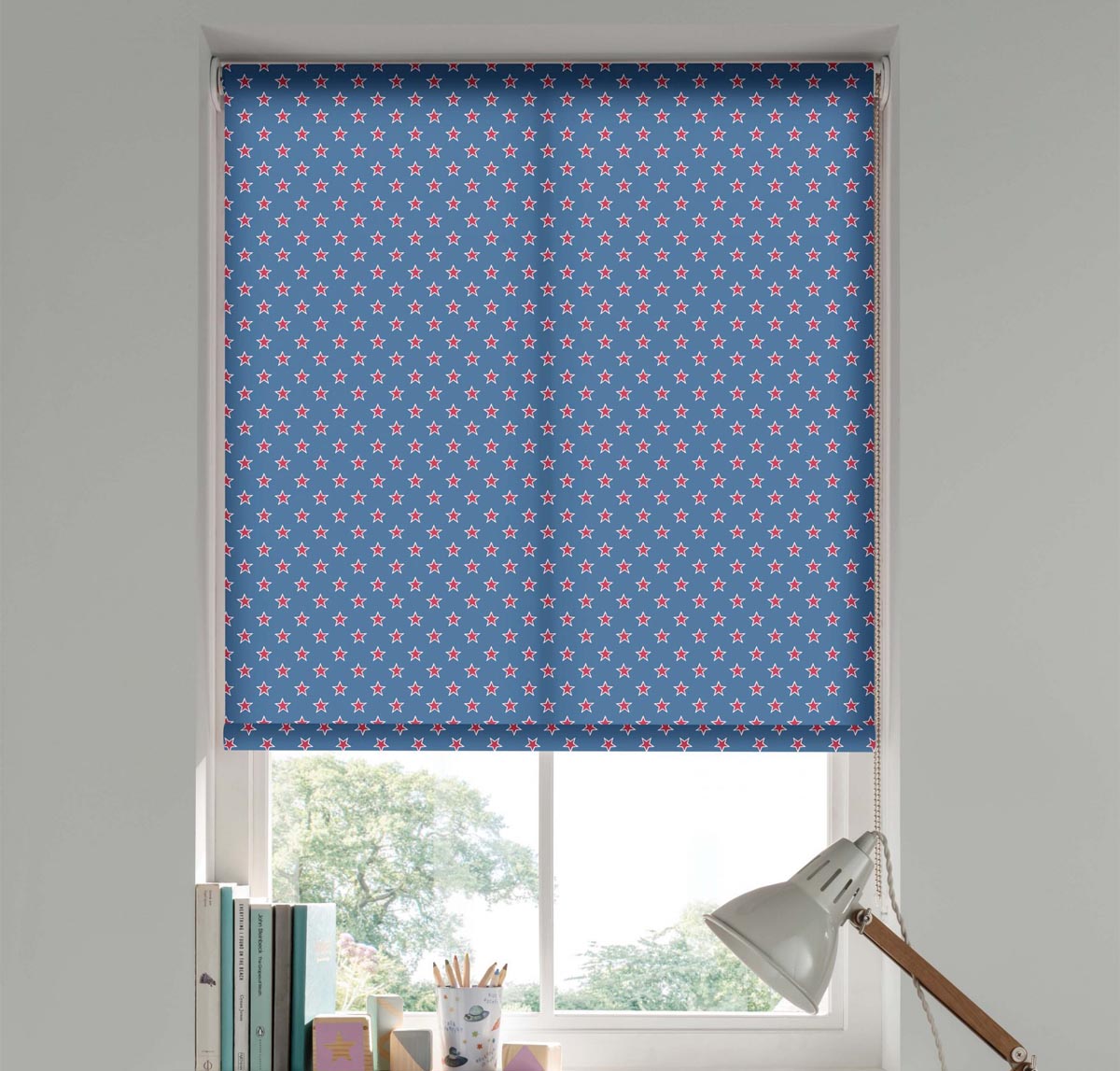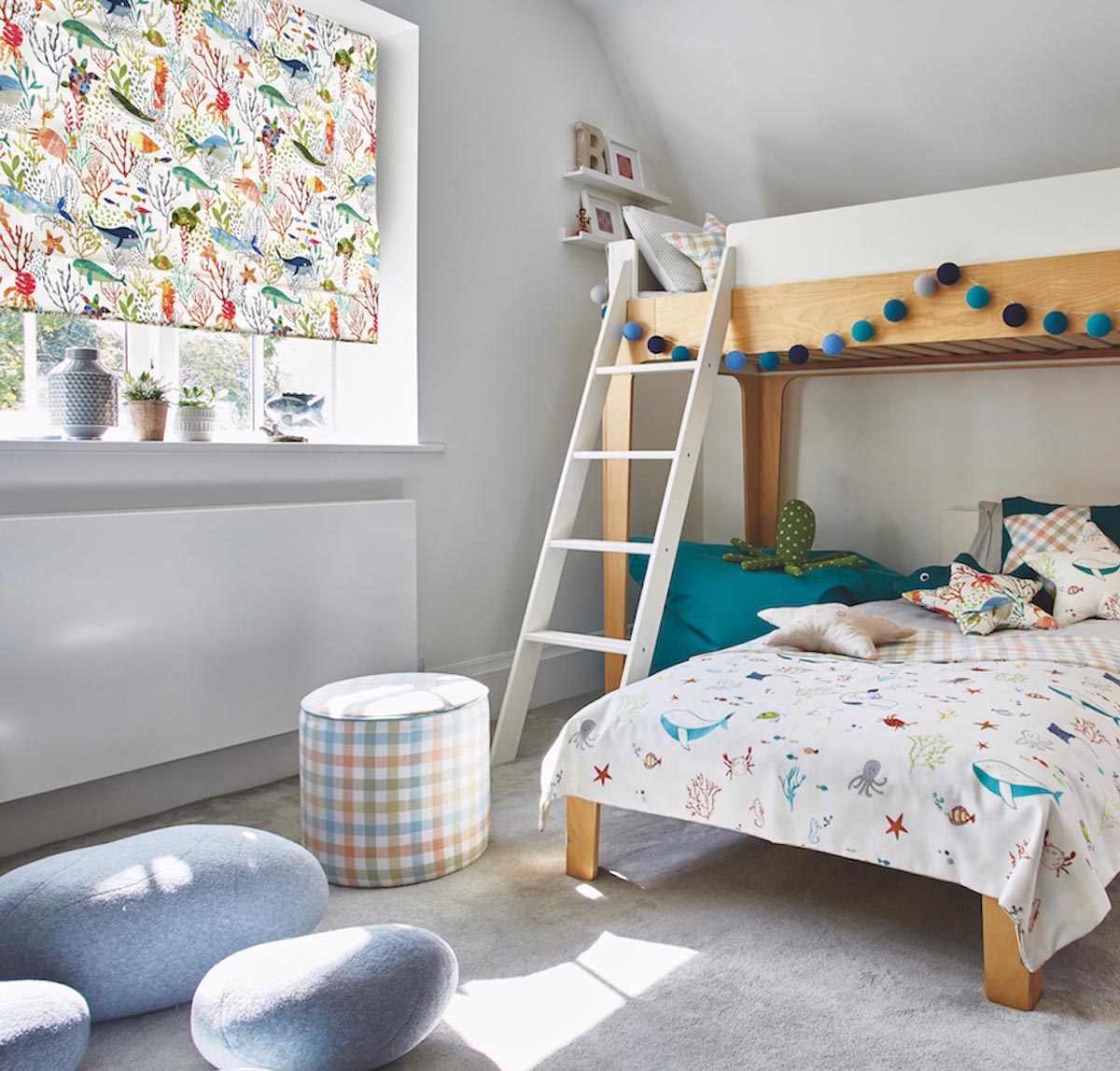 Motorisation
A motorised roller or roman blind is the perfect, safe solution for a child's bedroom.  If you purchase the Somfy Ta'Homa Switch smart hub, you will be able to operate the blinds remotely from an app on your phone.  This enables you to set times for the blinds to open and close so can set up schedules around your baby or child's sleep routine.
Curtain Poles / Tracks
If you opt for a curtain, you may find yourself looking for the perfect pole or track to complete the look. The Jones Estate collection offers a brightly coloured selection of poles to complement bolder schemes, whilst the Jones Seychelles range offers a versatile neutral palette.  If you'd like to colour match your pole to a specific element of the décor such as paint, wallpaper or accents within the soft furnishings, we can also paint a pole to a colour of your choice with our bespoke paint service.
Accessories
Vibrantly patterned homeware also works well to complete the look, especially if you have chosen a theme throughout your little one's bedroom. Finishing touches such as bedding, cushions and rugs are also interchangeable, working perfectly to create an adaptable scheme that can grow with your child.
Bedding
Bring your theme to life with a beautiful bedding set. The Cath Kidston range includes some beautiful children's designs, from elegant mermaids to fantasy dragons, perfect for drifting off to a dreamy sleep. Shown below is the Cath Kidston Peace Dragons design in Blue, featuring friendly dragons sipping from teacups in an enchanting hand-drawn style reminiscent of vintage children's story books.
Cushions
A fun cushion or blanket layered on a bed or chair helps to bring the look together. If you've gone for a theme such as jungle animals for your window dressings, go for a matching fabric design or try a stripe, check or polka dot pattern, picking out some of the accent colours to really coordinate. Fabric bunting and tepees in matching fabrics also bring a creative, playful touch to the scheme.
Rugs
Rugs make a fabulous addition to children's bedrooms. Filled with colour and charm, they can add an extra layer of pattern to the room for a cosy yet exciting feel. They can also help to zone the space and double up as a play mat for when the fun begins! We love the Spike design by Scion (shown below). Durable, low maintenance rugs are also good for children's settings. Please see our rug blog post for more information.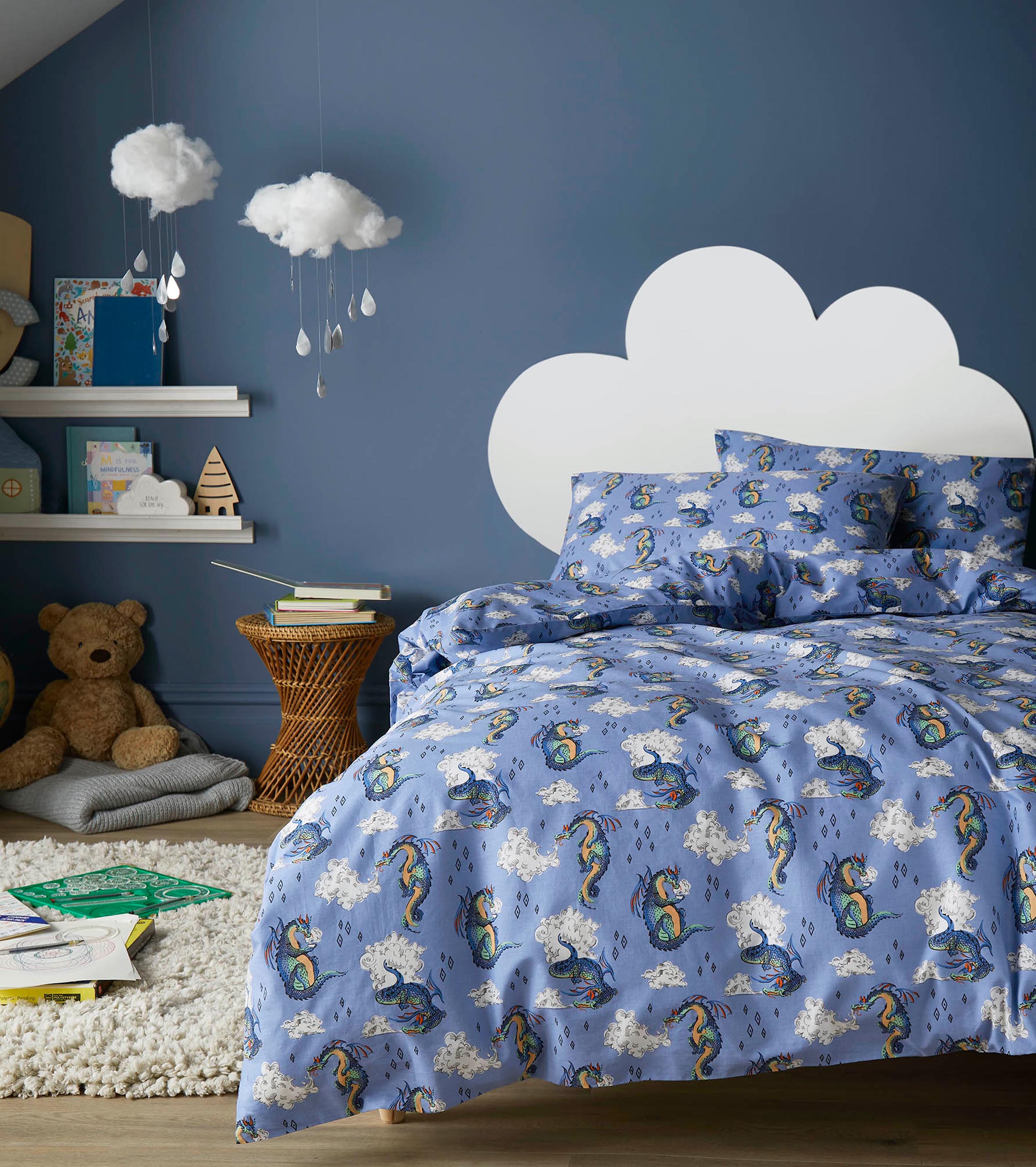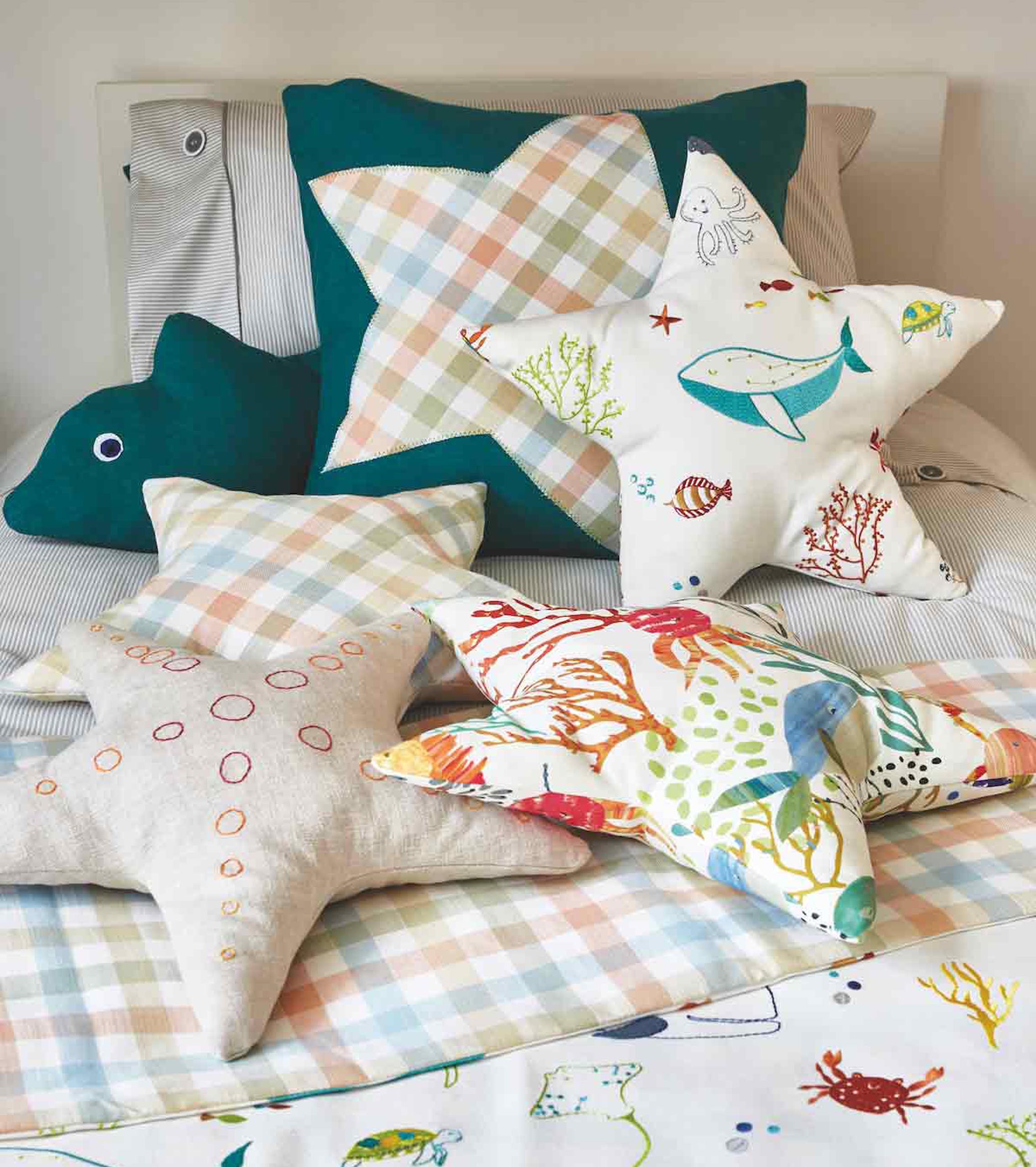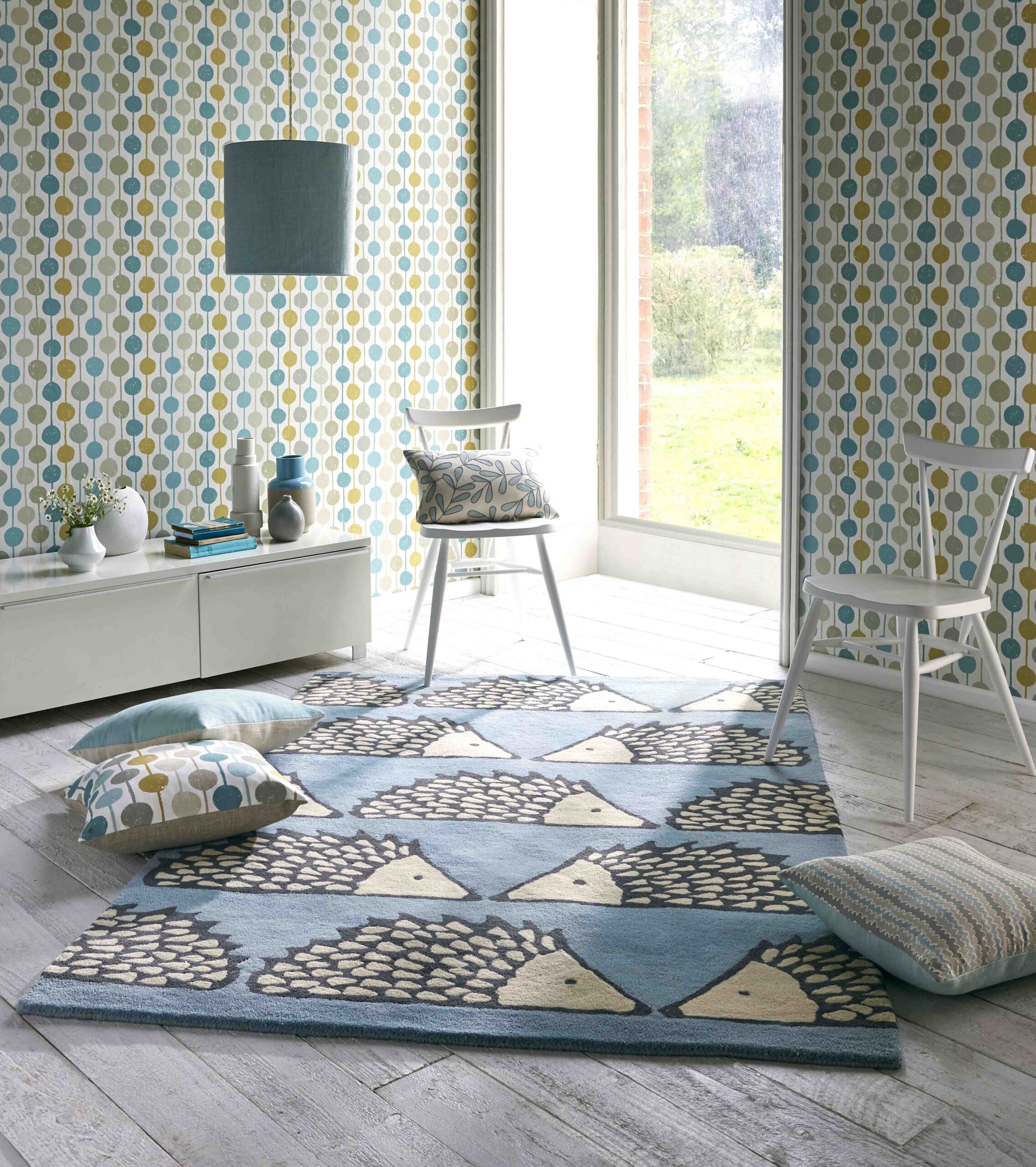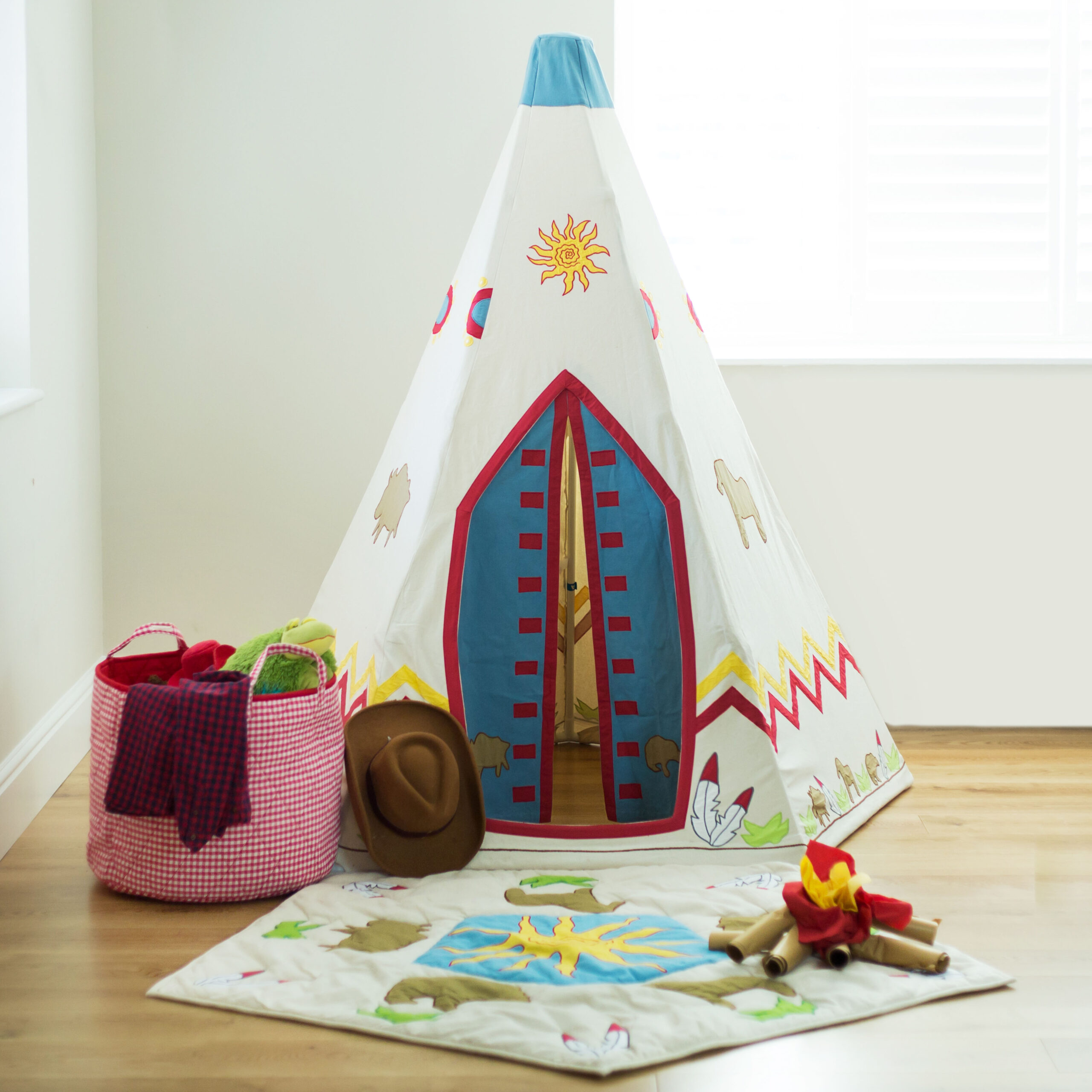 Playhouses and Wigwams
If your child's bedroom also functions as their playroom in the day, why not add an exciting playhouse or wigwam from our fun range of Kiddiewinkles play tents. Featuring hand embroidered and appliquéd design details with the option to personalise, these quick assemble tents come with a handy storage bag to put away when not in use. Choose from wild west tepees and enchanted castles to space stations and fire engines for hours of imaginative play! Featured opposite: the Kiddiewinkles Children's Wild West Wigwam.
Overview
When it comes to children's bedrooms, the décor is something that offers endless possibility. Whether you go bold and confident for a look as exciting as their imagination, or keep it neutral and simple for a serene space that brings calm to the chaos, the result should create an exciting space that your little one can enjoy for years to come!
For more inspiration and styling ideas, please see our Children's trend guide. If you would like help pulling a full room scheme together, we do offer a complementary face to face and virtual Bespoke Design Service, including paint and colour consultations, from our showroom in Brockenhurst. We can also make up your perfect window dressings with our made to measure curtain and roman blind making service. Please get in touch if we can assist with your project.
Email sales@thehomeofinteriors.co.uk or call us on 01590 615775.
Follow us on Instagram and Facebook: @myhomeofinteriors