Are you looking to decorate your home in the near future? If so, why not try one of 2022's most beautiful home interior trends: mural wallpapers. Growing in popularity, these superb coverings transform artwork into striking wall décor, turning your walls into a real design feature. Unlike standard wallpapers, murals comprise of larger, wide width scale designs, bringing a scenic element to your living space.
Each mural is designed to stand out, telling a story to add depth, interest and dimension to your room scheme. Available as a single roll, the paper is divided up into referenced panels for ease of application. Watch the design come to life as you apply each drop to your blank canvas.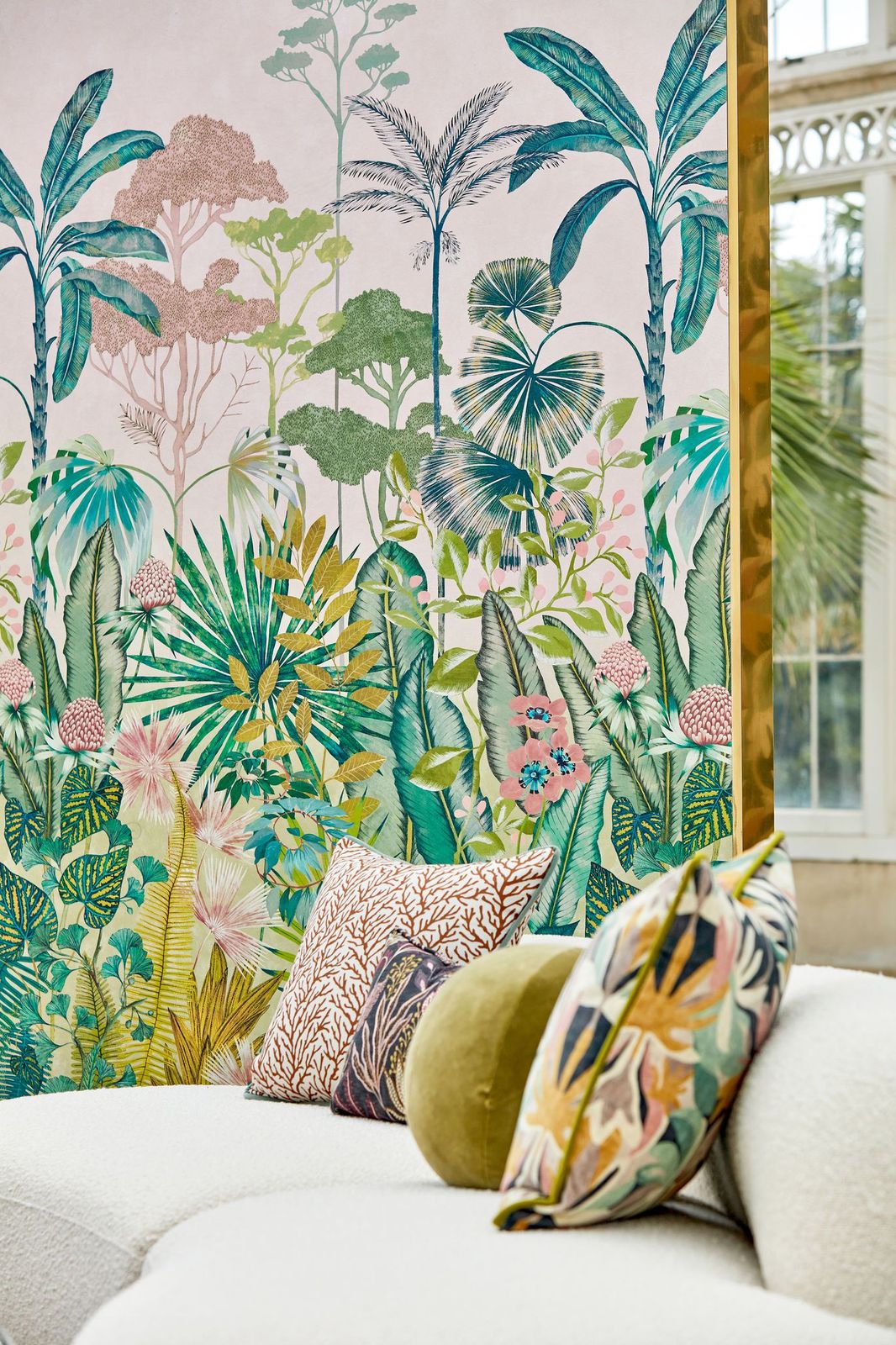 The Home Of Interiors Murals
At The Home Of Interiors, we are proud to offer a wide range of murals, from romantic florals and statement botanicals to playful marine and circus landscapes. Discover designs from some of the top home and lifestyle brands. These include the likes of Laura Ashley, Little Greene, Harlequin and Sara Miller. Shop the full range on our website.
If you would like help finding the perfect mural for your decor, please do get in touch with us. We offer a bespoke design service and can help to pull your ideal look together. For more details, please see our blog post on ways to shop wallpapers with us.
Laura Ashley
Our Laura Ashley home collection features a gorgeous choice of inspired murals to suit any home. Undeniably romantic and elegant in style, these superb wallpapers capture the beauty of nature with their classic florals, birds and botanical scenes. Many of the designs also fit well with our Floral romantic design trend. Please see our trend guide for inspiration and ideas.
For a touch of classic elegance, the Belvedere mural in Pale Seaspray is the perfect choice (image 1 below). A recent addition to the Laura Ashley range, this design is truly iconic and will add interest and class to your space. On the other hand, if you're looking for a hint of floral nostalgia, try the Gosford mural for a stunning centre piece (image 2 below), or go bold and dramatic with the newly launched Mathilde mural (image 3 below).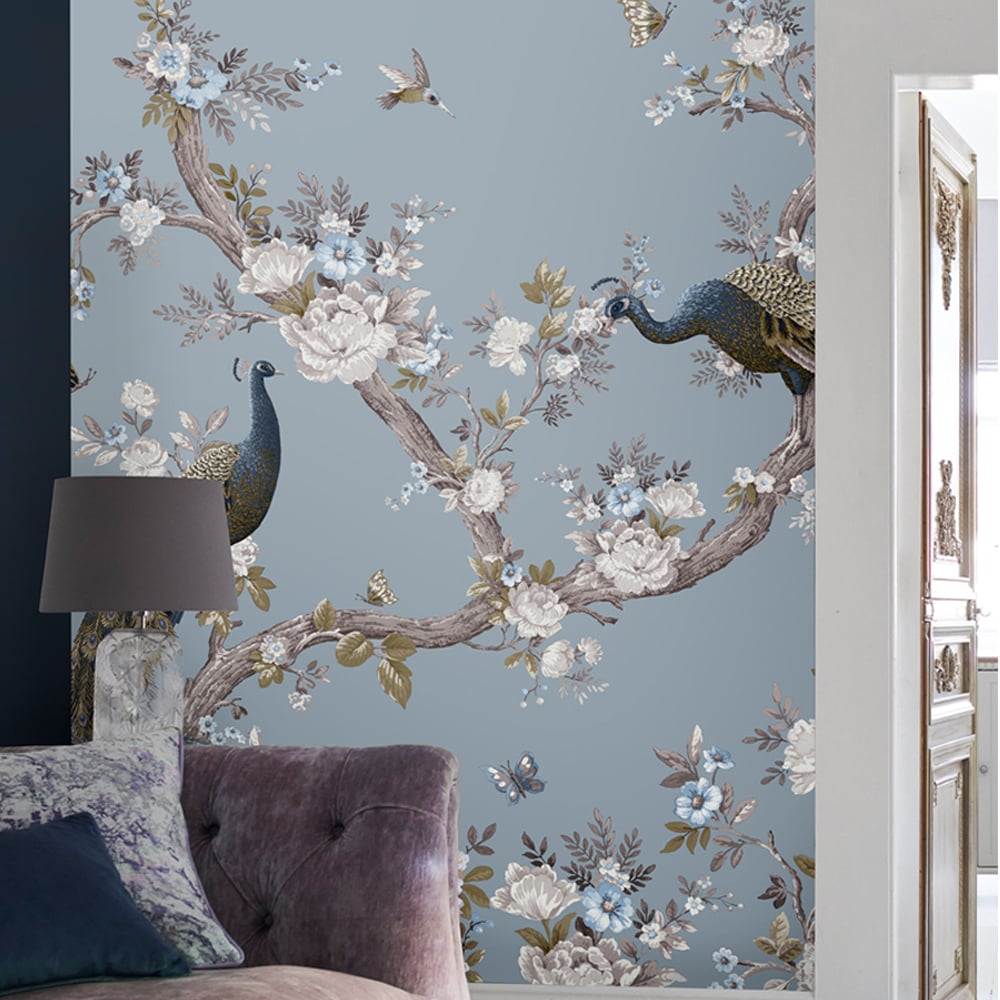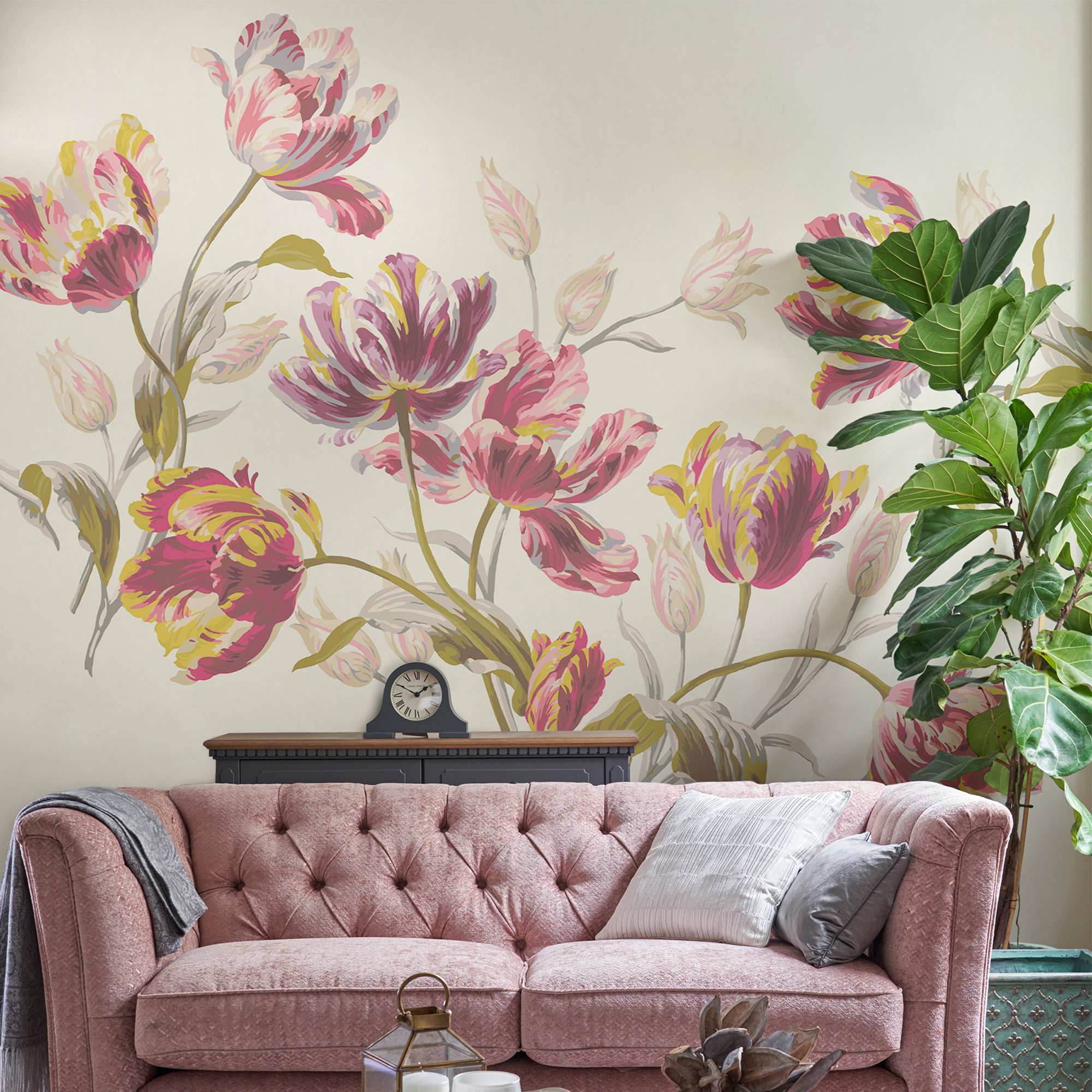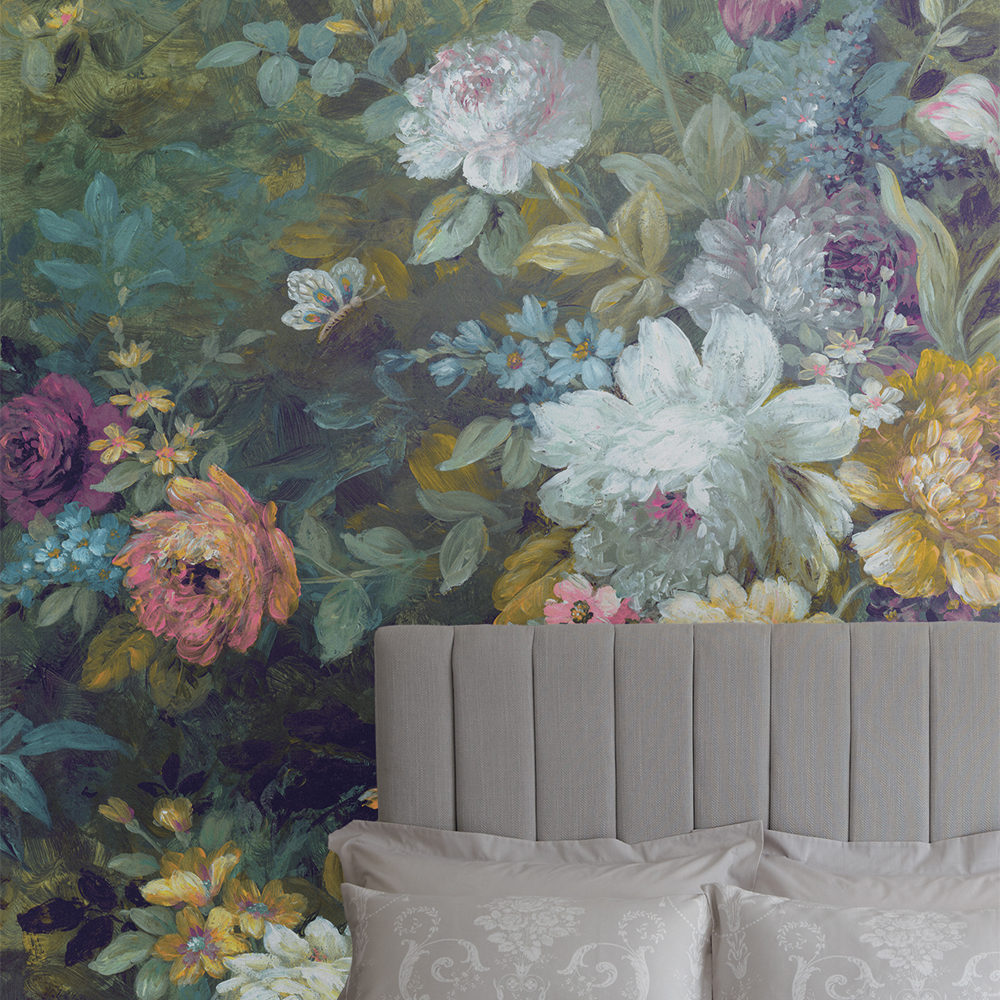 The Laura Ashley murals have been created to complement other designs and paint colours in the brand's collection. Please see the wallpaper pages on our website for complementing products and recommended paint colours. To shop the full range, please click here.
Little Greene
For a scenic design enriched with heritage and natural charm, choose one of Little Green's stunning murals. Featuring a refined selection from their eclectic Archive Trails, London and National Trust ranges, each mural comes with a fascinating story to tell.
Discover timeless designs dating back through history, updated for a more modern feel. The Mandalay wallpaper from the recent National Trust Papers II collection (see image opposite) is a great example, inspired by leather wall coverings from a Jacobean Mansion in Essex. Available in 4 colour ways, this mural paper repeats effortlessly and continuously across the wall for a decorative statement.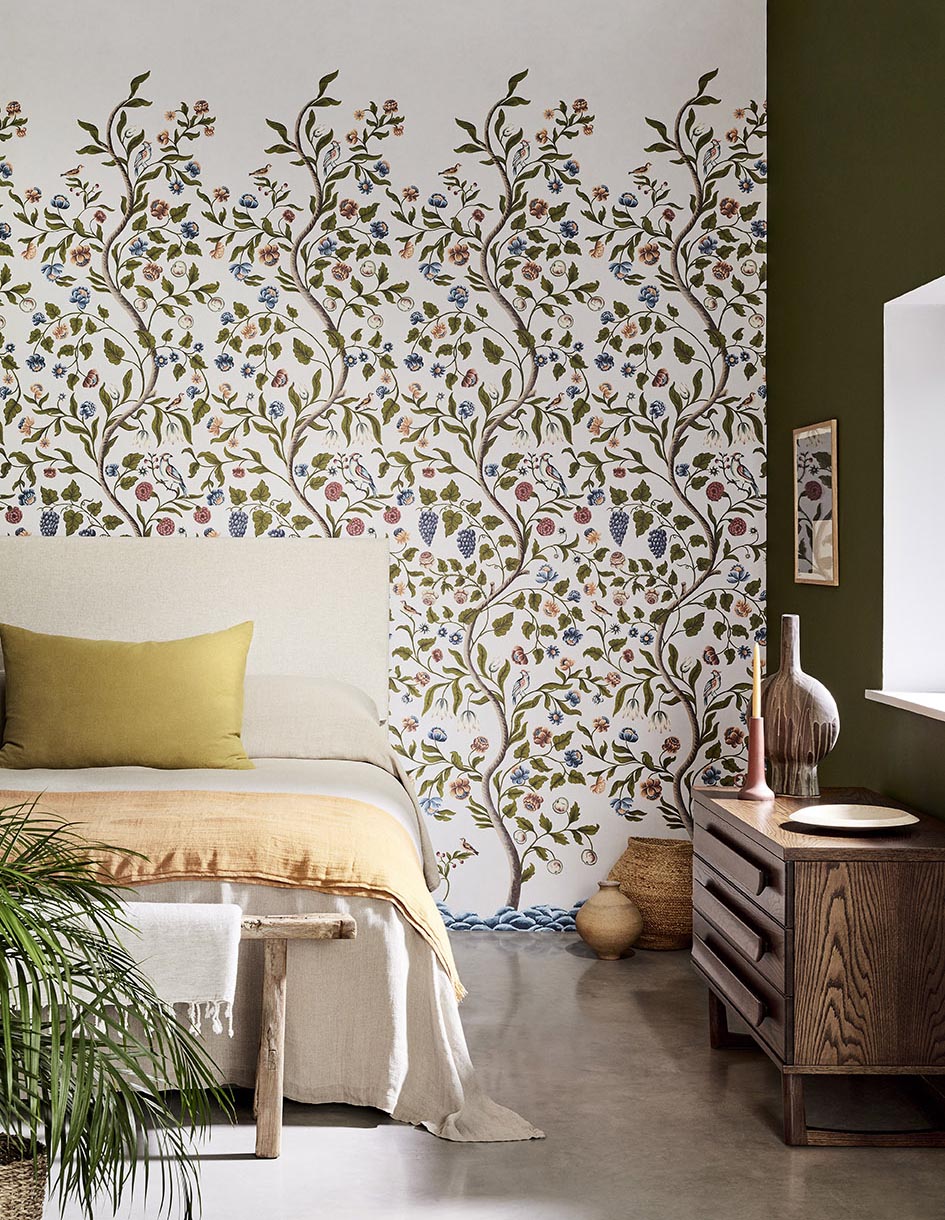 Harlequin
Murals have become a popular choice for children's bedrooms and playrooms. If you're looking to create a dream space for your little one, Harlequin's inspired choice of captivating children's murals are the perfect go to. The Above and Below (image 1 below) and Life's a Circus (image 2 below) designs showcase fun and immersive landscapes filled with marine life and circus scenes to bring your child's imagination to life. Whichever you choose, you can be sure it will create a room full of playful joy and wonder for your child to enjoy. Please see our children's trend for more design ideas.
Harlequin also offers the bold Floreana mural wallpaper to suit any living space (see image at the top). Part of the brand's recent Own the Room Colour 1 collection, this design displays a 'botanical extravaganza' filled with leaves and palm trees to enliven your room scheme. Available in 2 colour ways, this stunning mural comes on one roll divided into 4 panels for the perfect feature wall.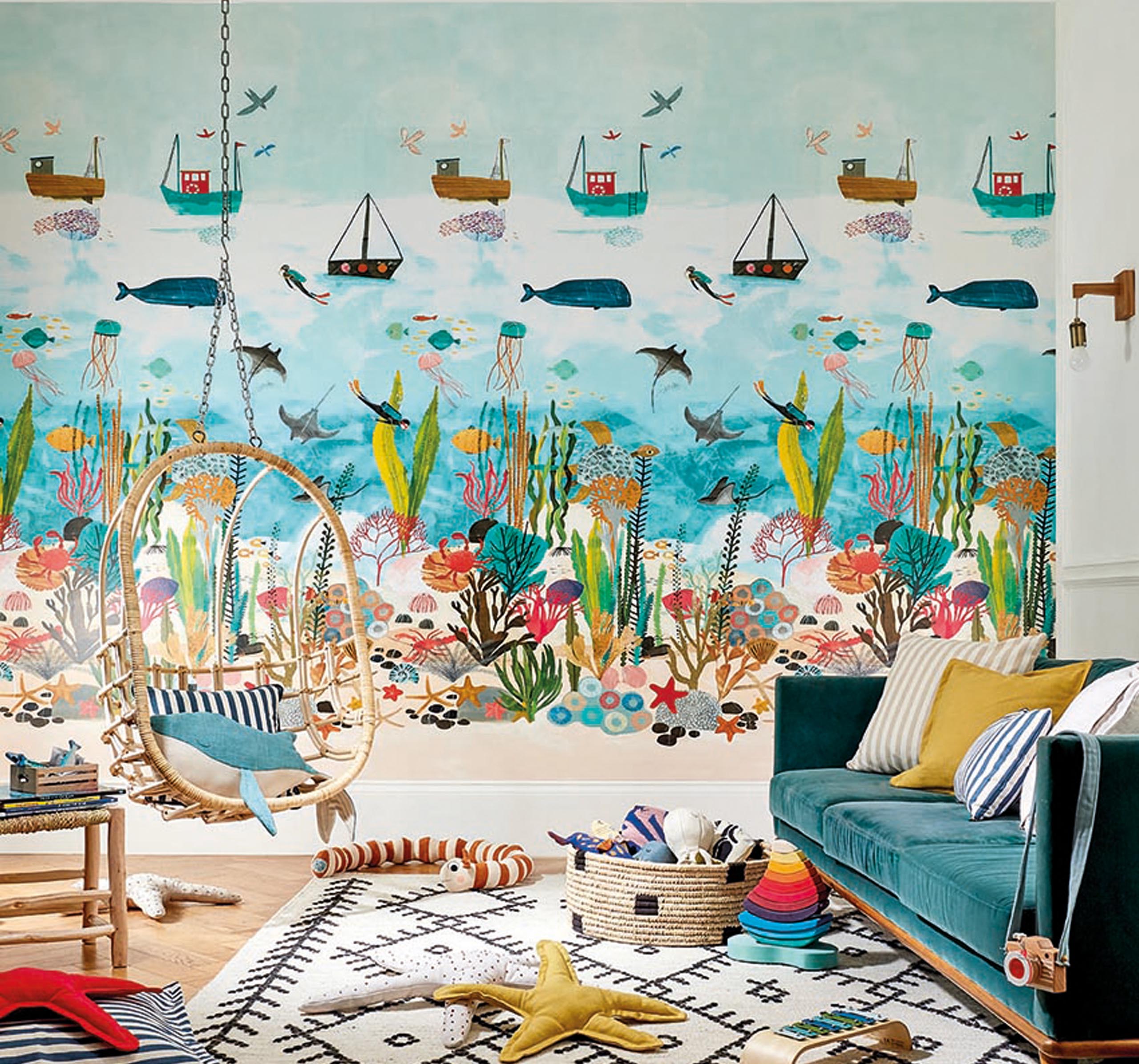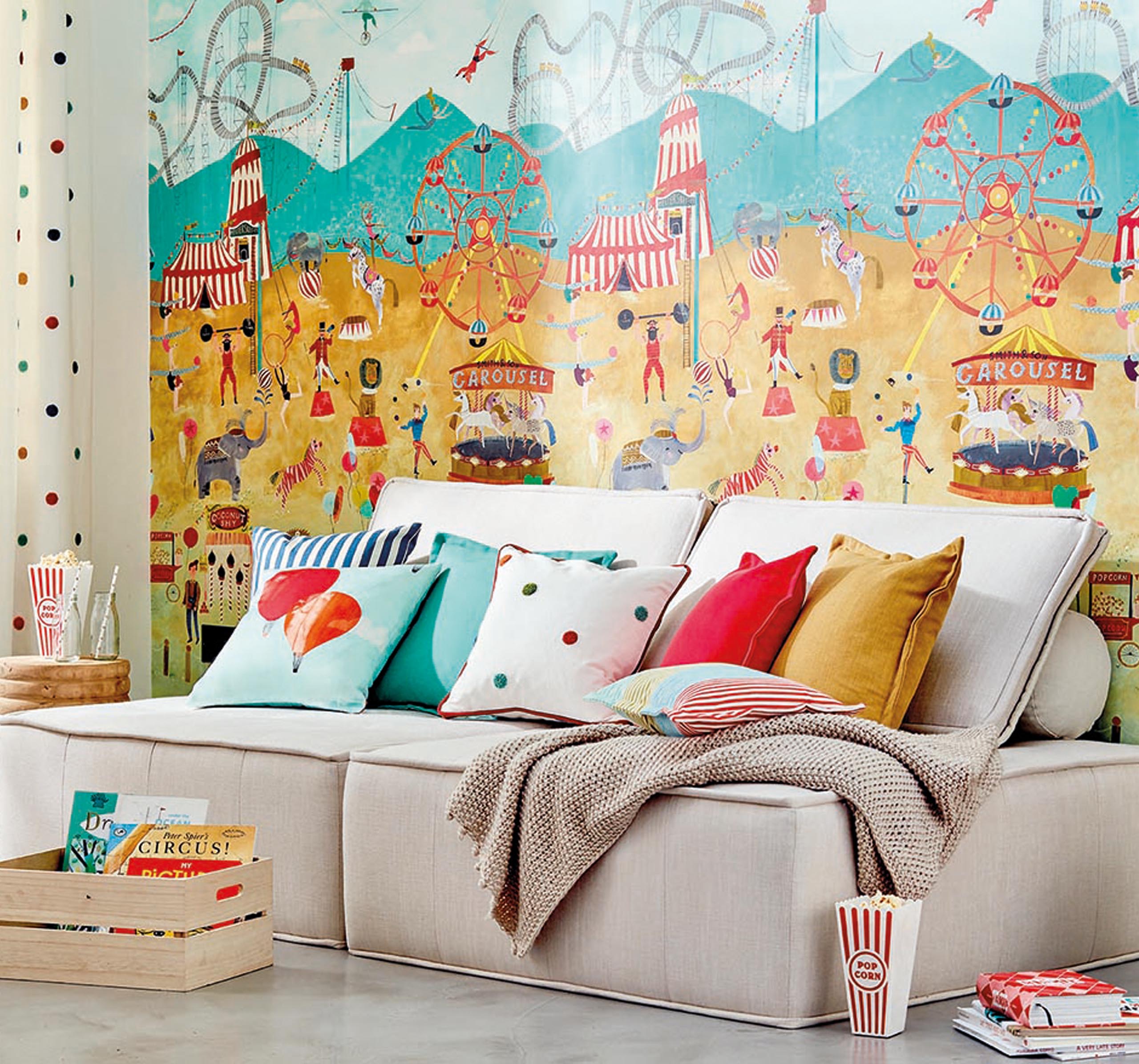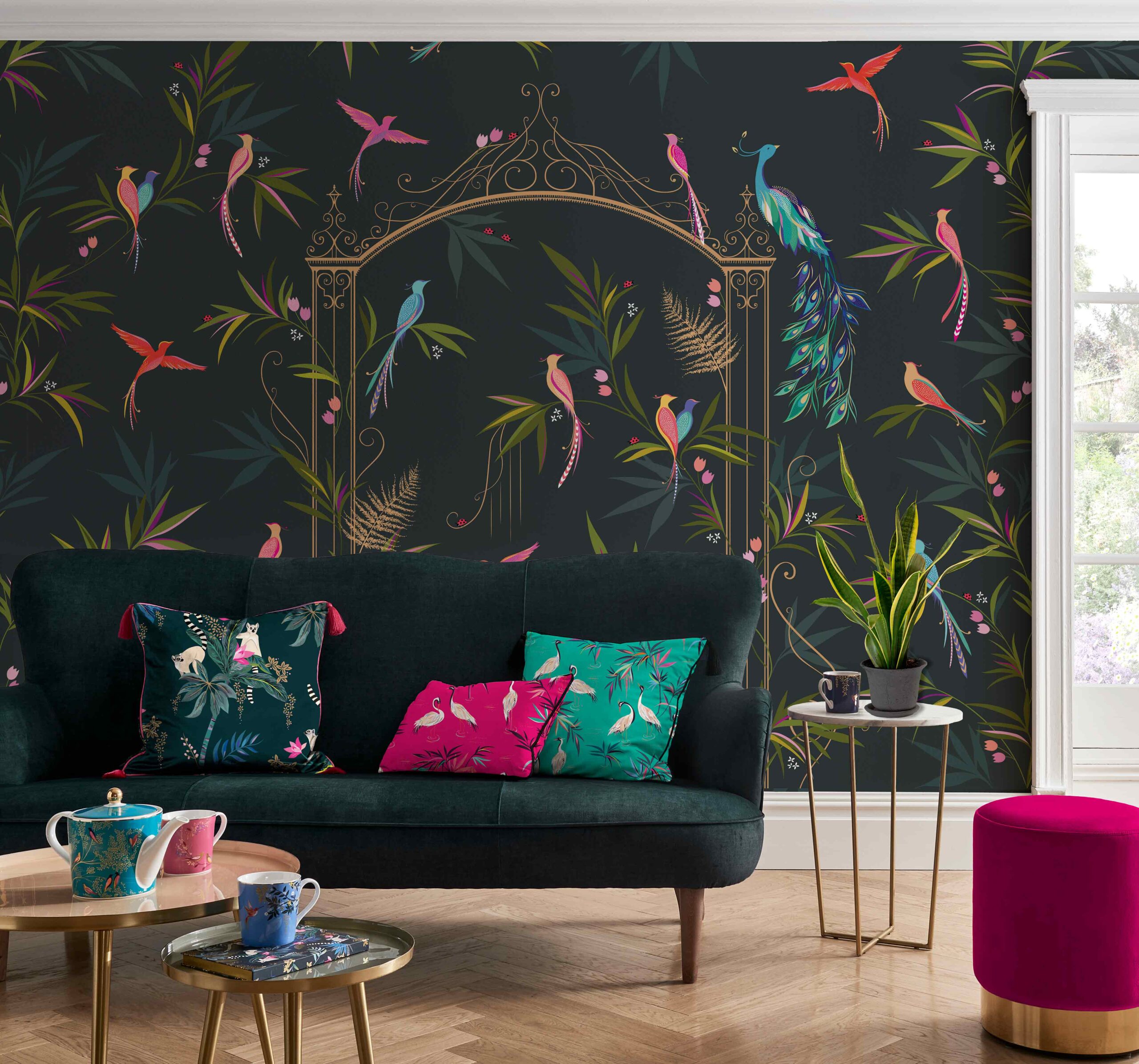 Sara Miller London:
We are proud to offer a deluxe range of designer mural wallpapers by Sara Miller London. Featuring elegant designs of enchanted gardens, tropical birds and trailing wisteria, these large scale papers offer the ideal backdrop to any living room for a real WOW factor. We love the Enchanted Gate design in the Slate colour way (image opposite). The vibrant tones of the birds and leaves really make the design pop, working well with our Exotic design trend. It is also the perfect choice if you want to add a splash of bold colour to your scheme.
Overview
Murals have truly taken off in the world of home interiors. Designed with style and confidence in mind, these immersive wall coverings have become a trend of their own and will be sure to make an impact in any room you choose. Mural wallpapers work beautifully for a feature wall, teamed with a complementary paint colour for the remaining walls. Please see our full paint collection to complete the look.
If you have any questions or would like any design and colour advice, please do get in touch.
Email: sales@thehomeofinteriors.co.uk or call us on 01590 615775 and we will be happy to help.
Follow us on Instagram and Facebook to keep up to date: @myhomeofinteriors