We are delighted to be offering a wide selection of ready made curtains on our website. Featuring gorgeous designs from talented designers and luxury home brands including Sara Miller, Orla Kiely, Laura Ashley and Studio G, our varied curtain range is the perfect way to enhance and enrich any interior scheme. Shop our ready made curtains here.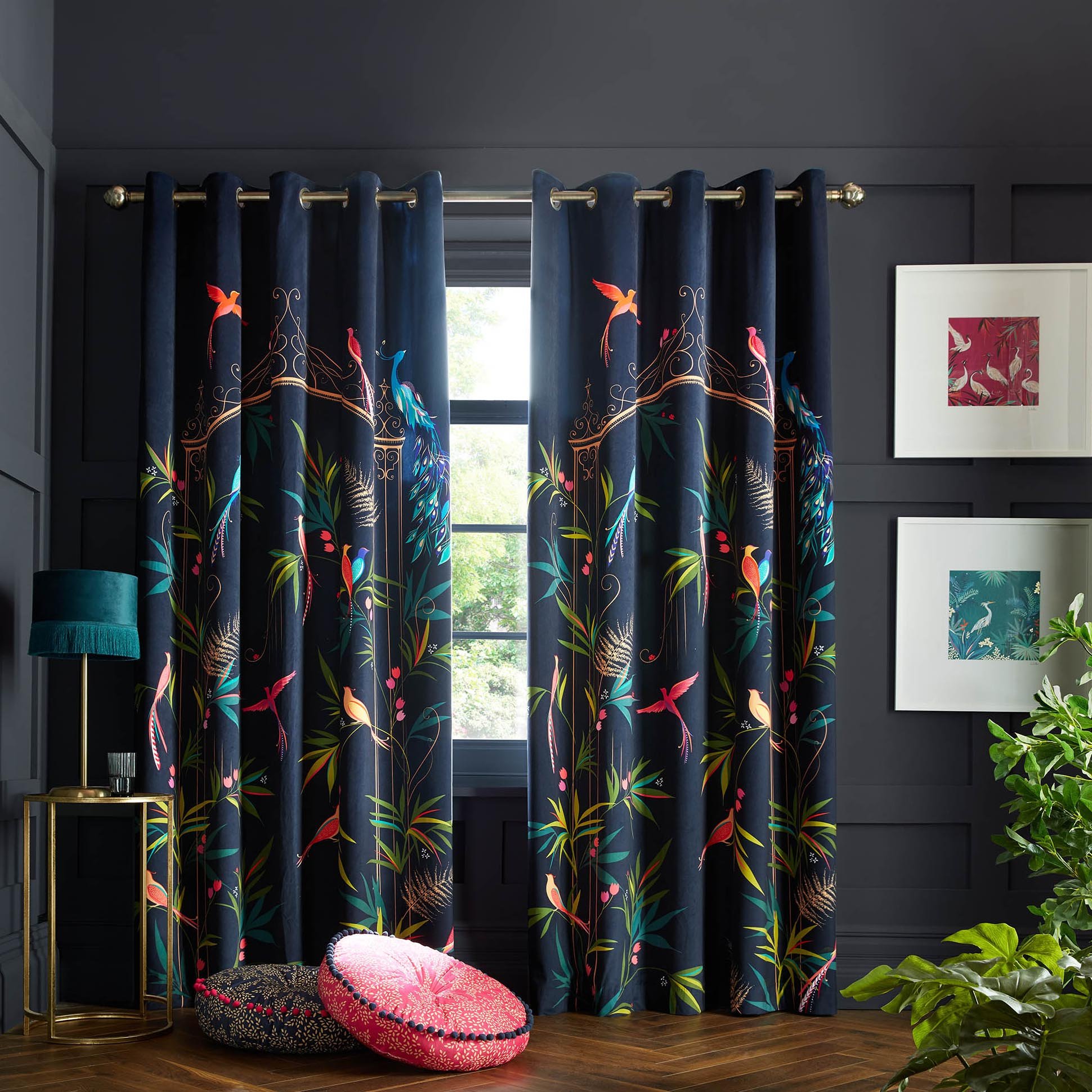 Choose from plethora of eyelet curtains for a modern look, or go traditional with our elegant pencil pleat ready mades. You can also refine your search by curtain lining to suit your individual preference. We offer an array of standard lined curtains, perfect for open living areas, or a range of blackout lined ready mades, ideal for bedrooms where minimal light ingress is preferable. Each set is available in multiple sizes to suit your window / door measurements. Please see our charts on the product pages for recommended curtain pole lengths to suit each size.
Sara Miller
The Sara Miller ready made curtains are the epitome of beauty and luxury. Comprising of playful prints on a soft velvet ground, these designs bring an air of exoticism to any room for your own piece of paradise. The rich jewel tones and pops of bright colour make a real statement, working beautifully with our Exotic trend. See image opposite for the stunning Green Birds Lined Eyelet Curtains.
Many of the Sara Miller curtain designs are also available as wallpapers, bedding and home accessories for a cohesive look. Shop the range here.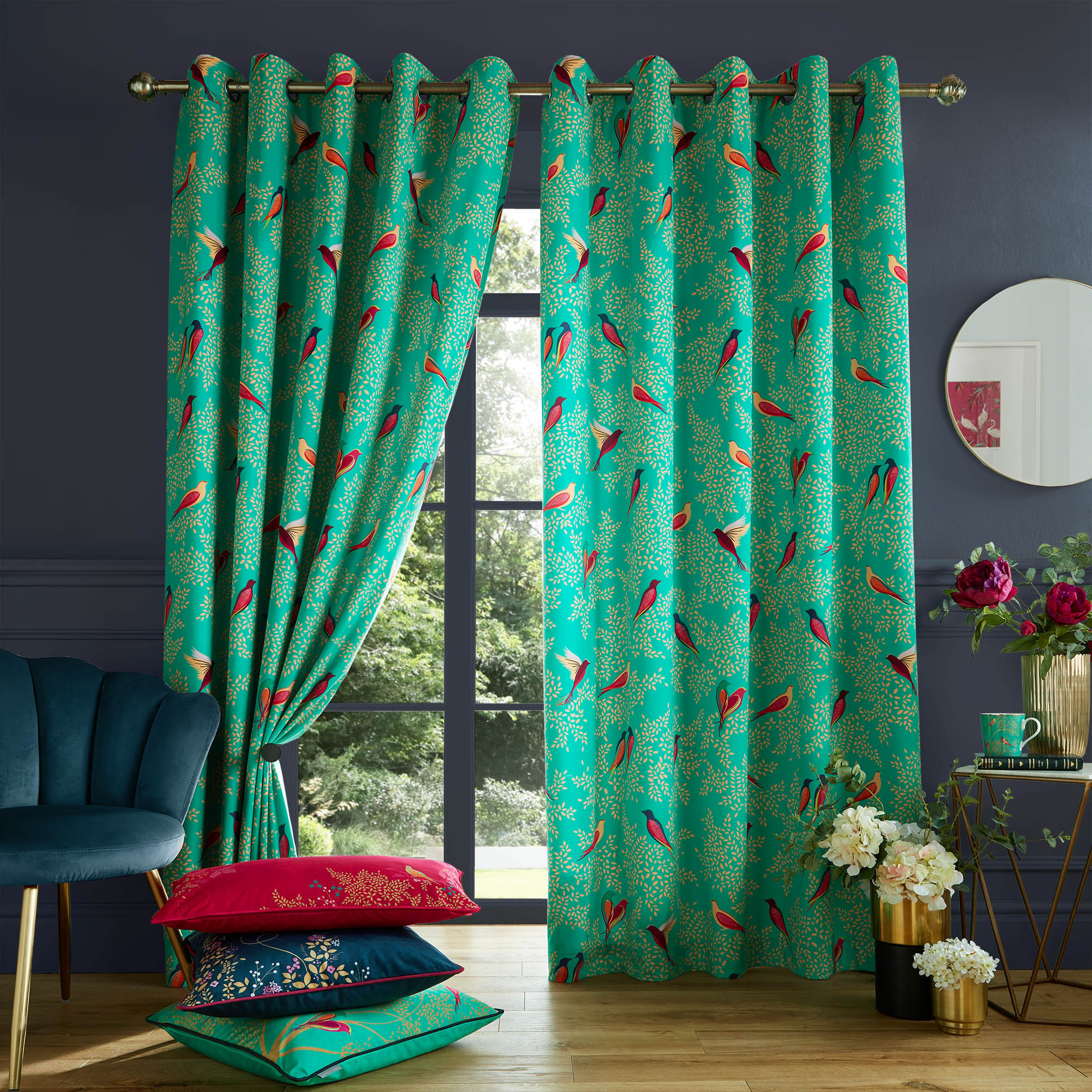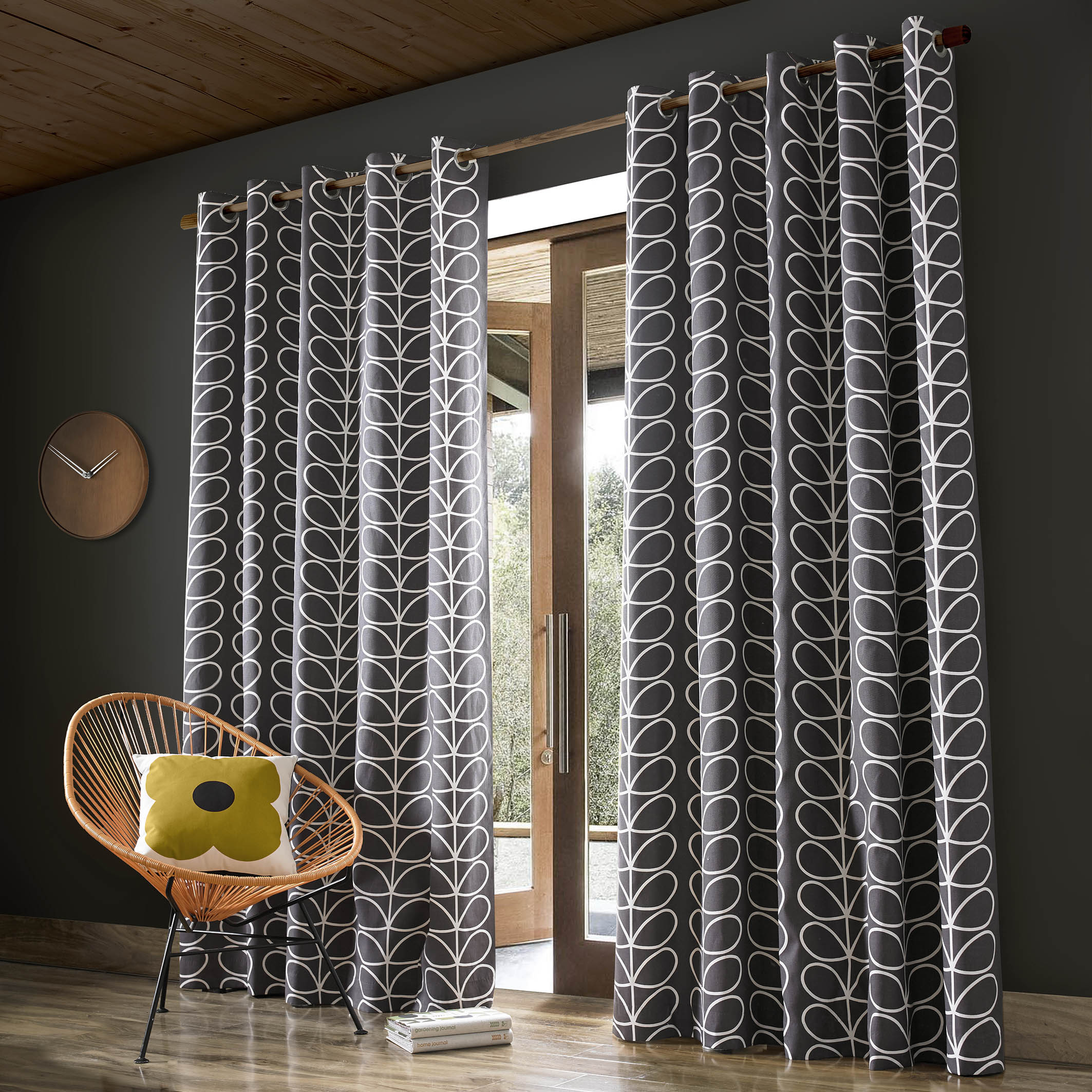 Orla Kiely
The Orla Kiely ready made curtain range is the perfect way to uplift your interior decor. Featuring her best-loved prints and retro-inspired patterns, these striking 100% cotton curtains will make a timeless addition to your window treatment. They are also great if you'd like to introduce a geometric element to your room scheme for added style and interest. Discover new and exciting colour ways, both bold and more subtle to suit your taste. See image opposite for the striking Linear Stem Lined Eyelet Curtains in Charcoal.
Complementary Orla Kiely accessories are also available to bring the look together, including matching bedding and roller blinds.
Laura Ashley
We also feature the truly stunning Laura Ashley collection in our ready made curtain range. Explore the return of iconic designs enriched with sophistication and heritage, including Belvedere and Pussy Willow. There's also a wide selection of romantic designs such as the Natural Magnolia Grove Blackout Curtains, ideal for a nostalgic Floral Romantic look. Choose from an array of classic colour ways, designed to complement a range of interior design styles and colour schemes. Available with eyelet or pencil pleat headings, the Laura Ashley curtains can instantly enhance your rooms with a beautiful homely charm.
Shop the Laura Ashley homeware range for coordinating bedding, wallpapers and accessories.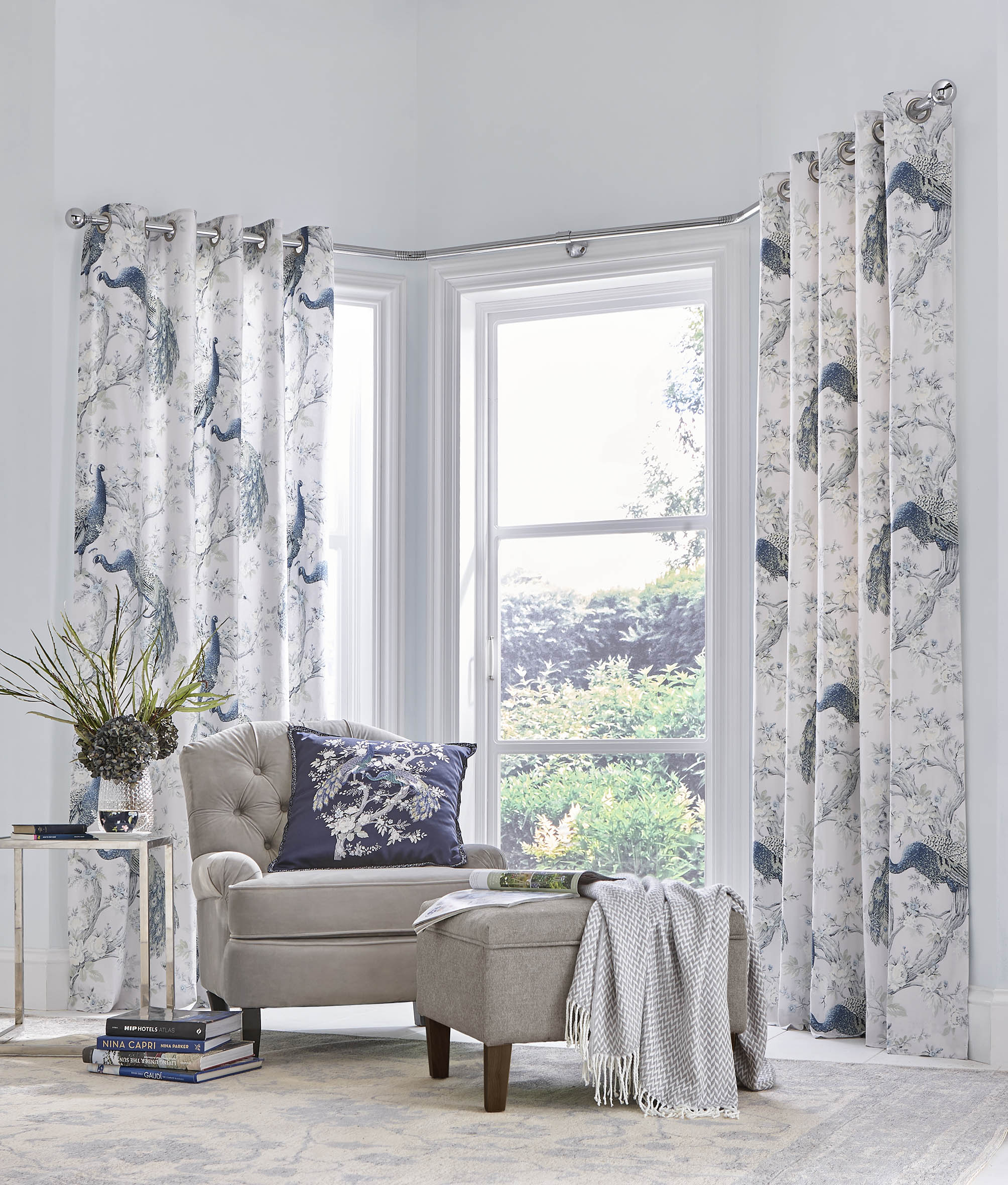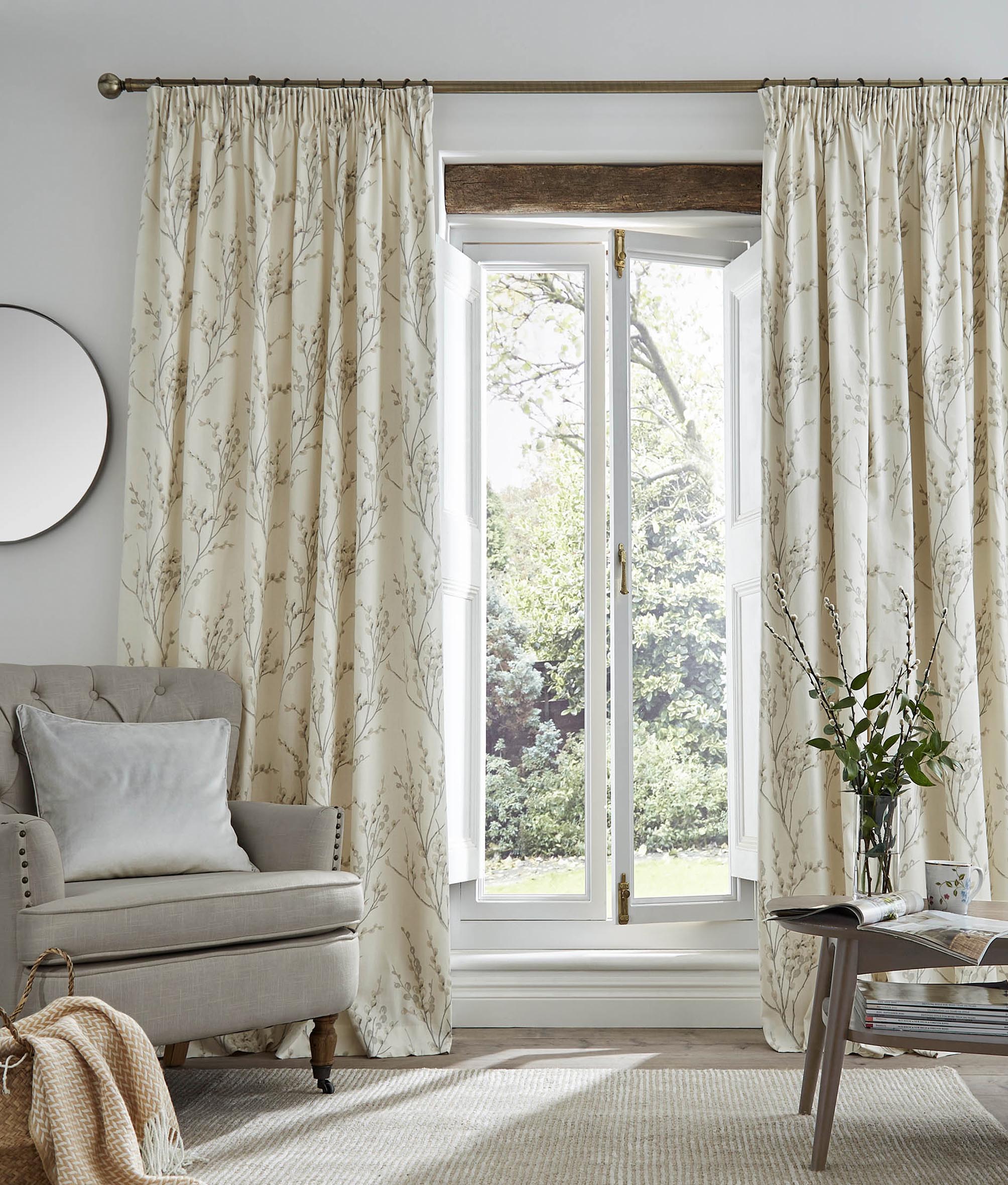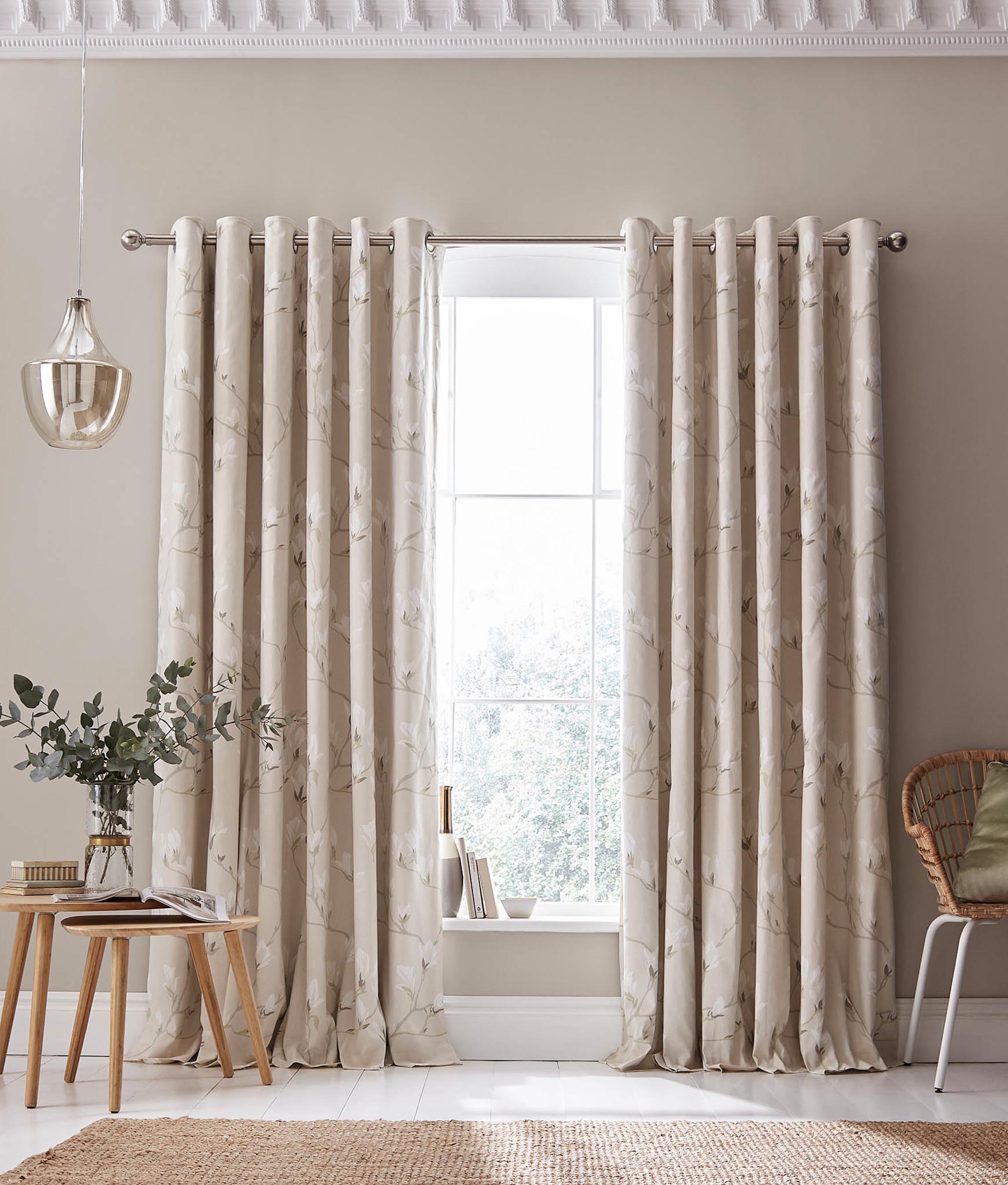 Studio G by Clarke & Clarke
We are also proud to offer a selection of Studio G ready made curtains. Whether you're looking for an understated window dressing, or something a little more bold, the Studio G designs are a great choice. Featuring Exotic, jewel- toned prints such as Flutur and Pasionaria, to elegant plains such as Arezzo, these curtains can bring a fresh, stylish edge to your room scheme. They also fit seamlessly with an array of interior design trends, particularly Exotic, Modern Luxe and Showhome Chic.