As open plan living continues to lead the way in modern interior design, hybrid kitchen / diner spaces remain a popular solution for homes across the country. Providing the perfect space for cooking, eating, socialising and entertaining, open plan kitchen / diners satisfy our ever-growing need for rooms having a multi-functional usage.
The heart of the home where people come together, the kitchen / diner should be a perfect blend of form and function. When decorating this space, you should consider convenience and ease of movement, whilst injecting your personality through colour, design and texture. To help you create the perfect scheme, we have pulled together some styling inspiration and ideas for your open plan kitchen / diner, with acknowledgement of interior trends for 2023.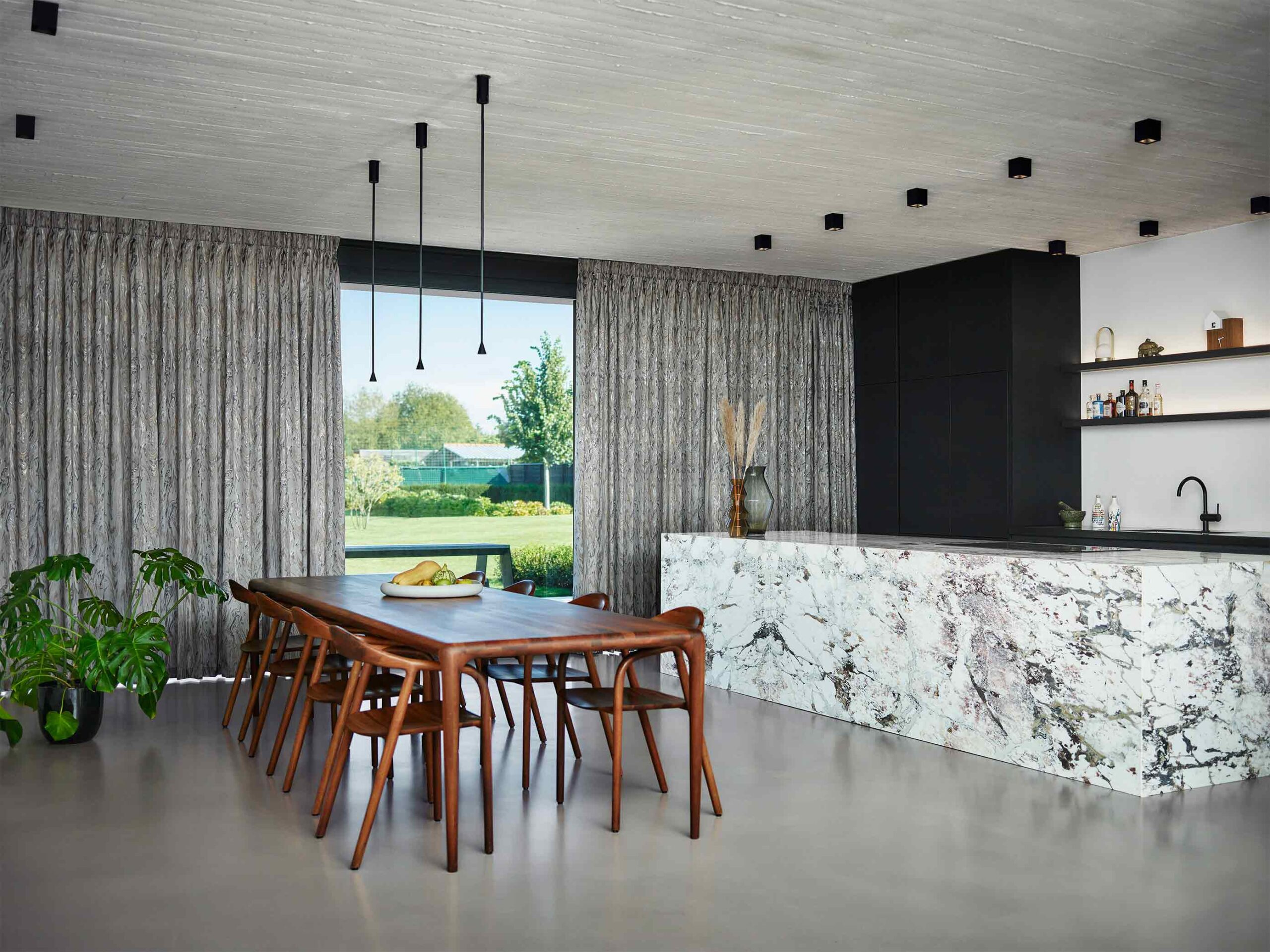 Paint
As interior trends continue to take shape, we are seeing a shift towards warmer neutrals and softer palettes throughout the home such as beige, cream, warm grey, putty and even gentle pinks. These work particularly well for kitchen / diners as they bring a sense of warmth and calmness to the space. Both the Little Greene Mushroom Paint (142) shown in image 1 below and the Sanderson Country Linen Paint shown in image 2 below are beautiful examples.
Kitchens also offer the perfect environment to be bold and reflective of your personality. If you love colour and want to add a splash of joyful energy to your room, you may wish to consider a bold, contrasting shade on your cabinets with a neutral wall, or vice versa. Earthy tones such as Forest Greens are on trend, encompassing the ever growing need to embrace the natural world in our homes. Equally, you could go for a more vibrant, uplifting colour such as the Morris & Co. Sunflower to enliven the space and add characterful charm (image 3 below). Shop our full paint collection here.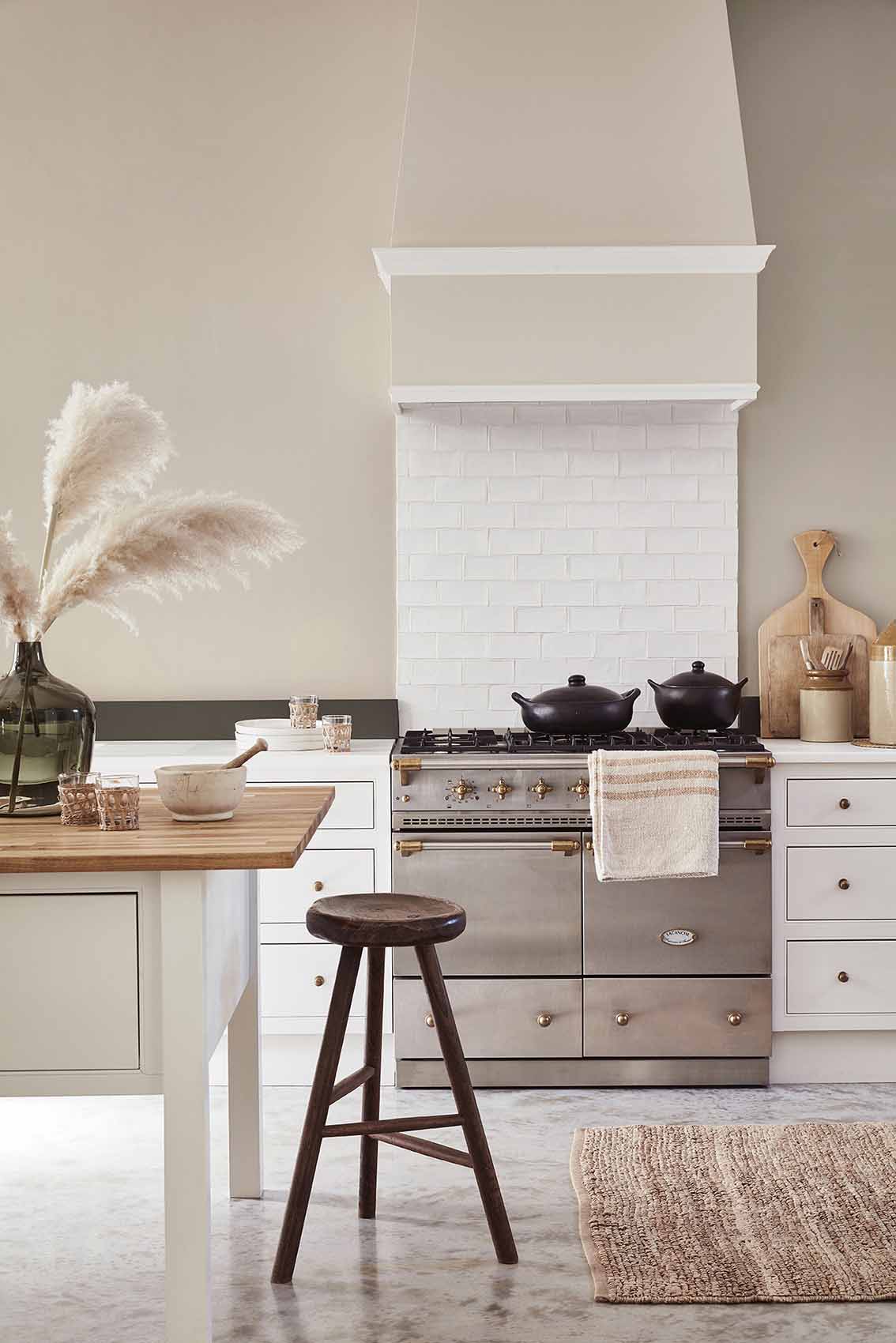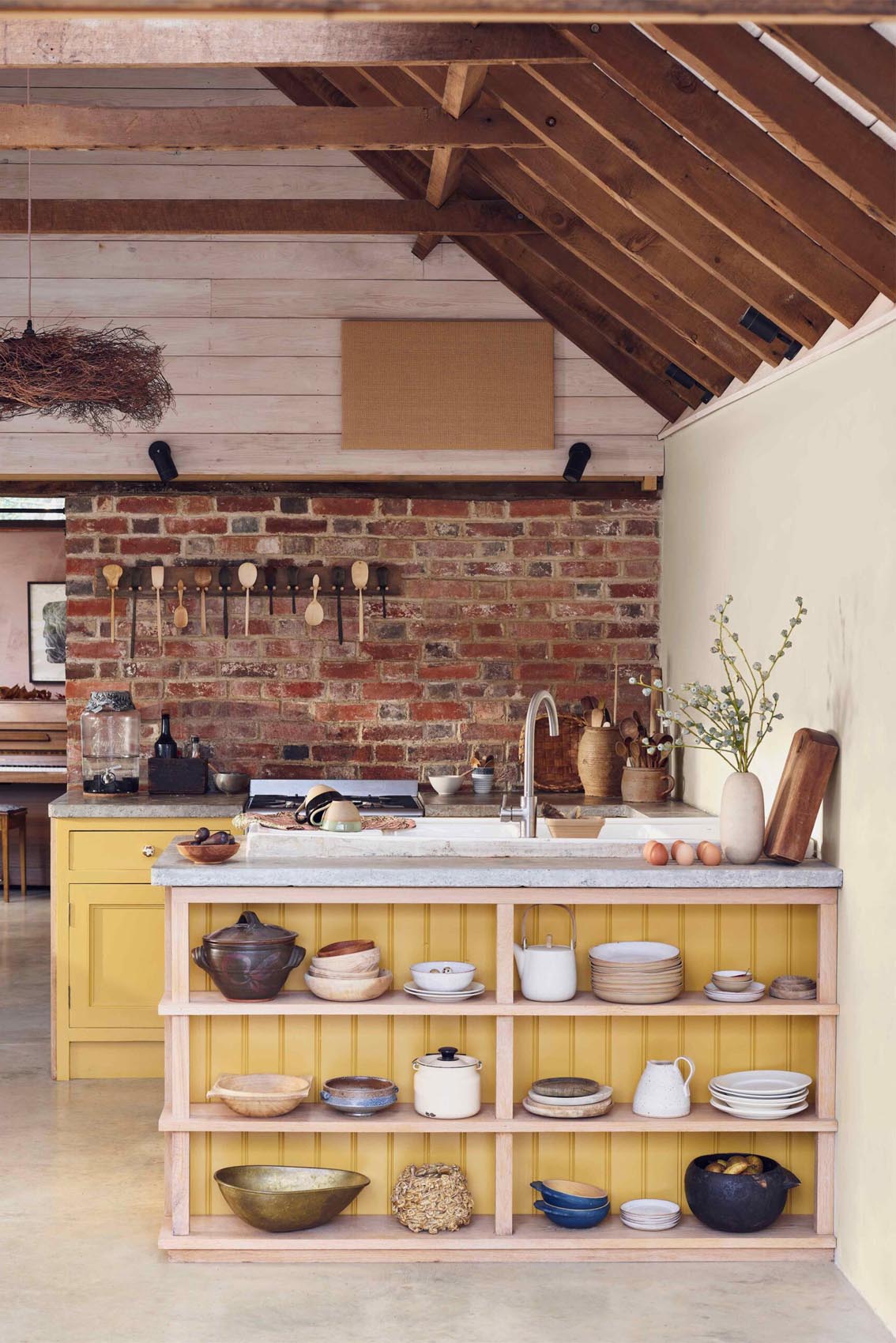 Wallpaper
On the other hand, you may wish to add colour through a bold wallpaper design. Patterned prints in the kitchen are becoming increasingly popular positioned above the backsplash, behind open shelving, or on a feature wall. Teamed with a neutral wall / cabinet colour, this creates an element of interest and personality for a real impact. Shown below (image 1) is the Little Greene Brooke House wallpaper in Cinder, showcasing a contrasting feature design in the dining area compared to the simplistic Kitchen. If you'd prefer a more neutral look, the Little Greene Briar Rose wallpaper in Green Stone from the new National Trust Papers III collection is a great choice (image 2 below).
For an air of maximalism, we love the Sanderson One Sixty Hollyhocks wallpaper in Gold Metallic/Tan. In stylish neutral, green and gold tones with a luxurious metallic sheen, this opulent design exudes glamour in a way that works well with popular marble top surfaces. Please see image 3 below. If you're feeling confident, you could even paper all your walls in a gorgeous print!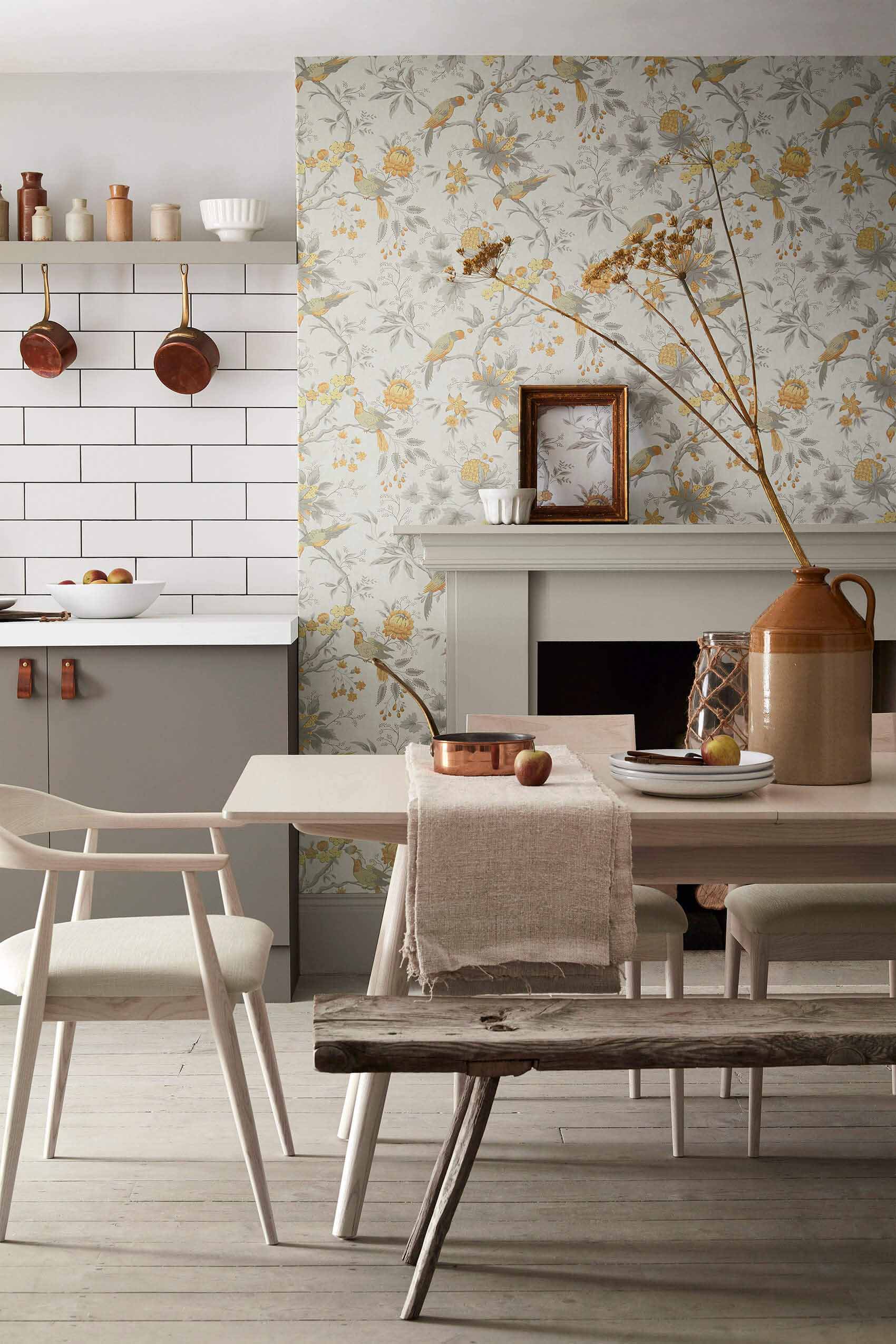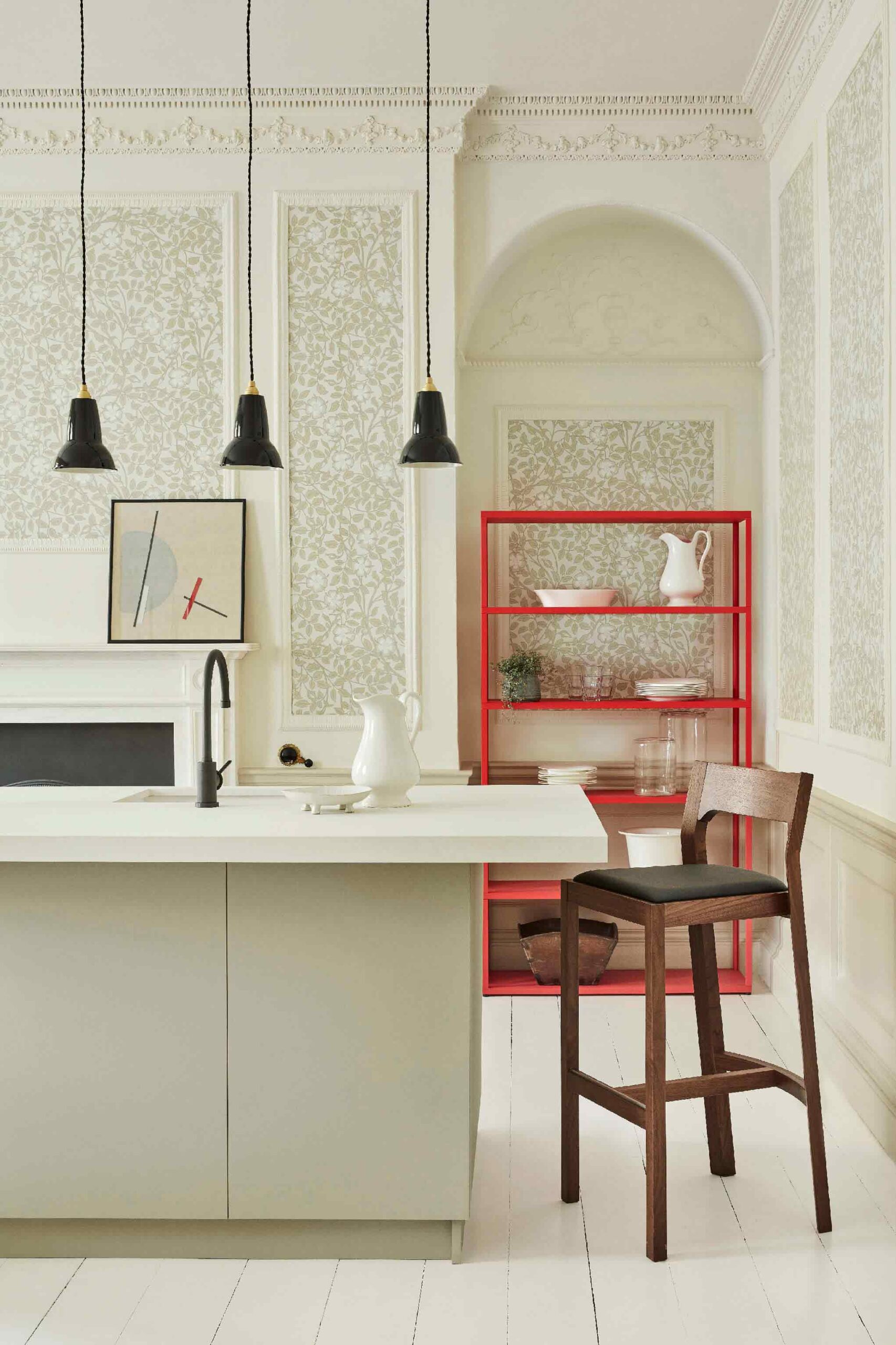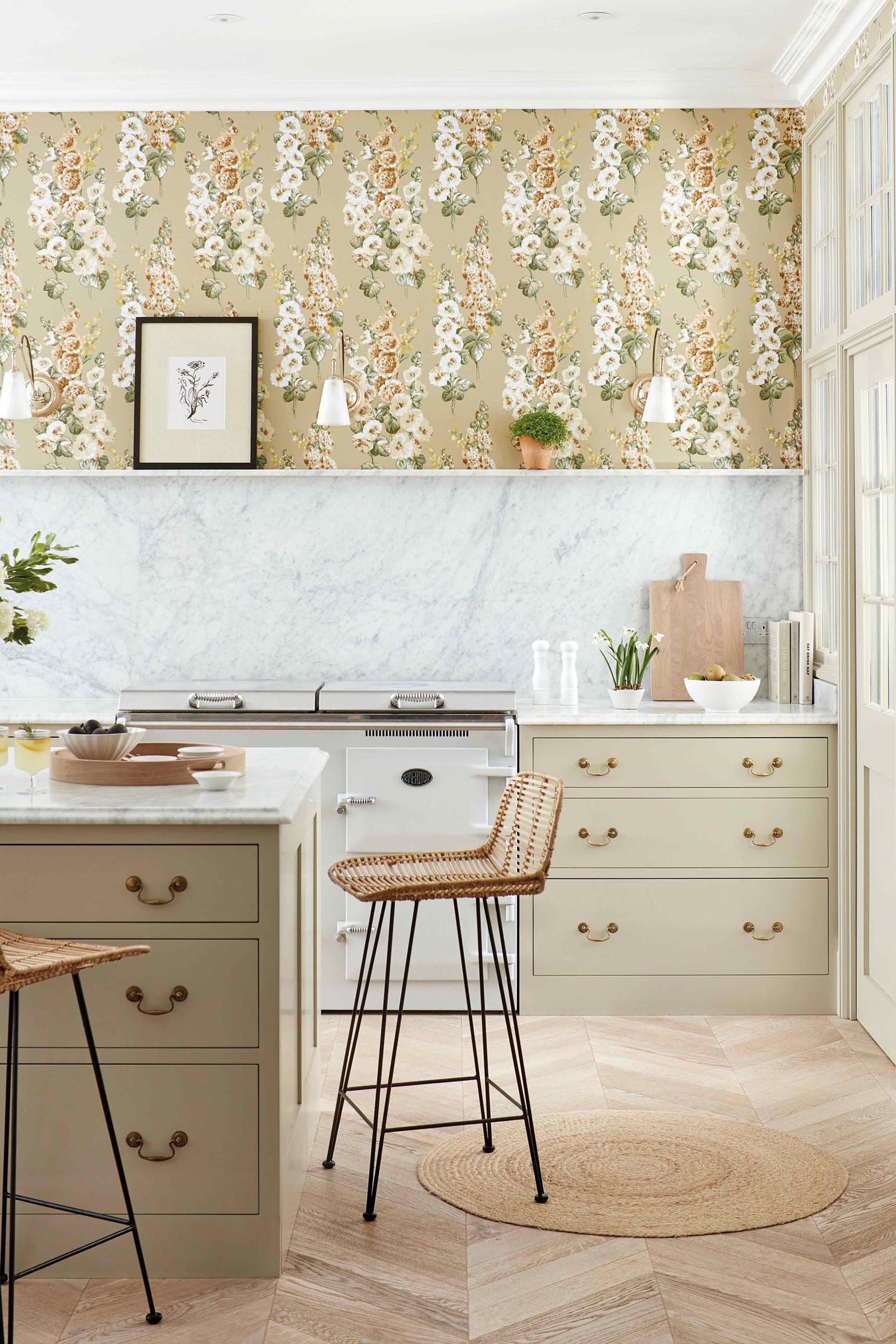 Window Treatments
As open plan spaces continue to thrive, we often see the addition of popular bi-fold / sliding doors or extra wide windows in kitchen / diner spaces. Whilst these look stunning and enhance the amount of natural light in the space, extra consideration should be given to privacy and shading requirements when choosing a window dressing. Large expanses of glass, together with hard surfaces, kitchen units and higher ceilings often featured in these spaces also help to bounce sound around a room, leading to demand for fabrics which offer superior acoustic properties.
Fabric Selection
The Silent Gliss Colorama 2 fabric (shown opposite) is a fantastic choice. A bestseller in the Silent Gliss fabric collection, this plain, simplistic fabric has semi-transparent qualities, delivering increased privacy and shading without fully blocking the light for a floaty look. It also has inherent acoustic properties, helping to absorb sound in large open plan living spaces. Wide width, Colorama 2 works beautifully for curtains across extra wide windows and doors for a stylish, contemporary finish. It is available in an array of neutral and colourful tones to complement your chosen scheme.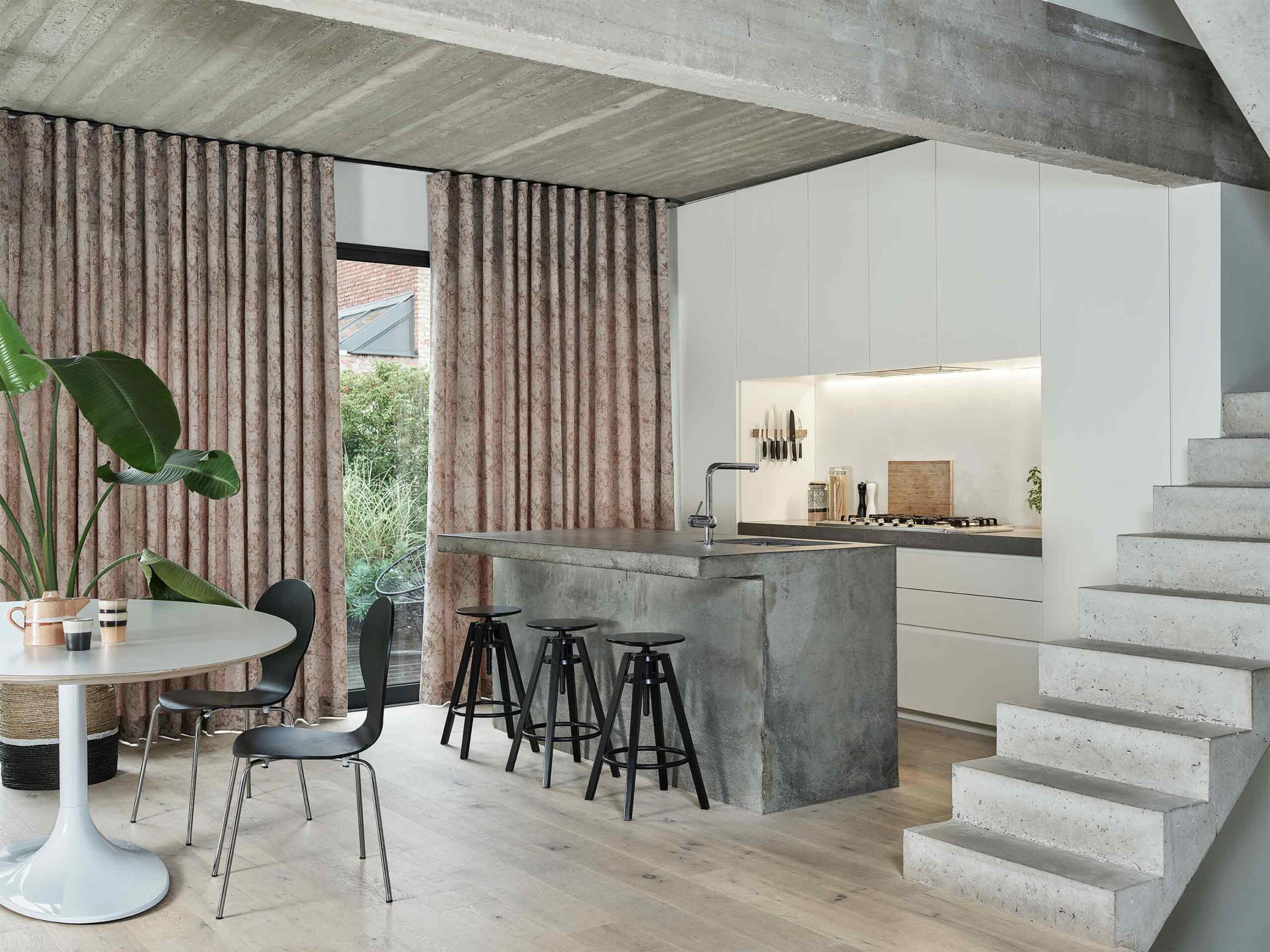 If you'd prefer a patterned fabric for your curtains, the Kobe range offers some fantastic wide width designs enriched with natural texture for added dimension. We particularly love the Ginkgo fabric from the Kobe Roots collection (shown opposite in colour ref 2). Inspired by the outdoor world, this gorgeous patterned fabric brings natural elegance to the window for a beautiful finish. This reflects the trend towards natural influences within the home. Alternatively, for a touch of understated glamour that works well with marble worktops, you may wish to consider the Kobe Fossil Fabric from the Surfaces collection (shown in the main image at the very top in colour ref 3).
Curtain Heading
In terms of curtain heading, the modern wave curtain style is a popular choice, lending itself beautifully to wide windows and bi-fold / sliding doors (shown above). The Silent Gliss and Kobe fabric ranges offer some fantastic wide width options which work particularly well with this curtain heading to avoid the need for joins (drop dependant).
Blinds can also be a good solution for glazing in the open plan kitchen / diner. If you have smaller windows, you may wish to add a made to measure roman blind in a patterned fabric to accentuate the dressing or a plain fabric to complement your scheme. We also offer a wide selection of roller blinds with both manual and motorised options, suitable for a plethora of window shapes and sizes.
Accessories
Curtain Poles / Tracks
If you choose to opt for a wave curtain across a bifold or sliding door, we offer a wide selection of Silent Gliss Curtain Tracks compatible with the wave heading. Made to measure, these innovative tracks work well for wide width windows and can even be bent for bay requirements. Choose from a range of hand drawn, corded, recessed and motorised functionalities to suit your requirements. The Silent Gliss Metropole is also a popular option for hanging wave curtains (shown below left in Antique Bronze with the Ellipse finial style).
Alternatively, If you'd prefer the aesthetic beauty of a curtain pole, you could consider a wooden curtain pole with the Silent Gliss track insert, compatible with the 80mm wave gliders. Now available on the Hallis Hudson range of corded wooden curtain poles including their Rolls Modern Country, Rolls Museum and Hallis Hudson Origins brands. For more information, have a read of our blog post.
Each of these options offer an array of fluid finial styles, working beautifully with the trend towards organic curves and softened edges for a smoother, calming feel that flows throughout the space.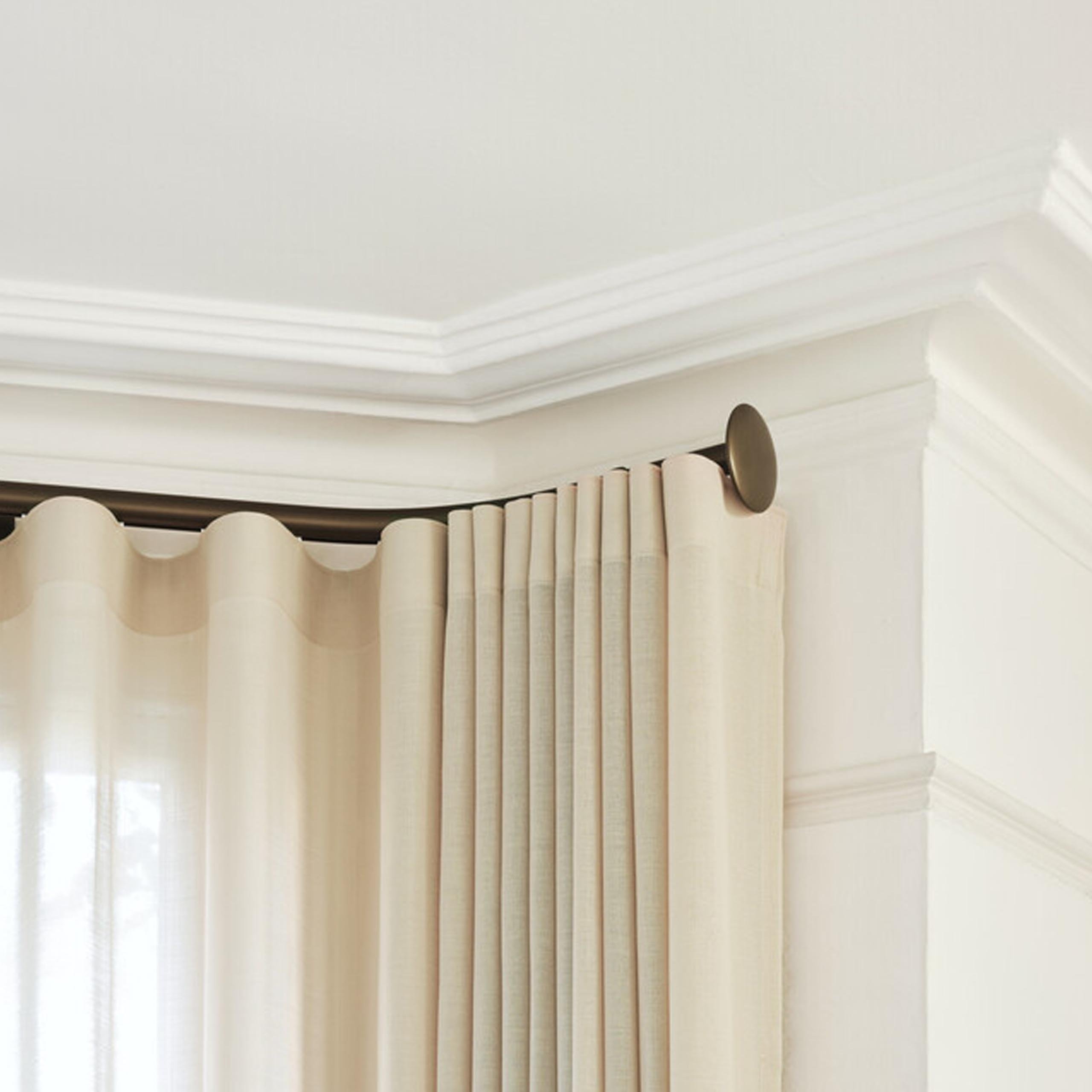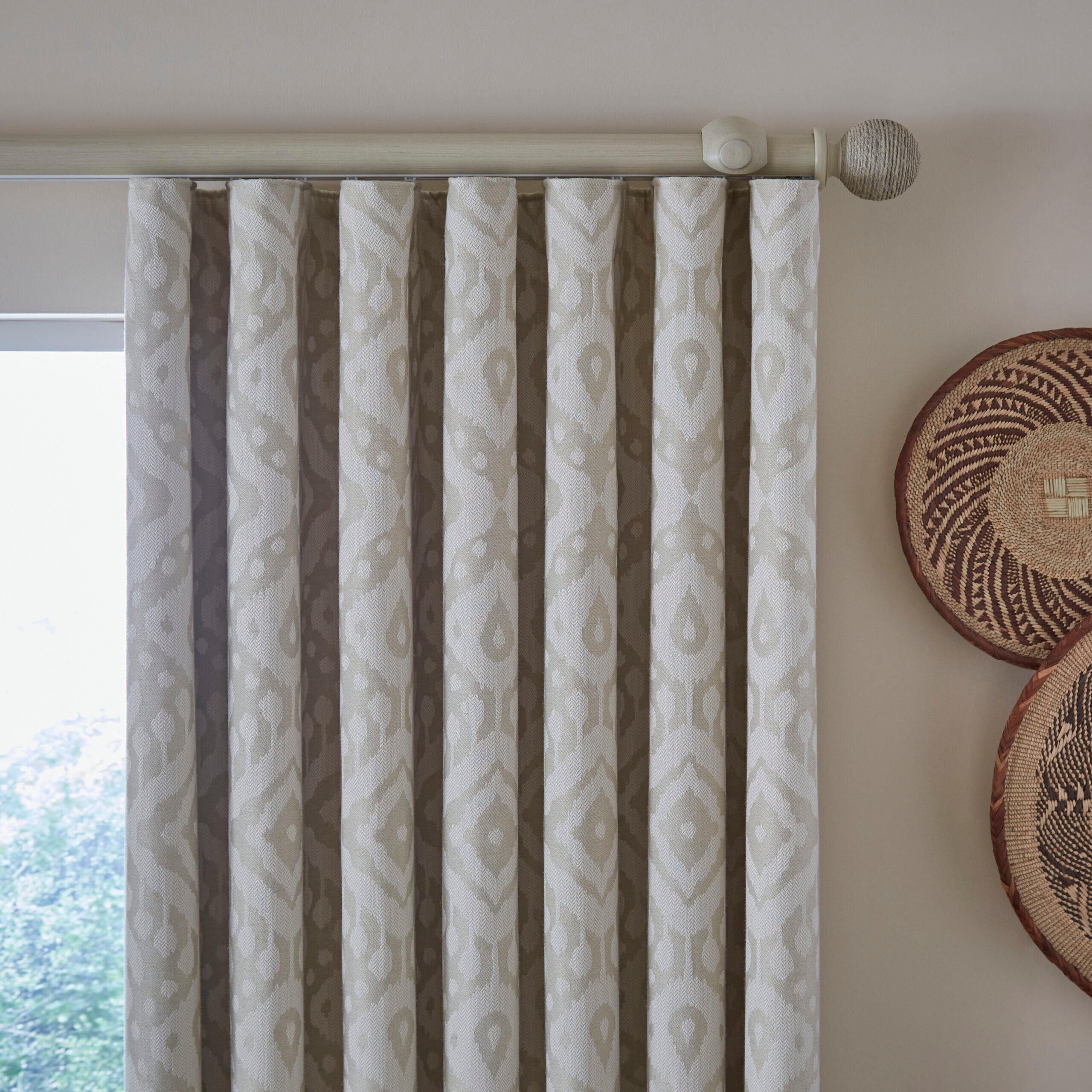 Rugs
Rugs make a fantastic addition to open plan kitchen / diners. Positioned under a dining table or sitting area, a rug can help to introduce a softer element to the space in contrast to the harder surfaces for kitchen use. This brings a cosier, homely feel to the room for the perfect balance and also works well to zone the space for entertaining away from the kitchen.
Simply use to add a splash of colour to your scheme, or opt for something tonal and complementary for a cohesive finish. We particularly love the Harlequin Elliptic Rug in Emerald (image 1 below) and the Harlequin Diffinity Rug in Oyster (image 2 below). Rugs are also interchangeable, offering the versatility to switch up your scheme for a quick and simple home refresh. If you're looking to position a rug under your dining table, you may wish to consider a 100% wool rug as these have some resistance to dirt and will offer a luxurious feel underfoot. Equally, an outdoor rug that can also be used inside provides hardwearing qualities that would work well for this positioning. Shop our full range of rugs here.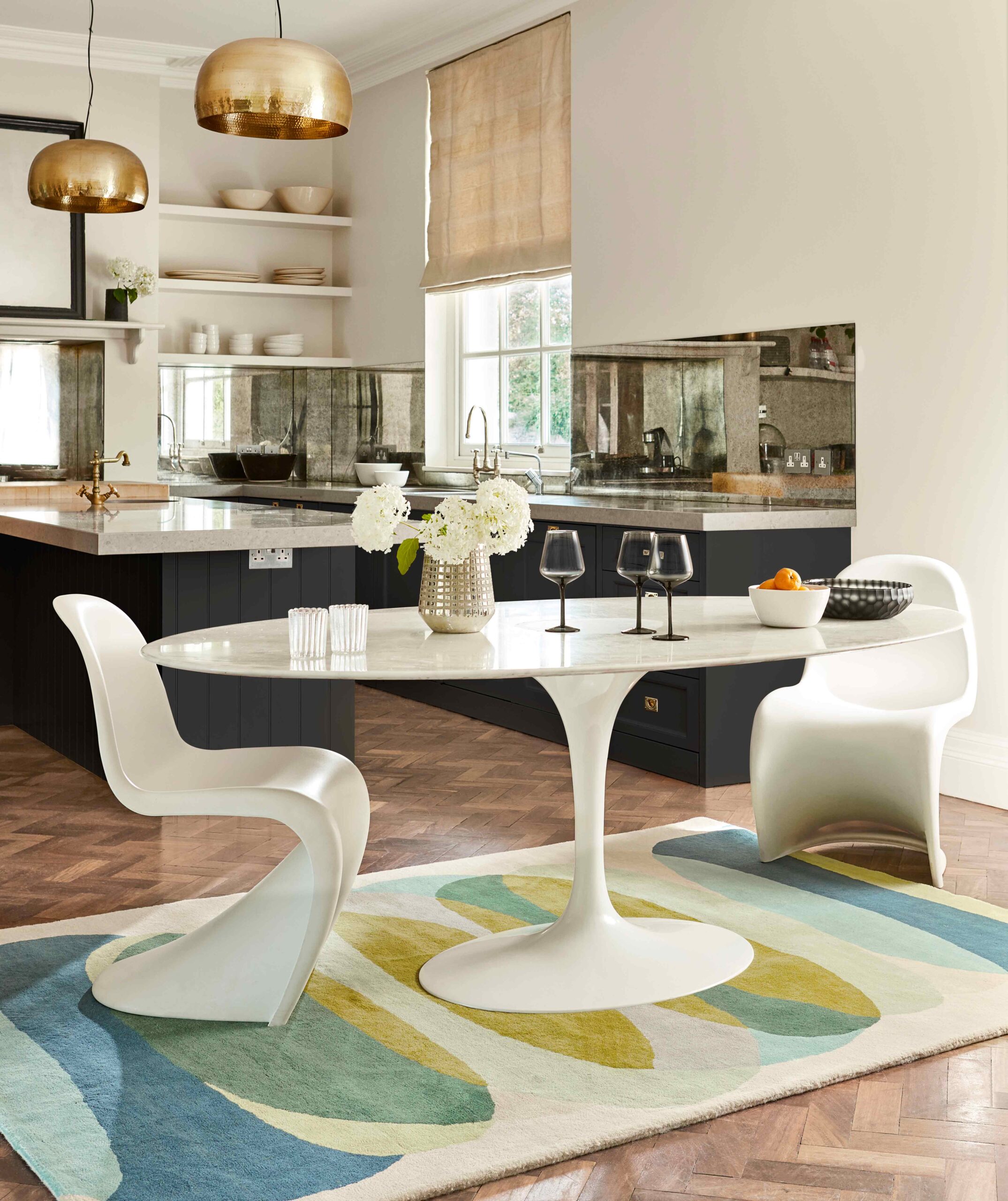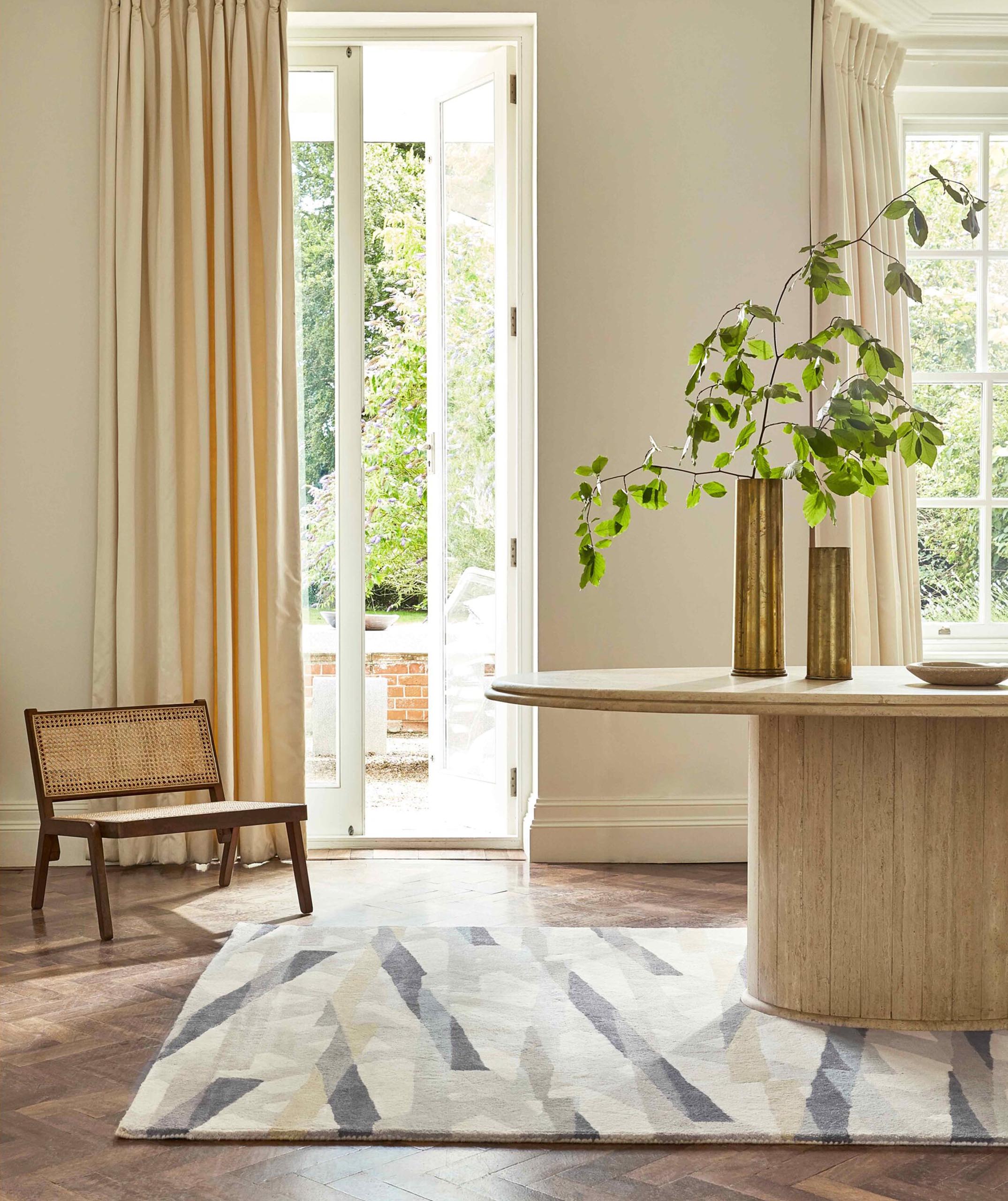 Overview
We hope you have found this open plan kitchen / diner styling inspiration useful and insightful. For more styling ideas and inspiration, please see our trend guides. If you would like help pulling a full room scheme together, we do offer a complementary face to face and virtual Bespoke Design Service, including paint and colour consultations, from our showroom in Brockenhurst. We can also make up your perfect window dressings with our made to measure curtain and roman blind making service. Please get in touch if we can assist with your project.
Email sales@thehomeofinteriors.co.uk or call us on 01590 615775.
Follow us on Instagram and Facebook: @myhomeofinteriors