Tracked Wooden Curtain Poles with Silent Gliss Track Insert
Hallis Hudson's range of corded wooden curtain poles including their Rolls Modern Country, Rolls Museum and Hallis Hudson Origins brands are now available with a Silent Gliss track insert offering the aesthetic beauty of a wooden curtain pole with the functionality of a track.  All of these poles are manufactured in Great Britain.  Each pole is hand finished and made to measure for a perfect fit and to meet your preferred specifications.  The choice of cord colour (black or white), the finish of the cord tensioner (white, brushed steel or antique brass), track insert colour, cord side, bracket and glider type can all be specified when ordering your bespoke pole.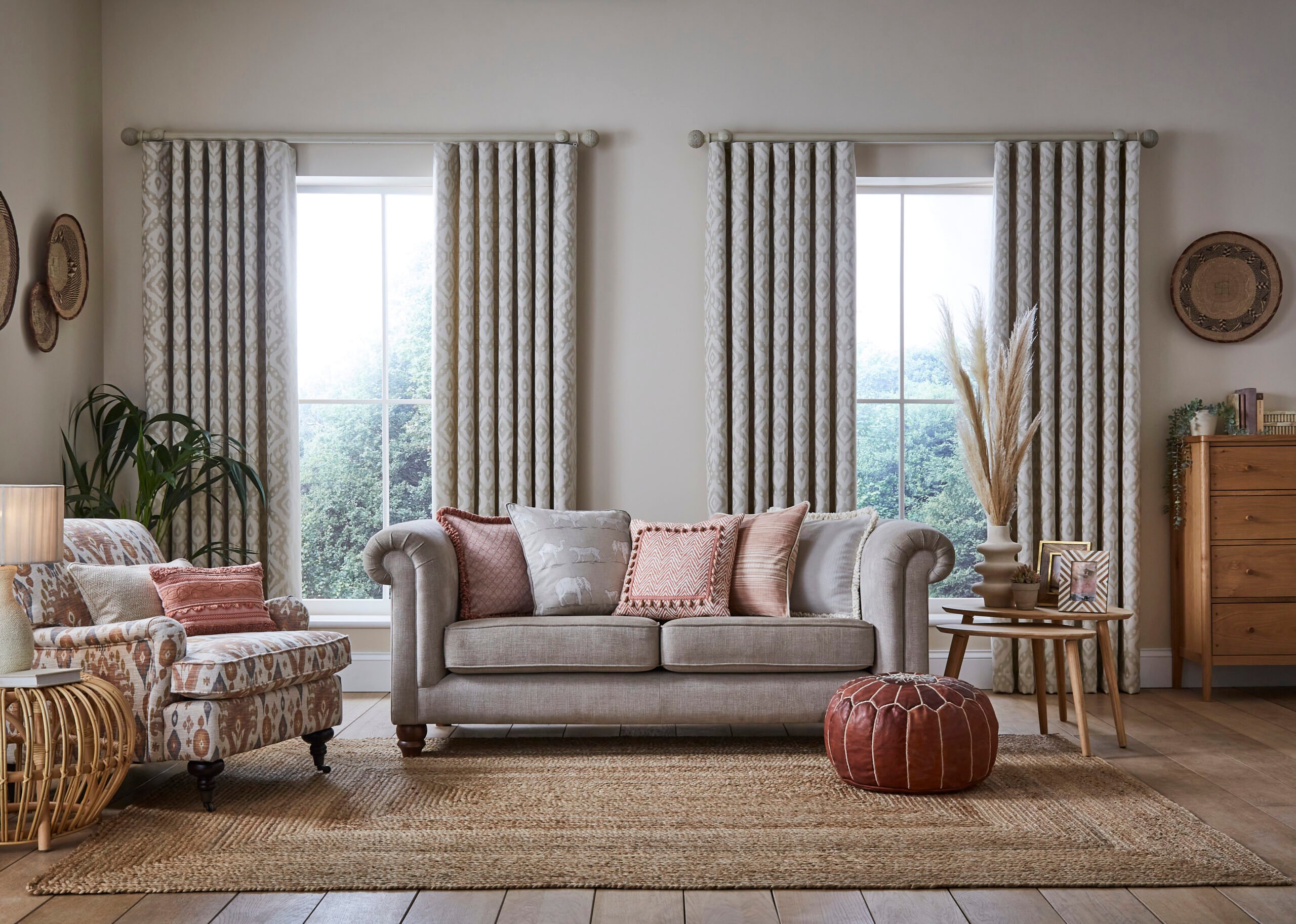 Rolls Modern Country
The Rolls Modern Country curtain pole range is a collection of stunning hand finished curtain poles available as a corded pole in a 45mm or 55mm diameter in a choice of painted and natural washed & waxed finishes.  The variety of colours and finial styles available gives them the versatility to complement a variety of interior design styles and colour schemes.
Rolls Museum
The Rolls Museum is a beautiful collection of 45mm and 55mm curtain poles in a choice of traditional and contemporary finishes to complement classic and modern interior design styles.  Rich, gilded metallics are available in this range which complements opulent fabrics or velvets in jewel tones.
Hallis Hudson Origins
The Hallis Hudson Origins range of 45mm corded curtain poles combines simple elements of nature with inspiration from the smooth and clean lines of Zen gardens.  The collection encompasses six finials which breathe calm and tranquillity into any room.  Conjure up thoughts of organic ceramics in warm neutral tones, jute rugs, white washed floors and linen tablecloths.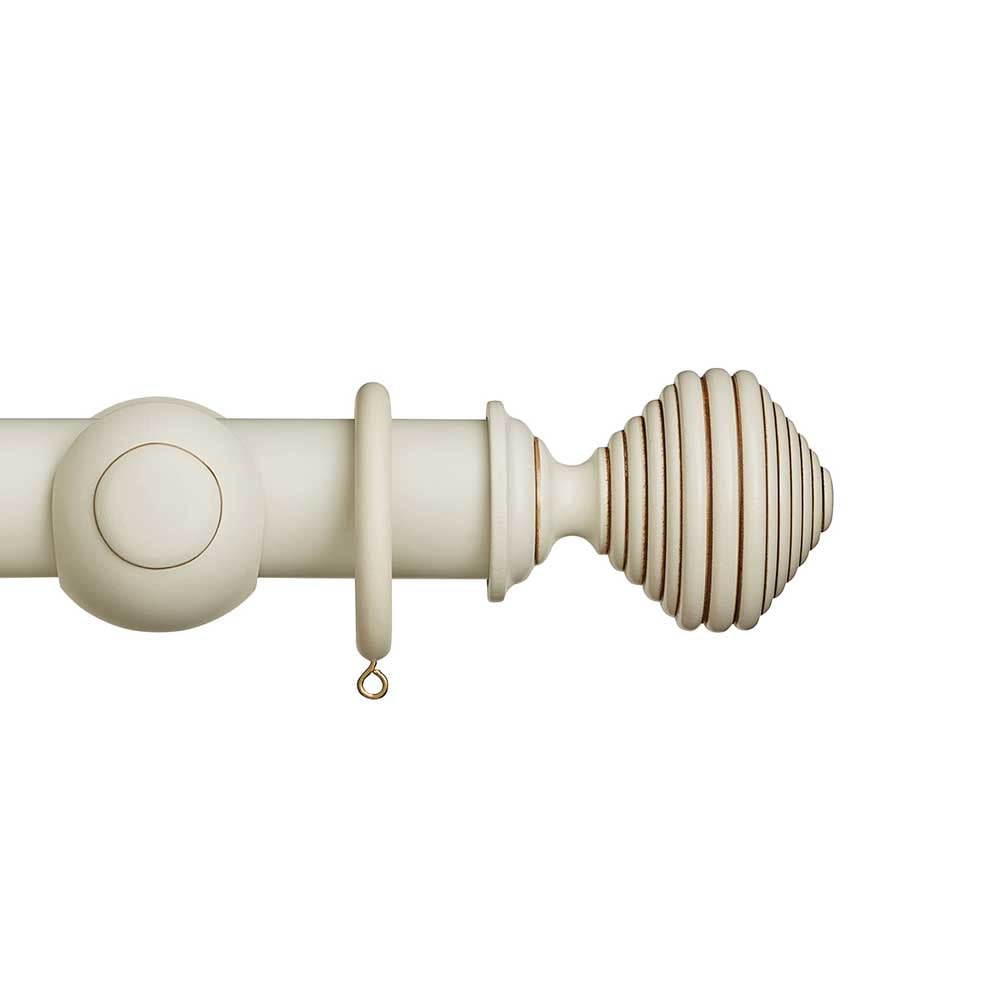 Silent Gliss Track Insert
Silent Gliss are renowned for the quality of their products and innovation.  The Silent Gliss hand drawn 6870 curtain track, or the corded 3870 curtain track is inserted into a channel routed in the curtain pole.  The tracks are supplied with premium 2C gliders ensuring a smooth and silent glide.  Standard gliders, roller gliders (recommended for heavier curtains) and wave gliders (required for wave curtains) are all options that can be specified when ordering.  To complement your chosen pole colour, the track inserts are available in white, antique bronze, anodic grey and charcoal.




Bracket Options
Wooden clasp style brackets are supplied with these curtain poles as standard.  The style of the bracket ensures the bracket doesn't interfere with the glider channel so a single curtain can pull from one side to the other.  For heavier curtains, additional brackets can also be purchased to offer extra support.
Metal brackets can also be specified if preferred which are available in chrome, antique brass or polished brass.
Curtain Heading Styles
Double or triple pinch pleat curtains are sophisticated curtain heading styles that complement the style and elegance of the wooden corded curtain poles.  This classic curtain heading style will create a statement look at your window to finish off your room beautifully.
For more contemporary styling, wave curtains looks stunning and stylish.  An advantage of the wave curtain heading is that it delivers a slimmer stack back to traditional curtain headings which can optimise the light coming into your room.  80mm wave gliders are compatible with the wooden corded curtain poles and the stack back can be calculated at 18cm per metre of track.  Please read our Wave Curtain page for further information on this heading style.
Made to Measure Curtain Making Service
Shop our range of stunning fabrics from leading fabric houses and well known brands, that can be made into beautiful made to measure curtains that will come ready to hang on your curtain pole.  We offer a range of lining options and heading styles to suit different interior design styles and requirements.  We pride ourselves on the quality of our curtain making service.  Please read our blog post for further information.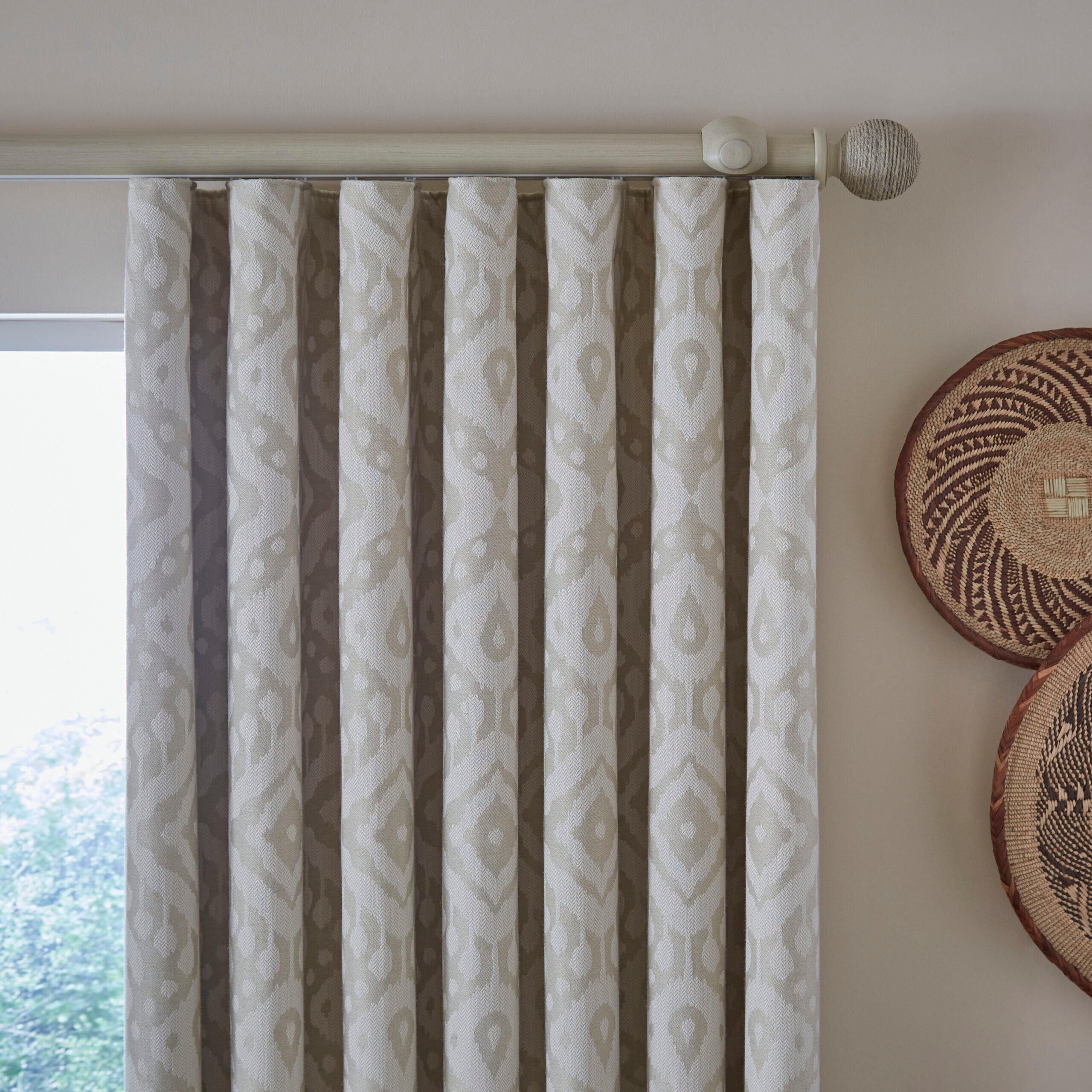 If you have any questions, would like any advice or pole colour samples sending out, please do get in touch.
Email sales@thehomeofinteriors.co.uk or call us on 01590 615775 and we will be happy to help.
Follow us on Instagram and Facebook to keep up to date: @myhomeofinteriors