First Global Shading Day – 21st March 2023
The 21st March 2023 saw the first Global Shading Day focusing on sustainable solar shading solutions.  Silent Gliss joined forces with their partners in the shading industry to celebrate this first event.  The initiative was launched by ES-SO*, the umbrella organisation of the European Solar Shading Industry, which aims to make the general public and policy makers aware of the human, ecological and economic benefits of solar shading.  Imposing standards in building legislation would be a logical next step now that climate change is irrevocably continuing to accelerate.
A scientific study by Guidehouse has shown that:
Solar shading can reduce CO2 emissions by up to 100 million tons and save up to $285 billion.
This is a potential energy saving of up to 60% for the cooling of buildings by 2050.
Buildings are still the leading energy consumers in Europe today, accounting for 40% of energy consumption and 35% of greenhouse gas emissions.  If we do nothing, climate change and heat waves will increase the number of buildings requiring air conditioning by an estimated 60% by 2050.
Energy Saving Window Treatment Solutions
As we head into the summer months the focus on solar shading becomes ever more pertinent.  At The Home Of Interiors we are delighted to be offering window treatment solutions that help to keep rooms at an ambient temperature during the warmer summer months, thus reducing the use of energy-consuming air conditioning systems, and warmer during the cooler winter months helping to reduce energy consumption.  Window treatment solutions can also help with light management to help reduce glare on screens in offices or on TVs in living spaces, and to help darken bedrooms for a good nights sleep!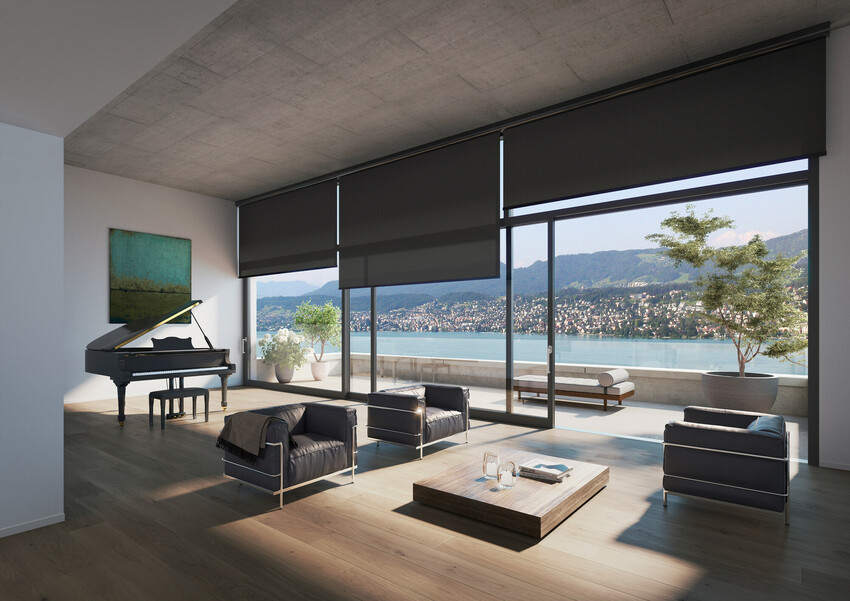 Large Expanses of Glazing including bi-fold & sliding doors – ambient summer temperatures
As the market continues to see large expanses of glazing, bi-fold, sliding and crittle  style doors in new builds / home extensions and renovations the requirement to keep rooms at an ambient temperature in the summer, whilst retaining heat in the winter, becomes increasingly important.
Image: Silent Gliss Colorama 1 Alu fabric colour reference 427 featured on Silent Gliss motorised roller blind system 4970 with a curved black fascia box.
Fabric and Lining Options to optimise solar reflection
Silent Gliss invest heavily in the technological properties of their fabrics, balancing function and performance with style and beauty.  Their aluminium backed fabrics  deliver superior light and heat reflective properties, reflecting solar heat back out of your room to help keep your room at an ambient temperature during warm summer days.  Silent Gliss Colorama 1 Alu fabric is a sheer, wide width fabric ideal for the wave curtain heading style and roller blinds.  Silent Gliss Reflex is another consideration.  It is classified as as semi-sheer so offers more shading and privacy than Colorama 1 Alu.
Alternatively, through our Bespoke Made to Measure curtain making service we can make up your curtains in any fabric with a Thermal Solar Reflective blackout lining.  This lining has a silver, aluminium reflective backing to reflect light and heat out of your room in the summer, and the Thermal Shield 3 pass coating reduces heat loss in the winter, helping to reduce energy consumption.  This lining offers up to 10 times greater energy saving than a conventional lining.
Maximising Heat Retention in the Winter – curtains and blind solutions
According to researchers at Salford University simply drawing curtains over windows and glazed doors in the evening can reduce heat loss by up to 17% (source: Hallis Hudson).  Curtains work as a barrier to prevent heat exchange between the cold air around the window and the warm air in the rest of the room.  Draw your curtains as soon as the evening arrives, especially if your home has drafts windows or doors.
Curtain and Roman Blind Linings
Adding a lining to your curtains or roman blinds will not only help to protect the face fabric from sun damage and enhance the drape of your curtains and blinds, but will also provide an additional layer which acts as a barrier.  Through our made to measure services we offer a range of lining options (including standard, thermal and blackout) and curtains made up through our bespoke made to measure service can also be interlined.  We offer a range of bonded linings through our bespoke roman blind making service which feature a fleece backing to improve the effectiveness of the lining.
Blackout linings not only help to reduce light ingress into a room but will also keep your room warmer during the winter.  Use an interlining with a blackout lining can reduce heat loss by as much as 33% (source: Hallis Hudson).  Blackout linings feature a 3 pass coating which help to block the gaps between the threads of the face cloth, thus creating a barrier and a layer of still air, which stops heat from travelling and being lost.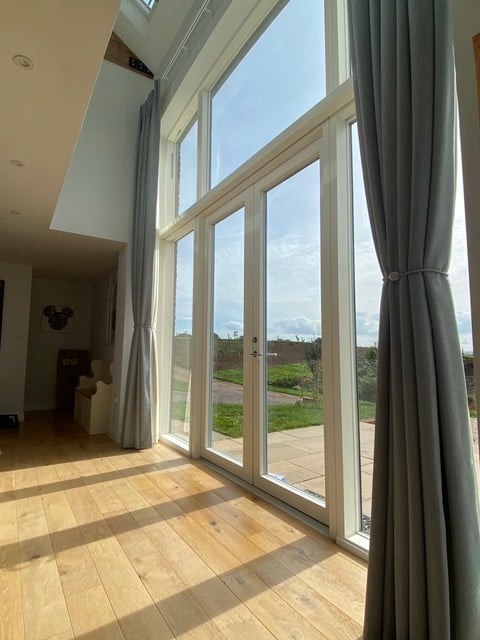 Door Curtains
Curtains covering doors have gained popularity in recent months to reduce drafts and conserve heat.  The thicker the curtains the better insulation they will offer to help retain warmth in your home.
Curtain Pole Solutions
If there is space around the door you can use a standard curtain pole mounted on the wall above the door frame.  Ensure the pole is wide enough for the curtains to draw back so they don't obstruct the opening of the door.  However, if space is limited around your door you may prefer to opt for a Portiere Rod that moves independently of the door for ease of movement.
Door Curtains
Laura Ashley offer a great range of thermal lined door curtains.  A single panel is supplied to fit over a door and the curtains are supplied with a fleece backed thermal lining.
Tiebacks
You may wish to consider a tieback to hold the curtains back out of the way of opening doors.
Layering
As curtains and blinds act as a barrier for heat exchange more layers can help to improve the energy efficiency of your home.  Layering curtains and blinds also offers flexibility in shading and privacy throughout the day.
Curtains and Roman Blinds
Layering curtains with a roman blind is a popular choice to deliver a stylish look at your window.  For bedrooms, blackout lining a blind and curtains can help to further reduce any light ingress around the edges of the blinds / curtains.  A popular option is to complement curtains made up in a decorative, patterned fabric with a plain or fabric with a subtle pattern in for a roman blind.  Ensure that you pick up an accent colour in the curtain fabric for the blind fabric to ensure both work together tonally.  If you would like any help in fabric selection we offer a Bespoke Design Service virtually and face to face from our showroom in Brockenhurst.
Roller and Roman Blinds
Another popular option is to layer a roller blind inside the window recess with a roman blind positioned on the outside of your window recess.  A roller blind in a sheer / daylight fabric will provide some shading and privacy yet still allow the light to come into your room.  Or you may wish to consider a blackout roller blind for bedrooms.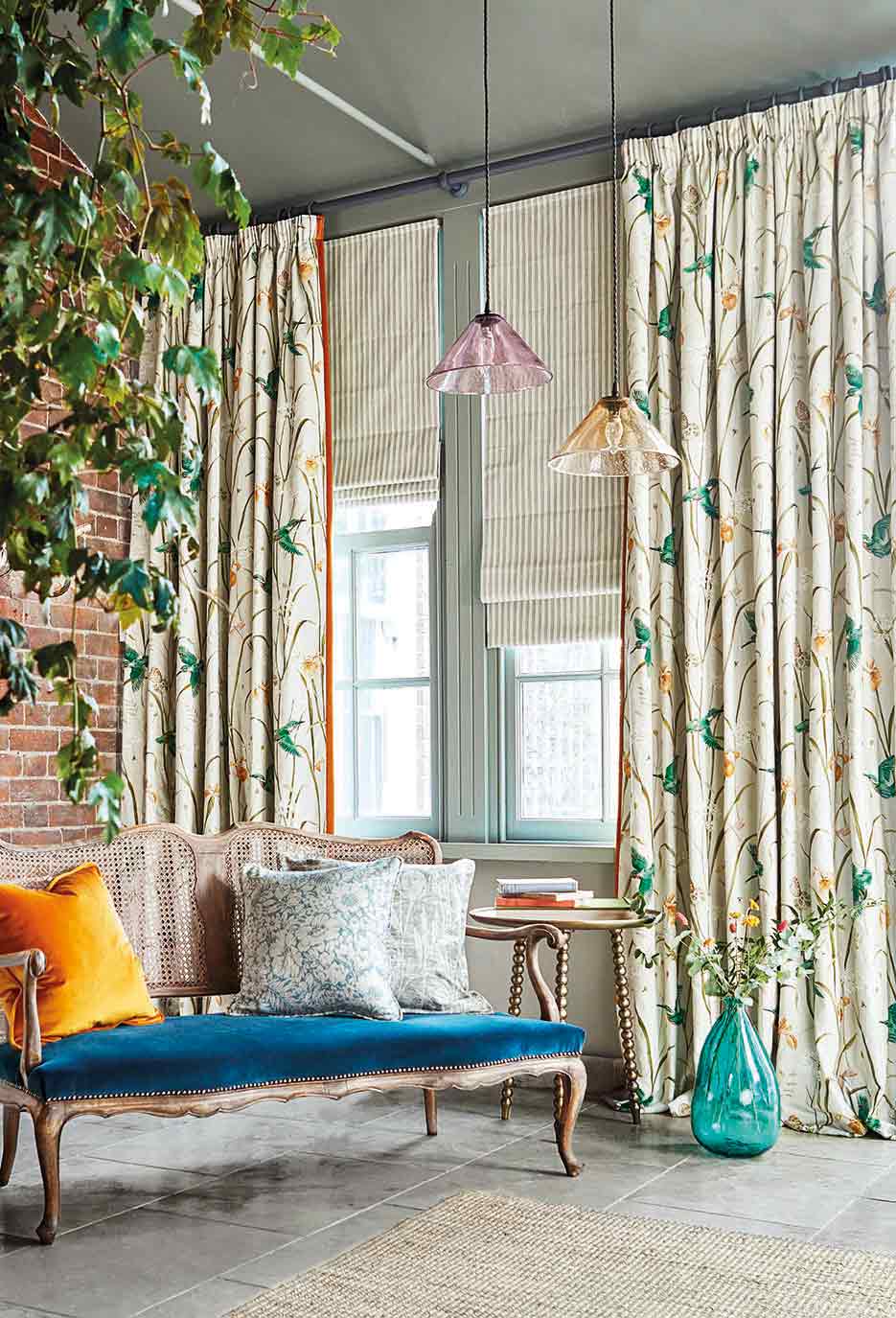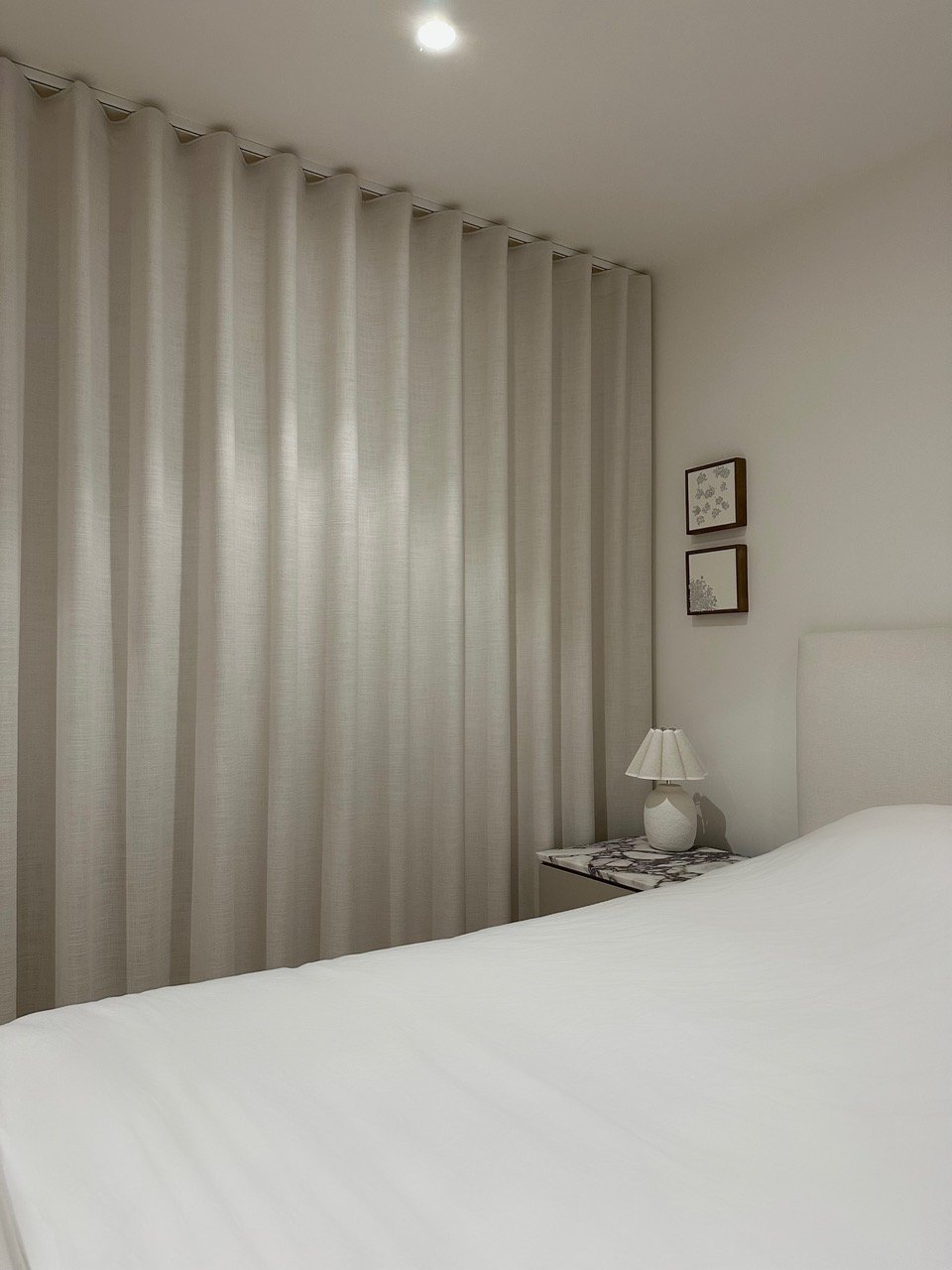 Maximising Energy Saving
Ceiling fixing floor length curtains or adding a boxed pelmet over the top of a curtain or roman blind can further enhance the insulation gained from your window dressing, helping to prevent heat leaving or entering the room.
Shop our range of curtain tracks that are suitable for ceiling fixing.  Recess fitting a curtain track is a popular option to create a hotel chic at home look.
If you prefer a curtain pole shop our range of curtain poles that are suitable for ceiling fixing.
Apex / Gable Ends, Shaped Windows, Conservatories and Orangeries
We are delighted to have partnered with Appeal Shading offering a range of blinds suitable for shaped windows, gable ends, conservatories and orangeries.
 Honeycomb Energy Saver Blinds
The Appeal range of honeycomb blinds features a unique double-layered hexagonal design, delivering a stylish look combined with energy saving properties.  During the summer months, the reflective barrier can reduce heat absorption by 78%, preventing the room from experiencing a greenhouse type effect.  In winter, their innovative design instead traps heat in, reducing heat loss by 46% (research carried out on a single glazed window), allowing for year round use without excessively high energy bills.
Free No Obligation Design Consultation
Click here to book a free, no obligation design consultation where a blinds specialist from Appeal Shading will be in touch to arrange a visit.  There are over 132 fabric colours, styles and textures to choose from so that a perfect shading solution is specified for your project.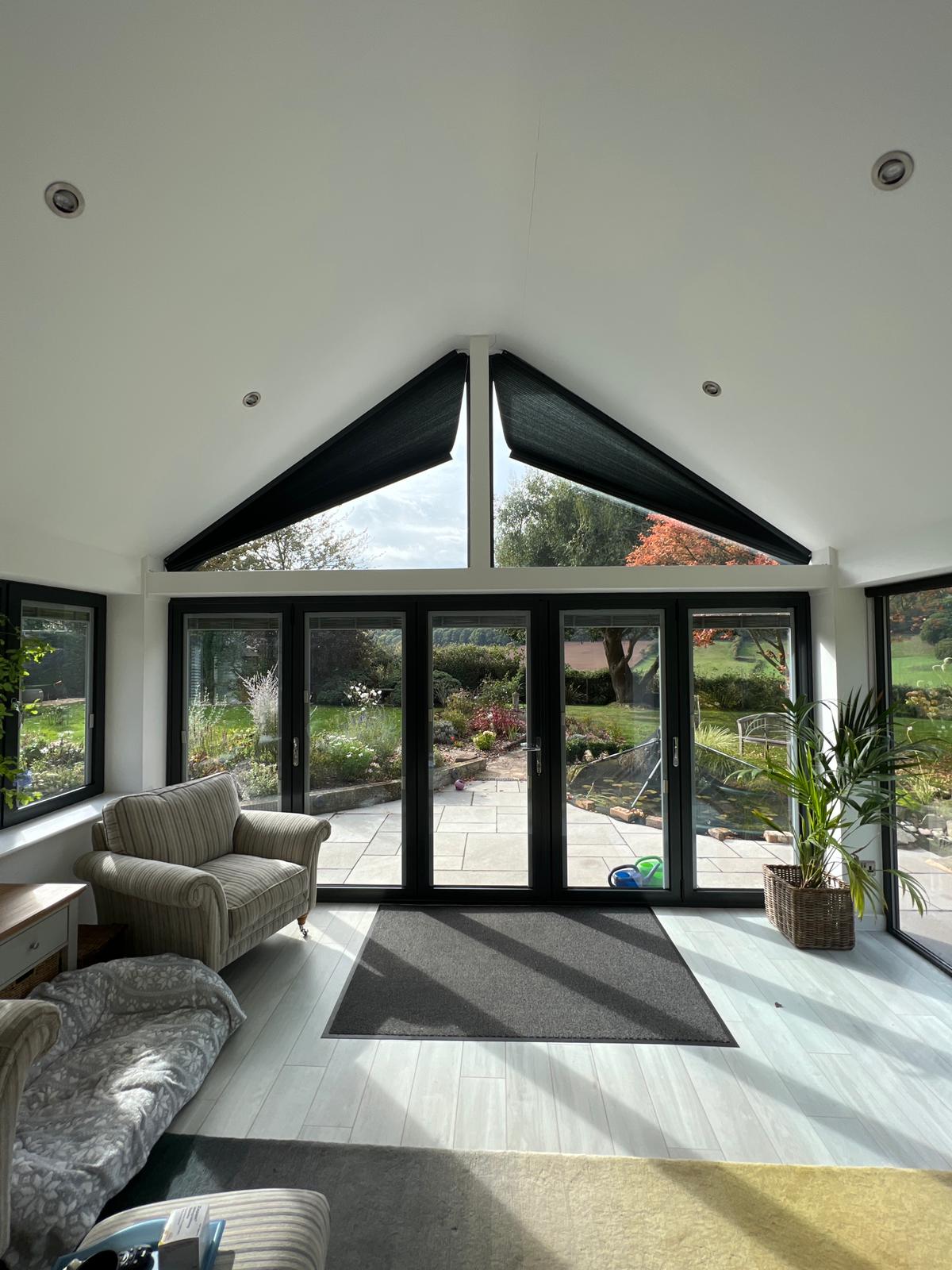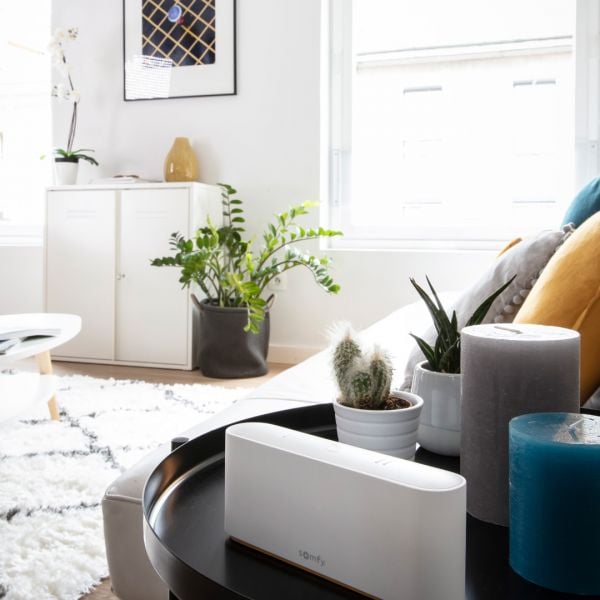 Somfy Motorisation – Cool Home Ultimate Comfort!
The most energy efficient way to help keep your room at an ambient temperature is to prevent it getting too hot in the first place!  The Somfy Ta'Homa Switch (featured in the image) features a Thermal Comfort Scene that ensures blinds and curtains close automatically to keep the heat out.
Combine the Somfy Switch with the Somfy Sunis WireFree II io Sun Sensor to automatically close your blinds or curtains to keep sunlight and heat out of your home at all times.  Place the sun sensor outside on the facade to transmit the measured light intensity to the Ta'homa switch.  In case of a lot of sun, the blinds and / or curtains will automatically take the desired position to help keep your rooms at an ambient temperature.  When the sun disappears the blinds and curtains will automatically open again if desired.
The settings also help to increase security of your home, and will help to protect furniture and other interior products from sun damage.
The Thermal Comfort Scenario which comes already set up on the Tahoma Switch, allows you to open and close your motorised window shading at set times every day, reducing the light and heat entering your home.  See the Tahoma Switch product page and the 'Thermal Comfort Scene' tab for more information.
Embarking Upon a Project
If you are embarking upon a home renovation, extension or new build please get in touch as early on in your project as possible so any window treatment solutions can be factored into your build.  We can provide advise on electrical requirements and other practical considerations to think about and planned into the design.
We can also help with smaller scale projects.  Please see our range of Bespoke Design Consultation Services available to bring your vision to life.
Email sales@thehomeofinteriors.co.uk or call us on 01590 615775.
Follow us on Instagram and Facebook: @myhomeofinteriors
*About ES-SO
ES-SO is a non-profit organisation under Belgian law that aims to promote the positive impact of solar shading on indoor climate management, thereby supporting EU's ambitious energy-efficiency goals.  ES-SO is based in Brussels, the ideal location to guarantee that the voice of the industry is heard and that it can make a position impact.