Client Brief
Our client approached us for a window dressing solution to cover doors and windows in an open plan living room in a stunning barn conversion.  Due to the height of the windows, and practical limitations of drawing curtains by hand for such a long drop, our client requested an electric curtain track.  Initially wave curtains were included as part of the client brief.
Regarding fabric choice, our client preferred a cotton fabric rather than a linen, and was looking for something in a duck egg colour-way.  The drop of the curtains is 410cm so consideration needed to be given to the track suitability for the curtain size and weight and the best curtain heading style for the window.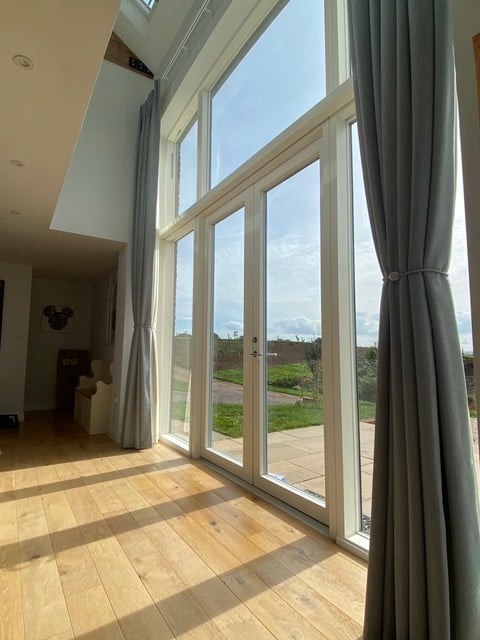 The Customer Journey and The Home Of Interiors Recommendations
Curtain Track
The customer journey started with us recommending the Somfy Glydea Ultra 60 electric curtain track which is a motorised track suitable for wide windows (maximum length 10m) and longer length curtains.  The weight capacity of this curtain track is 60kg.
Curtain Heading Style
Our client was keen on wave curtains at the beginning of the journey however, due to the weight of the fabric with such a long drop we had reservations.  On drops over 300cm the fabric can start to flair out at the bottom of the curtain and lose the uniform wave shape.
Wide width fabrics lend themselves beautifully to the wave curtain heading style.  One advantage is that the curtains can be made up without any joins /seams in them for a polished finish.  This is particularly advantageous for a wave curtain where the join may fall on the front of a wave fold.  However, in order for the curtains to be made up without any joins the drop of the curtains needs to be at least 20cm less than the width of the fabric, which is typically around 300cm for a wide width fabric.  As the drop on this window is so long, wave curtains for this particular window, even in a wide width fabric, would need to be made up with a join in each panel.
Joins are less obvious in curtains with other heading styles so these were explored with our client.  Our client opted for a double pinch pleat curtain with a standard fullness which was perfect for the sophisticated and contemporary style of our client's home and works really well for the height of the window.
Fabric and Lining Choice
With regards to fabric choice, we sent a curated range of plain Duck-Egg fabric samples to our client who decided on the Clarke & Clarke Amalfi fabric in Duck Egg F0453/11.  This fabric has a lovely, natural texture to it and is available in 66 colour-ways.  Due to the huge expanse of glass retaining heat was another consideration.  We discussed standard and thermal linings and the client decided upon a thermal lining to help increase energy efficiency and reduce drafts.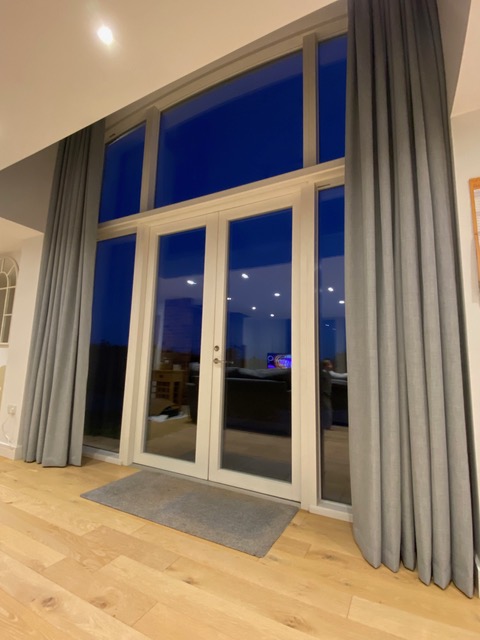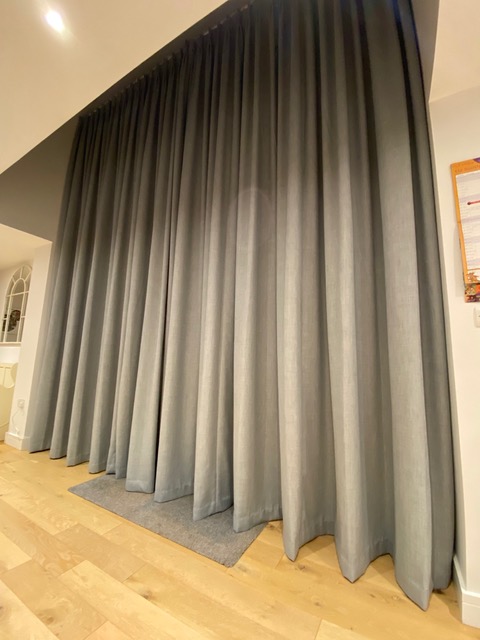 Conclusion
Our client was delighted with the end result and the quality of the make-up.  Read our blog post for more information on our make-up service.  We pride ourselves on our personal service and the attention to detail we pay to every project.  We always consider practical implications and will give advice and recommend the best solution for your requirements.
We offer a virtual and face to face bespoke design consultation service from our showroom in Brockenhurst.  Click here to book an appointment with one of our home interiors advisers who would be delighted to help you with your project.
Please view our Trend Guides for ideas and inspiration.
Email sales@thehomeofinteriors.co.uk or call us on 01590 615775.
Follow us on Instagram and Facebook: @myhomeofinteriors