Silent Gliss 5100 Autoglide Total Control Track
The Silent Gliss 5100 Autoglide electric curtain track system is a fantastic motorised curtain track that offers smooth operation and can be made to your exact length at no extra cost.  Please specify the total track length (the Silent Gliss motor will be included within this) in the cut to size box.  This is an impressive made to measure motorised curtain track solution to operate your curtains automatically.  This product comes with a 5 year manufacturer's warranty and comes with brackets, gliders and a fittings pack to install the track.  Please note the fittings supplied are suitable for solid walls.  Please ensure specific plasterboard fixings are used for plasterboard walls.
This product is the Total control model, which includes a wall switch and remote control and timer. Click here to download the timer unit user manual
There are 4 models available in the Silent Gliss Autoglide 5100 range: Basic, Remote Control, Timer and Total Control (which includes the timer and remote control).  All models are supplied with a wall switch.  The new 'Touch and Go' features on all models, and offers an extra benefit for easy operation. Simply pull the curtain and it will automatically open or close.  These curtain tracks have also been equipped with a manual override feature to protect against power failure.
This track is suitable for the wave heading system.  The wave gliders are evenly spaced either 80mm or 60mm apart and give a neat fold on your curtains for a stylish finish.  Please note you do need to use specific wave heading tape so the wave gliders are not suitable for curtains with other heading types i.e. pinch pleat or pencil pleat.  Please click here for more information on the Wave system.
The Silent Gliss 5100 track can also be bent for a bay window. We do need to bend this track for you. Please download our made to measure form here for a bay or L shaped window.  If you have any questions or need any advice please call us on 01590 615775.
All 5100 systems can be ceiling recess fitted using the Blindspace recess profile.
Please note these tracks are all made to measure and cannot be returned or exchanged unless faulty.
Curtain Inspiration and Advice!
If you are also looking for some new curtains for your curtain track click here to view our range of Readymade Pencil Pleat Curtains.  For bespoke, made to measure curtains view our range of fabrics from leading fabric houses that can be made up into beautiful curtains with a variety of curtain heading and lining options.  Read our blog post on our hand made curtains and roman blind service.  
We are delighted to be offering a wide range of Laura Ashley curtains on our website.
Wave curtains
We specialise in the wave curtain heading and are here to offer help and advice.  We offer a made to measure wave curtain making service in a wide variety of fabrics including Silent Gliss, Clarke & Clarke, Prestigious Textiles, Ashley Wilde, Harlequin and Sanderson to name a few of the fabric houses we work with.  Click here for more information on the wave heading and shop suitable fabrics.  A wave curtain needs to be made specifically to fit your track length so the curtains arrive with the correct number of curtain hooks to match the number of gliders on the track.  If you order your track and curtains from us we will ensure these match so your curtains will be ready to hang upon delivery.  Please call us on 01590 615775 or email sales@thehomeofinteriors.co.uk if you'd like any fabric swatches sending out or would like to discuss your project in more detail.  The standard lead-time on our wave curtains is 3-4 weeks (subject to fabric availability).
Making your own Wave Curtains
Click here to shop our wave accessories including wave heading tape, wave hemming tape and Silent Gliss curtain hooks.
View our Trend Guides for Design Ideas and Inspiration.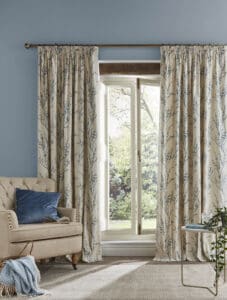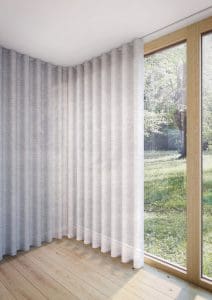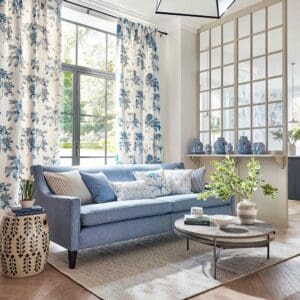 Curtains shown in images above:
Laura Ashley Pussy Willow Lined Pencil Pleat Curtains