It can be easy to overlook the hallway when it comes to interior design and decorating, but as the first room in your home to greet you, your family and your guests, the entryway provides the perfect opportunity to make a great first impression. An ideal space to add style and personality, the hallway should be a warm and welcoming room that works cohesively with the rest of your interiors.
Whether you're seeking stylish simplicity and sophistication or a bold and confident look, some small changes to your decor can help transform your hall into an inviting entrance that you'll love coming home to! To help get you started, we've pulled together some on-trend hallway styling inspiration and ideas, from paint colours and wallpaper designs to more practical and efficient aspects such as window dressings and accessories. Feel inspired below!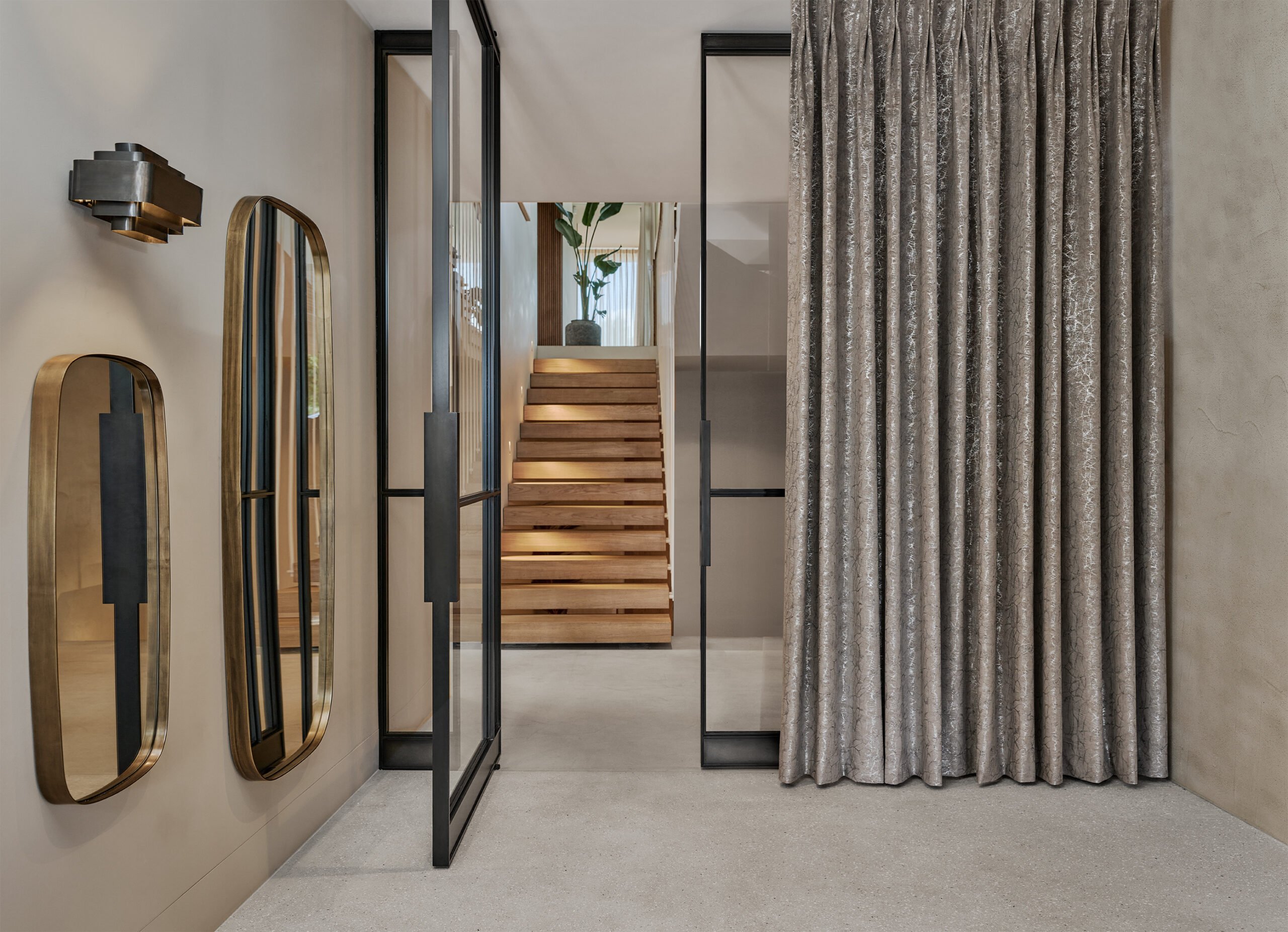 Paint
One of the simplest ways to transform your hallway is to give it a fresh coat of paint. If you have a narrow space with limited natural light coming in, consider a light colour to help make it feel more spacious and airy. Soft, warm neutrals and earthy hues are particularly popular this year, perfect for creating a cosy and welcoming atmosphere. Try painting your walls in a gentle neutral such as beige, cream or warm white and then add pops of colour through your chosen room accessories and soft furnishings. We particularly love the Little Greene Rolling Fog family of paints (shown below in image 1).
As dado rails and wall panelling continue to thrive, this timeless aesthetic also provides another opportunity to get creative with paint using tonal variations of the same colour. In image 2 below, Little Greene's Portland Stone Light (281) has been used on the top section of the walls with a darker variation on the panelling and woodwork. This element of subtle contrast works harmoniously for an effective scheme that is both inviting and sophisticated.
Alternatively, if you have a wide hallway and would prefer to experiment with bolder colour, greens, rustic oranges and chocolate tones all work well for a rich and cocooning space that draws you in. The Little Greene Citrine (71) paint is a beautiful example synonymous with the trend towards natural interiors (see image 3 below). Painting the ceiling a different colour to the walls can also be a great way to add interest.
When choosing a paint finish for the hallway, it's important to opt for something durable. A place where people welcome guests, place shoes, hang up coats and bags and gather other items, the hallway would benefit from a finish that is well suited to high-traffic areas such as Little Greene's Intelligent Matt Emulsion. Shop our full paint collection here.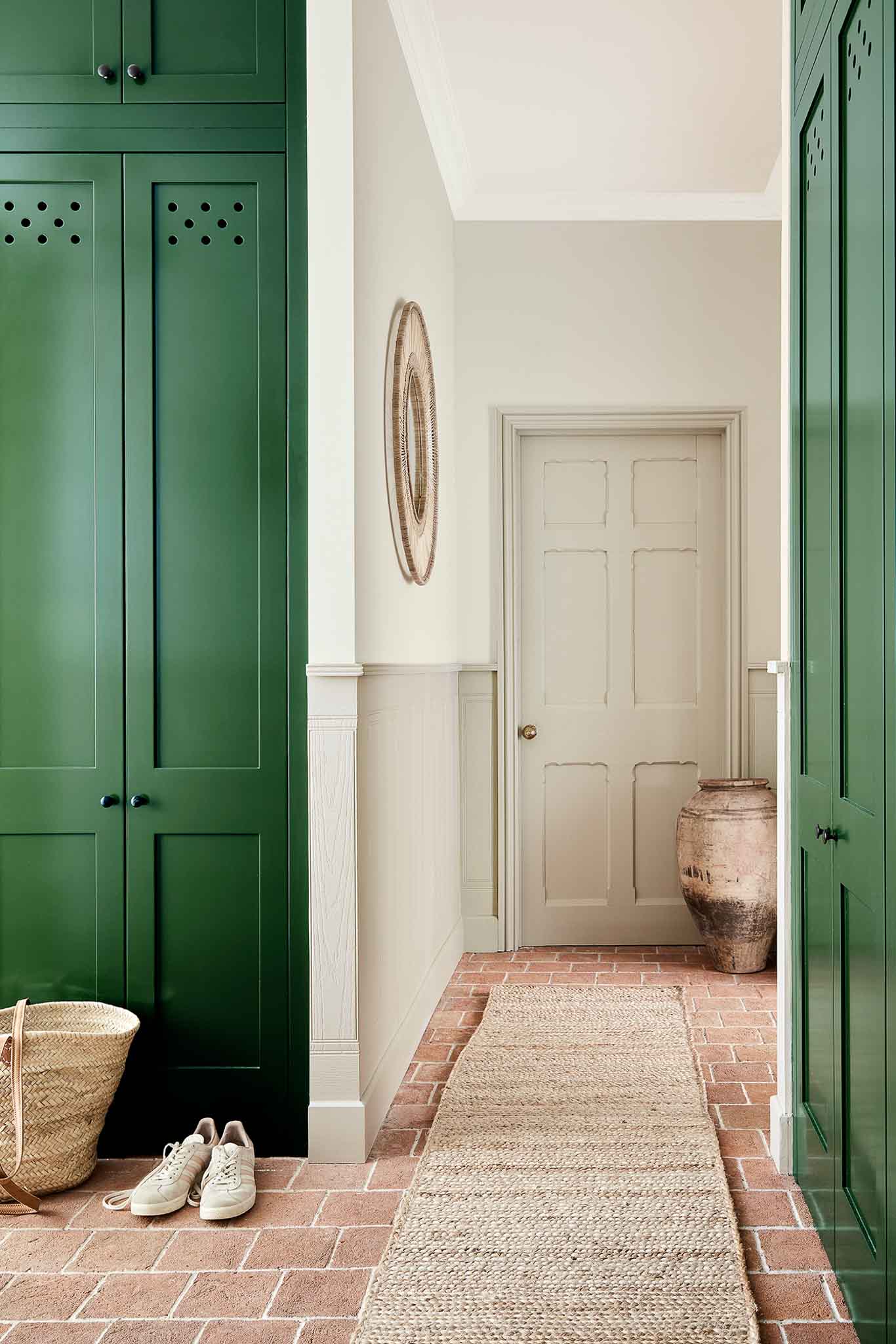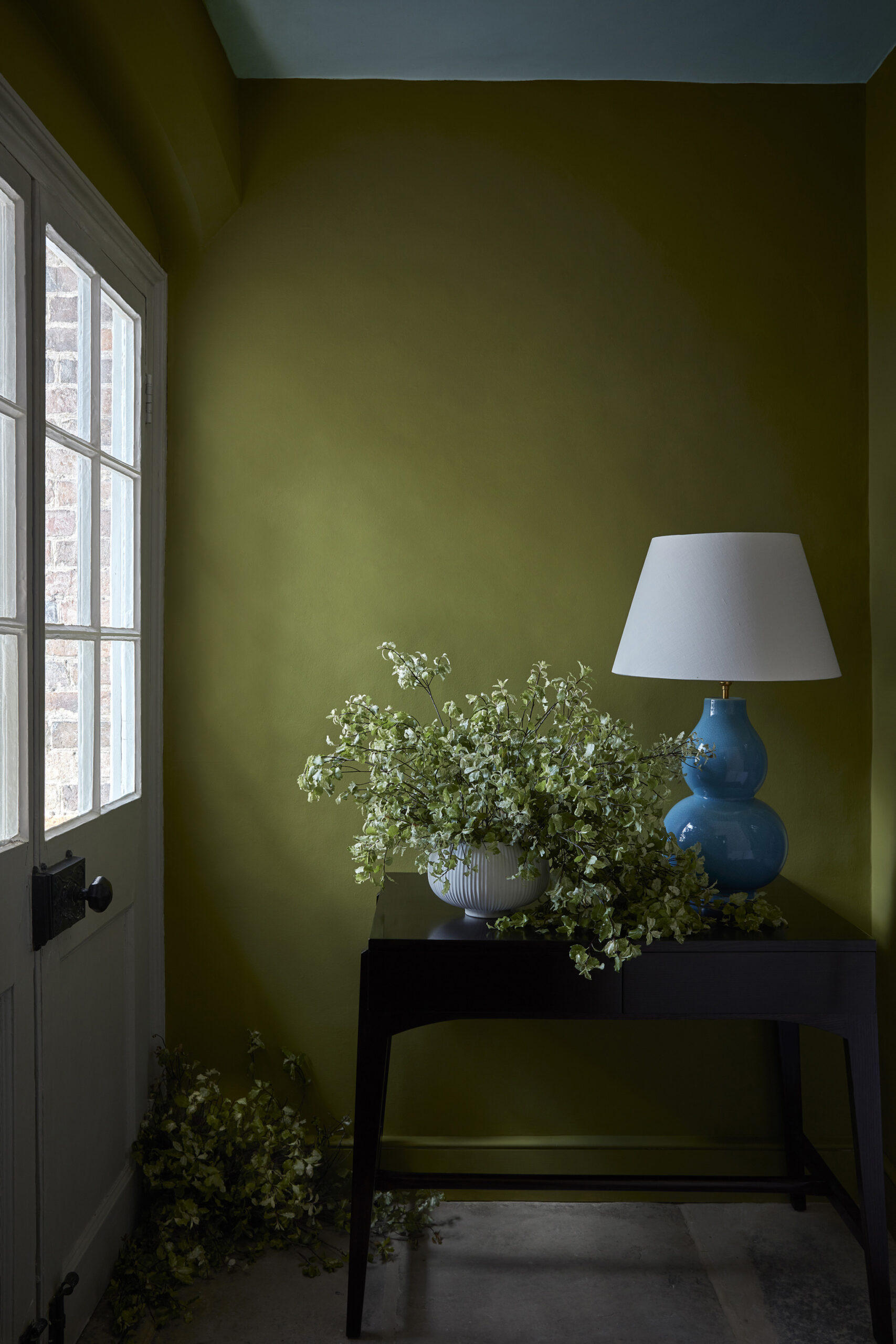 Wallpapers
Equally, if you'd like to introduce an element of pattern to your scheme, you may wish to consider a beautifully decorative wallpaper. Whether you apply a statement design to a single wall for a real focal point, carry across all the walls or use in conjunction with wall panelling, a wallpaper reflective of your personality and interests can add character, charm and cosiness to your entryway.
We absolutely love the Sanderson One Sixty Stapleton Park Wallpaper in Olive/Bengal Red (image 1 below). Paired with the stunning complementary neutral wall panelling and ceilings, this heritage design brings an air of floral romance and country charm to the space. The Little Greene Brook Street wallpaper in the Etruscan colour way is also an effective choice, bursting with pattern and autumnal tones (image 2 below). If you'd prefer pops of colour on a more neutral ground, the Little Greene Richmond Green wallpaper in Stella (image 3 below) and the Sanderson Bird of Paradise wallpaper in Orchid from the tropical Glasshouse collection (image 4 below) would work beautifully. Explore more of our wallpapers here.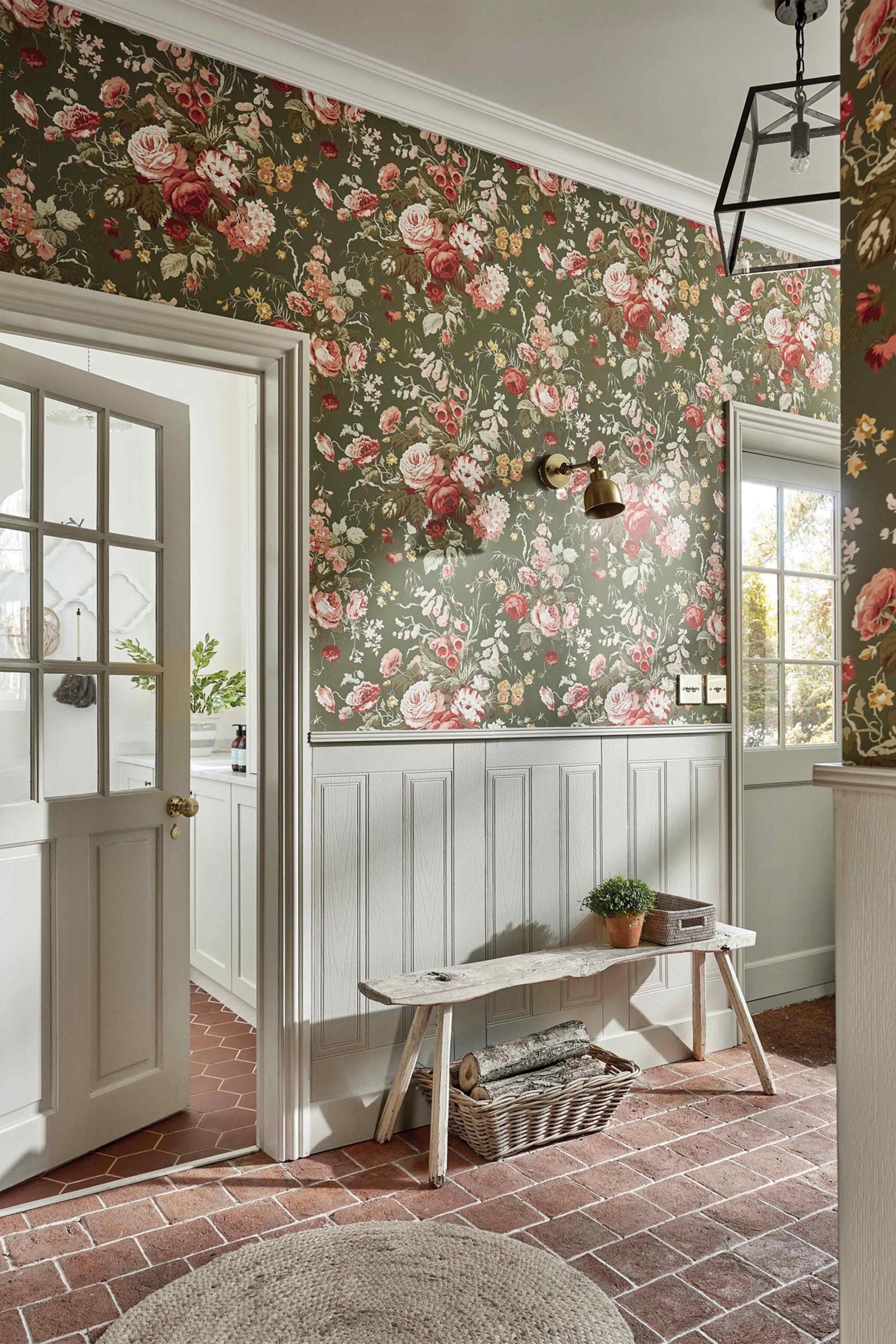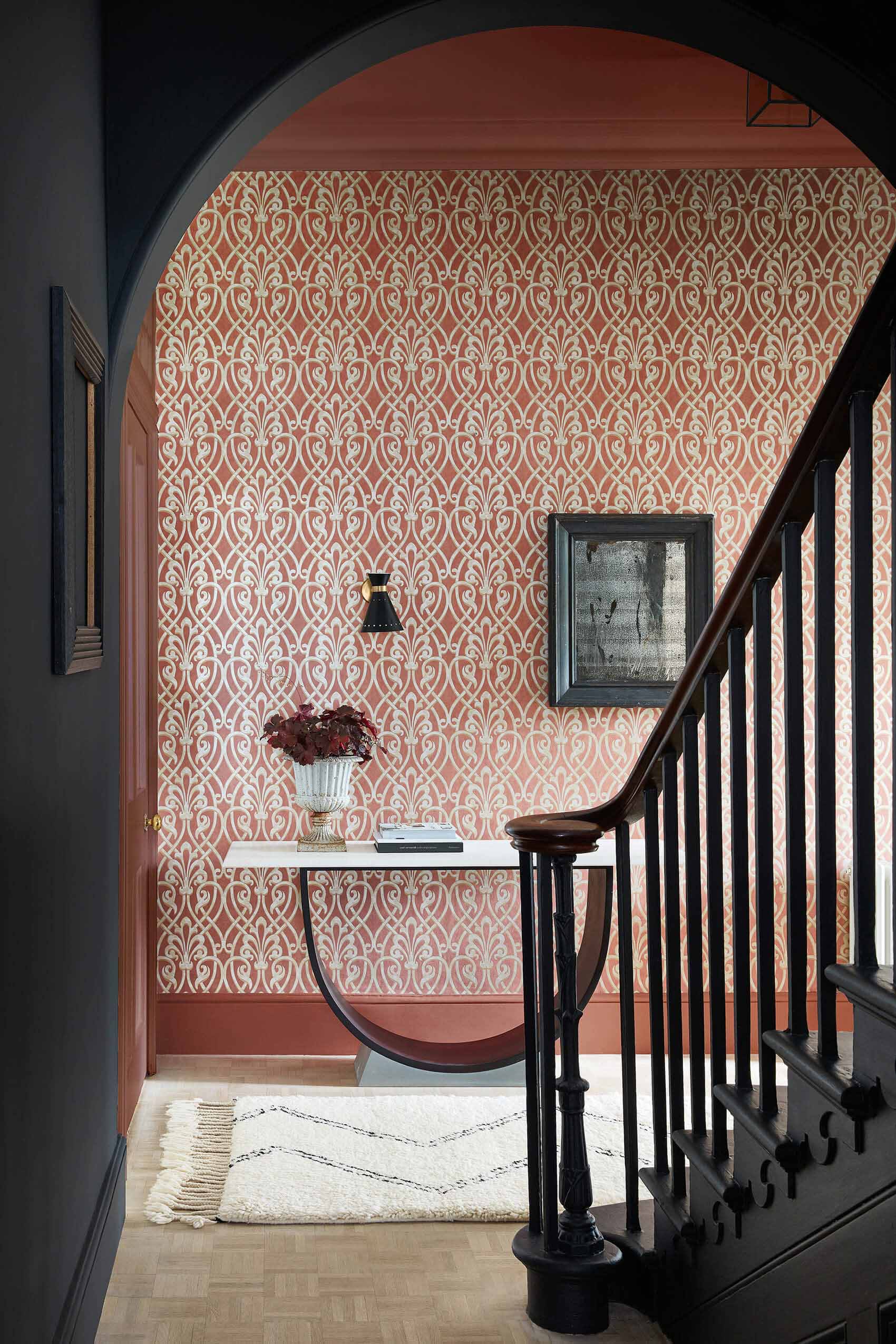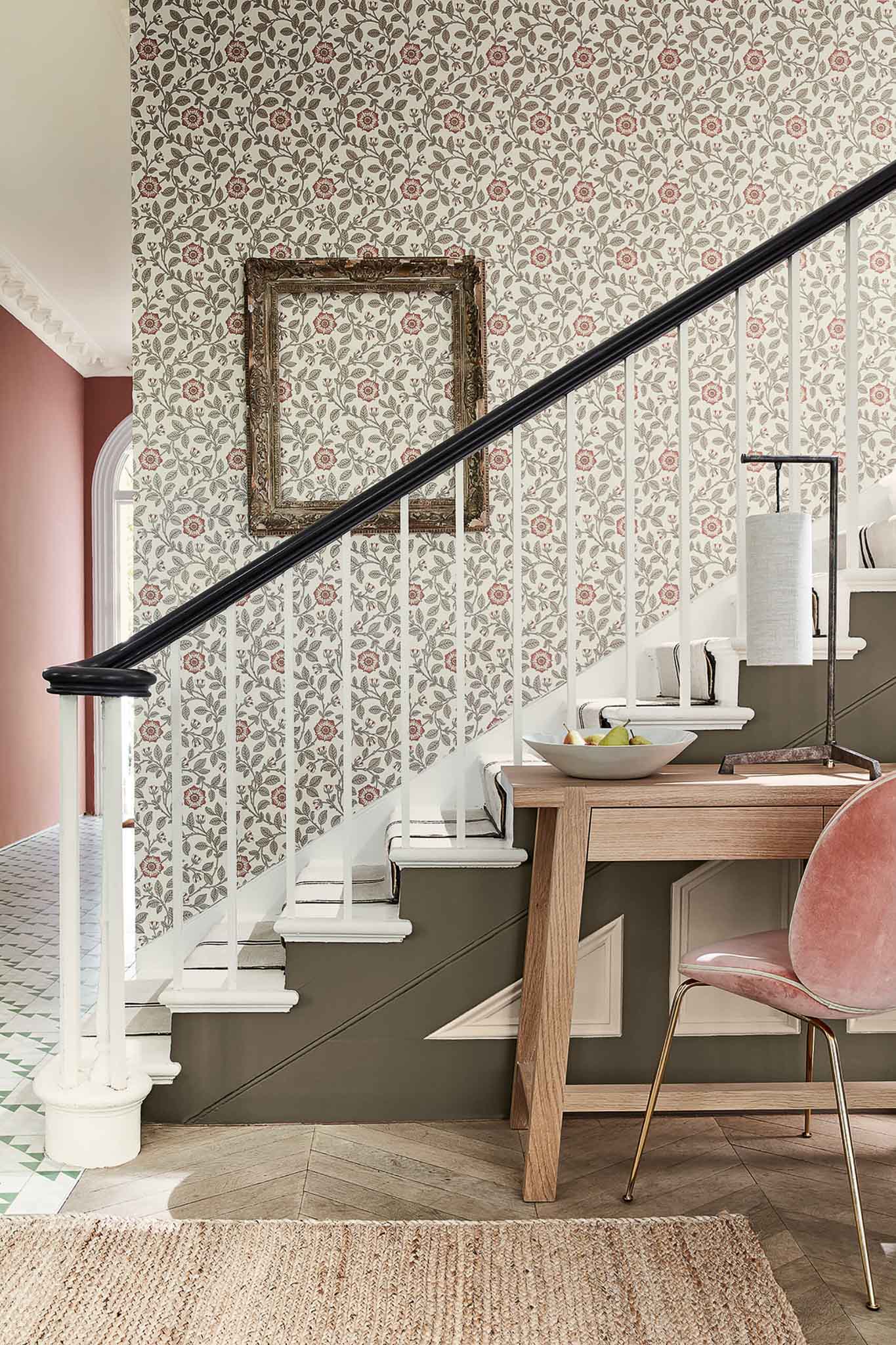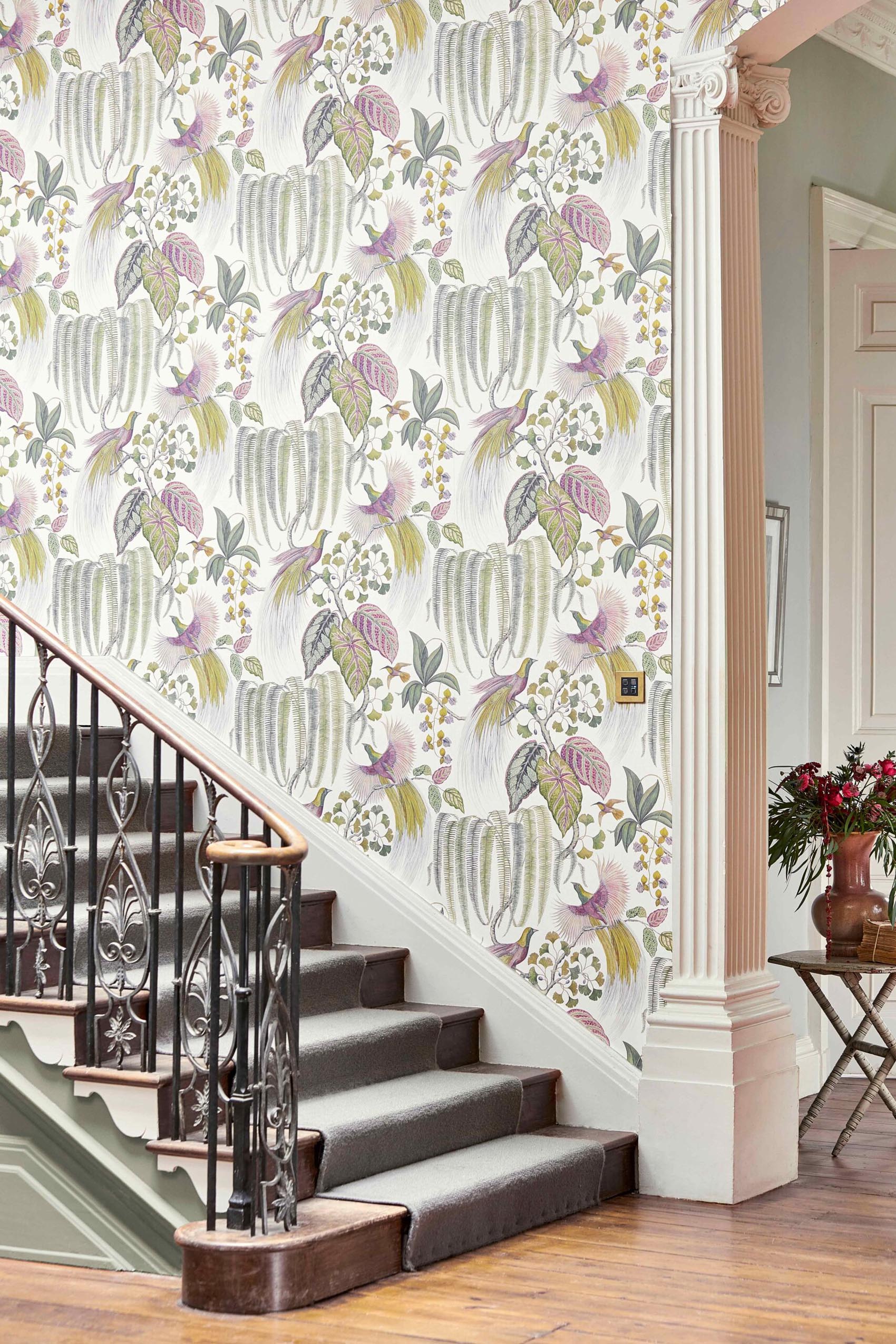 Window Treatments
When it comes to hallway styling, you may be looking for ways to cover the front door to help increase privacy, reduce draughts and retain heat, particularly during the winter months. We are delighted to offer a beautiful selection of Laura Ashley door curtains, purpose designed with a fleece backed thermal lining to help improve warmth and energy efficiency. Discover 3 timeless designs across easy to use, neutral colour palettes to suit any interior scheme.
(Image opposite features the Laura Ashley Stephanie Door Curtain in Dove Grey).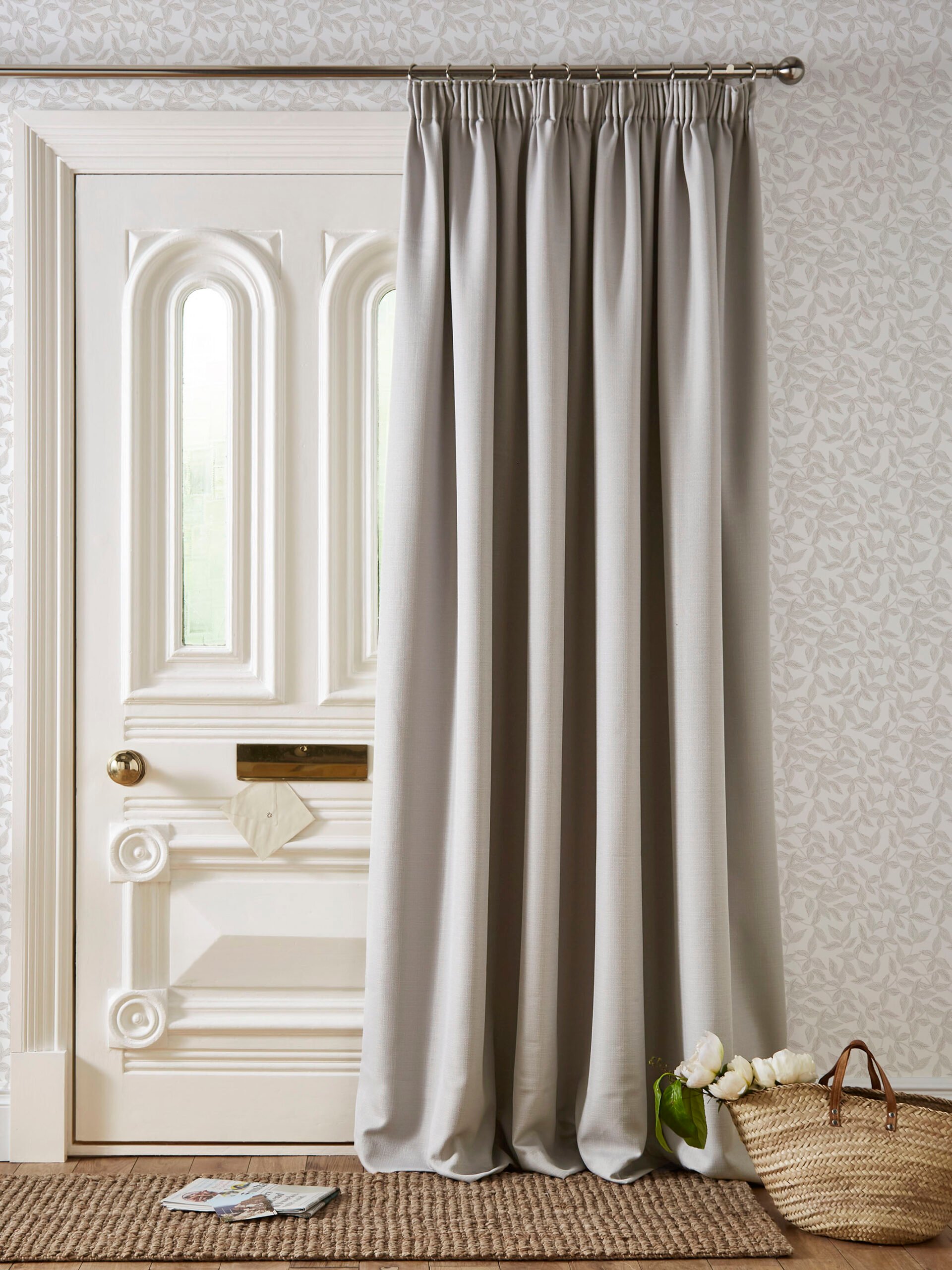 Equally, if you have fallen in love with a particular fabric or would prefer something made to your specific specifications, you could opt for a beautiful bespoke made to measure curtain. We offer a wide selection of fabrics and premium linings including standard, blackout, thermal and even designer linings. Consider a beautiful patterned fabric such as the Sanderson Arboretum Ancient Canopy fabric in Sap Green (image 1 below) or the Kobe Esparanza Fabric in colour ref 3 (see top of blog post) for a stunning focal point.
Alternately, natural materials and textures are taking off in hallway design. If you're looking for a natural, floaty look that would allow light to filter through, a plain semi-sheer such as the wide width, linen-look Prestigious Textiles Whisp fabric is a superb choice (shown in image 2 below in the Surf colour way), as is the Clarke & Clarke Vardo Sheers Alberte fabric (image 3 below), both made from partially recycled materials.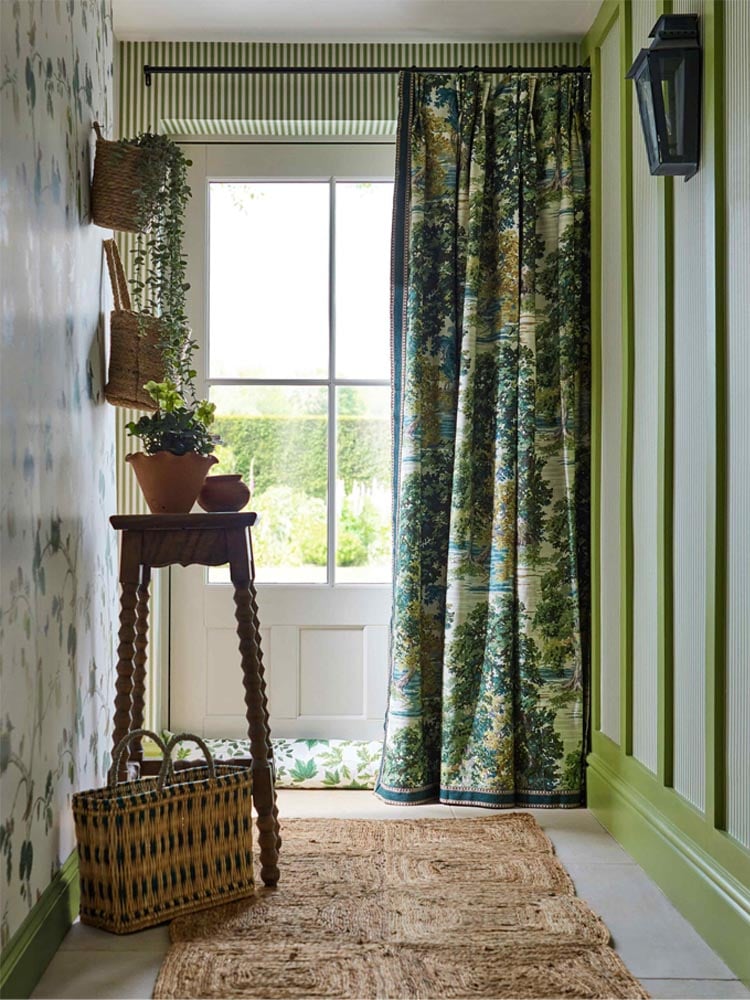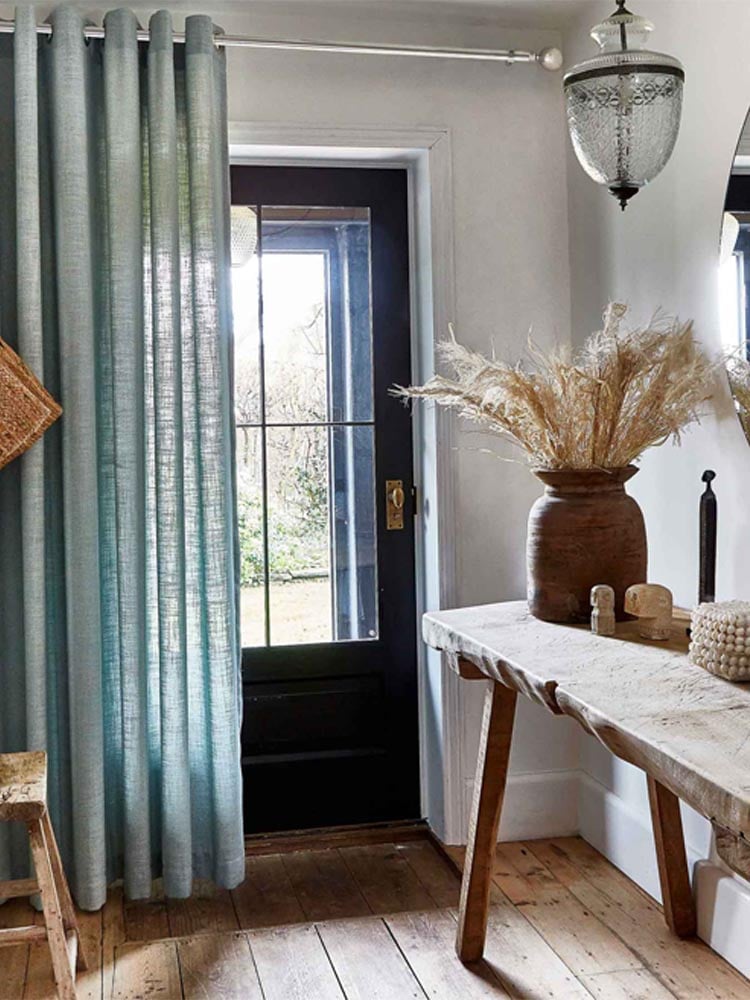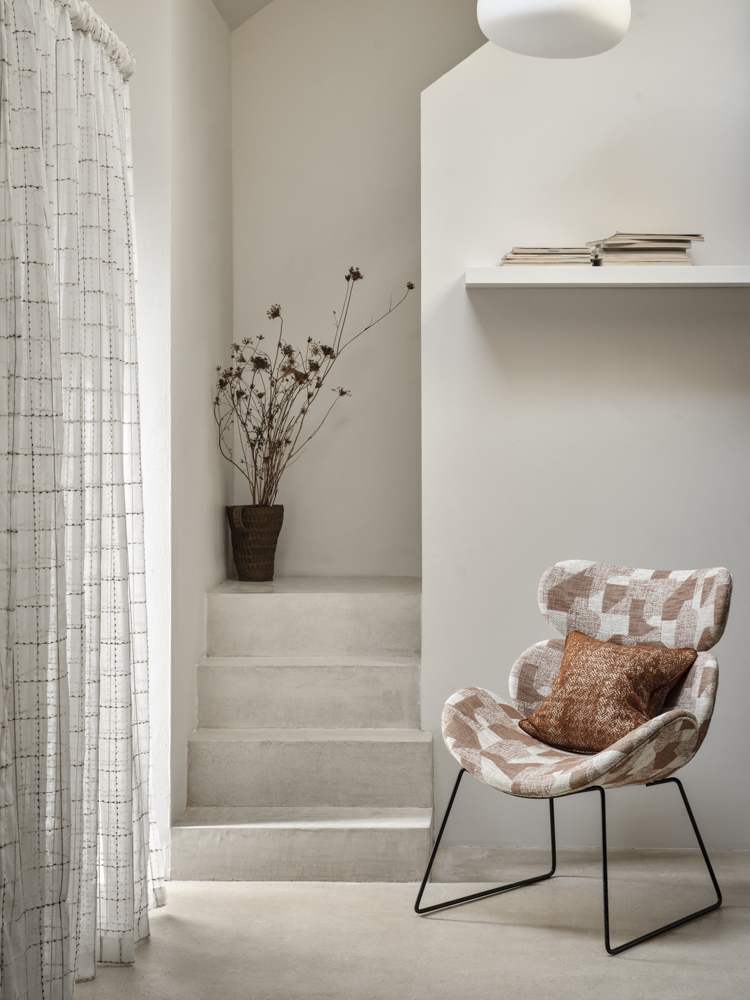 Prestigious Textiles Image: Features the Whisp fabric in Surf.
Accessories
Some small final details can really help to complete the look and make the space more functional. Proper lighting can make a big difference in the look and feel of your hallway. If your hallway is dark, adding some additional lighting such as pendant lights, lamps, recessed lights or even a statement light fixture can make a visual impact in keeping with your design style. Decorative mirrors are another great way to bounce light around the room and add dimension to a small space.
If space allows, you could also add a piece of furniture such as a console table and / or a bench, accent chair or foot stool for a practical space to sit down and put your shoes on. Hallways are often tight spaces, so it's important to choose furniture that is both functional and stylish. Below are some other ideas to help complete your hallway scheme.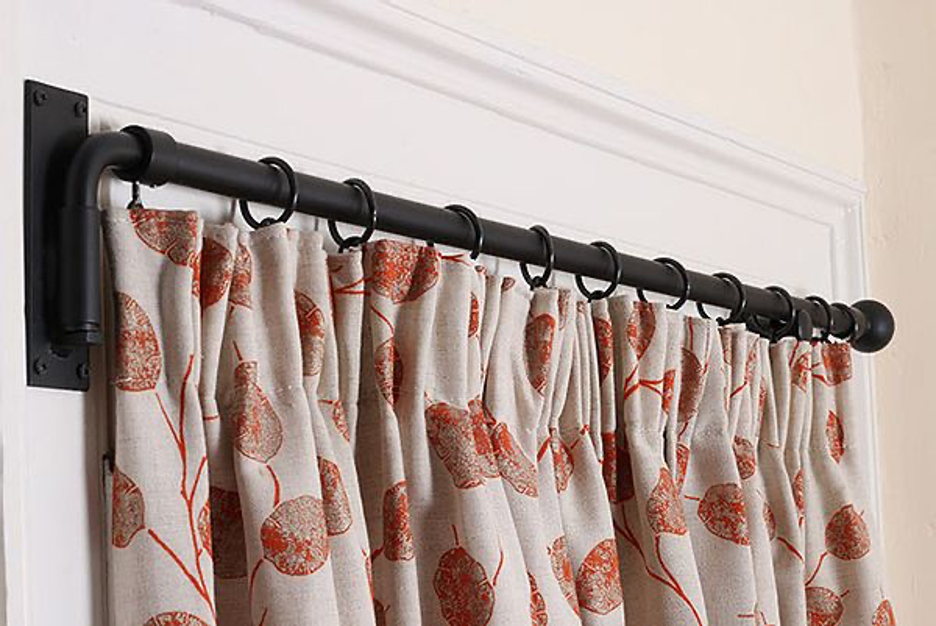 Curtain Poles
If you wish to install a door curtain, you'll need to add a curtain pole to hang it correctly. If there is space around the door, you can use a standard curtain pole mounted on the wall above the door frame, ensuring the pole is wide enough for the curtains to draw back so they don't obstruct the door opening. However, if space is limited, you may prefer to opt for a Portiere Rod. This is designed to move independently of the door for ease of movement.
(Image opposite features the Cameron Fuller 19mm Portiere Rod with Ball Finial)
Rugs
If your hallway is quite spacious and you're looking to add an extra layer of warmth and cosiness, you could consider a rug. Perfect for adding texture and interest, a rug can help tie the look together. Simply choose a paired back, subtle design to complement your decor or go for a confident design enriched with colour for a real wow factor. Choose a rug that is made from a durable material that can withstand high traffic such as 100% wool. For more information and considerations when choosing a rug, please see our blog post.
We offer a wide selection of designer rugs from the likes of Sanderson, Morris & Co., Harlequin, Clarke & Clarke and Scion. Shop the full range here for an array of designs, shapes and sizes.
(Shown opposite is the Morris & Co. Artichoke rug in Amber Charcoal).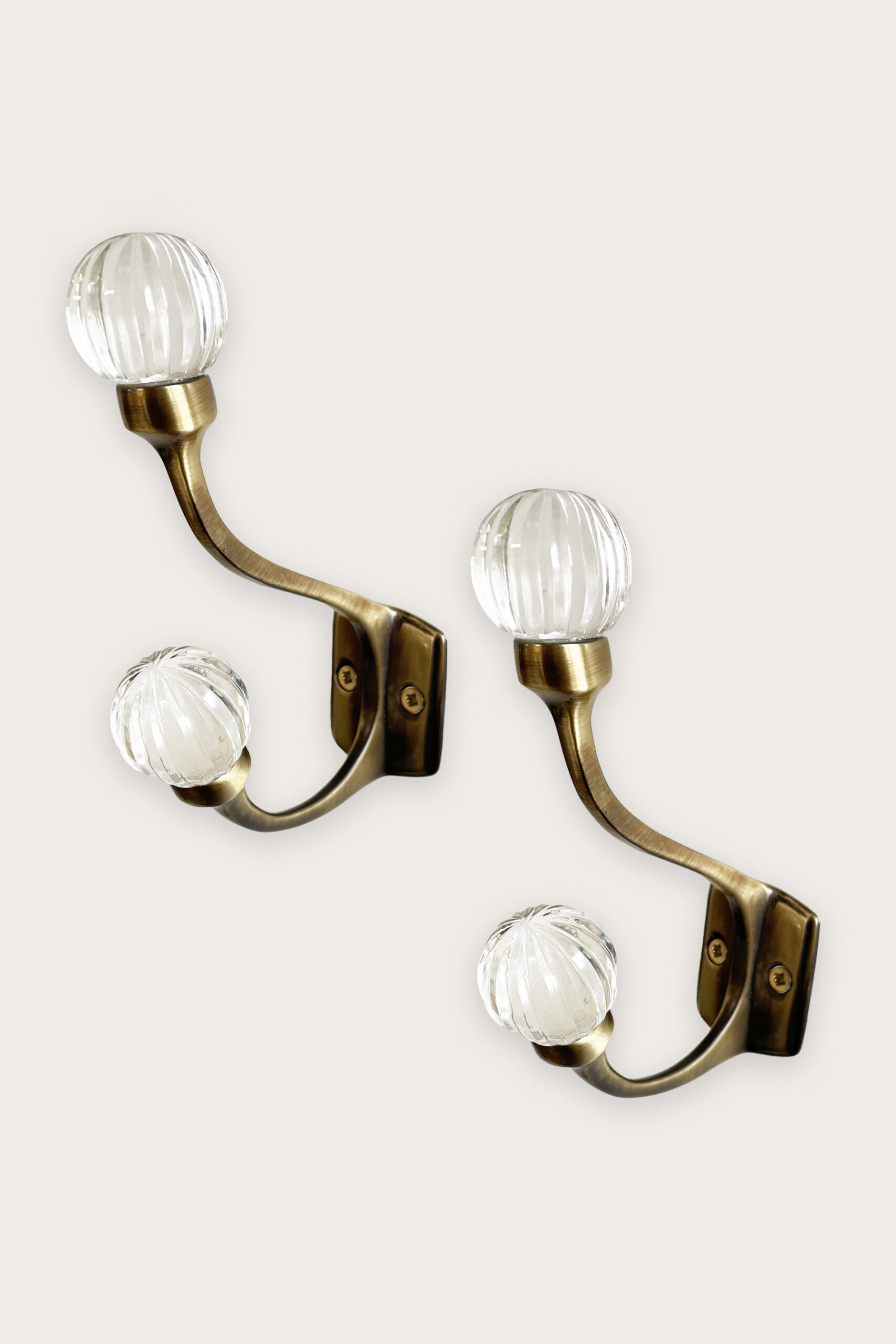 Hooks
Functional pieces that complement your design style are a fantastic addition when styling a hallway. Small details like hooks can be a great solution if you have a lot of coats, hats or scarves and not enough space to install a cupboard. The Laura Ashley range of single and double hooks are designed to help you stay organised whilst adding a touch of elegance. Crafted from metal, the hooks provide glamorous glass or ceramic detail for added character. Try using these hooks in pairs on the back of doors or multiple hooks in a row to create a bespoke coat rack.
(Shown opposite are the Laura Ashley Vivien Double Hooks in Antique Brass).
Overview
No matter what your style is, there are many ways to decorate your entryway to make it more inviting and stylish. Whether you complete some small updates or a total room transformation that extends upstairs to the landing, the hallway should exude warmth and cosiness in a way that welcomes you home and makes you feel happy.
We hope you found our Hallway styling inspiration useful and insightful. If you're embarking on a home project and would like any help or advice, please do get in touch. We offer a bespoke design service and can provide fabric, design and paint colour advice to help you create a home you love. We can also make up your perfect window dressings with our bespoke, made to measure curtain and roman blind making service.
Email sales@thehomeofinteriors.co.uk or call us on 01590 615775.
Follow us on Instagram and Facebook: @myhomeofinteriors