As the desire to embrace the natural world in our homes continues to grow, you may find yourself looking for a design that captures the beauty of the outdoors in true style. Introducing Botany by Clarke & Clarke.
Inspired by the wonders of tropical island life, this gorgeous botanical print features gentle butterflies and prowling wildlife amongst the exotic trees and foliage. Overlapping upon a plain, neutral canvas, the Botany design delivers a natural, bohemian style enriched with colour and artistic detail.
Explore a wonderful selection of Botany homeware, beautifully produced by Clarke & Clarke for all areas of the home. Shop the Botany range here.
Rugs
Add a layer of texture, warmth and cosiness to your scheme with the magnificent Botany Rug. Digitally printed in high definition, this rug frames all the key elements of the design for an air of exoticism. It is also produced using recycled fibres on a handloom PET base, offering a more eco friendly option without compromising on softness.
Available in a Charcoal/Chartreuse colour way with a choice of 3 sizes, the rug will undoubtedly add interest to your scheme. Simply position in a living room for a real focal point, or place slightly under a bed for an air of comfort. Order a sample today via our website.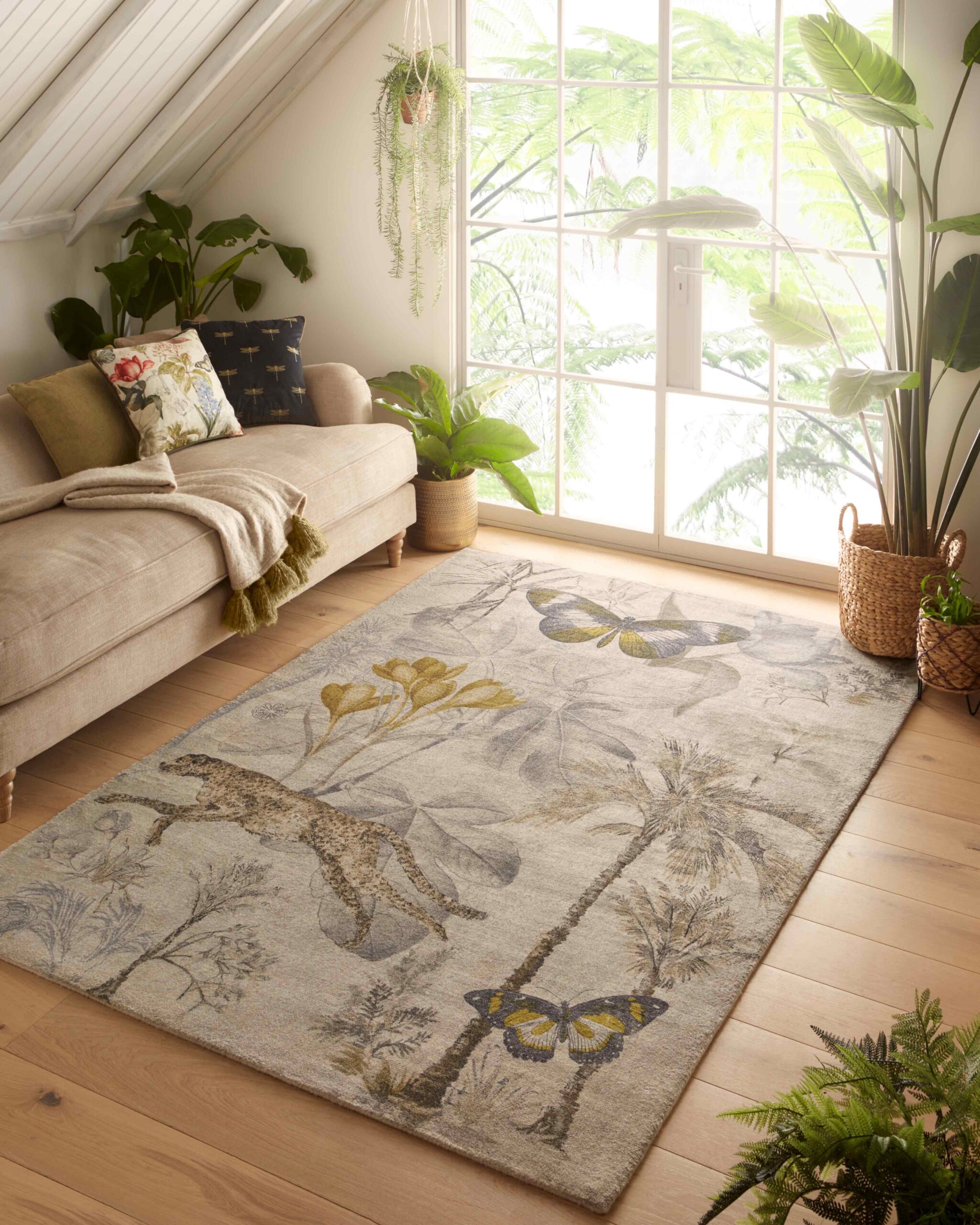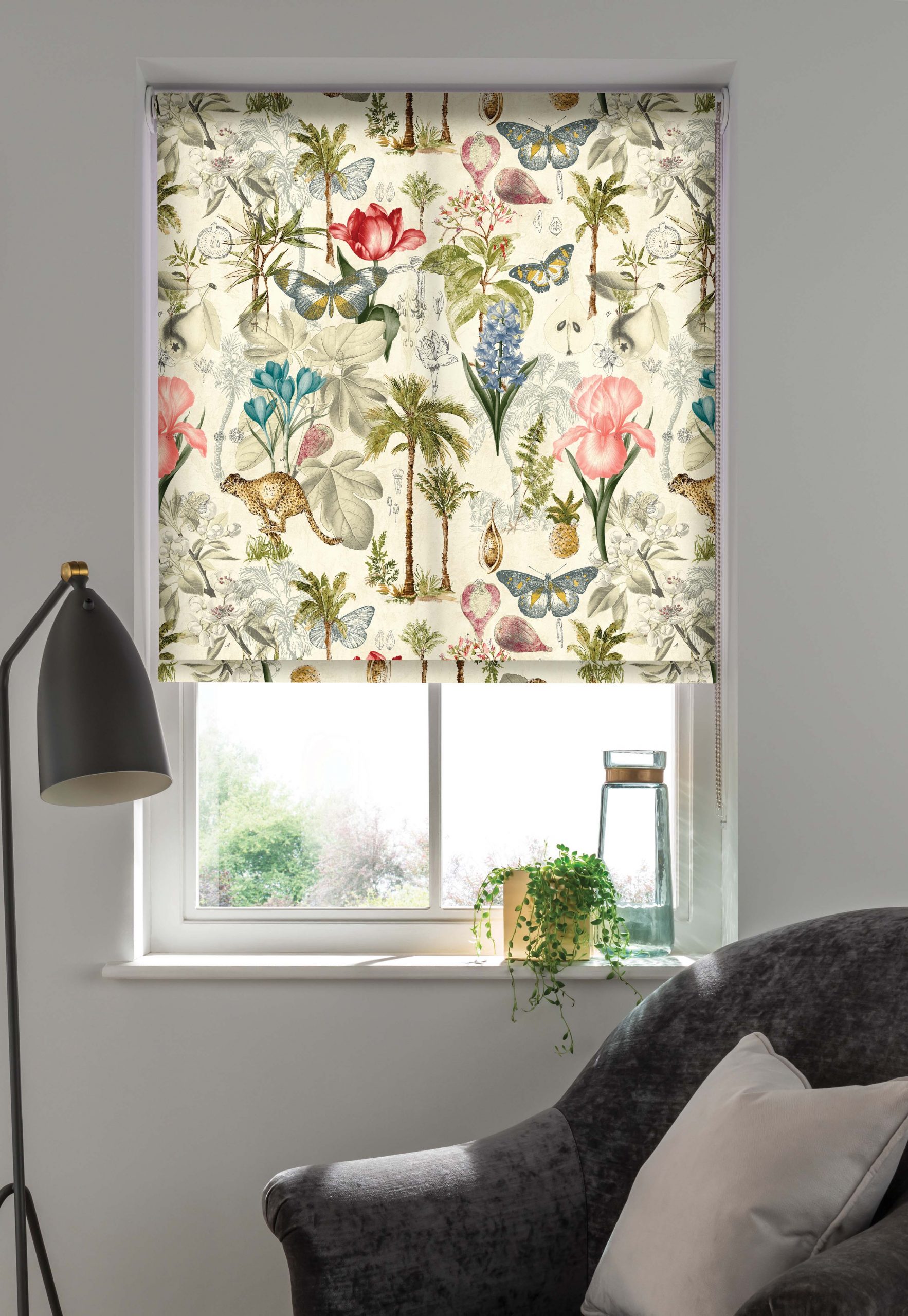 Roller Blinds
Add style to your window treatment with the Botany roller blinds by Clarke & Clarke. Made to measure and beautifully printed to showcase the detail, the blinds are available in 4 fabric types to suit your room and shading requirements. Choose from Blackout, Standard daylight, Textured and waterproof.
The Botany roller blinds come in a glorious Tropical colour way, perfect for adding a gentle splash of colour to your scheme. Chain operated with click in brackets, the blinds are designed for easy installation and can be wall, ceiling or recess fitted.
Accent Chair
We are delighted to offer the Clarke & Clarke Dalston Chair Botany as part of our extensive homeware collection. Available in a stunning Summer colour way, this enchanting piece of furniture is a fantastic addition to the Botany print range and works beautifully as an accent chair in a bedroom or living room. Style with other Botany products for a fully coordinating scheme.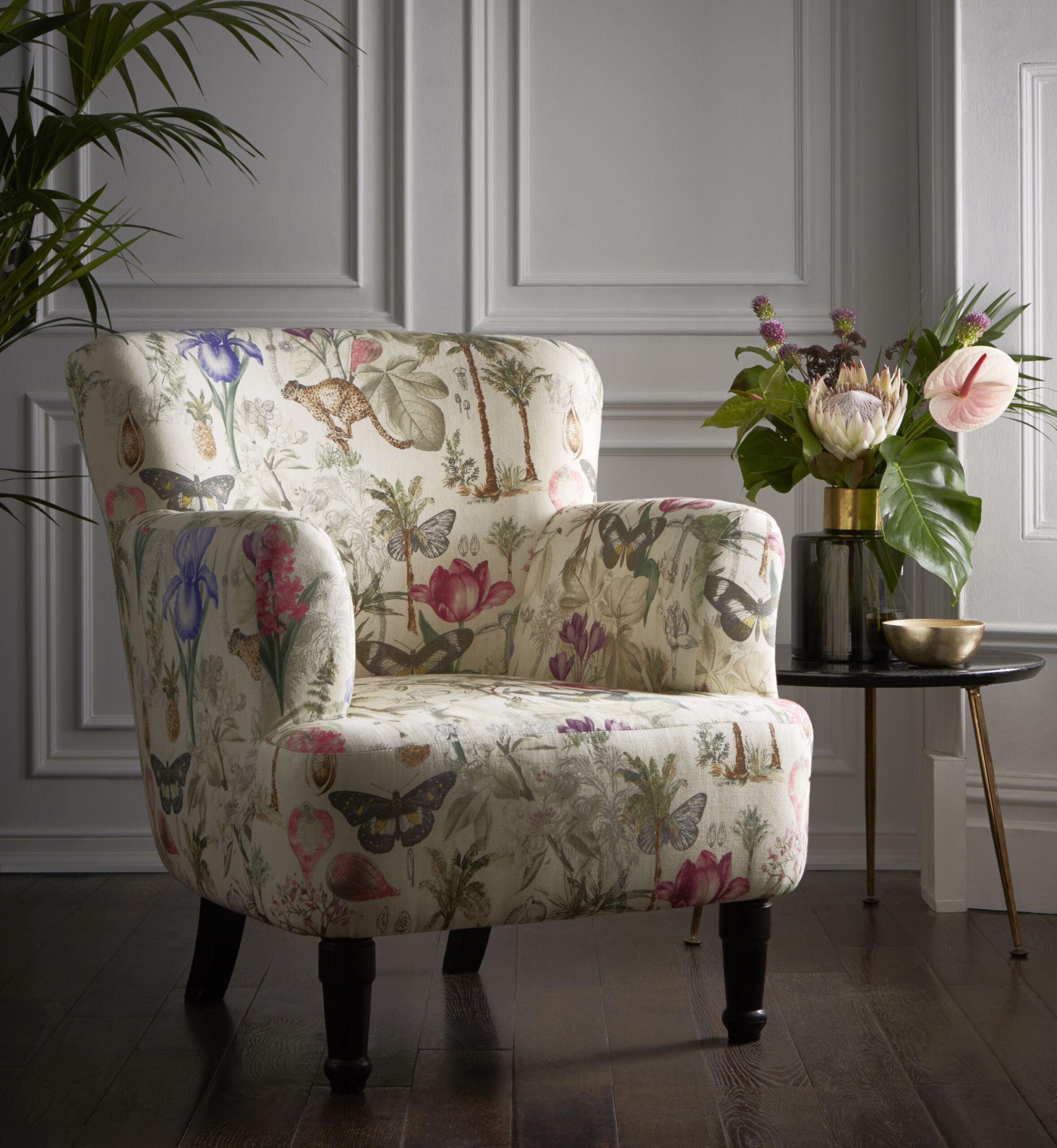 Bedding & Cushions
Bring an air of exotica to your bedroom with stunning Botany Bedding Set by Clarke & Clarke. Printed onto luxurious 100% cotton, this naturally inspired bed linen enables you to drift off to a tropical island escape for a calm and comfortable night's sleep.
Available in 3 sizes: double, king and super king with pillowcases included, the tropical colour scheme offers bursts of colour to transform your bed into a gorgeous design feature. In a conscious attempt to be more eco-friendly, Clarke & Clarke have also packaged the bedding in a handy, reusable fabric tote bag, offering a more sustainable alternative to plastic.
To complete the look, team the bedding with the complementary ready made Botany cushion. Ideal for layering to add depth and dimension, this cushion comes complete with a sumptuous velvet reverse and piped edging for a luxurious finish.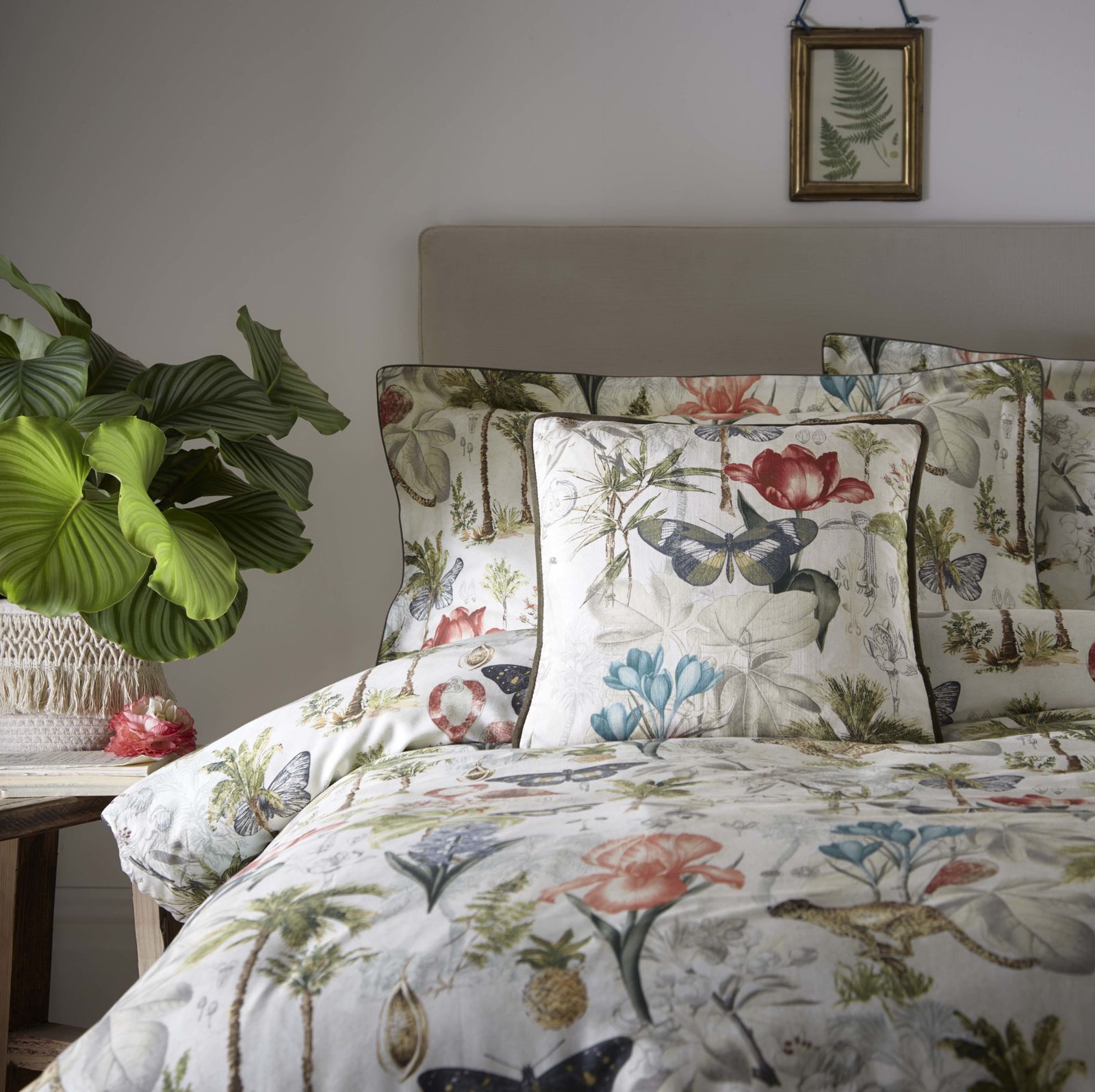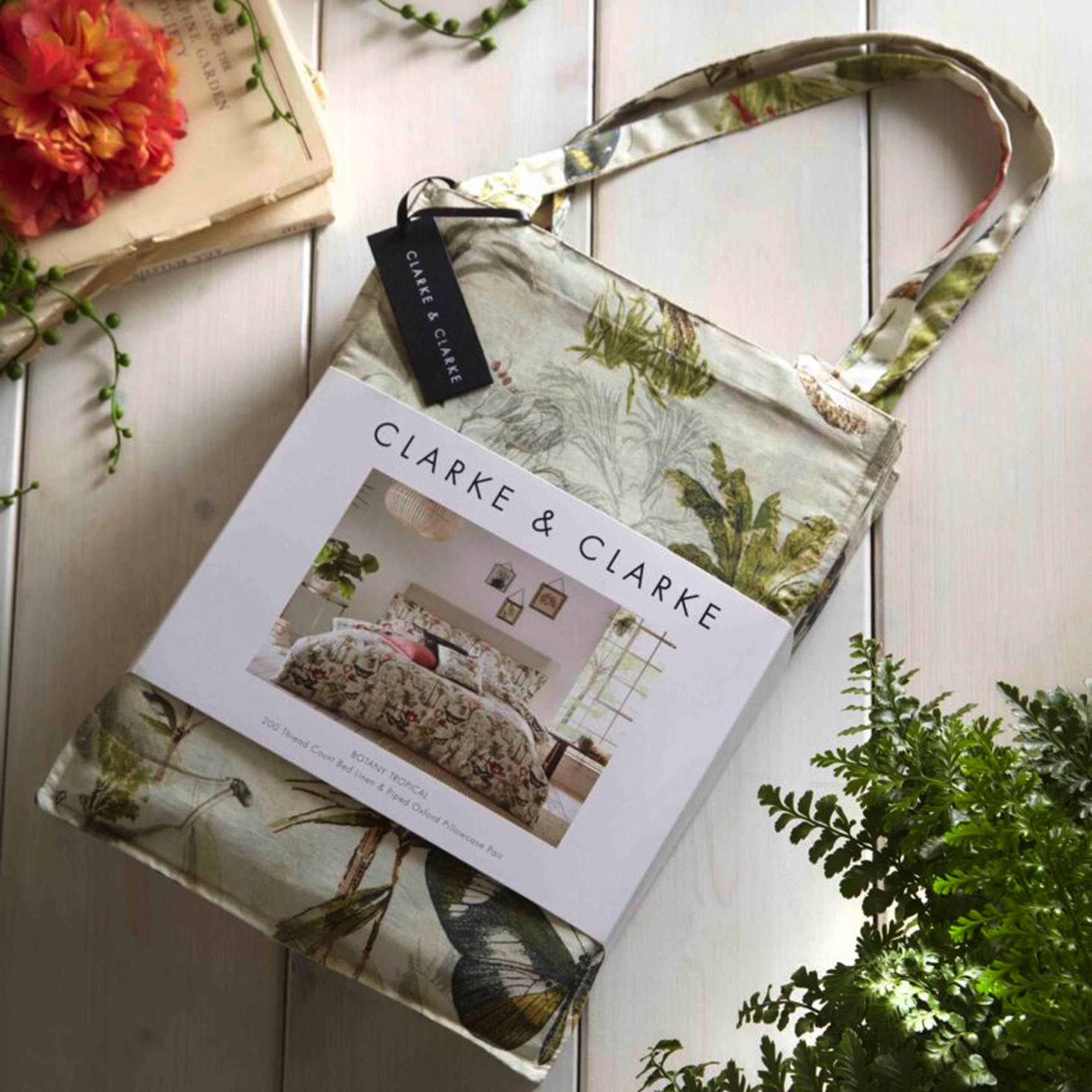 Overview
Botany by Clarke & Clarke is a colourful print that exudes natural charm. Reflecting current interior trends, the Botany design spans across an array of homeware, perfect for transforming any room into a tranquil escape.
Shop the full Clarke & Clarke range here.
The Botany design complements our Exotic Trend. Please view our Exotic trend guide for design ideas and inspiration. If you would like help pulling a full room scheme together, we also offer a complementary face to face and virtual Bespoke Design Service from our showroom in Brockenhurst. Please get in touch if we can assist with your project.
Email sales@thehomeofinteriors.co.uk or call us on 01590 615775.
Follow us on Instagram and Facebook: @myhomeofinteriors