The Client Brief
We were absolutely delighted to have helped a client with this beautiful TV screen curtain project. Our client came to us for a pair of wave curtains to draw across the TV screen in their living room when the screen was not in use. Our client was looking for a dark blue velvet to match the sofa in the room to help bring the look together.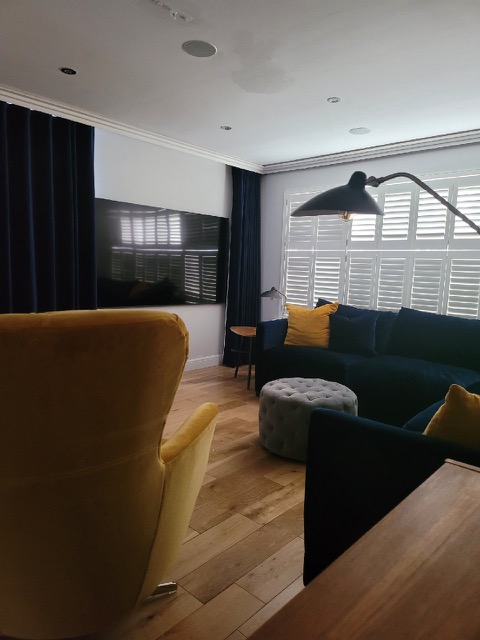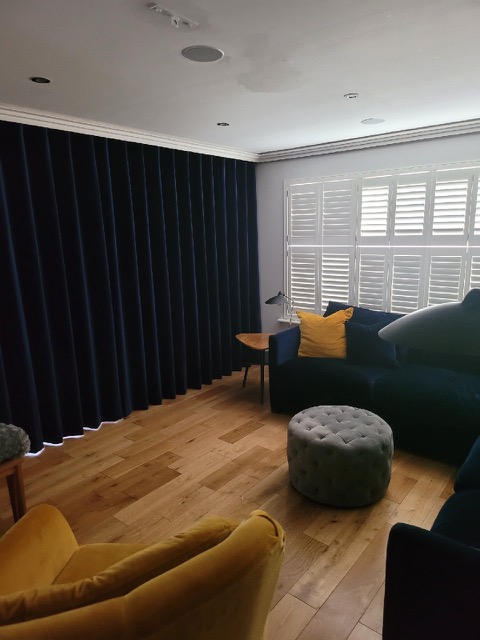 The Fabric
After ordering a selection of single width fabric samples, our customer enquired about the Designers Guild Stretto fabric (colour ref FDG2704/42). Whilst this was a lovely choice, we recommended the wide width version of the same fabric. This would give the same luxurious appearance whilst avoiding the need for joins across the width of the curtains (drop and fabric width dependant). Wide width fabrics are also advantageous for a wave curtain where the join may fall on the front of a wave fold.
Following our recommendation, our client opted for the Designers Guild Velutto velvet (colour ref FDG2705/42) with an additional blackout lining. At The Home Of Interiors, we can supply the full Designers Guild portfolio of fabrics, so if you see a design of interest, please do get in touch for a quotation.
The Curtains
Our client was keen on the contemporary wave curtain heading to complement their interior style, opting for an 80mm wave with 160mm hook spacing. Wave curtains lend themselves beautifully to extra wide windows and bi-fold or sliding doors, but also work well as room dividers to partition a space or hide certain elements of the room. Our client also chose to have a pair of curtains that would meet in the middle when drawn to completely cover the TV screen. The curtain drop was 223cm.
The Track
The customer required a manual track suitable for wave curtains with a total width of 353cm. In response, we offered the options of 3 popular wave tracks. These included the Silent Gliss 6840, the Silent Gliss 6870 and the Silent Gliss Metropole.
Our client opted for the Silent Gliss 6840 track in white. Purpose designed for ceiling fixing, this neat curtain track features an aesthetically appealing curved profile and has the same appearance from both sides.
An adjustable brake was also specified for the track. This is recommended to keep the leading edge of the curtains from creeping forward, maintaining a neater, tidy appearance.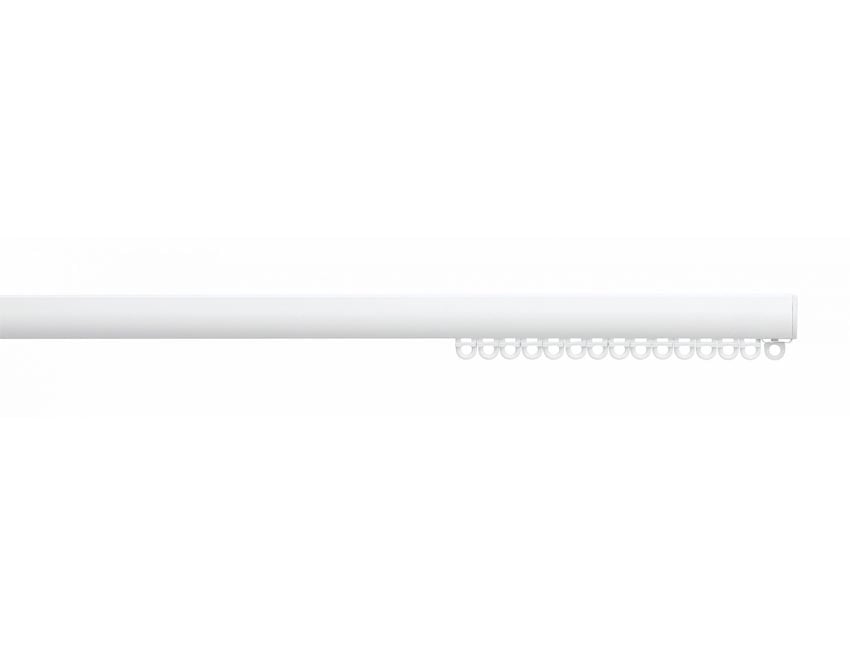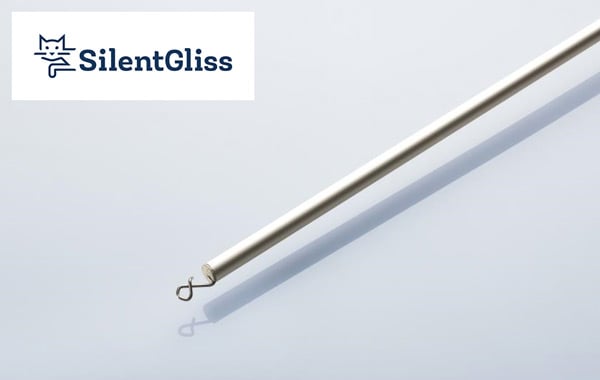 Draw Rods
To complete the look, our client also selected some Silent Gliss draw rods. Designed to enable you to open and close your curtains without touching them, these are an excellent choice for protecting fabrics such as velvet which can be marked easily.
In Conclusion
Our client was delighted with the outcome of their TV screen curtain project. The curtains sit perfectly with the existing decor and furniture, creating a luxurious, timeless elegance ideal for relaxing. The wide width velvet was the perfect choice to offer a seamless, smooth finish which lends itself so well to a wave heading and a velvet material.
For more information on our bespoke, made to measure curtain and roman blind making service, please read our blog post.
If you're embarking on a home project and would like any help, advice or inspiration, please do get in touch. We offer a virtual and face to face bespoke design consultation service from our showroom in Brockenhurst. Click here to book an appointment with one of our home interiors advisers who would be delighted to help you with your project.
Please view our Trend Guides for ideas and inspiration.
Email sales@thehomeofinteriors.co.uk or call us on 01590 615775.
Follow us on Instagram and Facebook: @myhomeofinteriors