We are proud to be selling the Laura Ashley re-launch of homeware products on our website, including iconic favourites and complementary, beautiful new designs. Originally launched in 1953, Laura Ashley continues to be synonymous with luxurious quality and a classic, timeless elegance.
The romantic style evokes a feeling of tranquility and calm and often captures images of our natural surroundings. Whilst the style is based on classical elegance, the new range also includes contemporary pieces such as classic plains and stripes. The versatility of the range and the co-ordinated range of papers, paints, fabrics, bedding, accessories and homeware together create a comforting homely charm.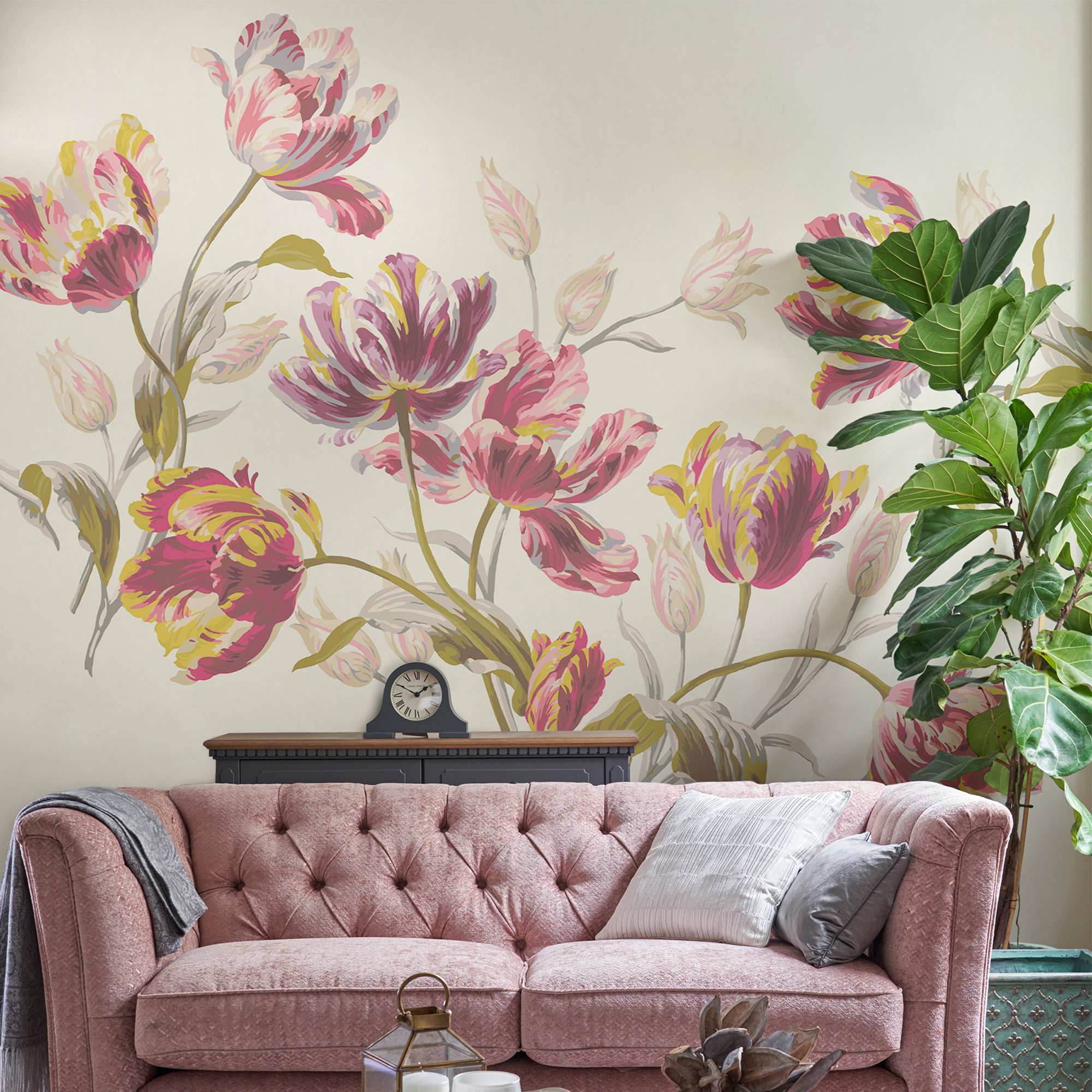 Paint
Laura Ashley paints are richly pigmented for depth of colour and even results. Available in an array of 70 colours in both a soft matt emulsion and washable eggshell finish.  The shades are all curated to classically complement the wallpaper and fabric collections, providing seamless, co-ordinated results.
All Laura Ashley paints are water-based, low odour, and ultra low in Volatile Organic Compounds (VOC). The paint is also breathable, which means it allows moisture to easily flow through the surface. This helps to reduce condensation, mould and mildew and therefore, ensure a perfect lasting finish.
The range of classic shades includes Pale Duck Egg (Image 1 below), Dark Blush (Image 2) and Pale Amethyst (Image 3).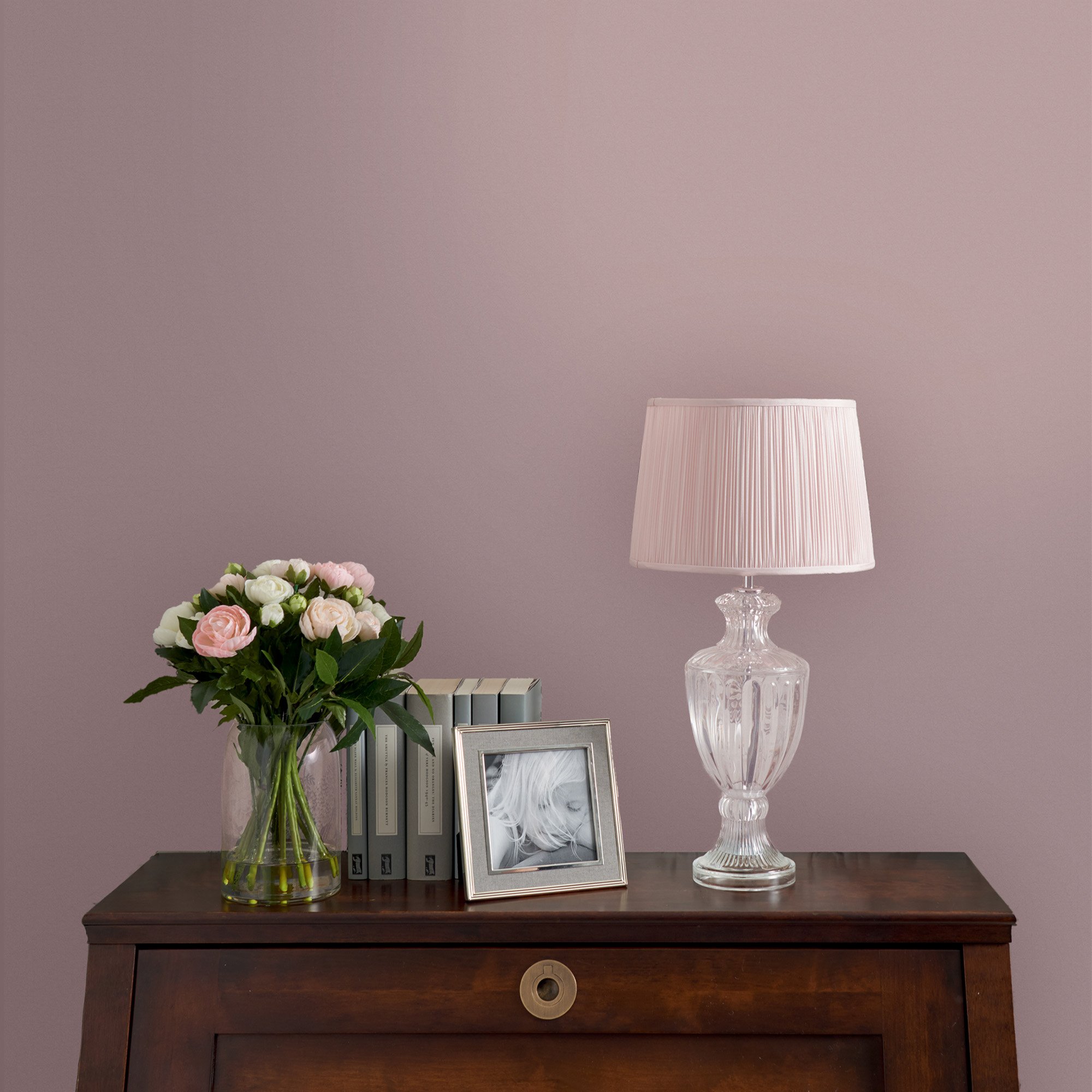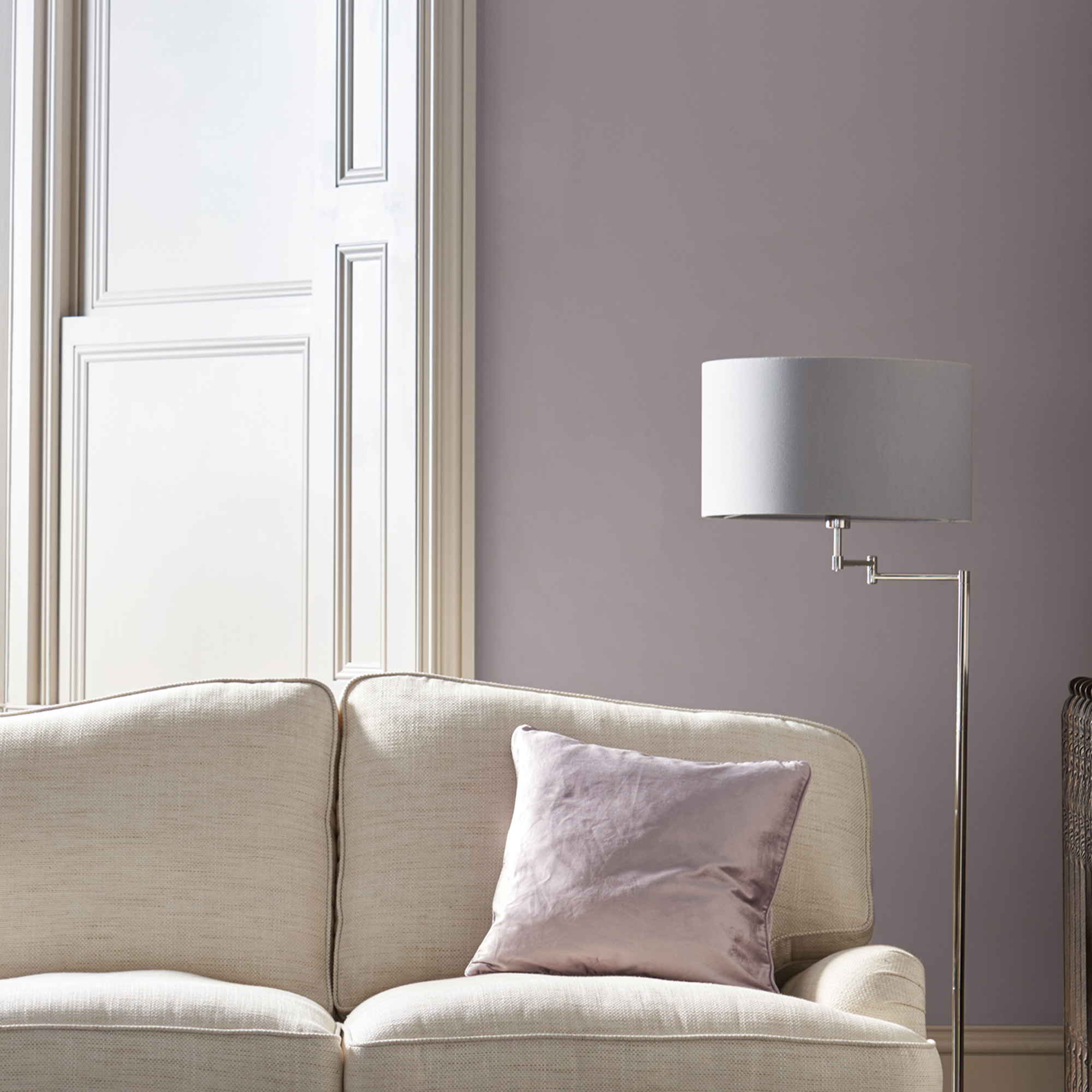 Wallpaper
From romantic florals and heritage-inspired designs to modern plains and stripes, Laura Ashely offer a vast array of wallpapers to inspire. For a romantic opulent style try Josette in Steel (Image 1 below), a damask featuring chandeliers and rose bouquets. For a touch of French provincial charm try Eglantine with a sweetbrier on a Blush ground (see image 2 below), also available in Eau de Nil. See our Floral Romantic Trend Guide for further inspiring ideas.
The range also includes the geometric Florin which links to our Geometric Trend and striped Lille wallpapers which suit a more modern interior. For a touch of exotic charm, try Parterre, Osterley or the ornate Belvedere featuring elegant peacocks and timeless florals.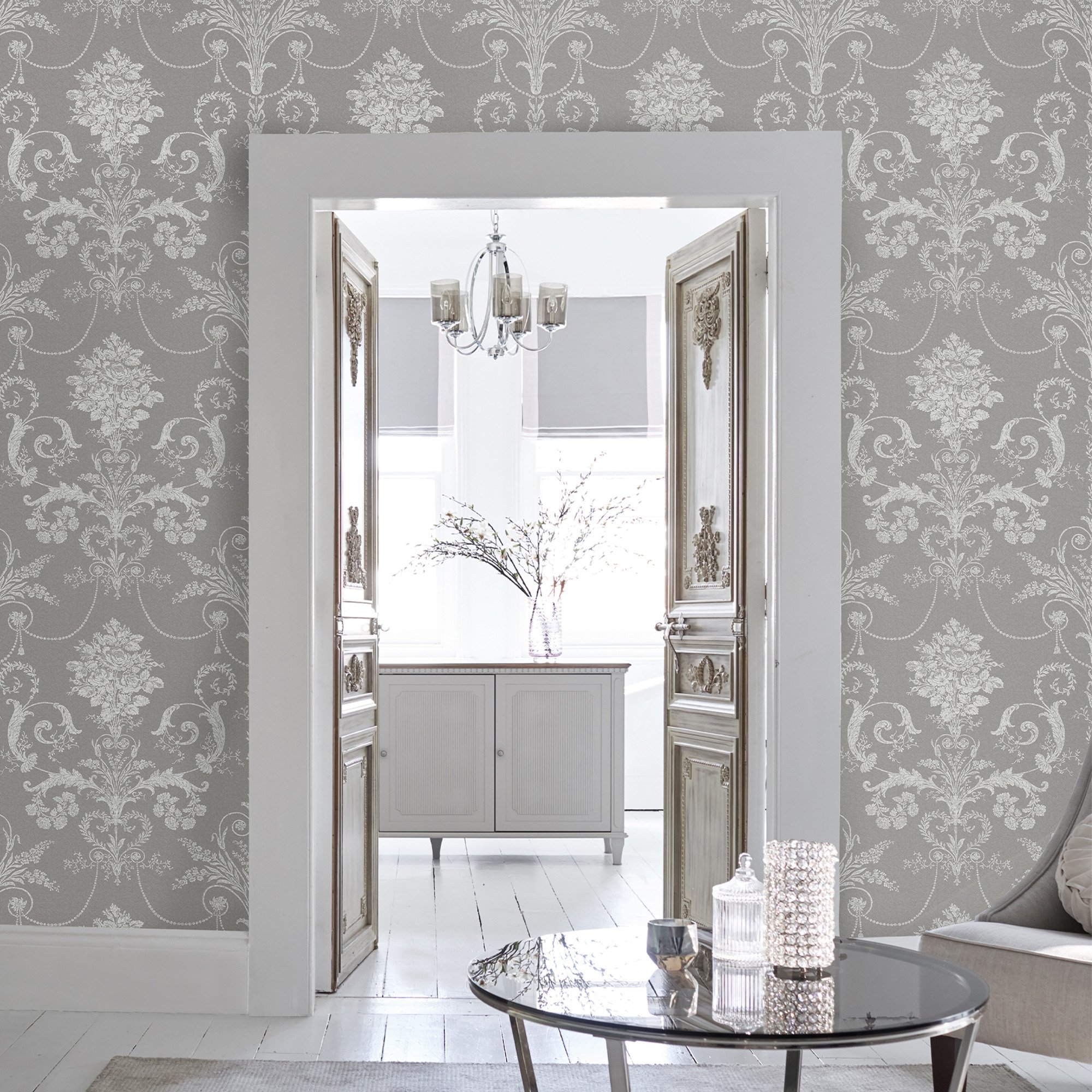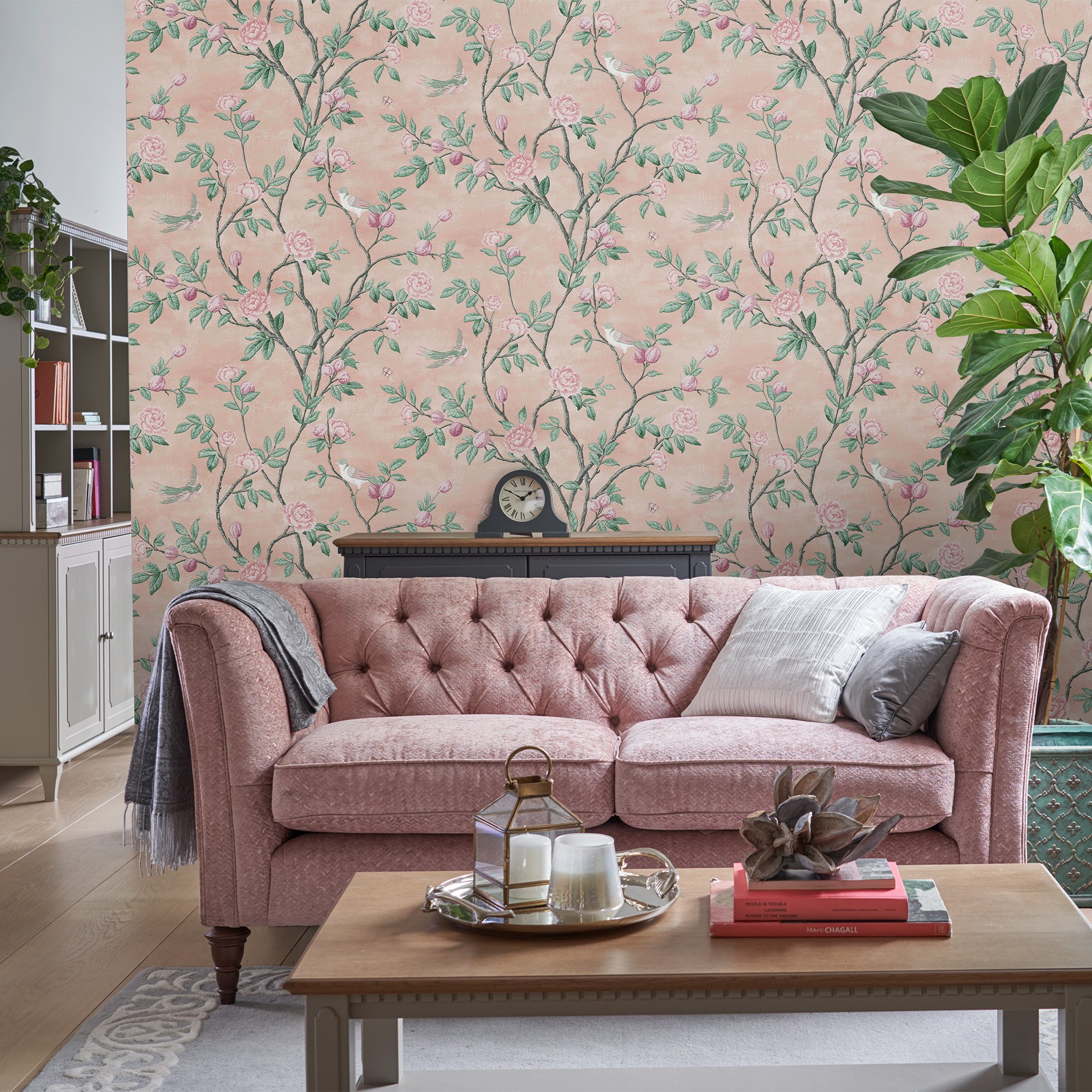 Curtains
Our classic range of ready made Laura Ashley Curtains include a choice of eyelet and pencil pleat headings with standard and blackout linings.
The timeless designs include the iconic Pussy Willow amongst many, available in 4 colour ways with an off white or grey ground (See opposite for Seaspray). Elegant budding pussy willow branches appear across these 100% cotton curtains. Fully lined and with a pencil pleat header to instantly enhance your room.
Awning Stripe, Belvedere and Wisteria are amongst the classic designs available to suit a wide range of design styles. See our Ready Made Curtains page for our full range.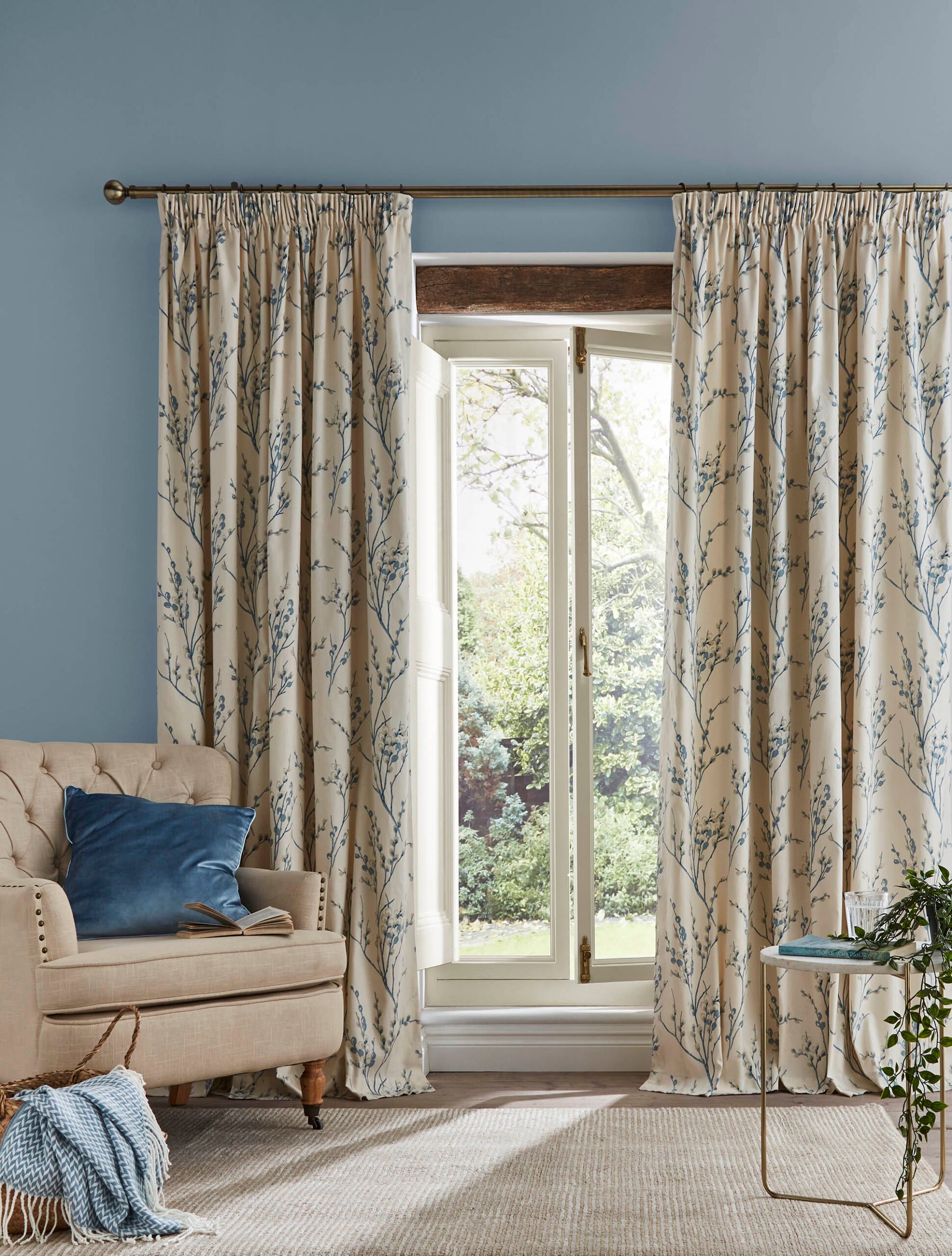 Cushions
The cushions beautifully complement the complete homeware range and include the Belvedere cushions, which sit perfectly in our Exotic Trend. The mix of print and embroidery of this iconic peacock design provides an air of opulence in the striking Midnight Blue colour way (Image 1 below). The Nigella cushions are elegantly piped along the edges and come with a luxurious feather pad. They are available in 18 colour ways to co-ordinate with an array of interior colour schemes (Image 2 below). Rosanna is an elegant pleated round cushion available in 3 colour ways such as Steel (Image 3 below).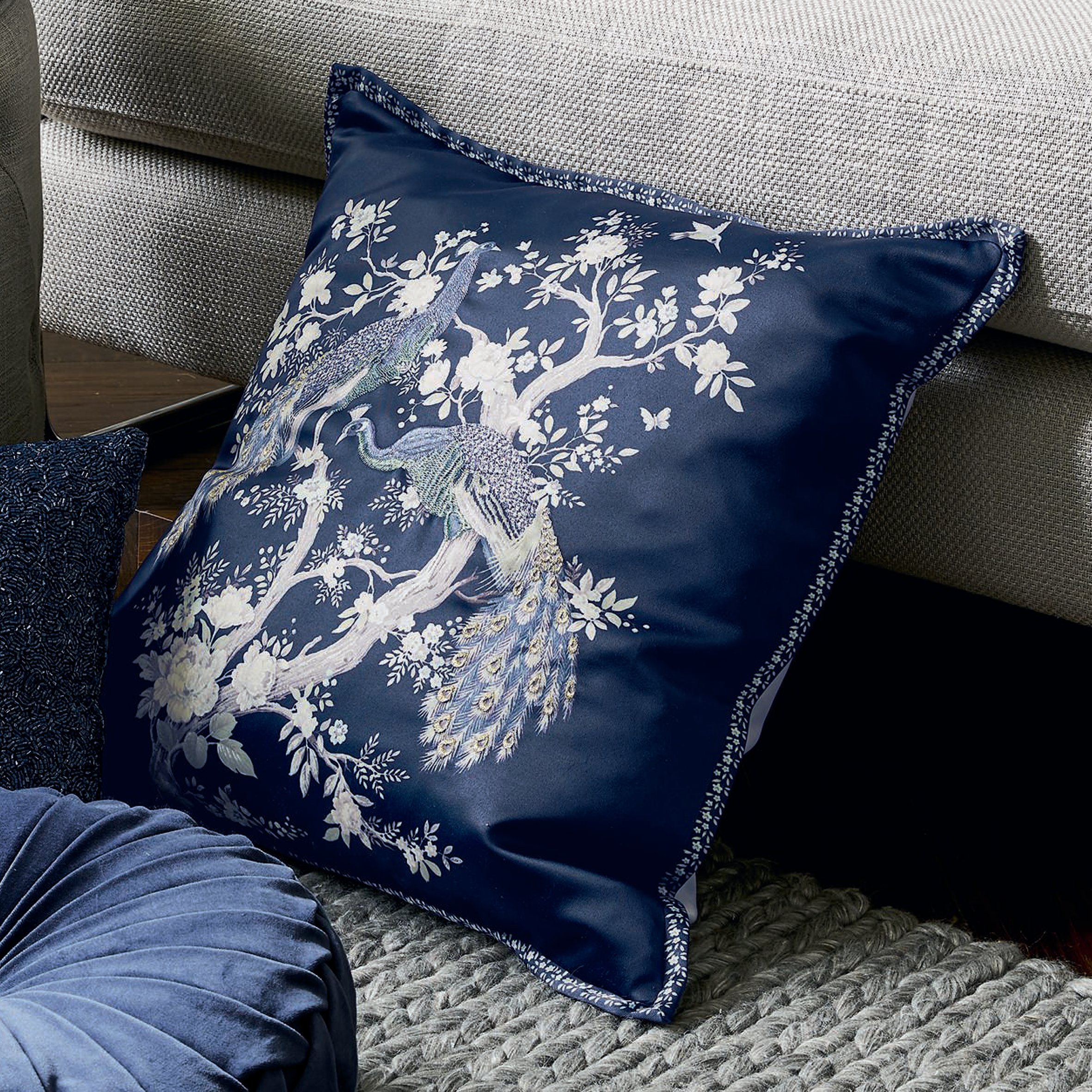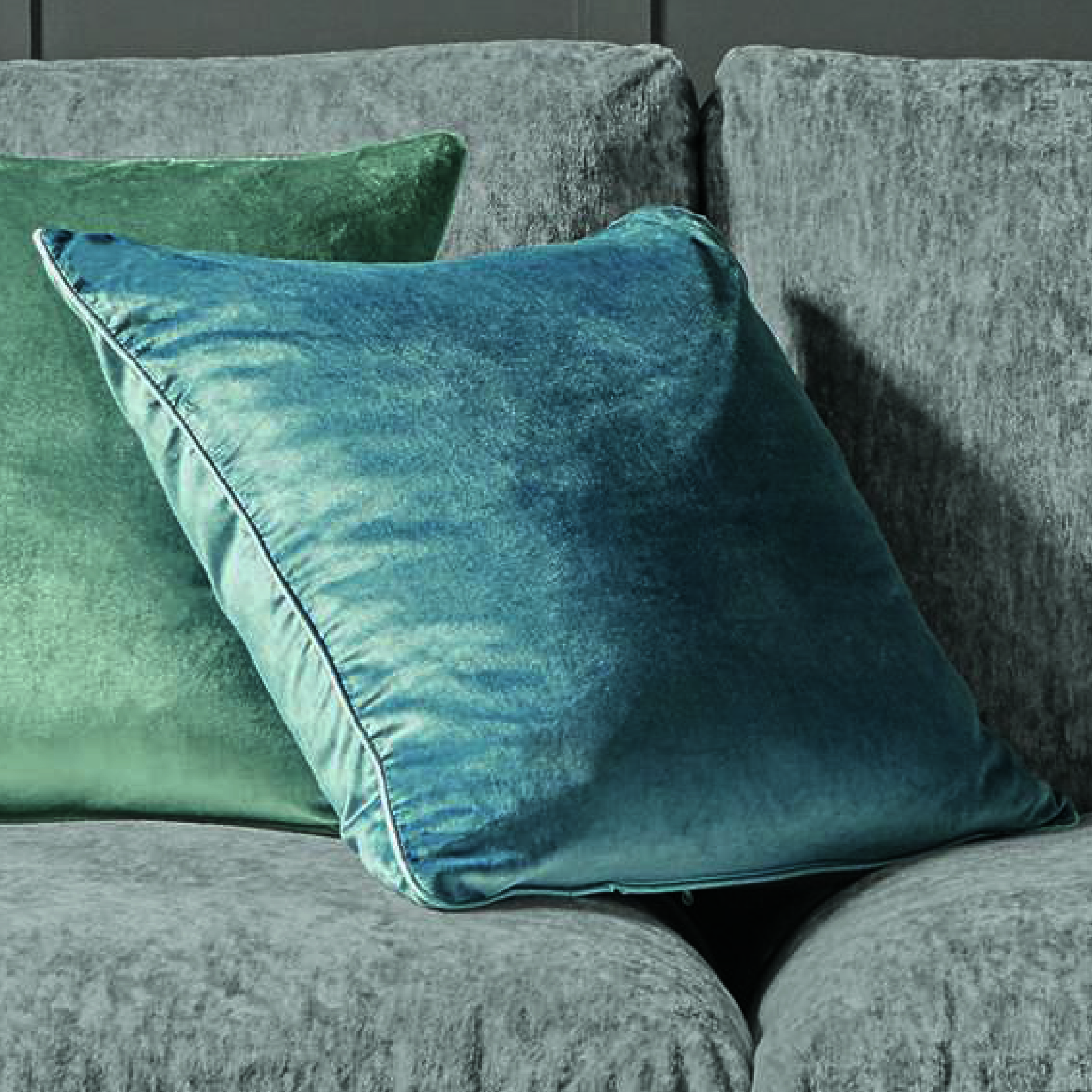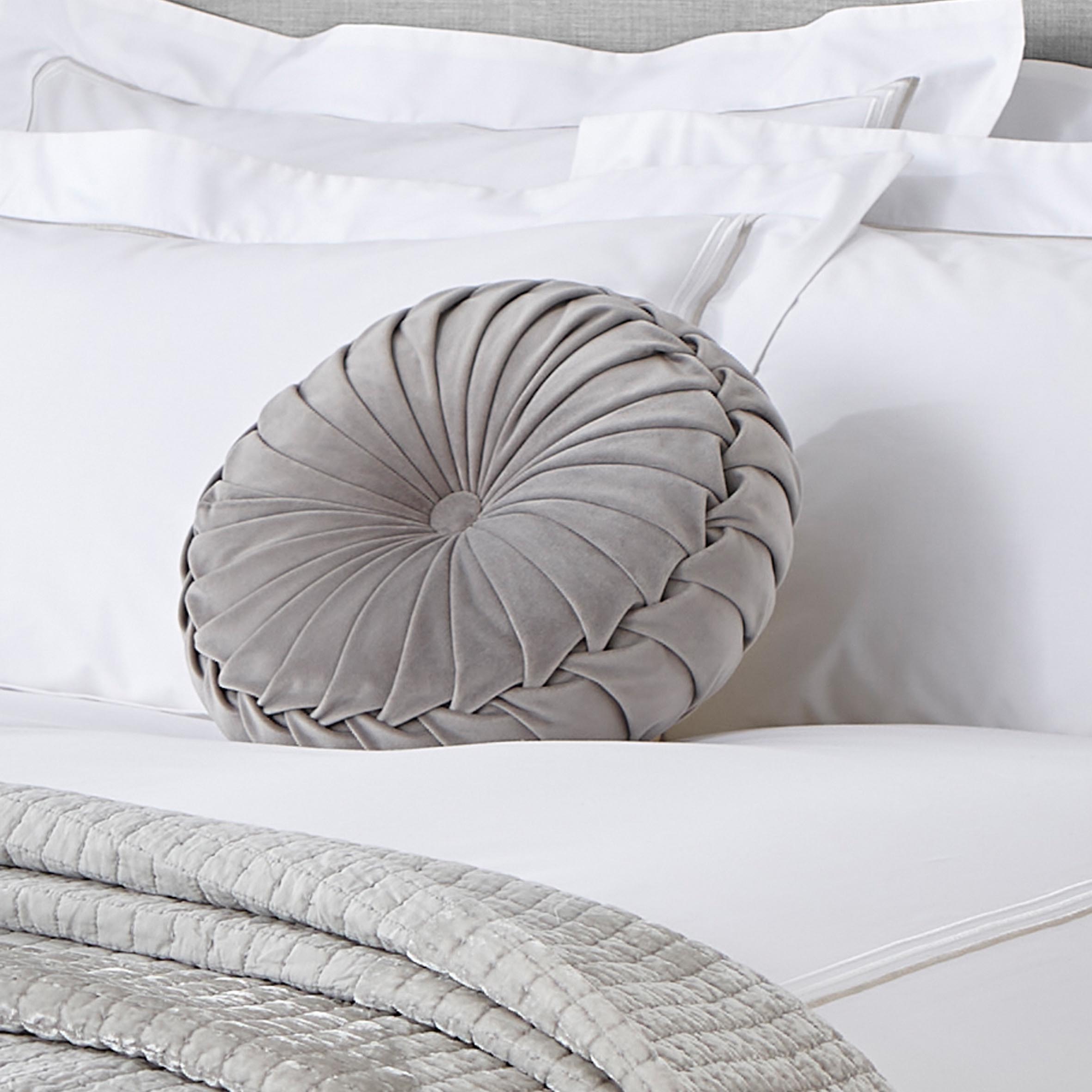 Throws
For rustic charm, choose from a range of Laura Ashley throws including the warm classic checked Cranbourne throw (Image 1 below). Made in the UK from pure wool by Abraham Moon, specialists in English wool since 1837, this will suit a wide variety of interiors. Available in 3 versatile colour ways: Cranberry, Duckegg and Hedgerow. The 100% cotton checked Dylan throw edged with tassels (Image 2) also adds a charming simplicity to your room. This is available in 4 colour ways: Cranberry, Grape, Hedgerow and Seaspray.
If you'd prefer to introduce an air of luxurious elegance, you could add the Hamilton throw woven from a viscose mix with a tassle trim, or the Arya throw for a modern twist. For a coastal feel, try the Tickton throw in Seaspray to add an air of freshness and calm to your home. See our Traditional Coastal and Contemporary Coastal Trend Guides for further inspiration and ideas.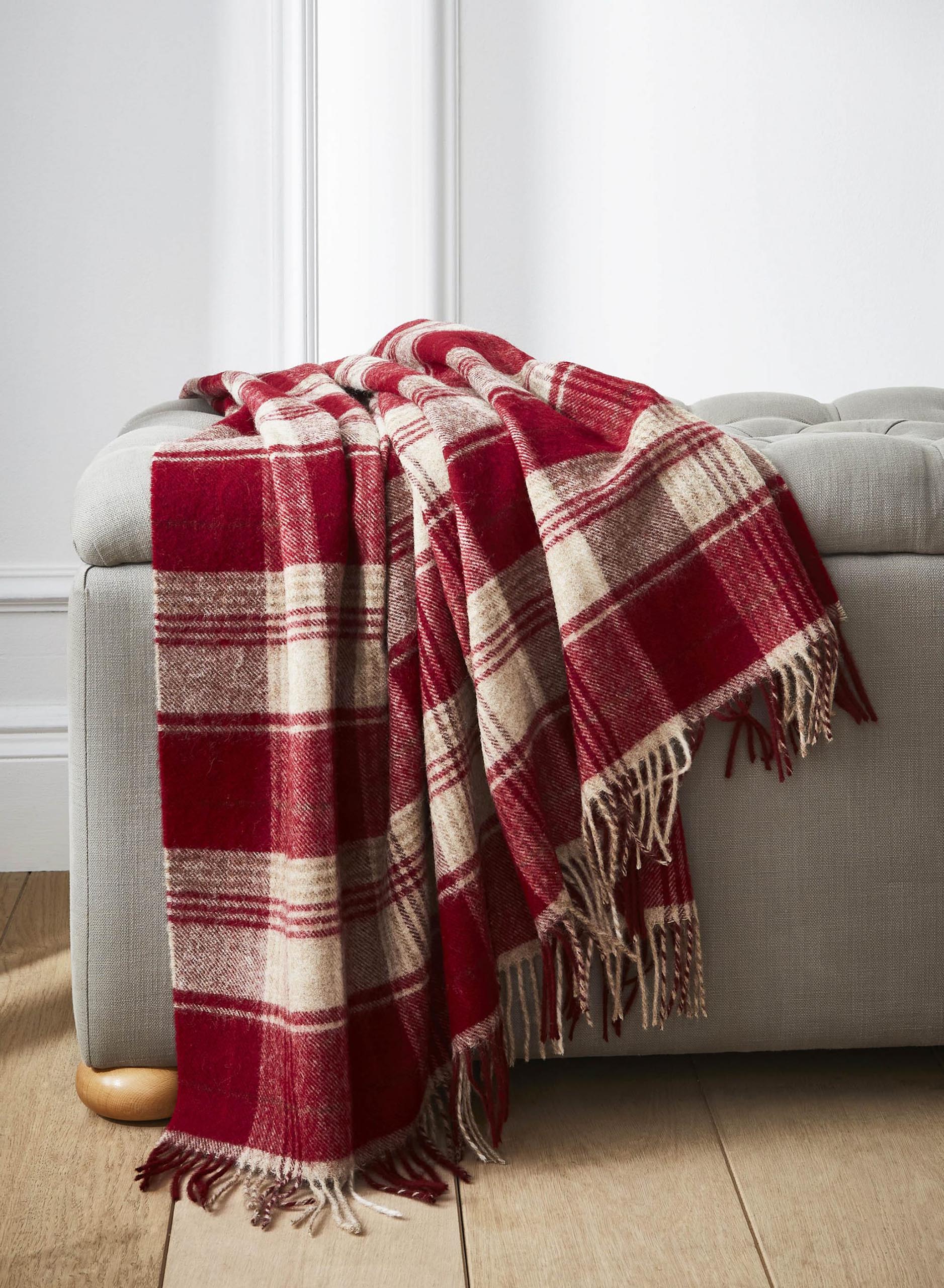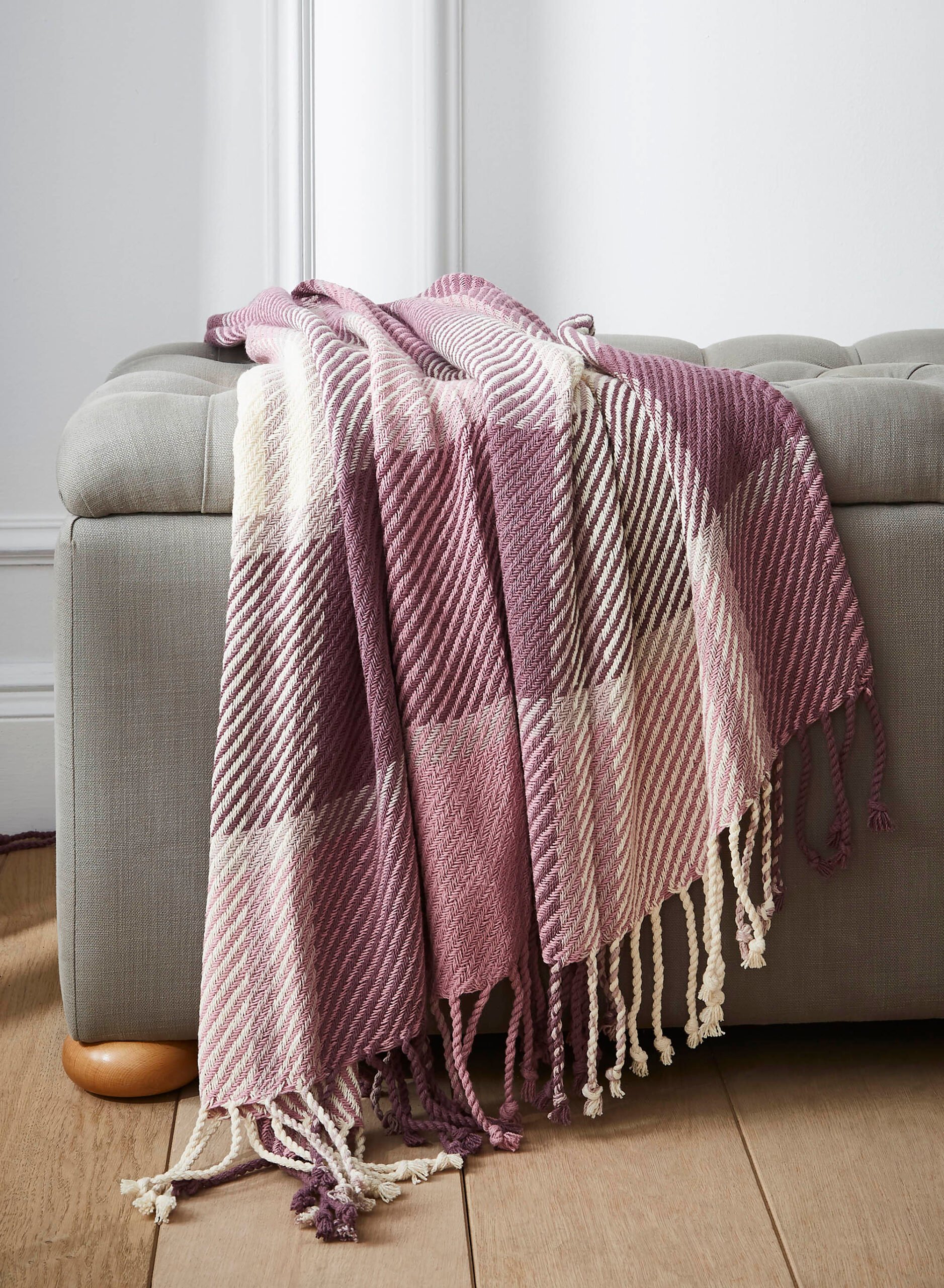 Bedding
The Laura Ashley bedding range includes duvet cover and pillow sets such as Animalia (See image opposite). This elegant, Japanese-inspired design features Cranes, using delicate embroidery and subtle shades of silver and grey with a white ground. This bedding range is sure to add an air of sophistication to your bedroom.
See our webpage for our full range of Laura Ashley bedding. Classic designs such as Josette, Shalford, Pussy Willow and Belvedere feature amongst an enticing range. The materials include cotton percale, cotton sateen and polycotton options with a 200, 220 and 400 thread count.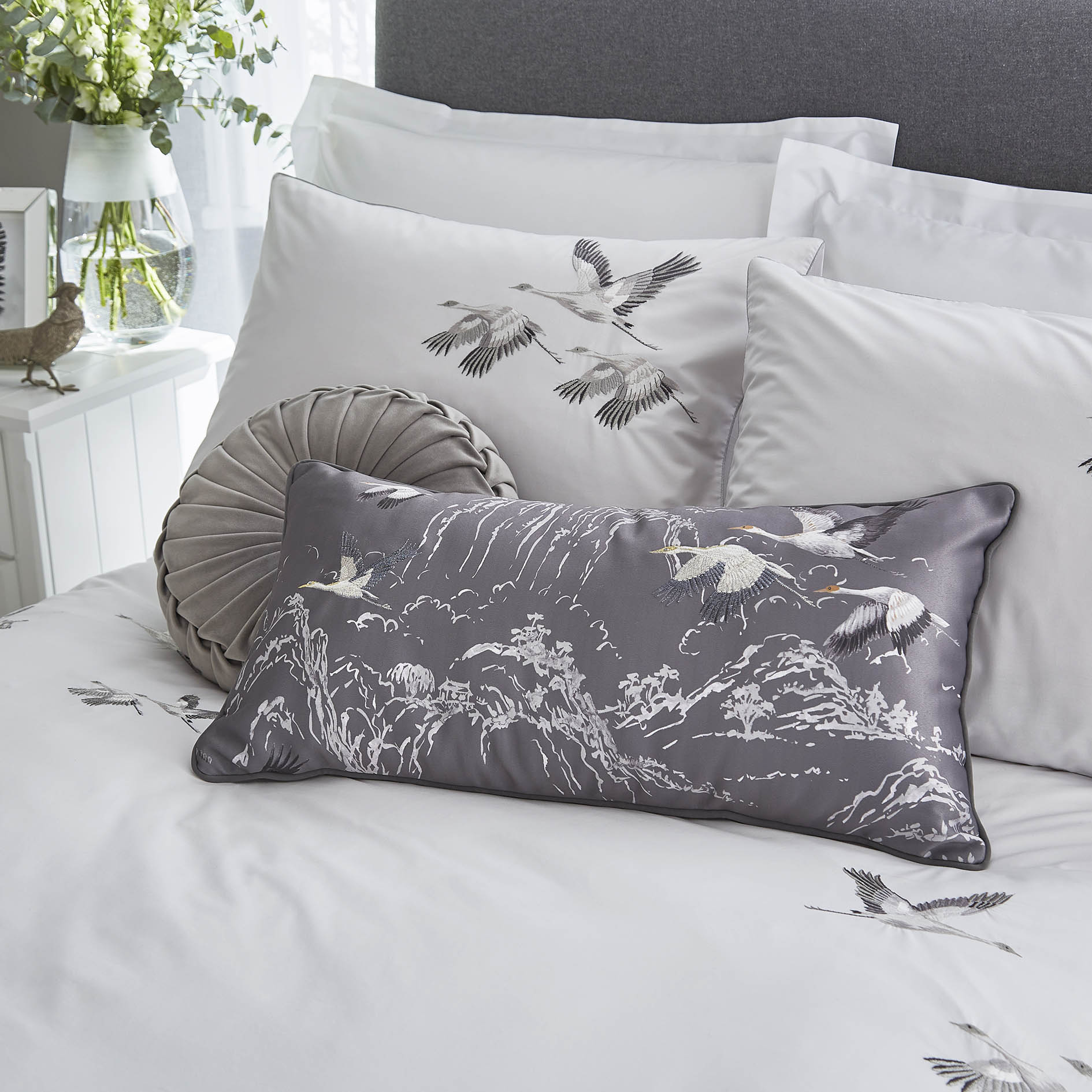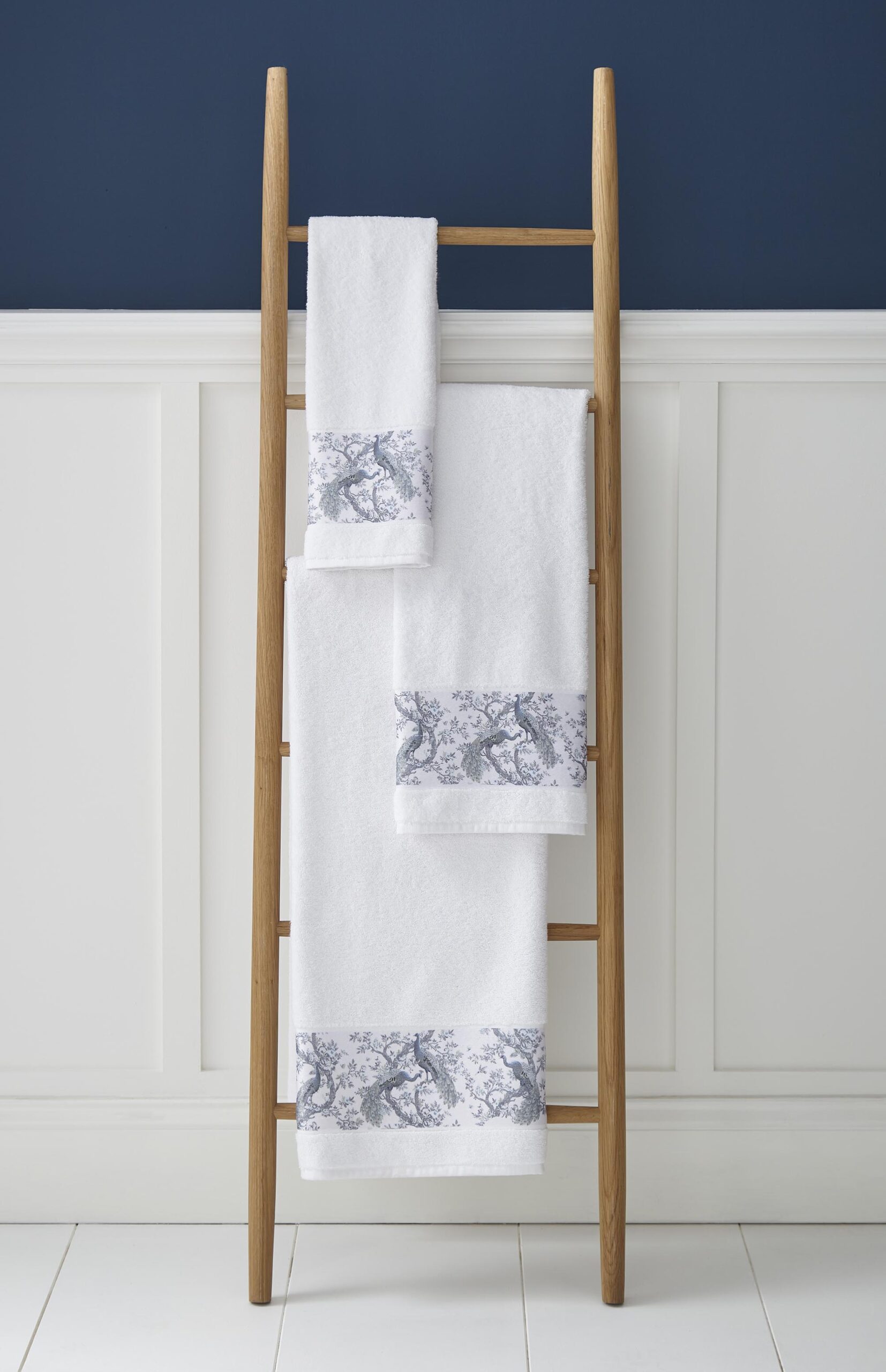 Towels & Bathmats
Laura Ashley offer a range of luxurious quality towels and bath mats to complement their home interior range. This includes the Josette, Ashley and Belvedere towels in a variety of sizes with a soft, sumptuous finish.
The Belvedere print range in Midnight Blue (Pictured opposite) is available in 3 sizes. These include a hand towel, bath towel and bath sheet, a stylish addition to any bathroom.
In Conclusion
Laura Ashley offers a luxurious and timeless range, lending itself with its versatility to many of our design trends. Whether decorating a living area, kitchen, bathroom, hall or study, there is an expansive range of classically-inspired designs and colour choices to inspire your creativity. For more ideas and inspiration, please see our full listing on our Laura Ashley product pages.
If you have any questions, or would like any advice, please do not hesitate to get in touch.
Email: sales@thehomeofinteriors.co.uk or call us on 01590 615775.
Follow us on Instagram and Facebook: @myhomeofinteriors