Talented artist, Diane Hill, has teamed up with luxury home interior brand, Harlequin, to create a beautiful collection of fabrics and wallpapers. Showcasing Diane's passion for ancient Chinese design, the range celebrates decorative chinoiserie in a way that is both unique and contemporary for uplifting summer style.
Each piece in the collection embraces colour and natural influences, creating a conversational range that exudes vibrancy and flair. Based on luxurious silk wallcoverings made popular in 18th Century Europe, the fabrics and wallpapers offer a modern interpretation of traditional design to complement current interior design trends. Also named after empowered women throughout history who paved the way for change, Diane Hill's designs follow suit to inspire confidence and individuality in the home. Shop the full range here.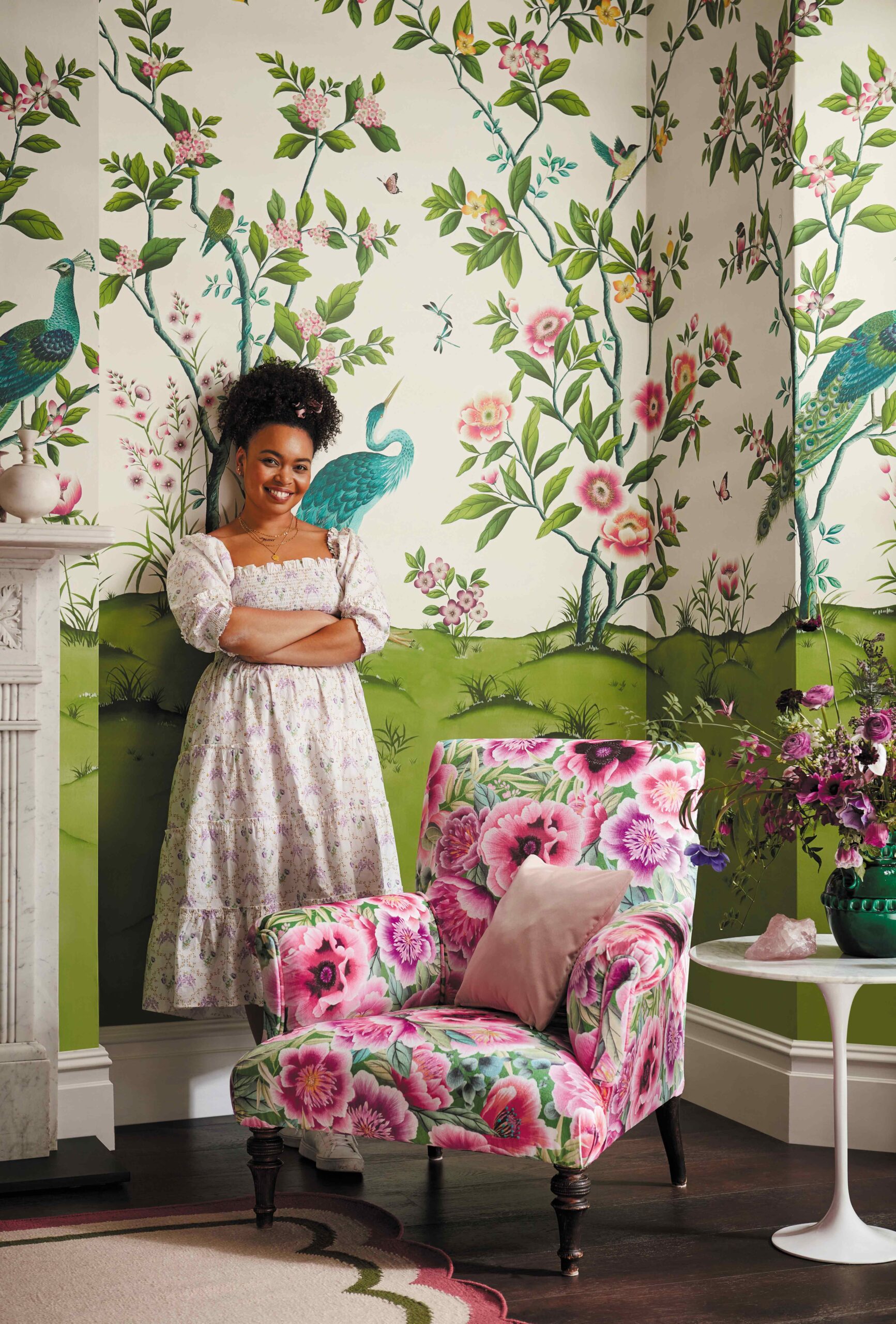 Wallpapers
Reinvent your home with a charming Diane Hill for Harlequin wallpaper. Featuring 9 delightful designs and painted motifs, these light and airy wallpapers are ideal for bringing a tranquil summer breeze to your rooms. Feel refreshed with nature inspired patterns, from the stunning simplicity of Isabella's bamboo stems (image 1 below), to the trailing vines and ripe fruits of Ella (image 2) and Marie (image 3).
Each wallpaper is paste the wall for easy application. Some of the designs also showcase subtle mica grounds and metallic highlights for that extra touch of decadence. We particularly love the Diane Hill Valentina Wallpaper in the Exhale/Ink colour way with its luxurious shimmer (image 4 below).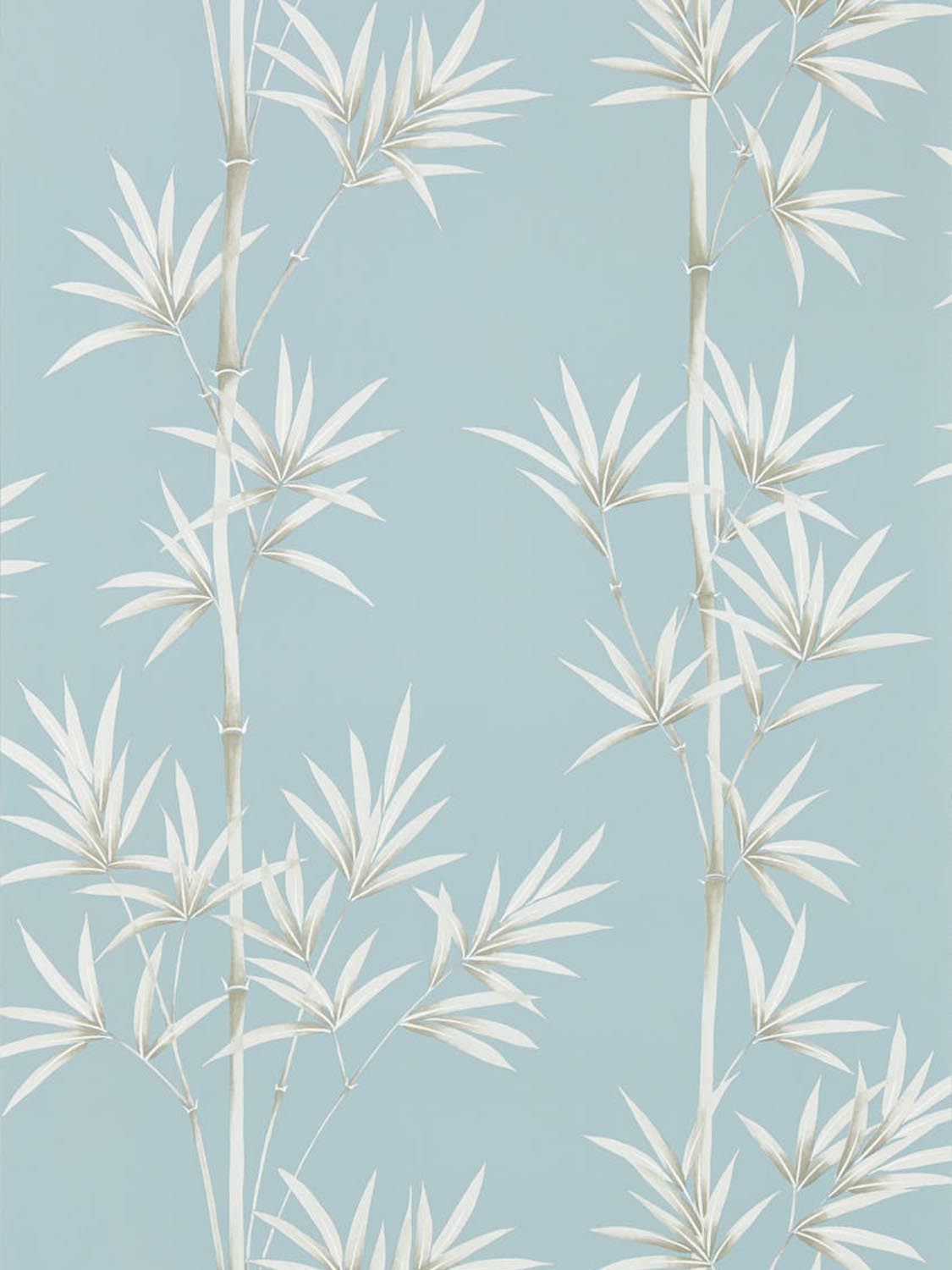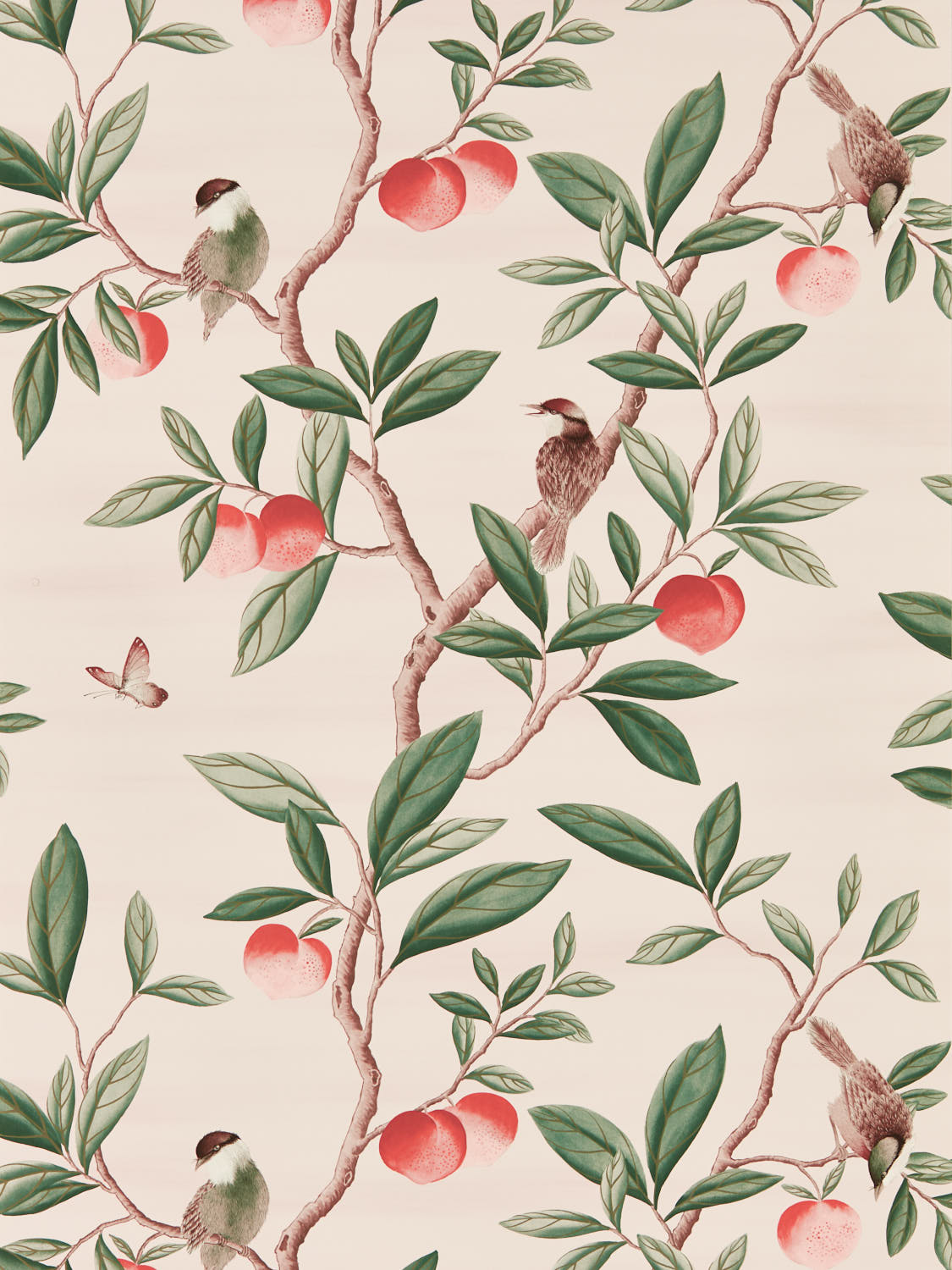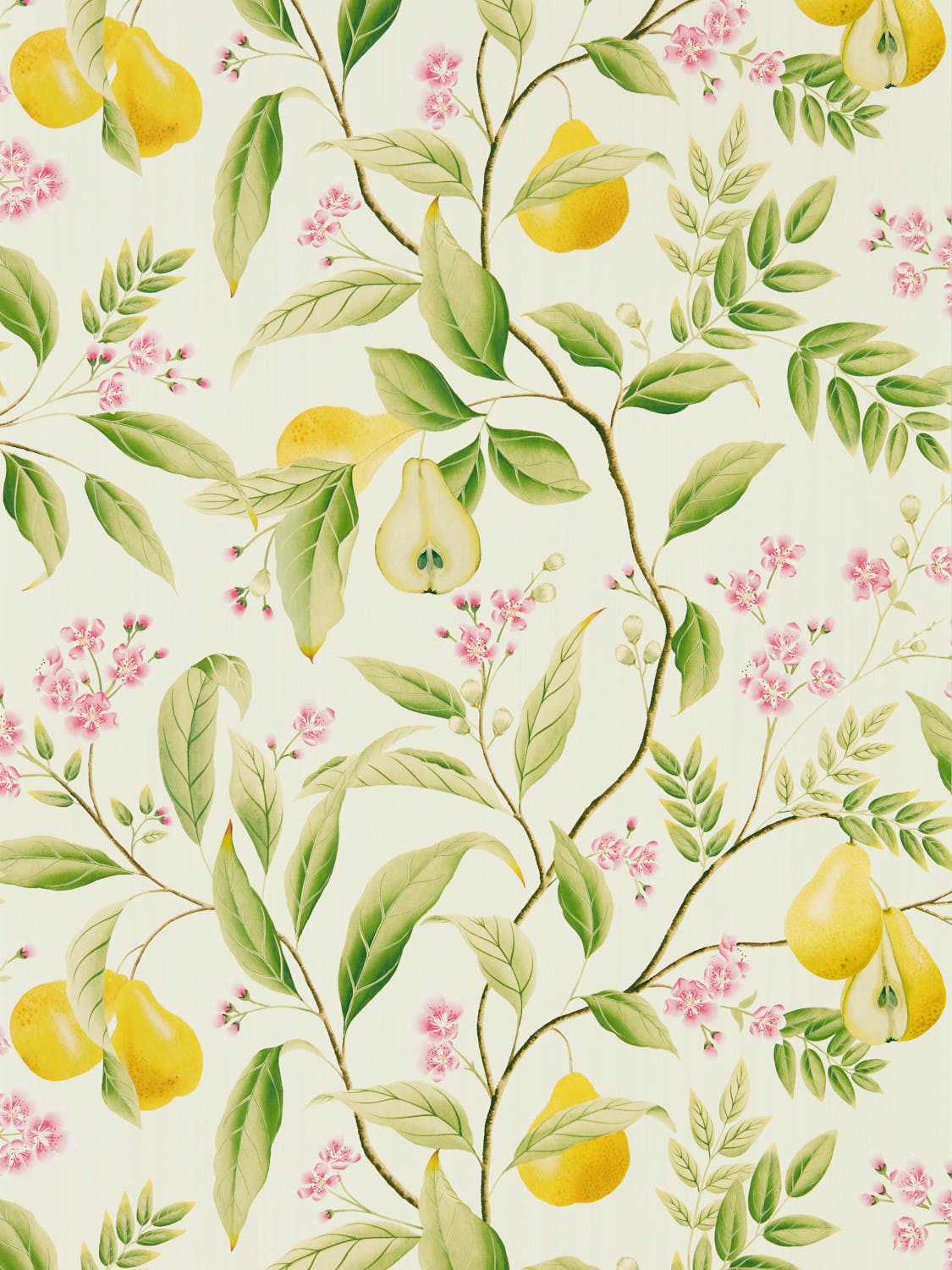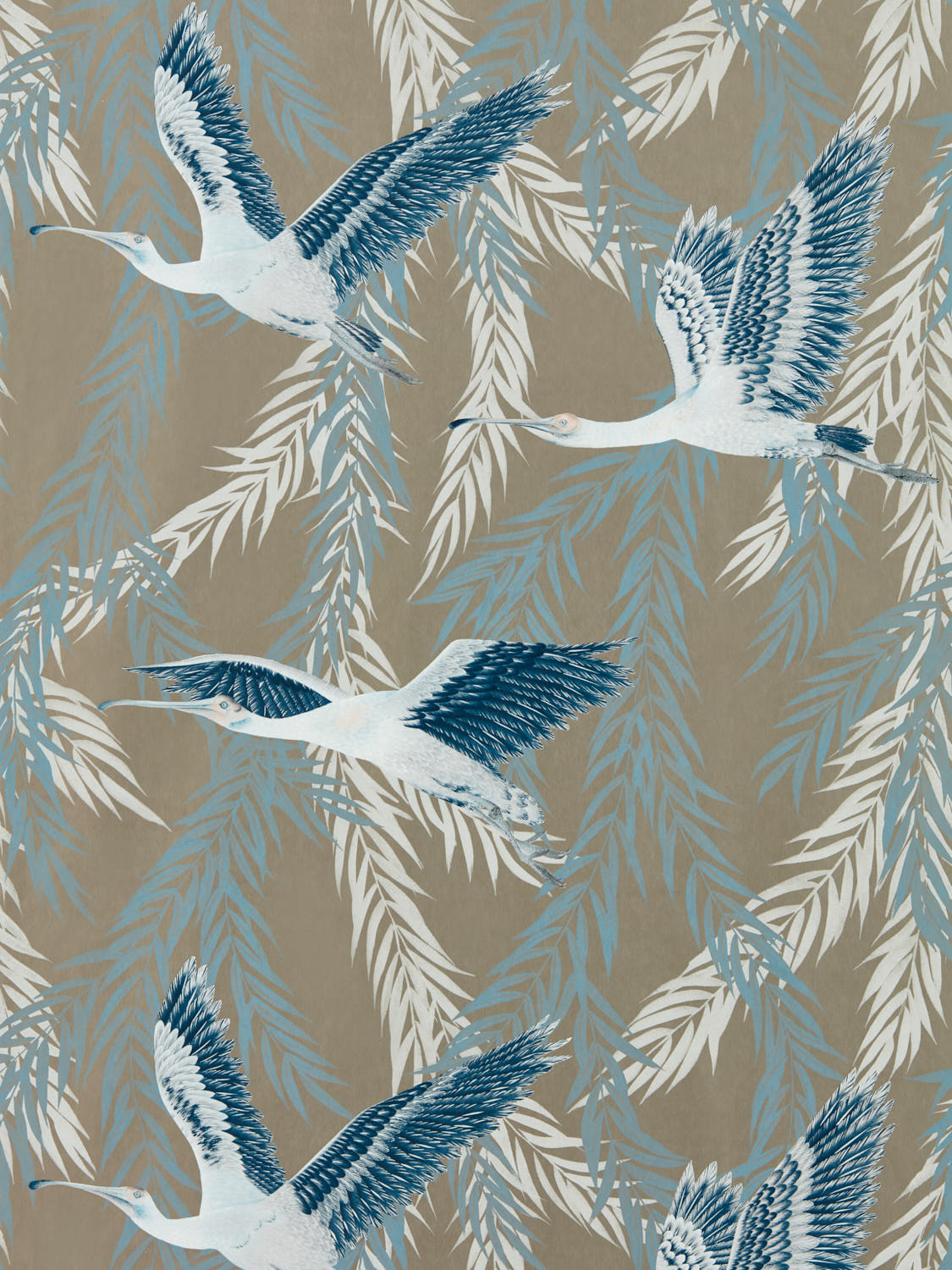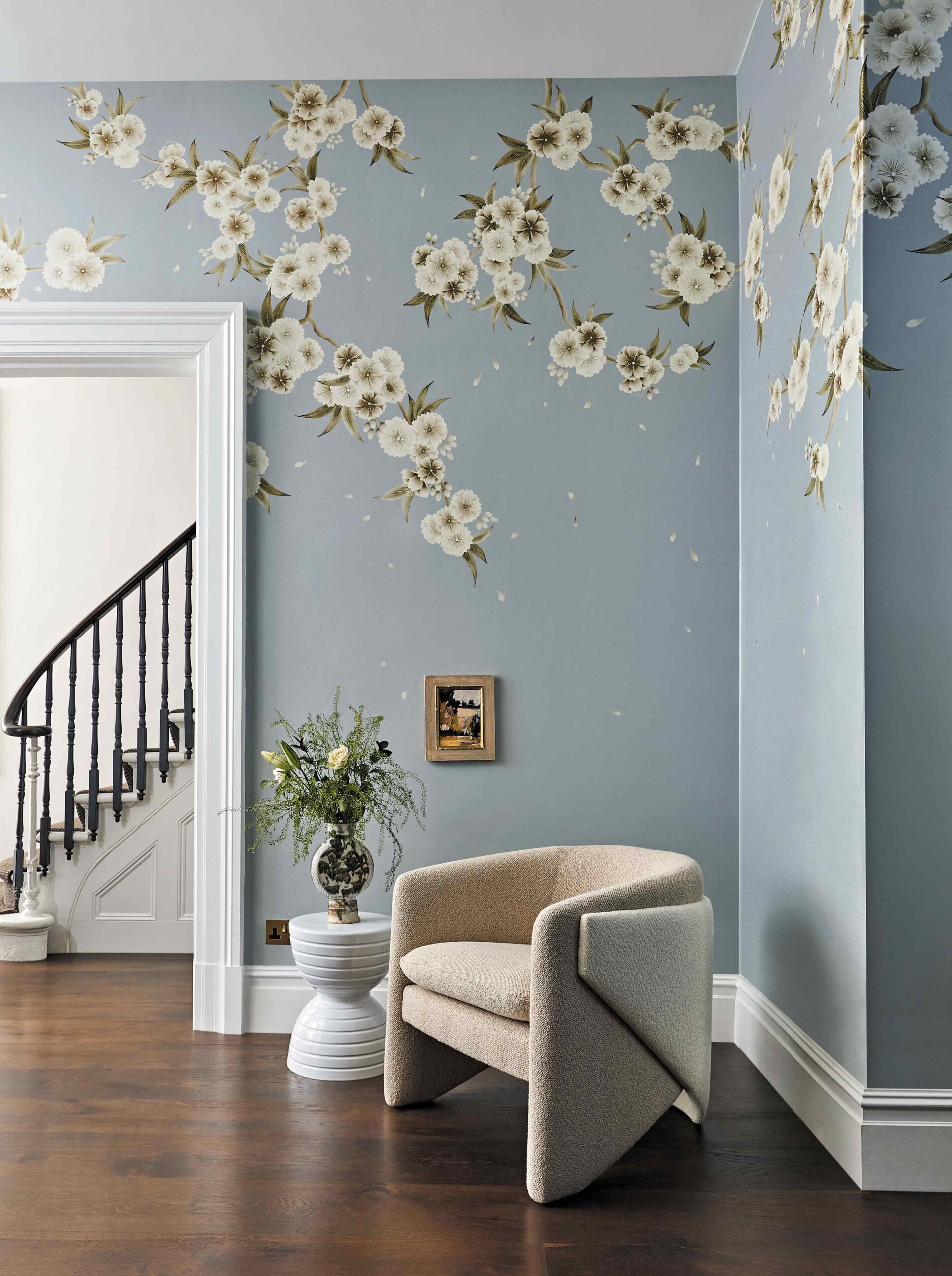 Mural Wallpapers
If you're looking for statement wall décor, you may wish to consider one of the range's stunning wallpaper murals. Reflecting the popular mural wallpaper trend, these printed wallcoverings come on a single roll that is divided into 4 panels. Once applied to the wall, the panels come together to create a large-scale design for a real statement.
Rosa is a soft, yet impactful choice, showcasing a romantic design of cherry blooms gracefully cascading down the paper. Available in 2 colour ways, this wallpaper offers a subtle shimmer and is perfect for rooms with high ceilings. The design also starts at the top so you can cut the bottom accordingly to fit your wall. See image opposite for inspiration.
Additionally, the Florence wallpaper offers a bolder appeal with its picturesque design, bringing an exotic twist to living spaces. The design's 3 charming colour ways add an air of vibrant positivity that will light up any room. Whether you position it on one feature wall for a clear focal point, or carry the repeat across multiple walls, you can be sure Florence will bring an atmospheric feel to your space.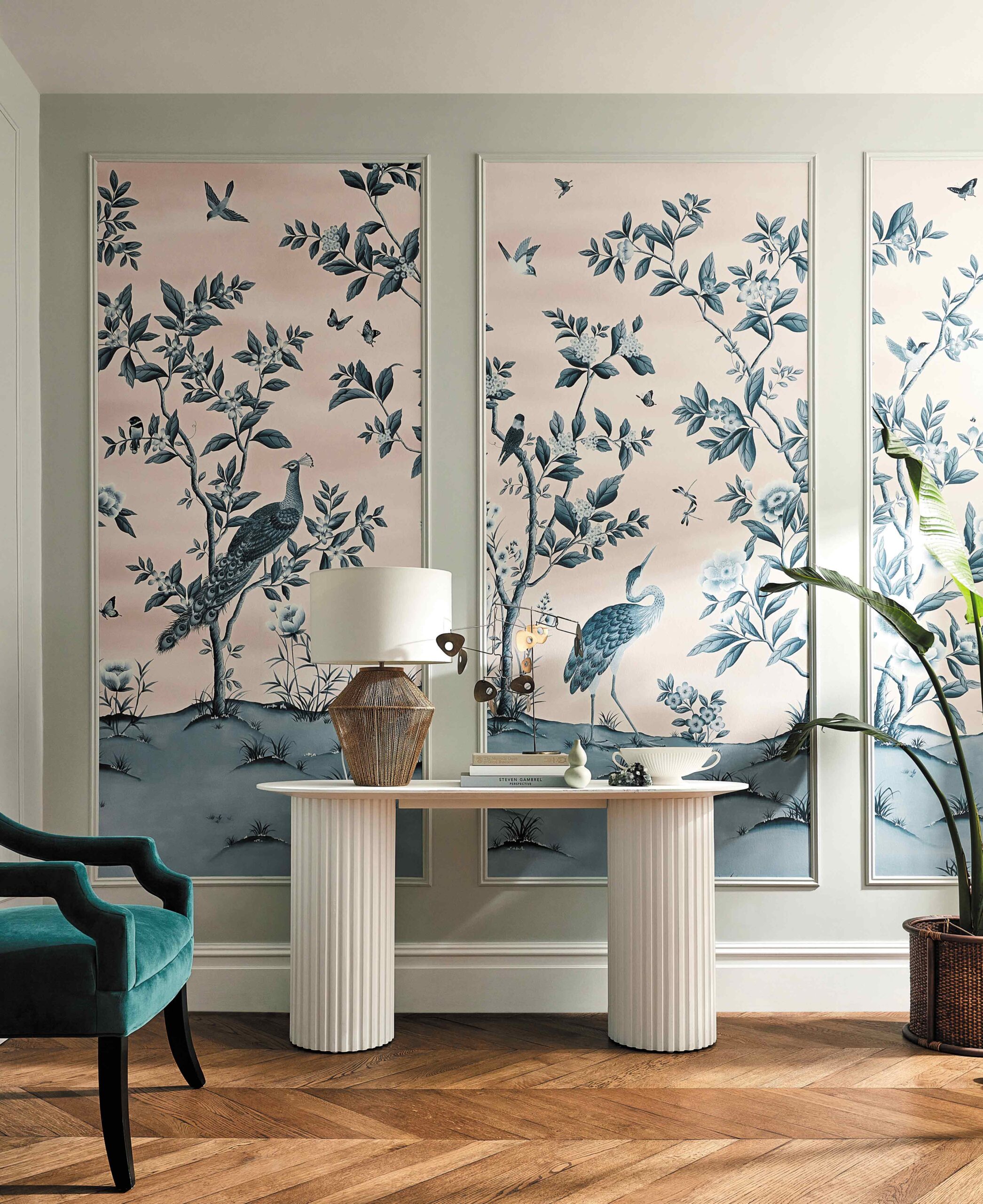 Fabrics
Diane Hill and Harlequin have also created a wonderful selection of luxury printed fabrics to complement the wallpaper range. Mimicking many of the same designs, the fabrics embrace various textures and patterns in order to accentuate your soft furnishings. We absolutely adore the striking Marsha design (image 1 below). An explosion of ultra large scale colour, this alluring floral takes inspiration from a giant bouquet of poppies and peonies. Enjoy the design as a sumptuous printed velvet or an elegant cotton sateen, both available in 2 vibrant colour ways to bring your scheme to life.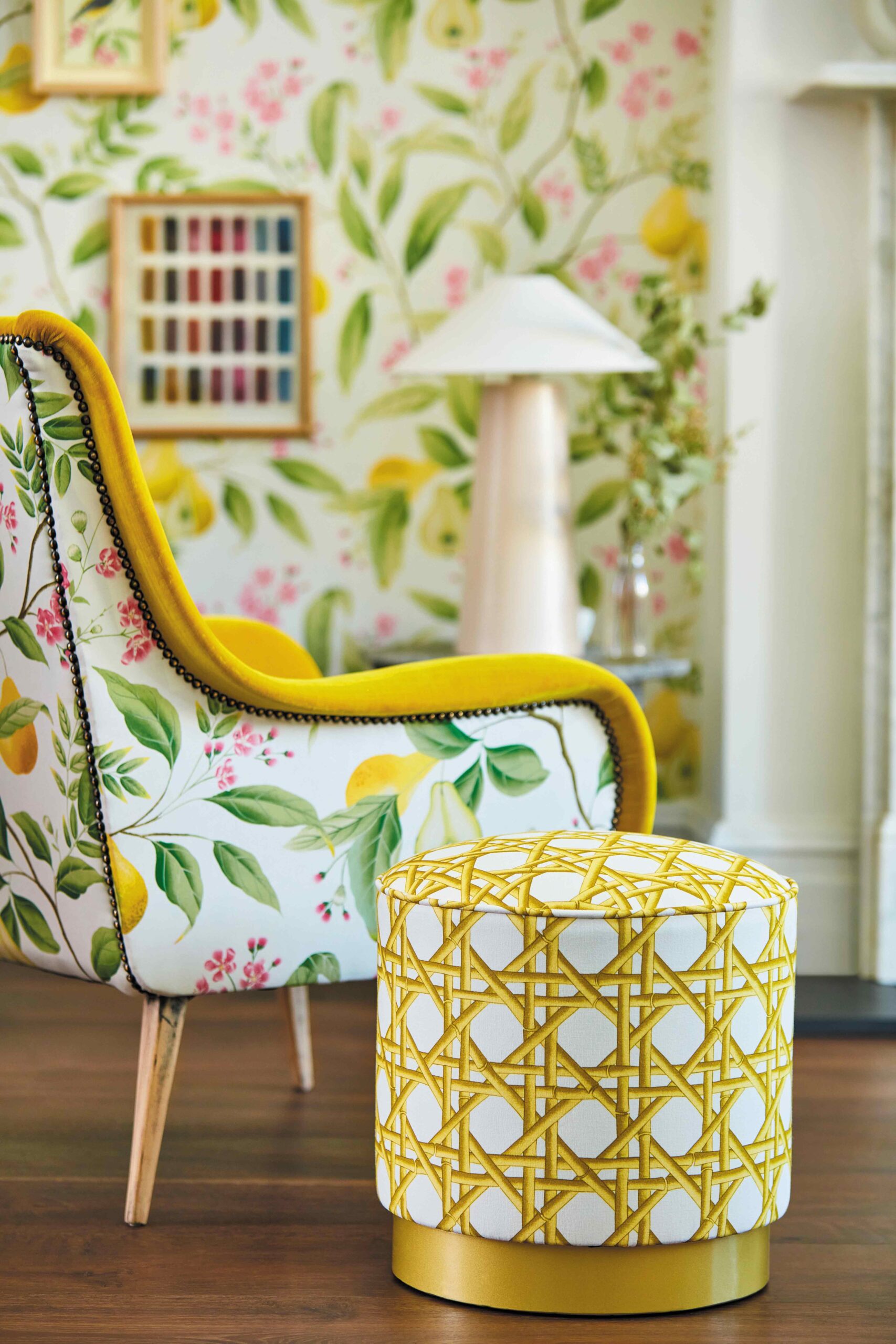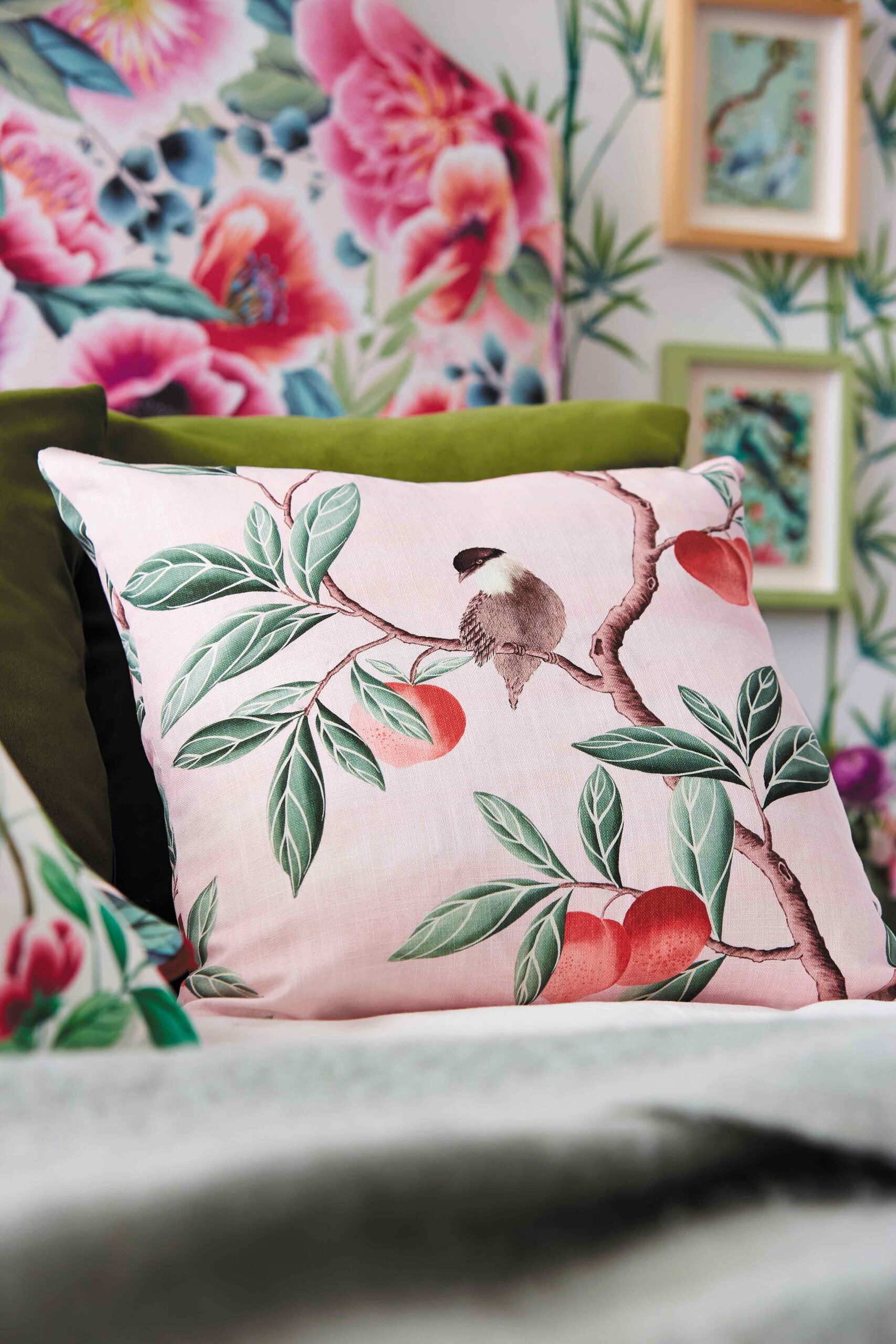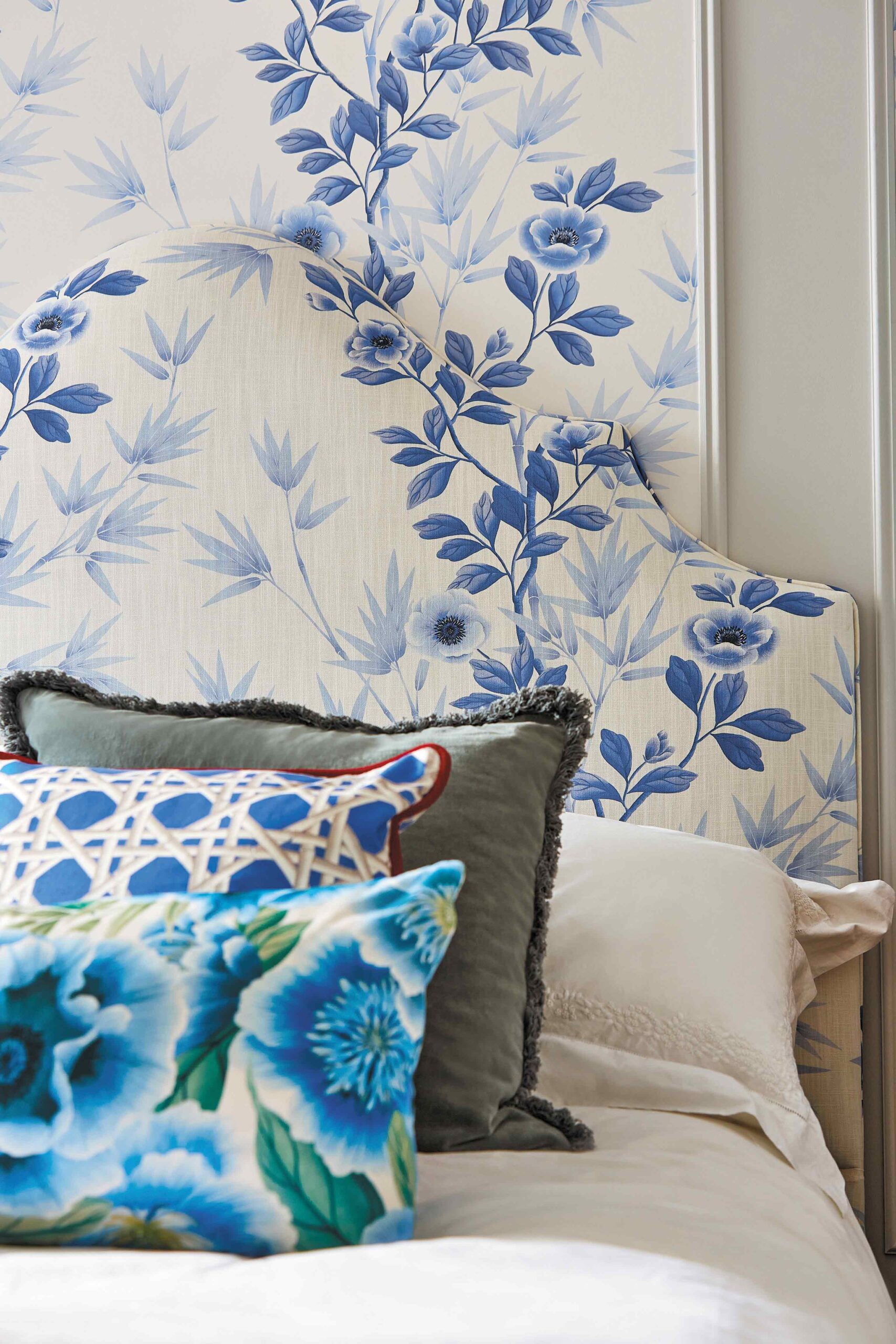 Other fabrics in the range include Marie (image 2 above) and Ella (image 3). Lady Alford is another option (image 4), available as a gorgeous cotton sateen in 2 contemporary colour ways or a cotton/linen fabric in 2 more classic tones. If you're looking for more of a versatile pattern, Lovelace is a perfect choice (see footstool in image 2 above). Featuring a woven bamboo design in the form of a simple geometric trellis, this bright fabric sits perfectly on its own or together with statement florals in the collection. It is also available in 3 vidid tones to add a splash of colour to your rooms.
Layering
Harlequin's Diane Hill collection also features Emmeline, a beautiful floaty, semi- transparent voile with an intricate butterfly design. Made from 100% linen, this wonderfully light fabric works well as a curtain, layered behind a thicker fabric such as Lady Alford for added privacy and shading. Please see our range of double curtain poles and double and triple tracks for the ideal layering solution.
Equally, you could choose a fabric for a roman blind to go inside a window recess, with a complementary curtain fabric on the outside to complete the look. See below for inspiration.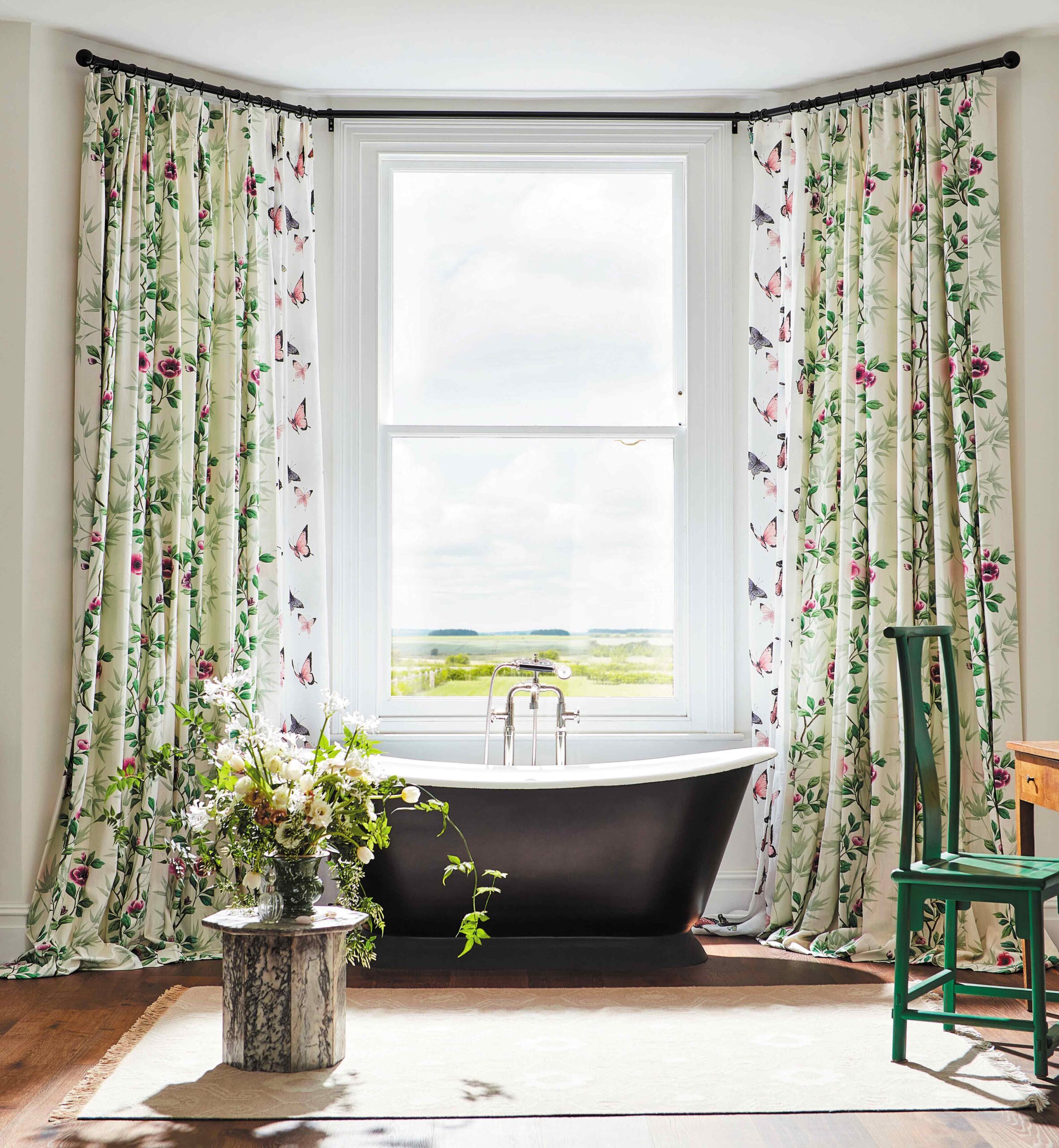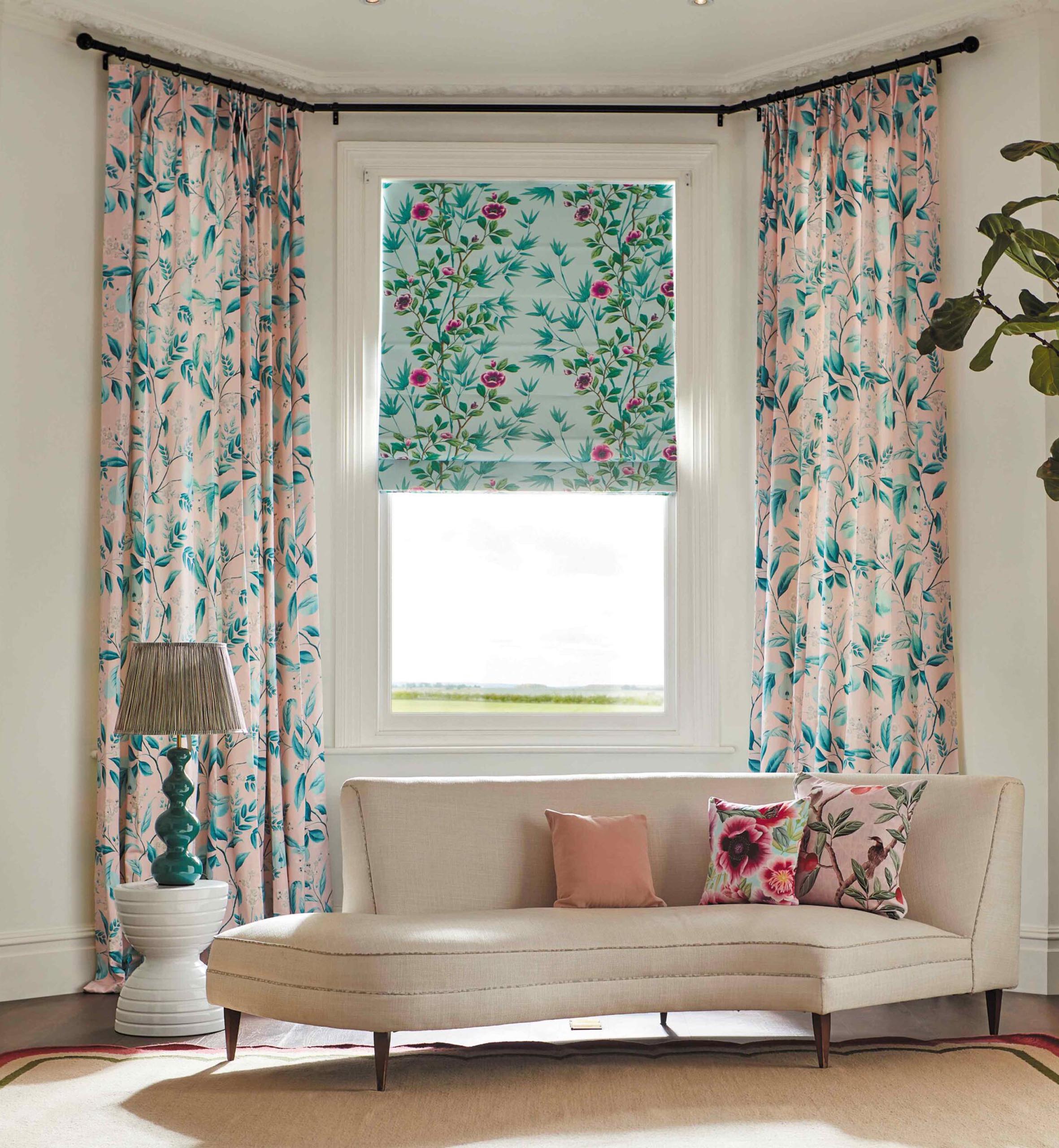 Overview
The Diane Hill collection by Harlequin is a truly inspired range that encourages confidence and self-expression through design and colour. Beautifully detailed and summery in style, this stunning selection of fabrics and wallpapers will uplift your interiors, whether you choose one design, or combine a few!
At The Home Of Interiors, we can also transform any of the Diane Hill fabrics into your perfect window dressing. Please read our blog post on our bespoke, made to measure curtain and roman blind making service for more information.
Many of the designs in this range sit beautifully within our Floral Romantic and Exotic trends. Please see our selection of trend guides here for design inspiration and ideas. If you have any questions, would like any advice or samples sending out, please do get in touch.
Email sales@thehomeofinteriors.co.uk or call us on 01590 615775.
Follow us on Instagram and Facebook: @myhomeofinteriors