Silent Gliss Leviso Light Fabric
Silent Gliss Leviso Light fabric is a subtly textured dimout fabric, with a soft drape and a colour matched reverse for a uniform appearance inside and out.  It also has proven acoustic properties, helping to absorb sound which can be advantageous in large open plan living spaces.  It is a wide width fabric and is available up to 295 cm wide in a range of contemporary colours, complementing modern interior design colour schemes and styles.  We would always recommend a sample is ordered prior to purchase as colours can vary on screens.  Please see the Fabric Swatches tab to order any samples.  All Silent Gliss fabrics are dyed before being woven which provides increased colour fastness and reduced colour fading.
Applications
Silent Gliss's Leviso Light fabric is suitable for use on:
Curtains – wave curtains and the Swiss pleat curtain heading style
Roman Blinds
Panel Glide Systems
Wintergarden Systems such as lantern windows
Curtain Application
Leviso Light lends itself beautifully to the wave curtain heading style.  Due to it being a wide width fabric if your curtain drop is less than the maximum fabric width we can make up your wave curtains without any joins for a seamless, polished finish.
We can also make up your curtains in the Swiss pleat heading style.  This delivers a soft, airy look and is less uniform than the wave curtain heading style.  You may wish to consider the Swiss pleat heading style if you prefer a more relaxed look or if space is limited (front to back) and there isn't space for the depth of the folds on the wave curtains.  The Swiss pleat is also ideal if you are layering a voile curtain with a thicker fabric to sit in front of the voile.  The Swiss pleat is a simple, neat heading that sits nicely behind a wave curtain.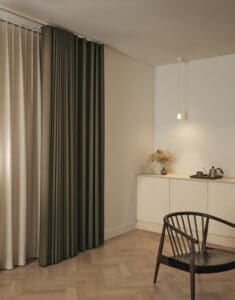 Click here to view Silent Gliss's fabric finder which is an excellent tool in helping you to find the best fabric to suit your requirements.