January is all about embracing renewal and change. Whether it be our lifestyle or mentality, many of us see this month as an opportunity for a fresh start, and the world of home interiors is no exception. As design trends continue to shift for the year ahead, now is the perfect time to consider a nice new home refresh. And with the chaos and complexities that come with everyday life after the festive period, what better room to start with than the master bedroom suite!
A place where the morning begins and the evening ends, the master bedroom should be an inviting, restful space to retreat to when the day draws to a close. A sanctuary to escape the busyness of everyday life, it should exude calmness in a way that reflects you and what makes you happy. This blog post is designed to offer tips and styling inspiration to help create your perfect master bedroom scheme, drawing on 2023 trend forecasts for a stylish edge.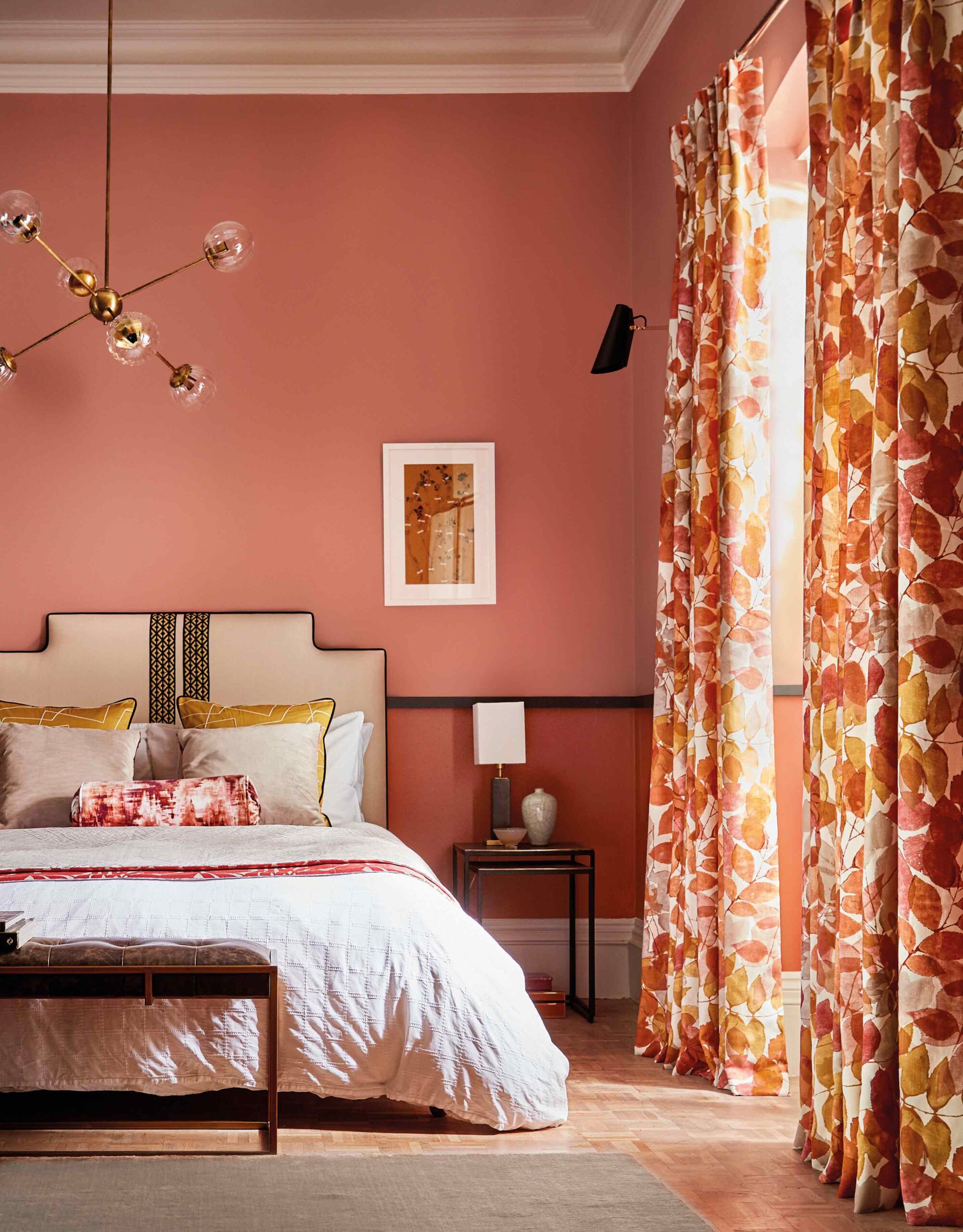 Paint
In light of everlasting lockdowns, uncertainty and hardship presented in recent years, it's no surprise that we are seeing a real shift in interior colour trends. As many of us continue to seek warmth, comfort and a sense of stability in the home, warmer colours are taking centre stage to reflect this new state of mind. This has meant a transition from cooler greys and monochrome schemes to more earthy tones such as terracotta, rust and soft pinks. The ever-growing desire to bring the outdoors in also sees green as a popular colour choice to bring life and happiness to your rooms.
Begin your scheme with a warm and inviting paint palette. If you're big on colour and love the idea of creating a bold, immersive look, consider painting all your walls in a terracotta or rust shade (see example image above). Equally, you could opt to paint a feature wall to create a focal point. If you prefer a more subtle finish, you may wish to keep the walls simple and plain using a warm neutral paint. You can then introduce a splash of colour through accent cushions, throws and other finishing touches. Please see below for a recommended paint scale. Click here to shop our full paint collection.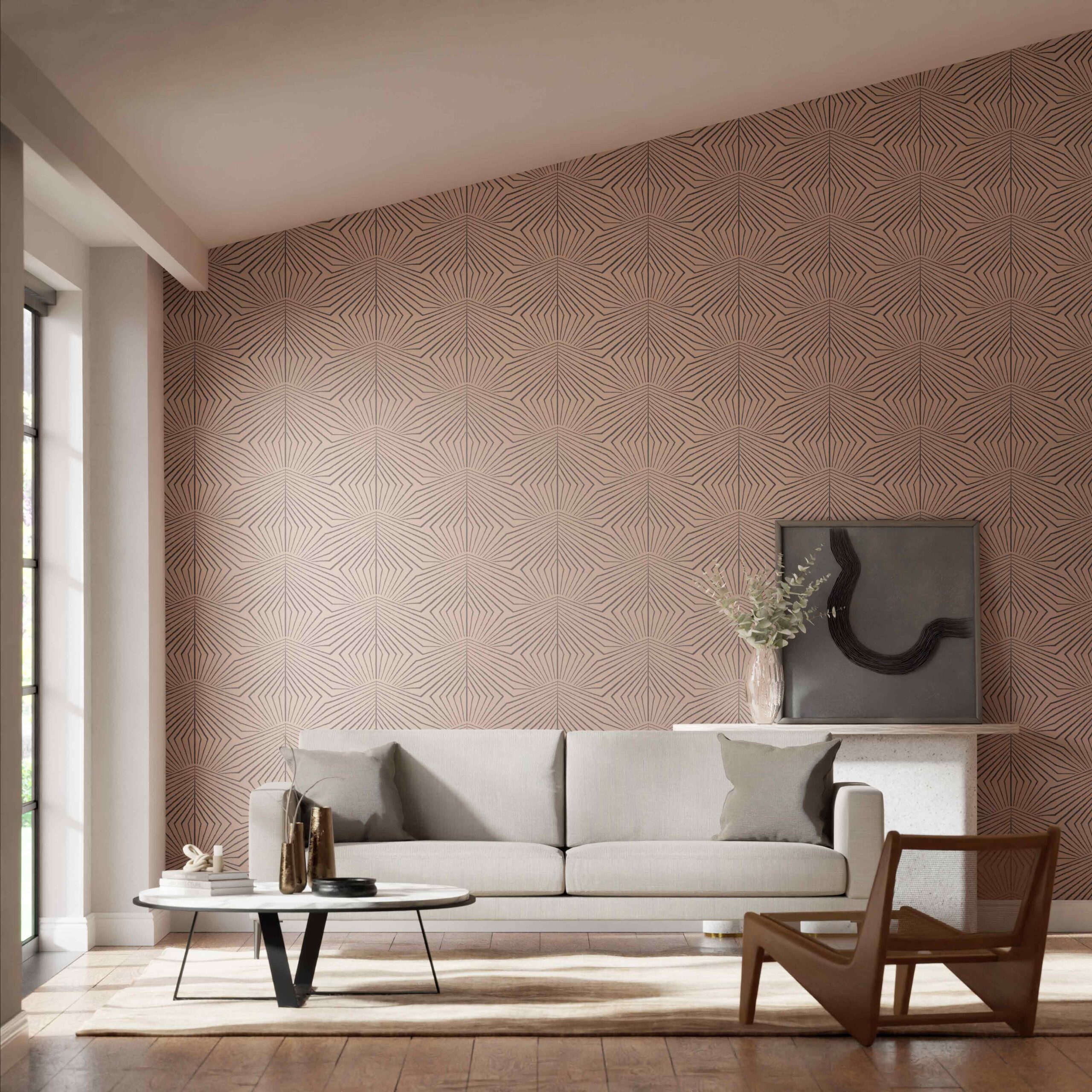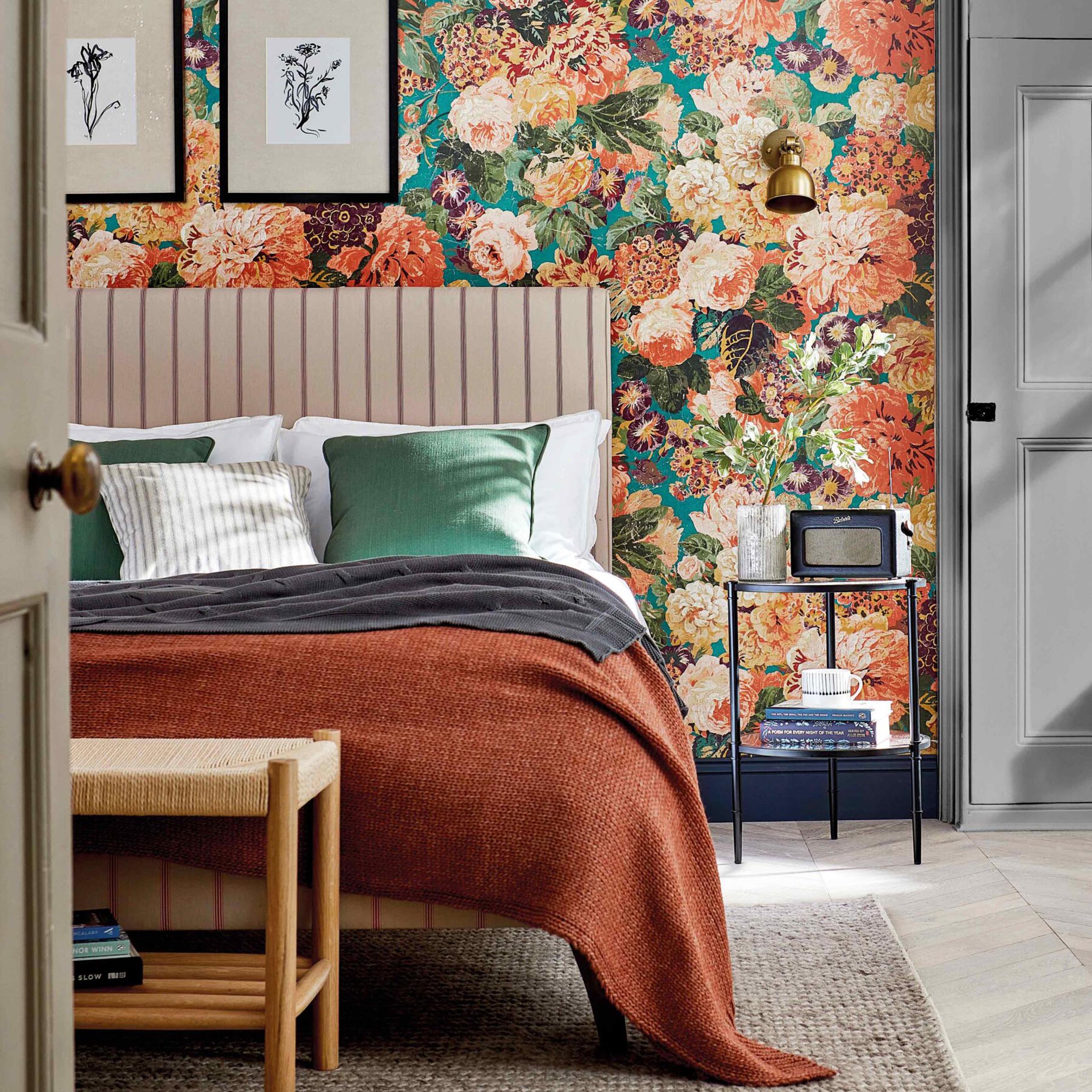 Window Treatments
Window dressings can make the world of difference in a master bedroom. They help to bring a soft element to the space, working well to create a calming environment in a way that complements your chosen scheme. But they also need to be practical. When selecting your window treatment, you should consider your shading requirements throughout the year.
If your room is south facing, you may wish to choose a beautiful sheer curtain to provide some privacy and shading from the outside, whilst still allowing the light to flood the room. This is perfect for creating an airy, tranquil feel. The Prestigious Textiles Drift fabric is a stunning plain sheer, available in an array neutral and pastel tones (shown opposite in Powder Pink). The Parchment colour way is an example of a gorgeous warm neutral to complement your scheme. A roller blind is also a great choice.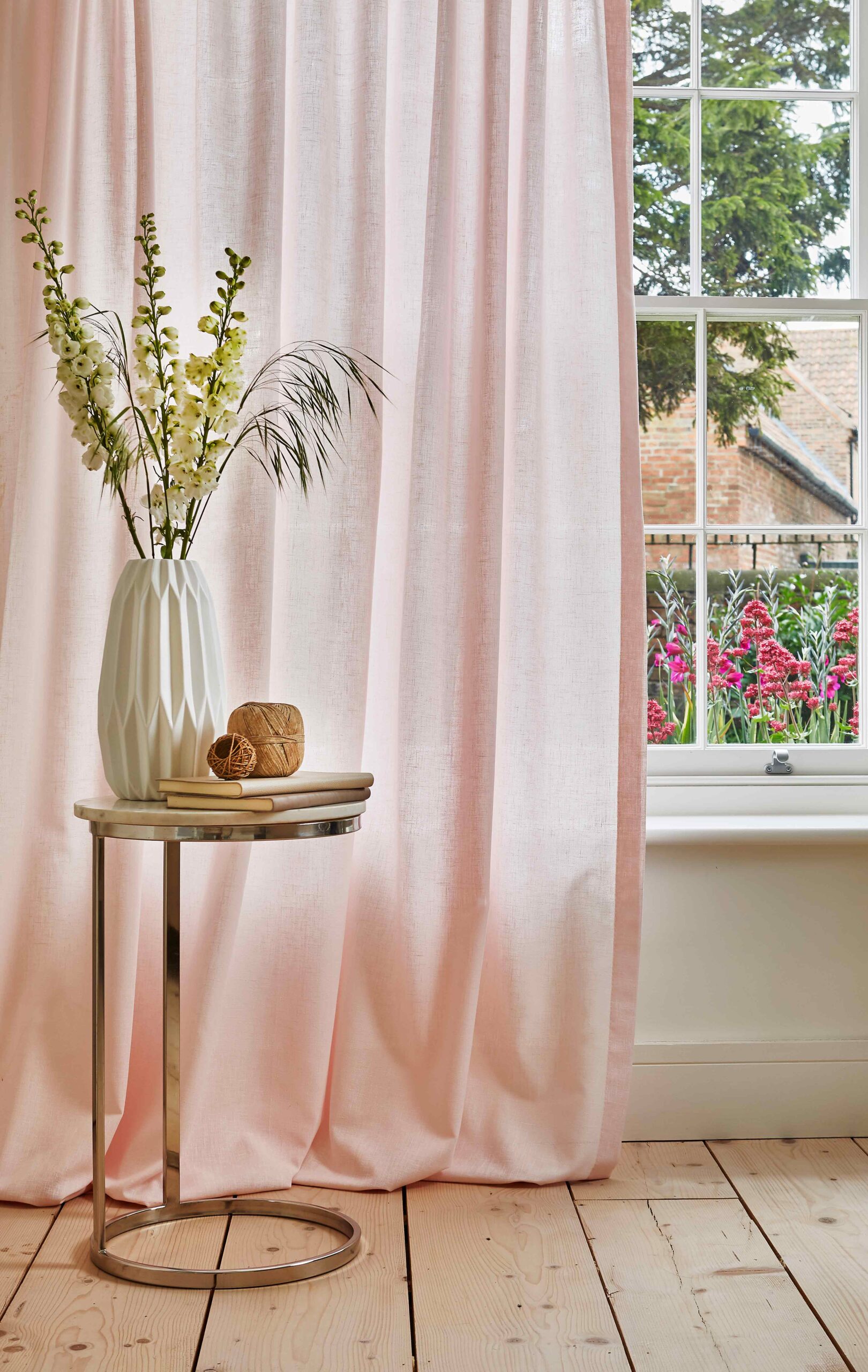 For added warmth and cosiness, you could also layer your sheer or roller blind with a luxurious roman blind or curtain on the outside. This will help to retain the heat in winter, whilst providing extra shading / privacy through the summer. If you've opted for confident wall decor, you may wish to keep your window dressing in a relatively plain fabric to not detract from the wall colour /design. We particularly love the Clarke & Clarke Soren Bjorn fabric in Natural, Ochre or Rust (image 1 below). Alternatively, if you'd like to make your curtain fabric the standout feature, consider a bolder pattern in tonal colours such as Clarke & Clarke's Espen fabric in Rust (image 2 below).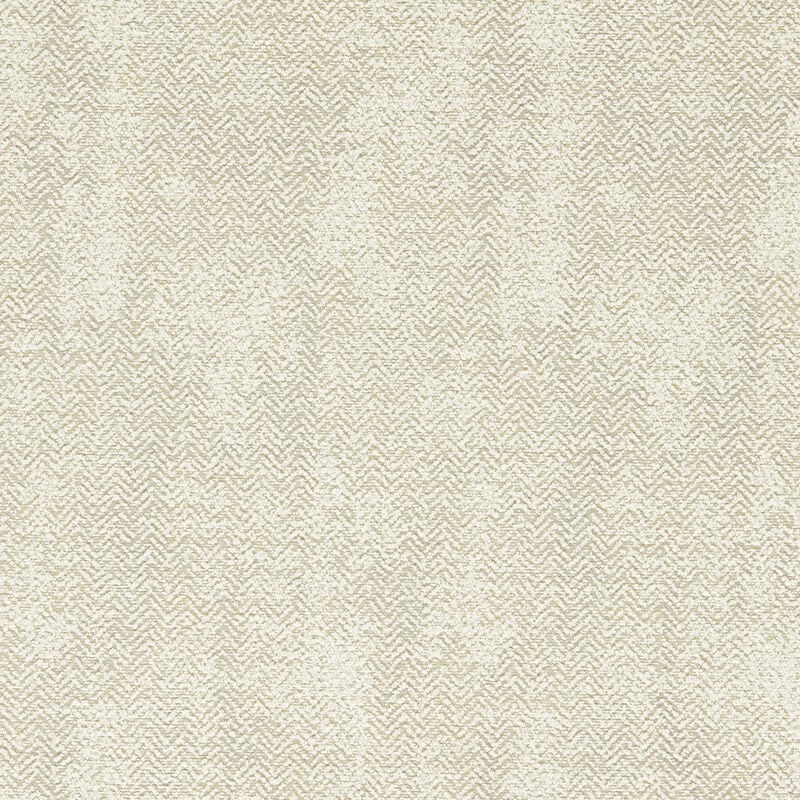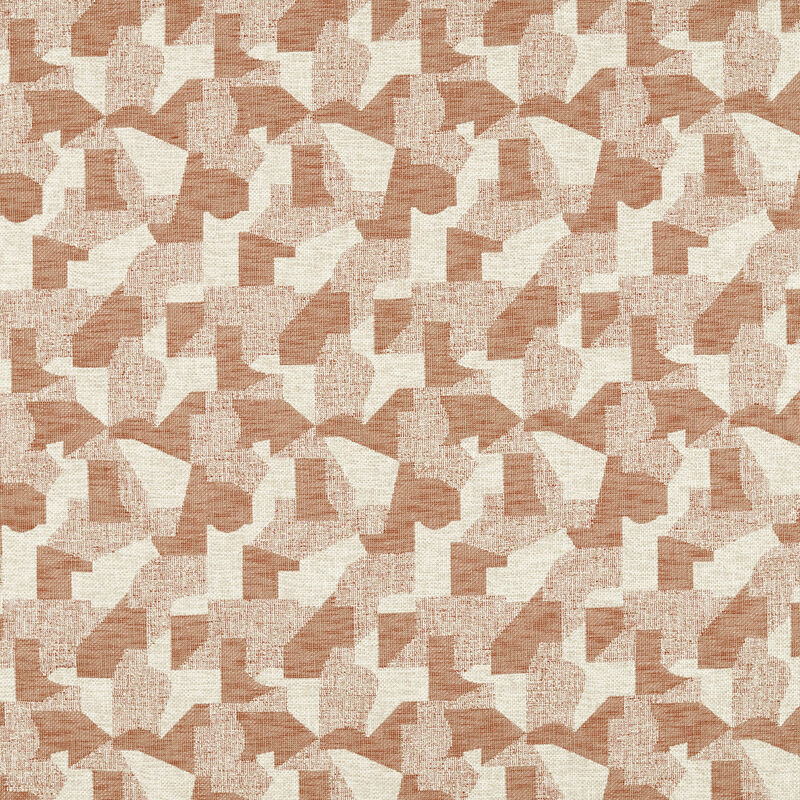 If blackout is paramount in your master bedroom, layering a blackout roller or roman blind with a curtain will help to reduce the amount of light entering the room for an uninterrupted night's sleep, even in the Summer. Ceiling fixing a curtain track and running the curtain floor to ceiling, wall to wall will help to reduce light ingress around the edges of the curtain.  If you are wall fixing a curtain track, due to the bracket projection, there will be a gap between the back of the curtain and the wall for light to seep through.  Ceiling fixing can help to reduce this.
In terms of curtain headings, you may wish to consider the contemporary wave heading for a stylish finish (see image below in Kobe Cembra fabric – colour ref 7). Providing a slim stack back, the neat waves create a sleek look that flows consistently across the window. Consider going from wall to wall or floor to ceiling for a hotel chic at home look. Alternatively, if you'd prefer a more traditional style, the triple pinch pleat heading may be more suitable. For more information on the different curtain heading styles available, please see our Curtain Headings Explained blog post.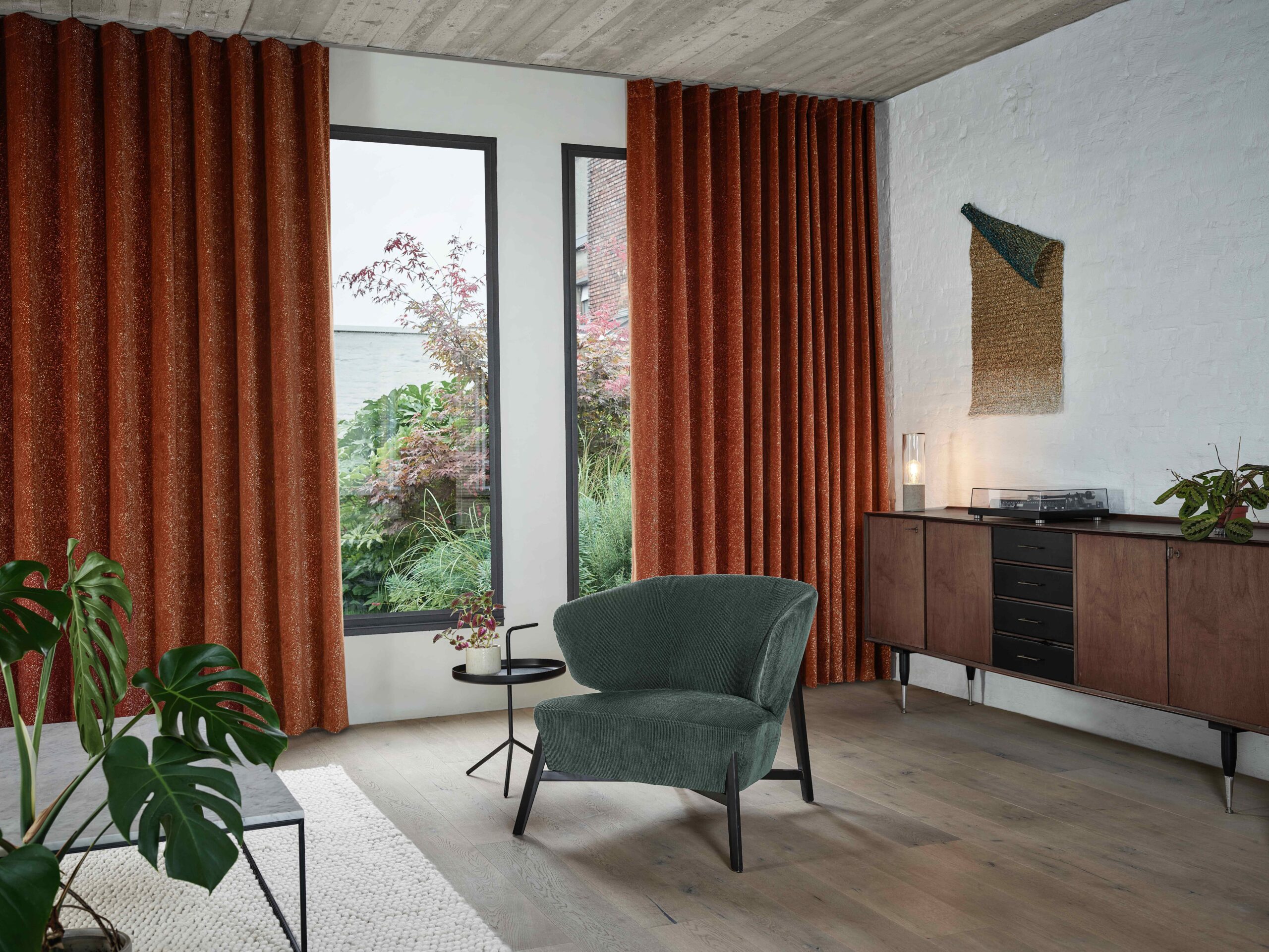 Curtain pole or track
If your window dressing includes a curtain, you will need to choose a complementary curtain pole or track to complete the look. We offer a wide selection of pole and track solutions in an array of colour ways to suit your scheme.
We particularly love the new Silent Gliss Metropole collection, recently reimagined and relaunched into a stylish range of sleek curtain tracks that are both functional and aesthetically appealing. With 2023 interior trend forecasts expecting organic shapes and curves to surpass sharp edges and clean lines, this range reflects the times through its beautifully crafted finial styles. Offering organic designs with a focus on smooth curves, this range offers a fluidity that flows through the room for a softened feel. Explore the full range here.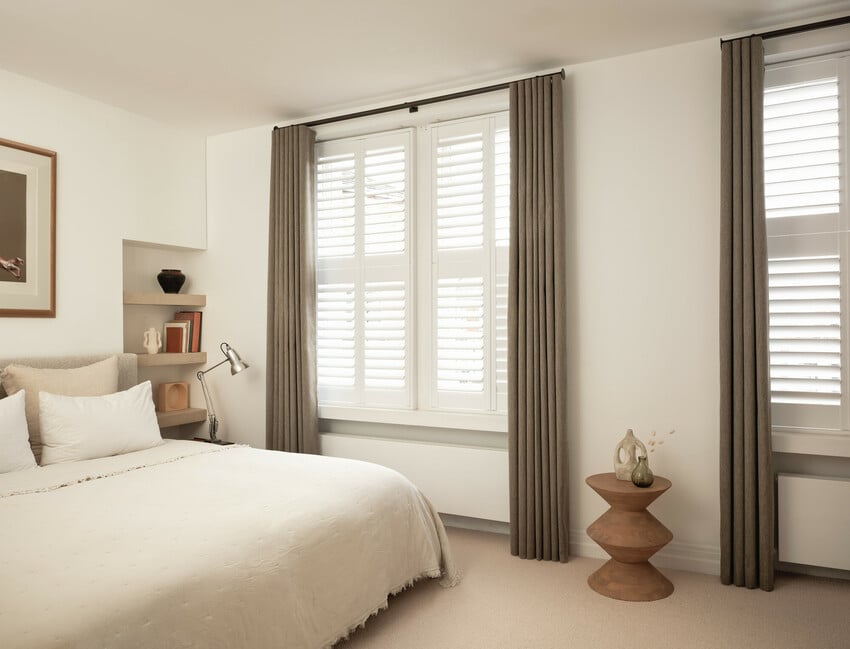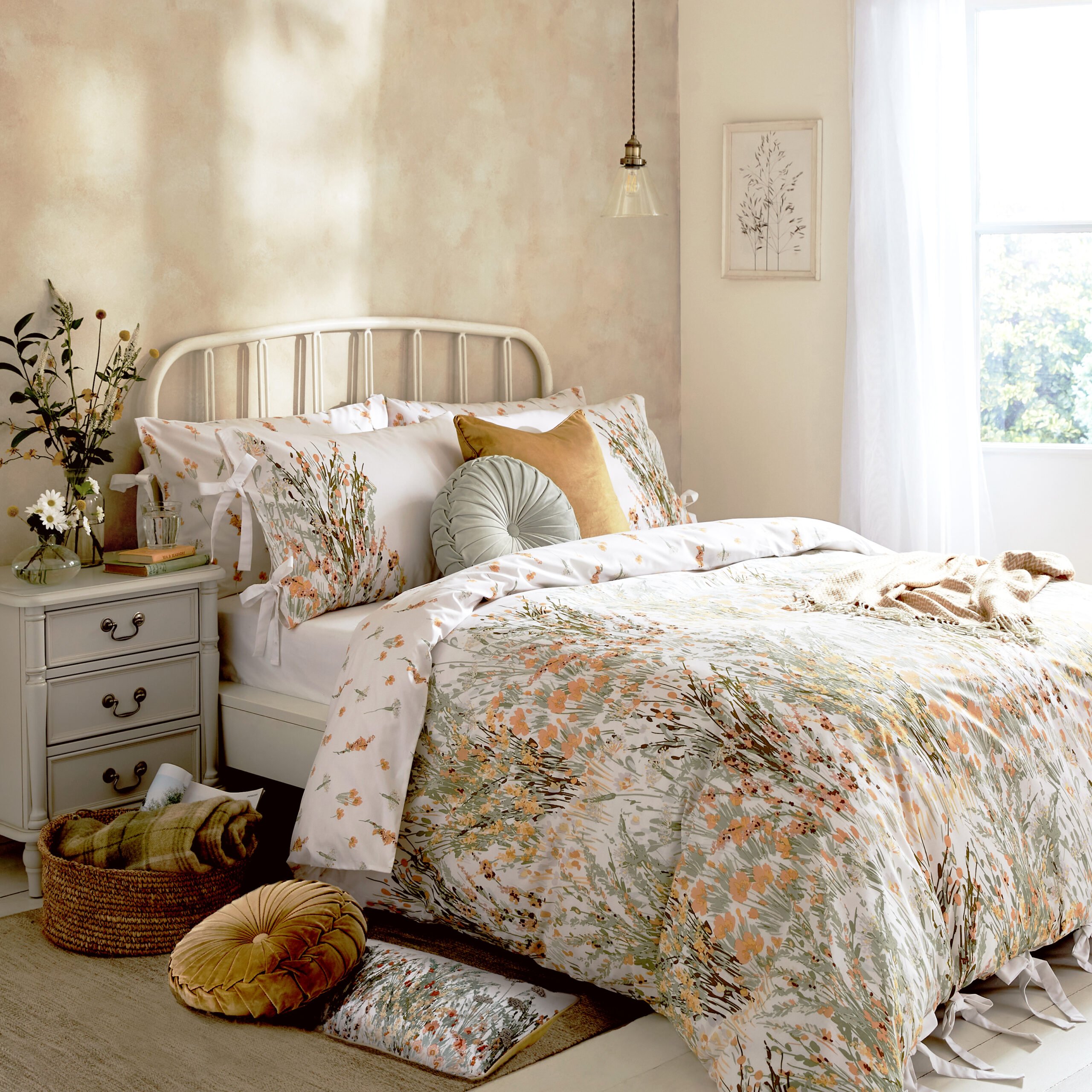 Bedding
Bedding is an important consideration when it comes to refreshing your master bedroom. A simple and interchangeable element, the bedlinen can give a room an instant update without the cost of a full redecoration. If you're going for a patterned bedding set, you may wish to keep the walls and curtains neutral for a quick, easy and cost effective solution. Equally, you could coordinate your bedding with your wallpaper and curtains for a maximalist look. If you'd prefer something plain and simple, consider a white bedding set for a hotel chic at home look that oozes calm and tranquillity.
We are delighted to offer a beautiful range of bedding from top brands including Laura Ashley, suitable for any interior style or colour scheme. Pictured opposite: Laura Ashley Harvest bedding set in Ochre. This bedding set complements the ever growing trend for natural influences, with its stunning wild grass design and pure cotton percale composition. Available in autumnal shades, this design oozes country charm. Team with a coordinating bedspread or throw to complete the look.
Rugs
Adding a rug to your master bedroom is another way to bring texture and warmth to your décor. Ideally positioned half way under the bed or on the carpet if the room is big enough, this beautiful furnishing is a great way to spread the soft touches around the room for a cosy and inviting feel. Create a statement with a bold design such as the Sanderson Cantaloupe Rug in Ochre or Burnt Orange (image opposite) or go for something more subtle and neutral to bring the look together. Shop our full range of rugs here.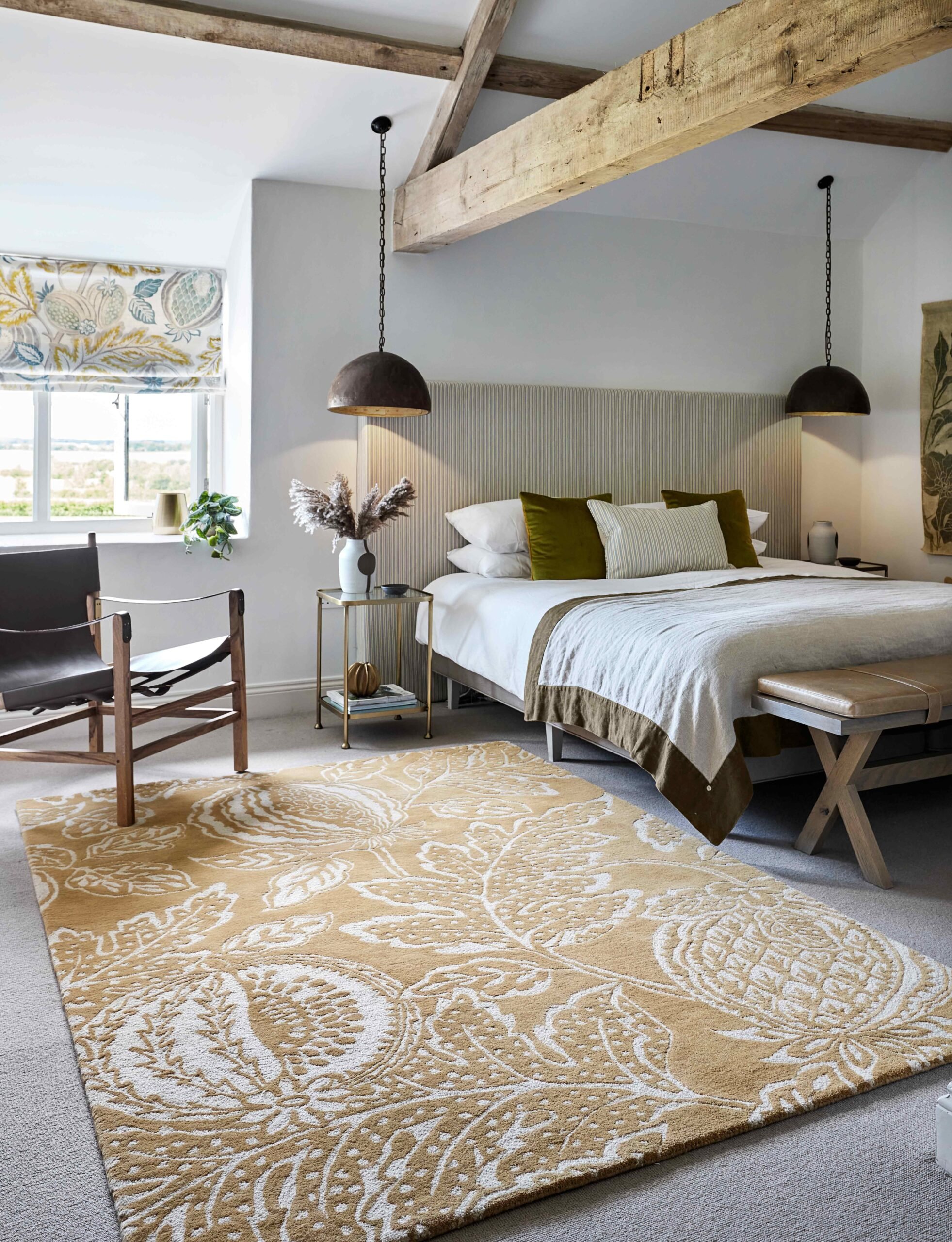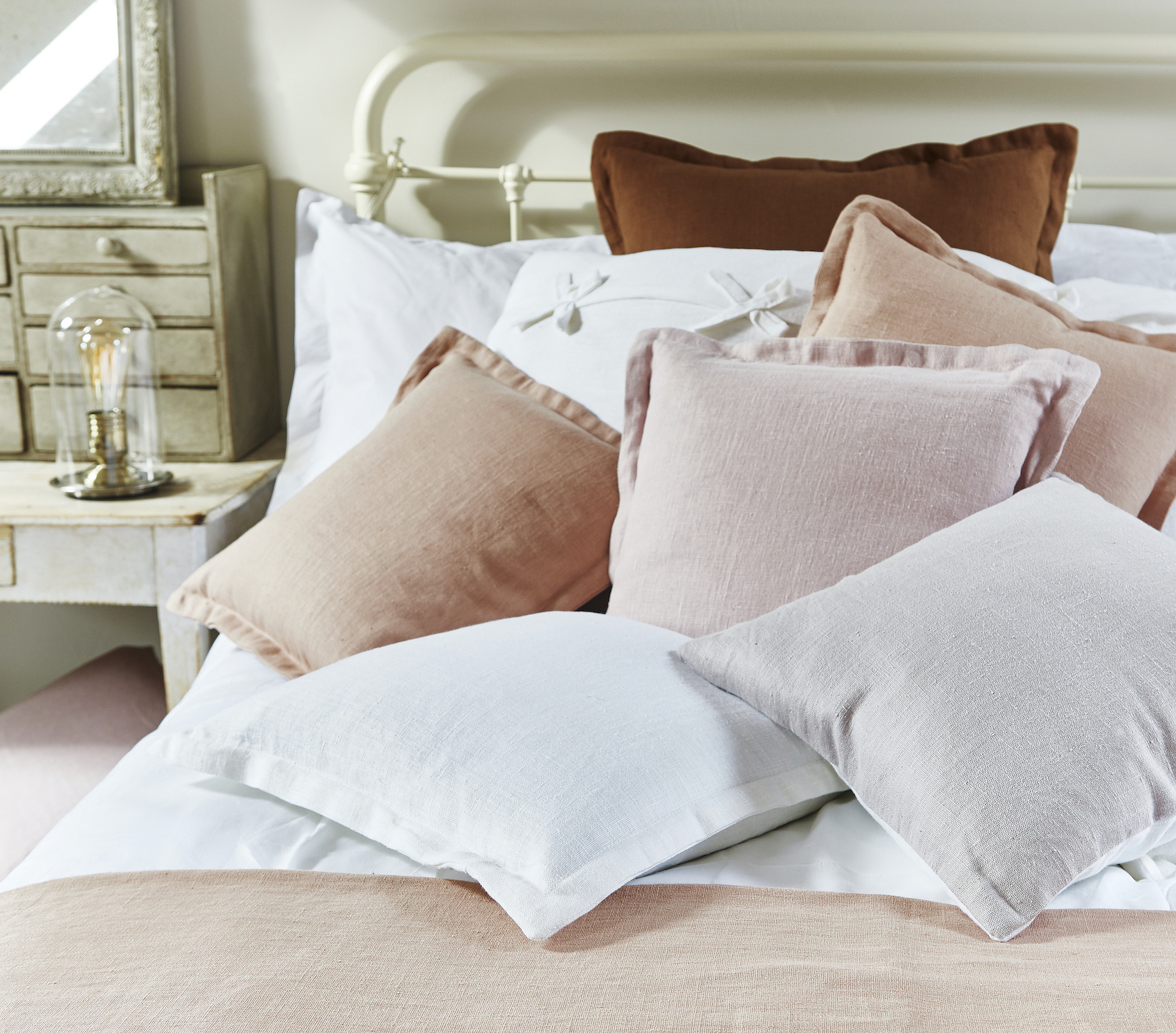 Finishing touches
Layering other finishing touches such as accent cushions and lighting is also a great way to complete the look. By simply adding some cushions to your bed or a chair and a lamp on your bedside table, you can create an air of comfort, transforming your master bedroom into the perfect boudoir to escape the world. Shop our full homeware range here.
Overview
We hope you have found this master bedroom styling inspiration useful and insightful. Whether you opt for a bold look or something more subtle, your master bedroom should be synonymous with your personal style for a truly happy and relaxing space.
For more styling ideas and inspiration, please see our trend guides. If you would like help pulling a full room scheme together, we do offer a complementary face to face and virtual Bespoke Design Service, including paint and colour consultations, from our showroom in Brockenhurst. We can also make up your perfect window dressings with our made to measure curtain and roman blind making service. Please get in touch if we can assist with your project.
Email sales@thehomeofinteriors.co.uk or call us on 01590 615775.
Follow us on Instagram and Facebook: @myhomeofinteriors