The Silent Gliss Metropole range combines the aesthetic beauty of a curtain pole with the functionality and usability benefits of a curtain track.  All Metropoles feature an internal gliding channel, avoiding the need for curtain rings, giving the appearance of a curtain pole with track functionality.  Silent Gliss are renowned for innovation and high performing products.  The Metropole range combines technical performance with architectural design elements to create a truly stunning window decoration.
The Metropole range is available in 3 round profiles and 1 rectangular profile in a wide range of design led colours to complement current interior design trends.  Muted neutrals, from warm taupe and ochre, to metallics and cooler greys, silvers and white are available to co-ordinate with your colour scheme.  Black and charcoal are also available which work well for industrial styling and with darker windows and door frames.
All diameters can be ceiling fixed which makes them ideal for recess fitting wall to wall; are compatible with wave gliders required for wave curtains, and can be bent to your specification for bay windows.
Please view the Silent Gliss Metropole brochure.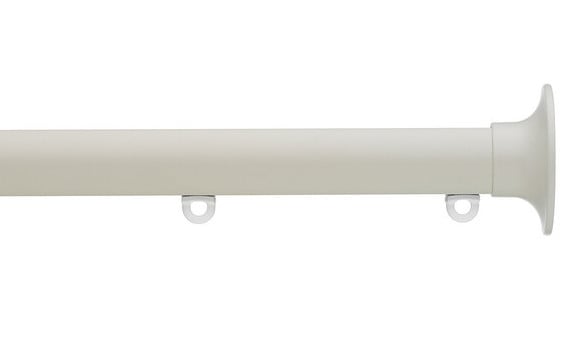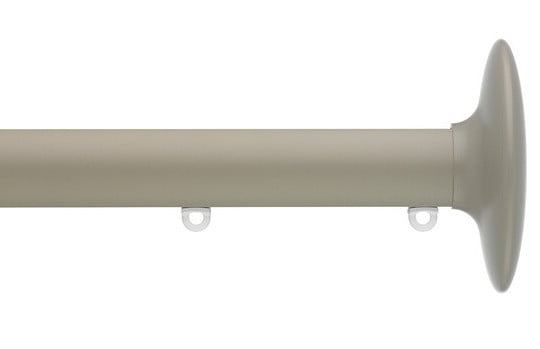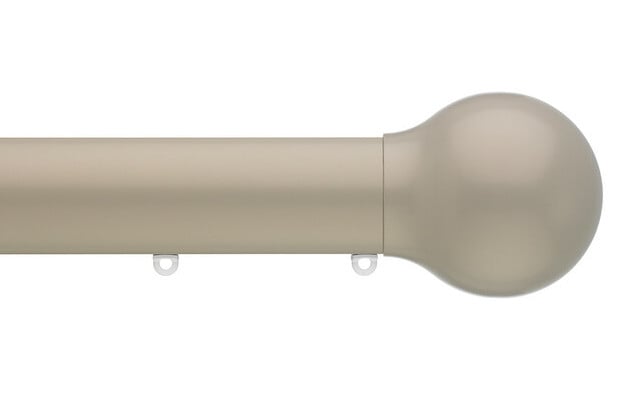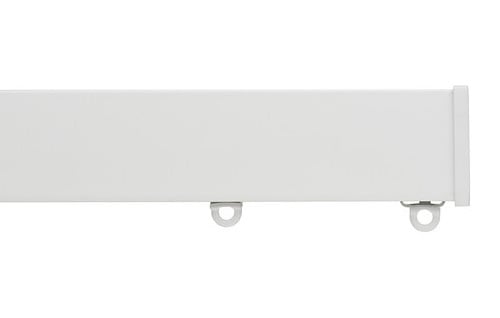 The Finial Collection
There are 9 finial designs in the collection, that work well in contemporary, traditional and blended environments.  For a contemporary look the organic, fluid shape of the Taper and Ellipse finials lend themselves beautifully to architectural interiors.  Whilst understated, these finials deliver a sophisticated and elegant result.  The ball, spear, groove cylinder and glass ball are ideal for a more traditional setting, and are well suited to period homes with tall ceilings.  Darker coloured poles work really well at a bay window, or choose a lighter shade for a more blended aesthetic.  For a more discrete look, or if recess fitting wall to wall, the end caps offer a good solution and are available as a flush, stud and designer end cap.
Silent Gliss have paid attention to every detail and each finial connects to the pole seamlessly for a truly polished, design led finish.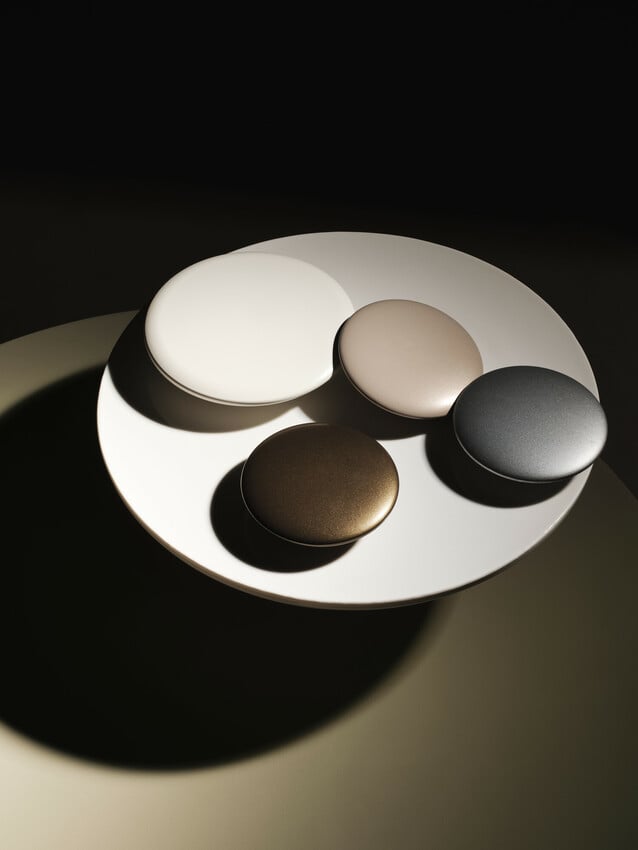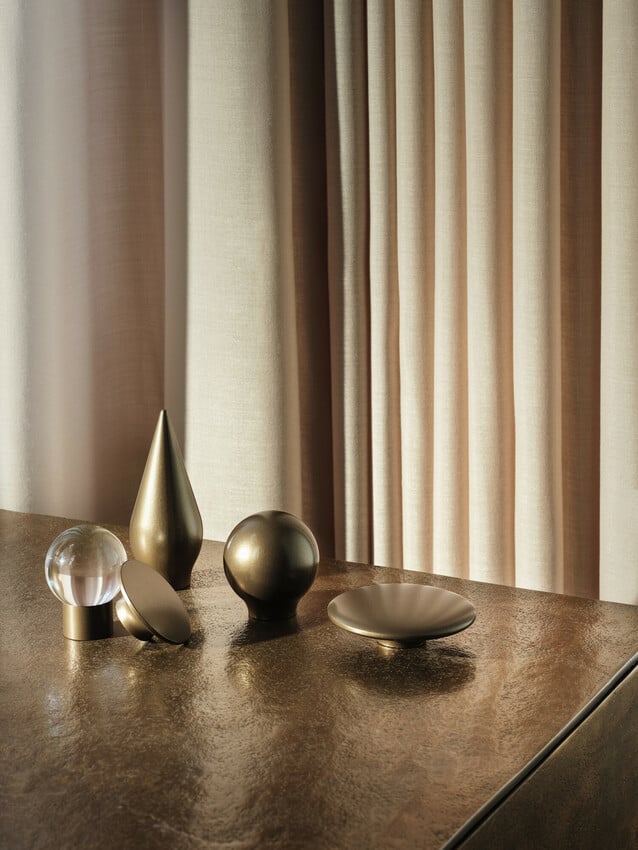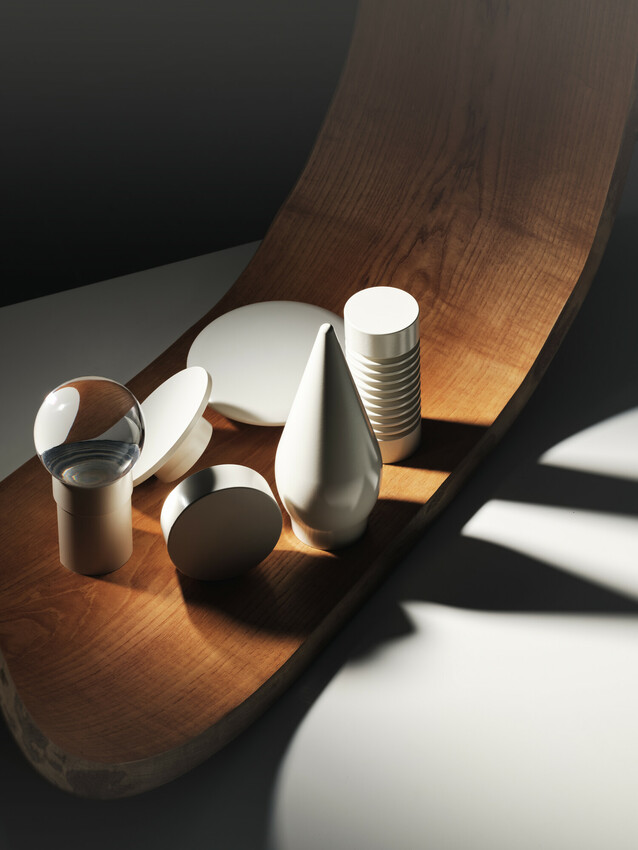 Glider Technology – wave compatible
All Metropoles are supplied with 2C glider technology to offer a high performing, smooth yet silent draw.  Roller gliders are recommended for heavier curtains, and wave gliders can be specified which are required for wave curtains.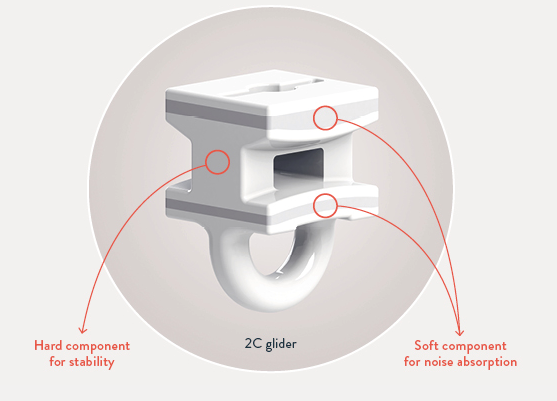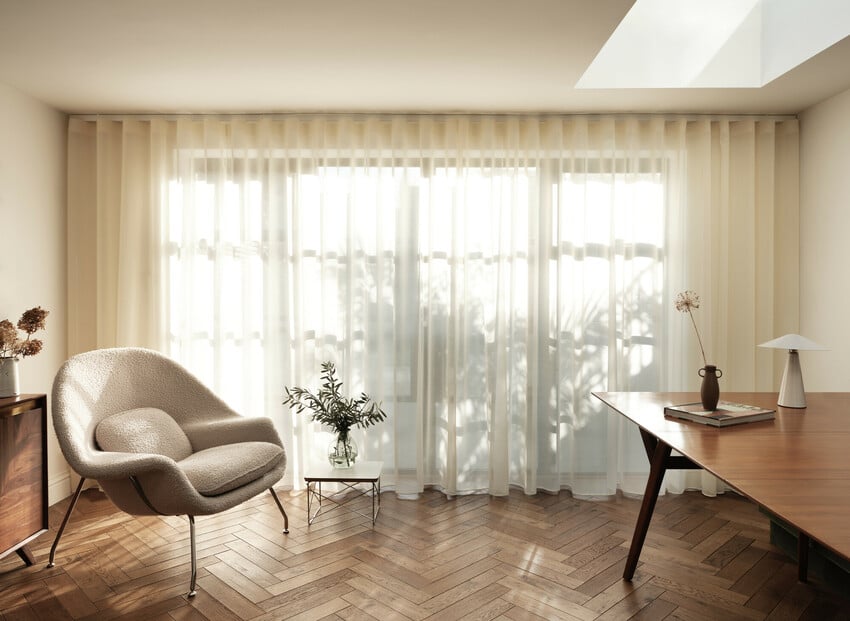 Brackets – wall or ceiling fixing
All Metropoles can be wall or ceiling fixed.  A ceiling mounted Metropole will fuse with the architecture of the room giving the curtains maximum impact.  A choice of smart fix, maxi adjustable and contemporary fillet style wall brackets, colour matched to the finish of your pole, are available for face fixing.  All brackets come with colour matched magnetic covers to deliver a refined look.
Please see the bracket information tab on the product pages for more information and bracket dimensions.
Bay Windows
Every Metropole is made to measure and can be forward and reverse bent (the Motorised Metropoles cannot be reverse bent) to suit your requirements.  Please download our bay window measuring form.  Please get in touch if we can offer any assistance with your bay window requirements or if you need an angle measurer we can pop one in the post to you.  Please email sales@thehomeofinteriors.co.uk or call us on 01590 615775.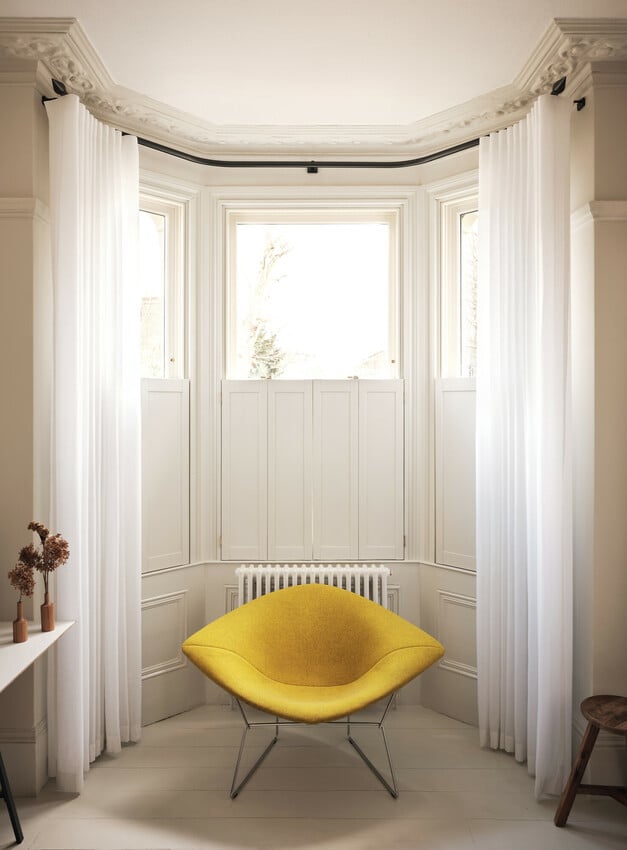 Motorisation
For added security and convenience, the 50mm Metropole can be supplied with the Silent Gliss 5100 or Silent Gliss 5600 motorised tracks.  These offer a variety of control methods including wall switch, remote control, a timer functionality, and integration with home control systems.  Please get in touch if we can offer any advice for your motorised requirements.  Please email sales@thehomeofinteriors.co.uk or call us on 01590 615775.
Curtains
All Metropole tracks can be supplied with standard or roller gliders which are suitable for taped and pinch pleat headings.  Standard 2C gliders are supplied on the Silent Gliss Swiss Pleat curtains making this curtain heading compatible with the Silent Gliss Metropole range.  Please read our blog post on the Swiss Pleat heading style for further information.
For elegant, modern styling wave curtains look stunning on a Metropole.  Due to the slim stack back wave curtains work particularly well across wide windows, bi-fold and sliding doors.  Floor to ceiling they deliver hotel chic at home!  For more information please read our wave curtain information page.
Layering
Metropoles can work really well as a layering option to offer shading and privacy flexibility throughout the day.  A voile / sheer hung on a 23mm Metropole in front of a 30mm Metropole, featuring a heavier curtain, is an ideal combination.
For ceiling fixing 2 Metropoles simply install one in front of the other.
Wall Fitting 2 Metropoles please order 2 Metropoles with the 3mm top fix plate.  In addition you will require the wall fix Universal smart fix brackets.  These are only available in white and silver.  To work out how many brackets you will require the formula is: track length divided by 67, rounded up and add 1.  So for example on a track length of 250cm you will receive 5 brackets (250/67 rounded up +1).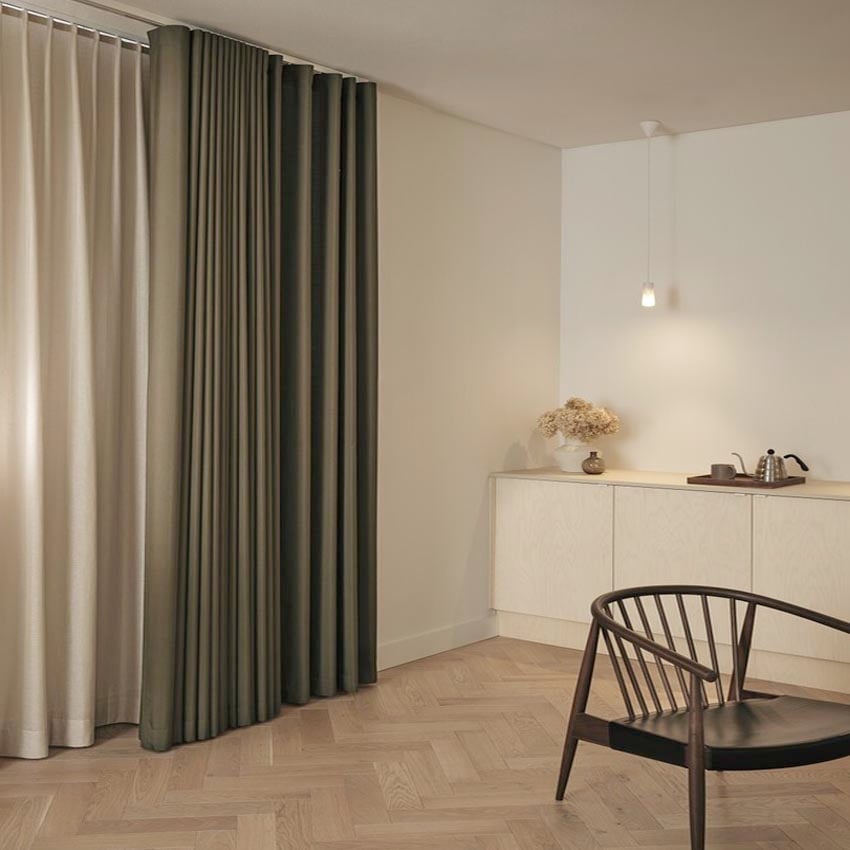 Silent Gliss Fabric Collection
Silent Gliss offer a fantastic range of high performing fabrics, delivering a variety of technical properties including light and energy management and fabrics with superior acoustic properties.  These properties offer advantages to contemporary living spaces.  Rooms are getting bigger and ceilings taller which can all encourage sound to bounce around a room, particularly in an open plan living area where there may be hard surfaces such as kitchen units or wooden or stone floors that further encourages sound to bounce around.  The amount of glazing in a room is also increasing so fabrics which reflect heat back out of a room can be advantageous, particularly in south facing rooms.
Silent Gliss's fabrics are all inherently FR, hang beautifully and last the test of time.  Please read our blog post for further information on their fabric portfolio.  Images featured below include (from left to right):
Silent Gliss 23mm Metropole in Ecru with Swiss Pleat curtains in Colorama 1 Multicolour fabric.
Silent Gliss 30mm Metropole in Bronze with Wave curtains in Multicolour Dimout fabric.
Silent Gliss 30mm Metropole in Black with Wave curtains in Colorama 2 fabric.
Silent Gliss 30mm Metropole in Charcoal with Wave curtains in Polyflax fabric.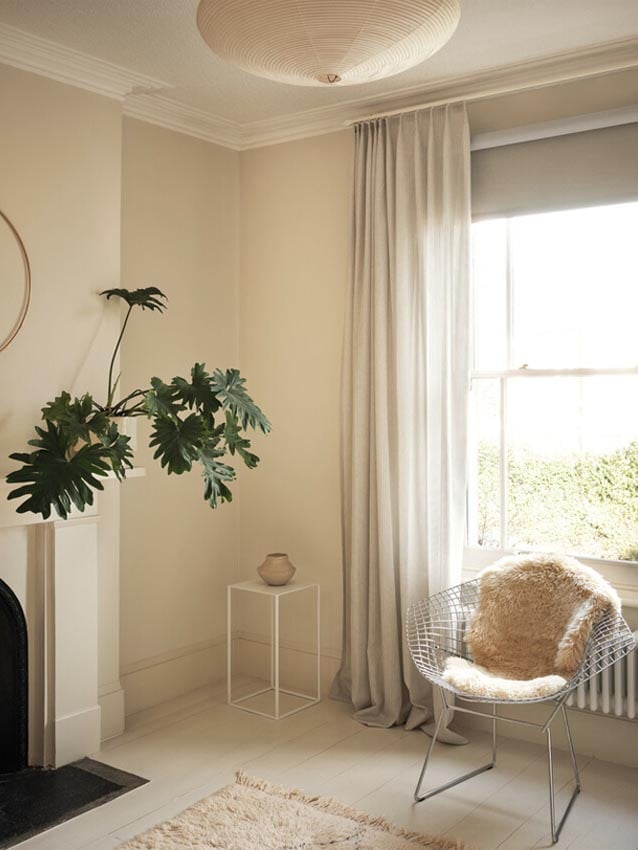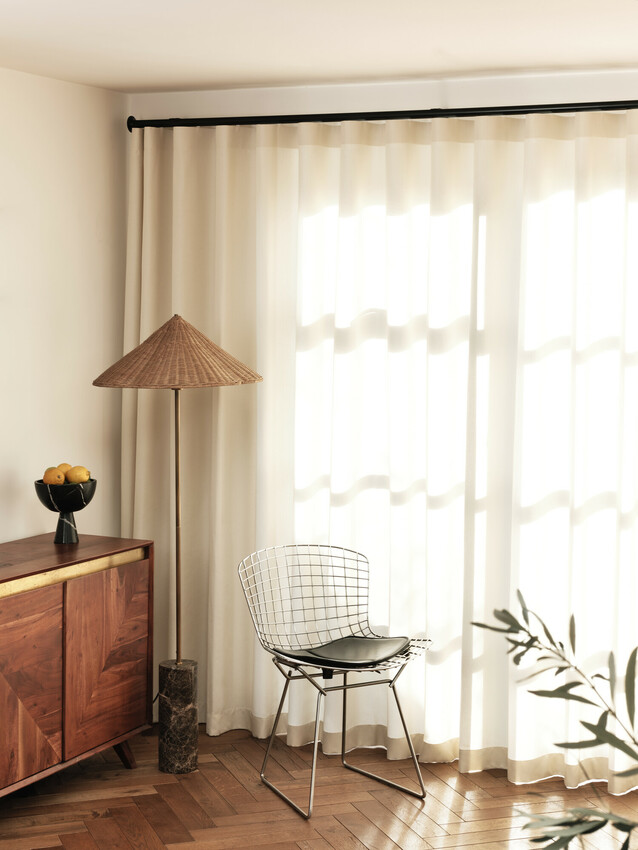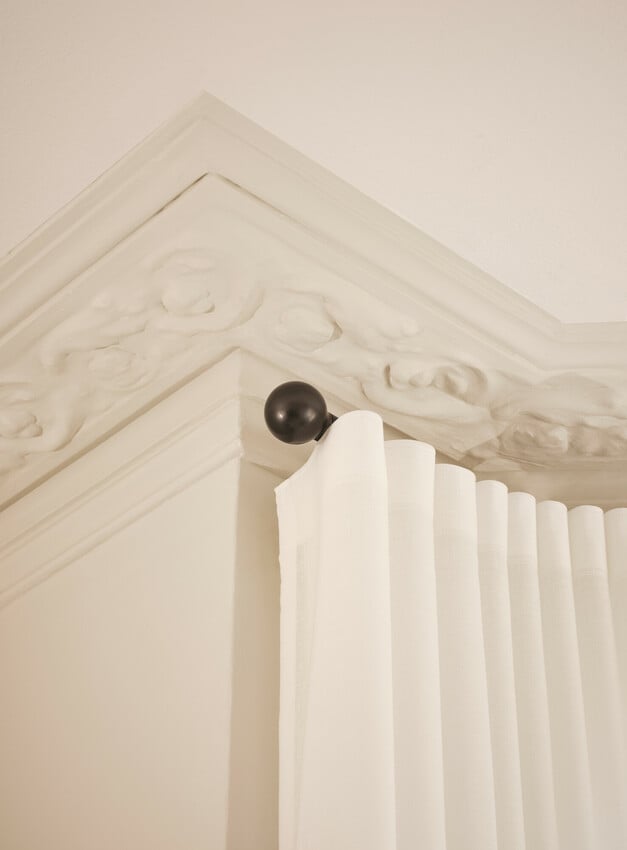 Our fabric, colour and technical sales specialists would be delighted to help with your home interiors project so please do get in touch if you have any questions, would like any advice or would like any Metropole colour samples or fabric swatches sending out.
Email sales@thehomeofinteriors.co.uk or call us on 01590 615775 and we will be happy to help.
Follow us on Instagram and Facebook to keep up to date: @myhomeofinteriors