Create beautiful soft furnishings with the timeless range of fabric collections by Kobe Interiors. An International brand renowned for top quality and design, Kobe offers a plethora of alluring fabrics, carefully created to balance practicality with aesthetic appeal. Combining texture, colour and innovative materials in exciting ways, these easy to use fabrics reflect current interior design trends in a way that complements any style of home.
The brand also specialises in Wide Width fabrics. These lend themselves beautifully to the wave curtain heading, allowing the curtains to be made up without any joins (drop dependant) for a seamless, polished look. Wide Width fabrics are particularly popular across extra wide windows and bi-fold or sliding doors.
We are delighted to have seen some new additions to the Kobe fabric portfolio. Below, we've provided an insight into some of the latest collections, perfect for adding an air of style and sophistication to your home.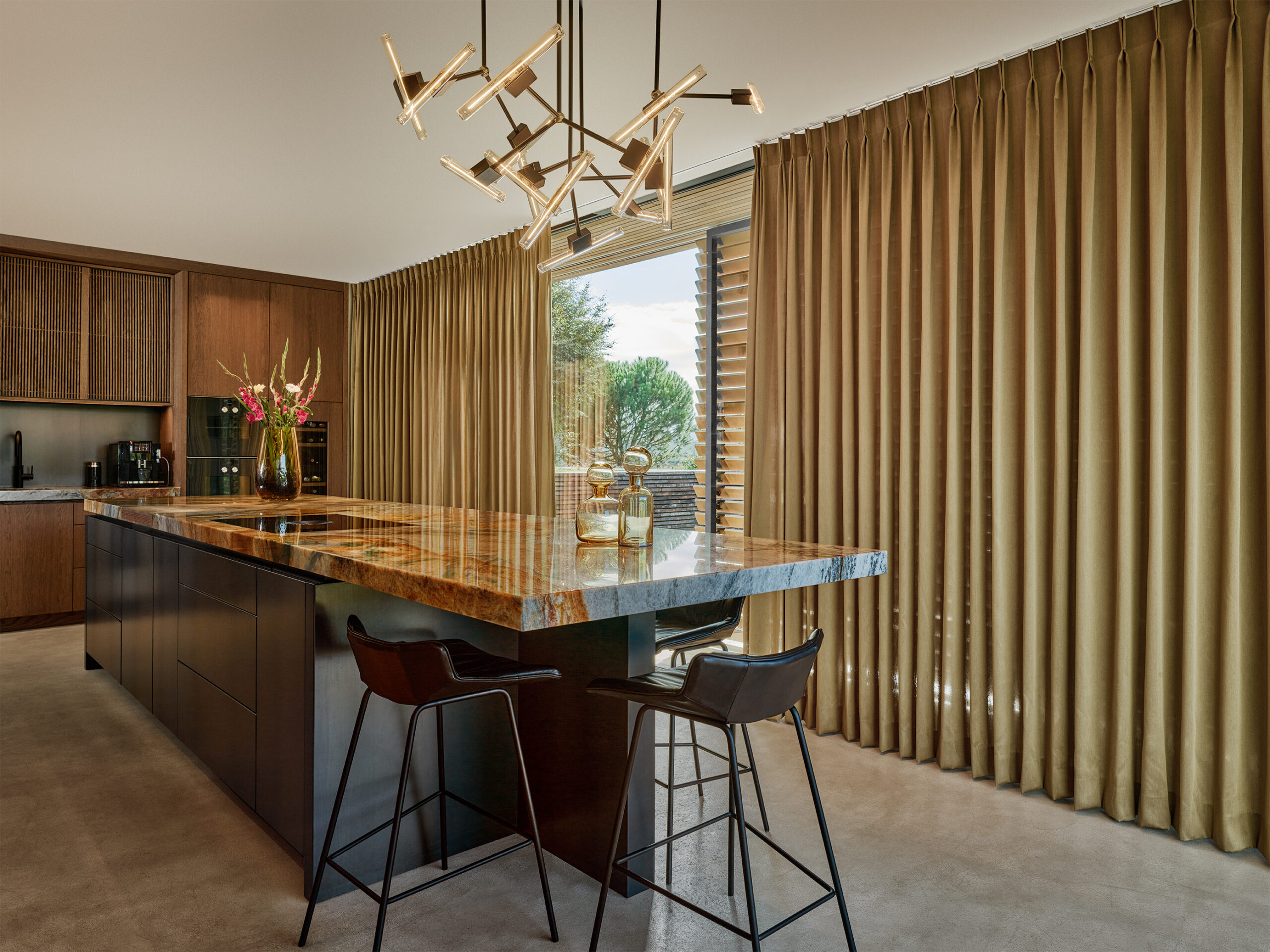 Essentials By Kobe
Essentials by Kobe Interiors is a must-have fabric range, perfect for window dressings that exude stylish simplicity. Featuring a luxurious choice of prints, jacquards, satins, sheers and chenille fabrics, the designs offer superb quality whilst delivering a timeless look. Sophisticated plains sit alongside sumptuous patterns and textures, providing the versatility to suit any interior. Shown opposite is the Kobe Laurel fabric, a beautiful wide width sheer that is a newer addition to the range. Stylish and contemporary, Laurel works beautifully for curtains and blinds.
Each fabric has been designed with careful attention to softness, drape, easy maintenance and natural appeal. The range also caters for wide width requirements and even includes some dim-out fabrics, ideal for rooms where extra shading would be beneficial.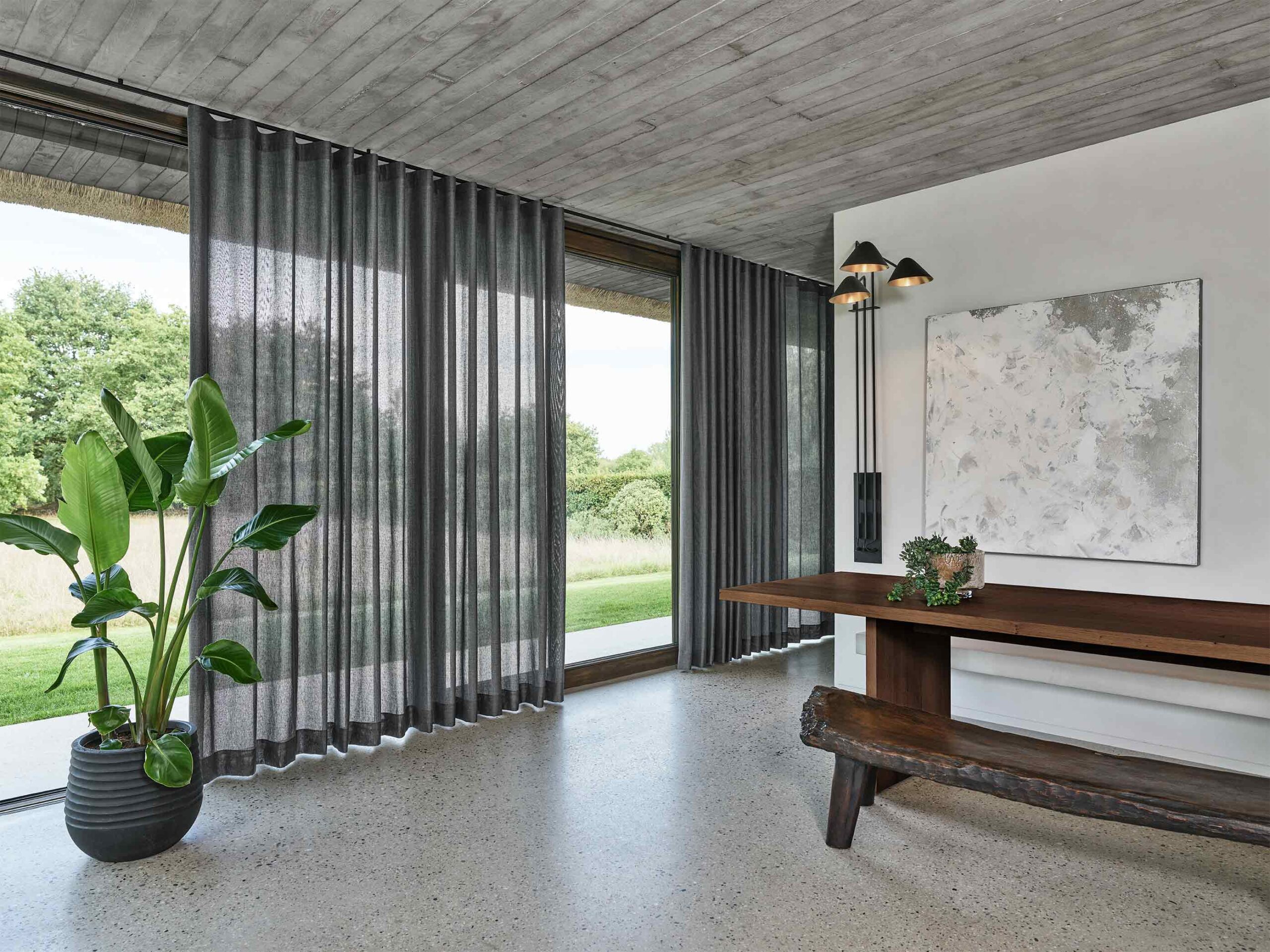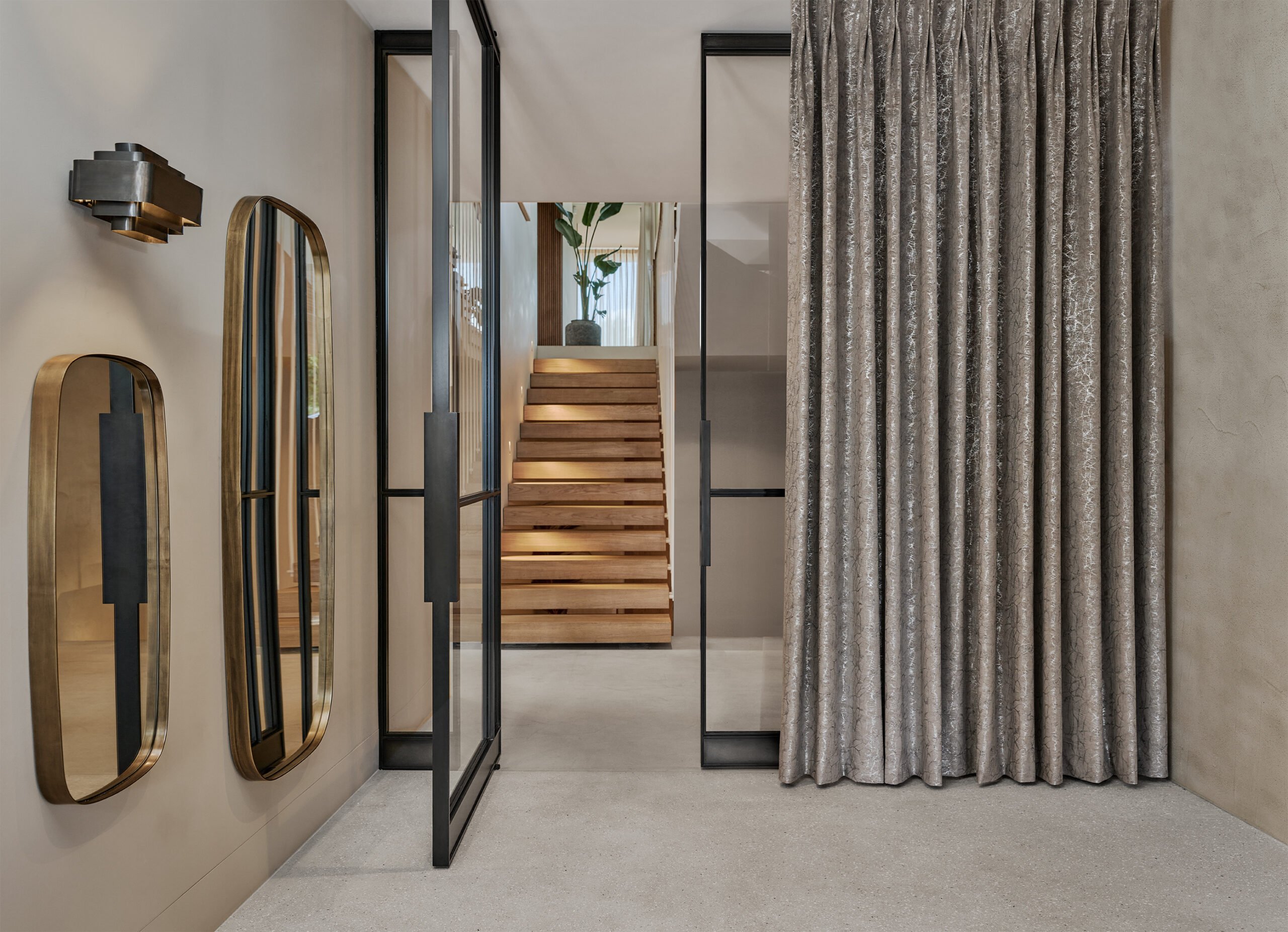 Glow Collection
Make a statement with the gorgeous new Kobe Glow fabric collection. Showcasing a beautifully curated range of luxury fabrics, Glow explores texture, colour and light in a unique way, fusing them together to create irresistibly elegant designs. Subtle plains and organic patterns with rich textural properties bring the collection to life, together with warm colour palettes. Bask in the beauty of stunning velvets, short-piled chenilles and metallic sheers, each absorbing or reflecting light in different ways.
We particularly love the Esparanza fabric, shown opposite in colour ref 3. A short pile matte velvet with an intricate metallic foil print, this luxurious design is the epitome of showhome chic.
Easy & Safe Indoor Outdoor Collection
As the lines between indoor and outdoor spaces continue to blur, we have seen a trend towards the use of outdoor fabrics. Kobe's Easy & Safe Indoor Outdoor collection is fantastic example, bringing together 3 versatile, textural plains that work beautifully for upholstery applications.
Available across 12 colour ways, the fabrics are made using GRS (Global Recycled Standard) certified 100% recycled Olefin, providing a sustainable option for anywhere in the home. Durable and refined, the fabrics are inherently antimicrobial, as well as stain, UV, water and mould resistant. This makes them ideal for gardens, patios, balconies and high traffic indoor areas or homes with pets and children. The collection complements our Outdoor trend perfectly. View our Outdoor Trend Guide here for design inspiration and ideas.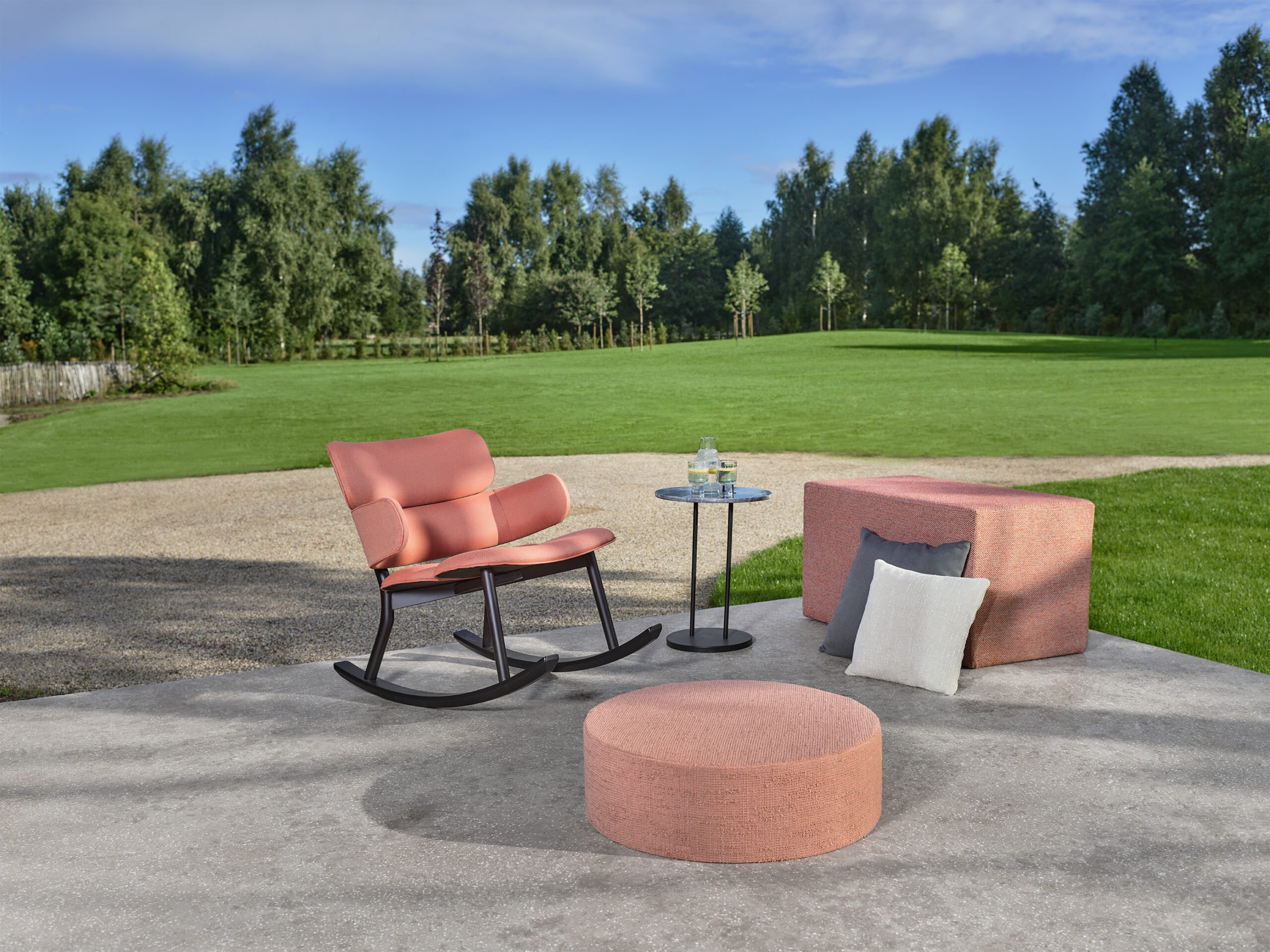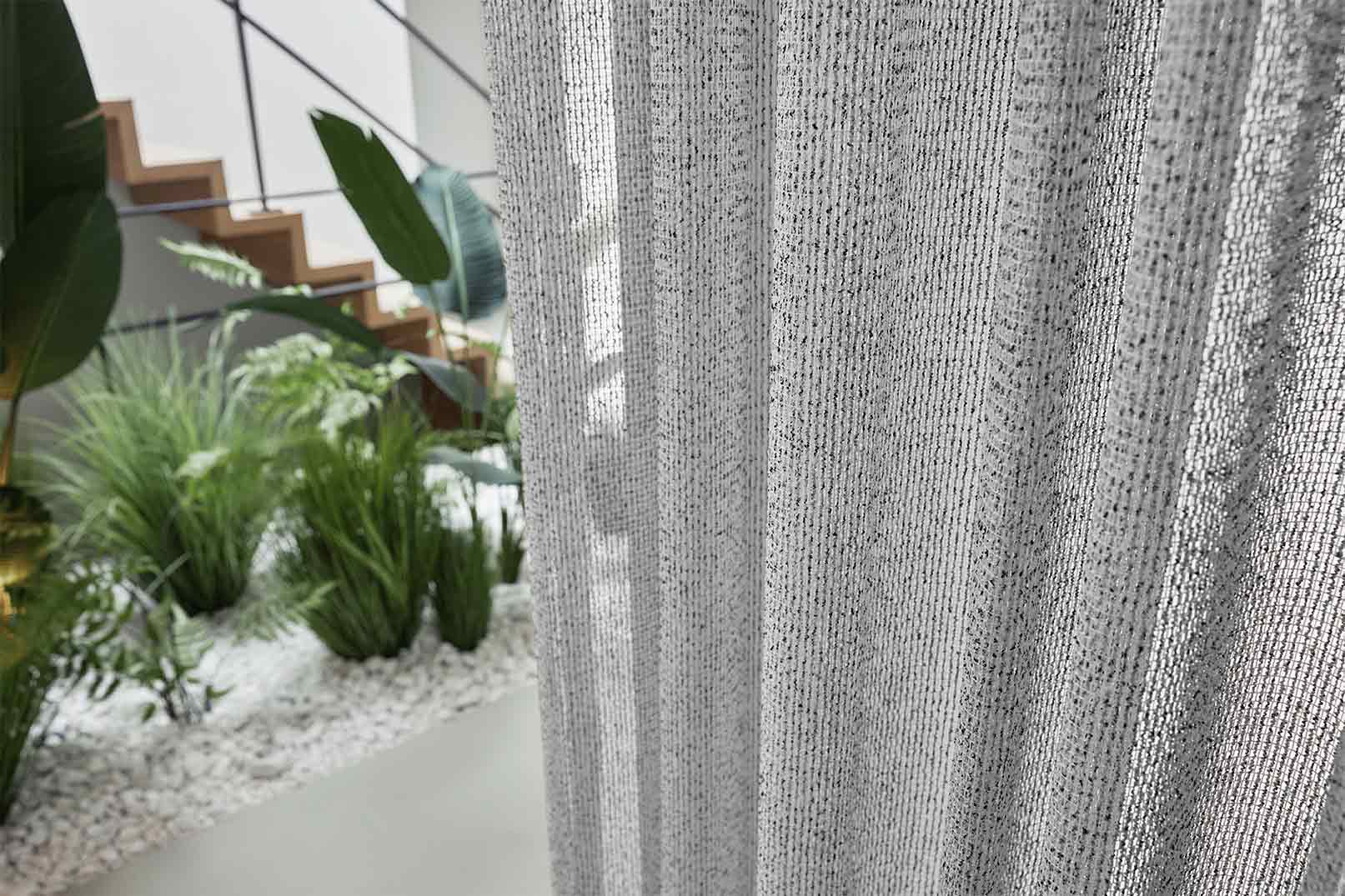 Open Weaves
We are also delighted to be offering some of Kobe's bestselling open weaves on our website. Featuring a loose weave with gaps or holes between the warp and weft threads, these unique fabrics deliver a light and airy feel to your decor. The Indio and Siona designs are beautiful examples. These wide width sheers are available across a neutral colour palette and are a popular choice for curtains across large expanses of glazing. (Shown opposite – Indio fabric in colour ref 1).
Overview
The new Kobe fabric collections are the perfect go to for accentuating window treatments. Whether you're seeking elegant simplicity or a striking design statement, the Kobe range truly provides something for every style and taste.
Explore the full Kobe fabric range here. For styling ideas and inspiration, please see our collection of trend guides. If you would like any help pulling a full room scheme together, we offer a complimentary face to face and virtual Bespoke Design Service from our showroom in Brockenhurst and can provide fabric, design and paint colour advice to help you create a home you love. We can also make up your perfect window dressings with our bespoke, made to measure curtain and roman blind making service. If you would like any help or samples sending out, please get in touch and we'll be delighted to assist with your project.
Email sales@thehomeofinteriors.co.uk or call us on 01590 615775.
Follow us on Instagram and Facebook: @myhomeofinteriors