A downstairs toilet is often one of the smallest rooms in your home, and one that will be frequently visited by your guests!  With a little planning and creativity, you can transform your cloakroom into a practical, stylish and inviting space that complements the rest of your interiors.
Utilising clever, functional storage solutions and cabinetry is an effective solution for getting the most out of your cloakroom, but it isn't everything! Colour scheme, wall decor and soft furnishings are just as important to help create a space that you and your guests will love using. Whether you are classic and elegant, modern and minimalist, rustic and charming or fun and whimsical at heart, the downstairs loo is one of the best places to be confident and try new, exciting styles that reflect your personality.
To help get those creative juices flowing, we have pulled together some 2023 cloakroom styling inspiration and ideas, drawing on some of the biggest and most popular trends we have seen this year. Feel inspired below and get the ball rolling on your next home project!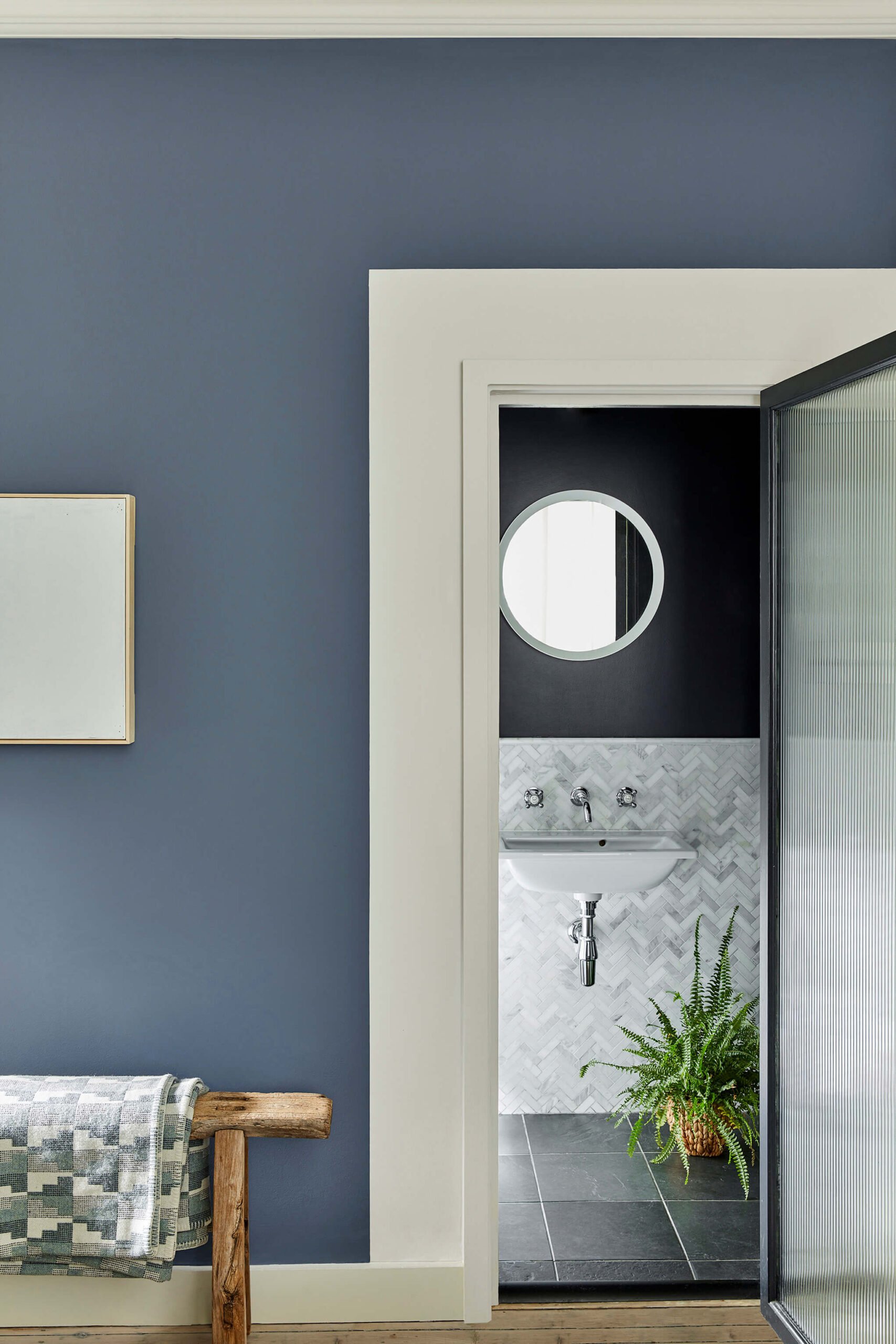 Little Greene Paint Image: Outside wall – Re:mix Paint Juniper Ash (115), Door Frame – Re:mix Paint French Grey (113).
Paint
Downstairs cloakrooms are the perfect place to embrace colour, no matter how big or small! Dark, moody tones can create a warm and dramatic look that's both indulgent and enveloping. Colour drenching – the concept of colouring multiple elements of decor in the same colour or closely related shades – is particularly popular. If you're feeling confident, simply paint all your walls and woodwork in your chosen tone for maximum impact!
Various shades of green, from rich emerald and forest hues through to softer sages, lend themselves beautifully to cloakrooms, as do rich tones of blue and navy. Image 1 below shows how Little Greene's Three Farm Green (306) has been contrasted with both lighter and darker shades for a real impact whilst image 2 below combines the Little Greene Hicks Blue (208) with Etruria (326). If you fancy something a little more vivid with a real wow factor, you could even consider Pantone's Colour of the Year 2023 – Viva Magenta!
Alternatively, light colours can help to make a small space feel larger and brighter. If you have a dark cloakroom that doesn't receive much natural light, consider painting the walls in soft earthy neutrals, complemented with light-coloured tiles or flooring to really open up the space and deliver a timeless feel. The Little Greene Travertine palette works beautifully, as shown in image 3 below. Shop our full Paint collection here.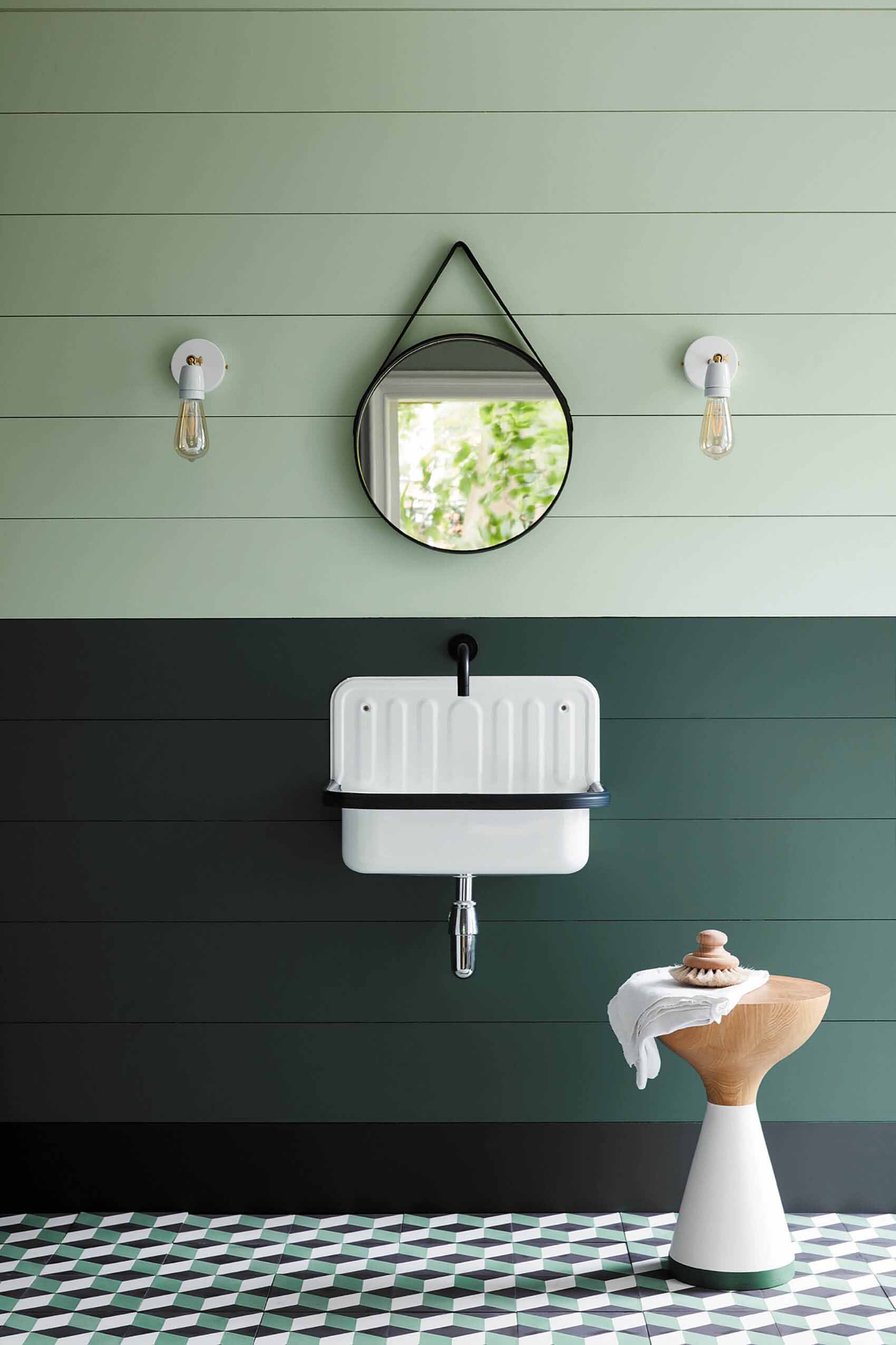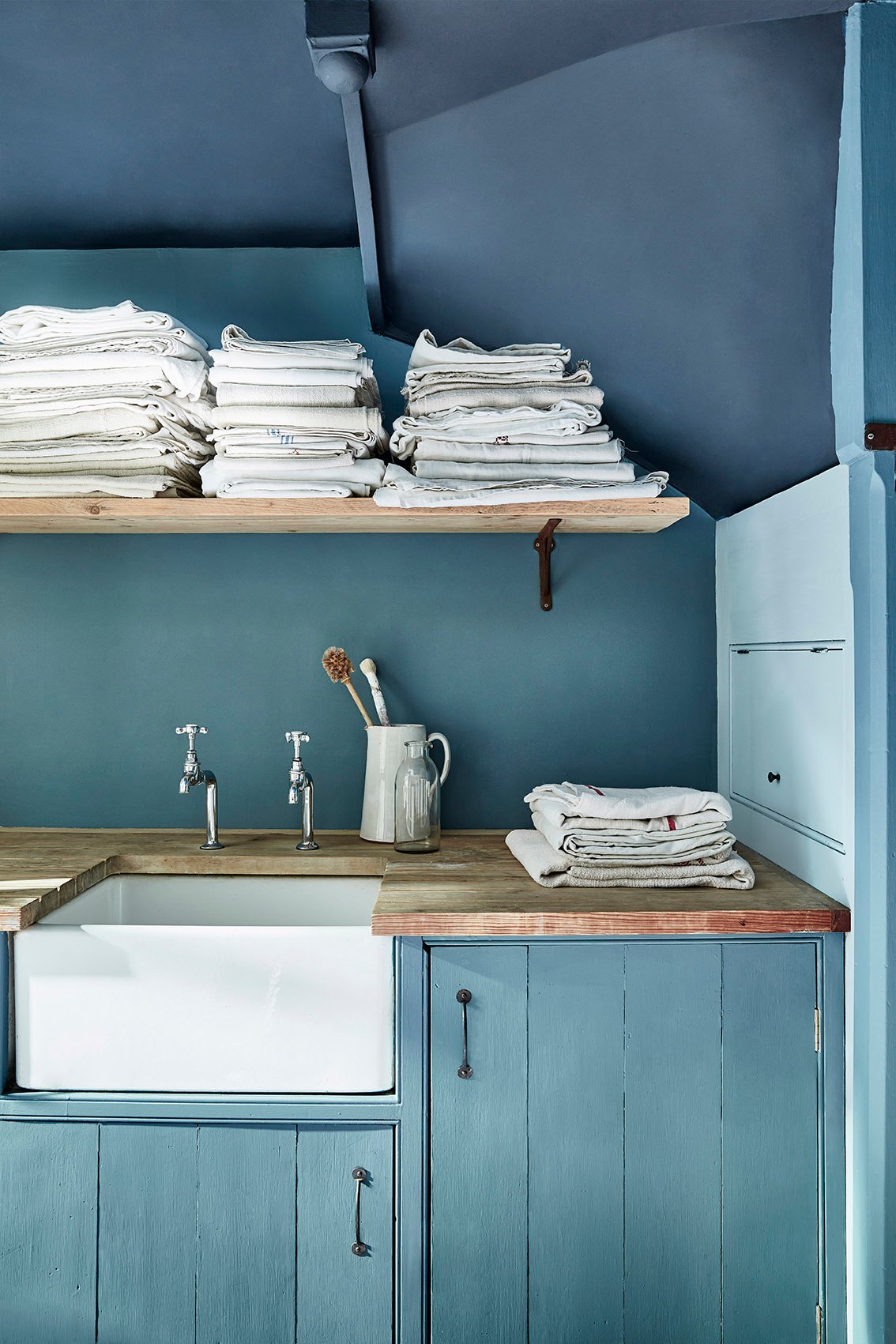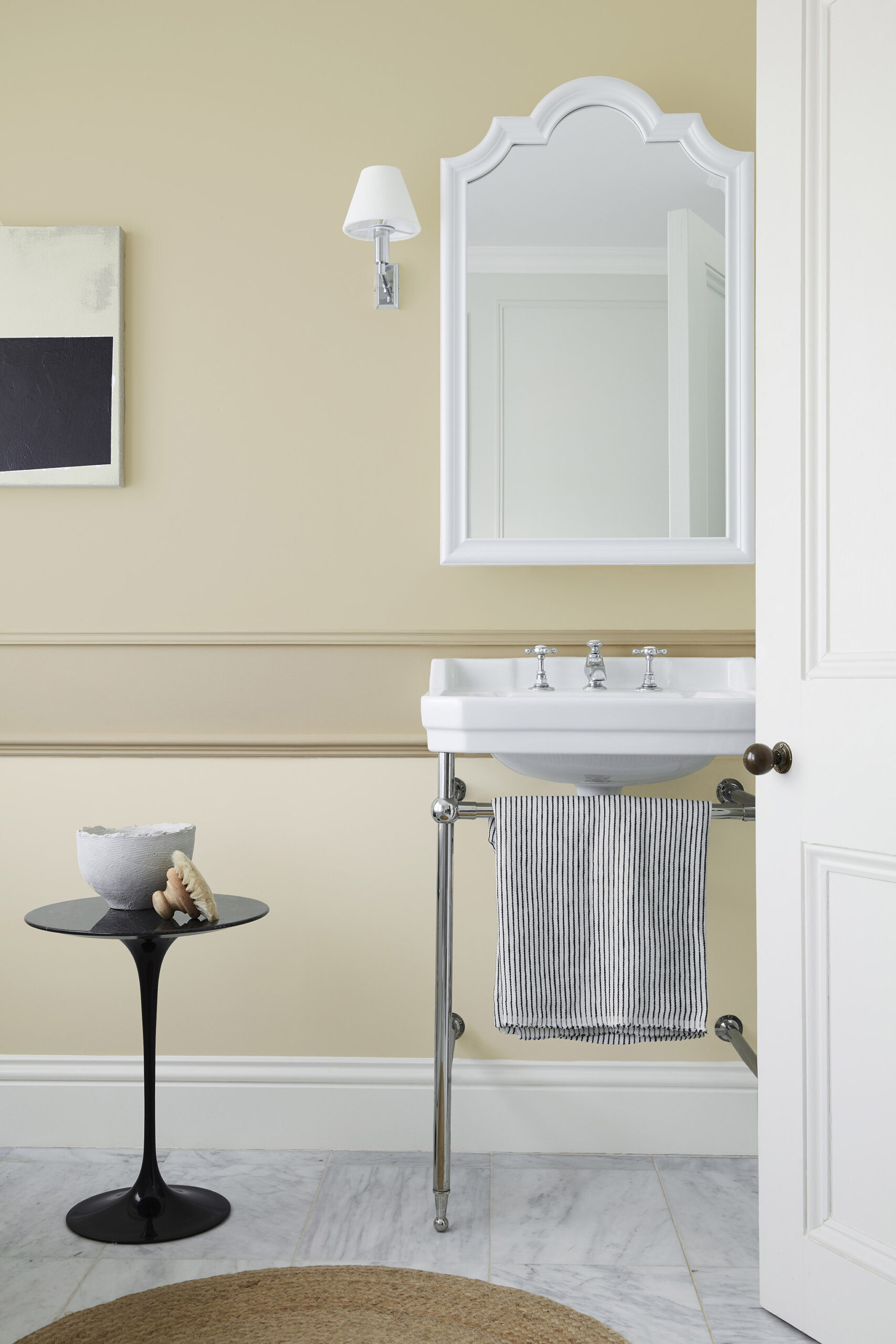 Little Greene Paint Image: Bottom half – Three Farm Green (306), Top half – Aquamarine Mid (284), Skirting – Lamp Black (228).
Little Greene Paint Image: Walls & cupboards – Etruria (326), Ceilings – Hicks' Blue (208)
Little Greene Paint Image: Walls – Travertine Light (272), Dado rail – Travertine Mid (273) and Travertine (319), Skirting – Stock (37)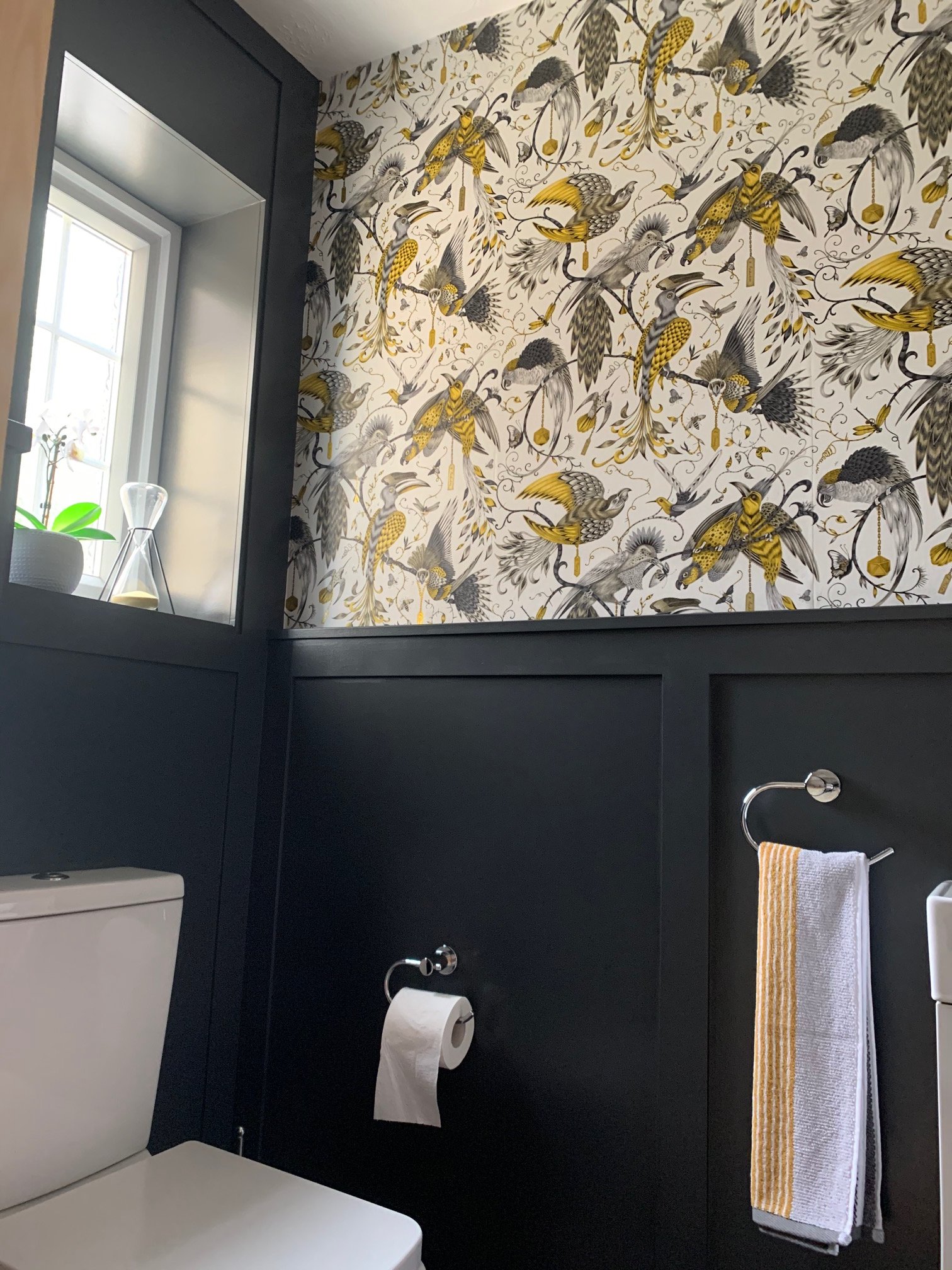 Wallpaper
One of the most popular additions to downstairs toilet decor is wallpaper. A small space such as this is the perfect place to experiment with bold patterned designs bursting with vibrant colour for a fun and whimsical look. Choose a design that you love and make it the focal point of the room by applying to an accent wall or add to all the walls, floor to ceiling for an all over effect. This will create a dramatic scheme with maximalist appeal whilst adding an air of character / interest. It can also produce an illusion of depth and space that extends past the pattern.
We absolutely love the Emma J Shipley Animalia wallpaper collection with its bold exotic depictions and impactful jewel tones. Shown opposite is the Audubon design in the opulent Gold colour way, beautifully used by one of our lovely clients. Accentuated by dark painted panelling, this design makes the downstairs loo luxurious and statemental.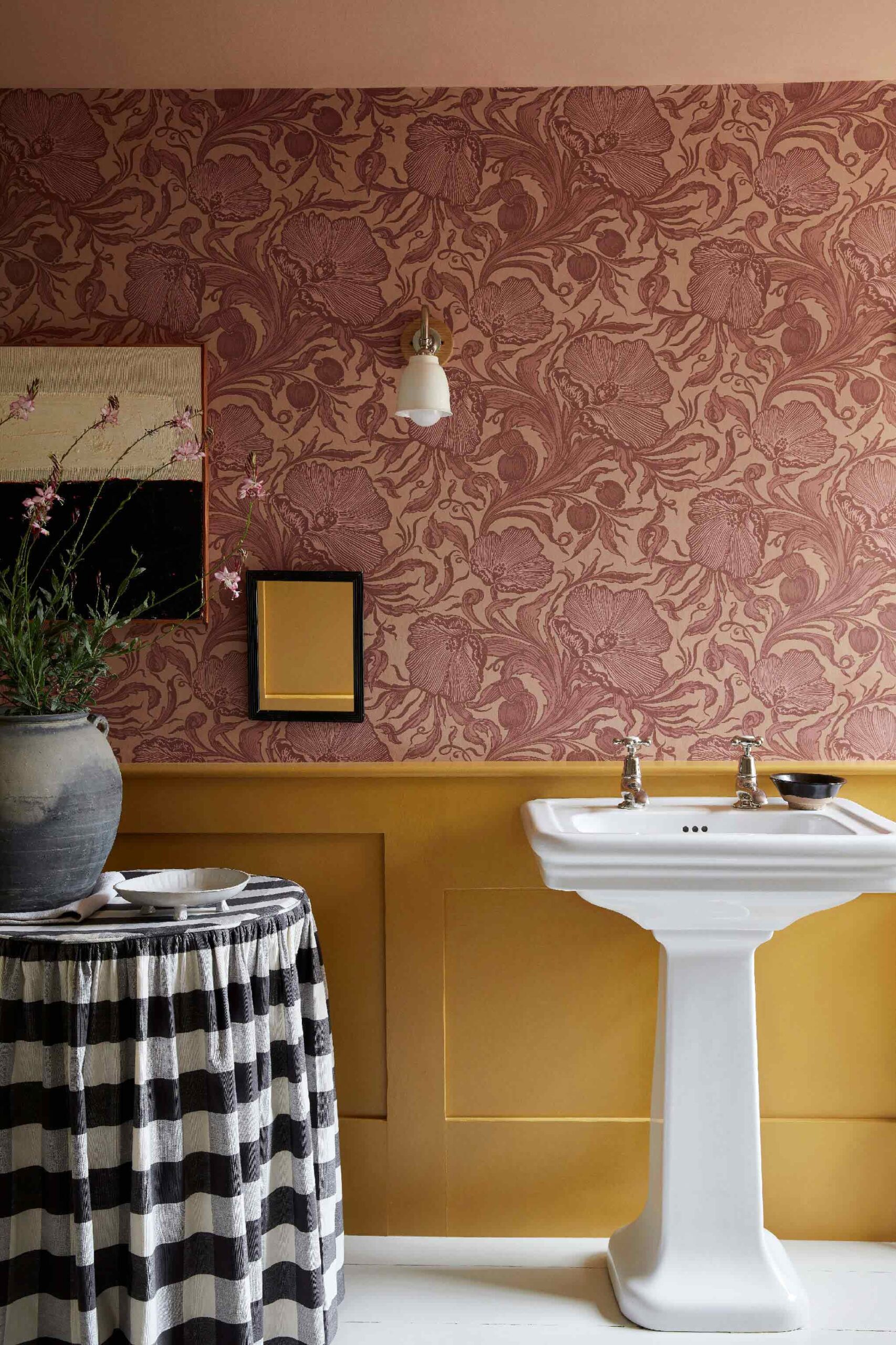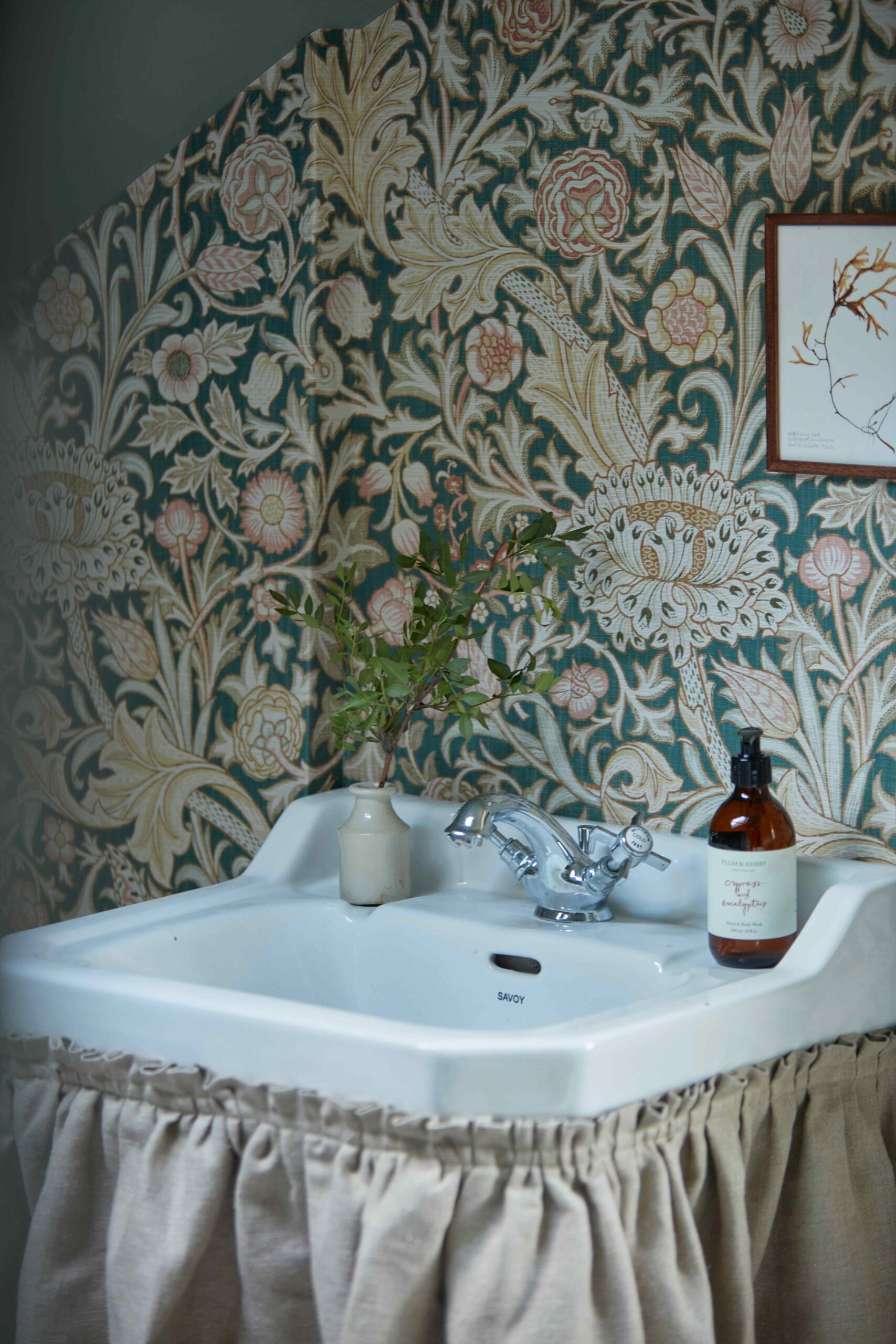 Little Greene Image: Wall – Poppy Trail wallpaper in Masquerade, Panelling – Yellow-Pink (46) paint. 
Morris & Co. Image: Trent wallpaper in River Wandle, from the Emery Walker's House Collection.
Window Treatments
When it comes to downstairs toilets, privacy is paramount, particularly if there is a window in the space. There are a range of window dressing options you could consider to complement your chosen scheme.
A made to measure roman blind in a coordinating fabric would work well at a window with limited space. If keeping your walls plain, consider a bold patterned fabric to add dimension and interest. The Sanderson One Sixty Roslyn Velvet fabric (shown in image 1 below) is a beautiful example, working tonally with the colours of the walls and window recess. If you opt for an all over wallpaper scheme, we would recommend a complementary plain fabric, picking out accents within the design so the blind doesn't detract from the wallcovering or fight for attention.
Alternatively, you could opt for a roller blind. We offer a wide selection of made to measure designs from the likes of Prestigious Textiles and Clarke & Clarke, comprising some of their bestselling prints and plain fabrics across a selection of finishes. Equally, our Laura Ashley ready made roller blinds are a fantastic choice for classic style interiors, or for a contemporary look with a mid century twist, the Orla Kiely range is the perfect go to.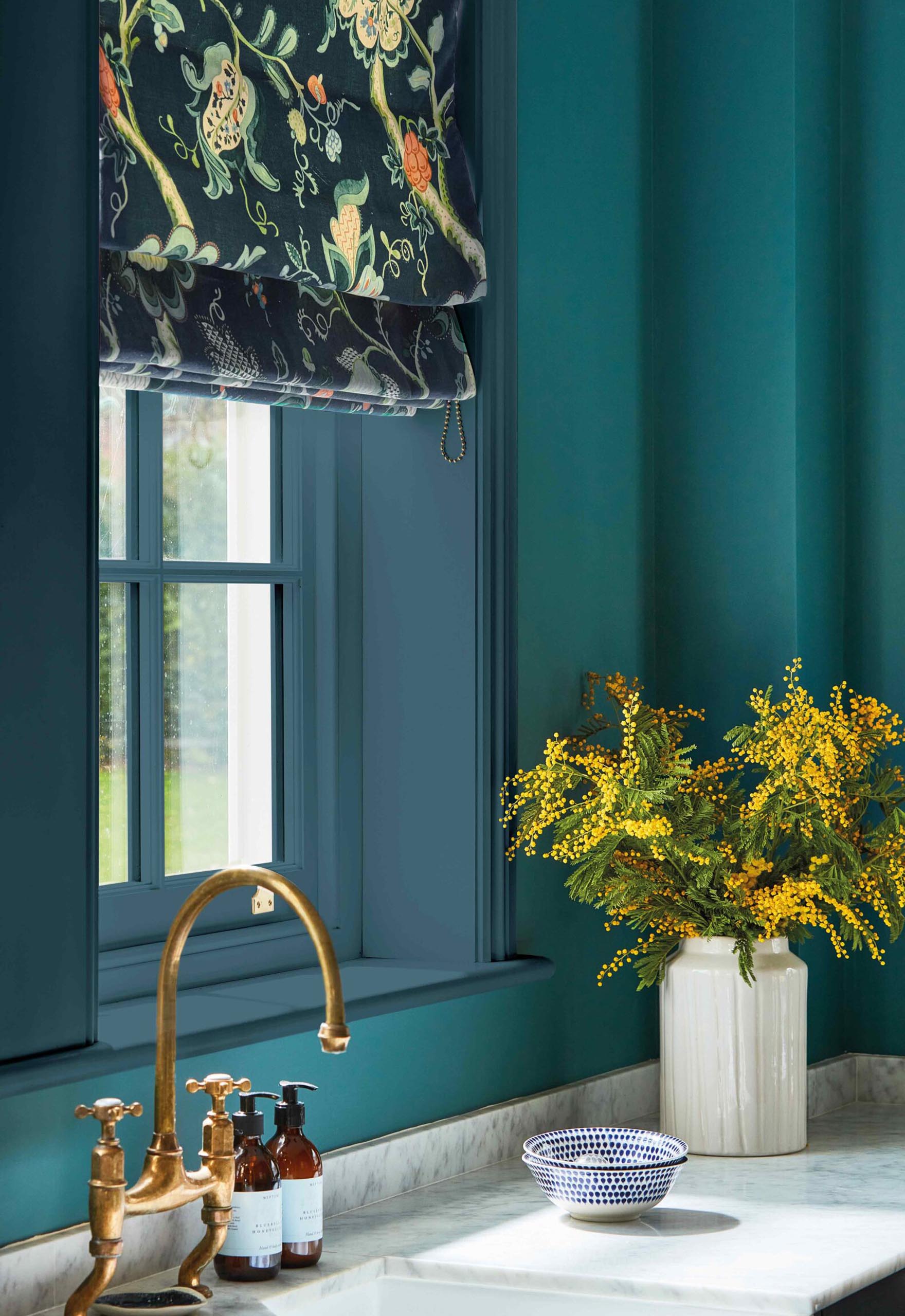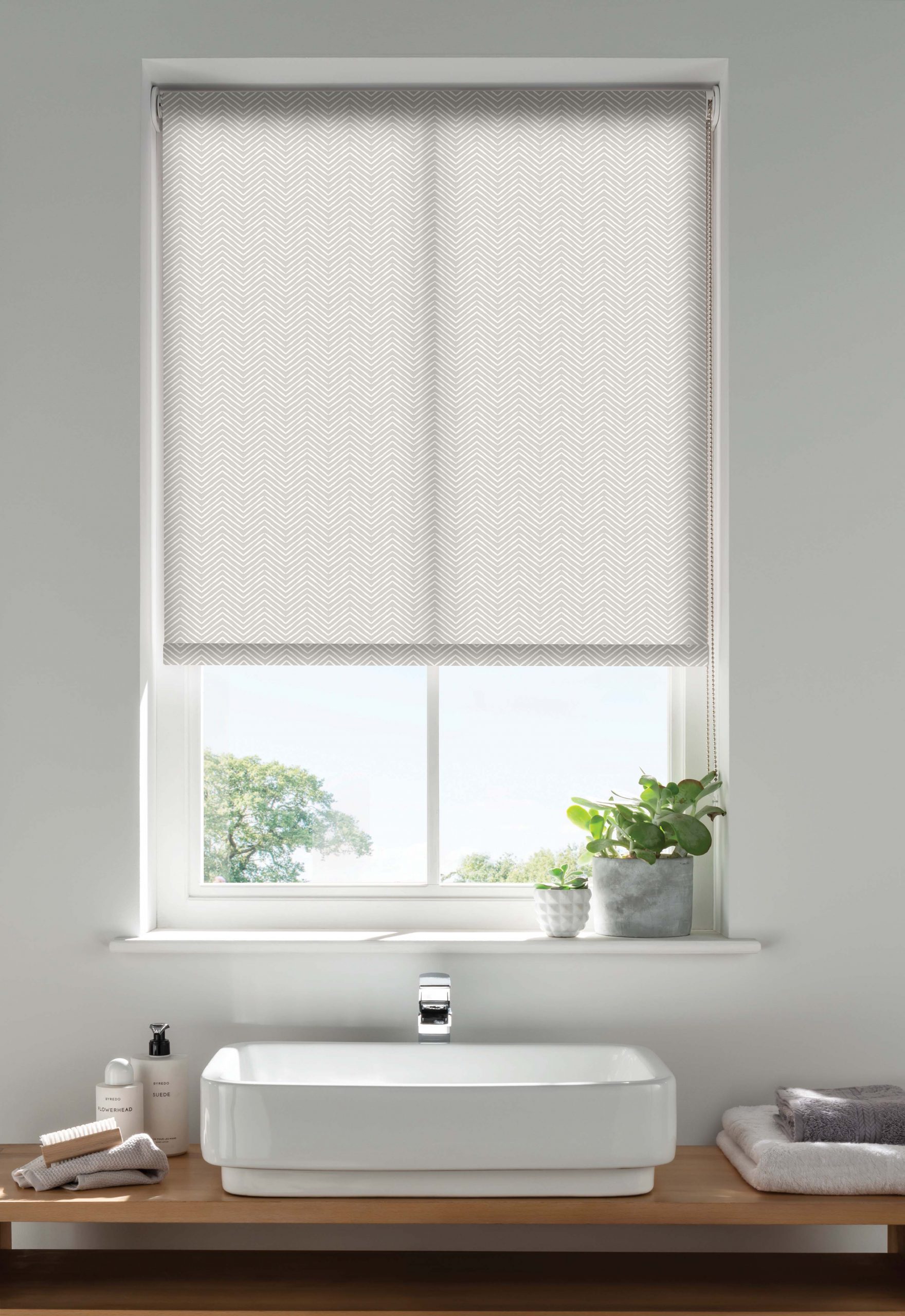 Sanderson Image: Blind – Roslyn Velvet fabric in Eucalyptus / Rowan Berry from the One Sixty range.
Clarke & Clarke Image: Roller Blind in Pica Grey from the Clarke & Clarke Made to Measure range. 
Accessories
Finally, don't forget the details! The finishing touches can make a big difference in the overall look of your cloakroom. Whether it's adding a touch of greenery to breathe life and colour into the space, displaying photos and souvenirs for a personal feel or adding some stylish, colourful towels, it's important to consider some practical accessories that complement your décor.
Towels
Offset your scheme with a luxurious hand towel from the Laura Ashley Collection. The chateau-inspired Josette towel is an indulgent addition with its iconic design and superb colour ways. Shown opposite in Dove Grey. For a plain option, you may wish to consider the Laura Ashley luxury embroidered towel. With its elegant simplicity, this design will complement almost any scheme you choose.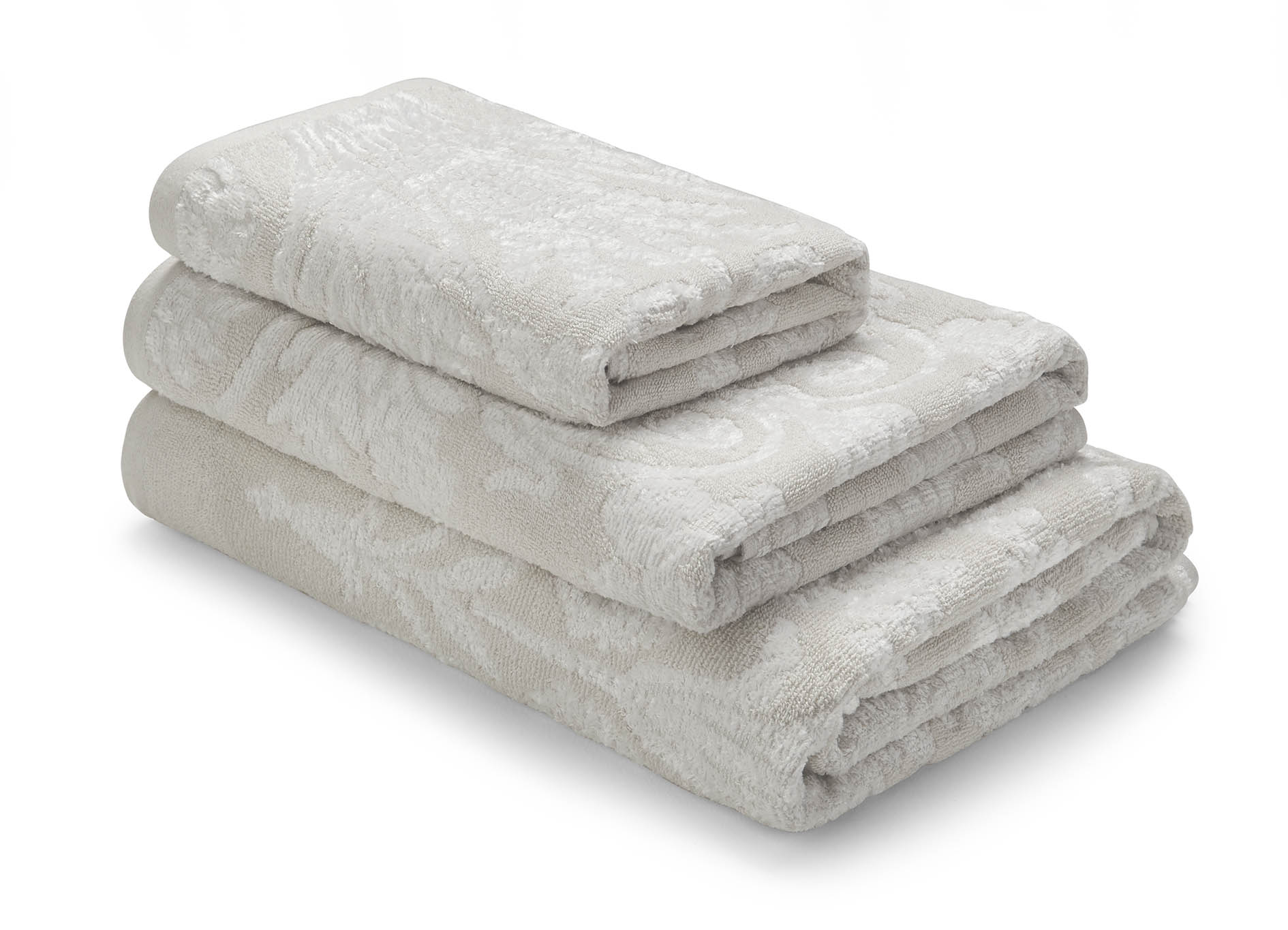 Wall Art
Don't be afraid to add a touch of personality to your cloakroom. Choose accessories that reflect your style, such as a piece of wall art. Perhaps make a picture gallery to add interest and reflect your style. This would look particularly effective mounted on plain walls for added interest.
Mirrors are another great way to make a small space feel larger. Place a large mirror on one of the walls to reflect light and create the illusion of more space. You can also use smaller mirrors to decorate the walls or to add a focal point to the room.