Interior designer, broadcaster, and House Beautiful columnist, Sophie Robinson, is known for her love of colour and pattern and her latest collaboration with Harlequin is no exception. Embracing bold design and dramatic tones fused together to brighten the home, the Sophie Robinson collection of fabrics and wallpapers is a masterclass in joyful pattern mixing.
The collection features a vibrant mix of florals, geometrics, stripes and abstract designs in a palette of lush greens, vivid blues, and playful pinks. Mix and match the fabrics and wallpapers to create endlessly unique and eye-catching interiors that exude maximalist style! Shop the full range here.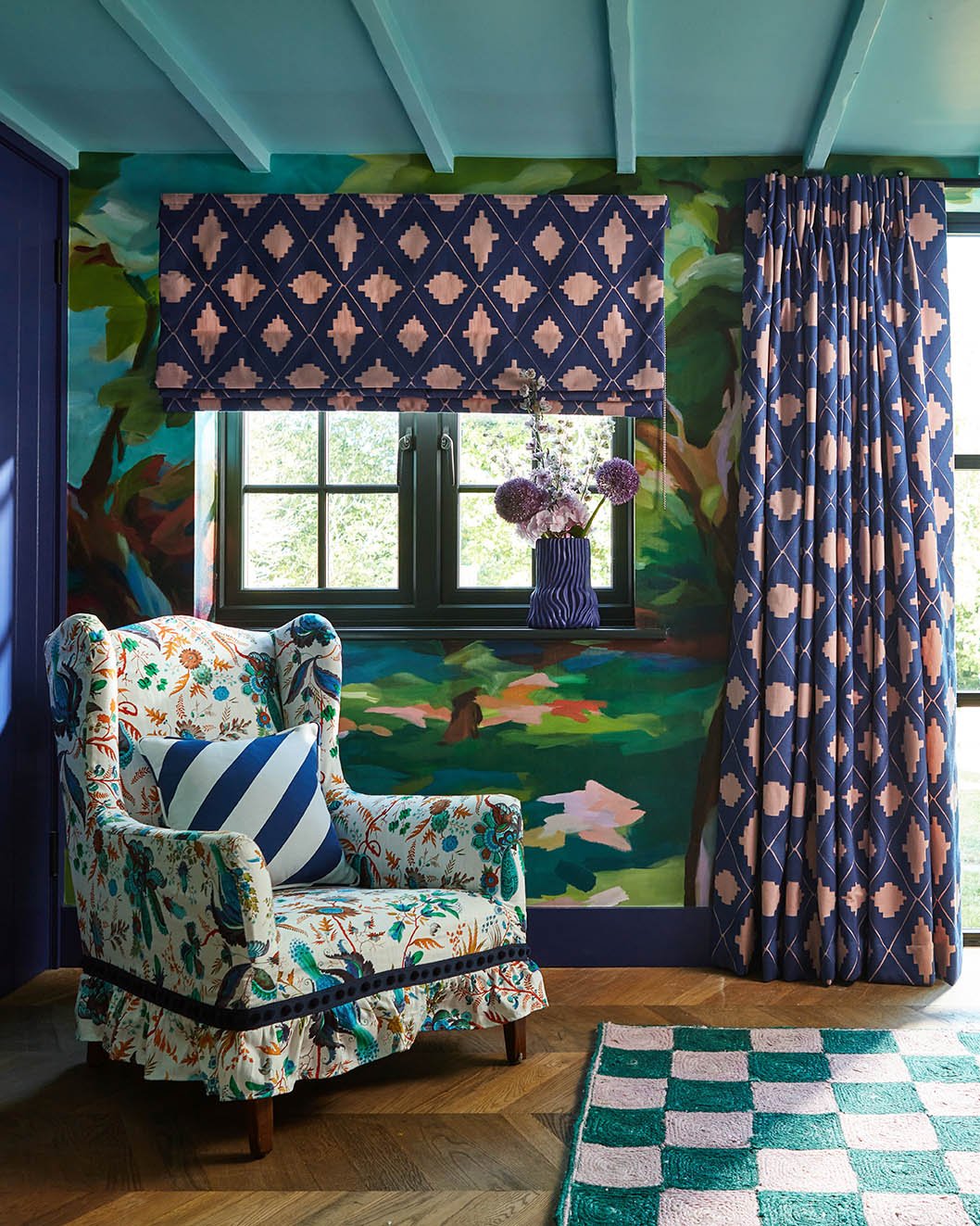 The Inspiration
Inspired by her own woodland garden, Sophie wanted to create a range that would capture the essence of nature's beauty and abundance. The result is a collection that is both stylish and inviting, perfect for creating a space that is full of life and energy. Each fabric and wallpaper design has its own unique personality and can be used in a way that is synonymous with your own personal style and taste.
Fabrics
The Sophie Robinson fabrics comprise a beautiful selection of prints, velvets, jacquards and embroideries. Bold botanicals and stripes are prominent in the range to help bring your soft furnishings to life. The Paper Straw Stripe Fabric in Citrine is a beautiful example, shown in the curtains opposite. Undeniably bold and statemental, this design draws the eye and sits effortlessly with other patterns in the collections.
We also love the Wildflower Meadow velvet fabric. Produced on polycotton velvet, this intricate floral sings of colour confidence and brings an air of tactility to the space for added depth and interest. Available in 3 colour ways, this vibrant dual purpose fabric sits well with the printed velvet trend. For a softer look, you may wish to consider the delightful cotton linen version of the design, presented in gentle pink and green tones. Explore all the fabrics here.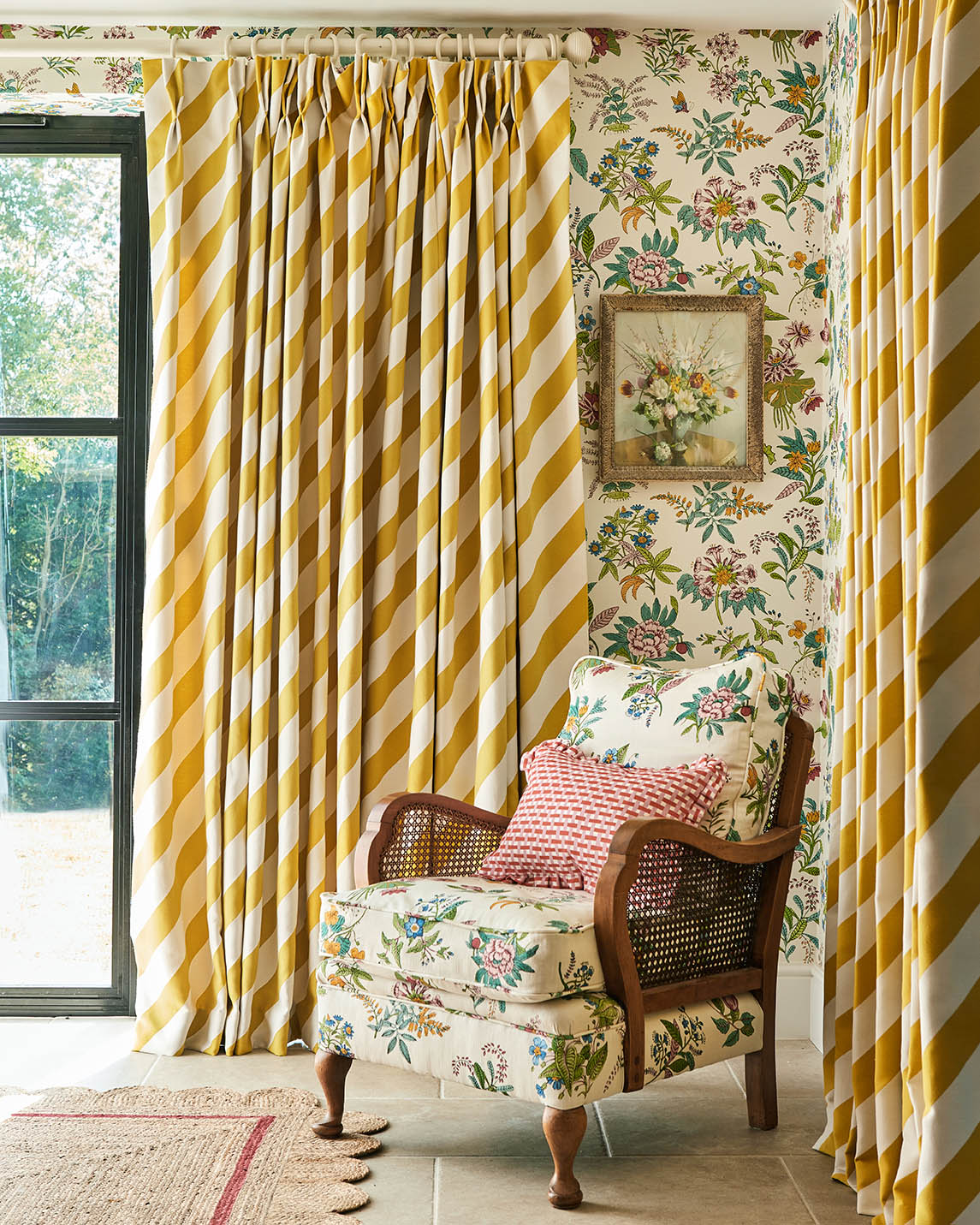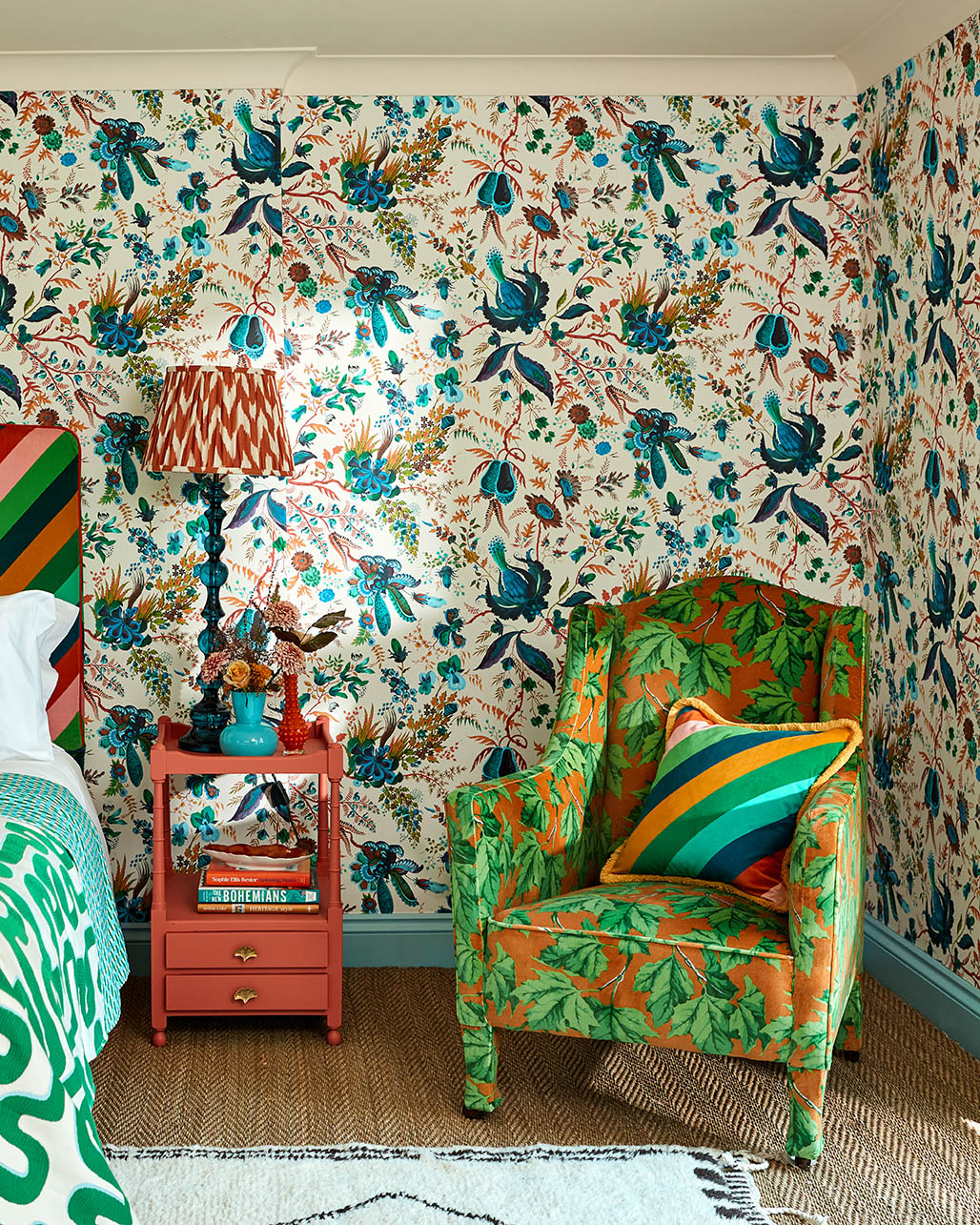 Wallpapers
Transform your walls into a striking design feature with the Sophie Robinson wallpaper collection. Simply apply to a feature wall or create a confident, all over look for ultimate maximalism. The Wonderland Floral wallpaper (shown opposite) is a fantastic choice with its whimsical florals. If you'd prefer something a little more subtle, the Daisy Trellis design may be your perfect fit.
We also adore the expressive In the Woods mural wallpaper (see image at top of blog). Made up of four 300cm high drops to create a 4m x 3m woodland inspired panel, this wallpaper creates a scenic and immersive feel that is sure to make an impact. Shop all the wallpaper designs here. 
How to Use the Collection
The Sophie Robinson fabric and wallpaper collection by Harlequin is versatile and can be used to create a variety of different looks. For a bold and eye-catching statement, try mixing and matching different prints and patterns across your walls and soft furnishings. For a more subtle look, choose one or two key pieces and let them take centre stage whilst keeping other elements of the room more neutral. No matter how you choose to use them, the fabrics and wallpapers are sure to add a touch of joy and personality to any space.