Create an interior filled with heritage and charm with the delightful new Emery Walker's House Collection by Morris & Co. A timeless range of inspired fabrics and wallpapers, this new collection honours the treasured and creative relationship between icon of the Arts & Crafts Movement, William Morris, his dear friend, neighbour and collaborator, Sir Emery Walker and both their families.
Each piece in the collection is based on original Morris designs and artefacts that adorned the interiors of 7 Hammersmith Terrace, a historic house once home to Sir Emery Walker himself. The collection sees the revival of 6 distinctive designs by William Morris and a touch of newness with the introduction of 4 brand new patterns, all designed with careful attention to William Morris's high craft and production standards for an authentic feel. Shop the full collection here.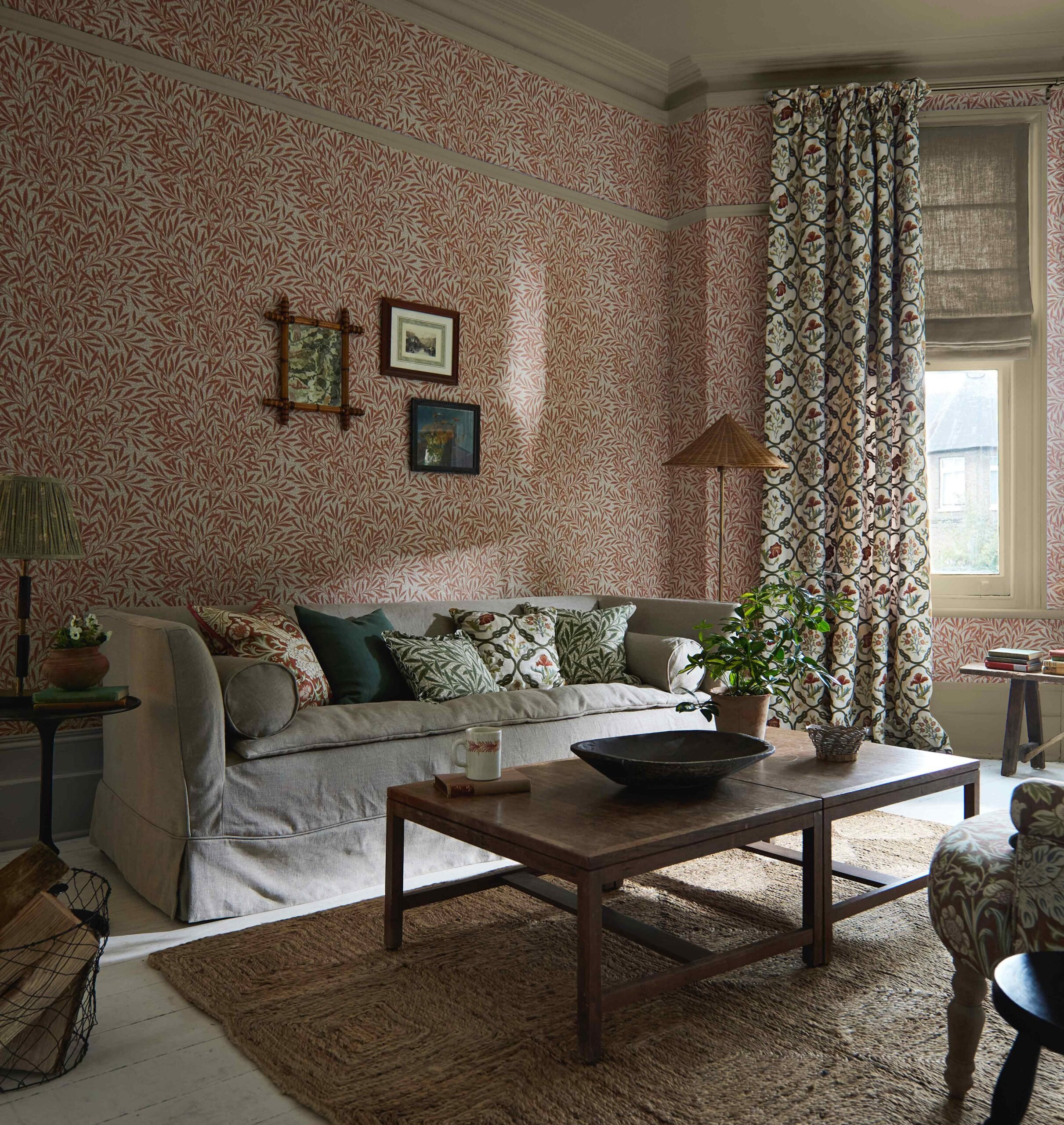 Fabrics
The Emery Walker's House collection by Morris & Co. features 28 fabrics, all carefully collated and coloured to complement both traditional and contemporary interior design styles. Bask in the beauty of remarkable prints and weaves, faithfully produced to the highest quality. We absolutely love the Flowers by May fabric (image 1 below), with its meadow flowers in jewel-like tones and fascinating backstory. Originally used to decorate the seat of a 17thcentury chair which once stood in William Morris's library until his death, this stunning design now resides in the home of Emery Walker, with the dedication "MM to EW" on the cushion cover created by May Morris.
The Rose fabric is another beautiful example, an original 1883 William Morris fabric design which adorned the drawing room of Sir Emery Walker. Available in 2 delightful colour ways (shown in image 2 below in the Bough's Green/Rose colour way).
The range also comprises of some carefully crafted embroideries with hand finished details to capture the designs' intricacies and cherished origins. The Daisy Embroidery is a newly embroidered fabric version of Morris & Co.'s earliest wallpaper (1864), Daisy, which adorned the home of Sir Emery Walker. Featuring colourful floral miniatures with hand-knotted and chunky stitching detail, this tactile design commemorates centuries of craftwork and works beautifully for window dressings or cushions (image 3 below).
Shop the full range of Morris & Co. Emery Walker's House fabrics here.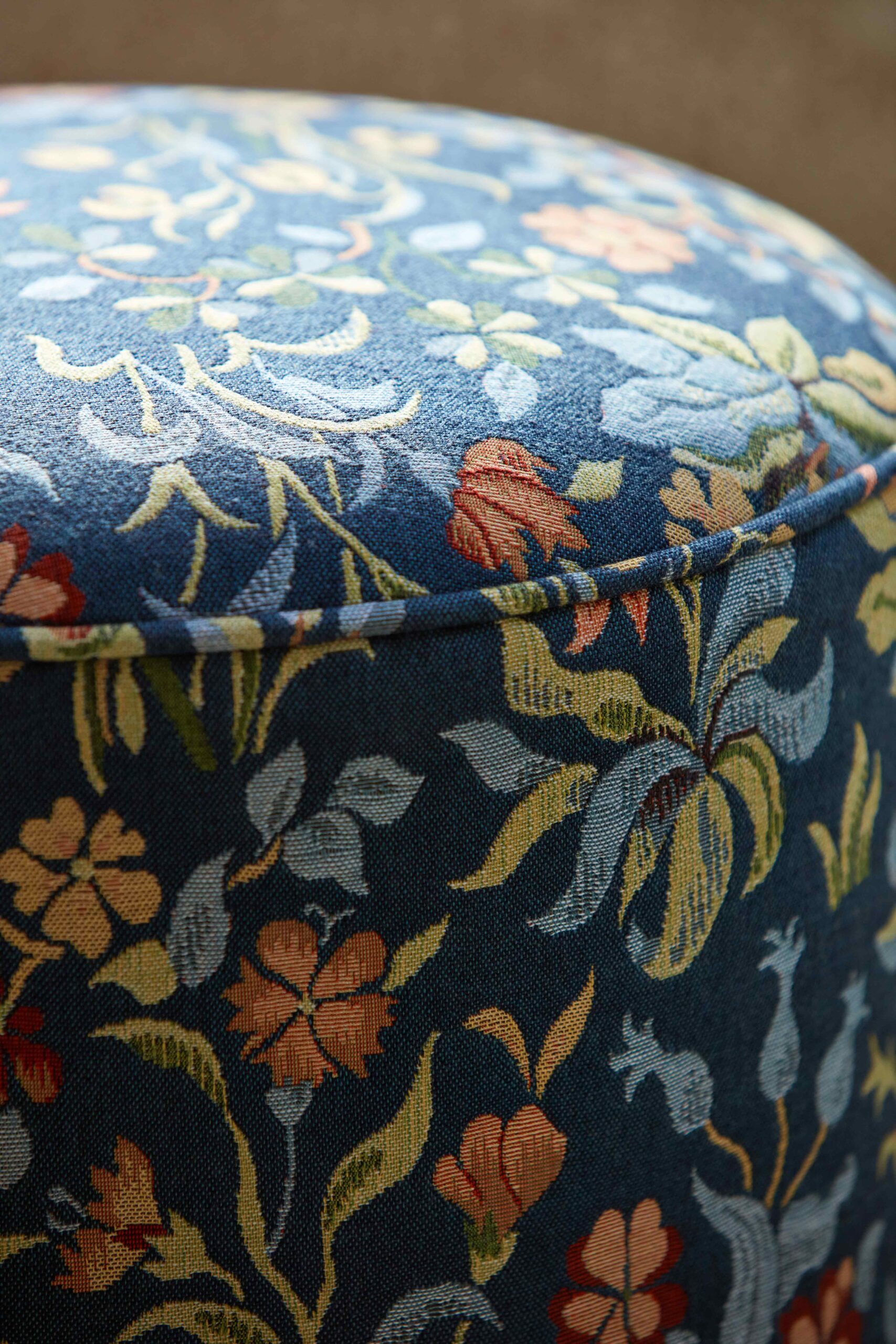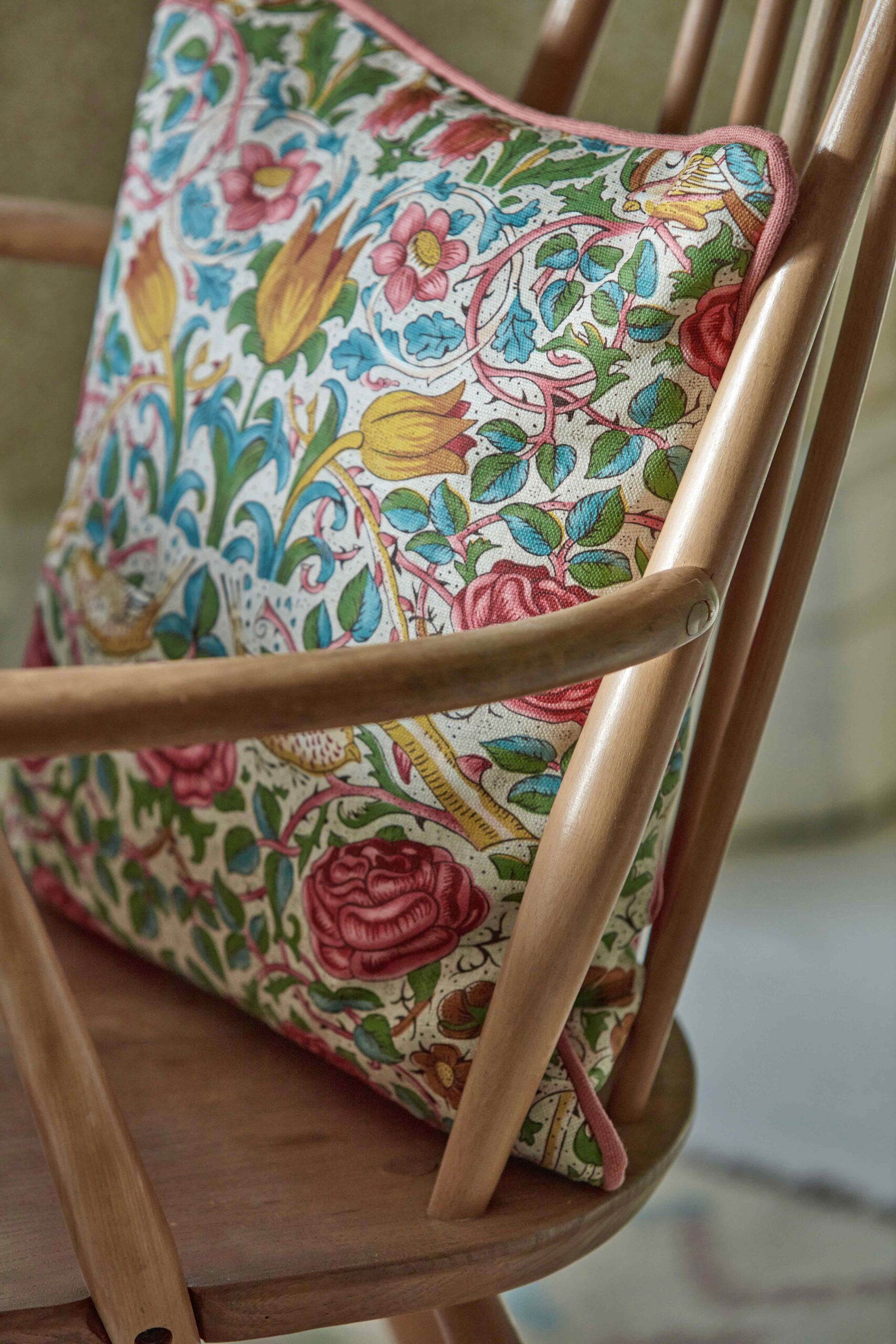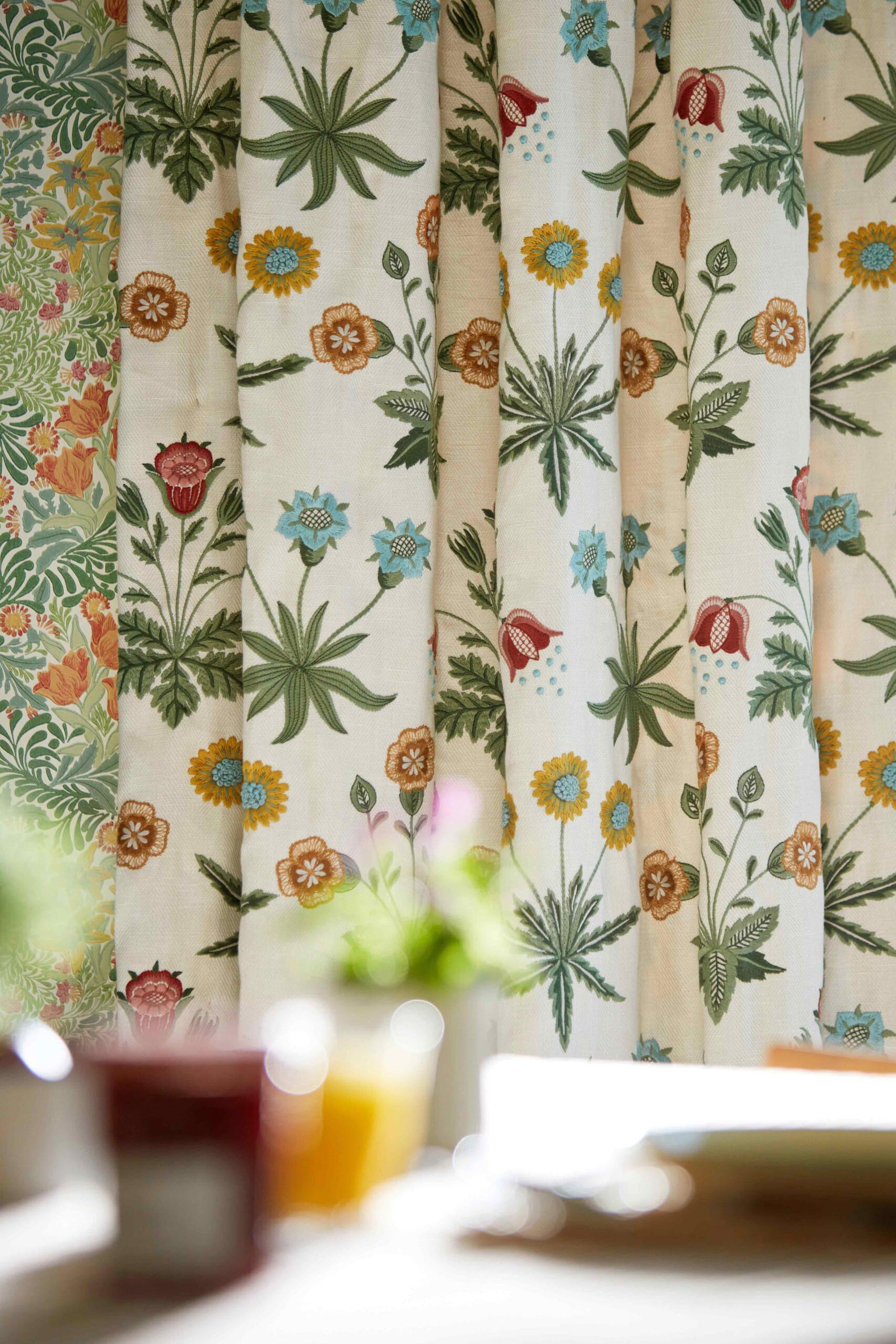 Wallpapers
The wallpapers in the Morris & Co. Emery Walker's House collection are simply exquisite. Beautifully crafted to coordinate with the fabrics, this stunning wallpaper range is the perfect way to draw attention to your walls in classic style. Each wallpaper has been made authentically in the UK, synonymous with the brand's iconic legacy. For unmistakable Morris charm, consider the timeless Bower (image 1 below) or Borage (image 2 below) wallpapers inspired by the natural world.
For a real statement, you could also consider the brand-new Beauty of Life design, created exclusively for this collection. Featuring a collation of iconic Morris patterns from scrolling foliage and birds to eye-catching script inspired by his own Kelmscott printing press guided by Walker himself, this dramatic design takes its name from the lecture title of William Morris's passionate appeal against industrialised capitalism in 1880. A wide width design available in 2 colour ways, it is sure to make a striking addition to any wall.
Shop the full range of Morris & Co. Emery Walker's House Wallpapers here.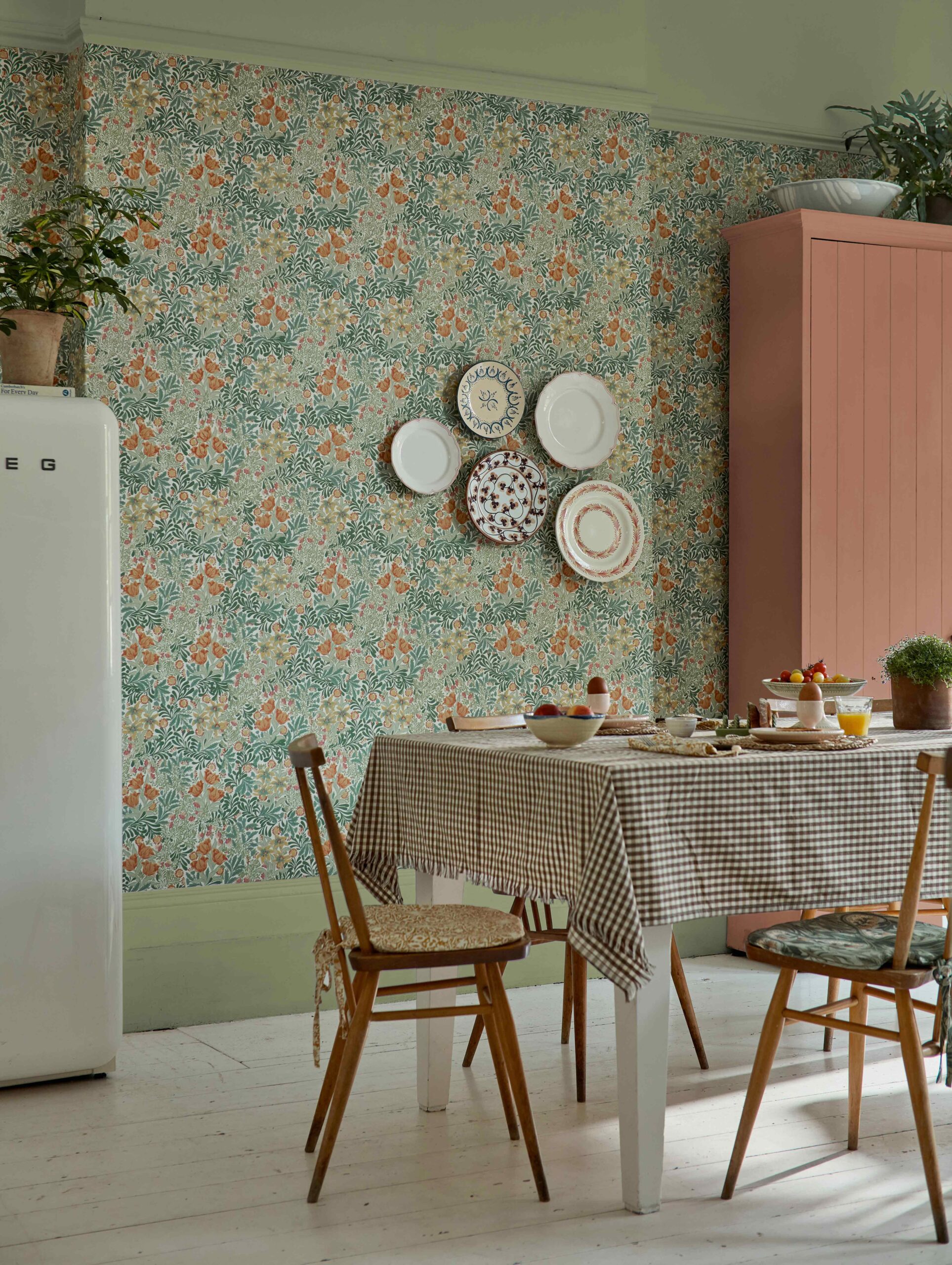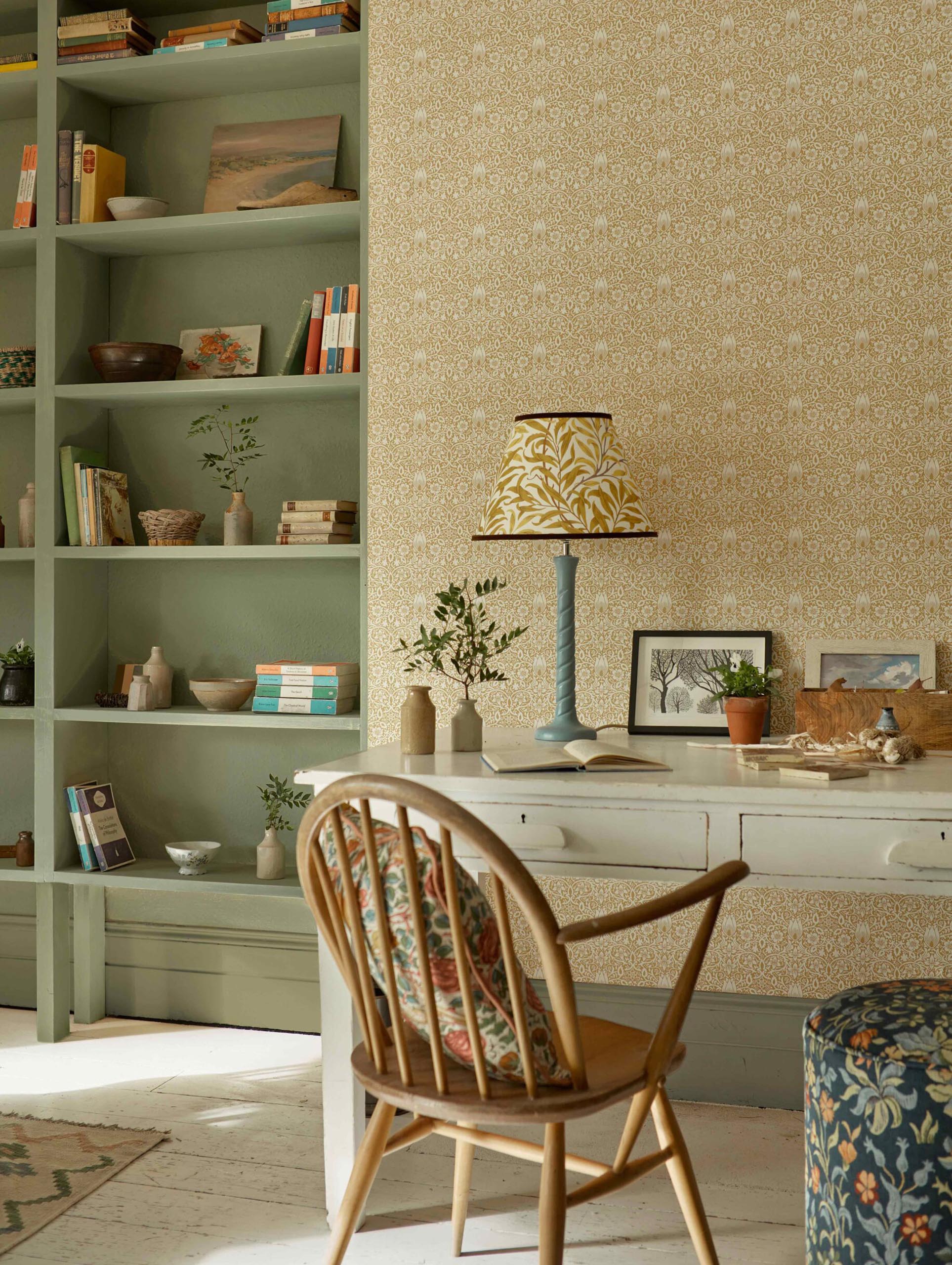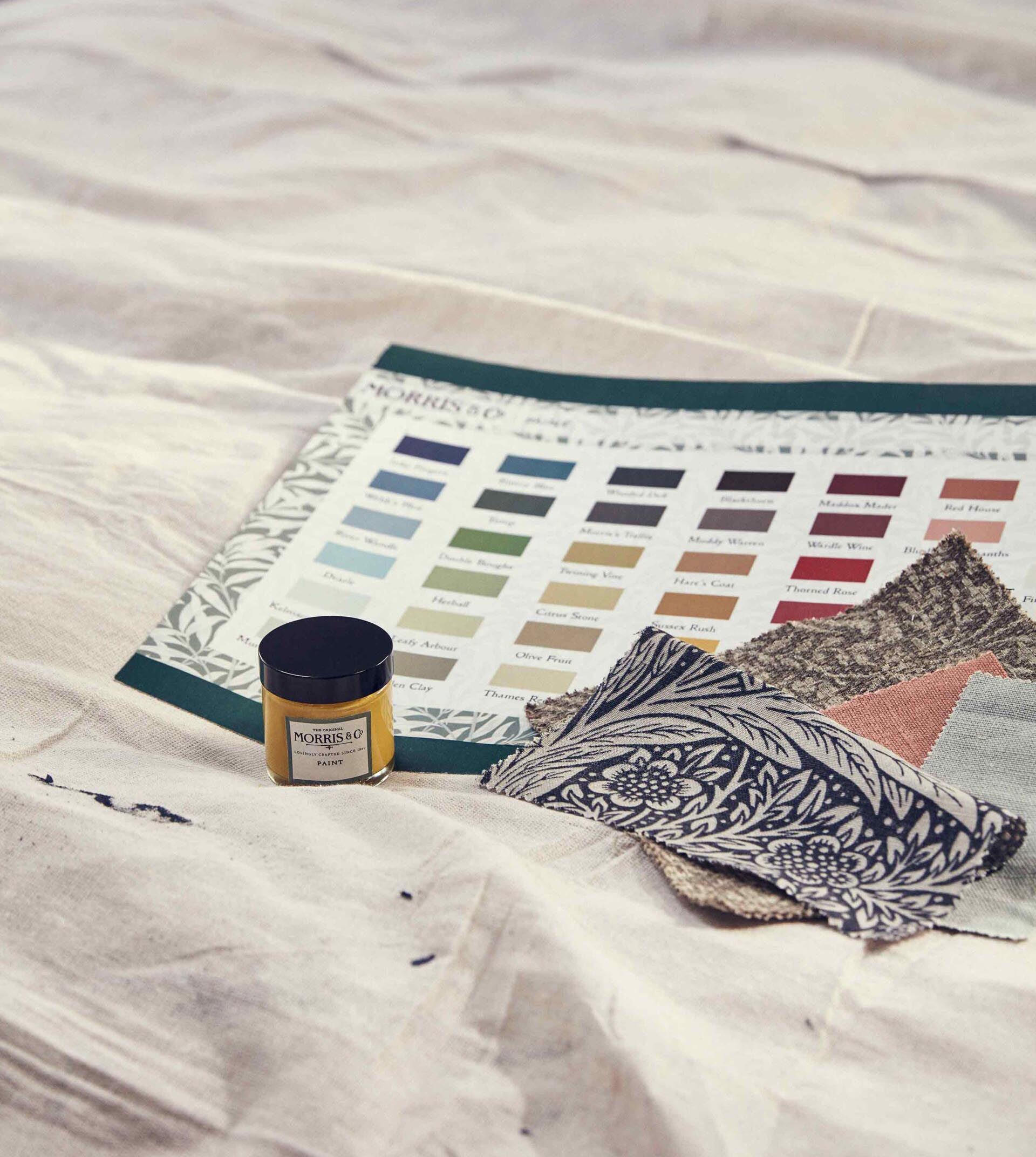 Styling the Collection
Each piece in the range coordinates through design and colour. Mix multiple fabrics and wallpaper designs within the collection for maximum impact. If you'd prefer a more toned down look, try adding a wallpaper with neutral soft furnishings, or opt for a patterned window dressing and accent cushion whilst keeping your walls plain and neutral.
The colour ways in the collection are also designed to complement the Morris & Co. paint collection. This will help to create a cohesive scheme that flows throughout the home. Shop the Morris & Co. Paint Collection here.
Overview
The Emery Walker's House collection by Morris & Co. offers more than iconic decoration. It oozes heritage, charm and real affection in a way that celebrates and upholds creative relationships of the past. Authentic and timeless in style, it is the perfect go to for classically inspired room schemes that tell a true story.
Explore our full Morris & Co. range here. For styling ideas and inspiration, please see our collection of trend guides. We also offer a complimentary face to face and virtual Bespoke Design Service from our showroom in Brockenhurst. If you would like any help or samples sending out, please get in touch and we'll be delighted to assist with your project.
Email sales@thehomeofinteriors.co.uk or call us on 01590 615775.
Follow us on Instagram and Facebook: @myhomeofinteriors