When it comes to styling your bathroom, the possibilities are truly endless. An integral part of the home, the bathroom has become more than just a functional space. It provides the perfect blank canvas to embrace design and personality to create your own inviting retreat. A sanctuary to embrace wellness and self-care, the bathroom should be a clutter-free space that exudes calm and relaxation through carefully considered colour and texture.
Whether you're embarking on a full bathroom renovation or looking for some small, simple and budget-friendly updates to transform the look and feel of your space, we have provided below some useful styling inspiration, tips and recommendations in line with 2023 design trends to help give your bathroom a new lease of life.
Paint
Paint is a fantastic way to instantly transform your bathroom scheme. Whether you're painting all the walls, using in conjunction with tiling, or creating an element of contrast through popular, traditional style panelling, paint works beautifully to introduce a splash of colour to the space for a refreshed feel.
Natural, mineral pastel and neutral tones in particular are trending as spa-inspired bathrooms take centre stage. Consider sage greens, warm neutral and earthy hues to create a zen, nature inspired scheme that promotes relaxation and tranquillity. We love the Little Greene Boringdon Green 295 (image 1 below) or Rolling Fog tones (image 2 below) for a soothing bathroom setting of any style. Warm brushed metallic fixtures such as taps are also proving popular to complement these softer schemes for a contemporary twist.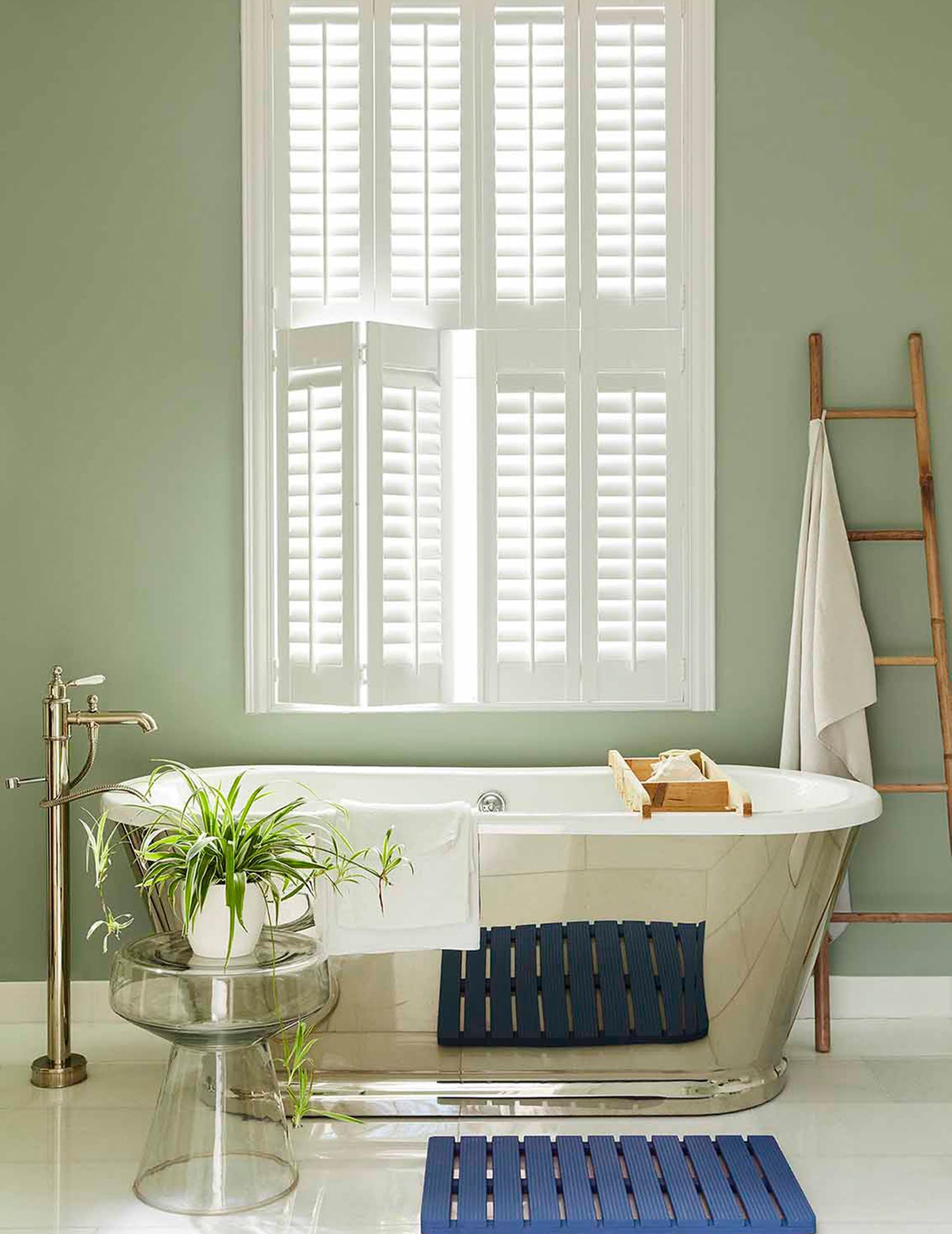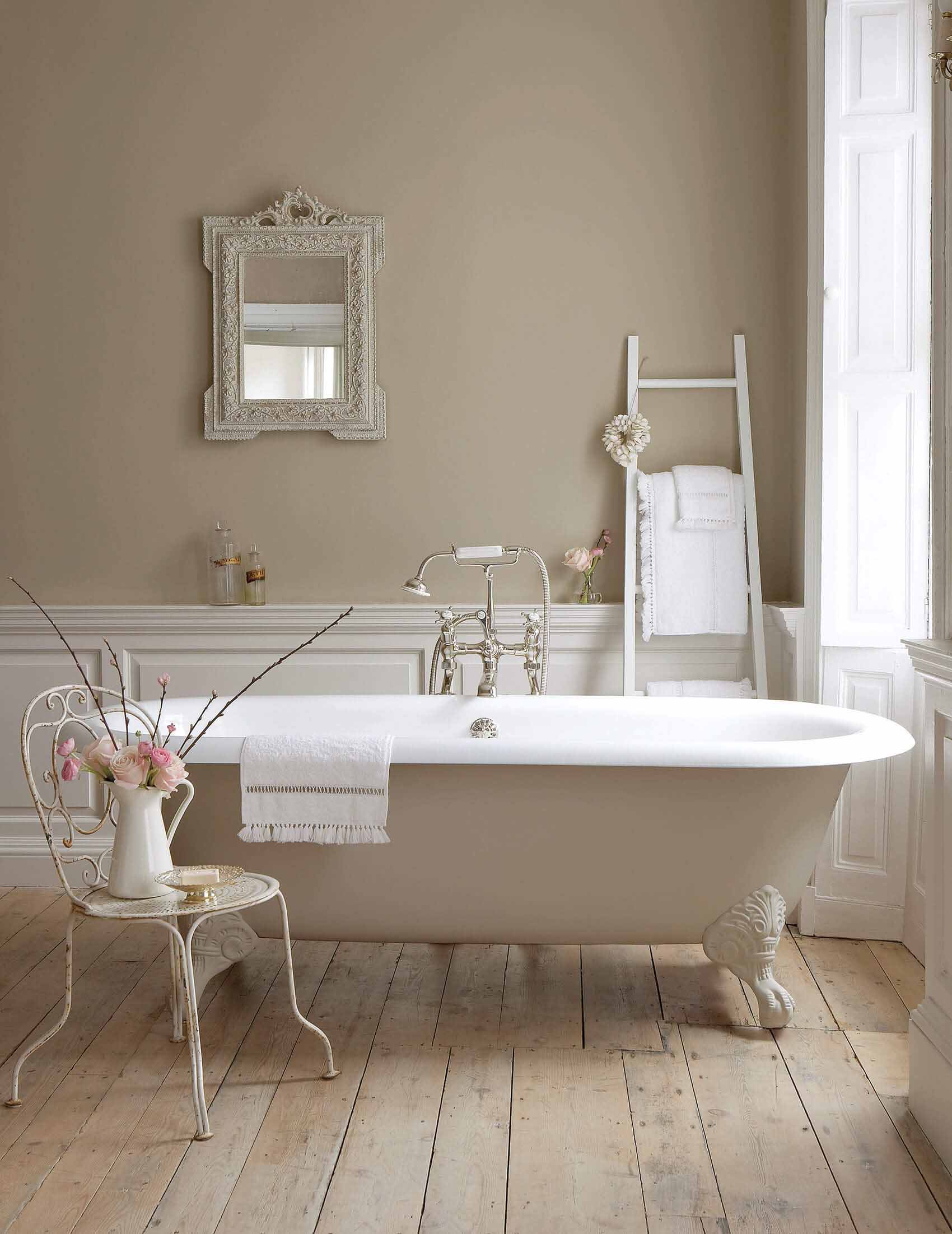 (Walls: Little Greene Boringdon Green 295 Paint, Bath Mat: Little Greene Woad 251 Paint)
(Walls: Little Greene Rolling Fog 143 Paint)
If you'd prefer something more bold and characterful, you may wish to consider black. Trending in the world of home interiors, black bathrooms offer a moody aesthetic bursting with drama and confidence. Team with contrasting elements such as bath tubs and vanity units for a statement look. Depending on the amount of light entering the room, simply paint a feature wall or create an all-over look for an enveloping effect. (Image opposite – Walls: Little Greene Jack Black 119 Paint).
When choosing paint, it's also important to select a durable finish suitable for bathroom use. Little Greene's Intelligent Eggshell and Intelligent Matt Emulsion are a great go to for bathroom applications. Laura Ashley also offer purpose designed Kitchen and Bathroom Emulsion. If you'd like to extend the stylish Sanderson, Zoffany or Morris & Co. colour palette through to your bathroom, the hardwearing Eggshell finishes are highly recommended. Equally, Sanderson's Active Emulsion and Zoffany's Elite Emulsion are also suitable, only in well ventilated bathrooms. Shop our full paint range here.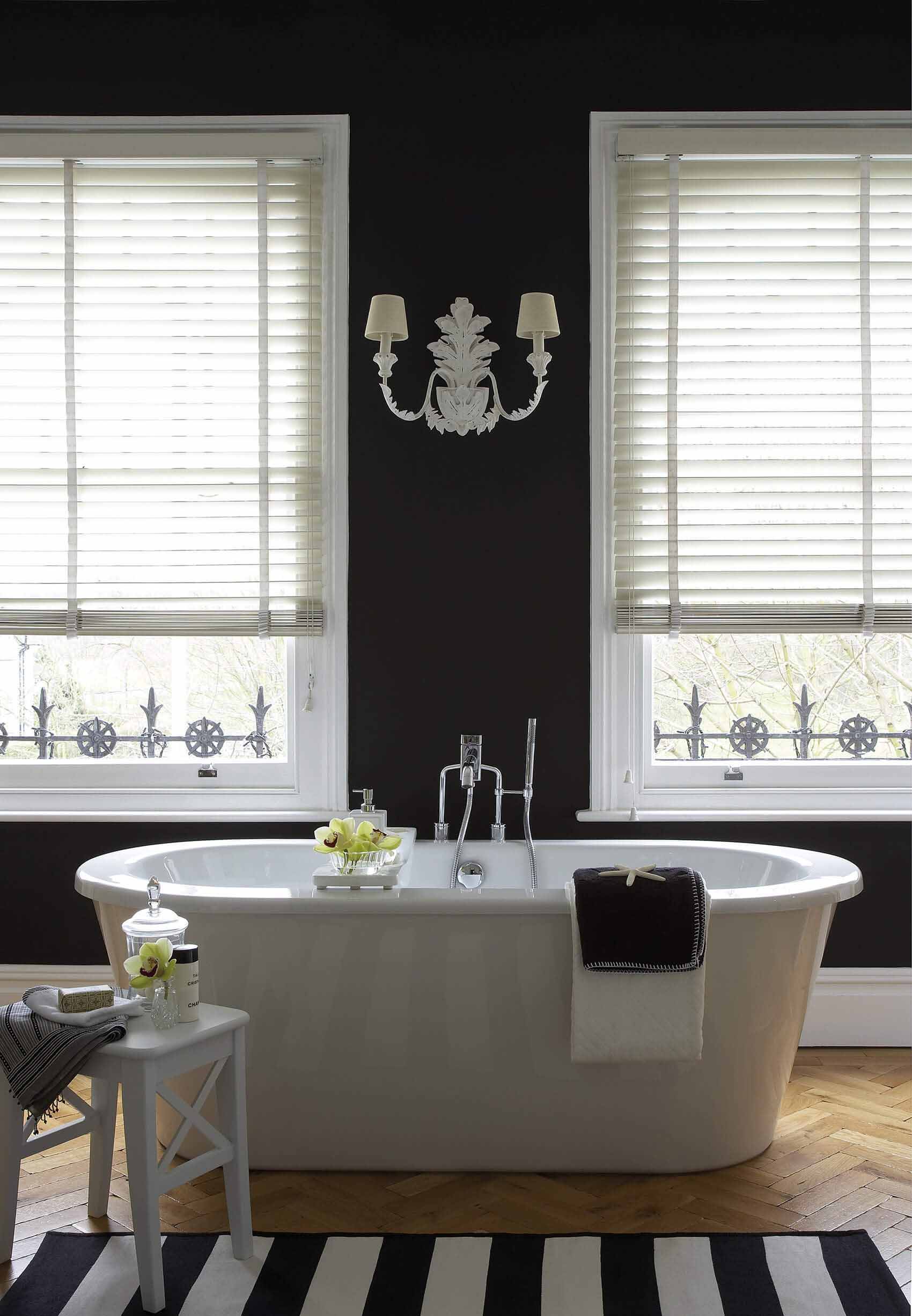 Wallpaper
Alternatively, if you're looking to add a patterned element to your bathroom, you may wish to add a striking wallpaper. We have seen a growing love for colour confidence and bold pattern in the home and the bathroom is no exception. Statement botanical wallpaper designs are an increasingly popular addition to bathroom settings, especially styled on a feature wall. In keeping with nature inspired schemes, these wallpapers bring colour and personality to the space and are particularly effective in smaller bathrooms for a real impact.
The Calathea wallpaper from the Sanderson Glasshouse Collection is a beautiful example, shown in image 1 below in the Orchid/Eucalyptus colour way. We also love the Little Greene Reverie wallpaper (image 2 below in Jungle teamed with the Little Greene Chocolate Colour 124 paint on the wall and Boxington 84 paint on the bath), and the striking Achilea wallpaper, an immersive Little Greene Mural. For a touch of iconic botanical charm, you could also consider the Morris & Co. Trent wallpaper from the heritage inspired Emery Walker's House collection (image 3 below in River Wandle). Whichever you choose, you can be sure they'll bring an air of maximalism to any bathroom.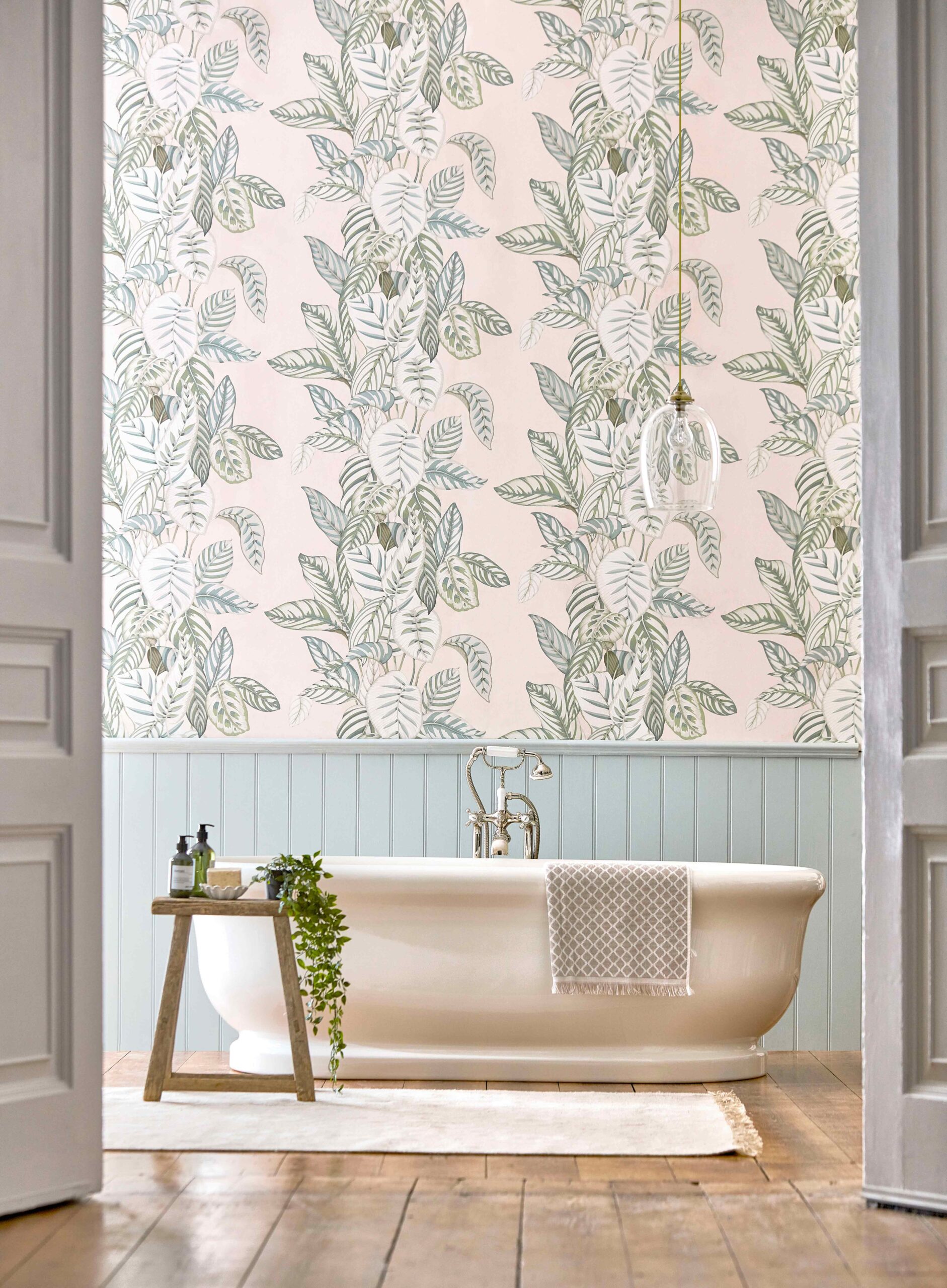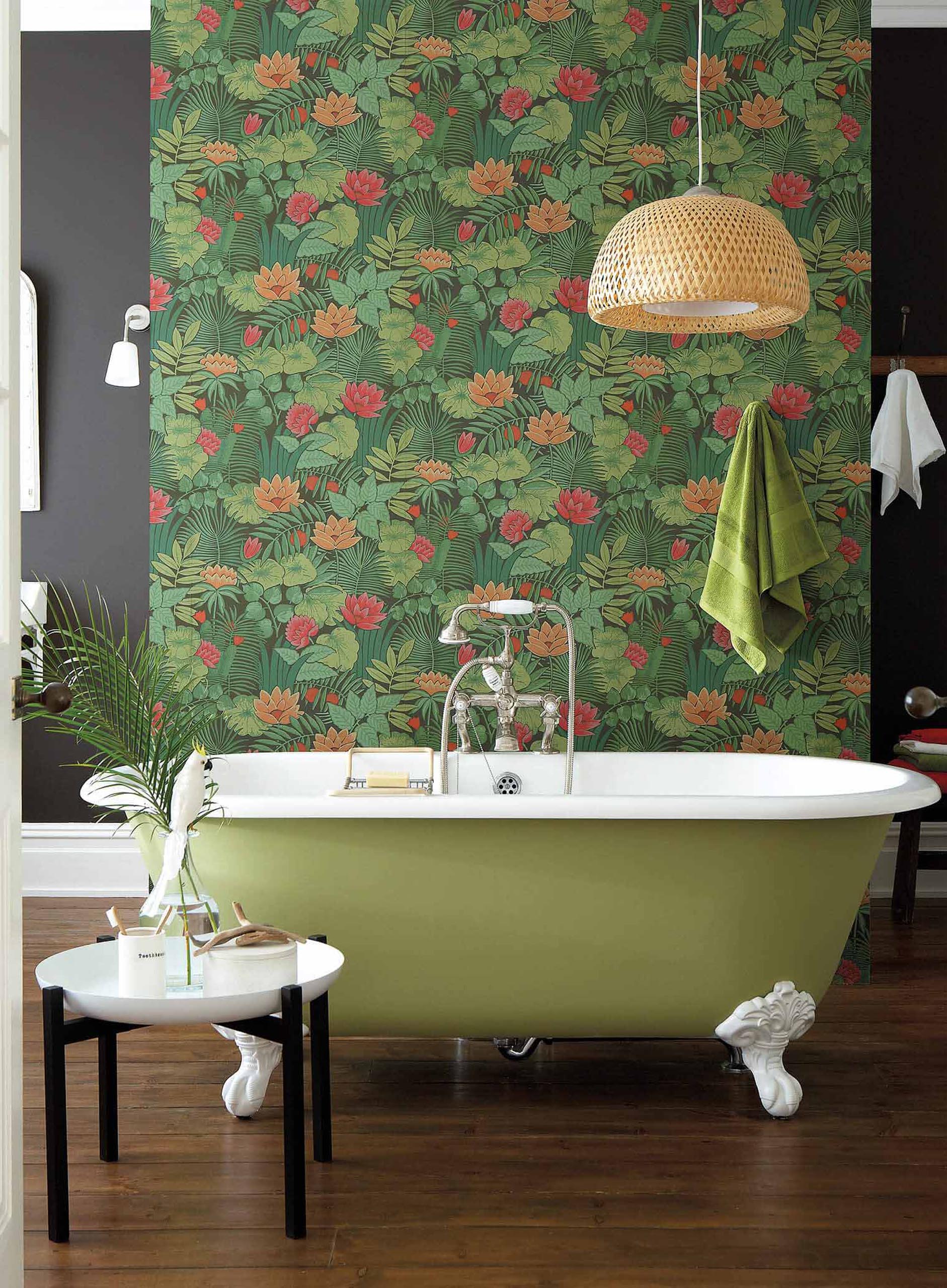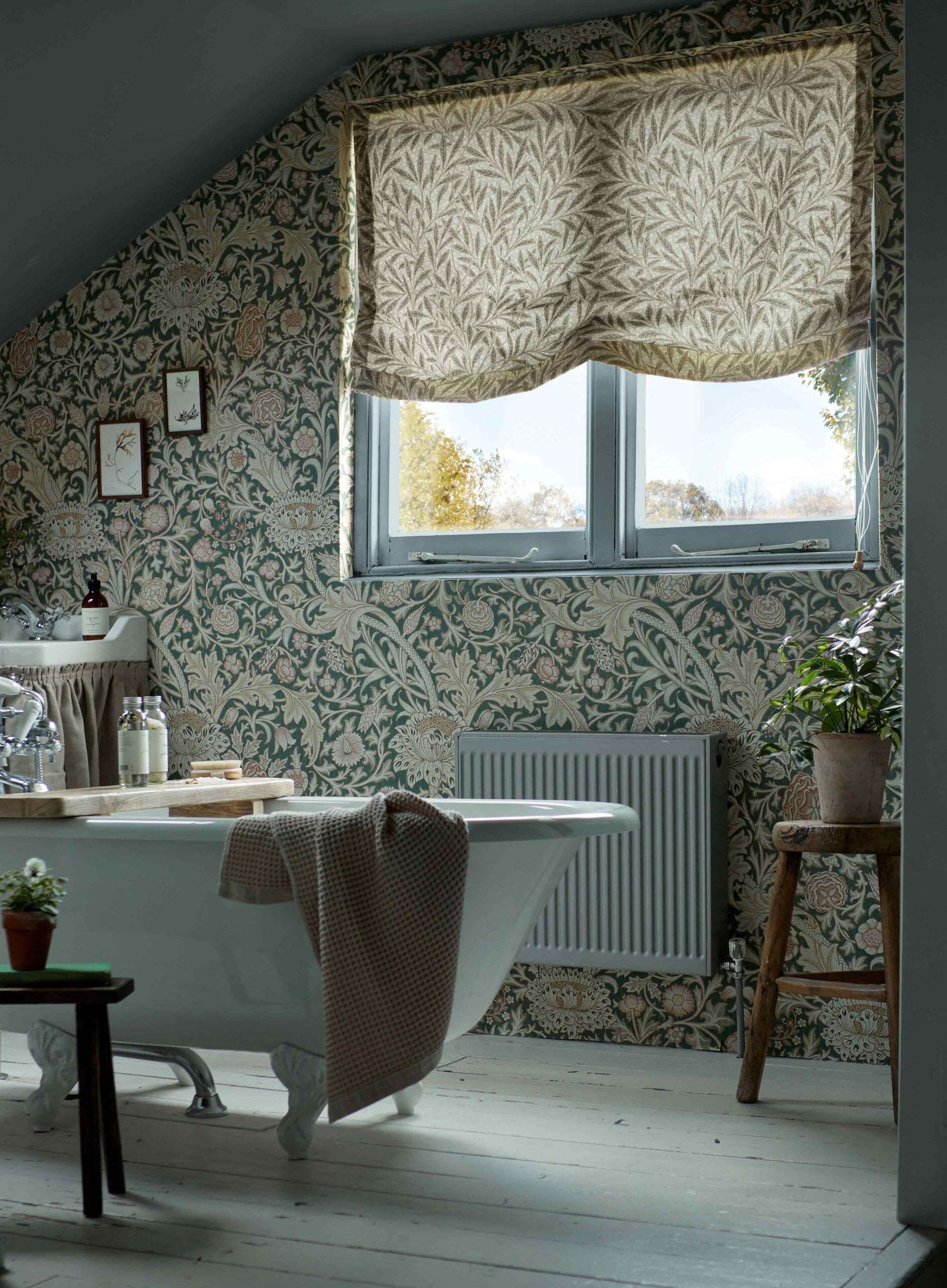 Window Dressings
Window dressings are an important consideration when styling your bathroom. They can provide the finishing touches to your scheme whilst offering a layer of privacy to the space. At The Home Of Interiors, we are pleased to offer a range of window treatments suitable for bathroom use.
Roller Blinds
If you're considering a roller blind, we would recommend a 100% polyester, water resistant fabric to suit high moisture areas. The made to measure Clarke & Clarke range is the perfect go to, featuring some stunning design led prints in a waterproof finish for a durable solution. We particularly love the Rainfall Grey design, perfectly complementing neutral schemes (shown opposite).
Venetian Blinds
Venetian blinds also work beautifully with a bathroom aesthetic. A desirable solution with easy maintenance and privacy / shading flexibility, Venetians are an effective choice for bathroom settings, particularly in a faux wood finish. Popular and cost-effective, faux wood Venetian blinds are durable and bring a classic, elegant look to the window.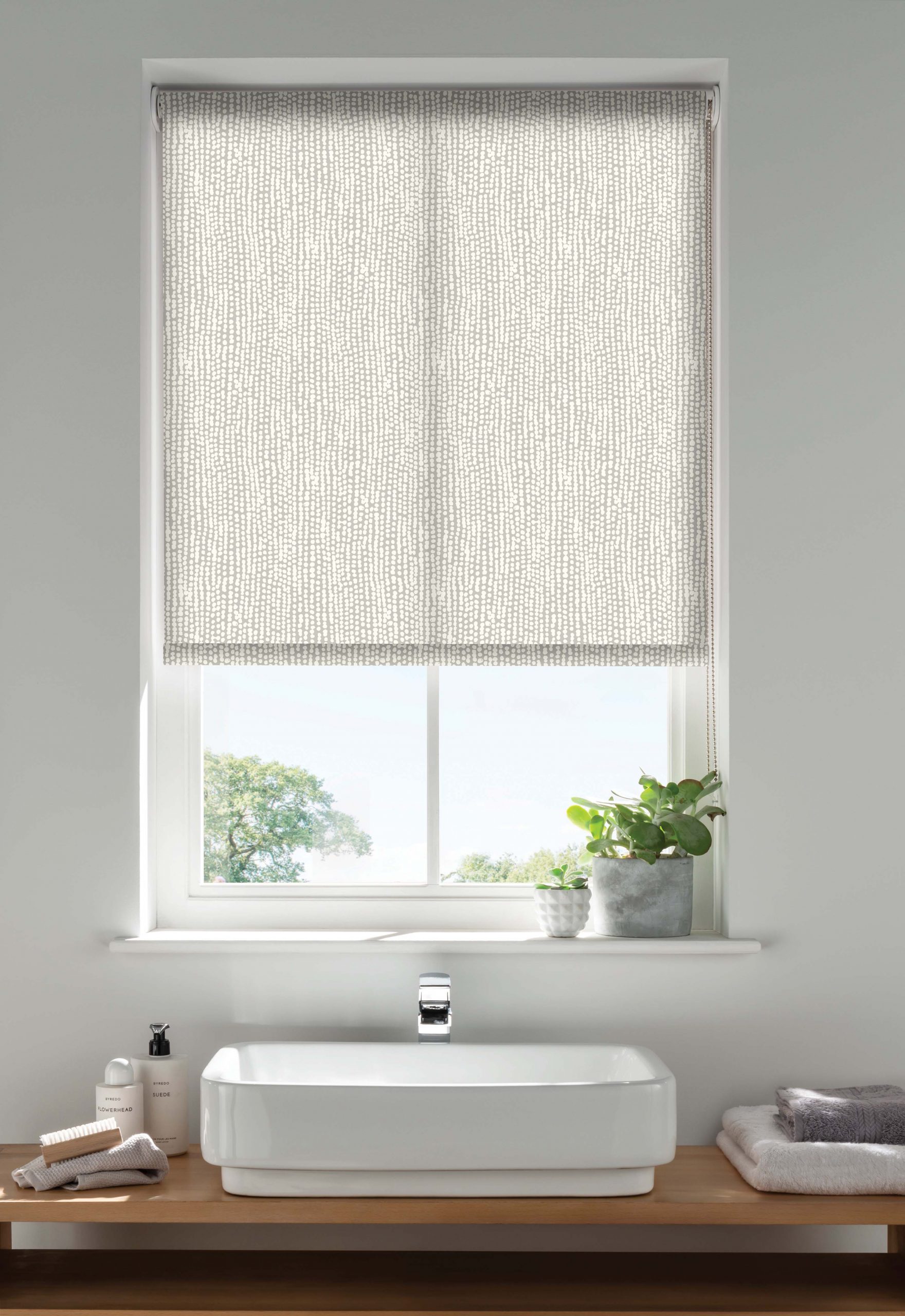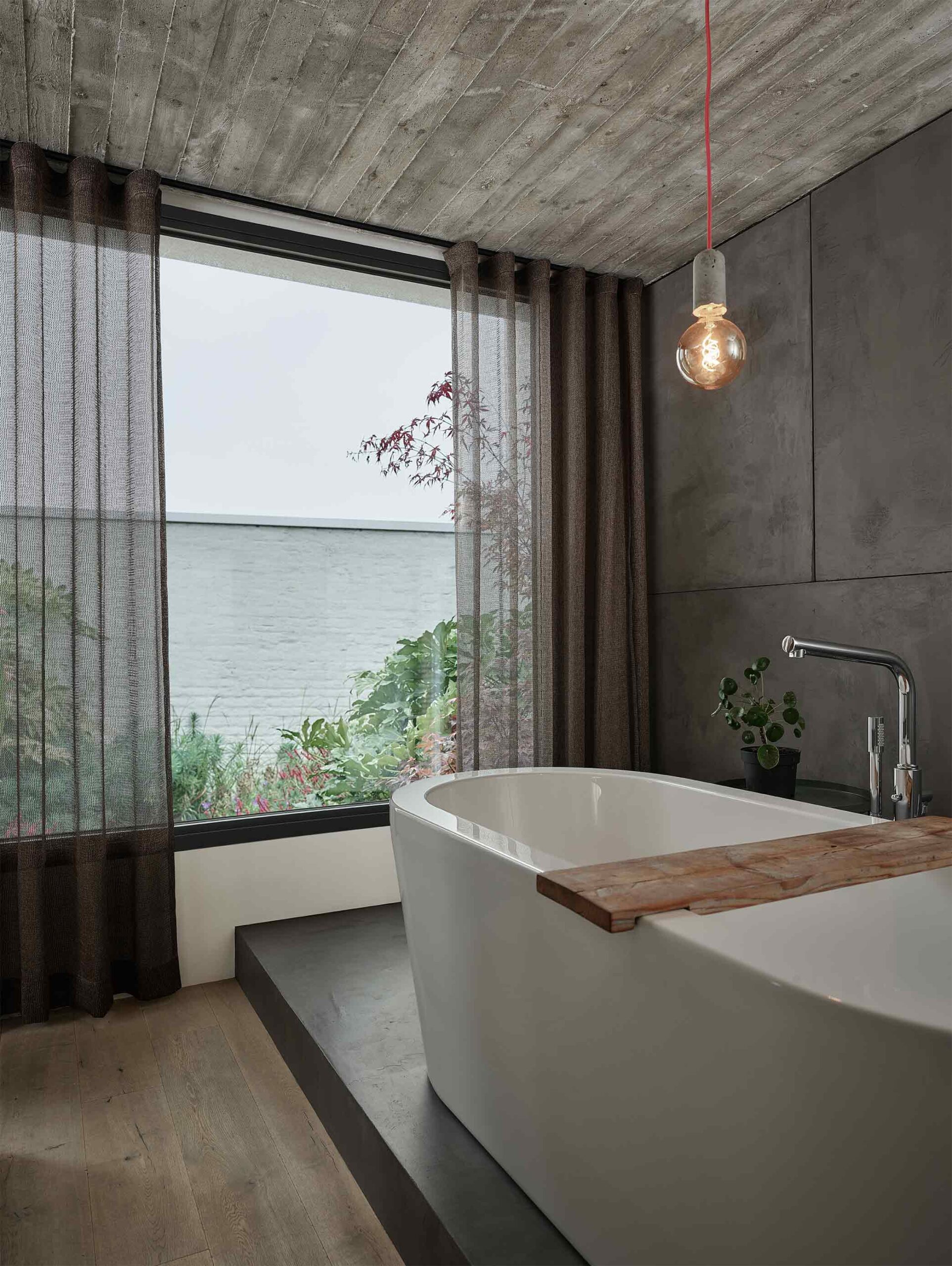 Made to Measure Curtains and Roman Blinds
A made to measure curtain or roman blind can also make a fabulous addition to bathrooms. They bring warmth and tactility, softening the feel to help balance the look against hard surfaces. This creates a laid-back vibe that perfectly complements the trend towards spa-inspired bathrooms. If you would like any help creating the perfect window dressing, we can help realise your vision with our bespoke, made to measure curtain and roman blind making service.
When it comes to fabrics in high moisture areas such as bathrooms, we would recommend 100% polyester compositions to prevent shrinkage. We particularly love the Kobe Malus fabric, a contemporary wide width metallic-look design from the nature-inspired Roots collection (shown opposite). If you fall in love with a fabric that has a natural composition, we would recommend a curtain that loosely pools in a neat style on the floor to avoid issues should movement or shrinkage occur. This can create a timelessly elegant look for any bathroom setting.
Curtain Tracks
If specifying a curtain, you may wish to consider a curtain track to complete your window treatment. We are proud to offer the extensive range of Silent Gliss curtain tracks, designed with superb technical performance and aesthetic in mind. Aluminium extruded, the tracks are moisture resistant and prevent rust, making them ideal for bathrooms. Shop the Silent Gliss range here.
Towels
Towels are an essential finishing touch for bathroom styling. Practical and tactile, these useful accessories are another way to bring softness to the scheme. Opt for luxury and indulgence with our beautiful range of Laura Ashley towels. Soft and absorbent, choose between iconic prints such as the Josette towels, or keep it simple and stylish with the Laura Ashley Luxury Embroidered towels. Each design is available in 3 sizes: hand towel, bath towel and bath sheet. Shop our full range of towels here.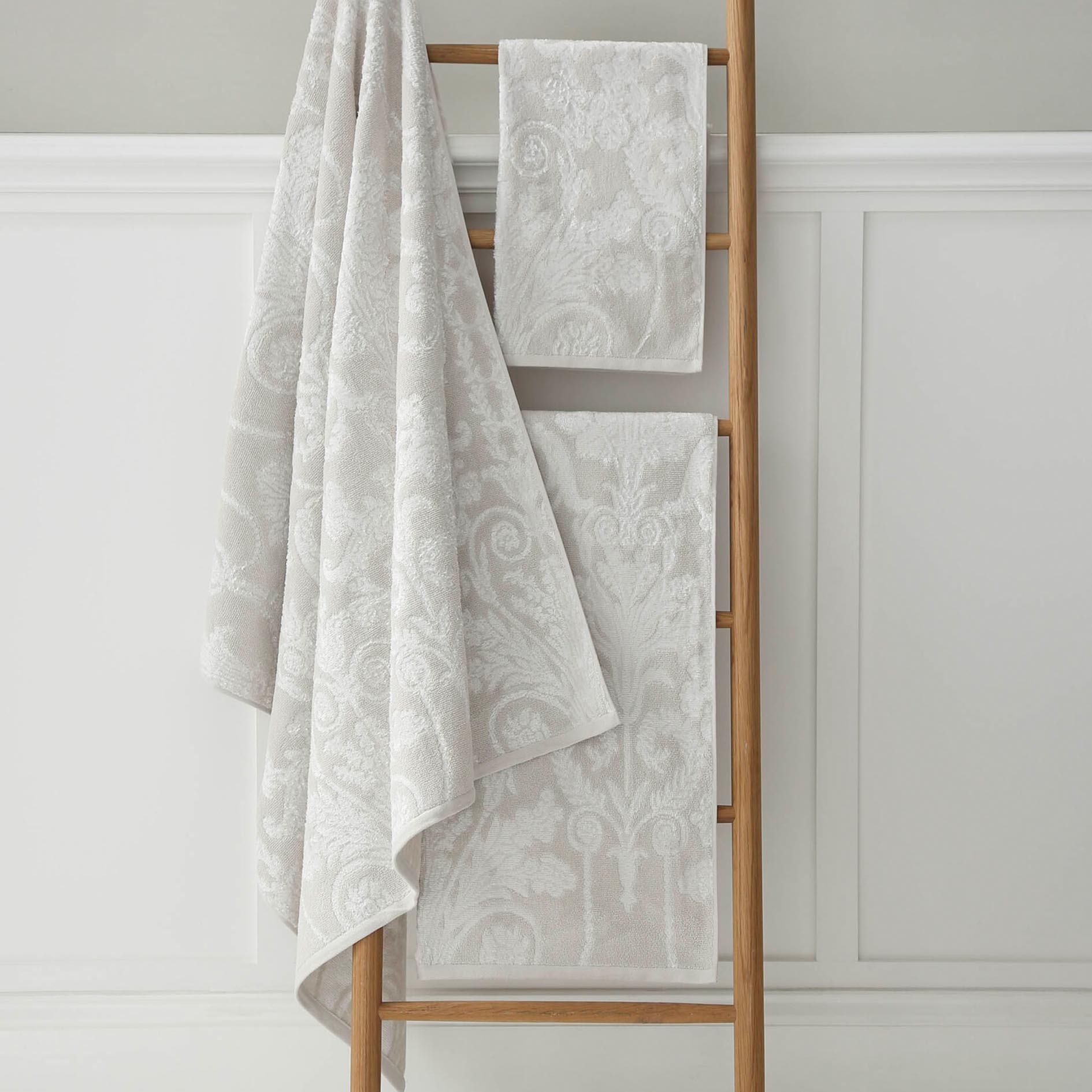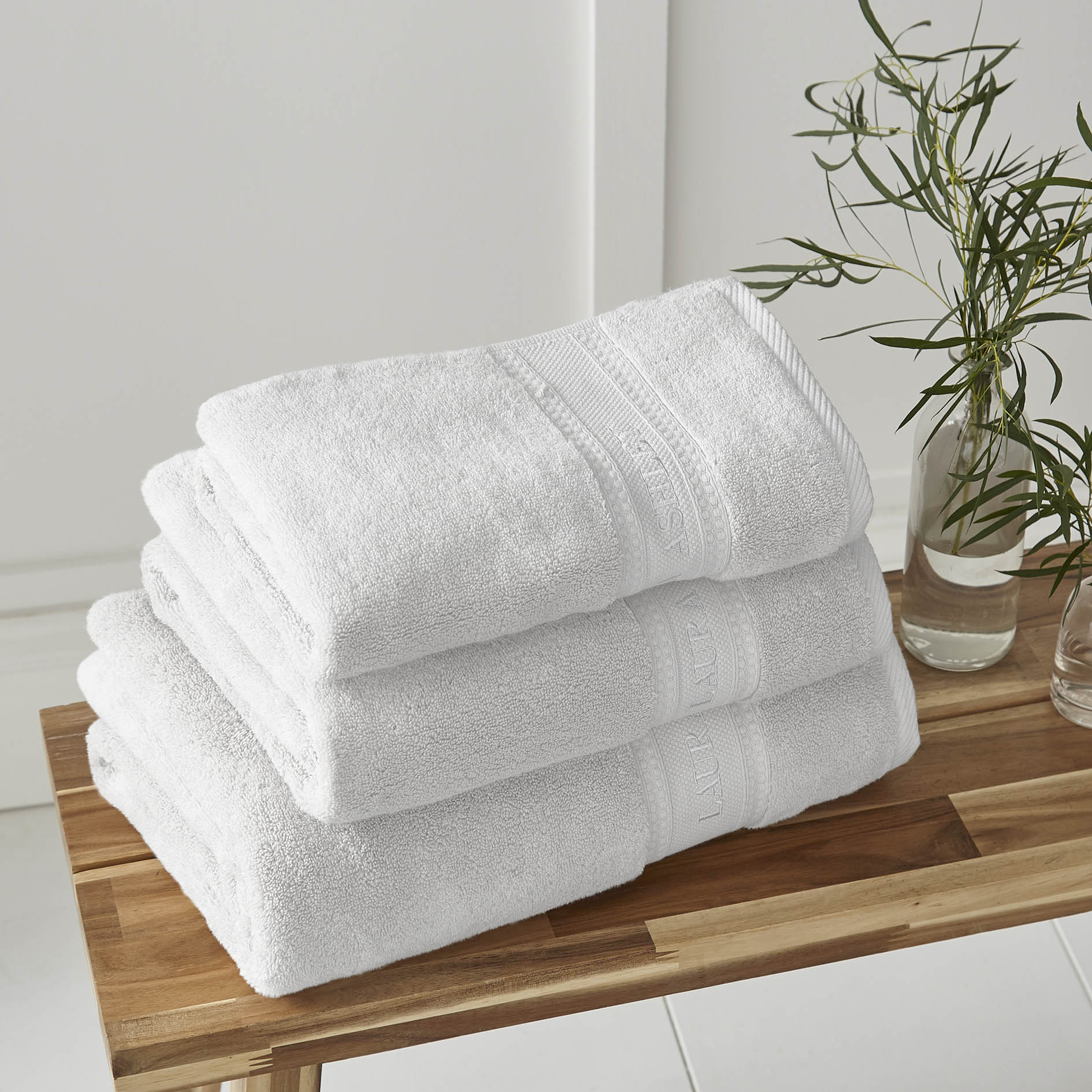 Overview
The bathroom should be a restful and inviting environment that you can retreat to at any point of the day. A new hotspot for interior design, this practical and functional space offers the opportunity to get creative with design, colour and texture in a way that truly brings you happiness.
We hope you have found our bathroom styling ideals useful and inspiring. For more inspiration and styling ideas, please see our collection of trend guides. If you would like help pulling a full room scheme together, we do offer a complementary face to face and virtual Bespoke Design Service, including paint and colour consultations, from our showroom in Brockenhurst. We can also make up your perfect window dressings with our made to measure curtain and roman blind making service. Please get in touch if we can assist with your project.
Email sales@thehomeofinteriors.co.uk or call us on 01590 615775.
Follow us on Instagram and Facebook: @myhomeofinteriors