Clarke & Clarke have recently launched a stunning range of fabric, wallpaper and homeware collections, brand new for AW22! Discover an eclectic mix of designs, beautifully collated and coloured to reflect current interior design trends.
Whether you're seeking a bold interior scheme, or something a little more toned down, sleek and modern, the range offers something for every type of home. Below we have provided an overview of each collection to give you an insight into which suits your style best. Shop the full Clarke & Clarke range here.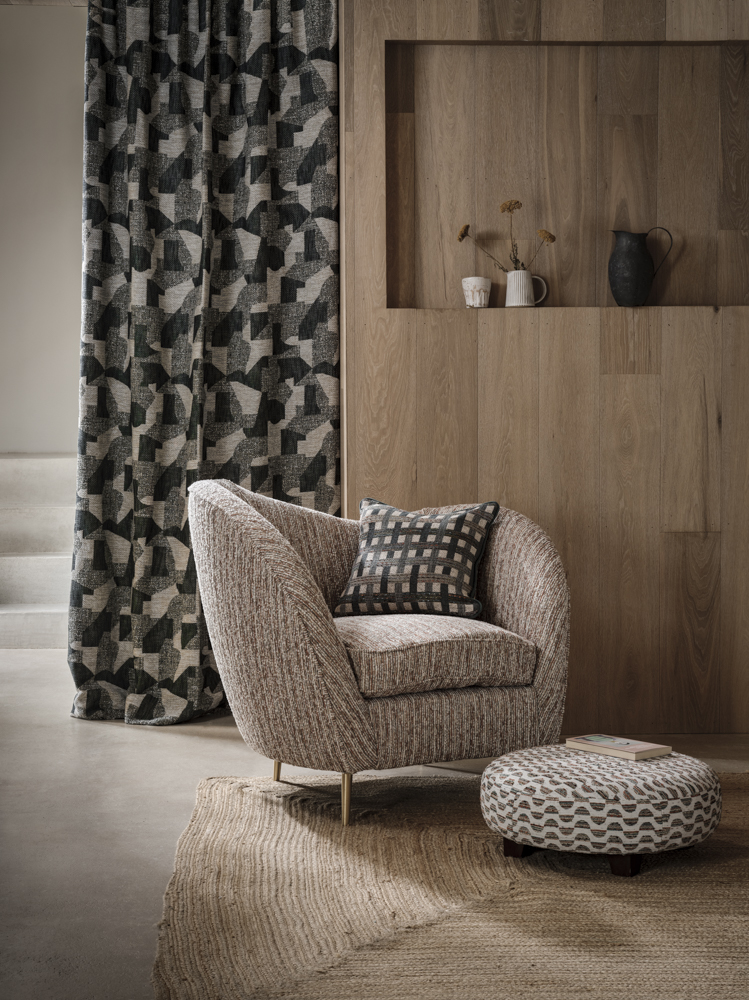 The Soren Collection
Introducing the gorgeous Soren fabrics by Clarke & Clarke. Comprised of 7 textured woven fabrics with boucle and chenille, this versatile range brings a certain warmth and cosiness to soft furnishings, perfect for the colder seasons.
Each design is charmingly crafted and trend-led, with the range offering a choice of tactile plains and popular patterns from stripes and checks to glorious geometrics. Fall in love with the rustic colour ways, featuring blues, greens and neutrals through to autumnal rusts and ochres. Ideal for window dressings, furniture and cushions, Soren is the key to a cosy scheme enriched with depth and interest.
Vardo Sheers Collection
For a light, airy and floaty window dressing, you may wish to consider the brand's superb Vardo Sheers Collection. An exquisite range of versatile wide width sheer fabrics, this collection is the perfect coordinate to the Soren fabrics. Textural and inviting, the collection plays on lucid forms, with soft abstract, geometric and stripe designs taking centre stage.
The simplicity of the colour palette only adds to the collection's versatility, with contemporary tones sitting amongst soft neutrals. Many of the Vardo Sheers fabrics also feature partially recycled compositions, extending Clarke & Clarke's eco-friendly portfolio. As with many voiles and sheers, the collection is perfect for layering with other fabrics. This is ideal for added warmth, shading and privacy, perfect for now and all year round.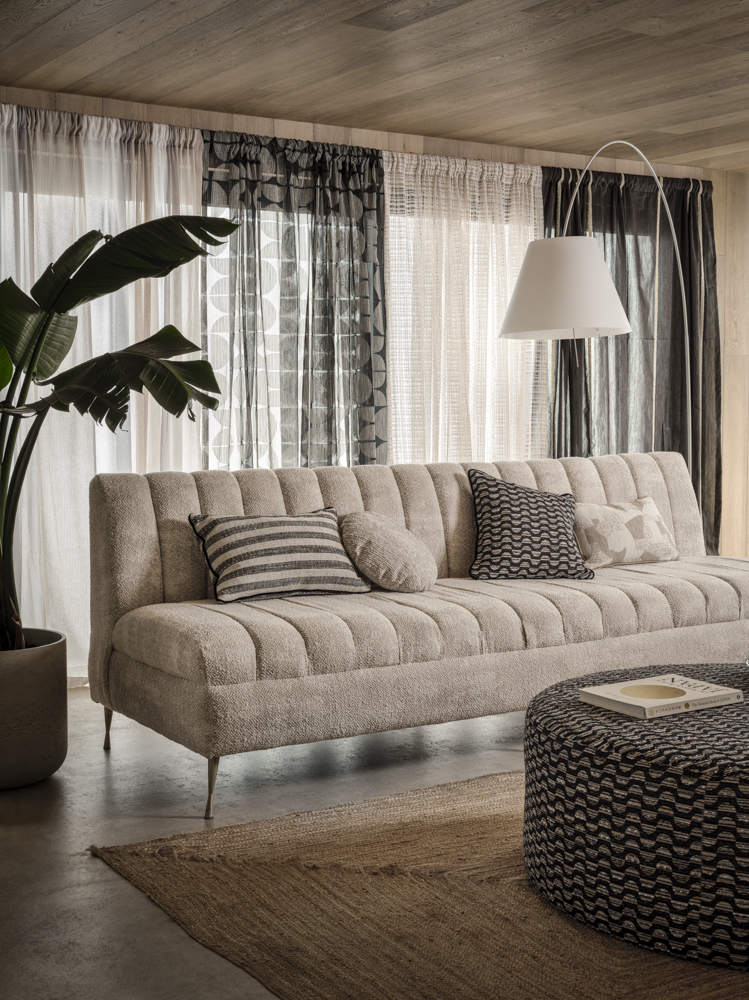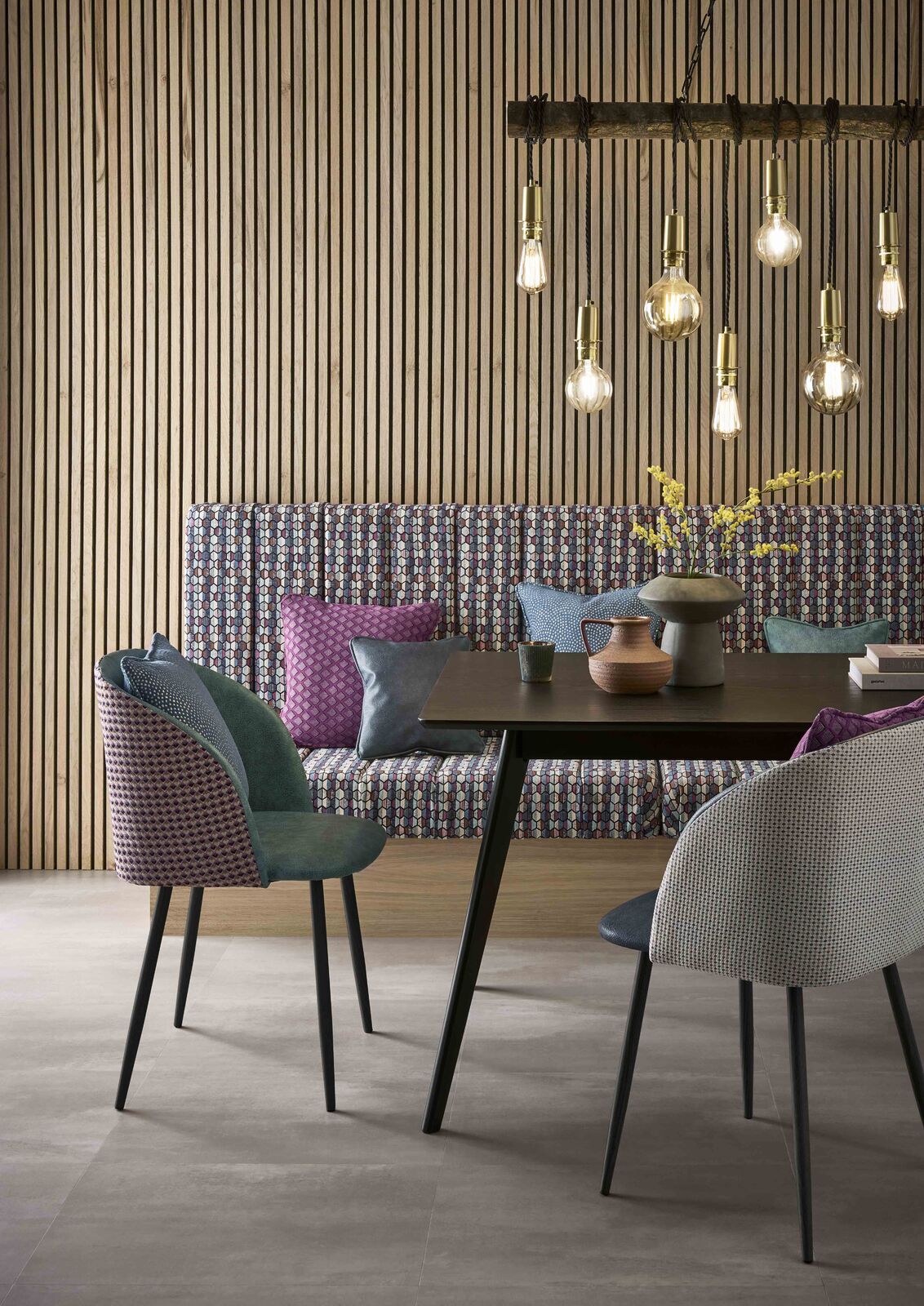 Equinox 2 Fabric Collection
Create a real WOW factor in your home with the spectacular Equinox 2 collection by Clarke & Clarke. Inspired by the celestial power and quality of our solar system, this modern range of woven and chenille fabrics offers a bold yet stylish and refined finish for curtains, blinds, cushions and upholstery.
Encompassing a choice of small-scale geometrics, trellis designs, chevrons, bask weaves and Greek key patterns, Equinox 2 features rich, rustic and vibrant colour ways alongside luxury neutrals, with some designs accentuated by multicoloured yarns for added interest. Many of the Equinox 2 designs also lend themselves well to our Geometric trend. Please click here for styling ideas and inspiration.
Fusion Collection
We are delighted to have seen the launch of the new Fusion wallpapers by Clarke & Clarke. These have been designed to perfectly coordinate with the existing Fusion fabrics for a truly harmonised scheme. Dramatic and atmospheric, this stylish wallpaper range is nothing short of mesmerising with its stunning textures and abstract style.
Painterly designs of distorted florals and impressionistic patterns of the natural world take centre stage. Each paper explores movement in a way that truly delights the senses. Available in a modern palette infused with lights and darks, this moody range offers some mica and metallic highlights for a luxurious edge. Simply apply the wallcoverings to one wall for an impactful feature point, or go bold with an all over look. Coordinating furniture, ready made curtains and cushions are also available for selected designs to bring the look together. Shop homeware here.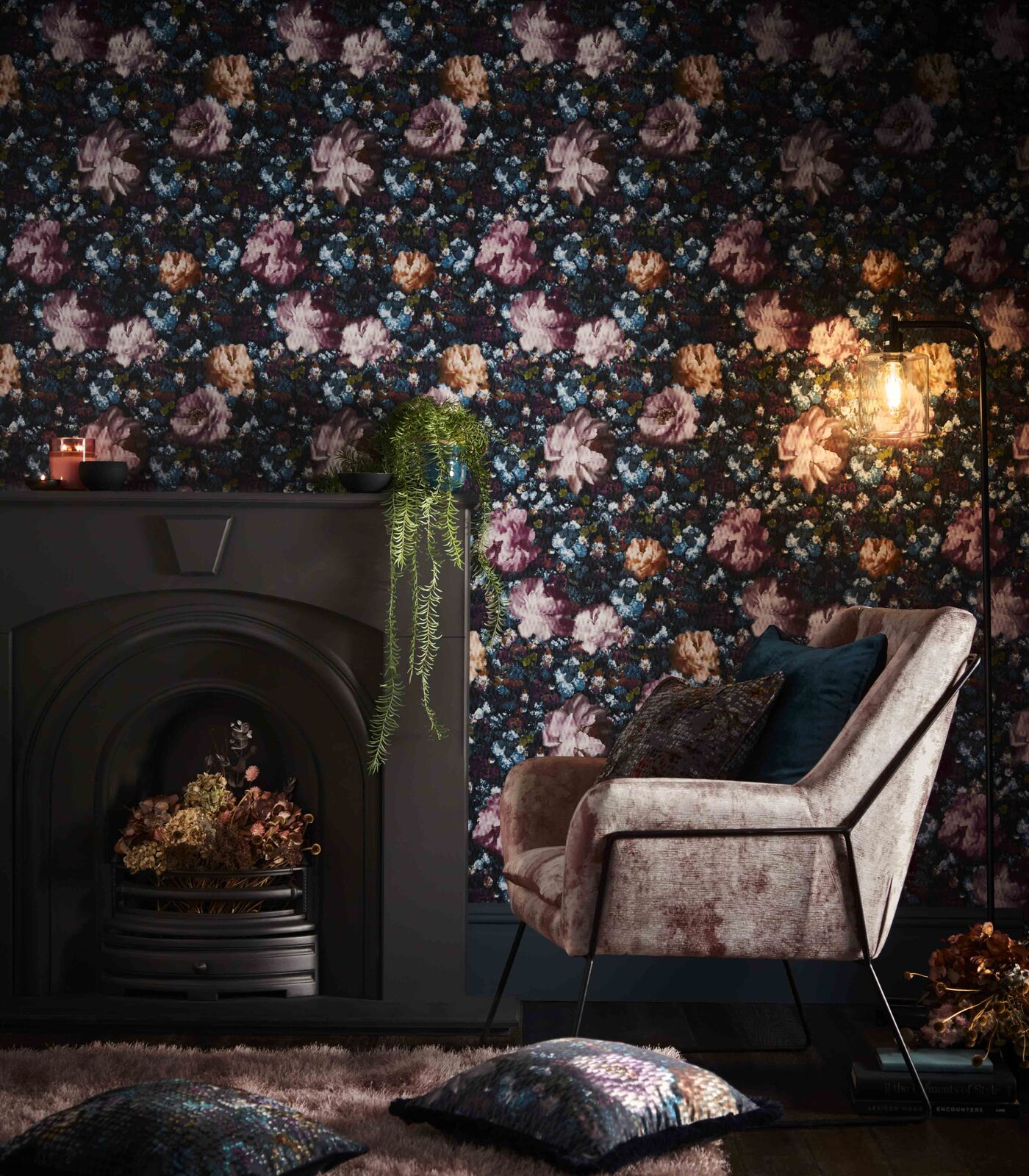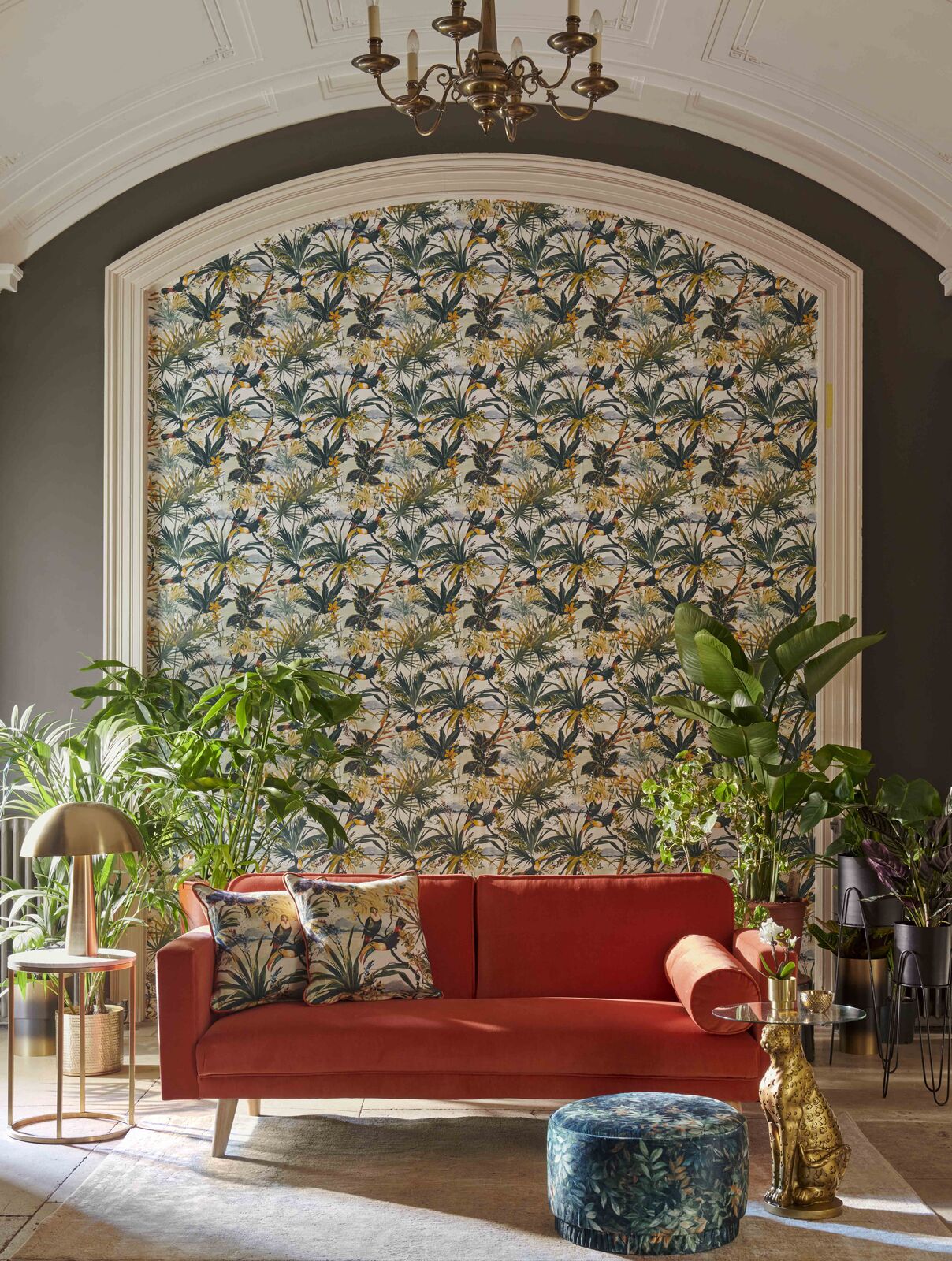 Exotica 2 Collection
Building on the success of their popular Exotica range, Clarke & Clarke have proudly launched the new Exotica 2 collection of fabrics and wallpapers as an extension of the first. Featuring a plethora of sumptuous fabric and wallpaper designs, this exciting range embodies our Exotic trend perfectly with its jungle florals, botanicals and wildlife including signature monkeys, toucans and leopards, reminiscent of tropical island life.
Opulent velvets, exotic prints and textured jacquards sit alongside coordinating wallpaper designs in rich and jewel toned colour ways. Metallic grounds and mica highlights grace certain wallpapers, accentuating the designs further for a luxury feel. The darker tones combined with deep texture makes this collection perfect for the Autumn / Winter season.
Furniture
If you're looking for the perfect finishing touches for your home, the new Clarke & Clarke range of accent chairs is the perfect go to. Created to coordinate with their fabric and wallpaper designs, these statement furniture pieces can really help to bring the look together for a fully cohesive scheme. Explore luxurious and divine chairs made from fabric or sumptuous velvet for that extra touch of opulence. Shop the full range here.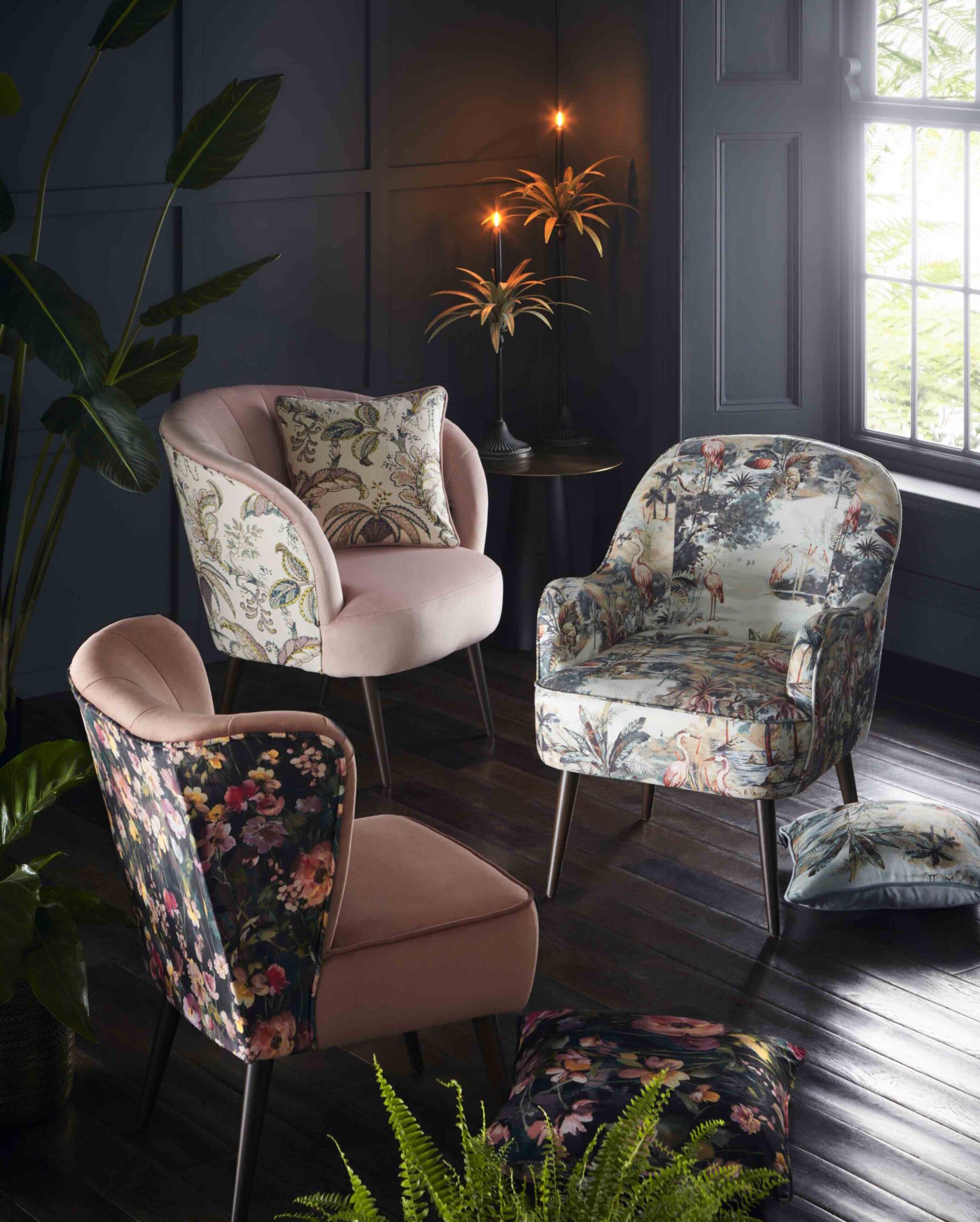 New from Studio G
Clarke & Clarke's Studio G brand has also seen a touch of newness for AW22, including a charming range of brand new fabrics and homeware. The Ravello fabric, available in 23 colour ways, is a fantastic addition to their portfolio. A Faux silk that offers an authentic look and feel of raw silk, this exquisite fabric is the perfect way to create a luxurious window dressing or cushion in any home. See image 1 below.
Alternatively, create a statement interior with the new Studio G Formations fabric range (image 2 below). Comprised of 6 confident designs with a retro twist, this on-trend range of geometric, polka dot and ombre striped prints puts style and timelessness at the forefront. Available in a bold palette, this flamboyant collection combines block colour with eye-catching pattern to add personality and flair to your soft furnishings.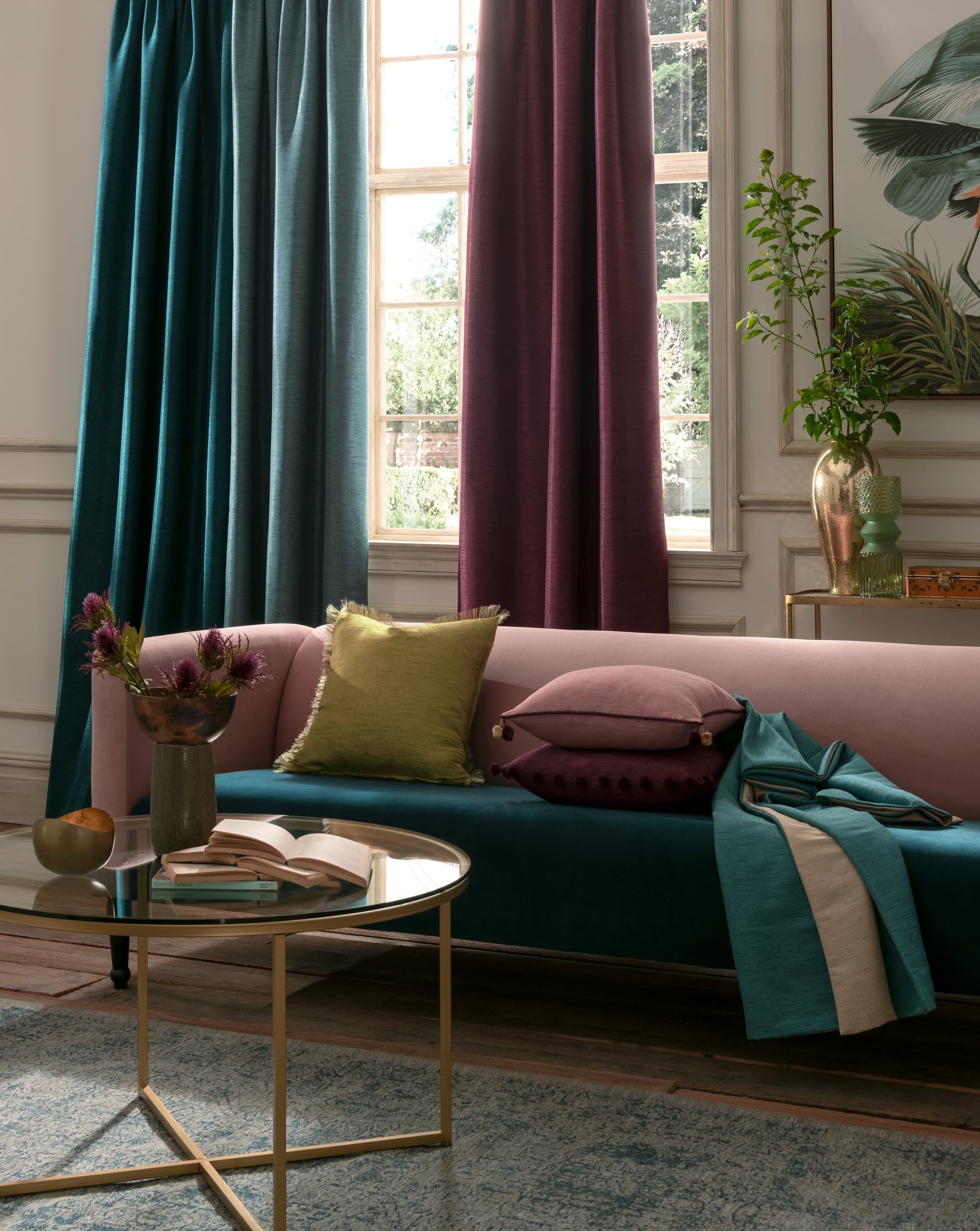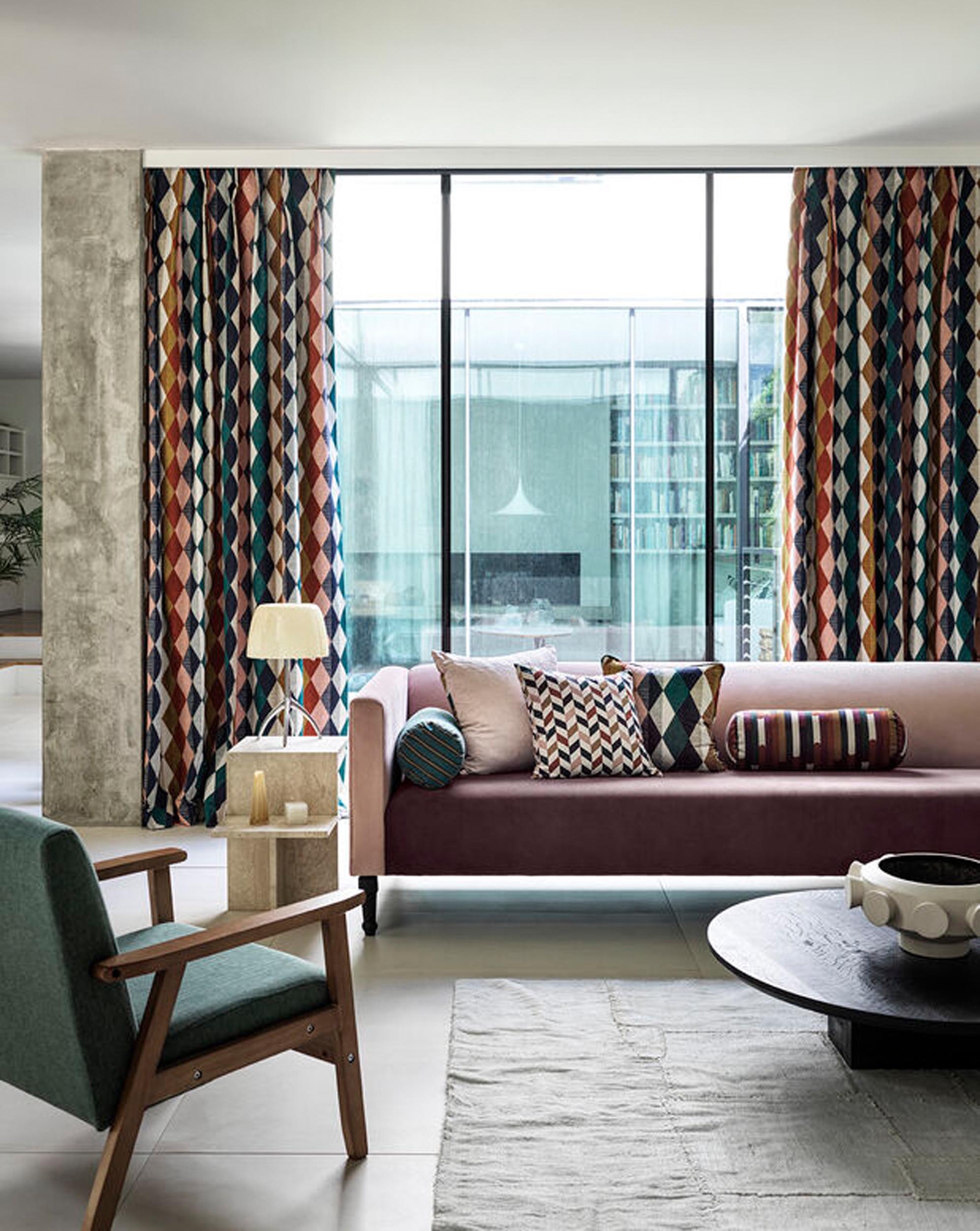 The new Studio G ready made curtains are yet another great addition to their homeware range. Harmoniously fusing art with interiors, these curtains make a real statement at the window. Discover 3 designs: Bouquet, Meadow and Eclipse, embracing floral and atmospheric abstract pattern for a stunning finish. Each design is available with a coordinating cushion to complete the look.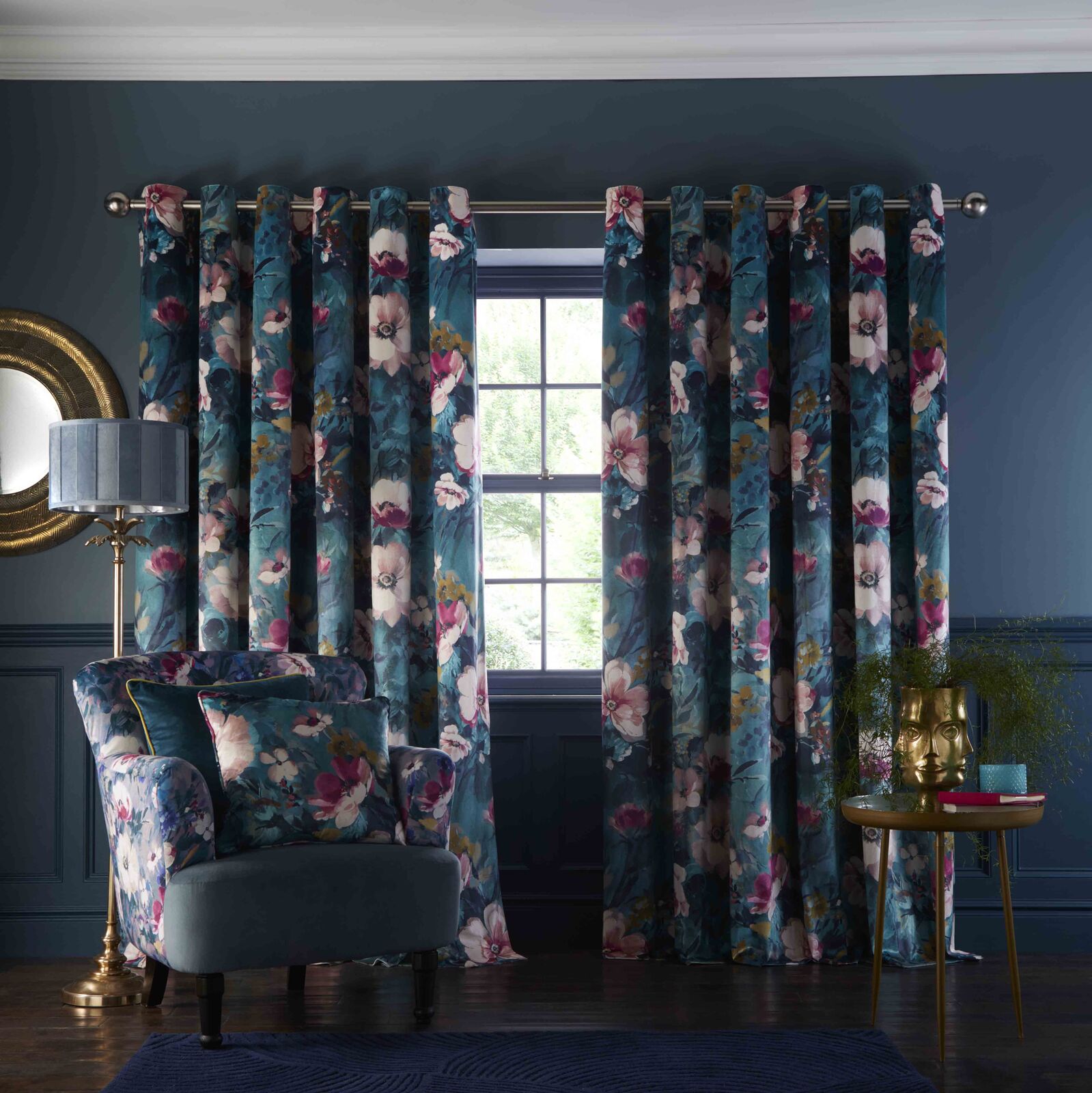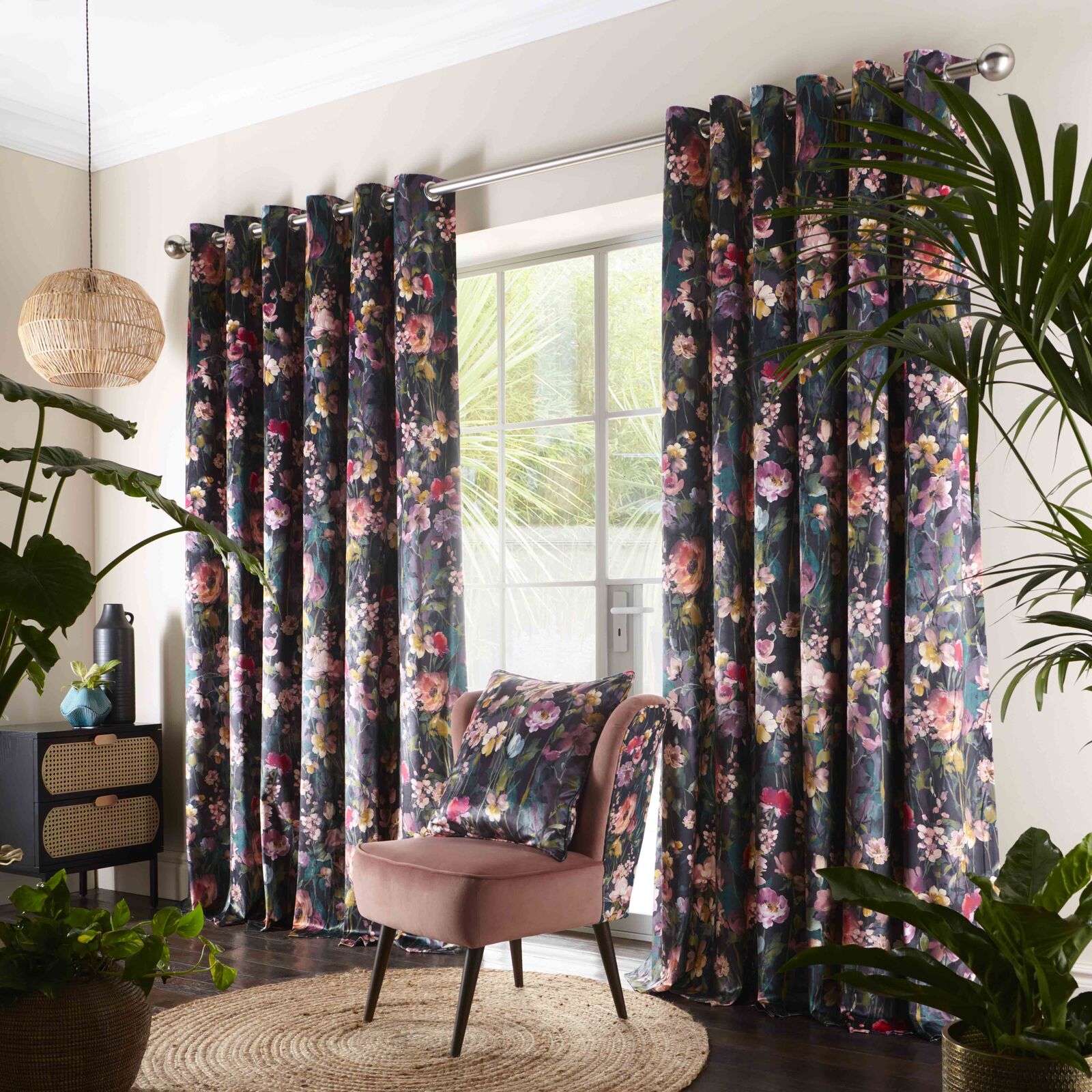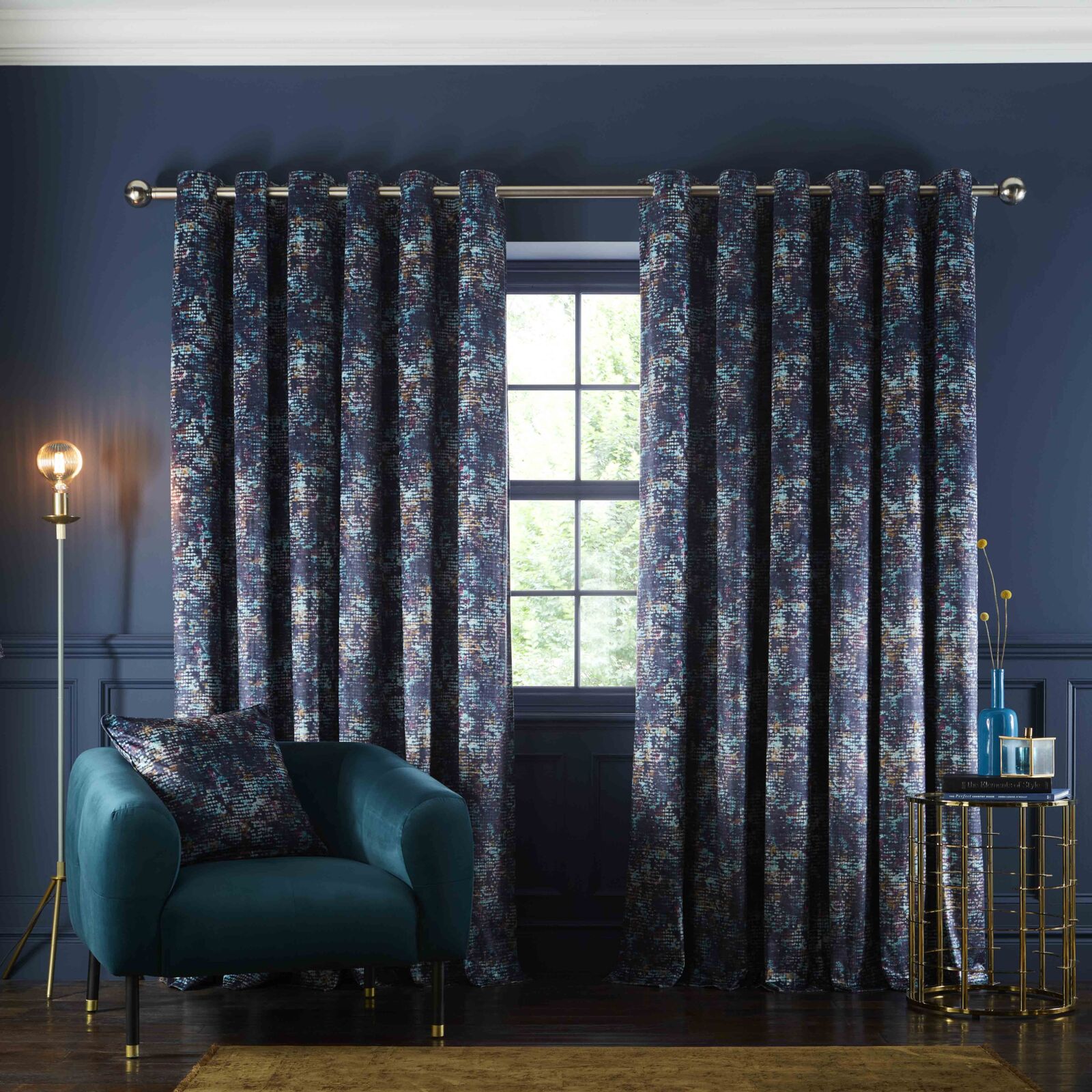 Overview
The new Clarke & Clarke AW22 collections are the perfect way to give your home a seasonal update. Eclectic and trend-led, this exquisite choice of fabrics, wallpaper and homeware offers something for every home, no matter your style or colour scheme.
If you're embarking on a home project and would like any help, advice or inspiration, please do get in touch. We offer a virtual and face to face bespoke design consultation service from our showroom in Brockenhurst. Click here to book an appointment with one of our home interiors advisers who would be delighted to help you with your project.
Please view our Trend Guides for ideas and inspiration.
Email sales@thehomeofinteriors.co.uk or call us on 01590 615775.
Follow us on Instagram and Facebook: @myhomeofinteriors