Client Brief
We are delighted to have helped our client find the perfect window dressing for this beautiful, contemporary living space. Our client came to us requesting a curtain to dress the extra wide doors in their open plan living/ dining room. They were looking for something in keeping with their existing decor and furniture to complete the scheme, whilst serving a functional purpose.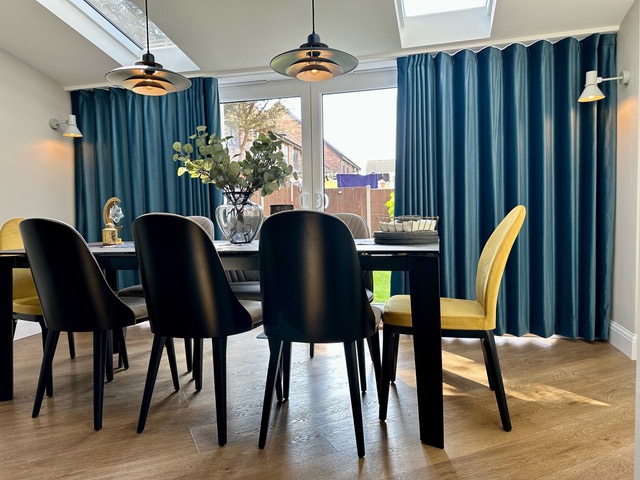 Curtain Solution
Upon discussion, our client opted for some stylish 80mm wave curtains with 140 hook spacing. The wave curtain heading lends itself beautifully to large expanses of glazing and offers a neat and tidy presentation that complements contemporary style homes. With a width of 420cm and a 198cm drop, our client chose a pair of curtains that would meet in the middle when closed.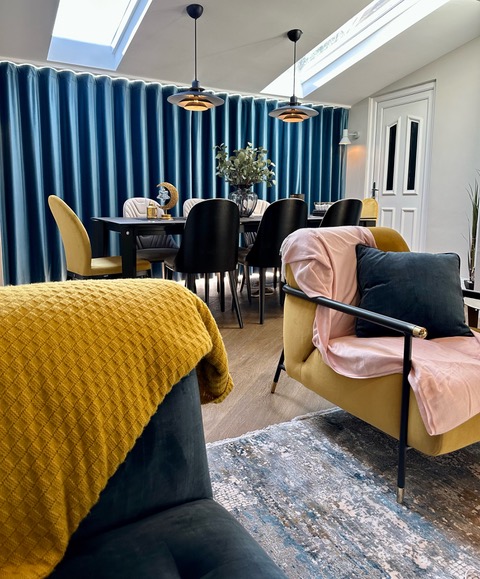 Fabric Selection
As our client requested a fabric to complement their existing scheme, we suggested some stunning blue velvets to match their blue sofa. We also recommended a wide width fabric which allows the curtains to be made up without any joins for a seamless, polished look (drop dependant).
Our client decided on the luxurious wide width Velluto velvet by Designers Guild in the Delft colour way (ref FDG2705-38). As we knew our client wanted a close match to the sofa, we decided to order a batch cutting to account for colour variation. The first batch was not a close enough match, so we ordered a new batch cutting which our client confirmed was much closer. Happy with the match, we then ordered from this batch for the best possible result.
Our client also opted for a blackout lining in white for their velvet wave curtain project to reduce light ingress into the room when the curtains are drawn. Additionally, blackout linings can help to reduce glare, whilst offering thermal and sound insulation properties to conserve energy and dampen noise. Find out more about our made to measure curtain and roman blind lining options here.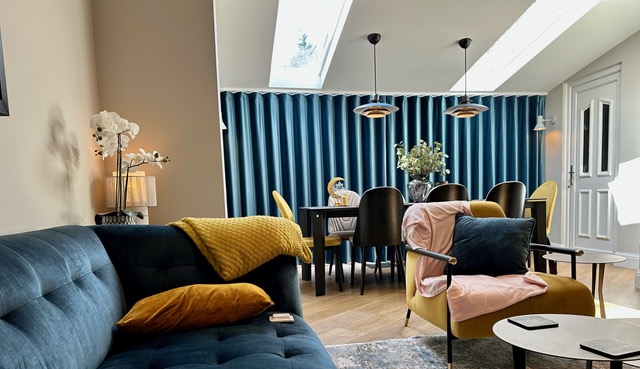 Track Solution
The curtains were hung on a Silent Gliss 5100 Autoglide Basic track in white. An impressive made to measure motorised solution, this curtain track is designed to operate your curtains automatically and smoothly for ease and convenience. The track was 420cm in length and ceiling fixed, creating a sleek, floor to ceiling effect that oozes hotel chic at home. Our client chose to have the motor installed on the left hand side, which was discreetly concealed by the curtain itself.
The Blindspace Reese Recess profile was also selected in conjunction with the track for this project. This smart solution allowed the track to be recess fitted, concealing the profile and ensuring that the track fully blended in flush with the ceiling for a neat, minimalist look.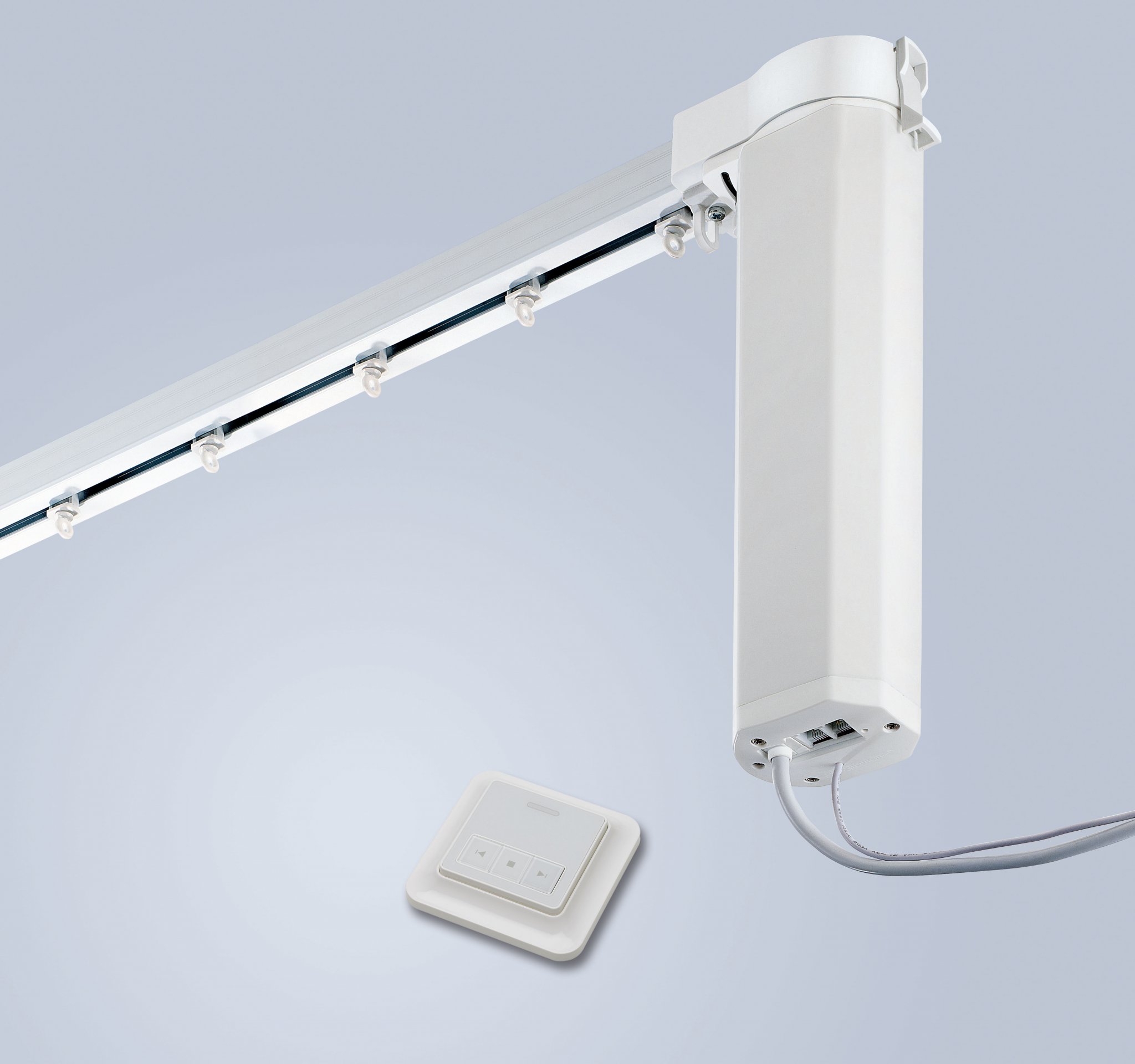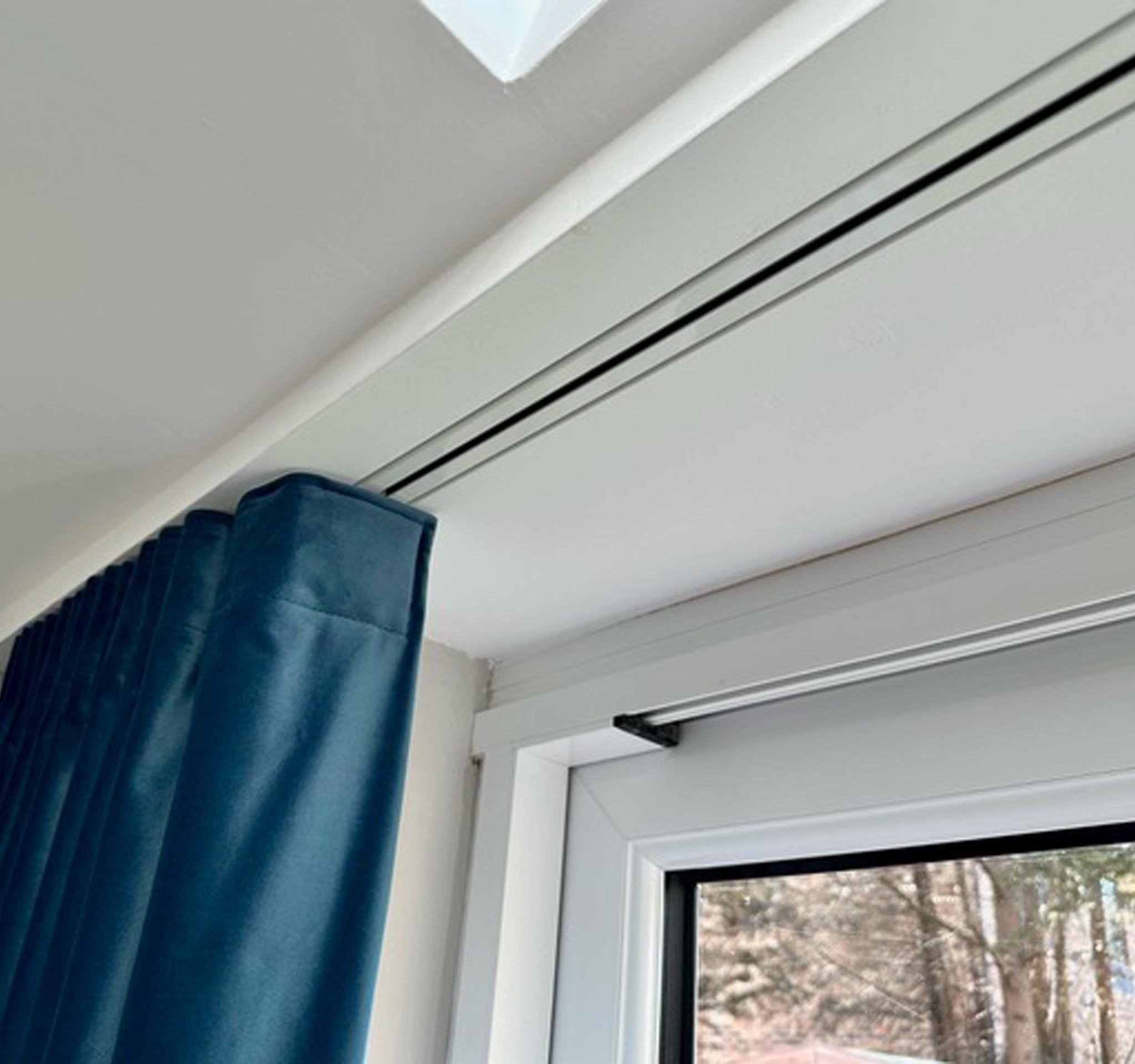 Overview
Our client was thrilled with how their velvet wave curtain project turned out and so are we! The curtains bring an air of sophistication and luxury to this inviting space with their uniform style and opulent texture. The continuation of colour across the soft furnishings also creates a cohesive look for effortless style and charm.
If you're embarking on a home project and would like any help or inspiration, please do get in touch. We offer a bespoke design service and can provide fabric, design and paint colour advice to help you create a home you love. We can also make up your perfect window dressings with our bespoke, made to measure curtain and roman blind making service.
Email sales@thehomeofinteriors.co.uk or call us on 01590 615775.
Follow us on Instagram and Facebook: @myhomeofinteriors