Go bold with the magnificent Hamada Weaves collection by Harlequin. Inspired by fascinating pottery textures, ceramic painting techniques and 1970s fashion influences, this tight fabric range showcases 6 intricately detailed woven designs infused with vibrant colour for a real statement. Shop the full collection here.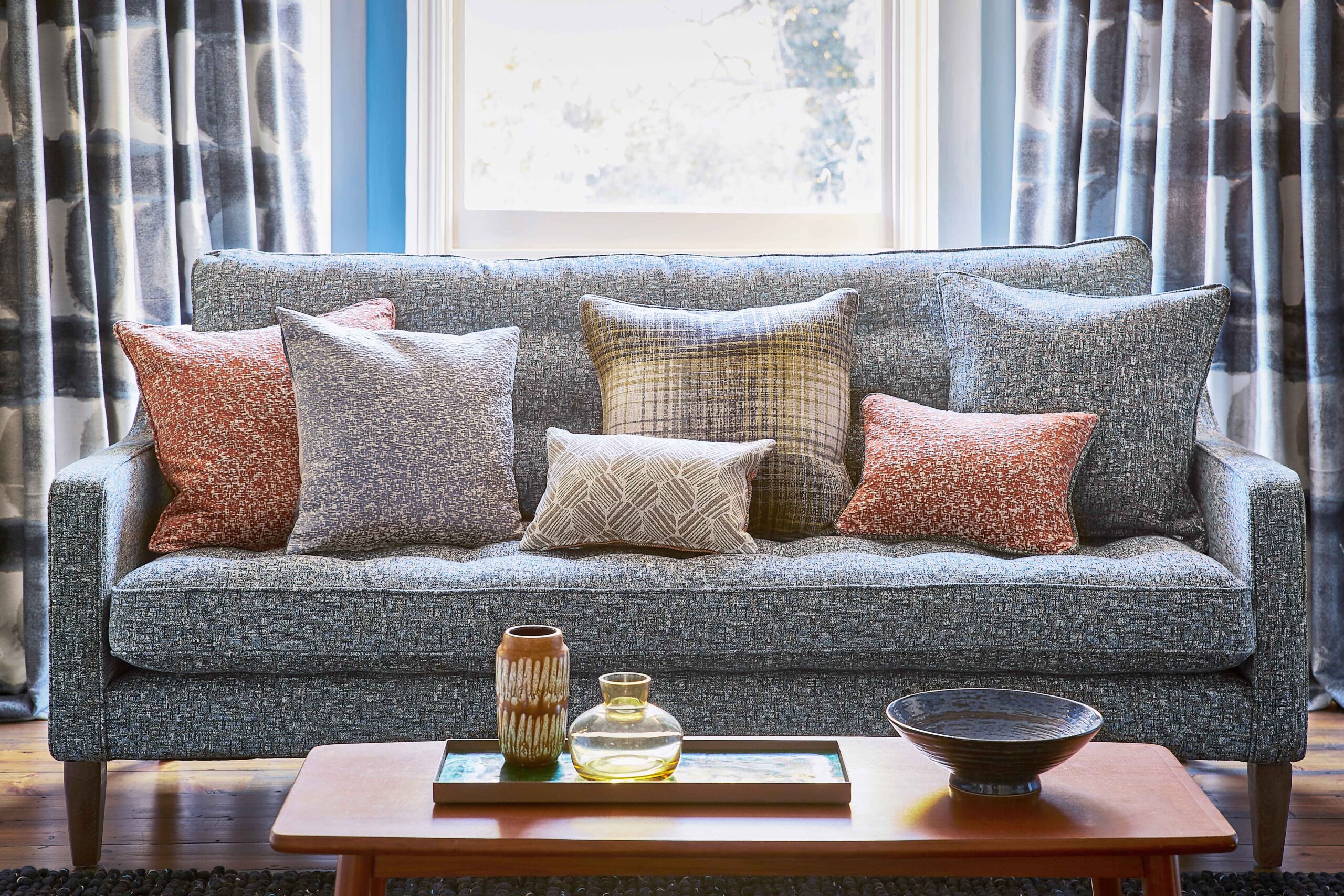 Designed as the perfect coordinate to the alluring Harlequin Atelier and Textured Walls collections, the stunning Hamada Weaves range works beautifully for curtains, blinds, cushions or upholstery. Each weave exhibits an intriguing pattern enriched with texture for added depth and dimension. Paired with the right fabrics and wallpapers, Hamada Weaves can offer a confident, maximalist feel for a real WOW factor!
Checked Design
Add some character to your home with the gorgeous Hamada fabric. Exhibiting a large-scale check, this mesmerising weave offers 4 attractive colourways to complement various interior design styles and colour schemes. Each colourway displays bold accents of colour across a range of exciting colour palettes. Go bold with the Fuchsia/Marine colourway for a confident retro feel. Alternatively, you could tone it down a little with the Charcoal/Gold scheme for an opulent, contemporary finish.
Whether you choose this design for an upholstered chair, a decorative cushion or a beautiful window treatment, this fabric is the perfect way to accentuate your soft furnishings.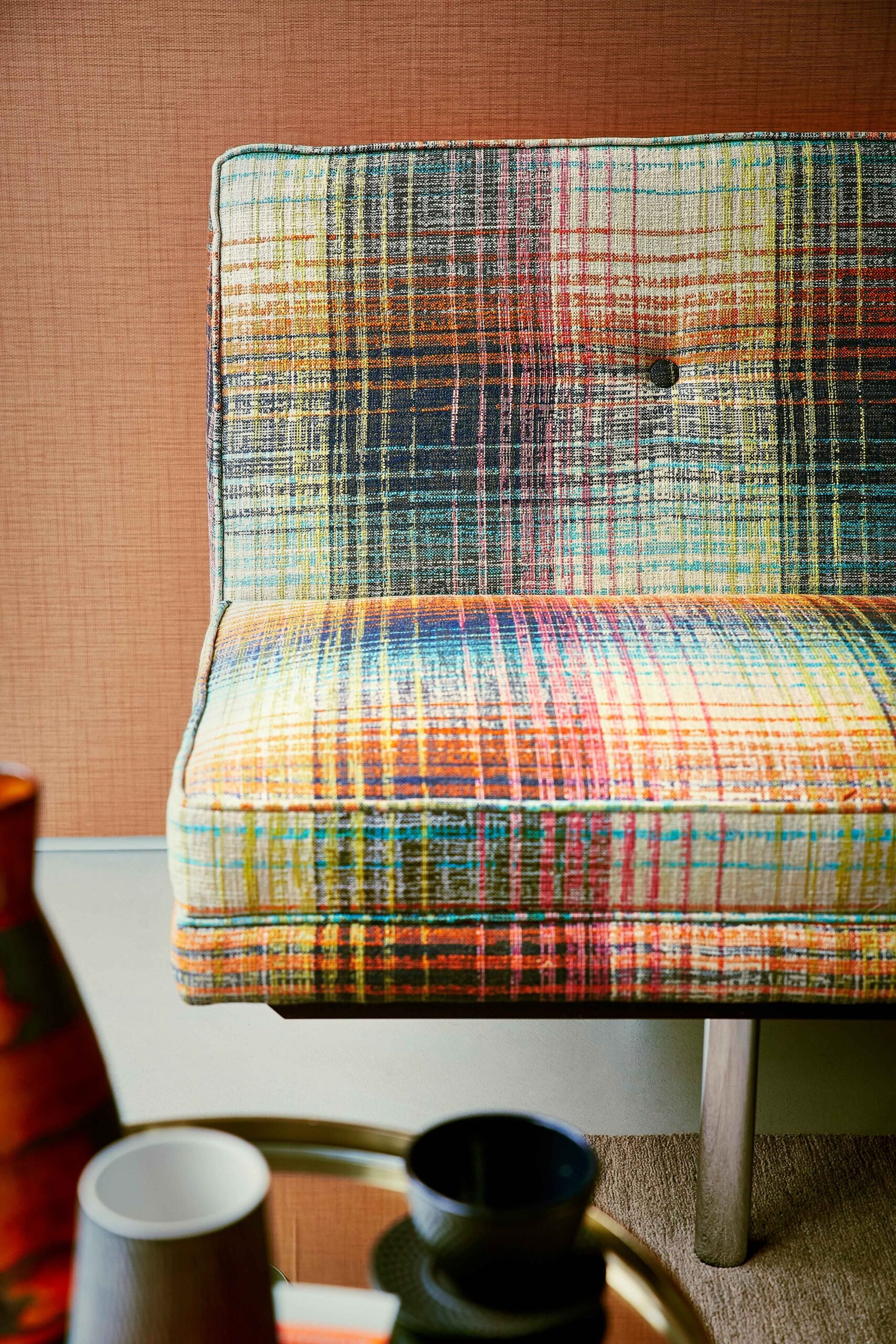 Stripe Designs
The Harlequin Hamada Weaves collection also showcases some wonderful stripe designs for a defined look. Lizella and Nuka both exhibit carefully woven horizontal stripes, presented in different ways. Lizella offers more of an intricate, small-scale pattern, mixing highlight colours for a blended finish. Alternatively, if you'd prefer something a little more striking, Nuka would make the perfect choice. Using contrasting yarns, this magnificent fabric creates distinctive stripes, drawing attention to the beautiful accent colours woven into the design.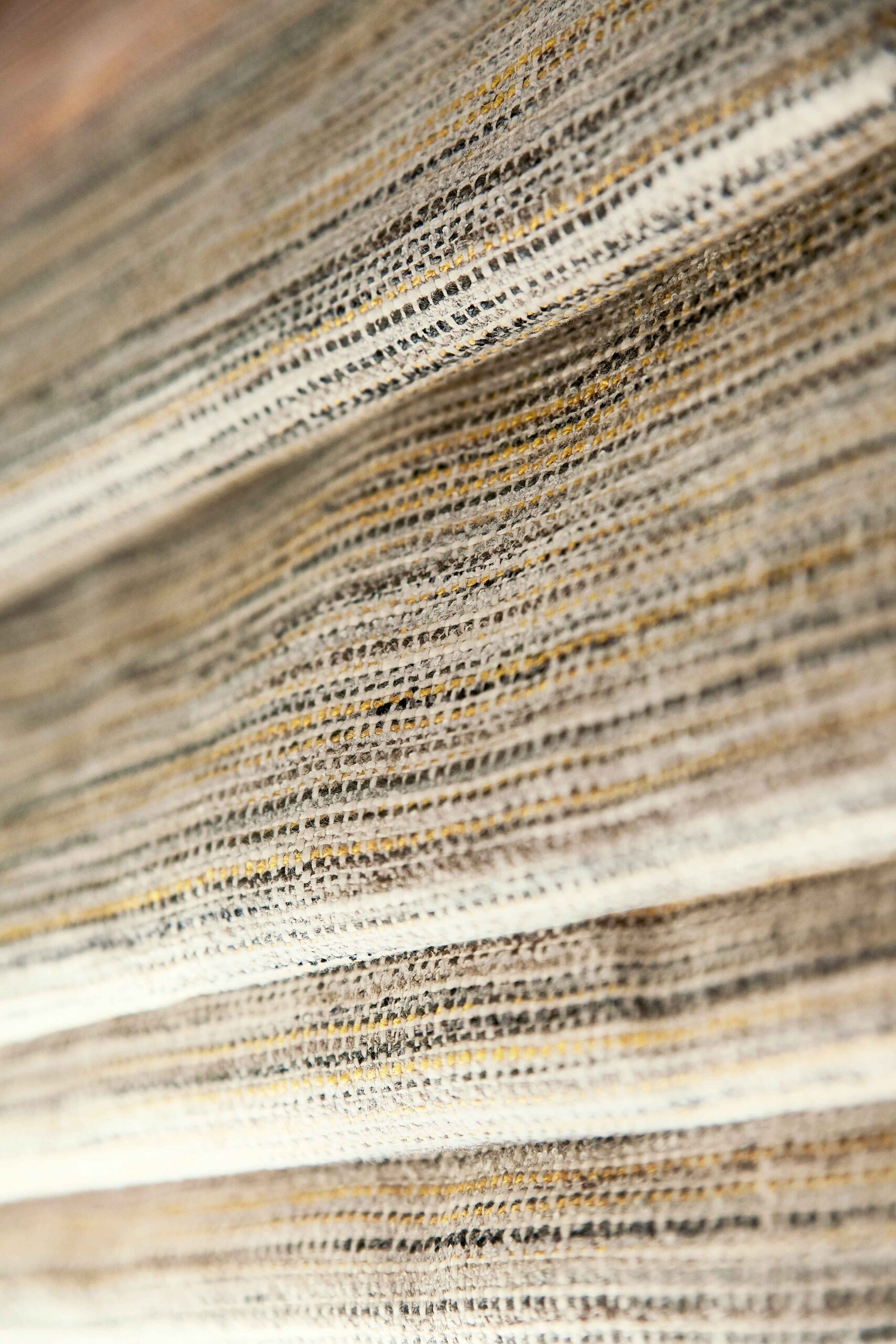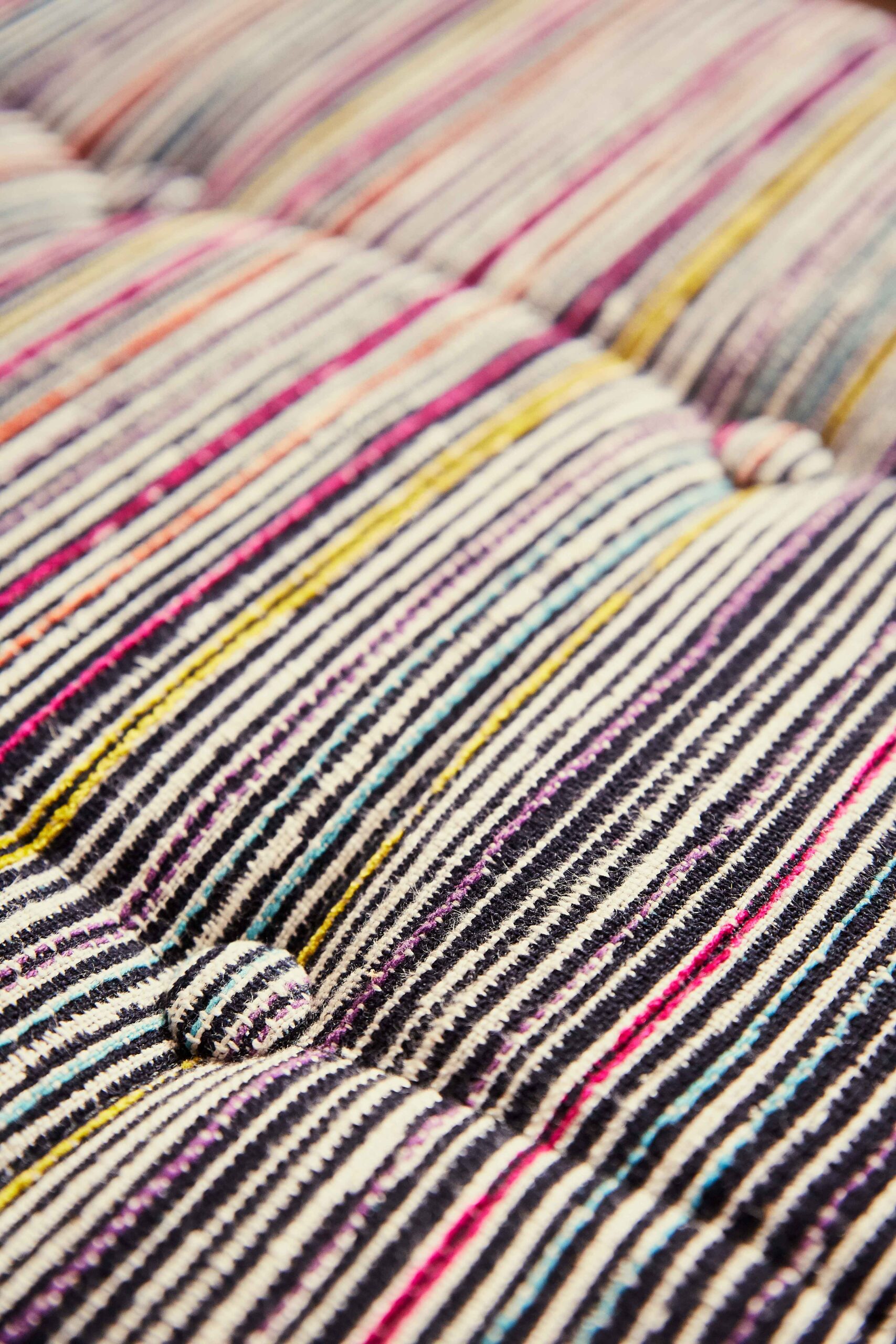 With Lizella offering 5 stylish colourways and Nuka offering 4, these fabrics provide the flexibility to coordinate with a variety of other patterned fabrics and textured wallpapers. Whichever way you decide to style these fabrics, you can be sure they'll make a stunning impact in your home.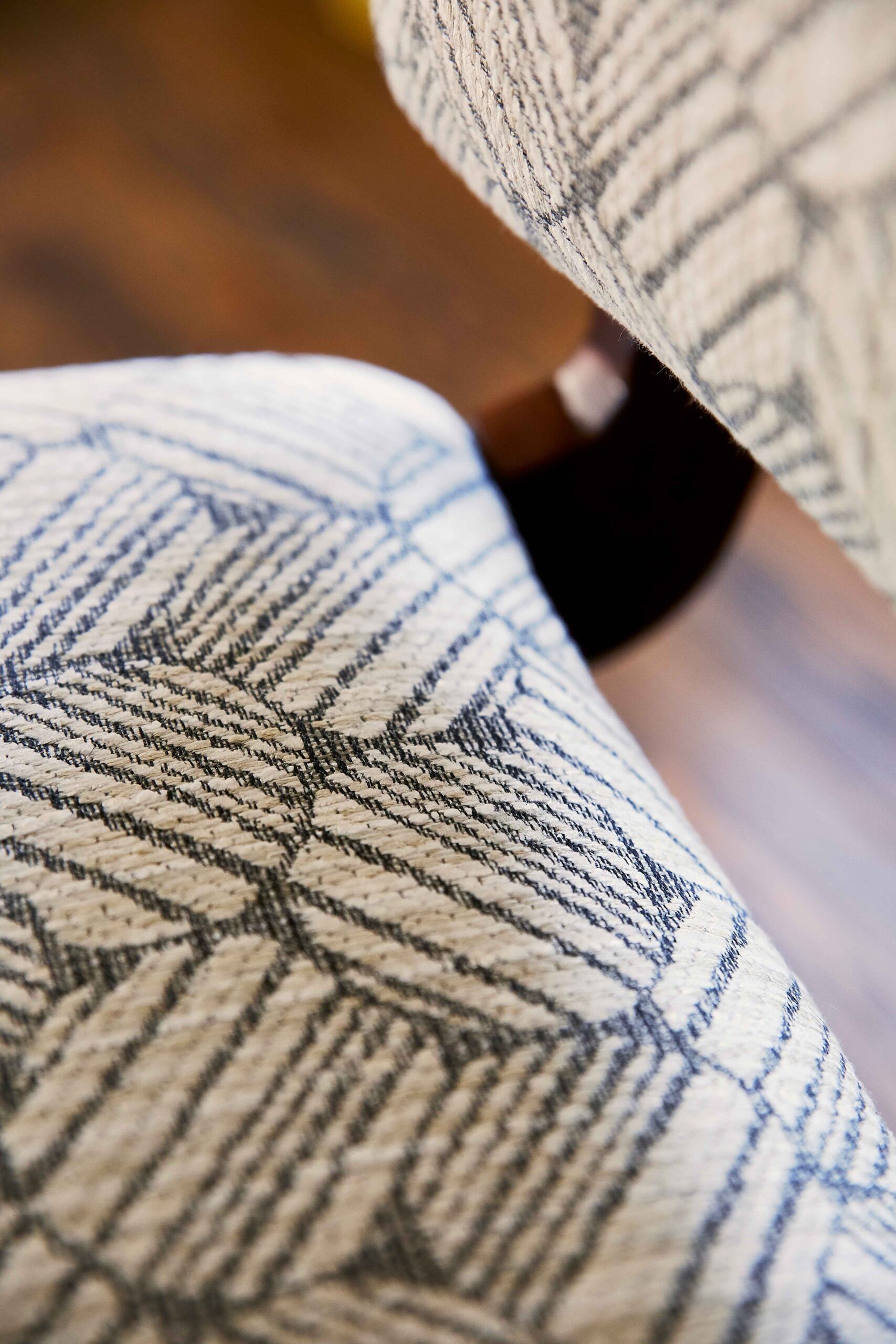 Geometric Design
Mix things up a little with the Mishima weave. Featuring as the only geometric design in the Hamada Weaves collection, this Harlequin fabric can bring an air of creativity to any home. Available in 5 versatile colourways, Mishima showcases a regular pattern of cleverly layered shapes for an intriguing geometric effect. Perfect for an upholstered dining chair or a sofa cushion, this fabulous weave will add a stylish edge to your interior scheme with a mid-century twist.
Textured Designs
If you're keen to add more texture to your interior, Hamada's textured designs could be the right choice for you. Teesha and Nickel are beautiful weaves, offering unique yet consistent textural detailing for a distinctive look. Available in multiple stunning colourways, these fabrics work beautifully for curtains, blinds cushions and upholstery for added depth and dimension.
Teesha is all about the texture. Comprising of two contrasting yarns, this design combines neutral whites with exciting colour palettes for a real statement. Available in 6 attractive colourways, Teesha also offers a subtle shimmer for a sumptuous, contemporary finish. Whether you opt for the vibrant Fuchsia colour scheme, or something a little more neutral such as Jute or Slate, this gorgeous weave will add an extra touch of luxury to your home.
For a more intricate design, Nickel is a fantastic choice. Enriched with colour and texture, this weave is the perfect complement to bolder patterned fabrics. We particularly love the Fuchsia/Marine colourway, offering a colourful addition that will bring your room to life.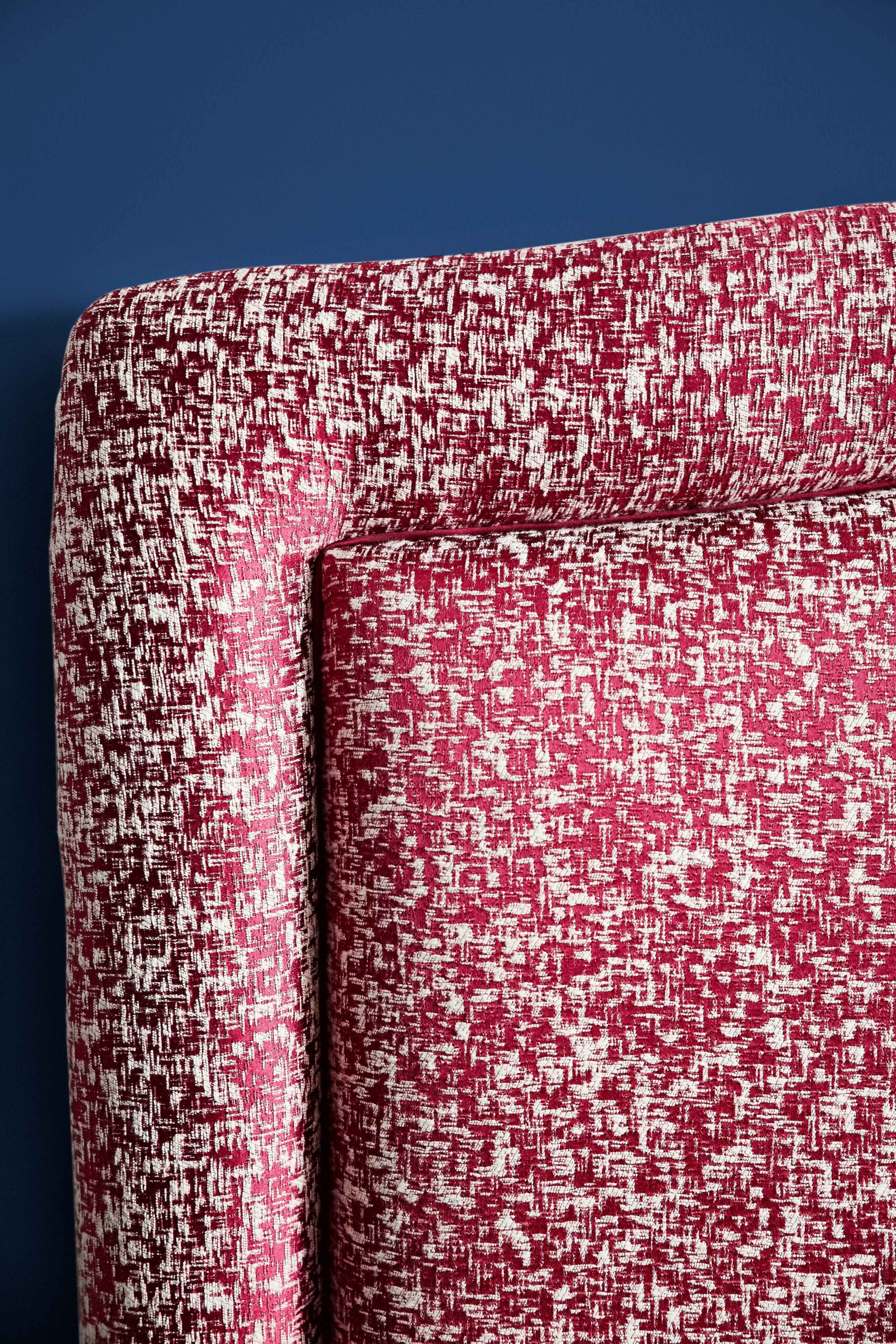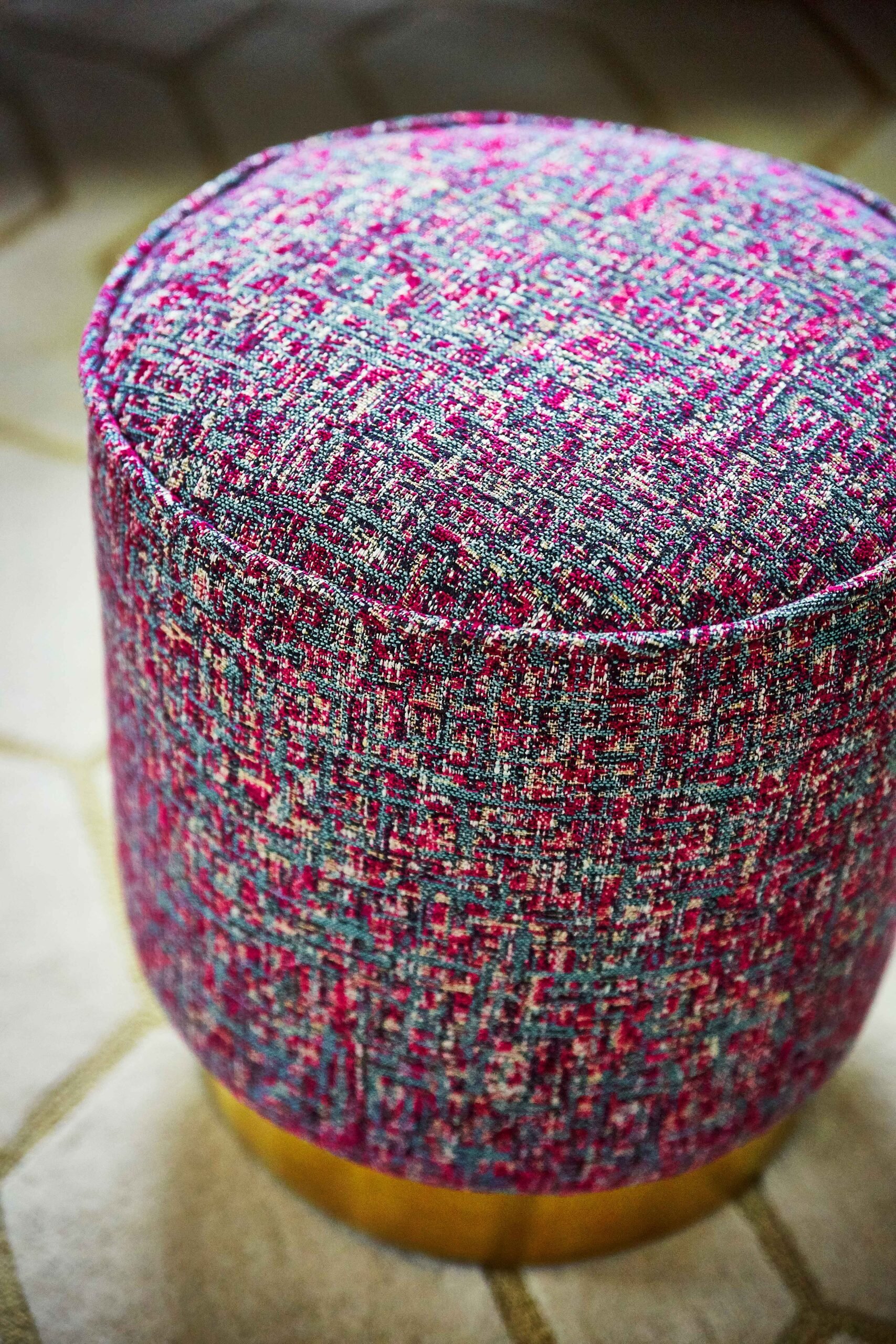 Curtains and Roman Blinds
If you would like to transform your window into a decorative statement, we can help make your vision a reality. With our bespoke made to measure curtain and Roman blind making service, we can turn your chosen Hamada weave into a stylish hand-made window treatment in order to fit your individual requirements. Please see our blog post for more details.
How to style the fabrics
Harlequin's Hamada Weaves collection coordinates beautifully with their bold Atelier fabrics and rich textured wallpapers. Whilst mixing fabrics with striking patterns and bold colours can seem daunting, Harlequin have curated their ranges in order to coordinate through colour and design.  This results in each fabric and wallpaper harmonising with each other without clashing or fighting for attention, so you can experiment safely and in a confident way to create your overall desired look.
Each colourway in the Hamada collection displays accents from Atelier's alluring palette, working beautifully to bring the look together. For example, if you select an Atelier fabric for your curtains, you may wish to complement these with an upholstered chair or a decorative home accessory in a Hamada fabric, or vice versa. This is the perfect way to achieve ultimate maximalism. Additionally, if you choose some bold fabrics for your soft furnishings, a calmer, more neutral textured wallpaper could help to balance the look.
Harlequin's Hamada Weaves also work wonderfully with luxurious velvets to really complete the look. Velvets in rich jewel tones to complement the fabric's highlight colours will add depth and dimension to your scheme. They will also add an additional touch of opulence for a sumptuous feel. The Martello range by Clarke and Clarke offers a beautiful selection and would, therefore, make the perfect choice.
For more ideas and inspiration on how to work the Hamada Weaves range, please see our recommendations listed on the fabric product pages. If you have any questions, would like any advice or fabric swatches sending out, please do not hesitate to get in touch and we'll be delighted to help.
Email: sales@thehomeofinteriors.co.uk or call us on 01590 615775.