Somfy motorised curtains tracks are a popular choice for increased security, increased convenience and the ability to integrate the tracks with home automation systems.  They are really popular for installation on new builds and kitchen / open plan living extensions where the curtains will go across large expanses of floor to ceiling windows or bi-fold or sliding doors.
We are proud to be selling the Somfy range of motorised curtain tracks that offer flexibility to suit your requirements.  Somfy's expertise is in home automation and their team of 500 engineers work on continually innovating systems and products to bring simplicity, security and tranquillity to your daily life.  Somfy offer quiet and connected motors, mobile apps to easily manage your home, and smart solutions that can communicate securely with each other.
Somfy's motorised curtain tracks have proven to be a popular choice and offer a variety of integration options with smart home systems.  Shop the Somfy motorised curtain tracks here.
Please watch our YouTube video that shows you the products in more detail.
Benefits of the Somfy motorised tracks include:
Easy installation.
Up to 10m in length.
Suitable for bay windows.
Suitable for wave curtains.
Suitable for curtains up to 60kg (please see model options below).
No need to hand draw heavy or hard to reach curtains.
Includes Touch-motion "tug-to-operate" feature.
Smooth, quiet operation and the ability to set a favourite position with your Smoove wall switch.
Motor can be fitted upside down to fit into ceiling cavity (which is a great advantage for sheer curtains).
Reliable Somfy motor with a full 5 year warranty for peace of mind.
Many ways to control, additional options including smartphone control, Amazon Alexa and Google Home automation (see TaHoma home hub for more information).
Can be used with the Blindspace Reese Recess profile for added sophistication and for the 'hotel chic' at home look!  Please view our Showhome Chic trend for inspiration!
Somfy Motorised Curtain Track Options
Please view all the tabs on the product pages for technical specification details.
All 3 models use the same track profile, and the motors are interchangeable and can be swapped should you wish to upgrade in the future to a heavier weight capacity motor. These Somfy tracks come with wall or ceiling fix brackets as standard (the tracks can also be used with the Blindspace Reese recess profile so that the track can be fitted flush with the ceiling), as well as standard roller gliders for traditional curtain headings, or wave gliders suitable for wave curtains. They also come with the option to order a wall switch or a remote control.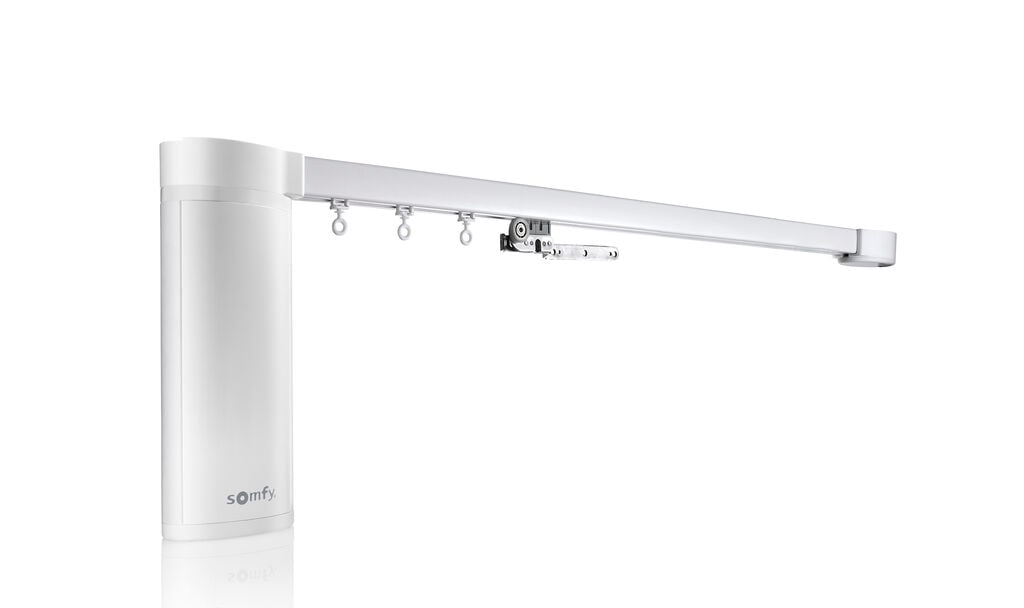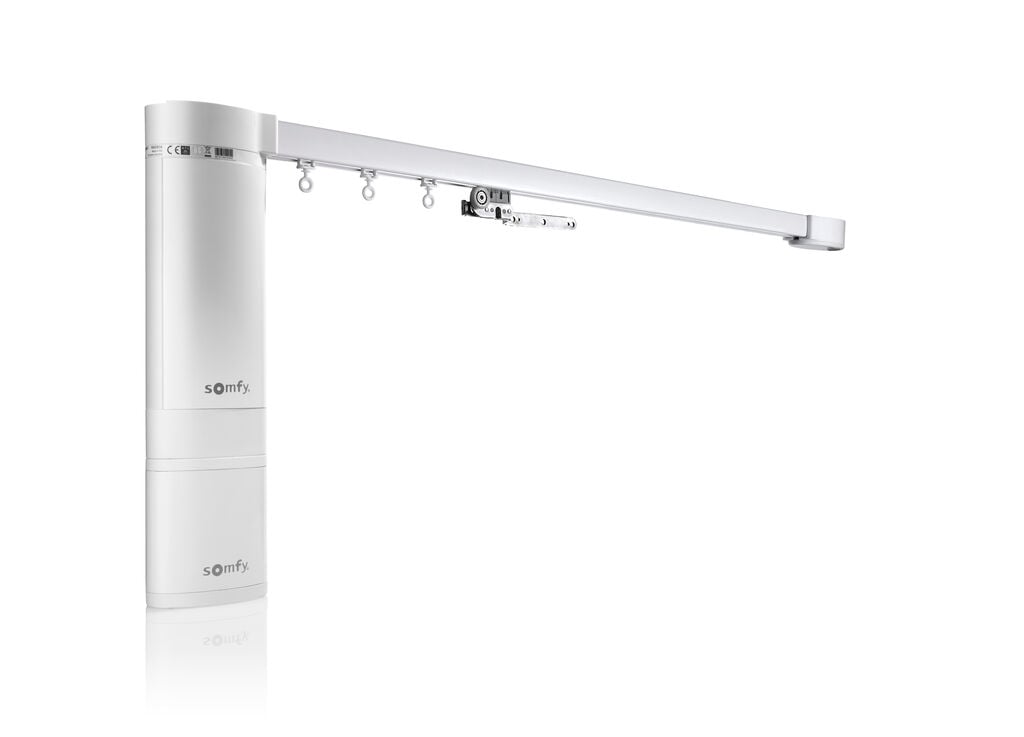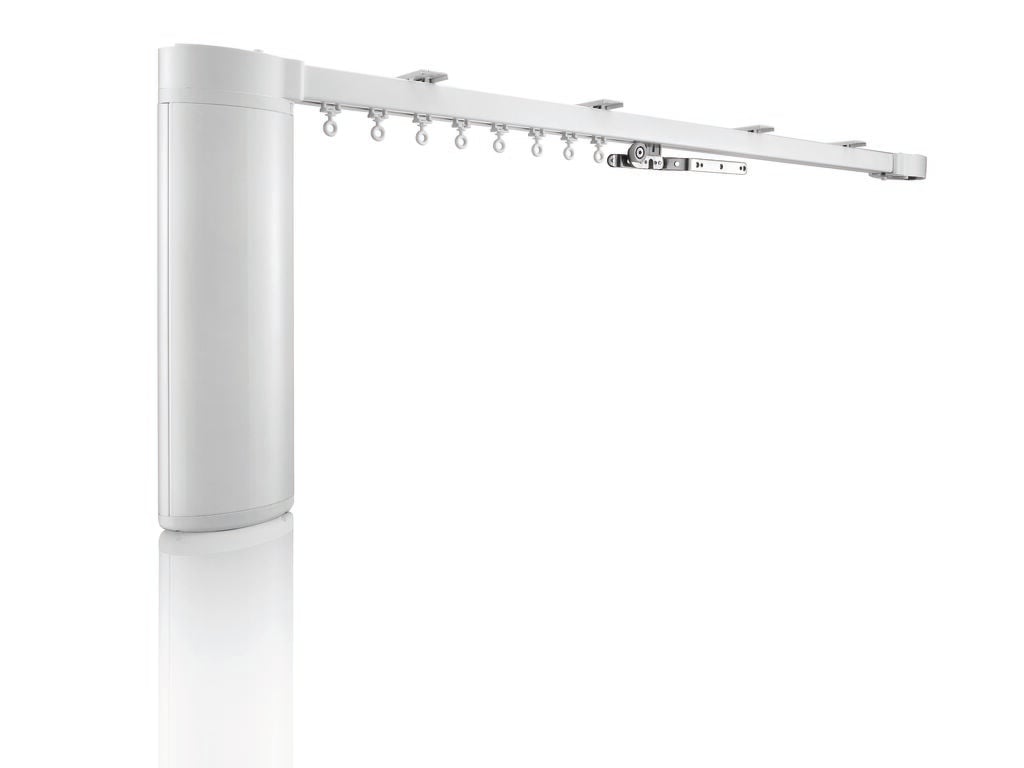 Home Automation
If you are interested in home automation and would like the tracks to integrate with home automation systems such as Alexa, Goole Assistant or Apple HomePod the Somfy TaHoma Home Hub is available.  You will need to purchase a wall switch or a remote control with your tracks for the set up.  The most cost effective option is the Situto remote control.  This is suitable for multiple tracks and / or motorised blinds.  The 1 channel remote is all your need as it is only required for the set up.  After that you will be able to operate the tracks from the home automation system or the Somfy App.
Integration with other products
You can operate the TaHoma® interface via the internet on a computer, smartphone or tablet, allowing you to have touch control of curtains, blinds, lights, electrical equipment, heating, garage doors and gates, etc regardless of where you are – in the house, on holiday or at work.  Please view other Somfy products on our website here.
Control multiple devices at once with scenario settings and personalise your TaHoma home automation system with smart programming features that ensure your home always works to your schedule. It's also compatible with expert partner systems such as Amazon Alexa, Google Assistant, Philips Hue, Sonos and Velux and over 100 Somfy RTS & io homecontrol products.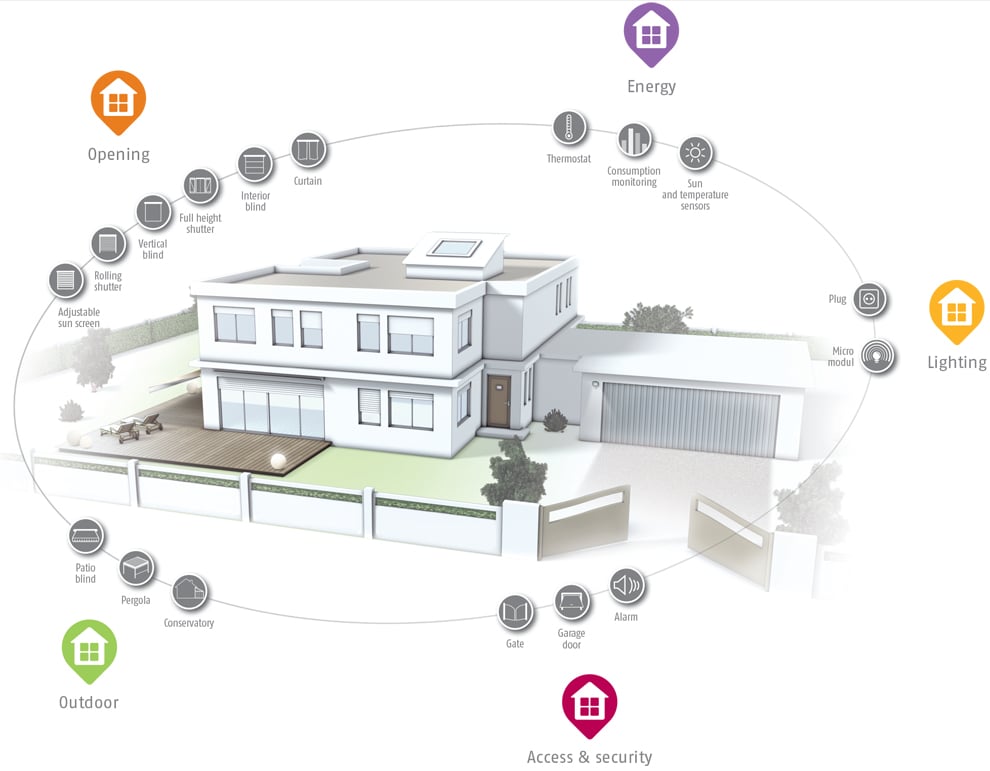 We also stock the full range of Somfy home security products, click here to find out more about the full range, including the fantastic Somfy One, the smart security camera / plug & play all-in-one alarm system.
You can also find us listed on the Somfy Website.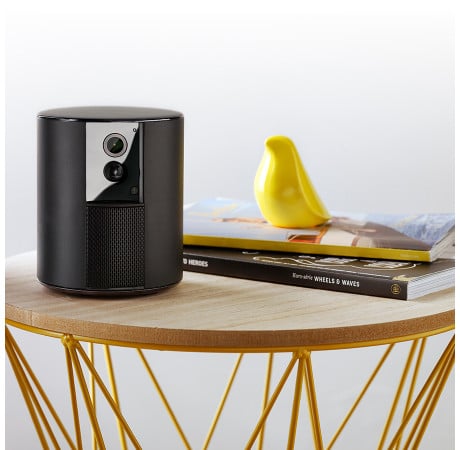 Please get in touch if you would like any further information, have any questions, or need any advice. Tel: 01590 615775 or email sales@thehomeofinteriors.co.uk.