The Client Brief
It was a pleasure working with a client on this stunning sliding door wave curtain project. Our client came to us looking for curtain and fabric advice to help create their perfect window dressing. The curtain would be used for sliding doors in their beautiful open plan living space and would need to accommodate the functionality whilst complementing their existing interior scheme.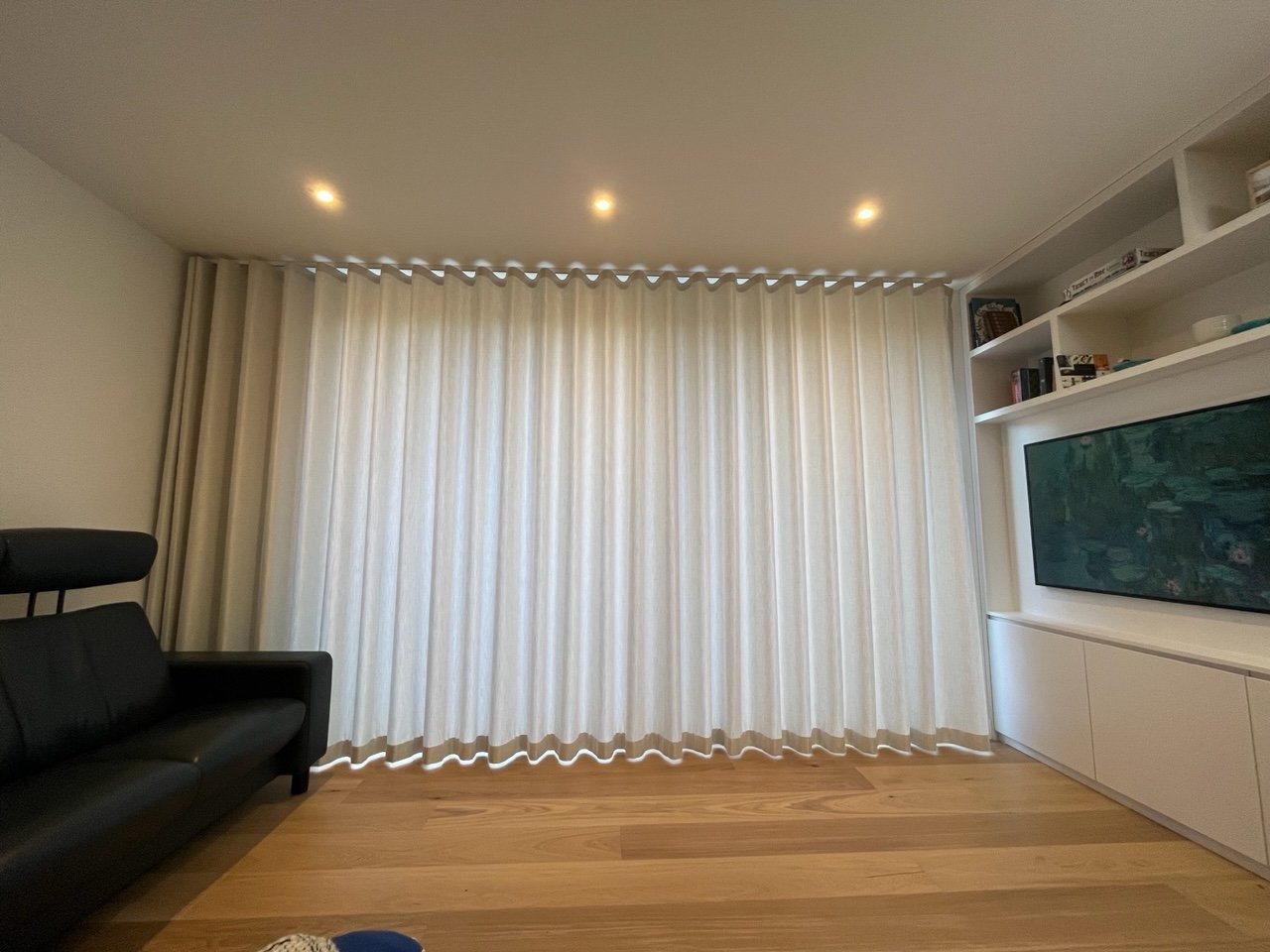 Curtain Solution
For the window dressing, our client opted for the popular wave curtain heading to offset the modern, minimalist style of their room. Neat and contemporary, wave curtains lend themselves beautifully to wide windows or bi-fold / sliding doors for an effortlessly stylish finish.
Given the space and the functionality of the sliding doors, our client chose a single curtain stacking to the left. They also opted for an 80mm wave with 160 hook spacing, providing a slim stack back that allows the room to flood with light when in the open position.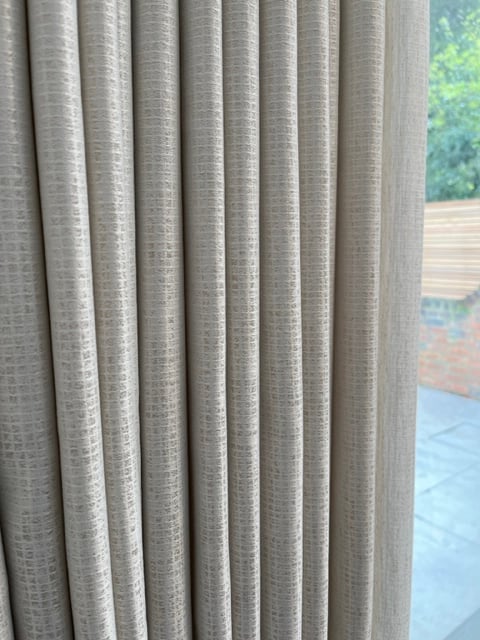 Fabric Selection
Our client was looking for a curtain fabric that would complement their furniture and existing colour palette. Off white shades with hints of gold were specified to match their gold pendants. Natural colours were also discussed, together with subtle patterns with a gentle sheen.
Given the wave curtain heading, we recommended a wide width fabric as these can allow the curtains to be made up without any joins in them, delivering a seamless curtain that drapes beautifully for a polished look (drop dependant).
After sending a selection of fabric samples, our client opted for the magnificent Flint fabric by Kobe Interiors in colour ref 2. A luxurious wide width fabric with a subtle shimmer and texture, this gorgeous design and neutral colour fits effortlessly with the existing room scheme.
Track Solution
A Silent Gliss 6840 curtain track in Matt White was specified to hang the curtains. Compatible with the wave curtain heading, this superb track showcases a slightly curved profile, offering an aesthetically appealing option  to complete the window treatment.
Ceiling fixed, the 6840 track also enabled our client to create a sleek, floor to ceiling effect for a touch of hotel chic at home.

Overview
Our client was delighted with the end result of their sliding door wave curtain project and so are we! The curtain is the epitome of understated elegance with its neat, uniform presentation and subtle shimmer. It also tonally complements the existing scheme, creating a cohesive minimalist style that flows throughout the room.
If you're embarking on a home project and would like any help or inspiration, please do get in touch. We offer a bespoke design service and can provide fabric, design and paint colour advice to help you create a home you love. We can also make up your perfect window dressings with our bespoke, made to measure curtain and roman blind making service.
Email sales@thehomeofinteriors.co.uk or call us on 01590 615775.
Follow us on Instagram and Facebook: @myhomeofinteriors