The Client Brief
Our client approached us for a hand drawn curtain track along with a pair of patterned wave curtains in order to cover some patio doors within a recess in their living room.  Having reviewed a variety of samples, their preferred fabric was the Clarke & Clarke Riverside linen; a fun design incorporating colourful, waddling ducks into the pattern. Made from a mix of 80% Cotton and 20% Polyester, the fabric's striking design adds a sense of joy and cheer to any room or setting.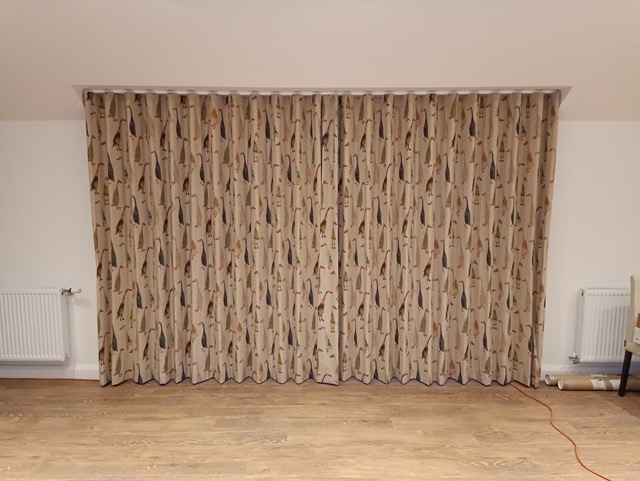 The Home of Interiors Response / Challenges
Wave Curtains
Due to a radiator positioned either side of the patio doors and a ceiling recess, our client has limited space for the curtains to stack when they are open.  The client initially suggested asymmetrical curtains to overcome this issue.  However, as the stack back for a wave curtain can be mathematically calculated, we worked out that the stack width for the 80mm wave (which offers the slimmest stack back) worked really well for the space available and that a pair of equal curtains could be accommodated in the space.  The client was delighted with this suggestion and therefore proceeded with the wave heading with a 160 hook spacing, delivering the fullest wave.
The patio doors are south facing so it was agreed to line the curtains to prolong their longevity.  Adding a lining helps to protect the face fabric from sun damage and fading.  We arranged for samples of our premium standard linings to be sent to our customer so they could decide on the best lining colour.
Curtain Tracks
Wave curtains look fantastic full length, floor to ceiling.  We sent the client links to our best selling hand drawn tracks suitable for wave curtains. From this, they selected the popular Silent Gliss 6840 track. This can be wall or ceiling fixed.  When ceiling fixed, the track uses the Silent Gliss clamp style ceiling fix brackets which provides a neat, flush fit to the ceiling.  Our client specified a white track to co-ordinate with the white walls.
In Conclusion
The curtains sit beautifully in the recess space in the client's lounge and work harmoniously with the flooring.  They are a striking addition to the room.
The modern and simple style of the wave heading naturally lends itself to plain fabrics.  It was delightful to see wave curtains made up in a patterned fabric, especially in such an uplifting print.  Our client later contacted us to advise they were delighted with the end result and were very pleased to let us know that the ducks were behaving themselves!
If you're embarking on a home project and would like any help, advice or inspiration, please do get in touch. We offer a virtual and face to face bespoke design consultation service from our showroom in Brockenhurst. Book an appointment with one of our home interiors advisers who would be delighted to help you with your project.
Please view our Trend Guides for ideas and inspiration.
Email sales@thehomeofinteriors.co.uk or call us on 01590 615775.
Follow us on Instagram and Facebook: @myhomeofinteriors