Blue is the colour of summer! It is expansive and it surrounds us with the oceans and the sky. It is reminiscent of days at the seaside and brings with it a sense of well-being and calm. Blue is a colour often linked to clarity of thought and mindfulness.
One of the most popular uses of blue is the timeless coastal style, linking blue and white with fresh checks, stripes and natural materials such as linens, wicker and raffia. This charming interior style with the refreshing blue and white colour combination is also seen on the exterior of many houses in Greece and the Greek Isles. The blue we often see in the Greek landscapes is a Lavender blue, with its warm red undertones evoking images of summer sunshine, dazzling and refreshing.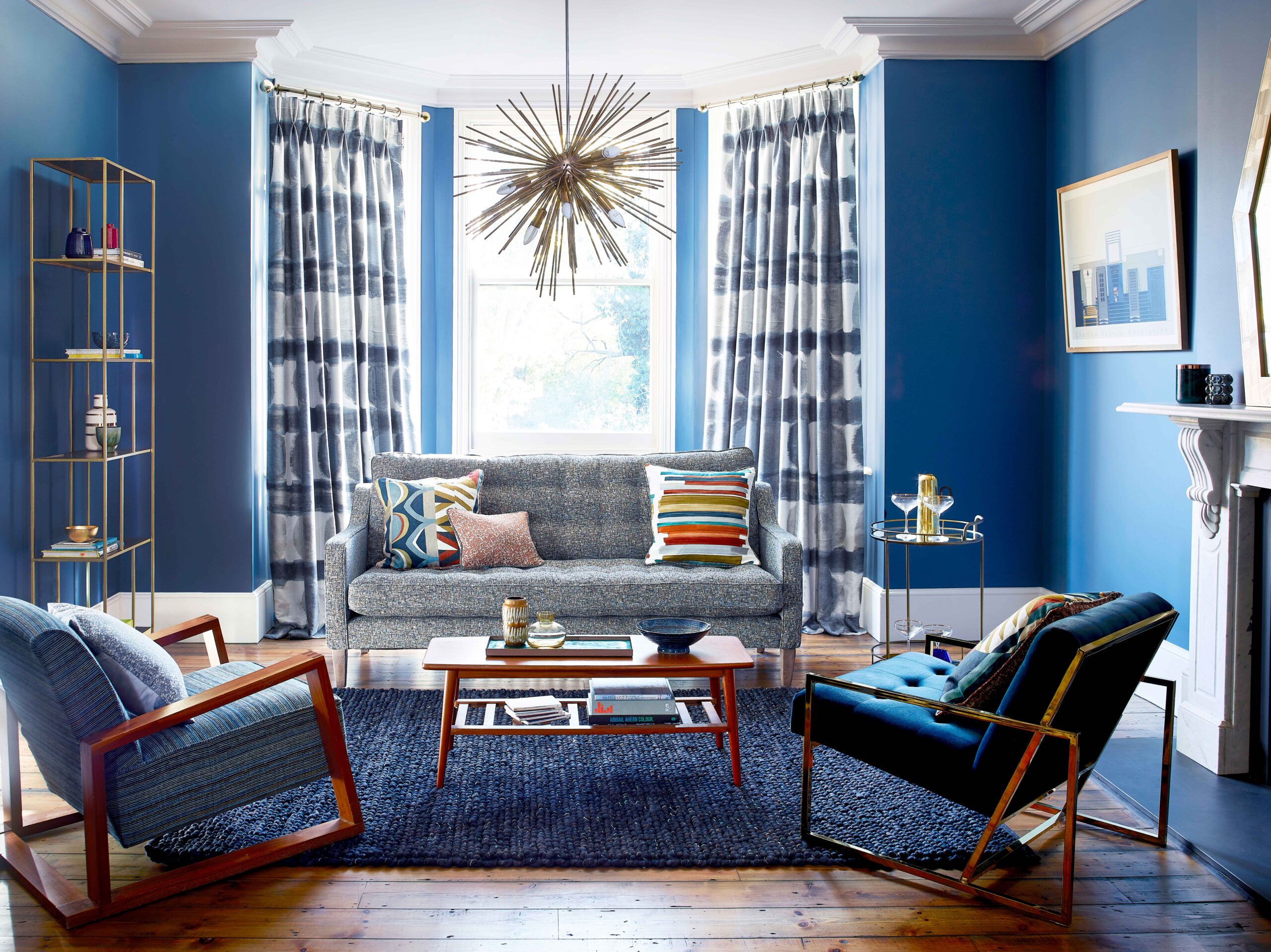 The many tones of blue range from the warmer scale of turquoise, cobalt and teal to the cooler tones of midnight, navy and duck egg. The cool or warm colour tones are further affected by the aspect and type of light in a room.
The huge array of blue tones can be used creatively and extensively in interior projects. It is popular in bedrooms to nurture rest and create an air of peacefulness. This colour is widely used in bathrooms creating a fresh, invigorating coastal feel. It is also a favourite in kitchens, creating a refreshing yet traditional charm, with blue and white china and tiling widely used through the generations.
Little Greene Paints – Colours of England & Colour Scales 2021
Little Greene have recently launched their new colour cards for 2021. These are Colours of England and Colour Scales.  The new Colours of England card has been refined and refreshed with classic and timeless colours. The Colour Scales card offers a range of eighteen diluted colour families with the deeper colour alongside as a useful reminder of the undertone for each colour family.
The deeper colours in the colour scales chart can be used as a strong statement whilst the softest colour shades can be used to reduce the contrast of the ceiling, skirtings and walls. They can also be used to define architectural features and add depth and dimension to a room.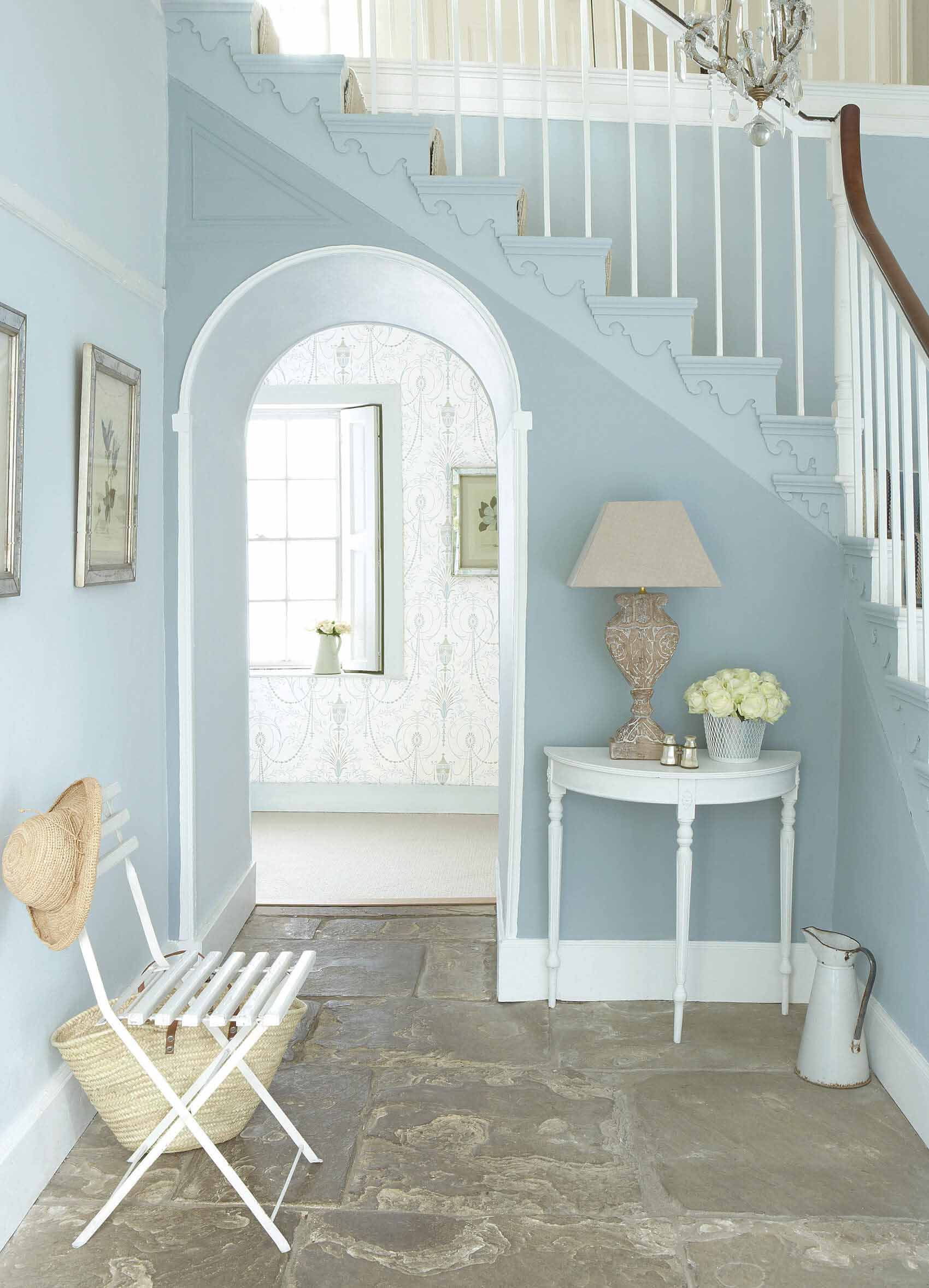 Little Greene Colour Scales – Blue
Little Greene's recently launched blue colour scale is demonstrated beautifully in the adjacent image.
This elegant and timeless hallway incorporates the use of the Bone China Blue family. This 1930's colour is based on Wedgwood Jasperware. The colour scheme in this image is built with the subtle use of shades of Bone China Blue (107), Bone China Blue Pale (182), Bone China Blue Mid (183) and Bone China Blue Deep (184). It is an ideal demonstration of how the colour shades chart can be used to add depth and co-ordination in a room scheme.
Blue Wallpapers
Little Greene's Wallpapers are based on eclectic designs with a story to tell. Their designs harmonise the old and new and can work in any style of home including traditional, contemporary and coastal homes.
Little Greene offer a timeless range of inspirational wallpapers to co-ordinate with their blue paint shades. The Little Greene wallpaper range includes (images left to right) Carlton House Terrace in Blue Plume, Zingara in Cerulean Sea and Hampstead in Mid- Blue.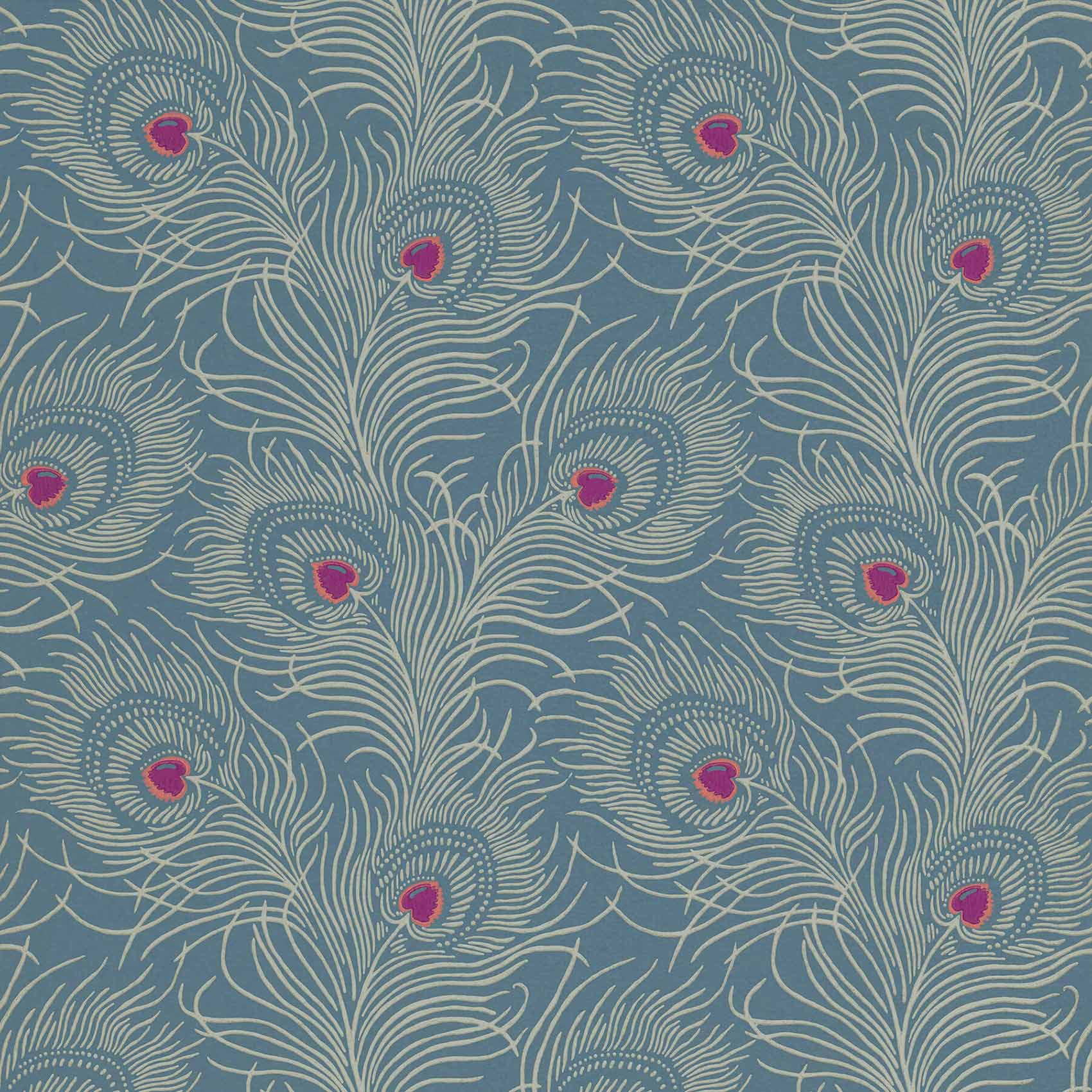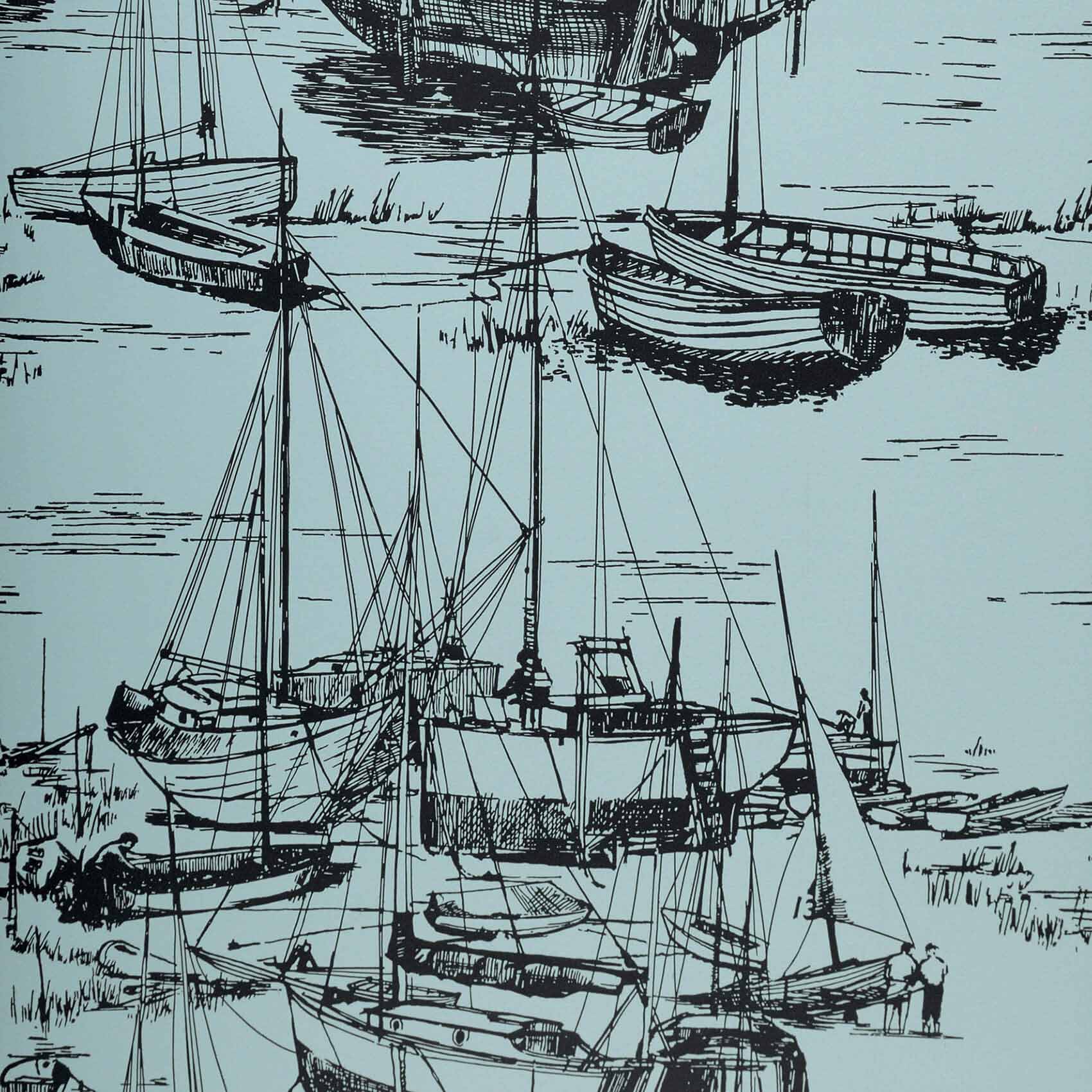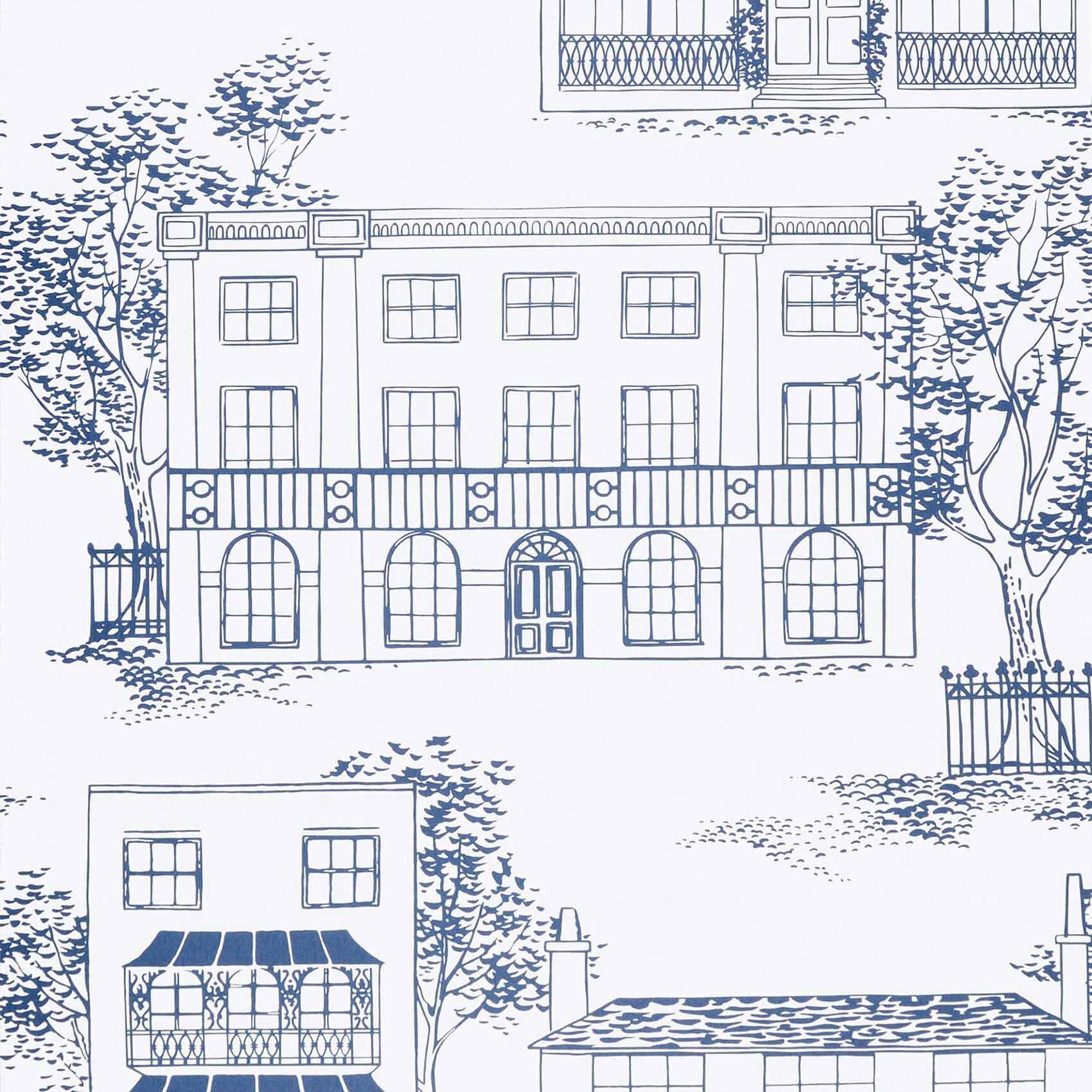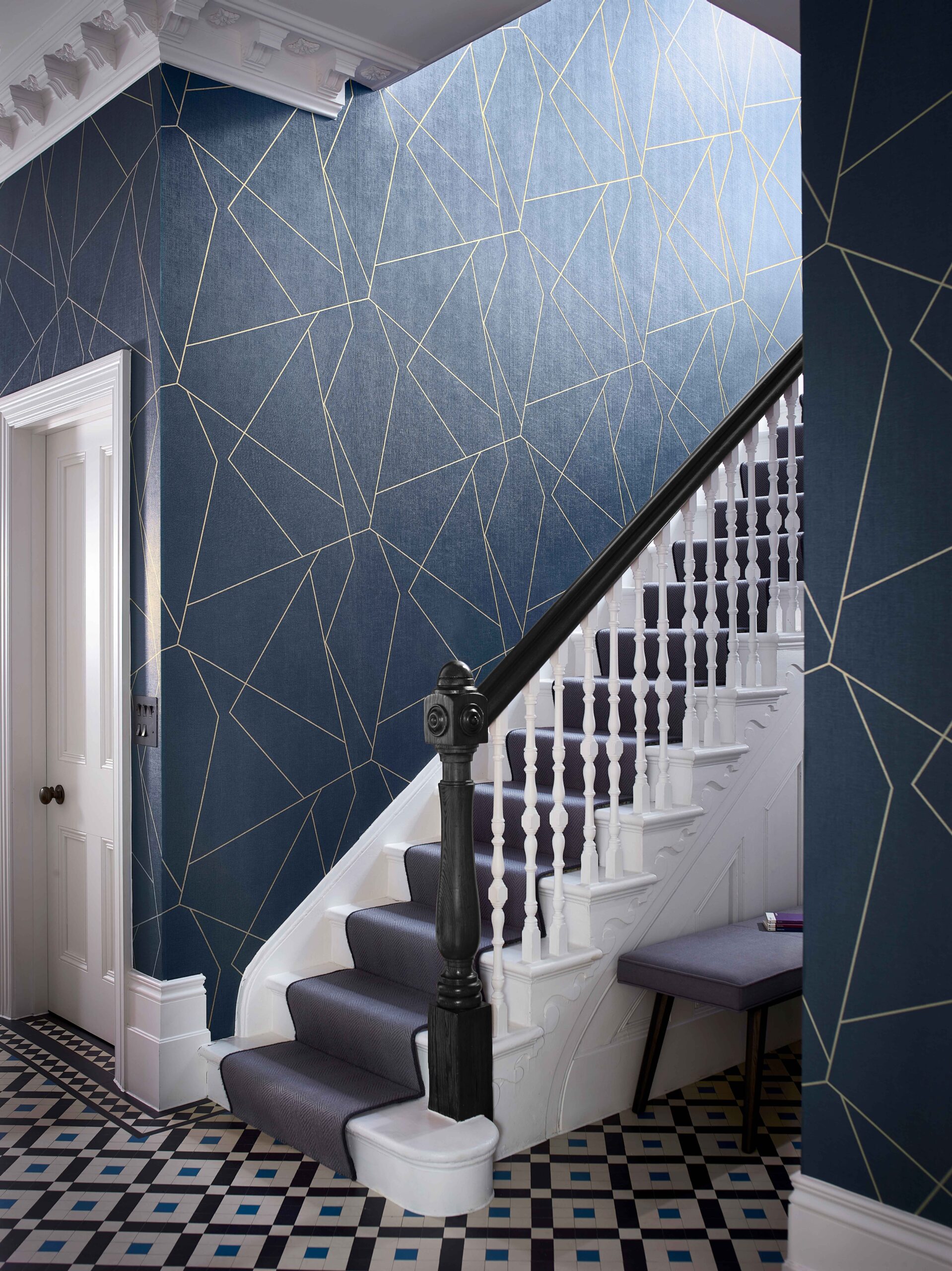 Harlequin Textured Wallpapers
The Harlequin Parapet wallpaper in Indigo is from the Harlequin Textured Walls Collection. The striking geometric design in the image opposite shows how metallic lines on a deep indigo blue ground can create a contemporary, opulent interior backdrop.
Please see our blog post Harlequin Textured Walls Collection for further details on this collection of wallpaper designs.
Window Dressings
For the perfect window dressing, whether you choose a contemporary style such as the wave heading or a more traditional triple or double pinch pleat heading, we can help you find fabric to suit your interior style. See details of our curtain and blind making service on our blog post Hand Finished Curtains and Roman Blinds. You can also select your fabric from a range of design houses. These include Sanderson, Morris & Co, Anthology, Scion, Harlequin, Clarke & Clarke and Prestigious Textiles, amongst many others.
Cushions & Throws
For a touch of luxurious layering, see our  Tess Daly Geometric Duckegg Velvet Throw or the Tess Daly Geometric Midnight Velvet throw. 
For the final touches see our collection of cushions including a dynamic range of designs by Emma J Shipley for Clarke and Clarke. These include striking designs such as the Audubon Square Cushion in Navy and Kruger Rectangular Bolster Cushion (See images below).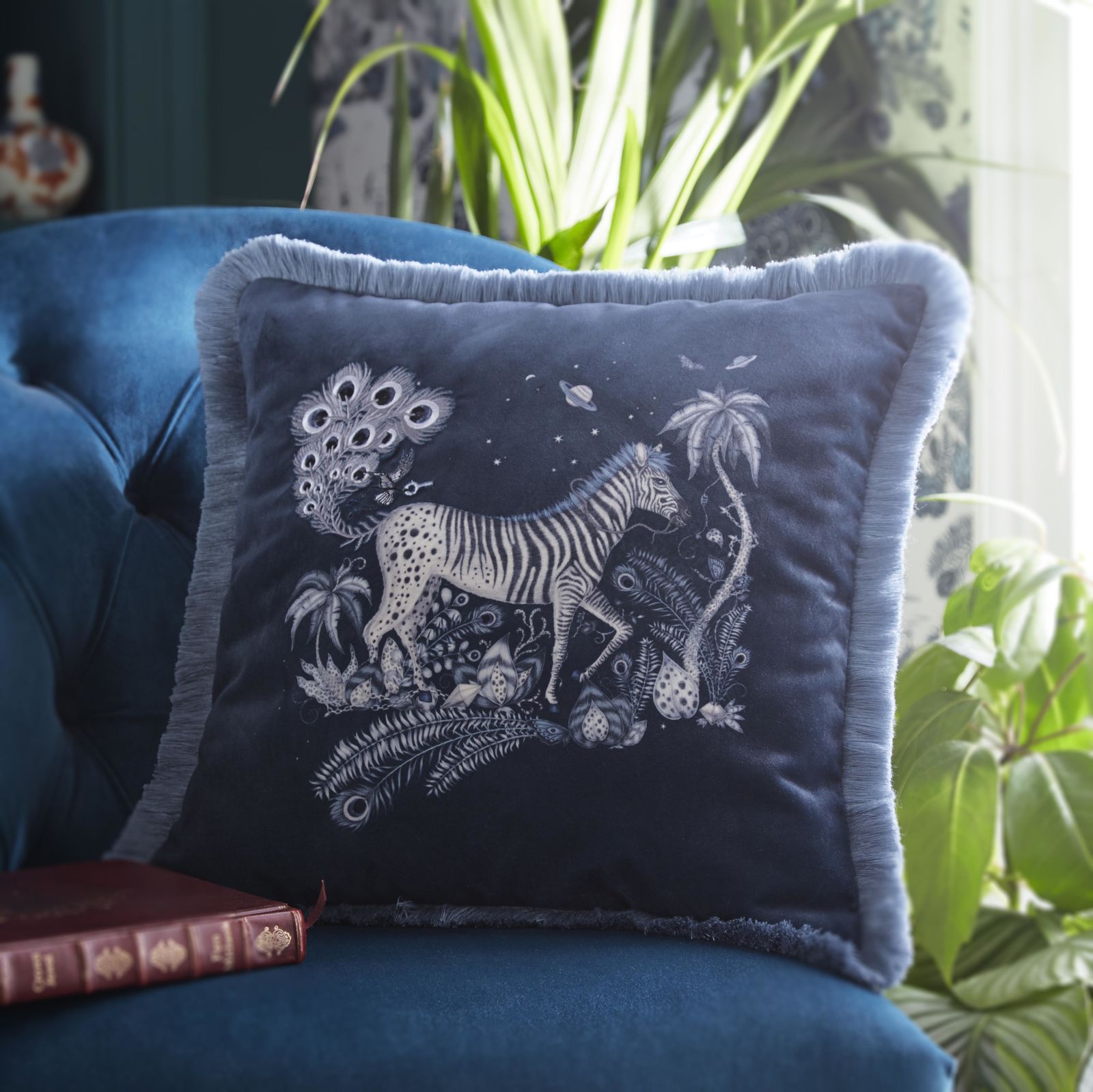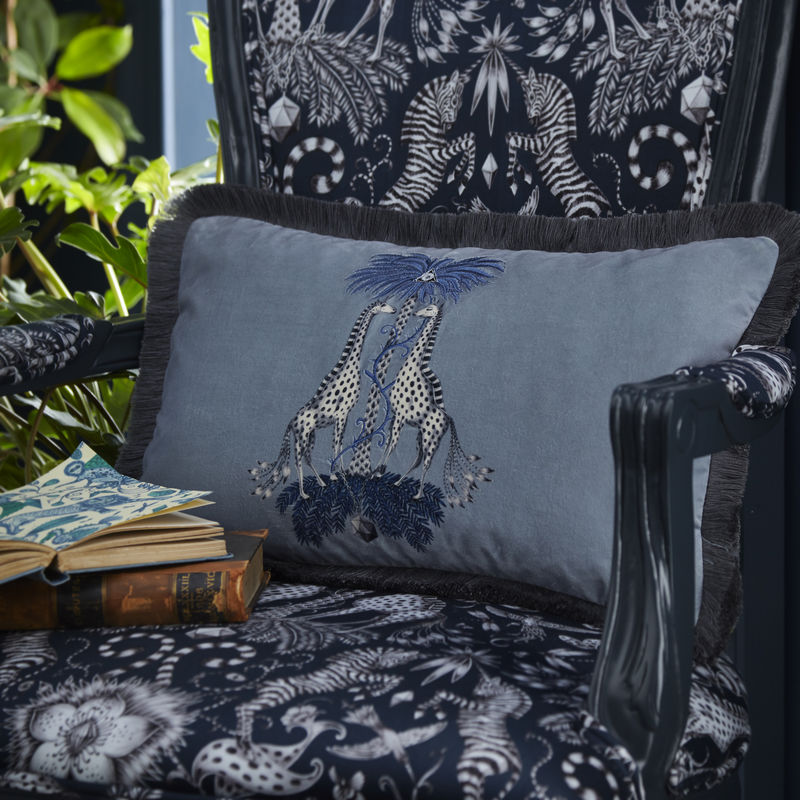 Finishing Touches
For your finishing touches, please see our curtain poles and tracks to find the perfect match for your window dressings. If you would like to select your own blue shade, consider our Jones 50mm Wooden Bespoke Painted Curtain Pole Range. These poles can be painted in a Jones standard wooden paint finish or a Farrow & Ball paint choice to suit your decor.
If the arrival of summer has found you wanting to create your own coastal theme, you can select your paint and decorate your Rolls Unfinished Curtain Pole with co-ordinating holdbacks for your perfect match. Please see our blog guide on How to paint an unfinished pole ready to embark on your individual creative project.
Tones of blue can be incorporated into your home in many ways, working with your interior design style and personal taste. Whether you add a touch of a warmer or cooler blue tone or use it as your primary colour, it is the perfect choice to bring the outdoors inside and add a touch of summer joy into your home.
Please contact us if you would like any colour or fabric advice, swatches, pole ring samples or any other samples sending out.
Email: sales@thehomeofinteriors.co.uk or give us a call on 01590 615775.