Make a statement in your home with the fabulous Atelier fabric collection by Harlequin. Suitable for curtains, blinds, cushions or upholstery, this stunning collection combines mid-century pottery techniques and 1970s fashion influences with a bold colour palette for a unique, confident look.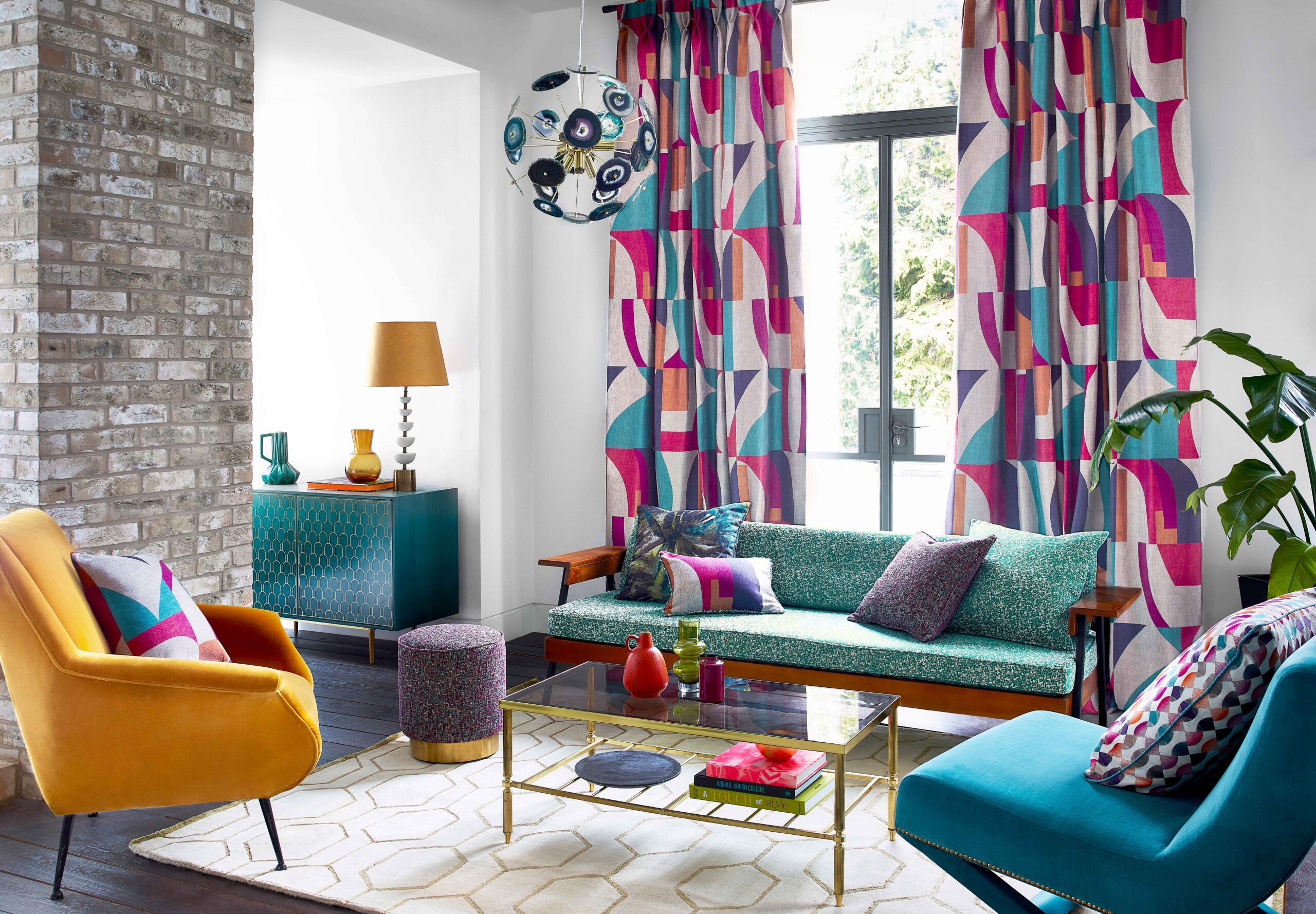 Comprising of striking prints, eye-catching patterns and beautiful textures / compositions, each fabric design in the Atelier range offers flamboyance and flair, perfect for bringing a maximalist feel to your interior. So, whether you're looking to accentuate your window treatment or to offset your décor with a beautiful piece of upholstered furniture, Harlequin Atelier can make for the perfect finishing touch to your home.
Abstract Designs
Showcase your creativity with the alluring Atelier or Bodega fabrics. Each of these abstract designs artistically organises shapes and bright colours in order to form bold, large-scale geometric patterns. The Atelier print and Bodega Weave offer three fabulous colourways to coordinate with various interior design styles and colour schemes. Perfect for use on a pair of curtains, these fabrics can equally make a stylish yet bold statement at your window and create a key focal point for your chosen room.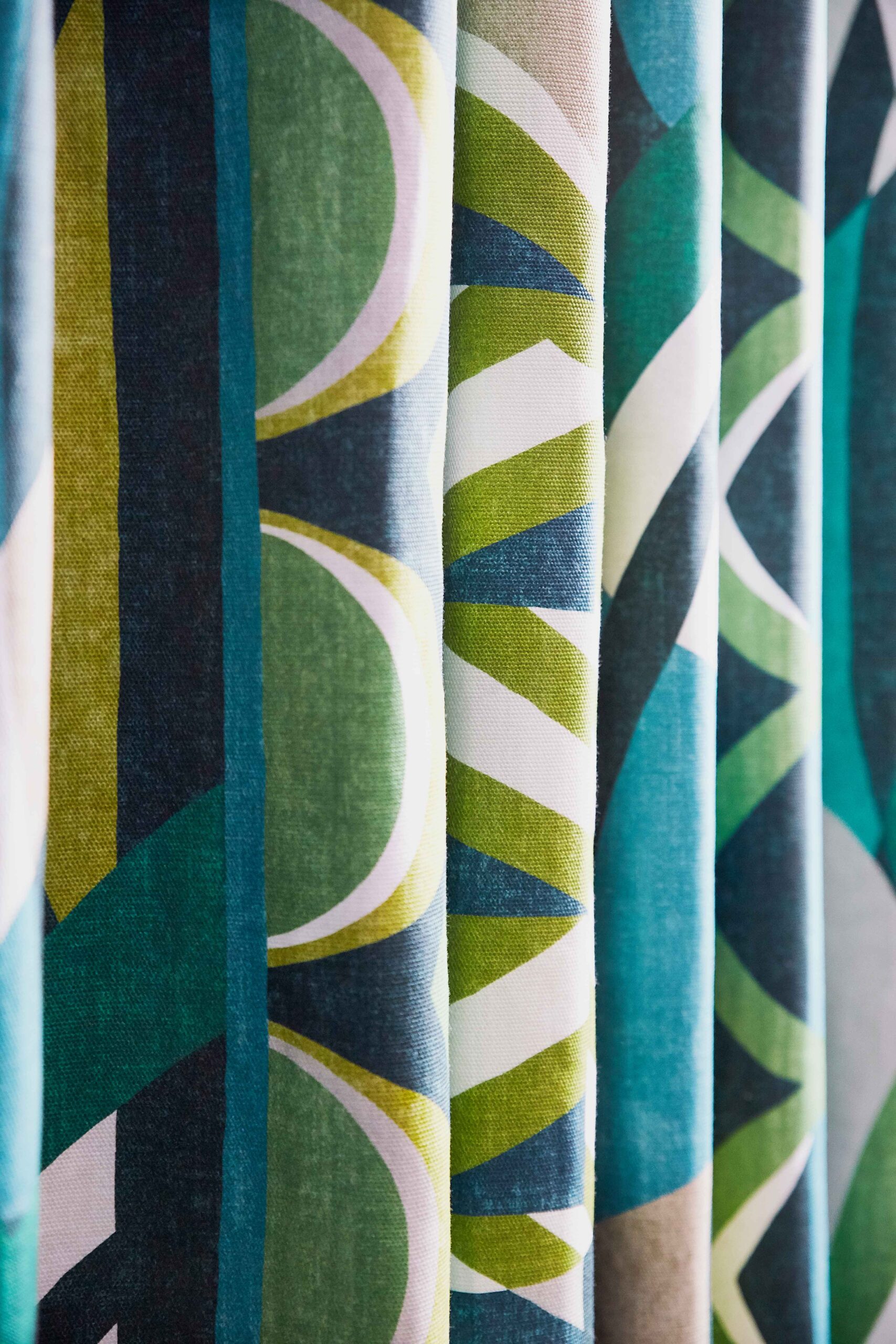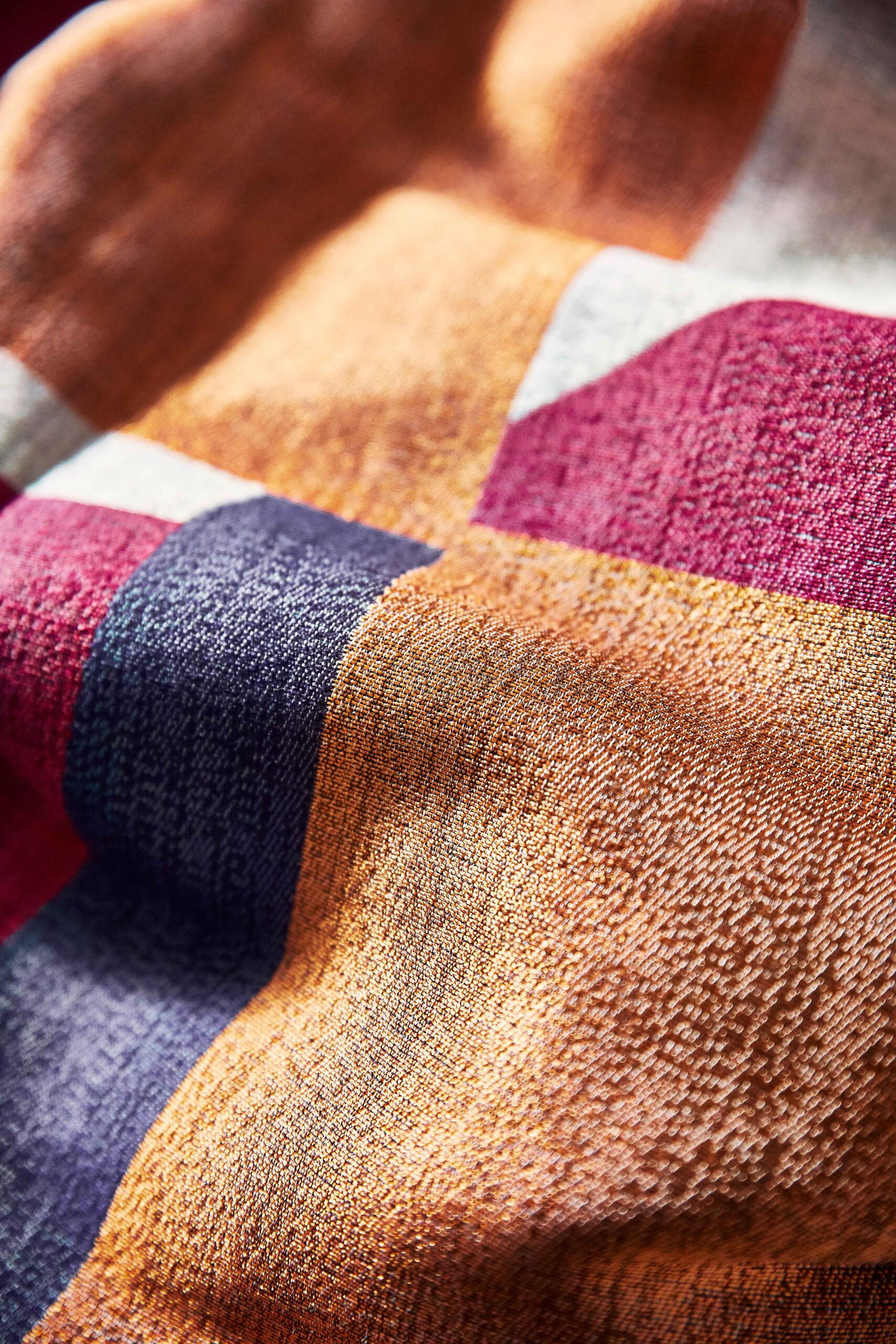 If you'd prefer a more intricate design, the Maiolica fabric is a fantastic choice. The delicate embroidered detailing, together with the integrated ombre effect work in harmony to create a fabulous, small scale geometric. Also available in three colourways, this design works well for cushions and Roman blinds, injecting a splash of colour into your home.
Other abstract designs in the Harlequin Atelier range include Kanjiro and Delphis. Showcasing traditional hand-painted techniques and brushwork effects, these are not only bold fabrics, but fantastic pieces of artwork. With limited colourways available, it's clear these fabrics are all about the design.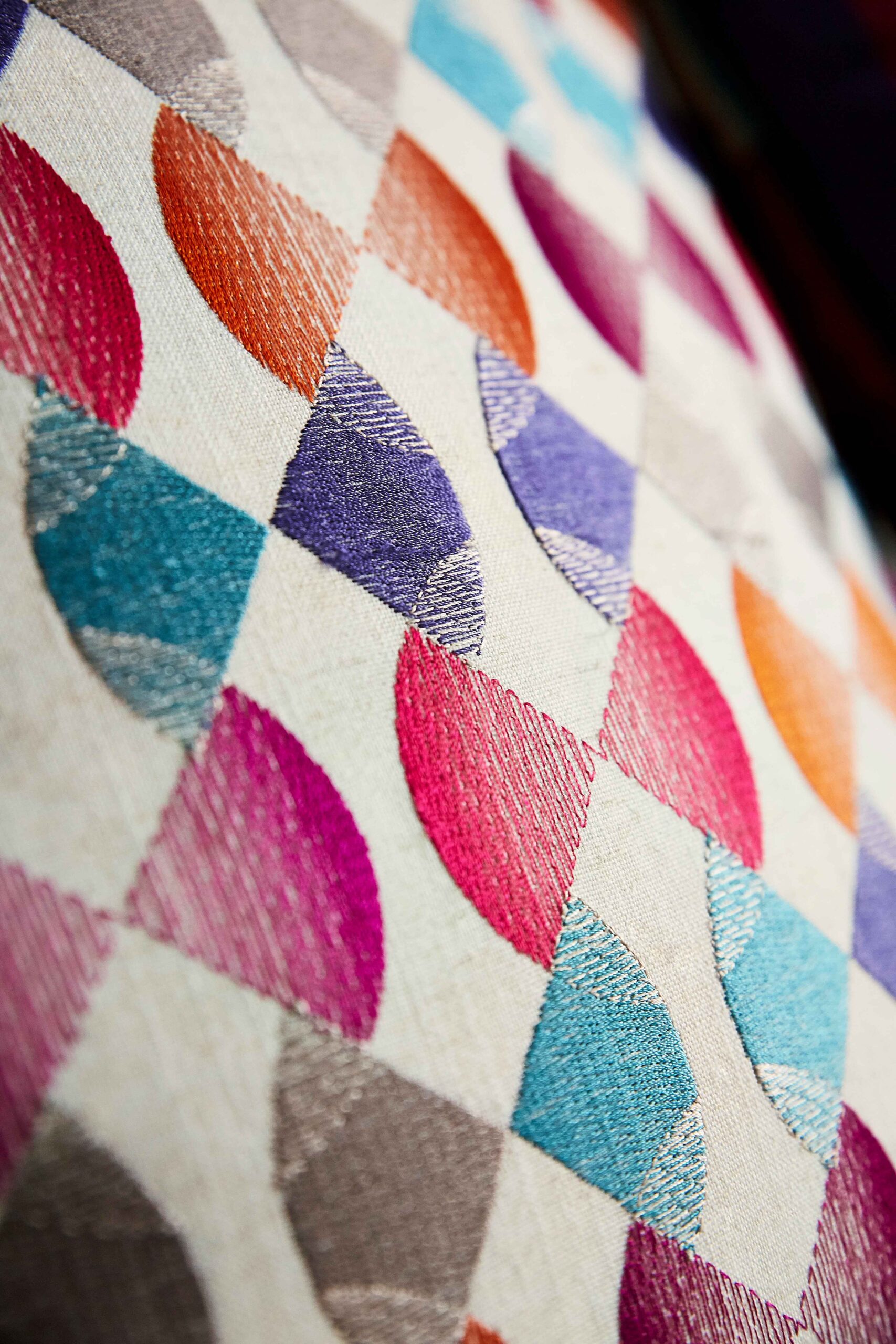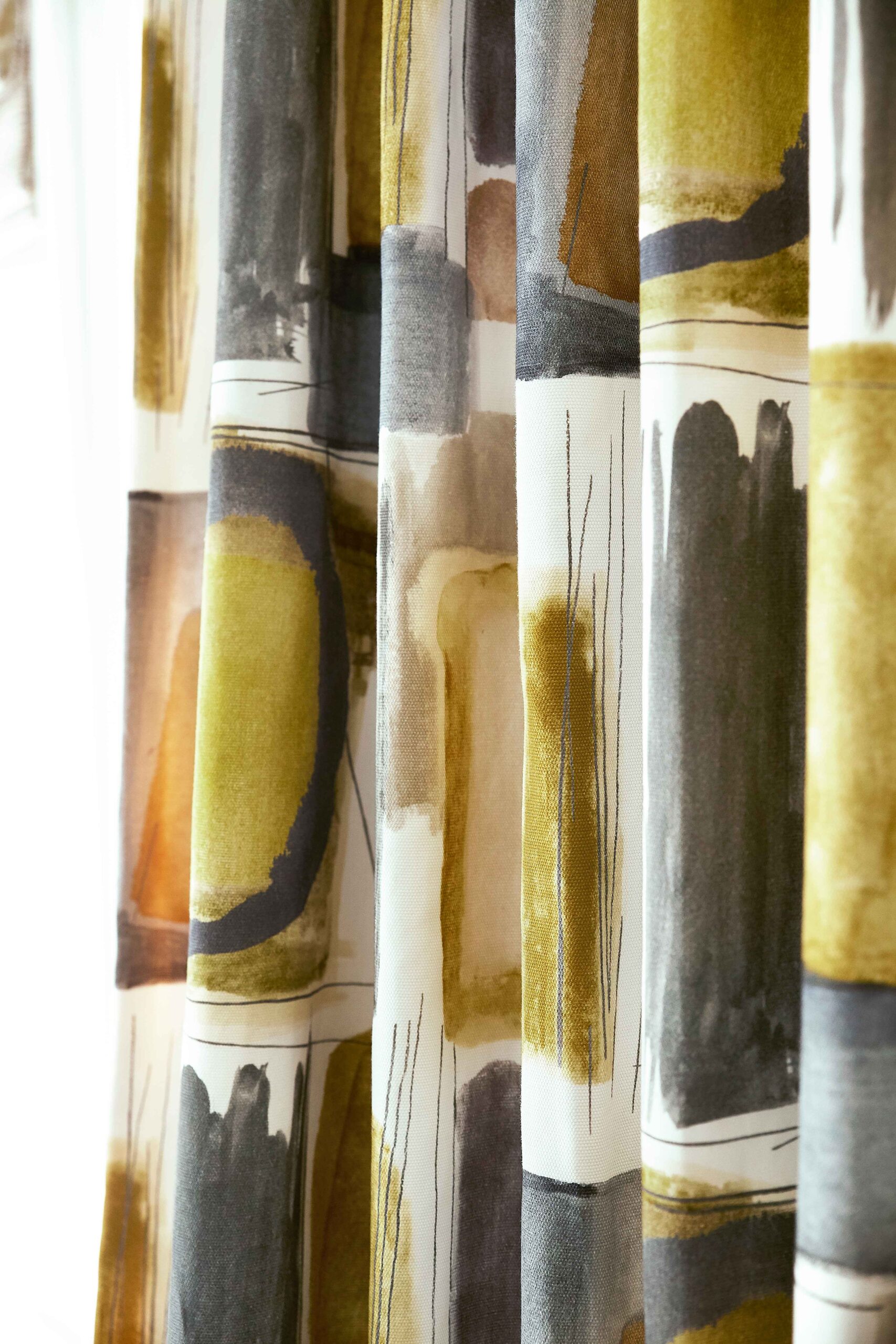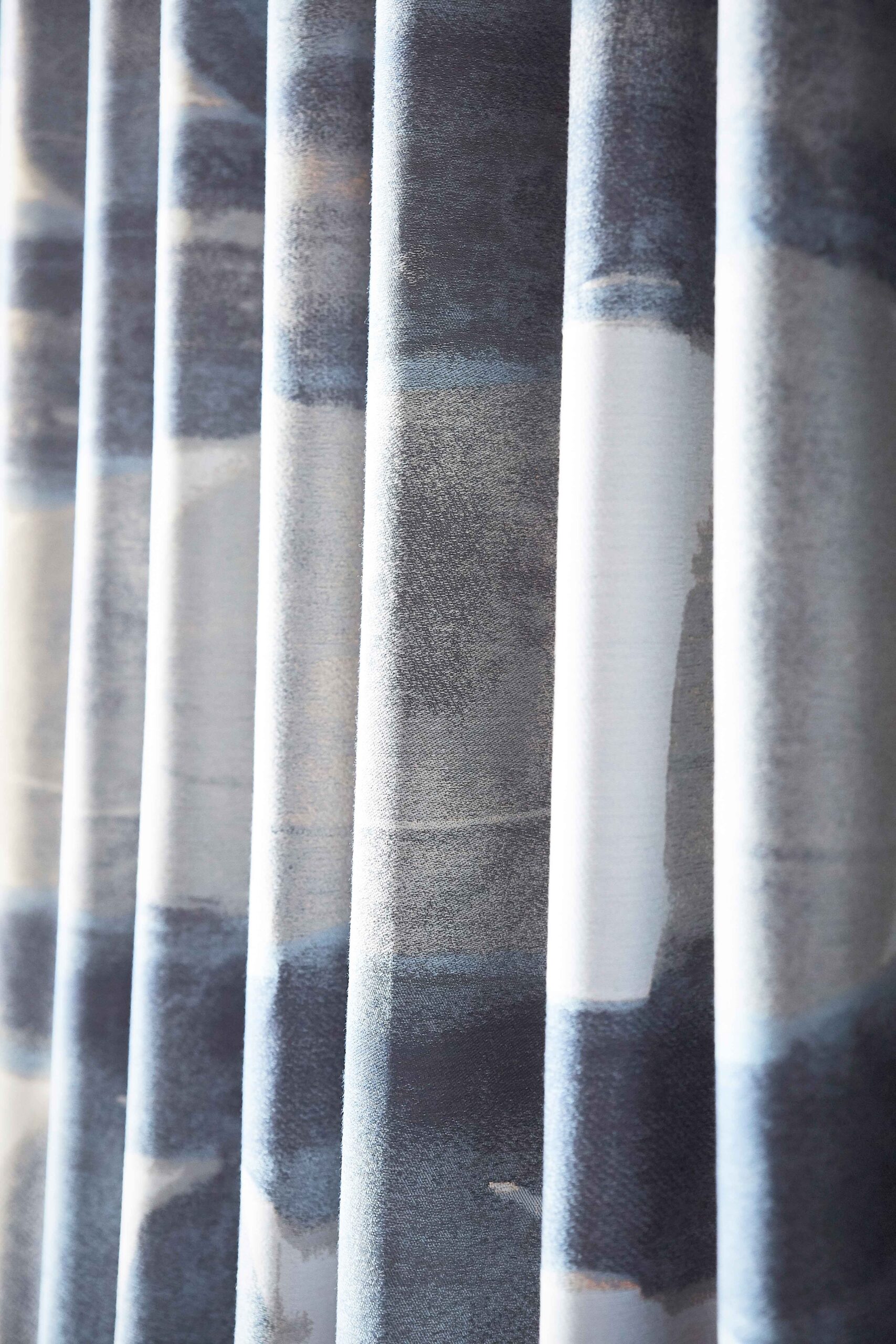 Stripe Designs
If you're looking for a more defined pattern to complement your décor, Atelier's featured stripe designs could be a better fit for you. The Calcine fabric offers a bright, colourful option for a confident look.  Made from 100% cotton, this fabulous print comprises of multiple horizontal brushstrokes stacked in order to create larger vertical stripes.
Alternatively, you could tone it down a little with the gorgeous Malwa fabric. This design displays a beautiful textured, horizontal stripe effect carefully woven into the fabric. Available in a luxurious slate and rich gold colourway, Malwa offers a stylish, edgy appeal. It works beautifully for curtains, blinds and cushions alike.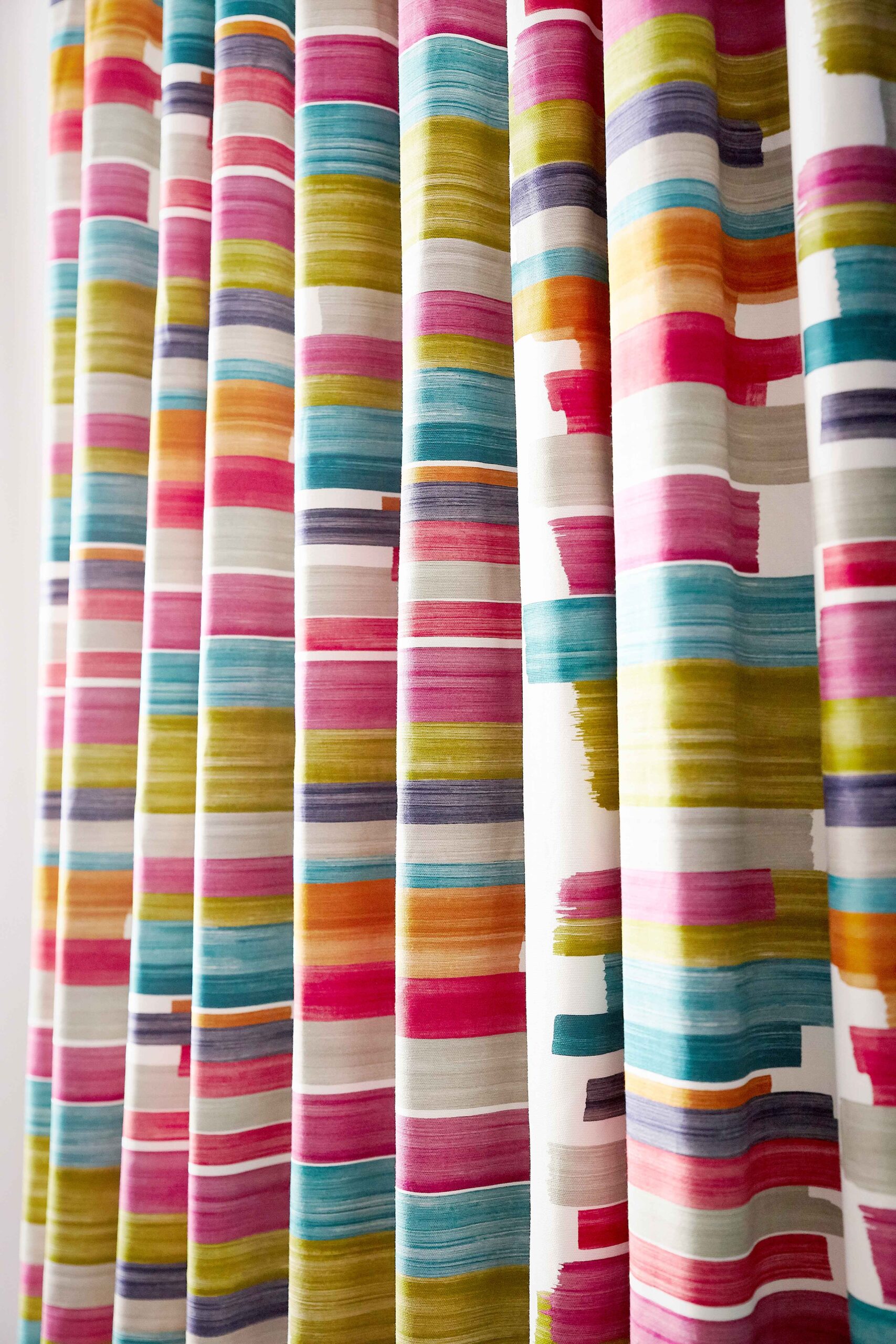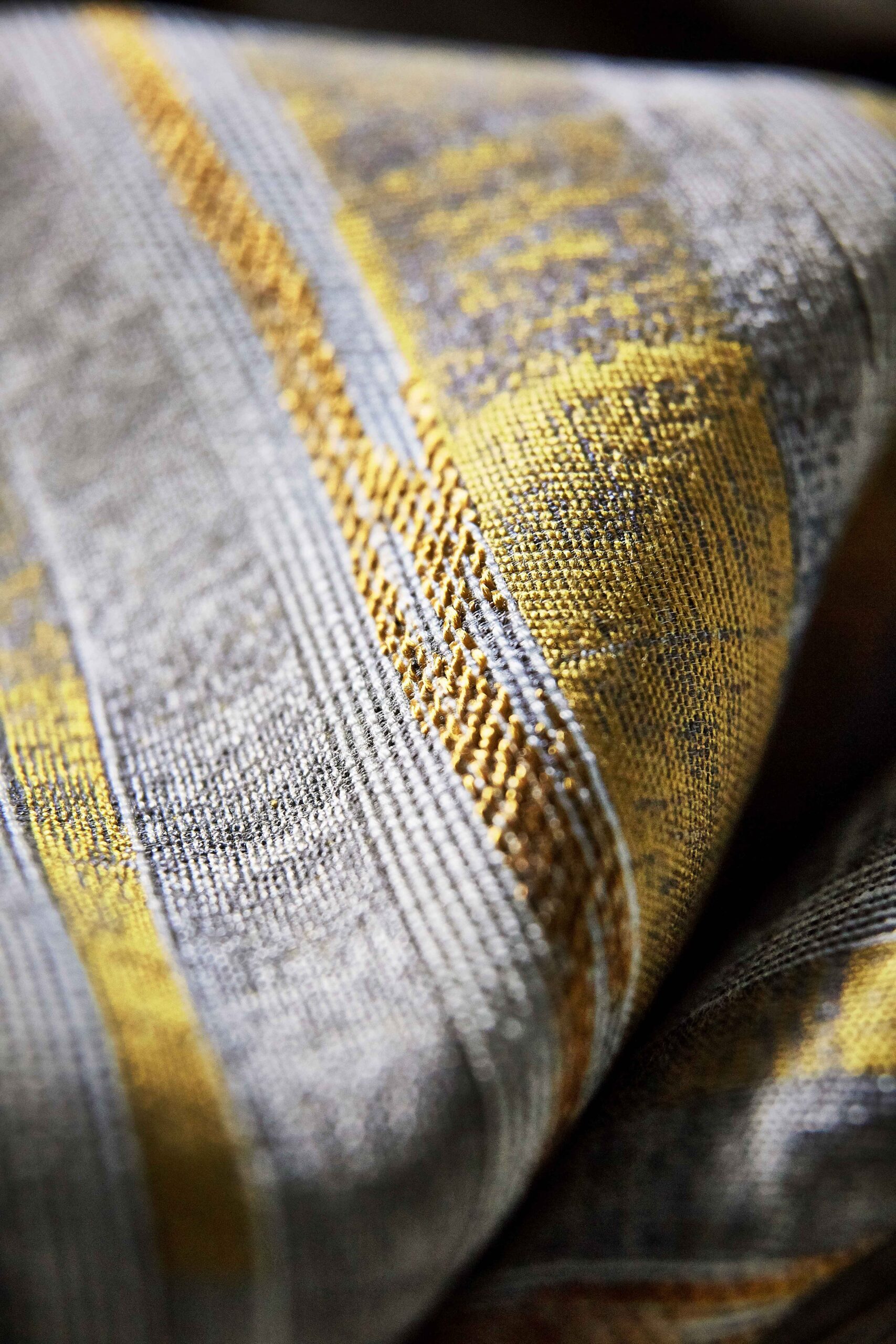 Botanical designs
Harlequin Atelier also features some excellent designs with a botanical twist. Toshiko and Rie are both fantastic examples, displaying freestyle hand-drawn patterns inspired by leaves, plants and flora. Both consisting of linen-mix prints, these fabrics are available in four colourways to complement a range of colour schemes. Go bold with Toshiko's Paprika / Teal / Olive colourway, or dial it down with one of Rie's calming, neutral tones.
For an alternative botanical look, why not try the Celadon fabric. Comprising of a hand-drawn, layered palm leaf design, this fabulous weave offers a fantastic texture. It also produces a beautiful shimmer for added depth and dimension. Perfect for curtains, cushions and blinds, Celadon is the ideal choice for a statement window treatment or bold home accessory.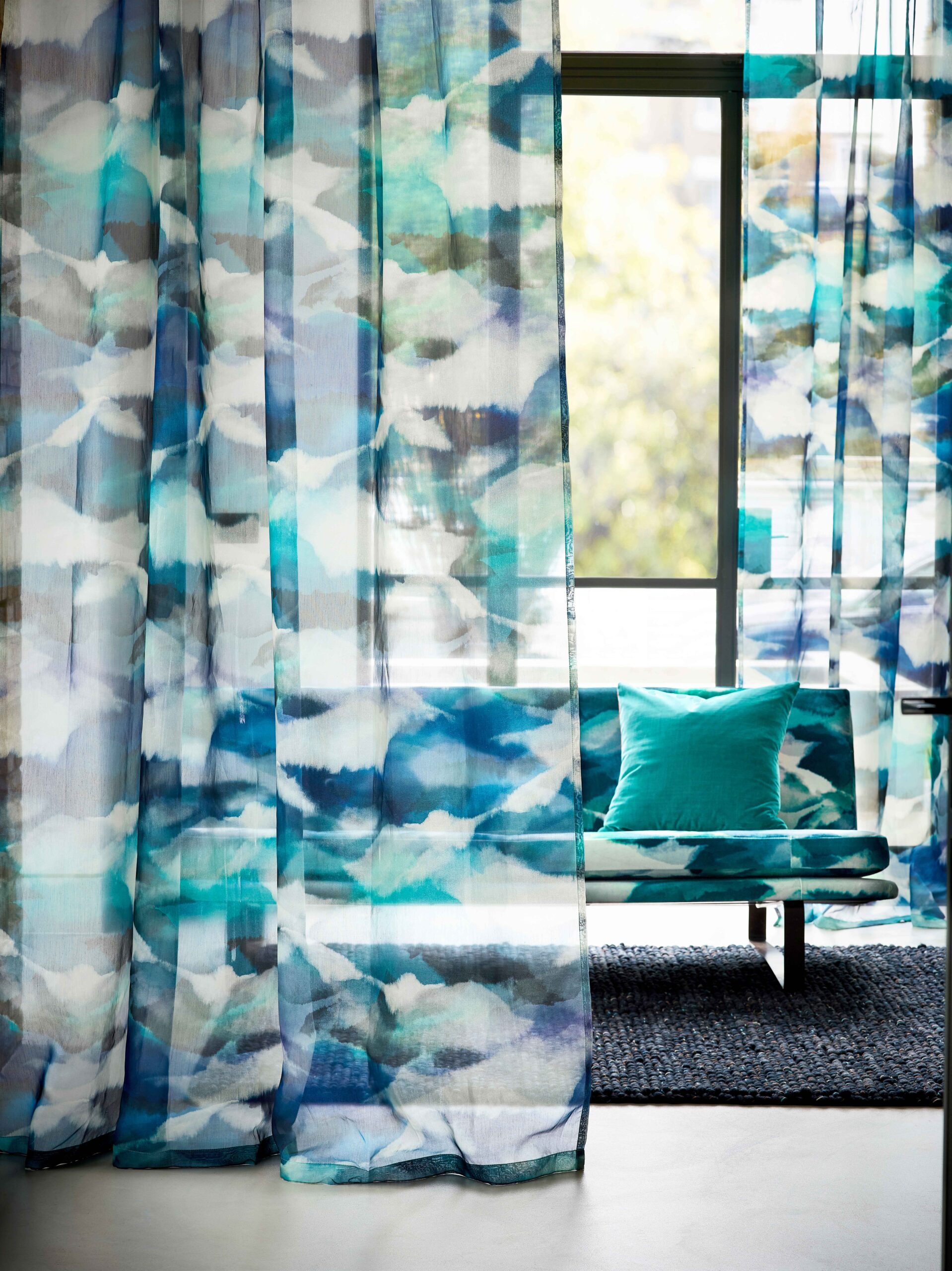 A touch of luxury
A tight collection of velvets, voiles and satin fabrics also appears in the Harlequin Atelier range for an added touch of luxury. The Exuberance and Minako designs offer a magnificent texture for a sumptuous feel to your curtains, blinds, cushions or upholstery. These textures, together with the many colours worked into the designs, create an element of drama for a striking finish.
We particularly love the Minako velvet and Minako voile fabrics in the Emerald / Zest / Marine colourway. Reminiscent of ocean waves and seascapes, these fabrics can help to create the perfect Contemporary Coastal look in your home.
Curtains and Blinds
If you're looking for the perfect, striking window treatment using a Harlequin Atelier fabric, we would love to help. With our bespoke, made to measure curtain and blind making service, we can transform any of these fabrics into a beautiful set of curtains or Roman blinds, made specifically to your individual requirements.
How to work the fabrics
Whether you opt for one bold fabric choice to add some character to your room, or choose to experiment with a few different fabrics, the Atelier range can offer the perfect solution. Harlequin carefully curates their collections to ensure each fabric complements one another through colour and design. This means that if you're wanting to mix patterns for the ultimate, confident look, you can do so in a safe, controlled way. So, however you choose to work these fabrics into your home, you can be sure they'll make a stunning impact.
If you have any questions, would like any advice or fabric swatches sending out, please do not hesitate to get in touch with us and we'll be happy to help.
Email: sales@thehomeofinteriors.co.uk or call on 01590 615775.