The Hallis Hudson 45mm Ashbridge Curtain Pole Collection
The Hallis Hudson Ashbridge collection of wooden curtain poles will add elegance, style and sophistication to your window.  A celebration of British heritage the portfolio is built on attention to detail; from the selection of wood used to the intricate finial designs and colour of the finishes available.  Suited to both traditional and contemporary interior styles, the collection is available in a 45mm diameter with poles available up to 480cm.  Shop the full Ashbridge range here.
The wider diameter poles lend themselves beautifully to wider windows or rooms with tall ceilings, with the curtain pole balancing the proportions of the window and room.  Double or triple pinch pleat curtains work well with this collection, complementing the luxurious look of the finishes and finial designs.
Ash Wood
Ash wood has been specially selected for the Ashbridge Collection, finished in a way that allows the beauty of the grain to show through.  The natural beauty of Ash is enhanced by a choice of six colours made from a paint and powder combination to deliver a lustrous finish that will create a real wow factor in any room.  Choose from Parchment White, Heritage Grey, Gold over White, Champagne Gold, Baroque Silver or Baroque Gold to complement your interiors.
Finishes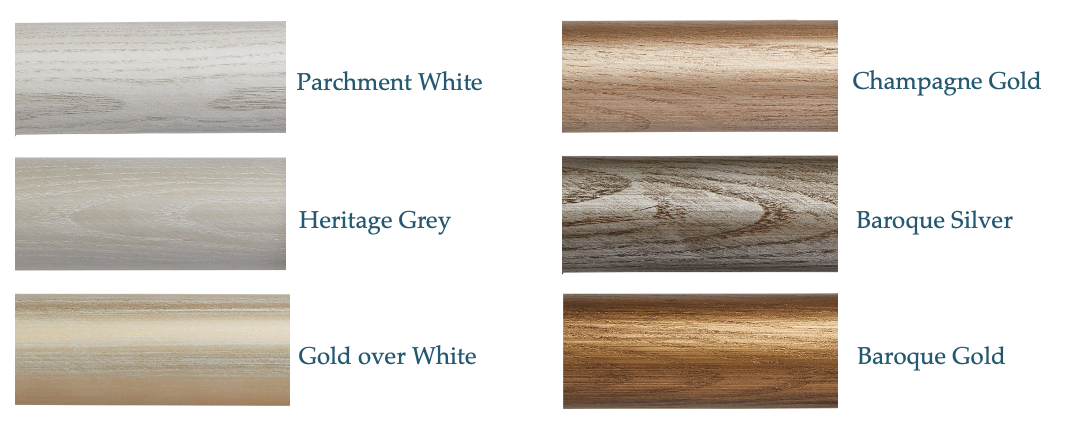 6 stunning finial designs
The six finial designs draw inspiration from stately homes and British gardens with influences including Neo-Classical Rococo and William Morris.  Combining these unique designs & finishes the collection brings a modern-day twist to classically inspired designs. While the most decorative finials are cast from a solid resin mould to enable the intricate detailing, the Chatsworth finial is carved from Solid Ash.

Kew – an exquisitely detailed finial, Kew has been inspired by beautiful botanical gardens and subtly captures the essence of Rococo interior design.
Botanical – inspired by the Mediterranean acanthus plant with a modern, yet classical twist, the Botanical finial is all about the intricate and detailed design.
Claremont – a delicate floral stud style finial inspired by the cherry blossom flower; Claremont epitomises the beginning of Spring.
Tatton – is an elegant and luxurious finial showcasing the Neoclassical interior design styles and décor.
Sezincote -elegant and ornate in design, Sezincote is perfect for creating or complimenting a traditionally lavish interior style.
Chatsworth – a charing solid Ash wood finial with its traditional urn design, Chatsworth showcases the beauty of the natural Ash grain.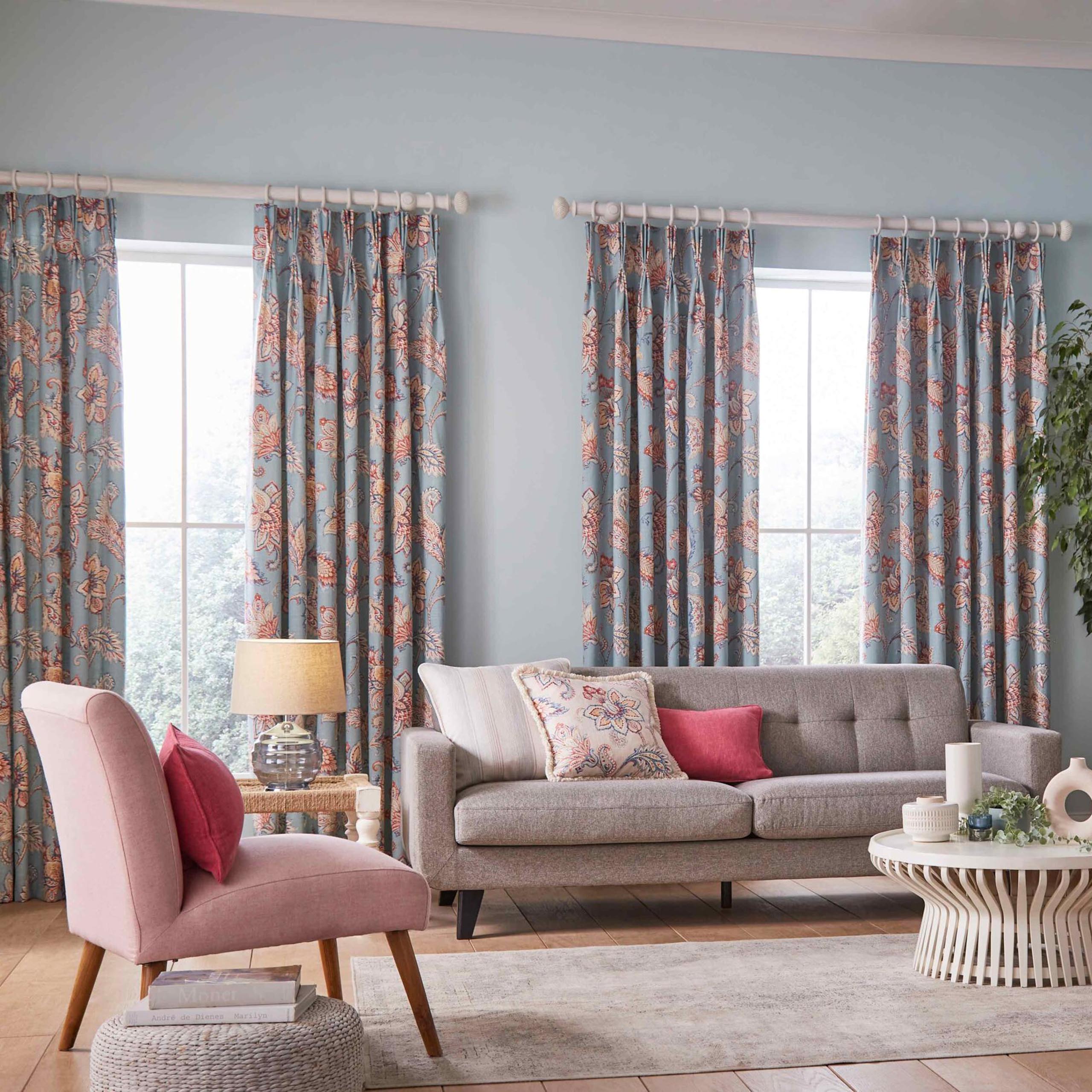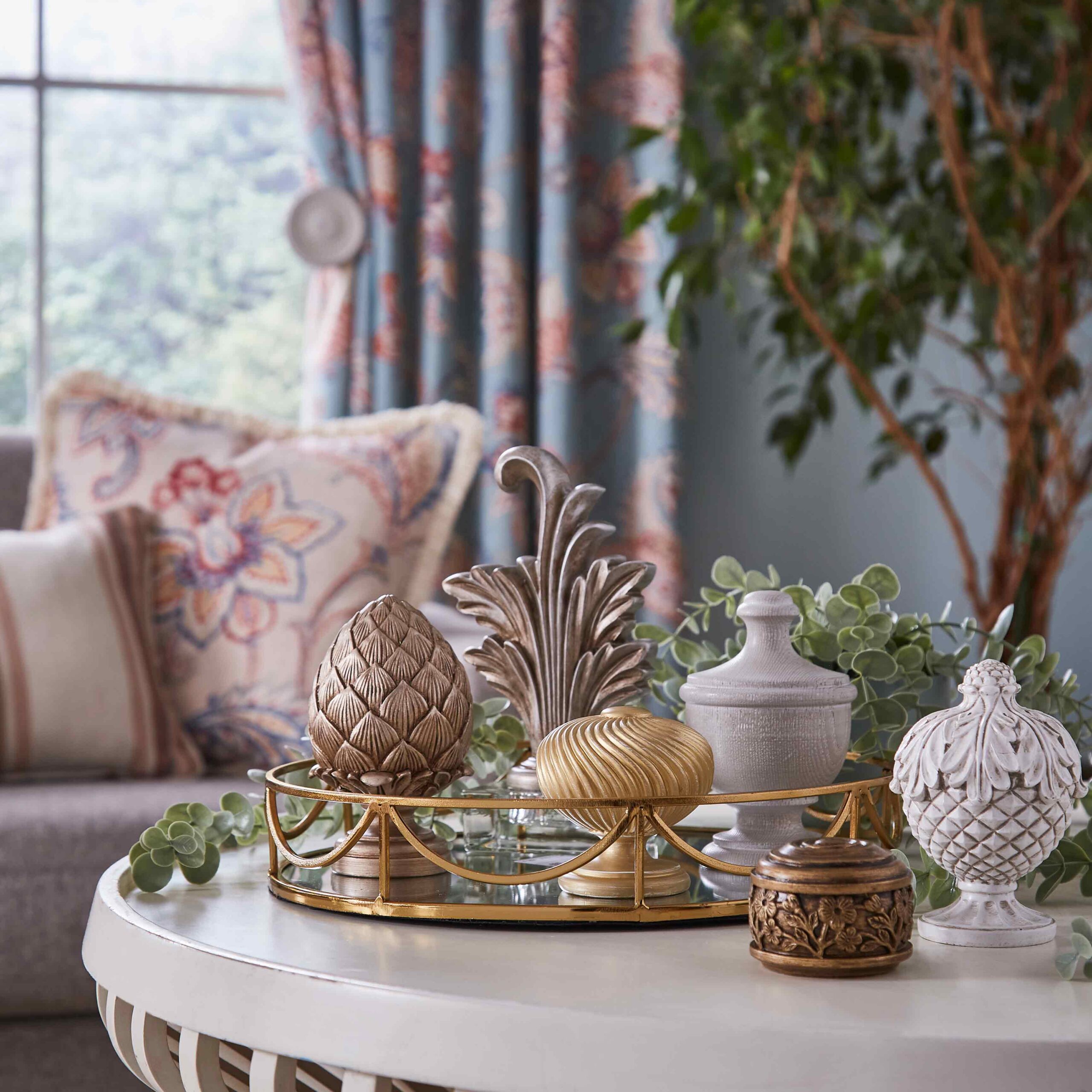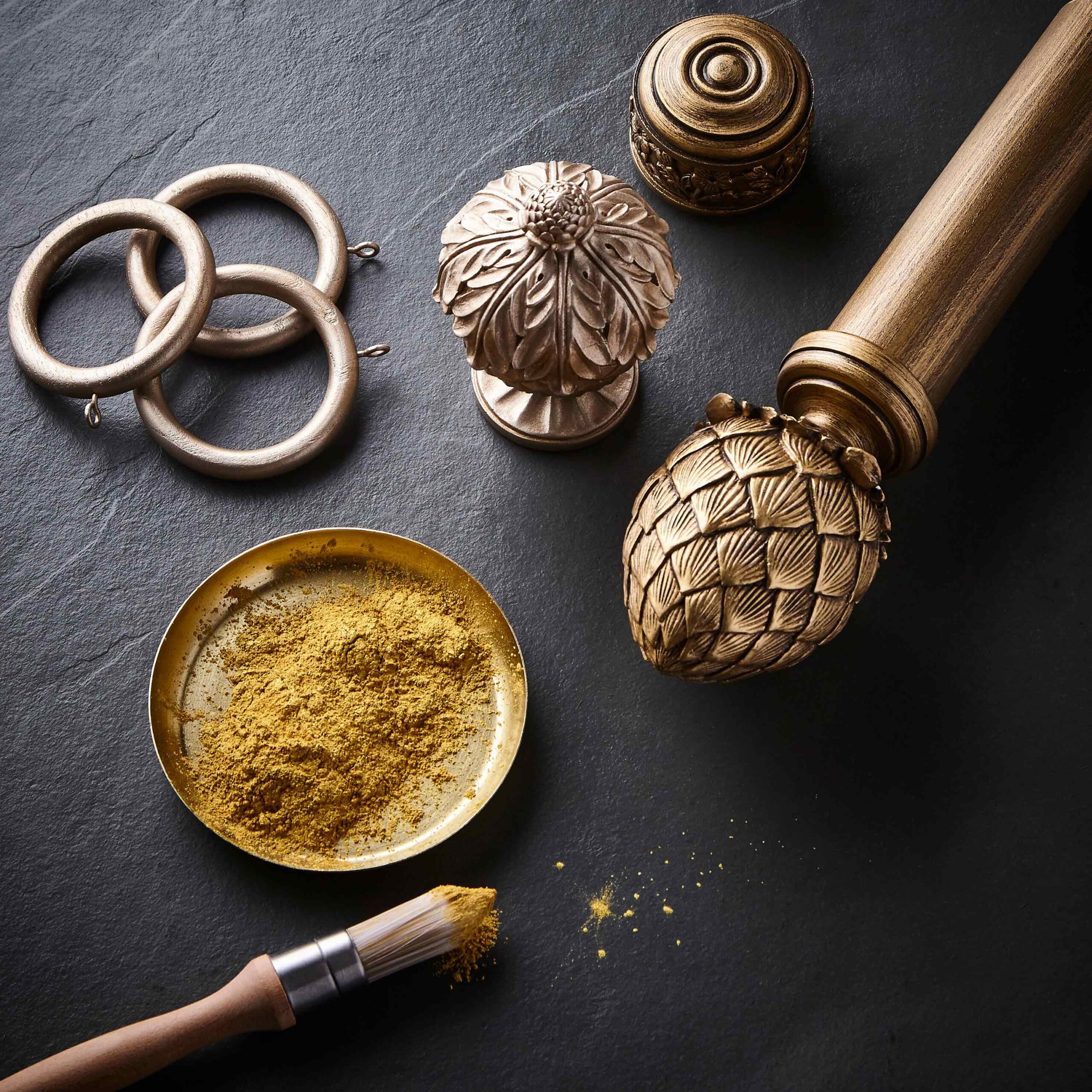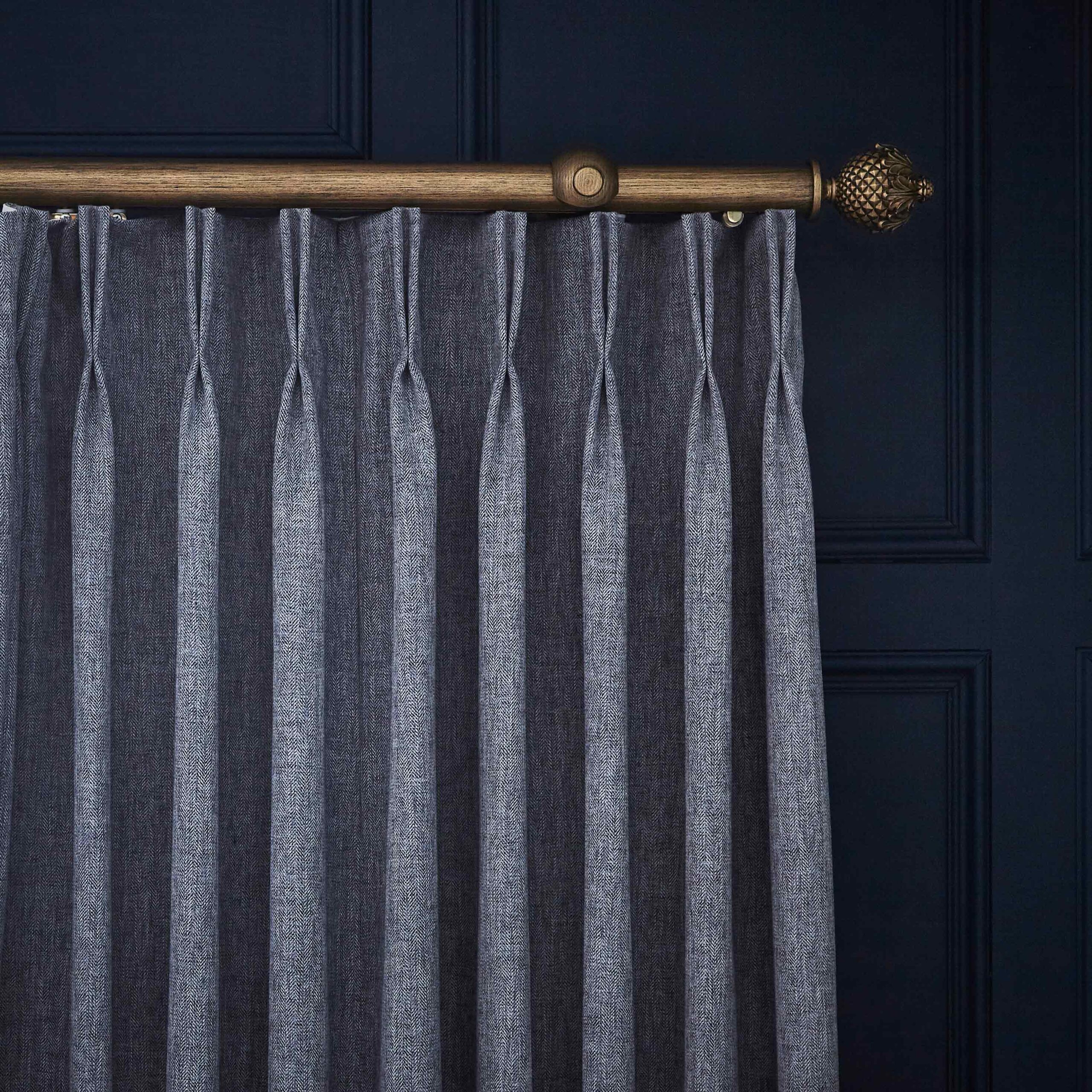 Tracked Curtain Poles
The Hallis Hudson Ashbridge curtain pole collection is also available with a track insert.  This marries the natural beauty of the wood grain finish and stunning finial designs with the smooth functionality of a premium Silent Gliss curtain track.  The Silent Gliss 6870 curtain track is inserted into a grooved out channel on the underside of the pole for a hand drawn operation, with the Silent Gliss 3870 being used for a corded operation.  All corded poles are made to your exact size.
A corded curtain pole is a popular choice if your curtains are drawing behind furniture and are hard to draw by hand.  They are also a popular choice for delicate or light coloured fabrics so that you can open and close your curtains without touching the fabric to prolong the longevity of your curtains.
A tracked pole also enables the curtain heading to sit much closer to the underside of the pole for a neat finish.  The tracked poles are suitable for pencil pleat, pinch pleat curtains along with the contemporary wave curtain heading style.  Please note for wave curtains the 80mm wave gliders will need to be specified when ordering your pole.  Please click here for more information on the wave curtain heading style.
In Conclusion
The Hallis Hudson Ashbridge range of wooden curtain poles is truly stunning, delivering a sophisticated, opulent window dressing that will add an air of luxury to your interiors.  The wood finishes and finial styles available complement each other for a cohesive design.
If you are embarking on a home project and would like any help or inspiration, please do get in touch. We offer a bespoke design service and can provide fabric, design and paint colour advice to help you create a home you love.