The Sara Miller London Homeware range includes fabrics, ready made lined eyelet curtains, bedding sets, cushions, wallpaper and roller blinds. The use of striking, vibrant jewel tones and exotic prints adds a unique and lively twist to your room scheme, therefore sitting perfectly in our Exotic Trend. The collections include Tropical, Underwater, Orchard, Chelsea and Bamboo. With an eclectic mix of underwater scenes, exotic hummingbirds and tropical palms, the Sara Miller range will excite and inspire.
The fabrics' opulent finishes from plush velvets and shimmering sateens, to sparkling metallics, all equally add an air of luxury and charming playfulness to your room.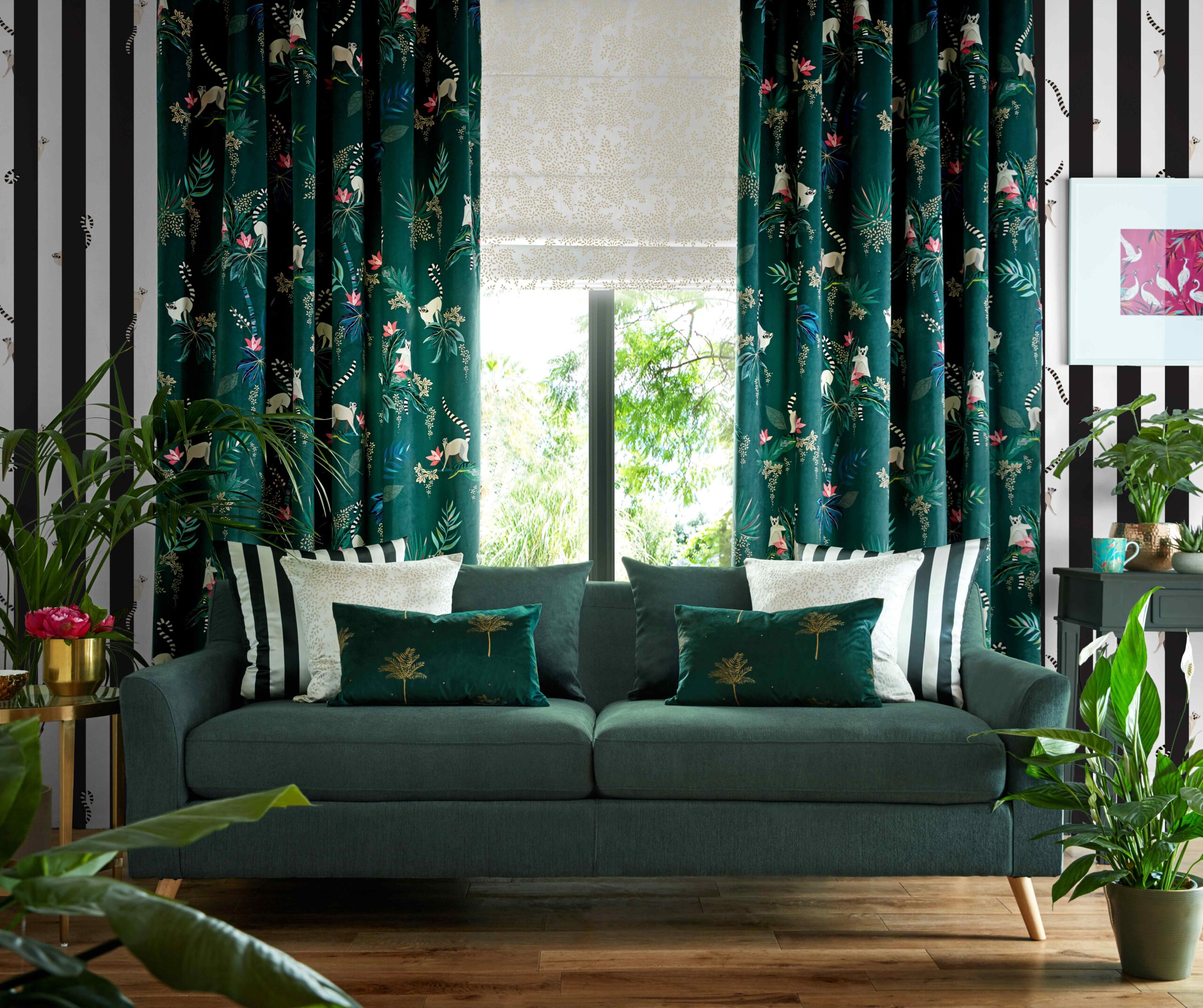 Lemur
Sara Miller's velvet range includes the exotic Lemur design in Forest Green from the Tropical Collection (image above). This statement fabric with playful lemurs set amongst the jungle leaves is an exciting, on trend choice for your home.
Underwater
The beauty of the tropical reef, corals and colourful sea life is captured in the vibrant Underwater velvet. This fabric is available in the jewel tones of Mauve and Midnight (image 1 below).
Linear Bamboo
This depiction of colourful bamboos filled with exotic birds nestled amongst the stems and leaves will certainly bring the outdoors in and help spark the imagination (image 2 below). Part of the Bamboo Collection, the Sara Miller London Linear Bamboo Velvet comes in a beautiful Dark Green colour way.
Hummingbird
This design of blossom trees with enchanting hummingbirds fluttering around the blooms is a magical addition to your room (image 3 below). Part of the Chelsea range, the Hummingbird velvet also comes in a fresh Cornflower Blue and a rich, Deep Navy colour way.
Saluzzo
The plain Saluzzo velvet, available in 8 colour ways, has a beautiful, soft velvet pile and also works harmoniously with the rich range of designs in the Sara Miller velvet collection.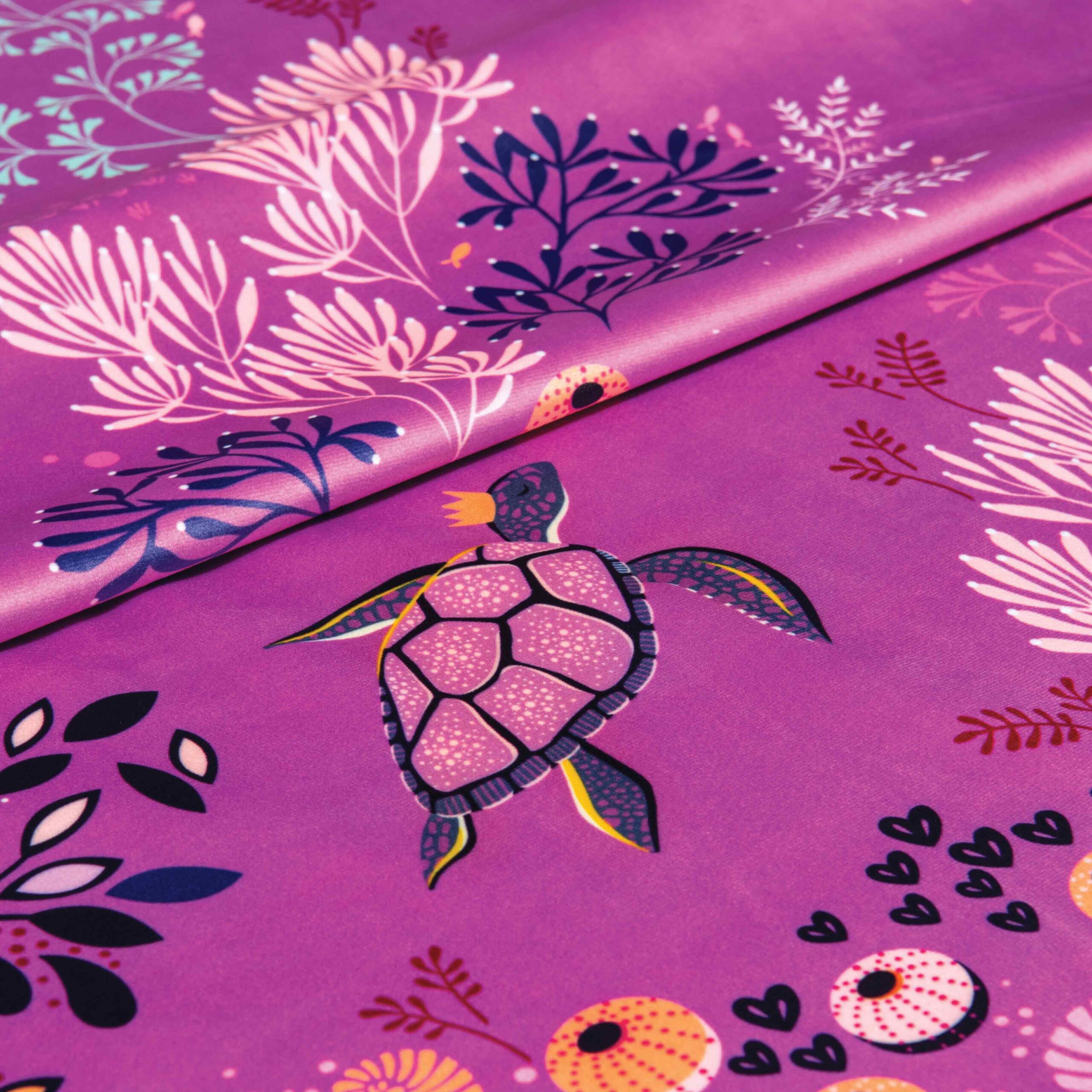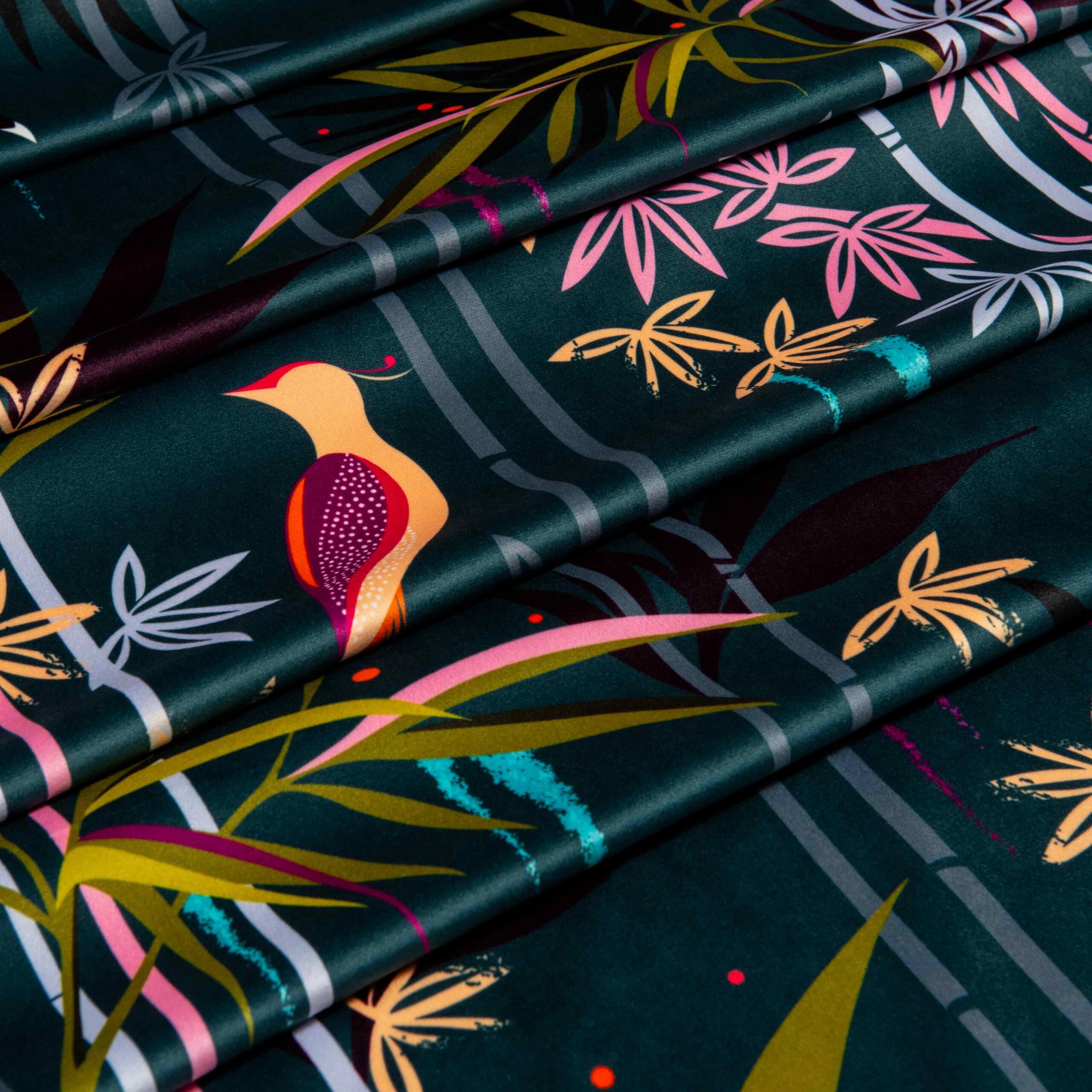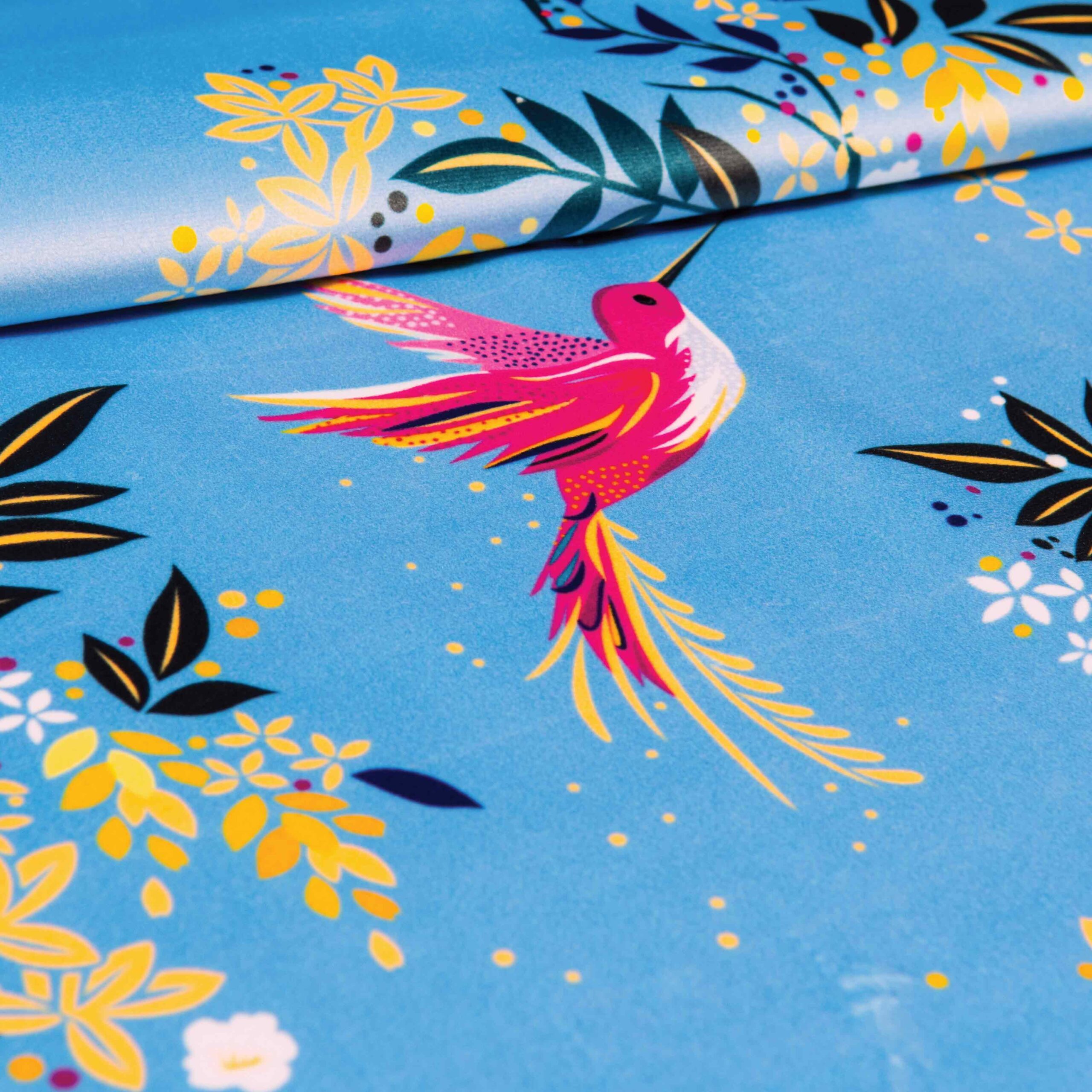 Metallic Fabric
Metallic Leaves
The plain velvets work particularly well with the Metallic leaves fabric. Featuring gorgeous leaves set against a satin ground, this fabric adds textual interest and a slight shimmer to your decor. Available in 5 opulent colour ways to suit a range of interior design styles and colour schemes (image opposite).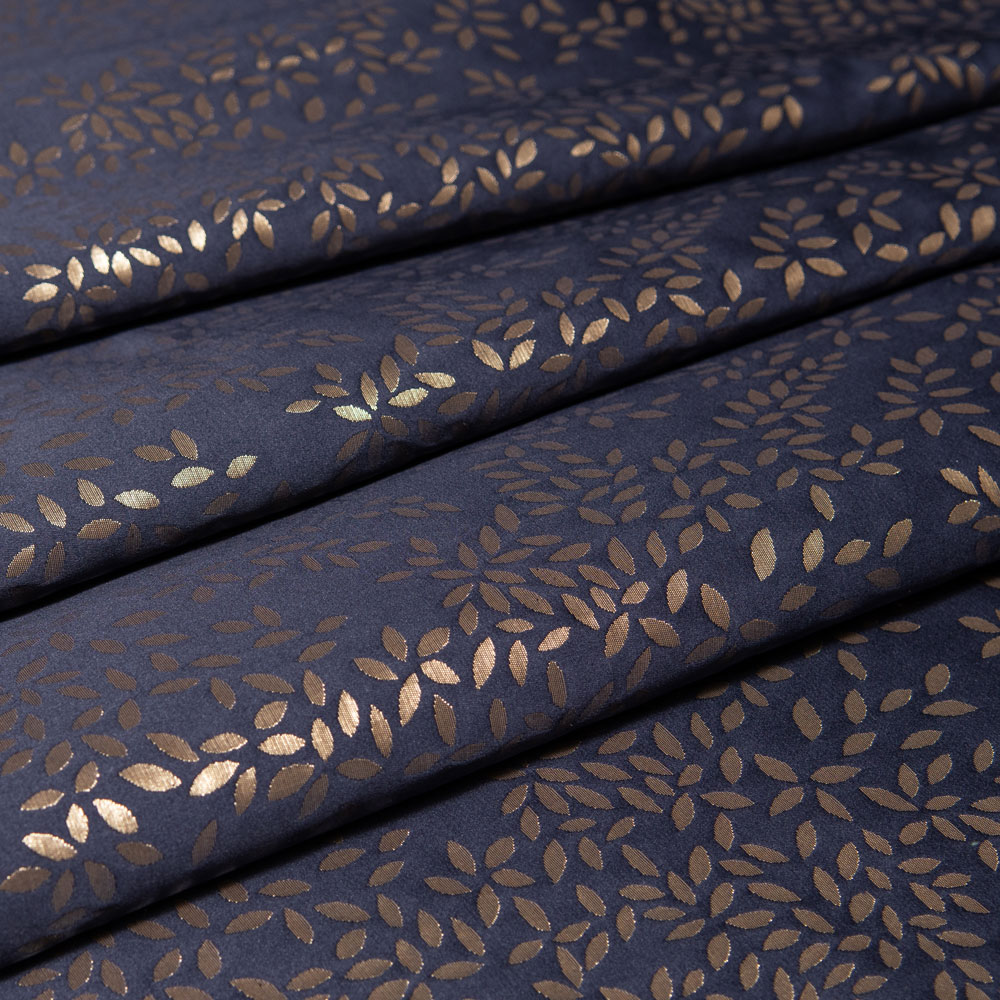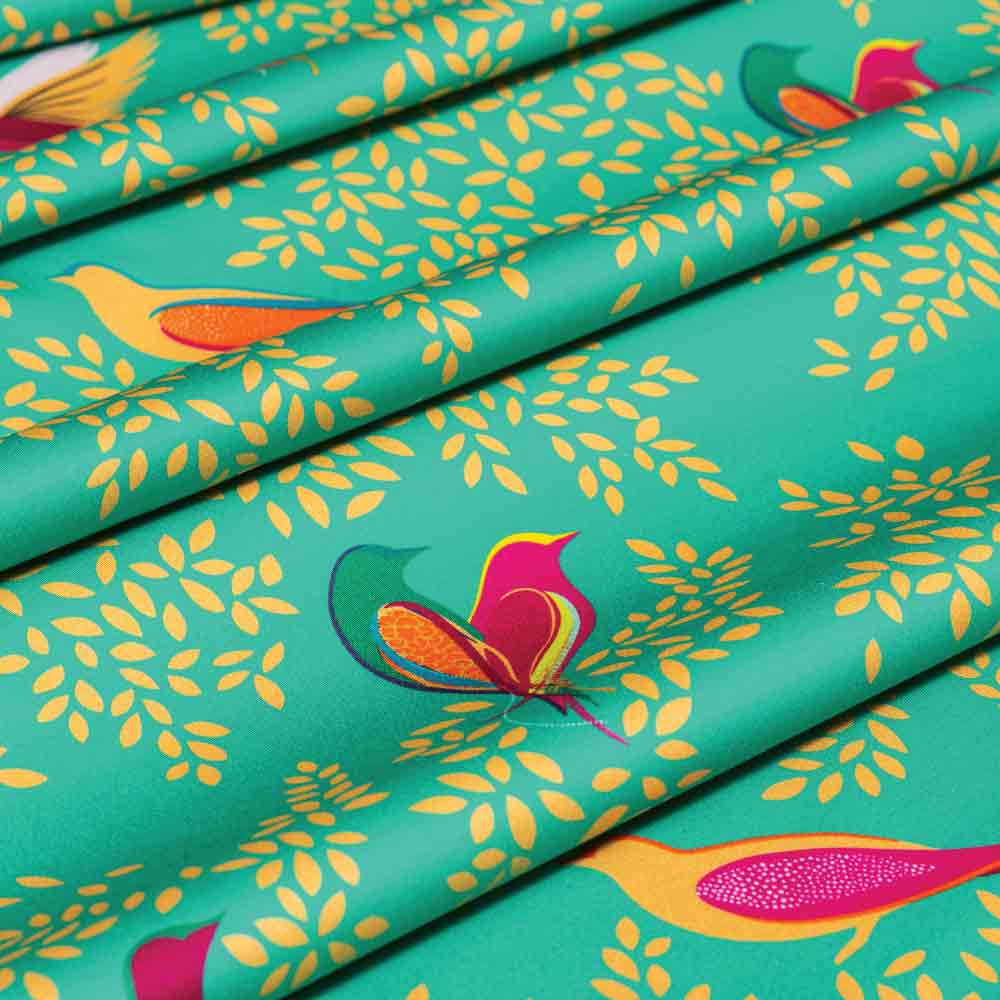 Sateen
Birds Sateen
From the Chelsea range, the Birds Sateen fabric is an iconic design of bright, charming birds amongst the foliage (see image opposite).
Orchard Floral Sateen
The beautiful Orchard Floral Sateen from the Orchard Collection is an inspiring depiction of a meadow garden filled with wildflowers, lemons and fresh sprigs of foliage.
Butterflies & Trellis Sateen
Elegant and delicate butterflies fluttering through the fruit trees in the orchard garden. Butterflies and Trellis is a colourful and lively sateen, also from the Orchard range.
Curtains
Our made to measure curtain and roman blind service is available for all the Sara Miller fabrics above. Please see our hand made curtains and roman blinds blog post for more information on how we make our bespoke window dressings.
Ready Made Curtains
Sarah Miller also offers a range of lined eyelet ready made curtains in her exotic prints. These include inspired designs such as the stunning Green Birds (image 1 below) and Enchanted Gate designs (image 2).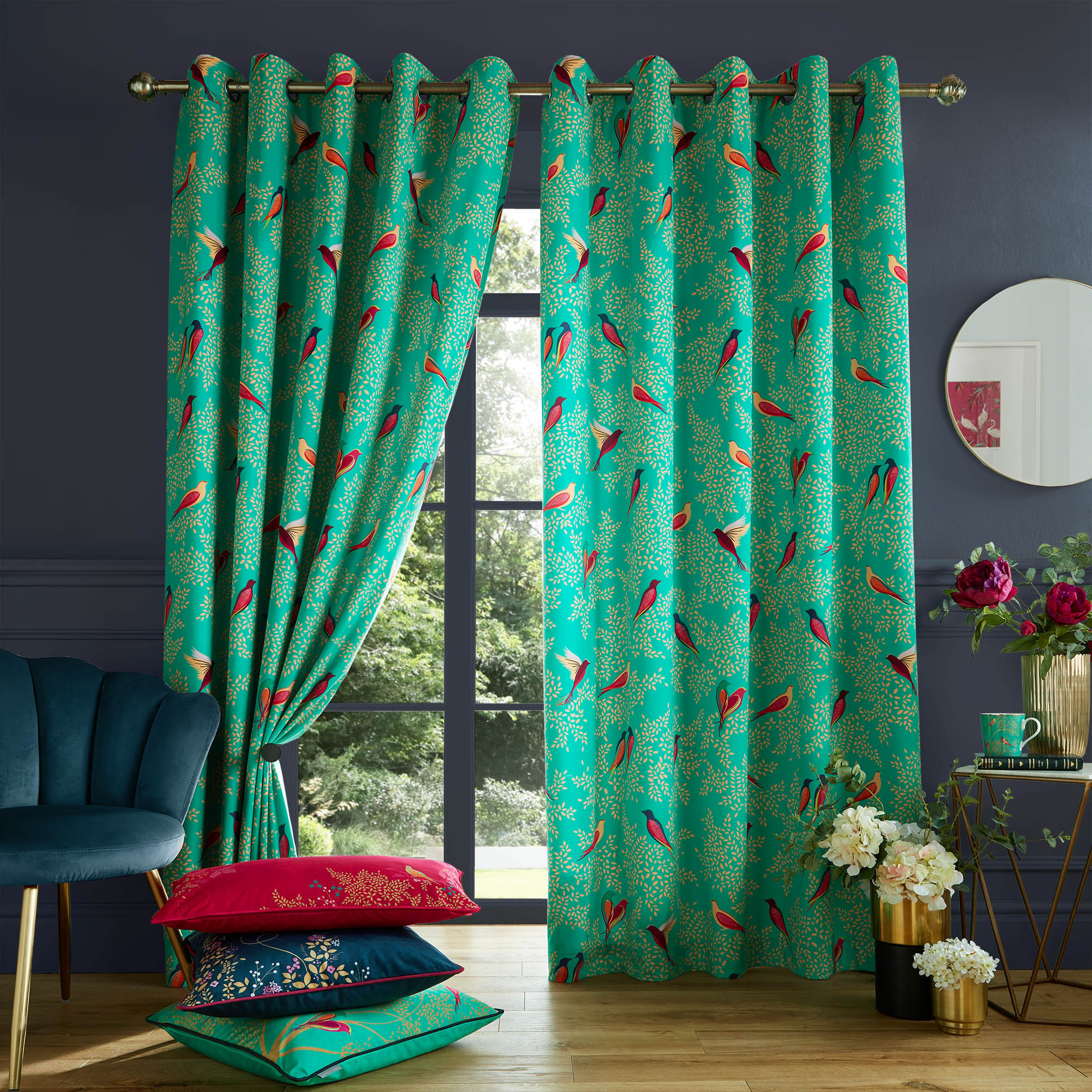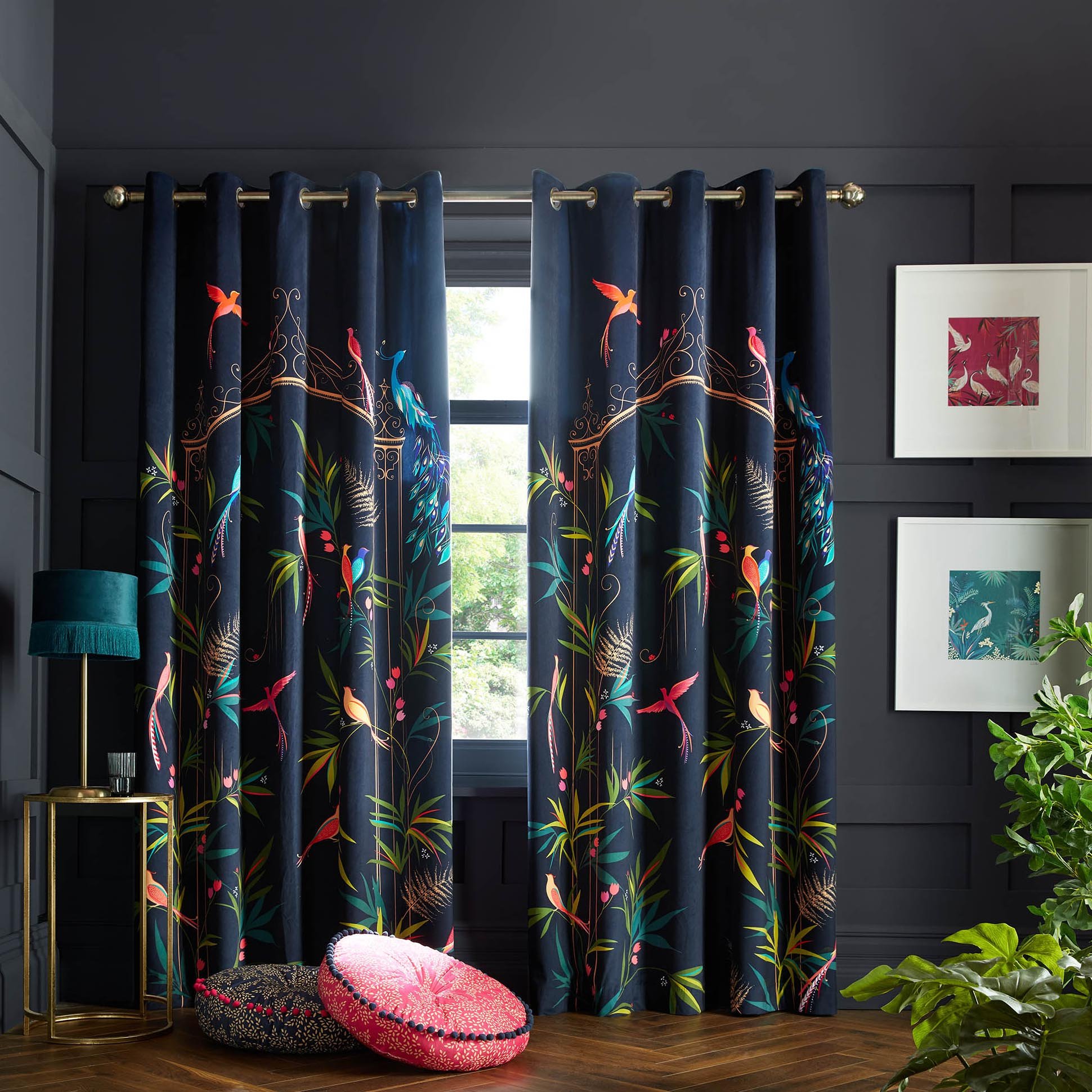 Wallpaper
Enliven a room with the Sara Miller co-ordinating mural wallpapers, such as Enchanted Gate, Wisteria (image 3) and Bird & Gate. Other co-ordinating wallpaper designs include Metallic Leaves, with its delicate golden leaves set against a rich jewel ground of contrasting and striking Forest Green or Navy.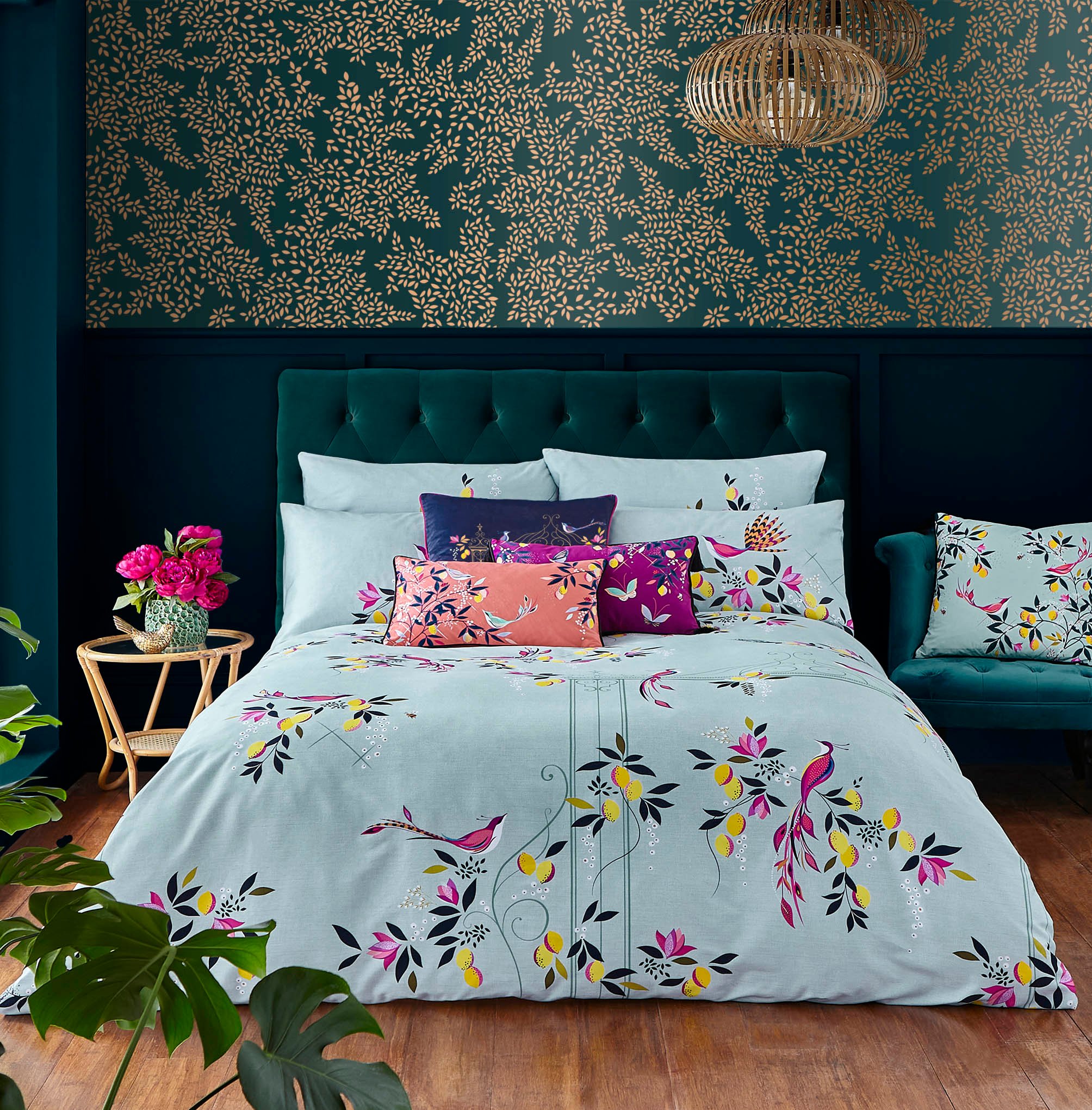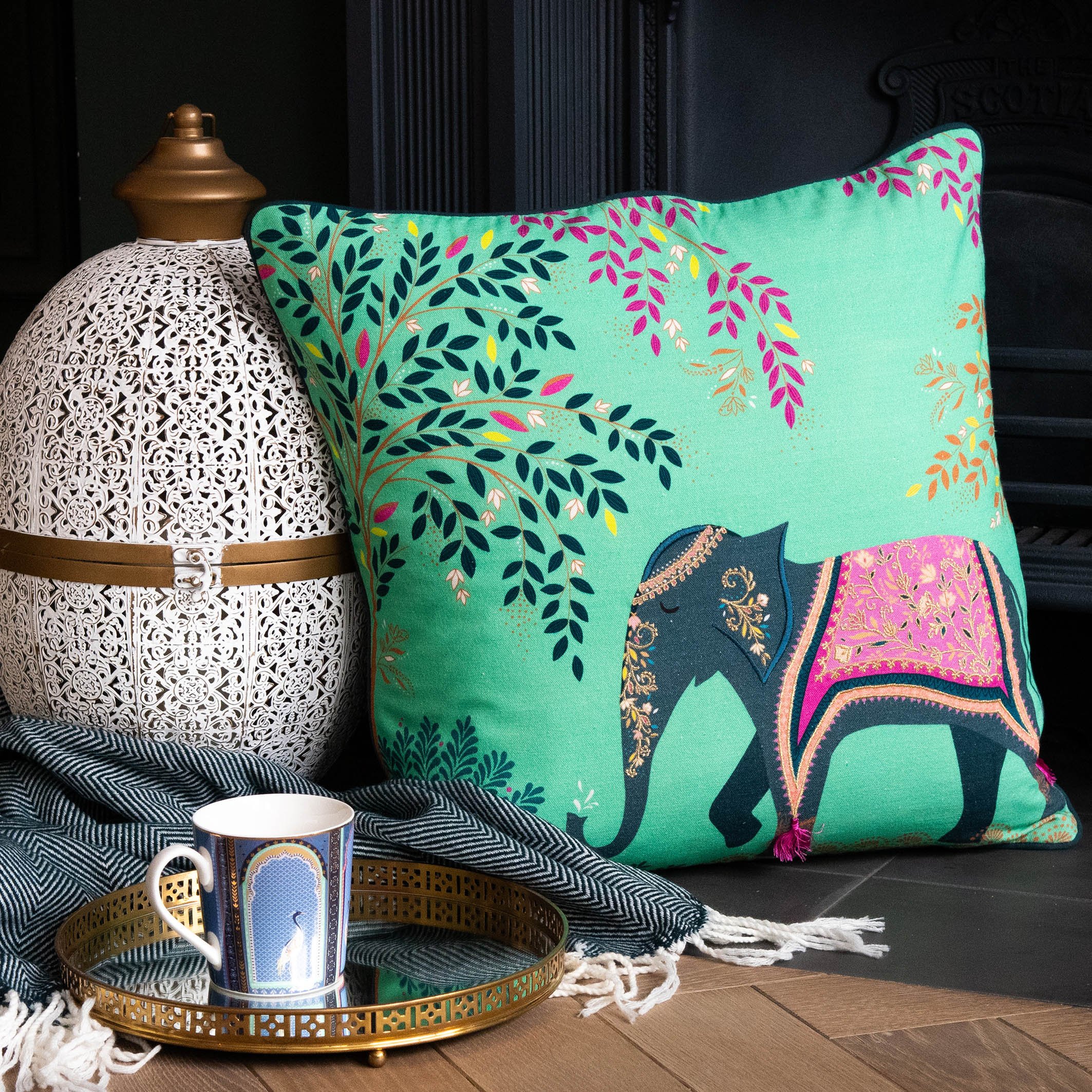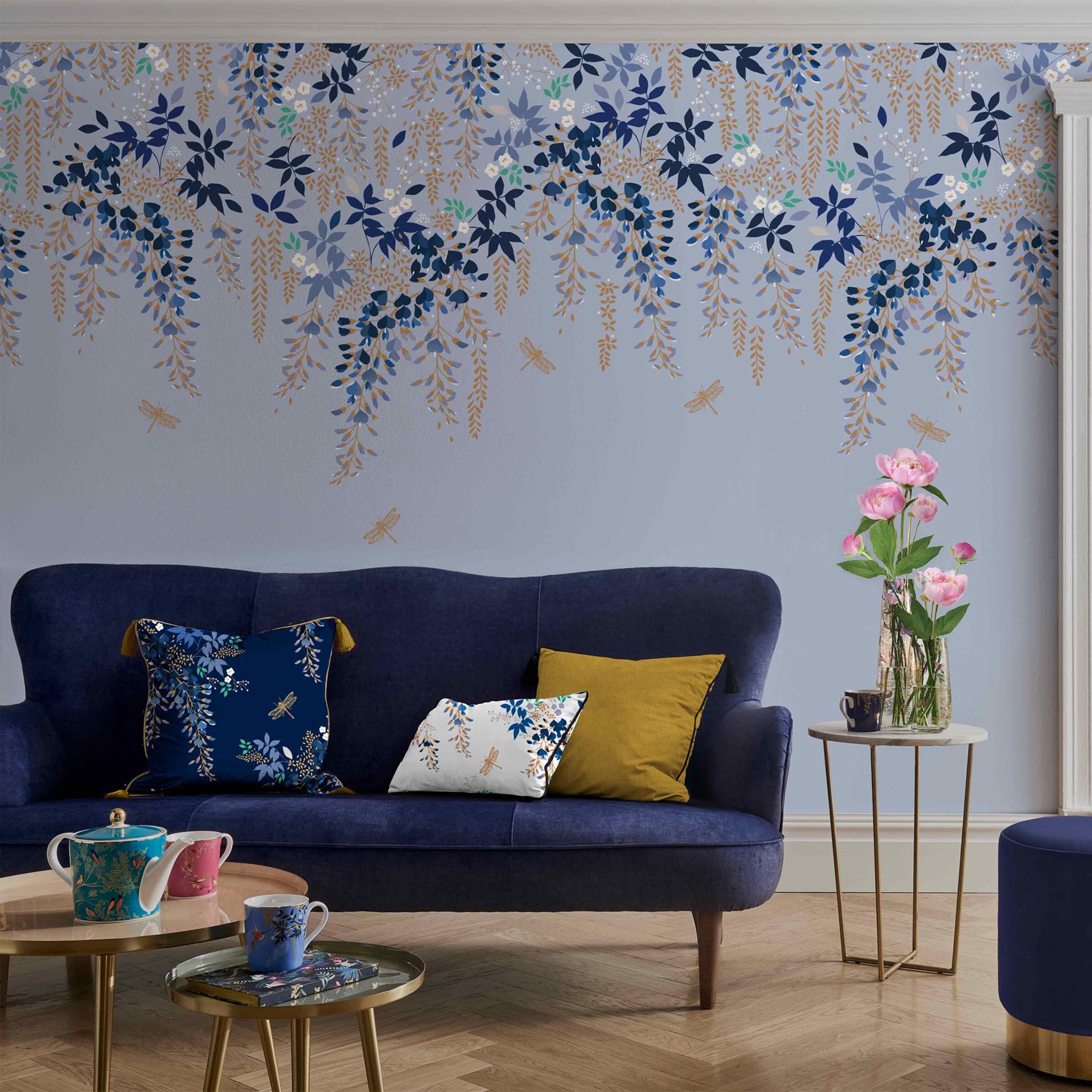 Overview
The Sara Miller London Homeware range is the perfect way to make a bold and dramatic statement in your home, whilst also bringing excitement and a luxurious elegance to your decor. It helps to bring the outside in and create an air of magical mysticism, therefore igniting the imagination. For colour lovers everywhere, this is the go to collection to inspire!
If you would like any colour and fabric advice or samples from the Sara Miller range, please contact us.
Email: sales@thehomeofinteriors.co.uk or call us on 01590 615775.
Follow us on Instagram and Facebook: @myhomeofinteriors