The Caribbean Collection by Prestigious Textiles combines rich colours with tropical climes in order to bring the sunshine into your home! The range features an array of vibrant and exotic birds, butterflies and playful monkeys, cleverly camouflaged in tropical palms and leaves.
The Caribbean designs sit perfectly in our Exotic Trend, introducing lively, passionate colours, a myriad of patterns and layers of texture into your living space for added depth and interest. Luxurious printed velvets, embroideries and co-ordinating wallpapers all feature, bringing the excitement of the Caribbean into your rooms.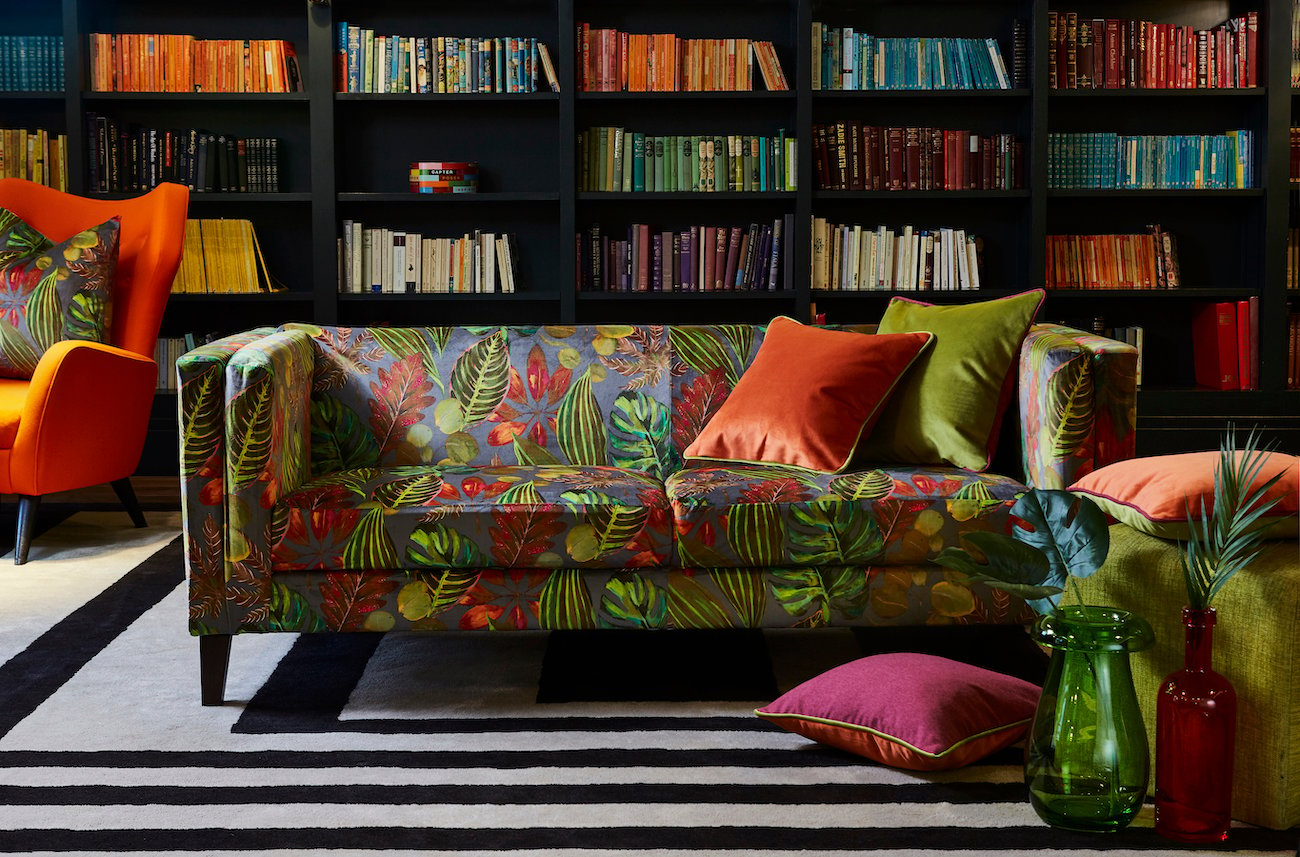 Velvets
Antigua
Antigua is an intricate patterned printed velvet, designed to make a real statement in your home. Available in 2 rich, jewel-toned colour ways: Carnival and Jade (see image 1 below).
Bahamas
A lively, large leaf print velvet, the Bahamas fabric comes in 3 vivid tones in order to uplift and enhance your room scheme (see sofa image above). The matching St Maarten wallpaper is also available in a Dusk or Tropical colour way to complete the look.
Barbados
The beautiful Barbados printed velvet comes in an array of jewel colours, with tropical birds and playful monkeys climbing and exploring the branches (see image 2 below). The Caicos wallpaper also features the matching print design to this fabric in a choice of 4 striking colour ways.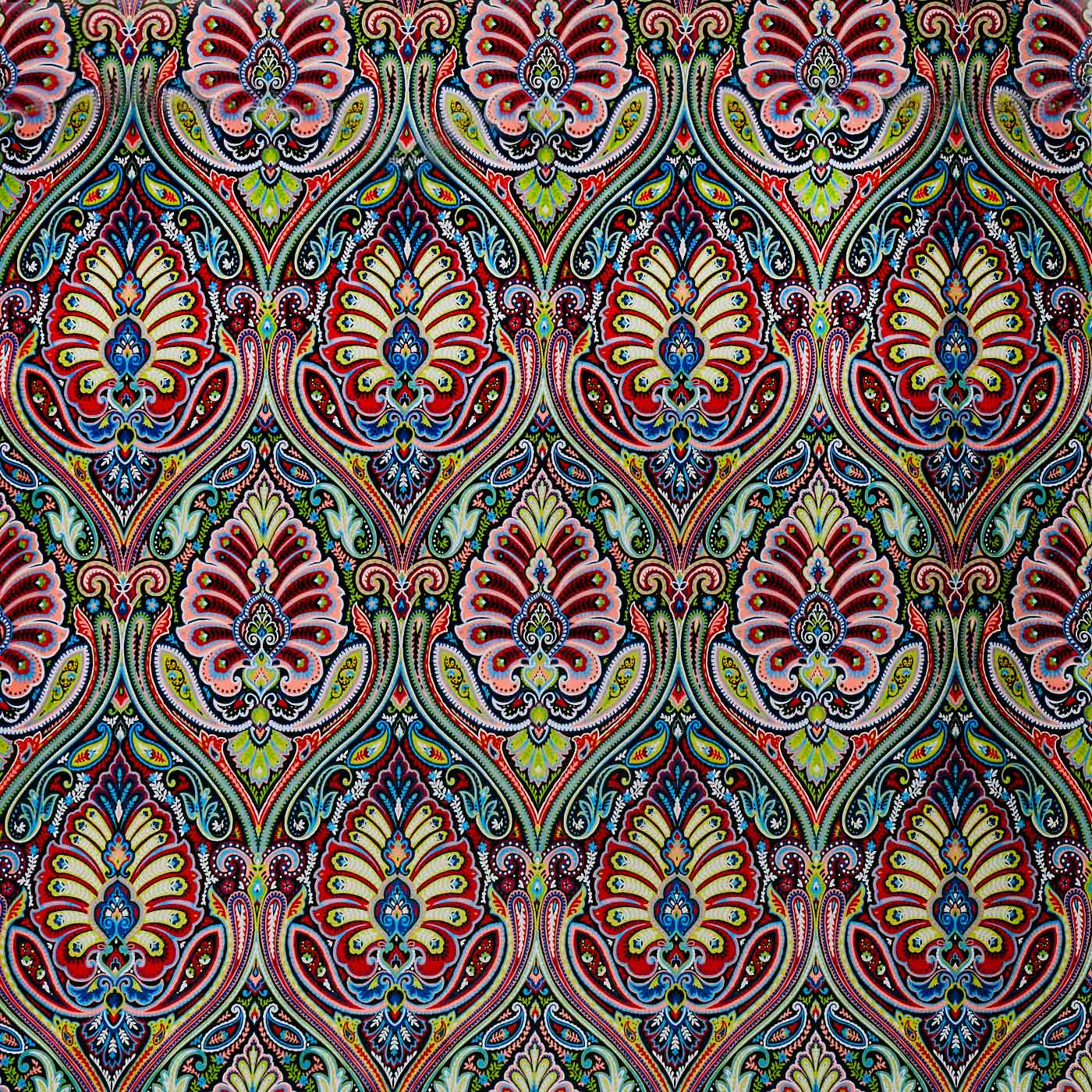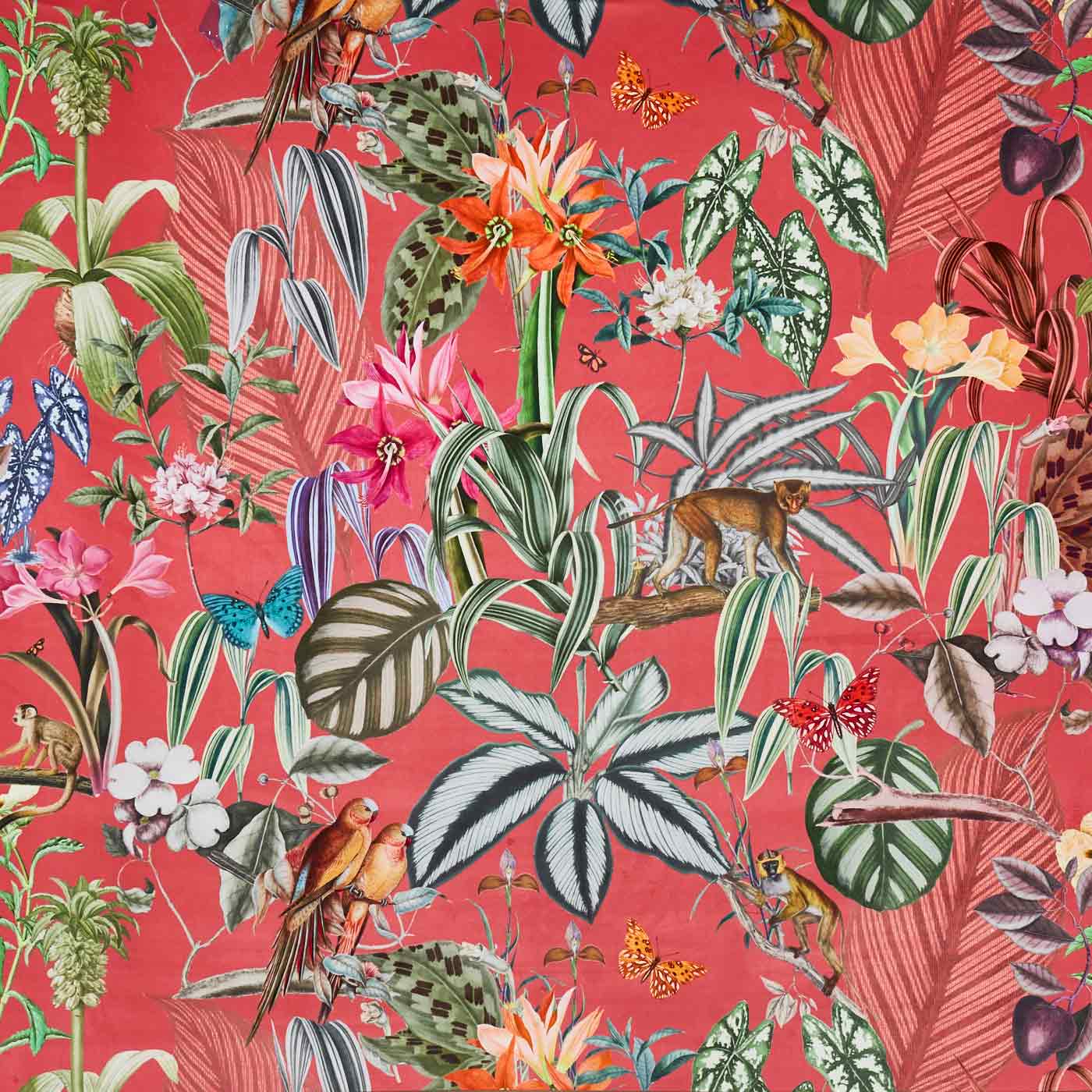 Embroidery – Velvet and Polycotton
Barbuda
Add an air of luxury to your rooms with the Barbuda fabric. A rich velvet ground beautifully embroidered with tropical and colourful flowers and sprigs of foliage (see image opposite), this fabric comes in 3 bold colour ways.
Cayman
A beautiful embroidery with the same design as the Barbuda velvet, set upon a polycotton ground. Caymen is available in 2 stunning colour ways: Jade and Watermelon.
St Kitts
An intricately embroidered pattern on a polycotton ground, the St Kitts fabric comes with a choice of 3 rich, jewel colour ways.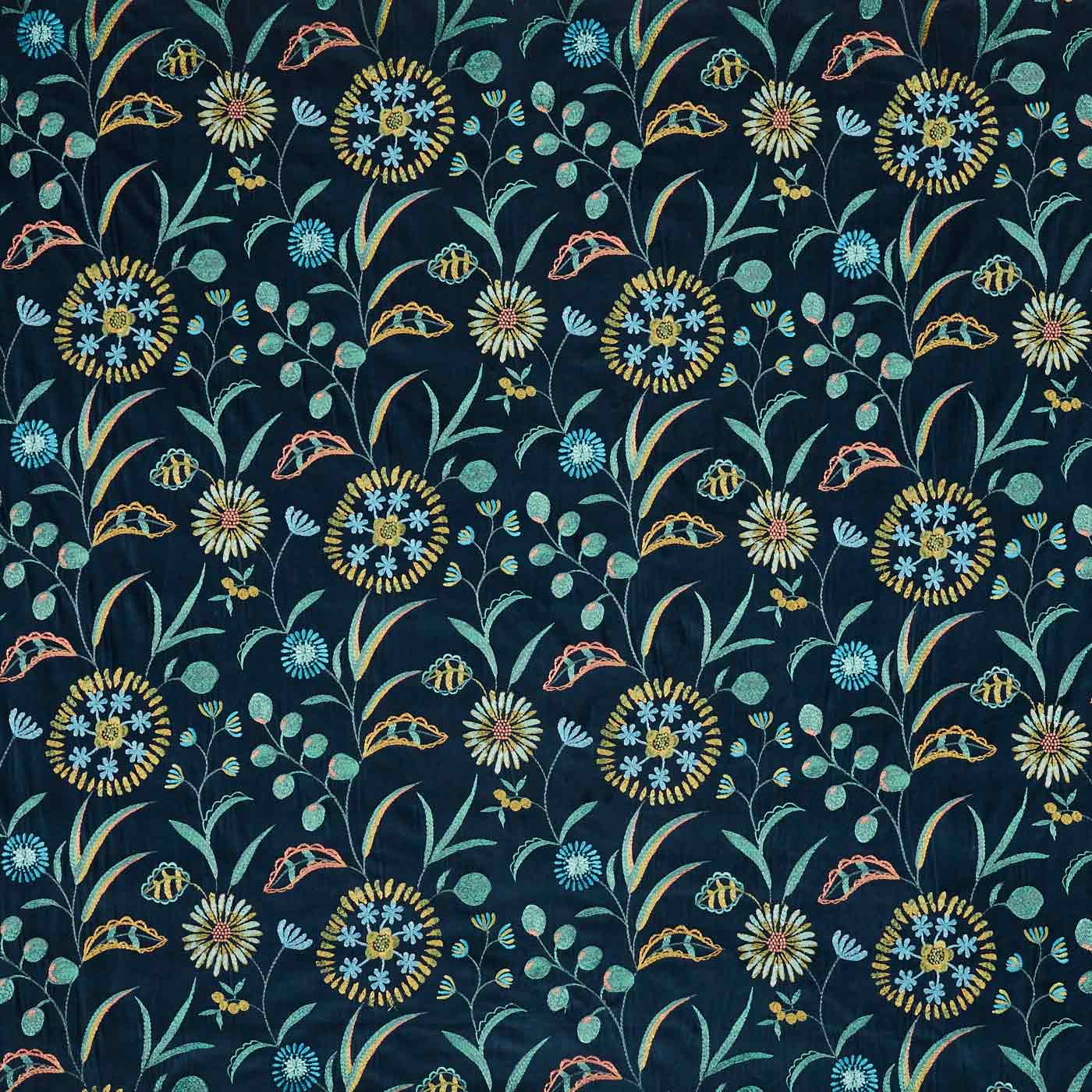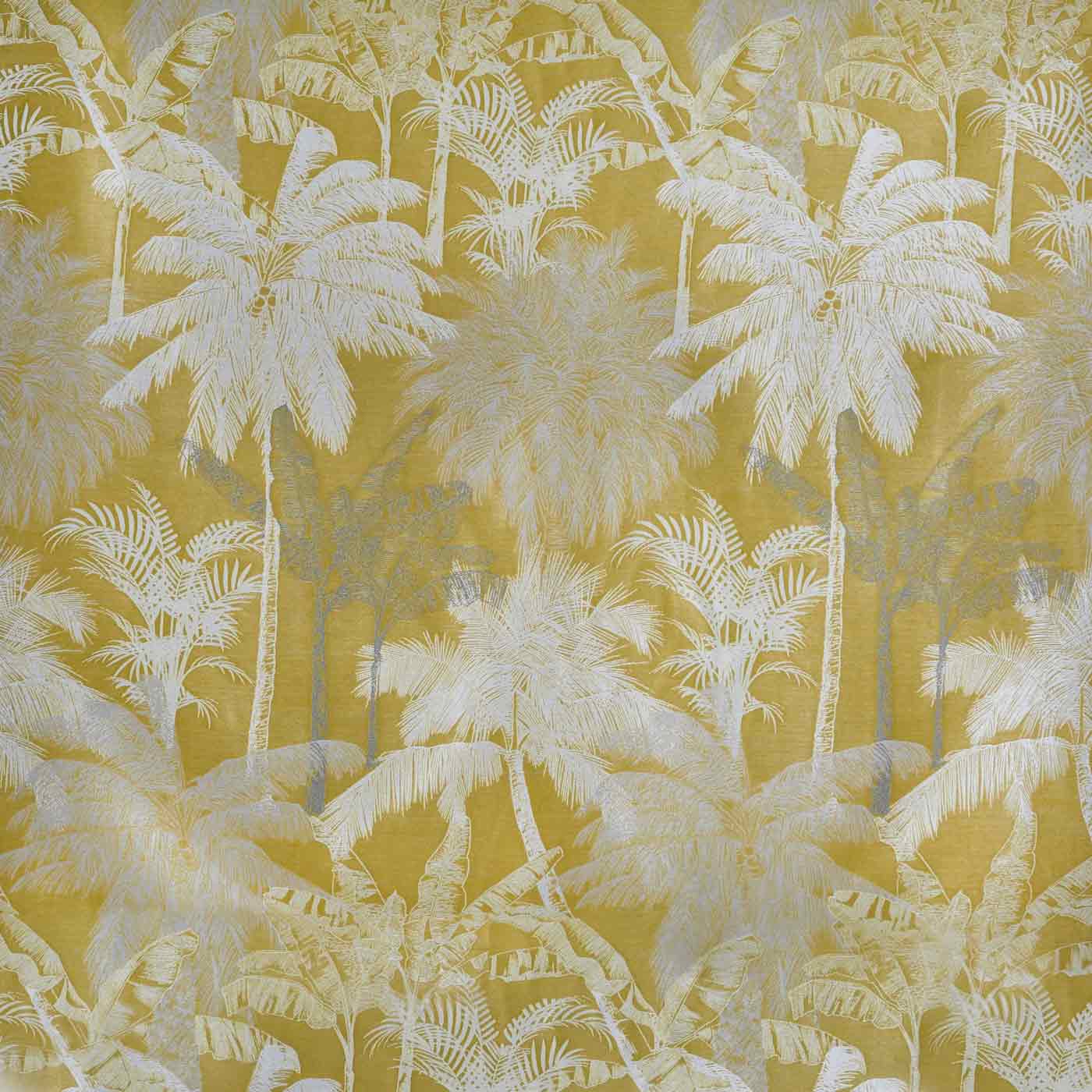 St Lucia
Featuring a jacquard woven pattern of tropical palm trees, the St Lucia fabric is available in a striking colour palette. The matching St.Vincent wallpaper also features the same palm design in 2 bold colour ways: Jade and Lagoon.
Overview
The Caribbean collection by Prestigious Textiles brings an exciting, tropical mix of pattern and colour into your interiors. To brighten and uplift any scheme with bold, jewel colour tones and luxurious textures, this gorgeous fabric and paper range will certainly bring the tropical climes indoors for a maximalist interior style.
If you would like any colour and fabric advice or samples sending out, please do get in touch.
Email: sales@thehomeofinteriors.co.uk or call us on 01590 615775.
Follow us on Instagram and Facebook: @myhomeofinteriors