As we spend more time in the comfort of our own homes, many of us continue to look for ways to renew our current living spaces. And with the summer months now upon us, our home exteriors are no exception!
Outdoor spaces such as gardens, patios, porches and balconies carry endless design potential. A place to relax, dine, socialise and/or entertain, they provide a natural oasis that can translate into an extension of the home. At The Home Of Interiors, we have pulled together some styling ideas and inspiration, incorporating some of 2023's biggest outdoor trends to help you transform your exteriors into a stylish and inviting space that you can enjoy all year long.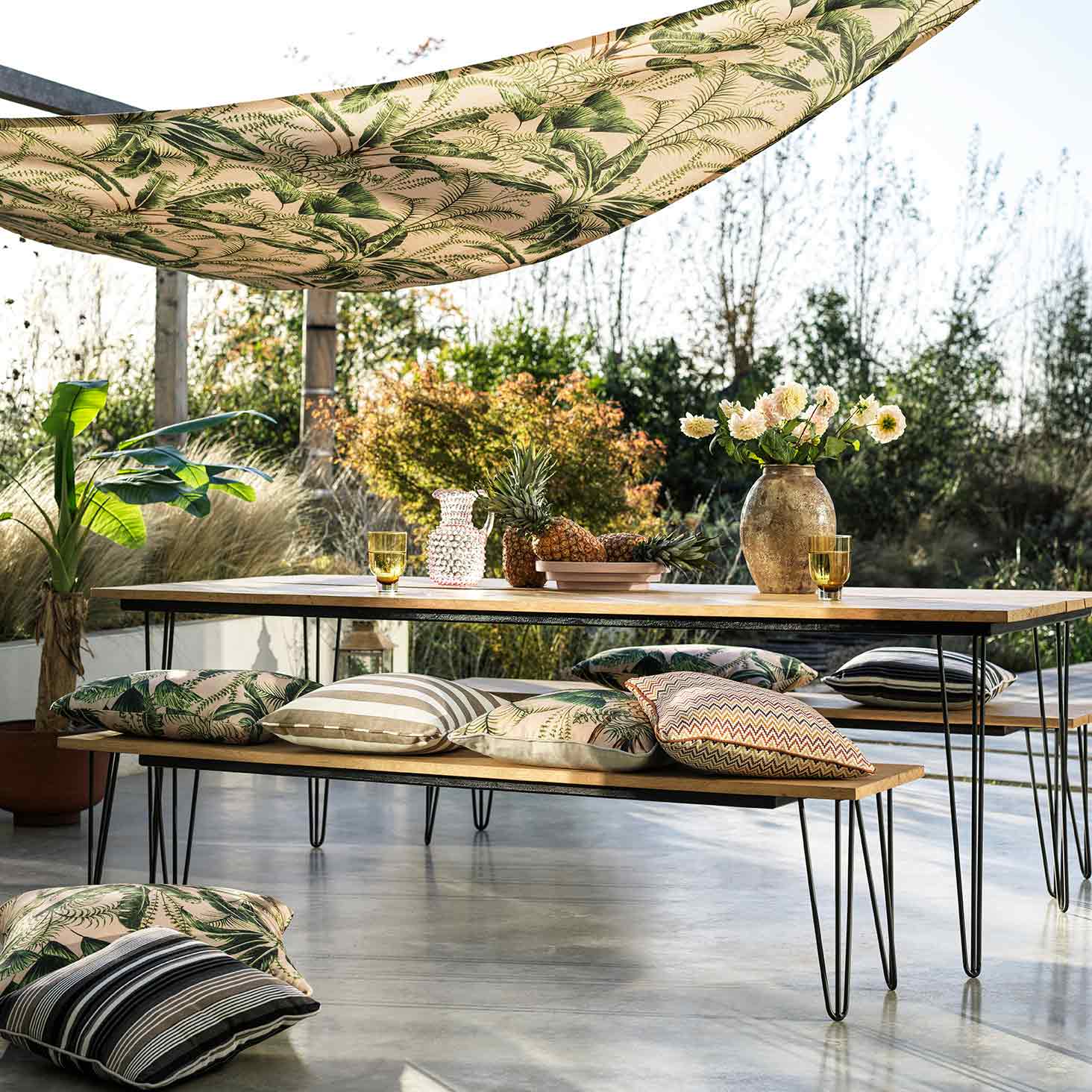 Paint
A fantastic way to begin your outdoor scheme is to add a splash of colour using a versatile outdoor paint. Natural shades of sage and deeper greens together with subtle earthy neutrals work seamlessly in outdoor settings, complementing the natural surroundings. The Little Greene Boringdon Green 295 and Mid Azure Green 96 (seen in image 1 below) are fantastic examples. Blues such as Little Greene's Hicks' Blue 208 also lend themselves beautifully for a classic coastal style backdrop (image 2 below).
Bright and bold colours are also making a comeback in outdoor design and styling. This is a great way to introduce personality and style to your outdoor space. Consider adding a dash of colour to some garden furniture or an accent wall to create an element of contrast and character. Vibrant tones such as pink, orange or yellow are popular choices, breathing life and energy into your outdoor scheme. The Little Greene Carmine paint is an effective and dramatic pink that will enliven your exteriors (image 3 below).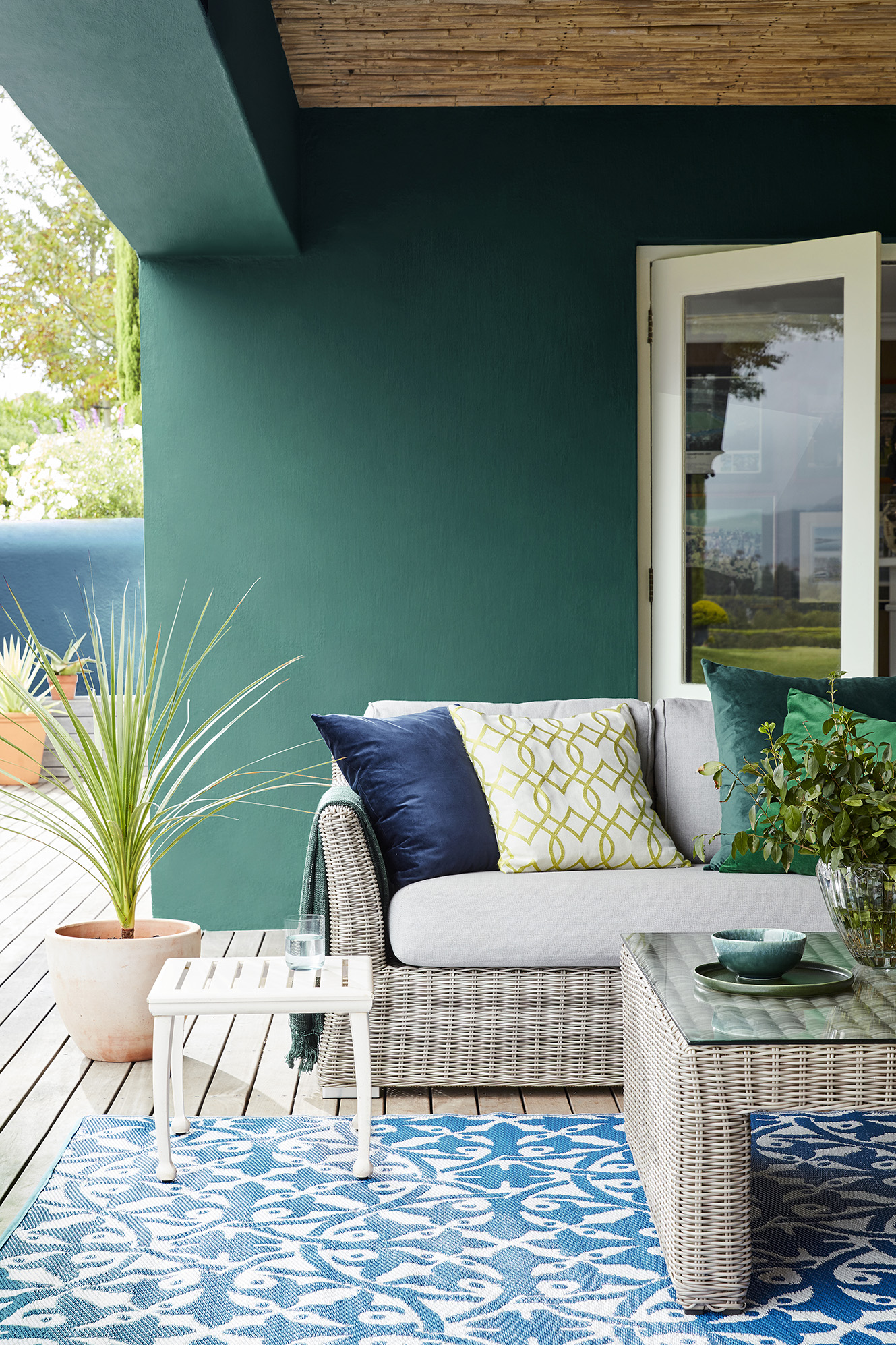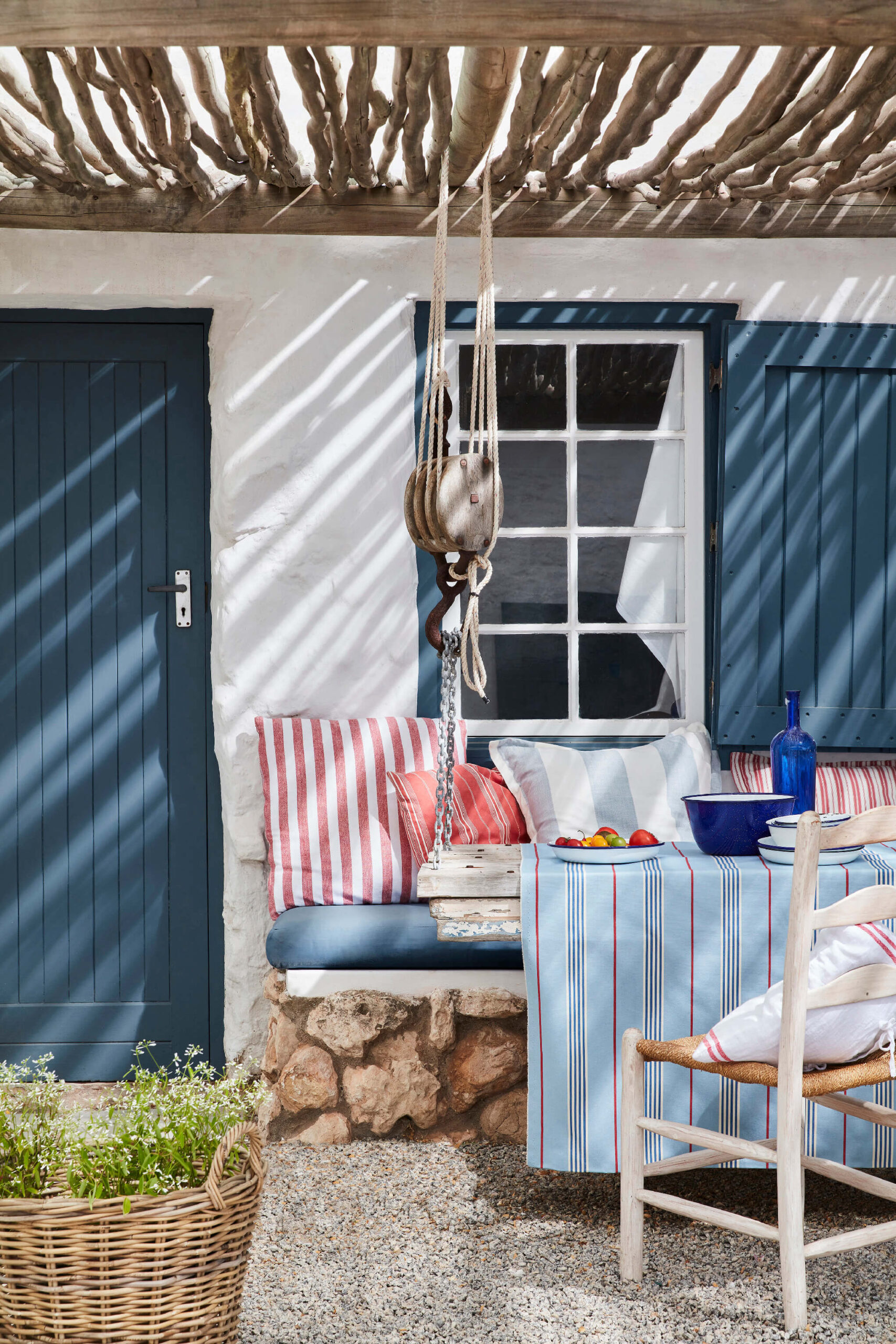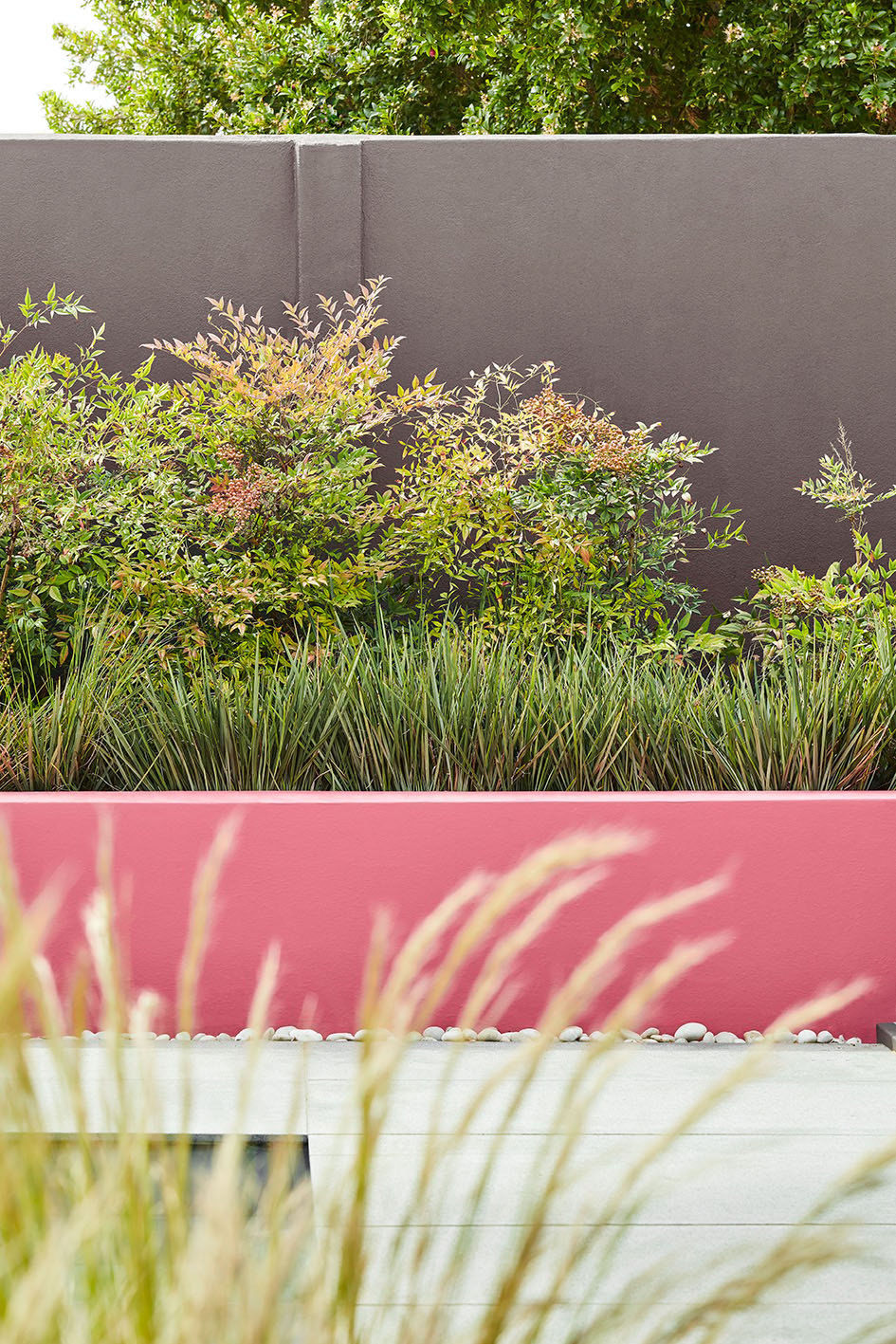 Paint featured in image: Little Greene Mid Azure Green (main wall), Slaked Lime 105 (door & side table), Air Force Blue (left back wall).
Paint featured in image: Little Greene Hicks' Blue (door, shutter and frame), Loft White (wall).
Paint featured in image: Little Greene Carmine (low wall), Knightsbridge (high wall).
Given the setting, it's also important to opt for a durable finish that is suitable outdoor use. The Little Greene paint collection offers some superb exterior paints ideal for walls, fences, sheds, gates, doors and garden furniture.
The Intelligent Exterior Eggshell is a fantastic go to for all exterior woodwork applications. A self-priming, low sheen finish with washable and weather resistant properties, it is available across the extensive Little Greene colour palette. The traditional Tom's Oil Eggshell is also a great low sheen, washable option for exterior wood and metal work. If you'd prefer a high sheen paint finish with a beautiful shine, you may wish to opt for the hard-wearing Little Greene Traditional Oil Gloss or Intelligent Gloss, suitable for interior and exterior wood and metalwork.
If you're considering painting your outdoor walls, the new and improved Little Greene Intelligent Masonry paint offers excellent coverage for all exterior masonry including brickwork, new render and cement blockwork. With high resistance to water, weather and dirt, this low sheen finish is specially formulated to last up to 15 years before reapplication. Alternatively, if decorating exterior lime-render or porous stone, you may wish to consider the breathable, matt Limewash finish.
Fabrics
The desire to bring the outdoors in has ultimately dominated this year's interior trends, so it's no surprise that now the weather has warmed up, the trend is beginning to reverse. The lines between indoor and out continue to blur as we look to create seamless transitions between the two areas, inviting indoor comforts such as cushions, throws and beautifully upholstered furniture pieces to exterior spaces.
Choosing colours and designs that complement your interior scheme can bring a sense of cohesion that flows from inside to out. For an air of natural simplicity and charm, consider a stunning heritage stripe in natural tones. We particularly love the gorgeous Holland Park Stripe fabric from the Morris & Co. Outdoor Performance collection (see image opposite). Gentle botanical designs such as Morris & Co.'s Marigold fabric in Soft Teal also work beautifully in outdoor settings.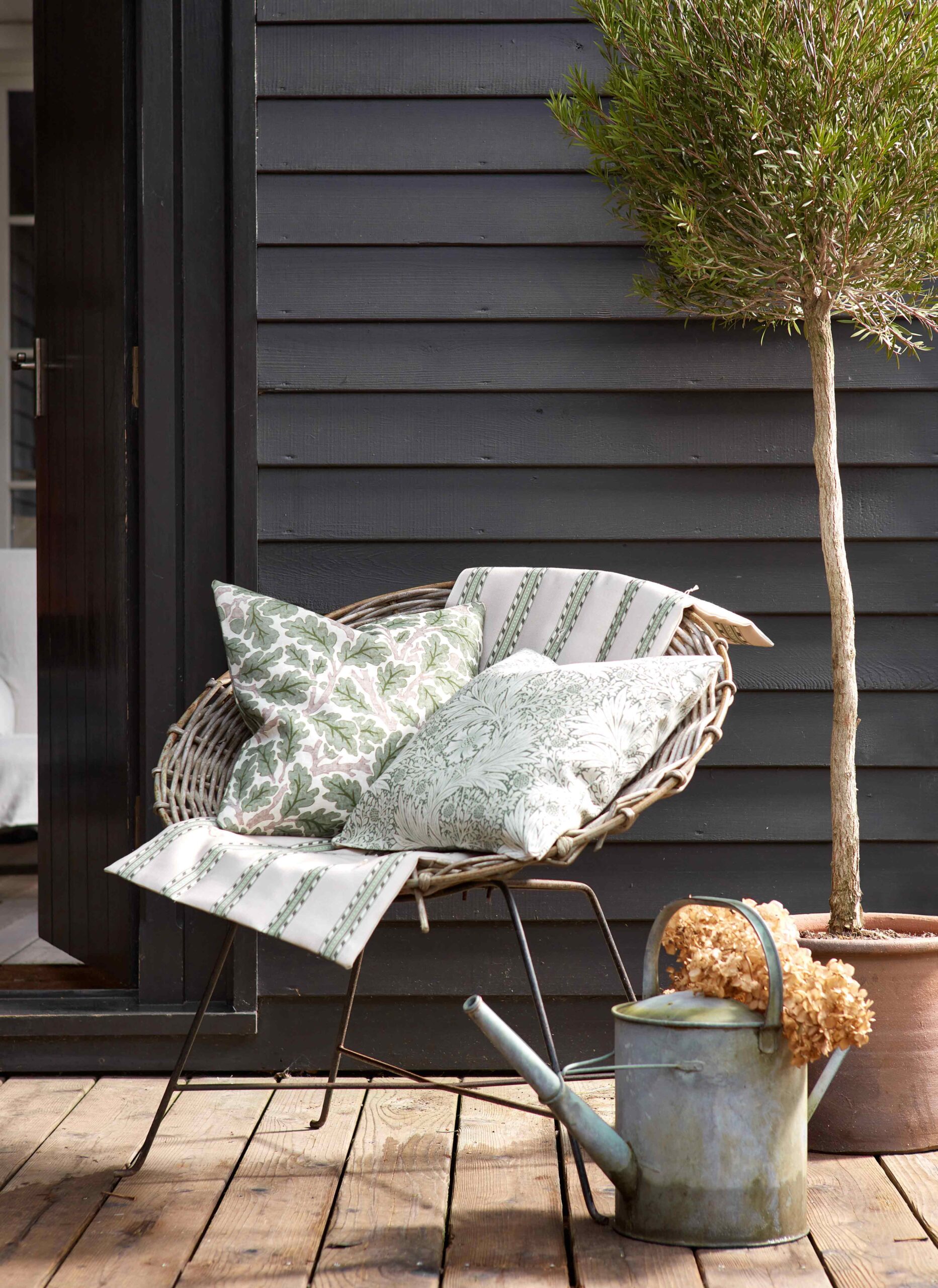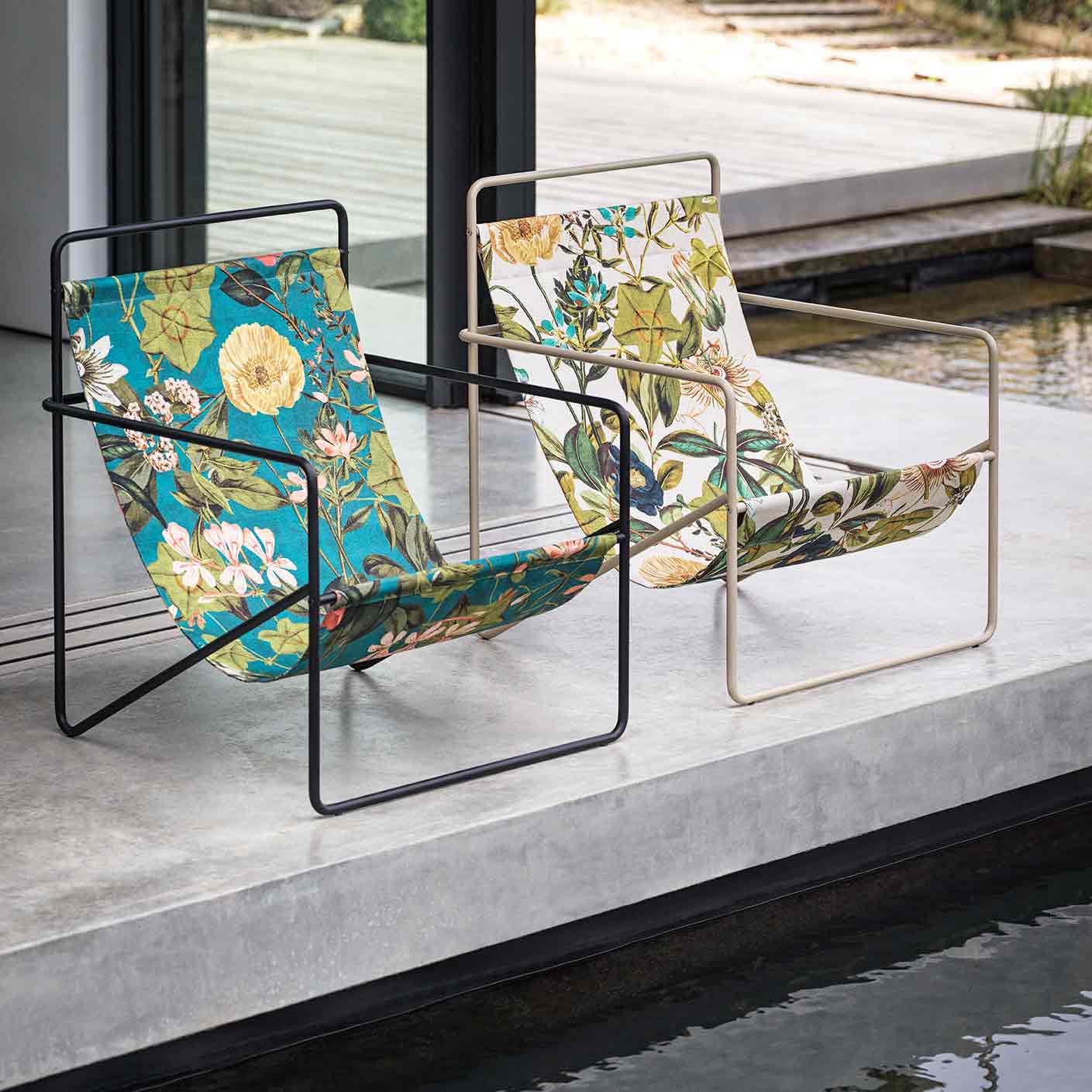 Alternatively, if your style is bold and maximalist, you could opt for a more striking design such as Clarke & Clarke's Passiflora (see opposite) or Majorelle outdoor fabric (see image at top of blog) from the Alfresco collection. Mixing and matching multiple patterns and colours across your soft furnishings is also an effective way to add energy and interest.
Purpose designed outdoor fabrics made from durable materials such as olefin, polyester and acrylic are key to exterior soft furnishings for long-lasting style that can withstand the elements. We are delighted to offer a wide selection of fabrics suitable for both indoor and outdoor use, designed with UV and water resistant, antimicrobial and colourfast properties. Our stunning Easy & Safe Indoor Outdoor collection by Kobe Interiors is also made from GRS (Global Recycled Standard) recycled olefin, fitting the growing trend for using sustainable materials in outdoor furniture and decor.
Rugs
Outdoor rugs have become a trending feature in outdoor styling. Ideal for dining and sitting areas, these fabulous pieces of décor provide some colourful finishing touches to gardens, patios and balconies. Made from Polypropylene, they also provide UV stability and weather / water resistance, perfect for outdoor settings.
Morris & Co. and Sanderson offer some fabulous iconic, botanically-inspired designs for a touch of timeless elegance. If you'd prefer something a little more modern and statemental, vibrant stripes and geometrics from the Scion outdoor range could be your perfect match. We particularly love the Rivi (image 1 below) and Nuevo (image 2 below) rugs for a real design feature. For more help and inspiration, please see our blog post on considerations when purchasing a rug.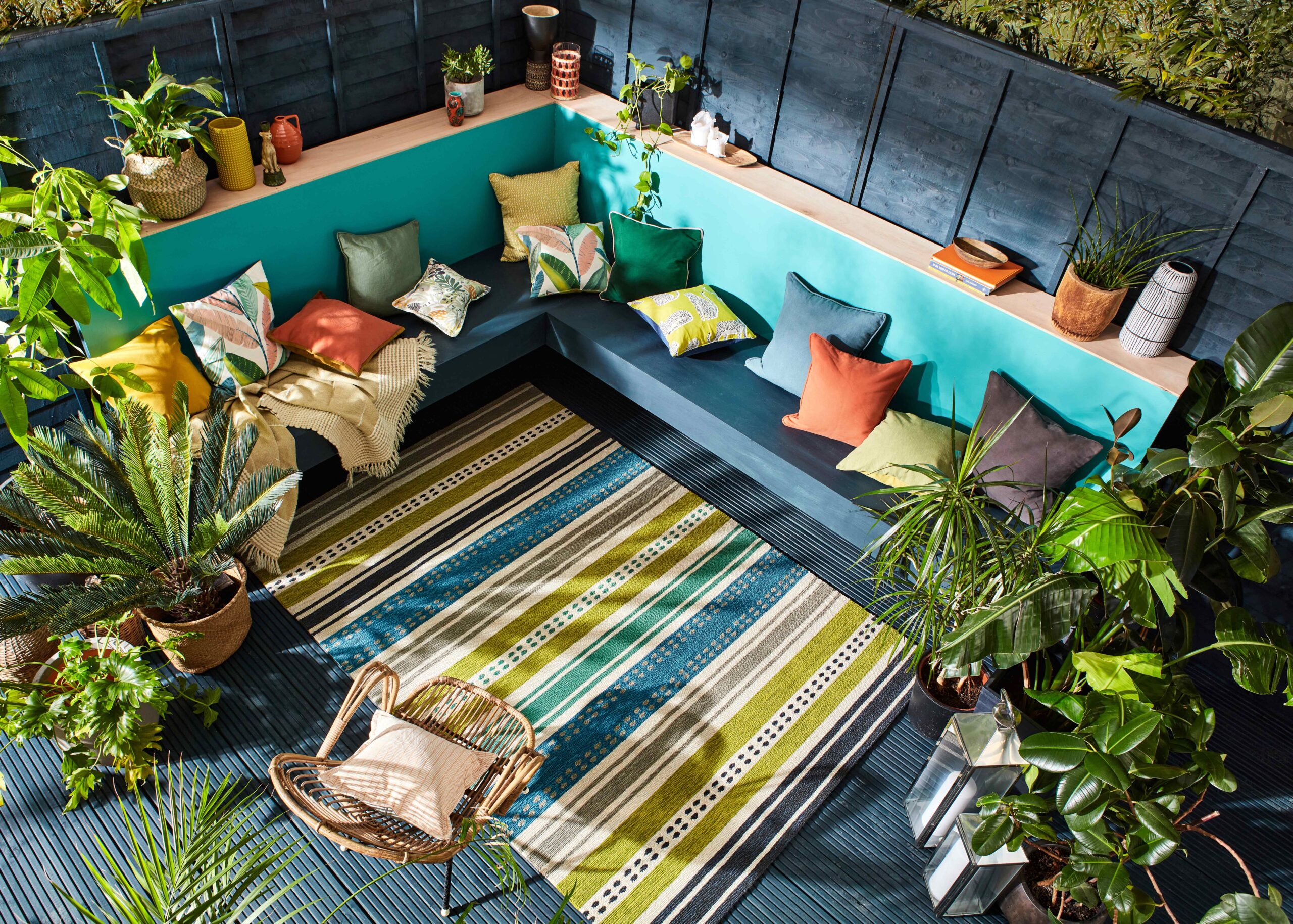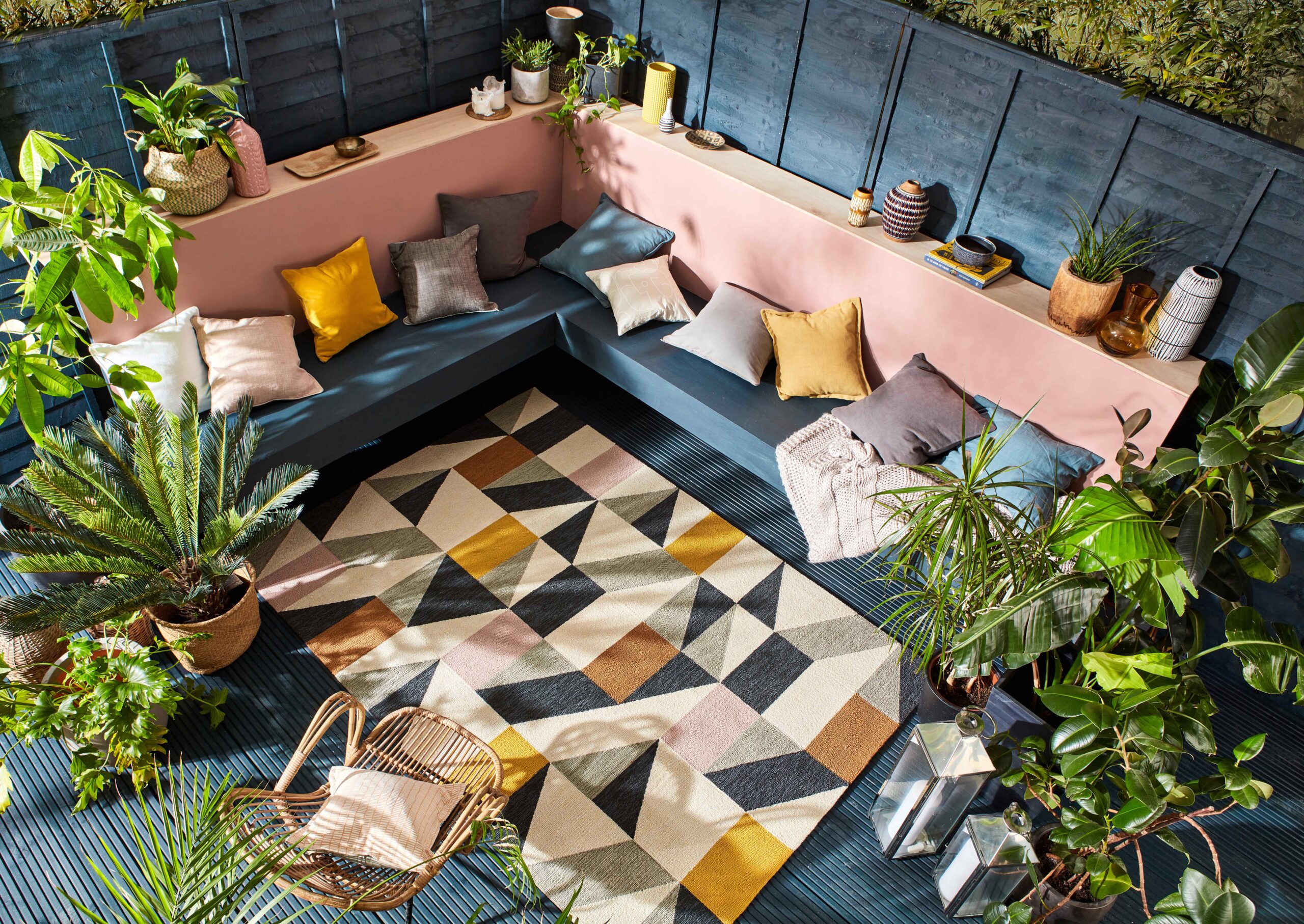 Overview
When it comes to decorating your outdoor space, it should be the perfect balance of design and function. Carefully selected furniture and lighting complemented by comfortable yet stylish soft furnishings can really set the tone for your space, creating an outdoor retreat that you'll love spending time in. It's also important to remember that this is your space, so make it reflect your style!
We hope you have found out outdoor styling tips useful and insightful. For more inspiration and styling ideas, please see our Outdoor Trend Guide. If you would like help pulling a full scheme together, we do offer a complementary face to face and virtual Bespoke Design Service, including paint and colour consultations, from our showroom in Brockenhurst. Please get in touch if we can assist with your project.
Email sales@thehomeofinteriors.co.uk or call us on 01590 615775.
Follow us on Instagram and Facebook: @myhomeofinteriors