Add a breath of fresh air to your home with the beautiful Wild Meadow design by Laura Ashley. Characterised by its soft, watercolour-like illustrations of wildflowers, this delightful floral print is a popular choice for those who would like to create a romantic and feminine interior scheme. Showcasing delicate flowers scattered throughout the design in shades of blue, yellow, pink and crimson, the Laura Ashley Wild Meadow design creates a sense of movement that is sure to add a touch of whimsy and outdoor charm to any space.
Laura Ashley have translated Wild Meadow into an inviting range of homeware, from wallpaper and curtains to bedding and cushions. Whether you're decorating your living room or refreshing your bedroom, this design is the perfect way to give your space home an instant refresh. Shop Laura Ashley Wild Meadow here.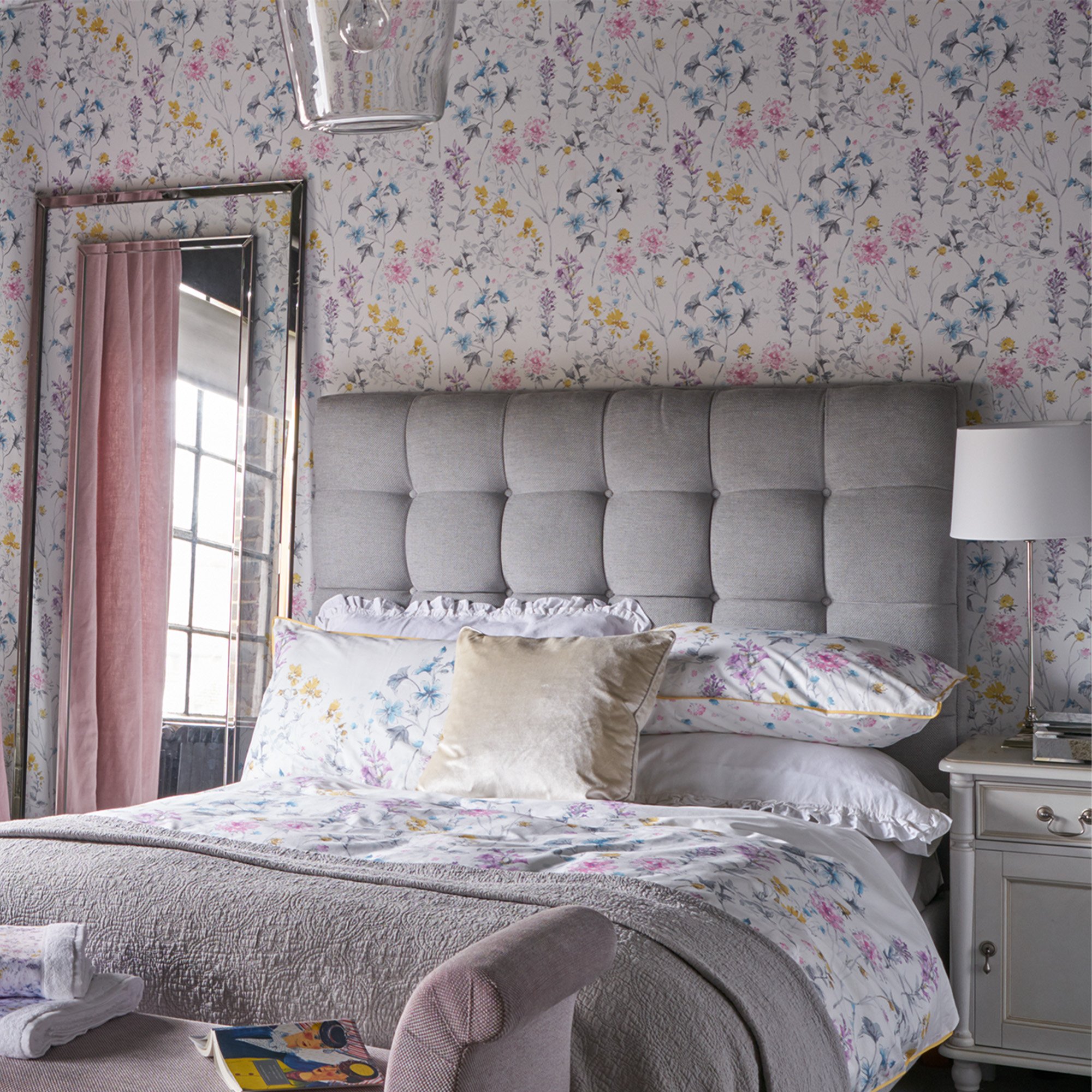 Ready Made Curtains
Add style to your window treatment with the gorgeous Wild Meadow ready made curtains. Complete with an eyelet heading, the curtains feature a blackout lining, ideal for dark and cosy bedrooms to help deliver an uninterrupted nights sleep. Available in a range of sizes across 2 colour ways: Multi and Crimson, the Laura Ashley Wild Meadow curtains are both bright and colourful for an uplifting feel to your living space.
Complete your window dressing with a complementary curtain pole from the Laura Ashley Collection. We would recommend a metal curtain pole for eyelet curtains to allow a smooth and effective draw. The Laura Ashley Holdbacks and Tiebacks are also a fabulous addition that complement the curtains to bring the look together.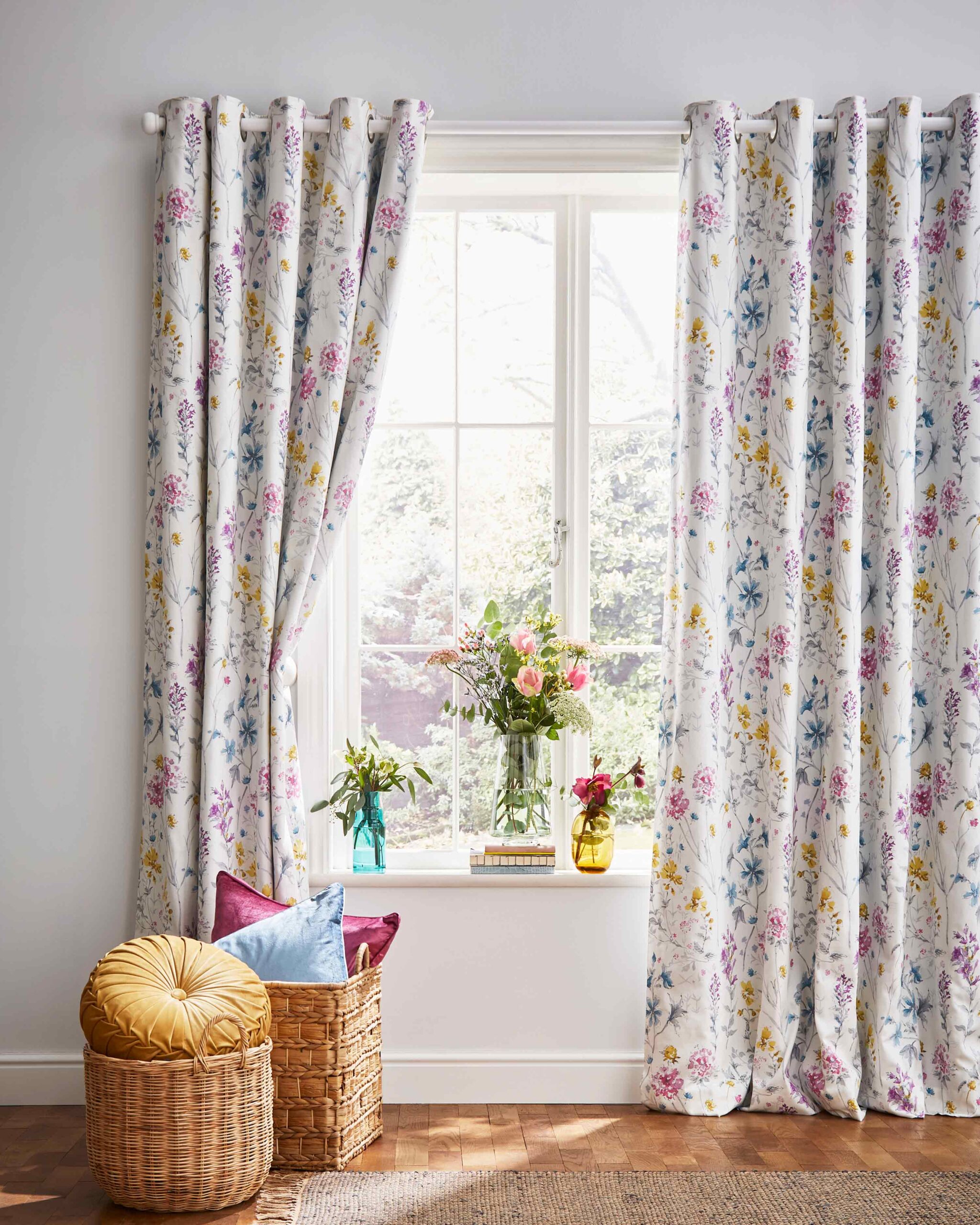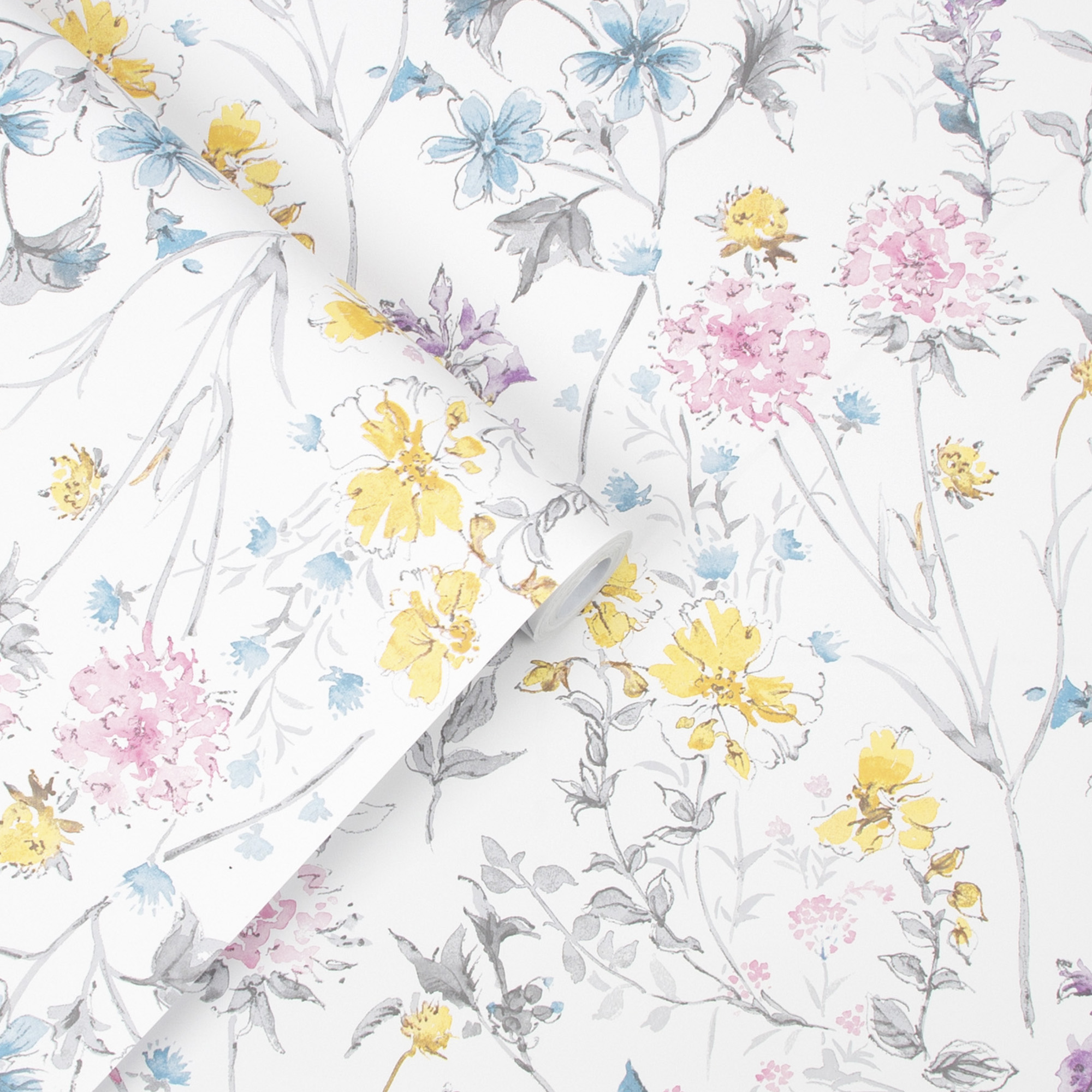 Wallpaper
The Laura Ashley Wild Meadow wallpaper is the perfect way to rejuvenate your walls this season. Embrace the beauty of the natural world with the design's dreamy take on a classic floral. Printed in the UK and paste the wall for ease of application, this wall covering is available in 2 colour ways: Multi and Pale Iris. Whether you're decorating a single wall for a delightful feature or going for an all over look, this pretty wallpaper can be used either way for an effective, floral romantic scheme.
The Laura Ashley paint collection has also been curated to complement the wallpapers tonally. Discover delicate, pastel tones that co-ordinate beautifully with the Wild Meadow design. For complementing paint colour ideas and inspiration, please see our recommendations on the wallpaper product page.
Bedding
If you are looking for a beautiful and elegant bedding set that will add a touch of romance to your bedroom, the Laura Ashley Wild Meadow bedding is a great option. Made from 200 thread count, 100% pure cotton sateen, this magnificent bedlinen is sure to create a restful and inviting space where you can relax and recharge.
The reverse side features miniatures of the print, allowing the pretty theme to continue when the covers are pulled back. Available in 4 different sizes with a choice of 2 colour ways: Multi and Crimson. Style with the Payton Throw in Dark Blush (shown opposite) to deliver a stylish finish to your bedroom.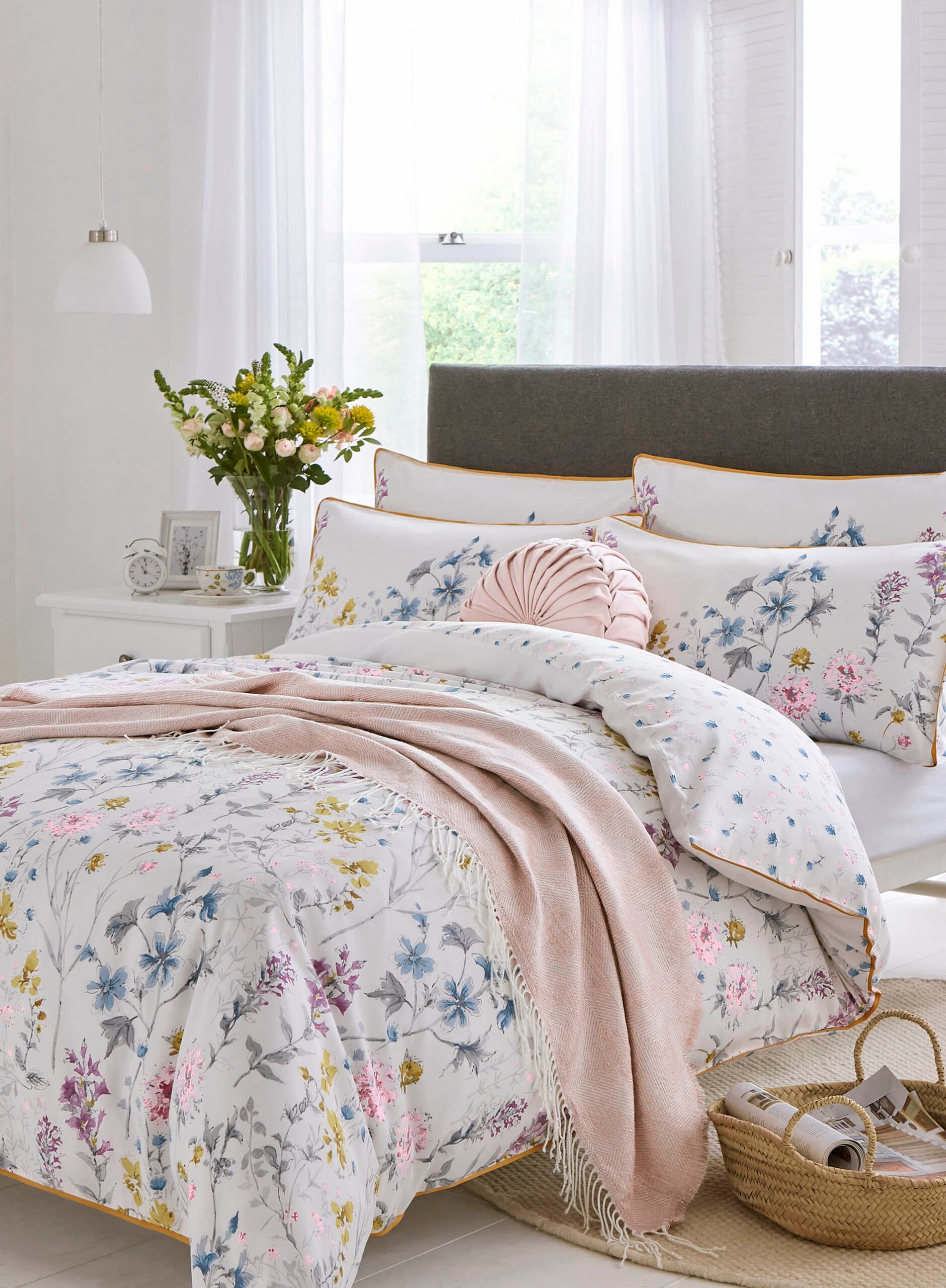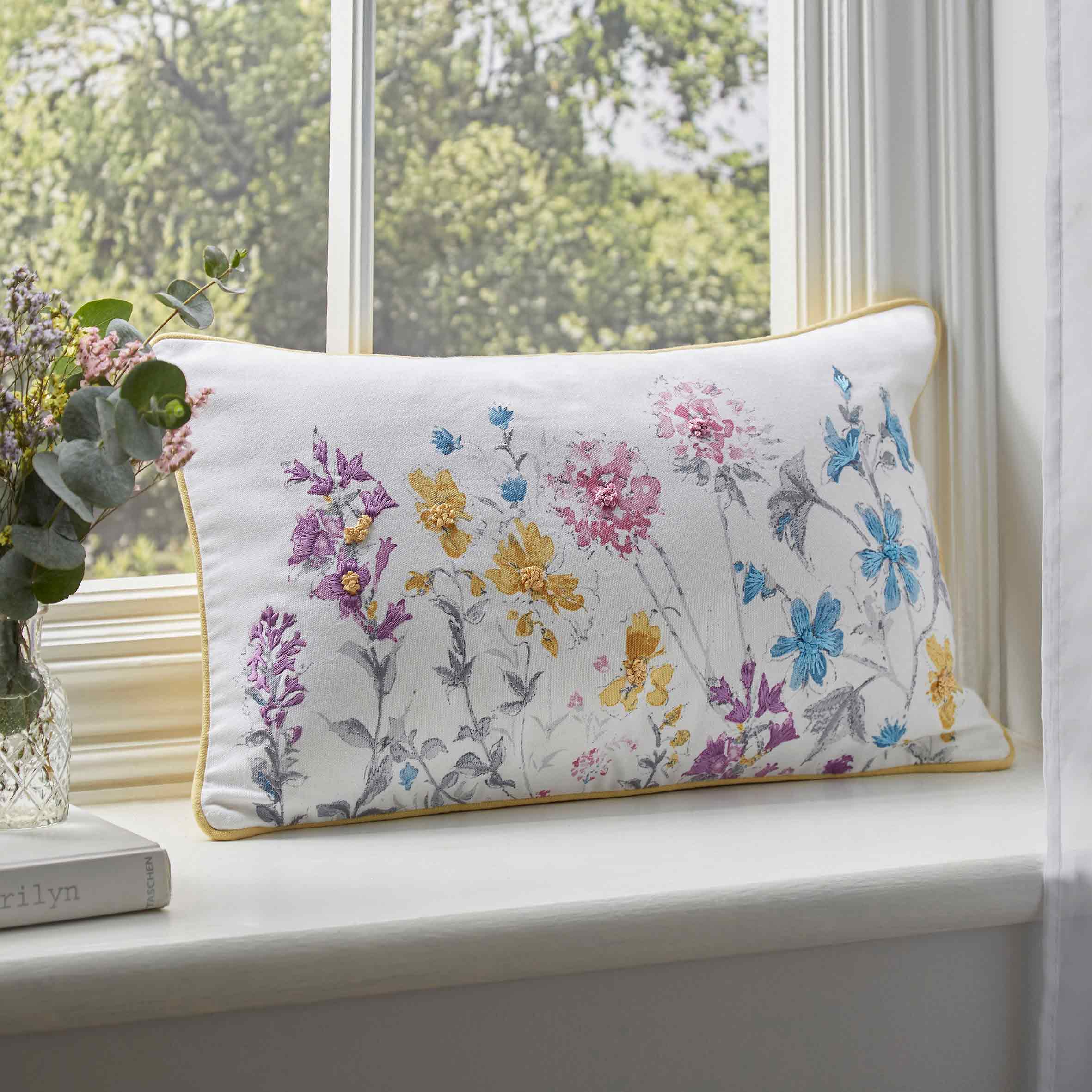 Cushions
For finishing touches, you may wish to consider the dainty Wild Meadow Cushion by Laura Ashley. Beautifully printed with embroidered highlights, this gorgeous layering piece is an elegant addition to any bed, sofa or chair. Complete with a plush feather inner for comfortable luxury, this cushion is available in 2 colour ways: Multi and Crimson.
Layering and mixing cushions will also add texture, warmth and a homely feel to your living spaces. Pair the Wild Meadow cushion with a sumptuous Laura Ashley Nigella or Rosanna cushion to complete the look.
Overview
The Wild Meadow design is a timeless classic that will never go out of style. Whether you choose a single piece of homeware for an instant renewed look, or apply the design to multiple elements of the space for a coordinated finish, Wild Meadow's soft colours and delicate flowers make it a great choice for any room in the home.
Shop the full Laura Ashley range here.
The Wild Meadow design complements our Floral Romantic trend.  Please view our Floral Romantic trend guide here for inspiration and ideas. If you would like help pulling a full room scheme together, we also offer a complementary face to face and virtual Bespoke Design Service from our showroom in Brockenhurst. Please get in touch if we can assist with your project.
Email sales@thehomeofinteriors.co.uk or call us on 01590 615775.
Follow us on Instagram and Facebook: @myhomeofinteriors