Create an interior as unique as you with the truly stunning Colour collections by Harlequin. Designed to empower and encourage homeowners to embrace individuality in the home, this carefully curated range gives you the freedom to express yourself through design and colour, bringing a renewed sense of life to your décor.
The range comprises of 4 Harlequin collections: Colour 1, Colour 2, Colour 3 and Colour 4, each offering a plethora of bold, exciting fabrics and wallpapers to choose from. New creations sit alongside bestselling designs across a diverse colour palette to suit your taste. Discover luxurious prints, velvets, embroideries and weaves with alluring designs from modern damasks and statement florals, through to geometrics and Asian inspired patterns.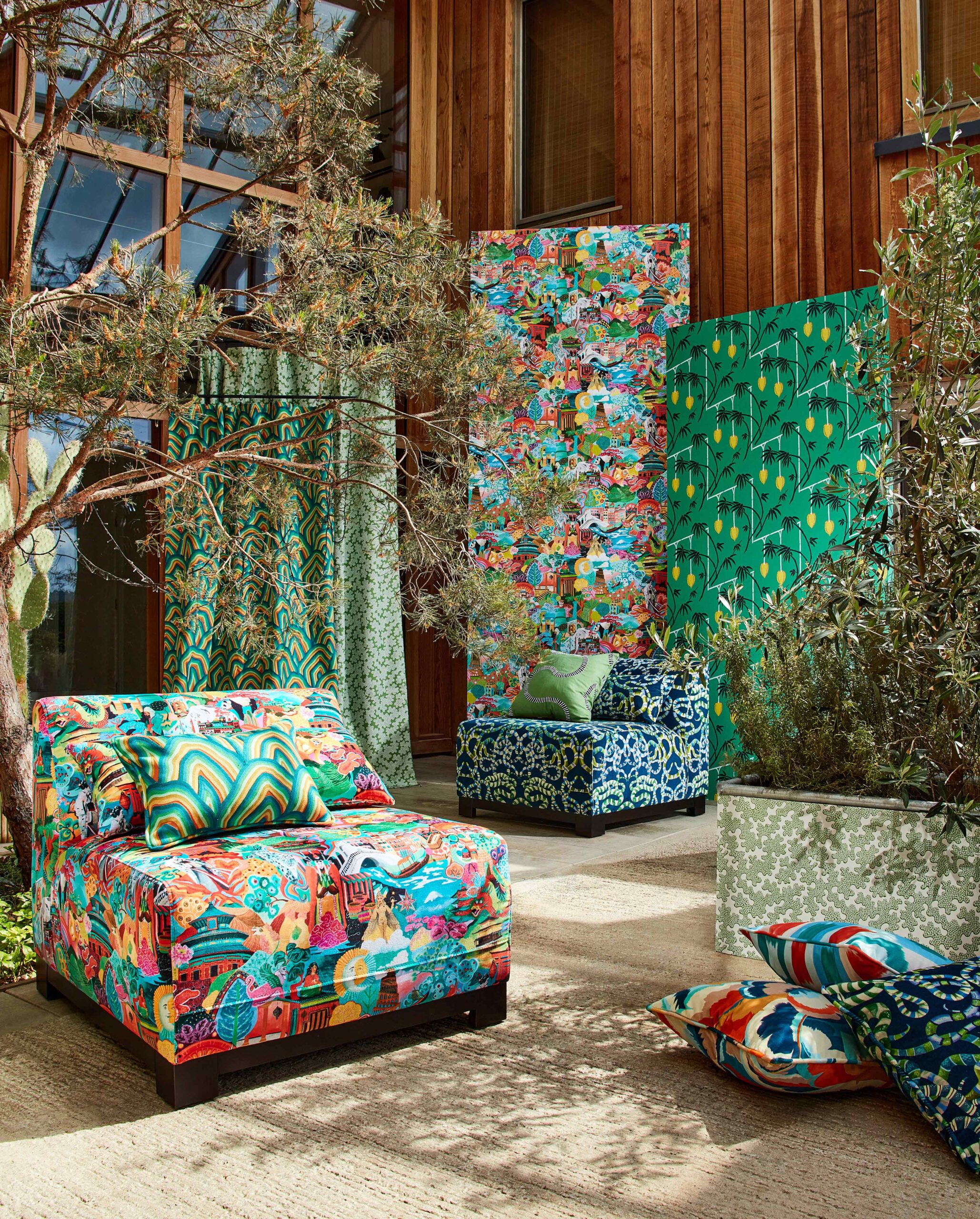 The latest addition, Colour 4, is a reflection of the natural world, embracing its colours and beauty for an immersive range that creates relaxed and balanced interiors. Based on the natural elements: Earth, Water, Air and Fire, Colour 4 is synonymous with Harlequin's unique style. It is also environmentally conscious, with most fabrics in the collection having been produced using the brand's sustainable new digital pigment inks, Better Cotton Initiative (BCI) cotton and responsibly sourced materials. One design even comprises recycled polyester for an eco-friendly option, taking the collection's natural theme to a whole new dimension.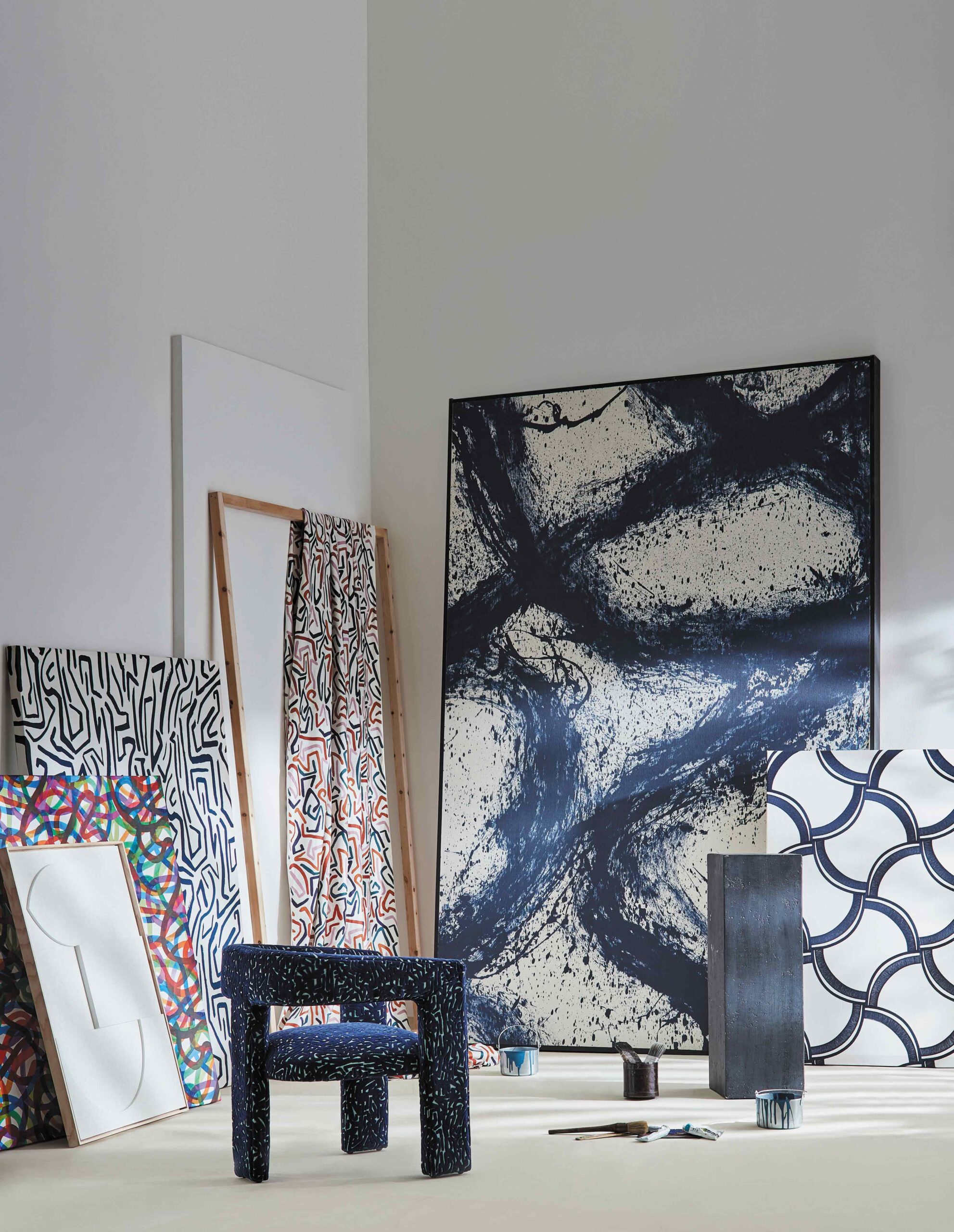 Own The Room
Driven by the idea that "our best interiors are created when they reflect who we are", the luxury brand encourages you to #OWNTHEROOM by finding your signature style, your way. In order to help kickstart the process, Harlequin has proudly launched an innovative quiz that pinpoints your personality and style. The quiz then allocates these to 1 of 4 inspired and scientifically informed looks: Rewild, Renew, Retreat and Reflect.
Backed by colour research, this fantastic tool balances the physical and emotional benefits of colour in interior design, helping you to find the look that suits you best. Each of the designs in the fabric and wallpaper collections are divided into these 4 looks, providing inspiration to help create your perfect, harmonious scheme.
Rewild
Unleash your wild side with the beautiful Rewild look. Bursting with energy and confidence, this vibrant style holds the beauty of nature at its heart. It combines natural design influences with confident colour palettes in order to revive your interiors. Daring, indulgent patterns take centre stage, coming together to create a maximalist yet harmonious look. Watch in awe as deep Greens, reds and terracottas fuse together for an air of excitement.
Rewild is all about mixing pattern for maximum impact. We particularly love the Melora design from the Colour 1 collection (see image 1 below). In the Brazilian Rosewood/Ink/Amazonia colour way, this modern damask of interlocking botanical shapes is both vibrant and statemental. Available as a plush printed velvet or surface printed wallpaper with metallic highlights, the design oozes luxury. The Colour 1 Dance of Adornment fabric and wallpaper in Wilderness also complement the look seamlessly (image 1 below).
The Journey of Discovery velvet or wallpaper in Ionain / Harissa / Emerald from the colour 3 collection is another great choice. Teamed with the Kumo fabric in Wilderness, these designs create the Rewild look perfectly. See image 2 below.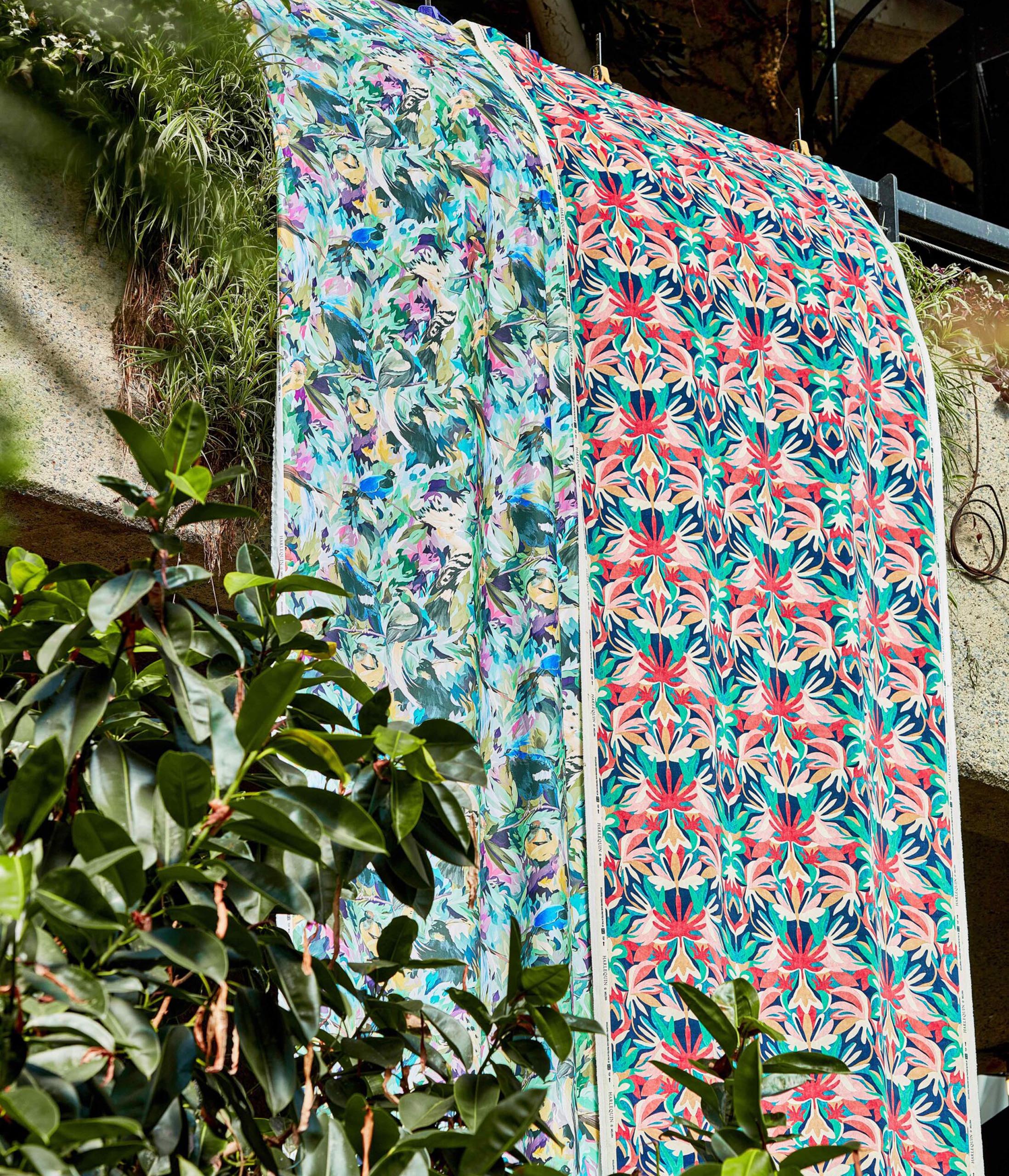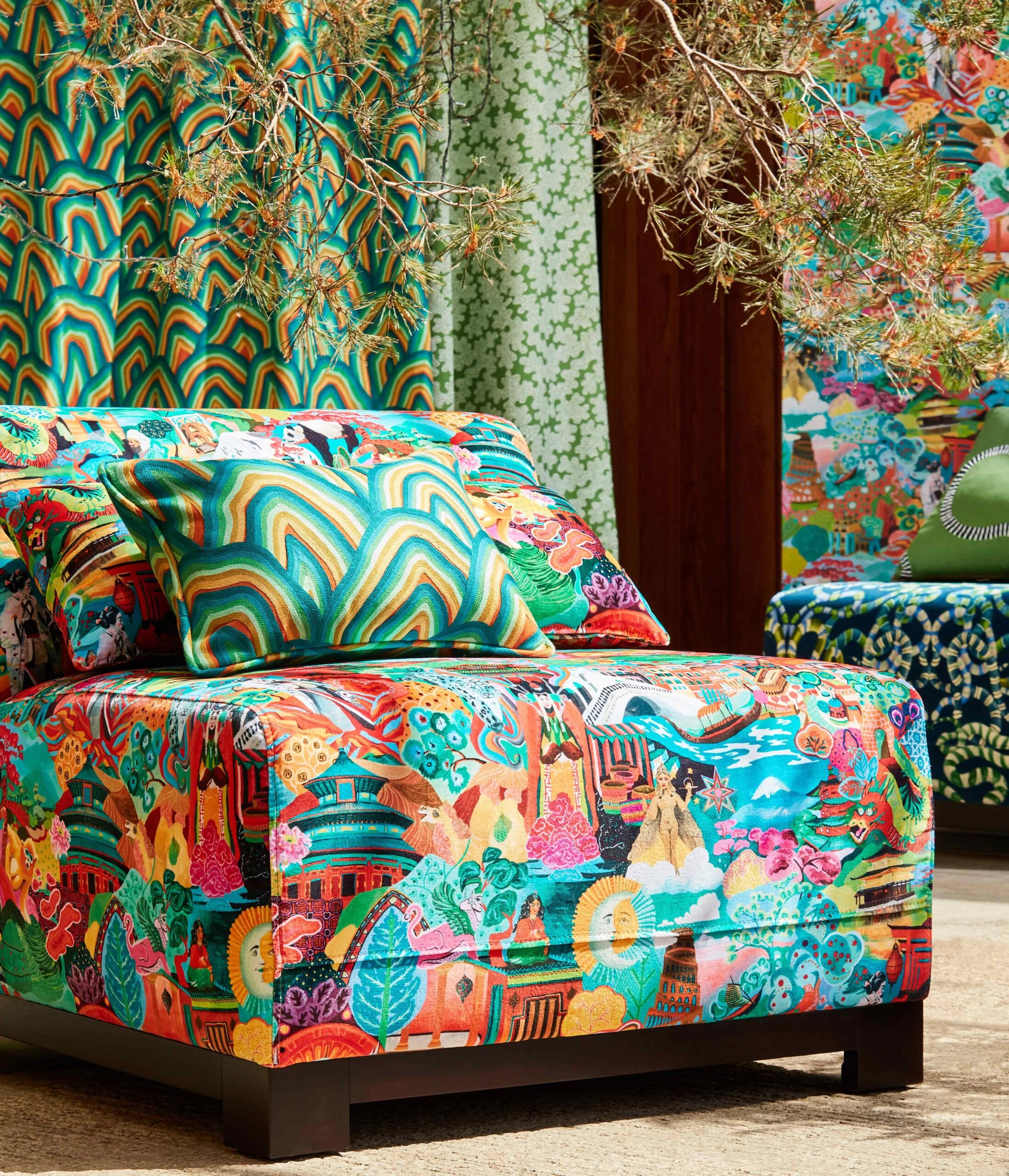 For an element of striking contrast, you could also pair the Harlequin Colour 4 Kalina wallpaper in Midnight/Baked Terracotta/Nectar with soft furnishings in the sumptuous Foresta Velvet in Rosewood/Azul/Huckleberry. Both designs come together in an infusion of pattern and colour for ultimate impact. This creates a bold interior scheme with effortless Rewild style. See image opposite for inspiration.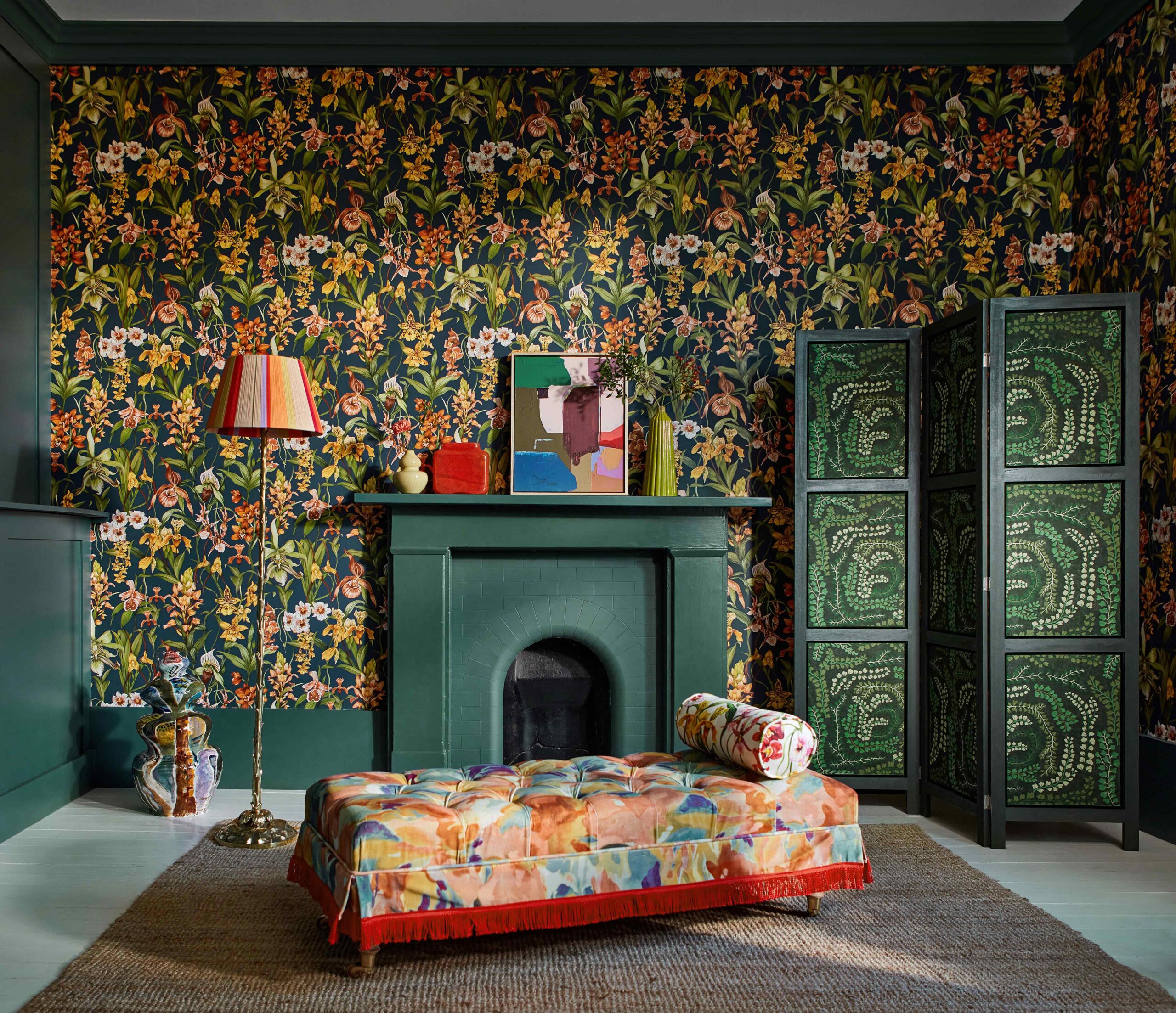 Renew
If your personality resonates with calmness, peace and serenity, then the beautiful Renew look could be the style for you. All about natural charm, this laid-back look takes inspiration from landscapes and nature to lift and rejuvenate interiors and subsequently, our moods. Renew features subtly detailed designs across a soothing palette of deep and chalky blues and neutral tones in order to create a light, airy and relaxed feel.
Create the look with a nature-inspired fabric or wallpaper such as Colour 1's Acropora in the Exhale colour way. Fresh and luxurious, this inspired design depicts coral reefs and swaying plants, capturing the renew look (see image 1 below). The Alotau fabric in Celestial / Ink and the Atoll design in the Diffused light colour ways bring the look together effortlessly. For a relaxing geometric scheme, we also love the stunning Ankara wallpaper from the Colour 2 collection. Surface printed, this design works beautifully in the Sail Cloth or Sky colour ways to create a gorgeous Renew style.
If you're seeking a touch of escapism, the exquisite Air wallpaper from the Harlequin Colour 4 collection also embodies the look beautifully. Available in 2 tranquil colour ways: Sky Blue and Golden Light, this atmospheric mural captures drifting clouds gracefully adorning the endless skies. Paired with the gorgeous Florent fabric and wallpaper design in the Sail Cloth/Celestial/Clay colour way, this scheme gives a renewed sense of calm to any interior space. See image 2 below.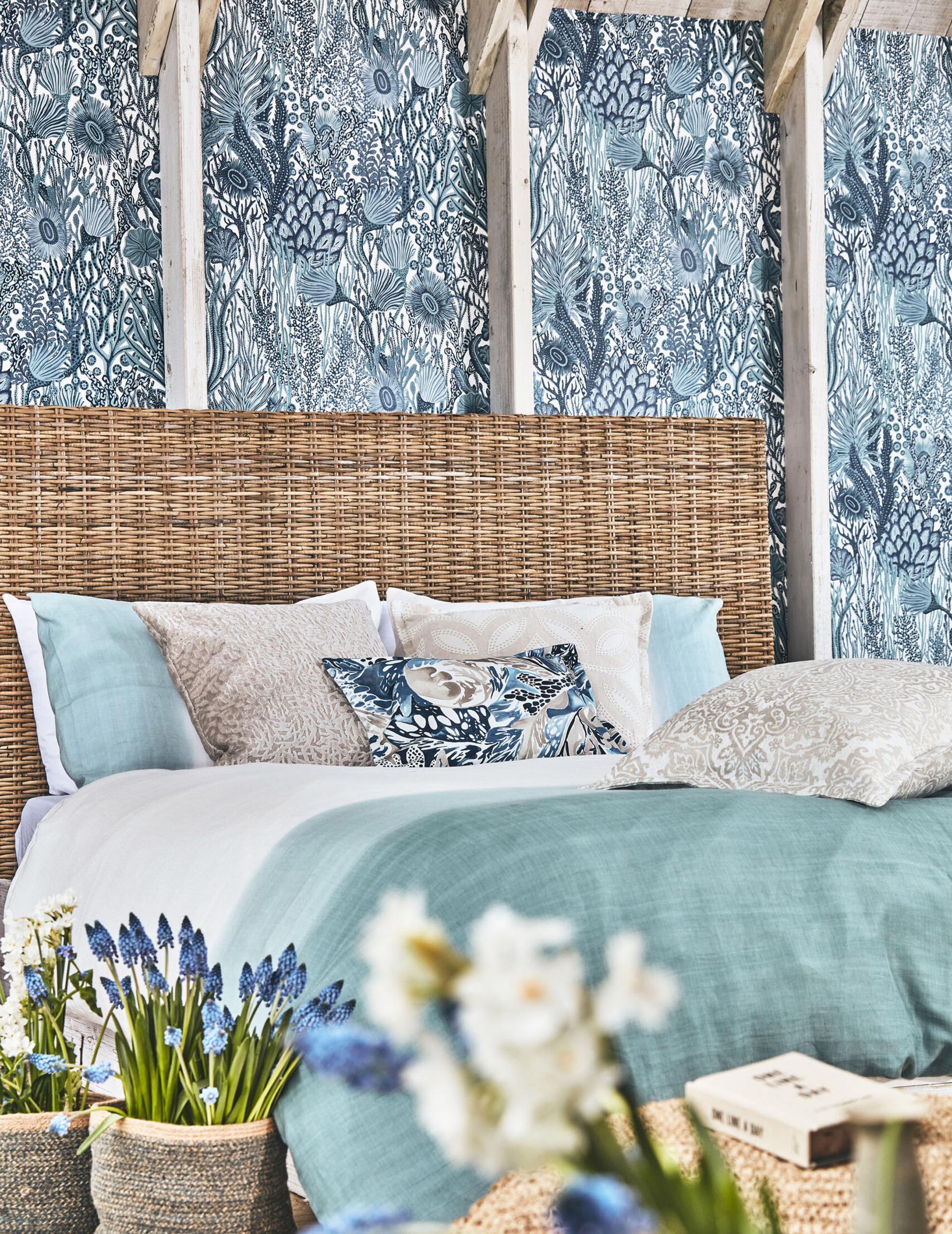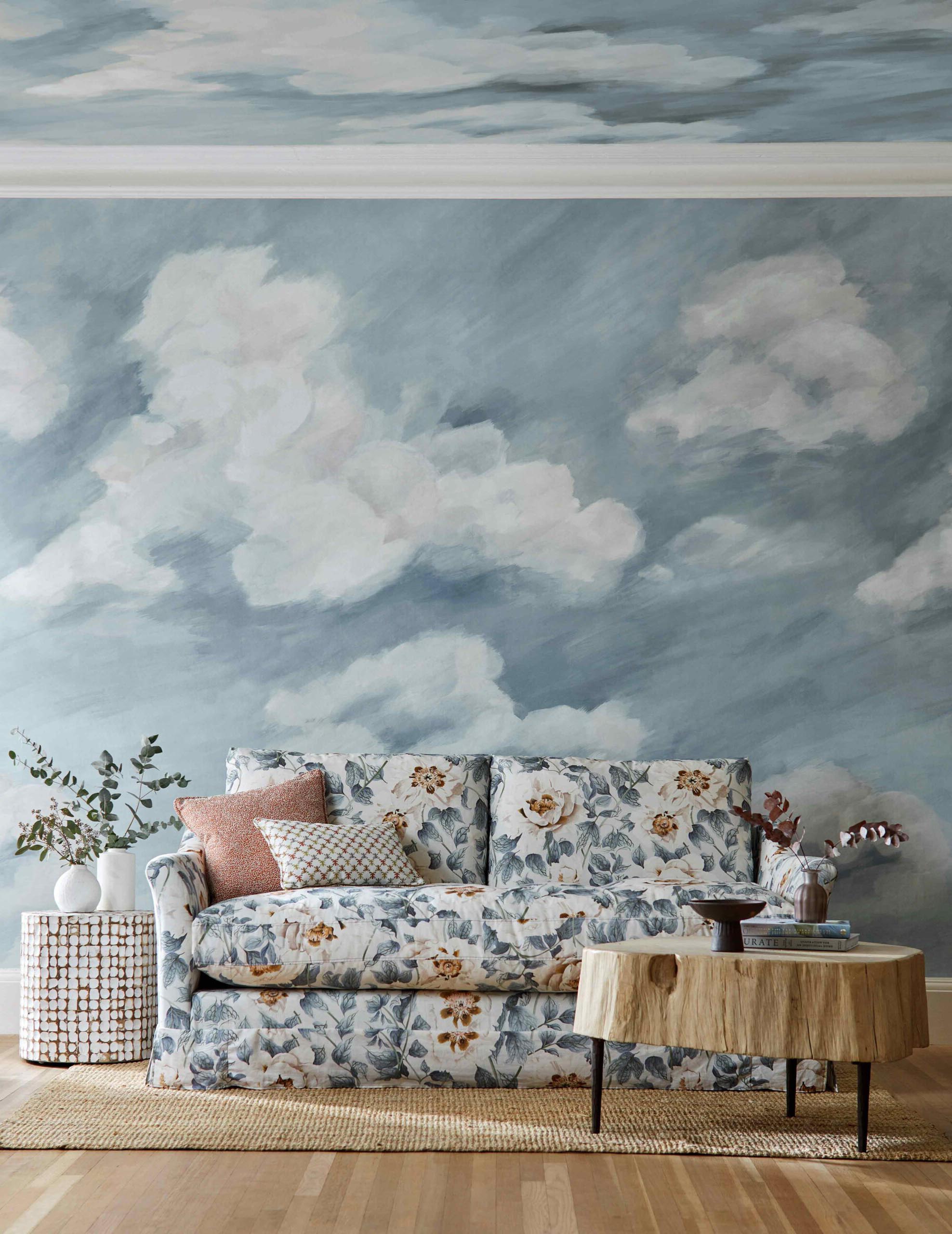 Retreat
The Retreat look is all about creating your own restful sanctuary. Soft and emerald greens sit alongside Mediterranean and Peony pinks in a palette of muted and chalky hues. At the heart of this style lies floral and botanical inspired designs, with glamorous patterns showcasing metallic and shimmering touches for an air of understated elegance. Adaptive and timeless, Retreat adds a certain warmth to interiors, alluding to sun kissed living.
Kickstart the look with a statement mural wallpaper. Impactful and on trend, these immersive pieces of art transform your walls into a decorative design feature. We absolutely adore the Harlequin Colour 1 Floreana panel in Bleached Coral (see image opposite).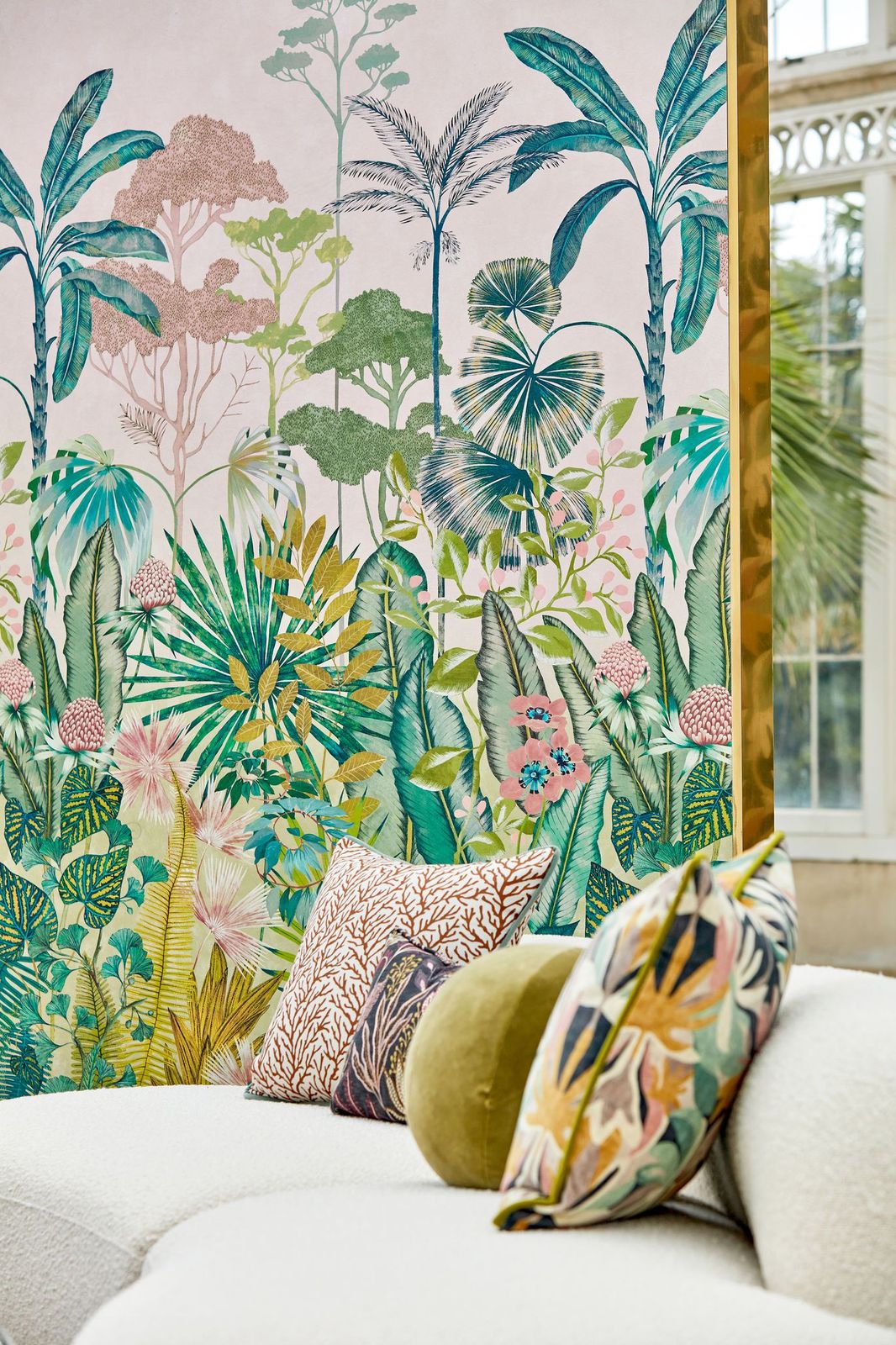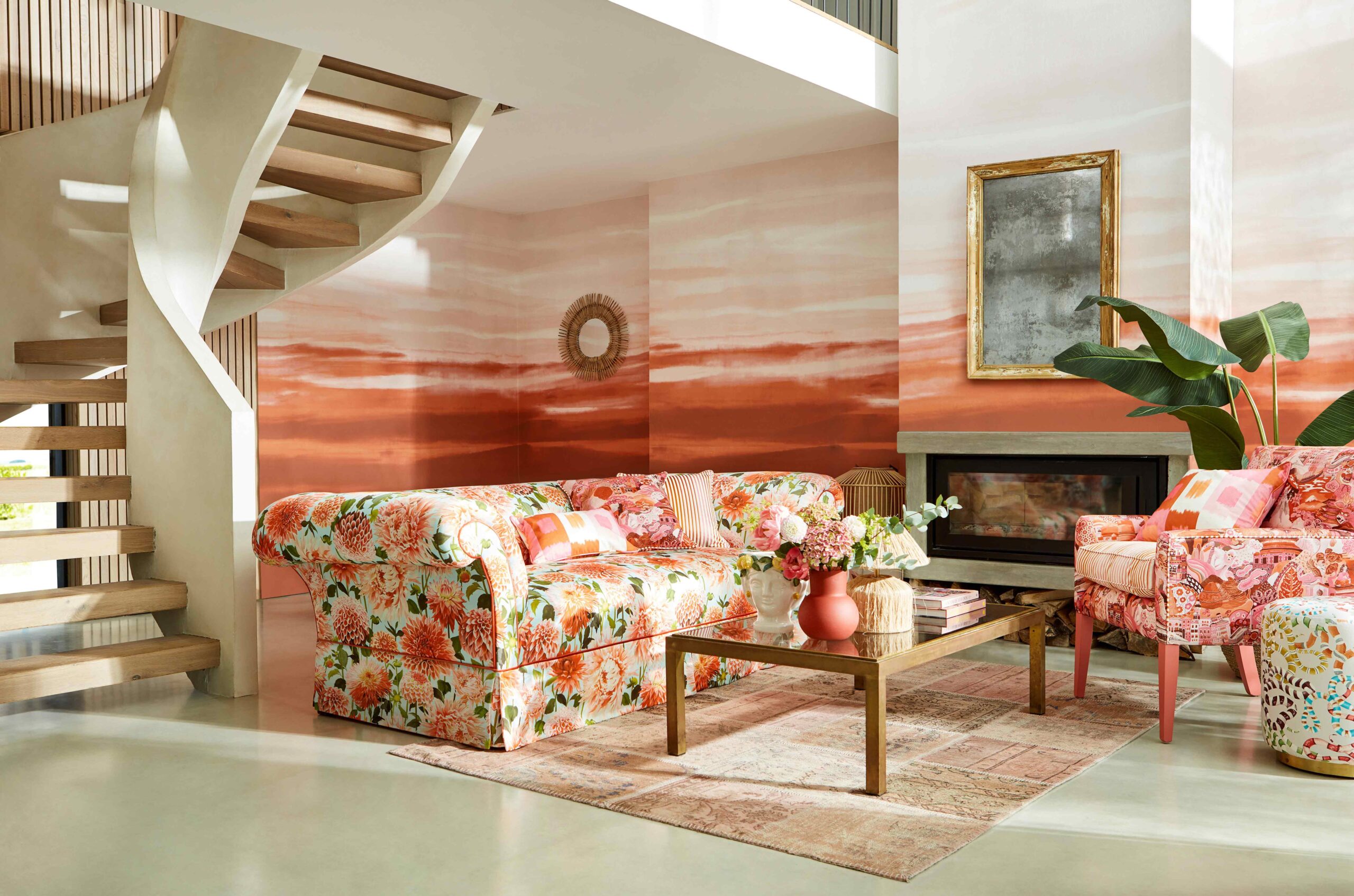 For more of an atmospheric feel, the large-scale ombre of Colour 3's Manzara in Brazilian Rosewood is a fantastic choice. Complete the look with an accent cushion or piece of upholstered furniture in Harlequin's Colour 2 Dahlia fabric in Coral/Fig Leaf/Sky, also available as a metallic wallpaper. The Colour 3 Shiruku fabric in Paprika/Fuchsia/Fig Blossom is another great choice to bring it all together. See image opposite for the finished look.
Reflect
If you're a lover of fresh and contemporary interior design, you may find that Reflect is your perfect match. Chic in style, this edgy look fuses angularity and architectural inspired design with organic, abstract and subtly textured pattern to create a modern spin on transitional design. Popular palettes of grey and dark, smoky tones complete the look, alongside inky blues and burnt shades of red. Metallic accents accompany dark shades for a dramatic statement with an added touch of luxury.
Design examples that embody Reflect include Harlequin Colour 1's popular Sumi geometric (image 1 below). Available as a fabric and wallpaper, choose from dark or copper tones to create a statement look. Alternatively, the Blocks design from the Colour 3 collection is the perfect go- to. The fabric and wallpaper in Cornflower / Black Earth / Sketched works well alongside Colour 2's Perception fabric in Japanese Ink for a sleek, modern feel that oozes the reflect style. See image 2 below for inspiration.
For a striking design with natural influences, you could also consider the bold Grounded design in Black Earth/Parchment or Baked Terracotta/Parchment. Available as a fabric and wallpaper, this spectacular pattern of layered horse chestnut leaves finished with a textural emboss is sure to add depth and interest to any room. Add a cushion or accent chair in the abstract, reversible Izumi fabric design in the Sandstone and Brazilian Rosewood colour ways for a complementary layer of warmth. See image 3 below.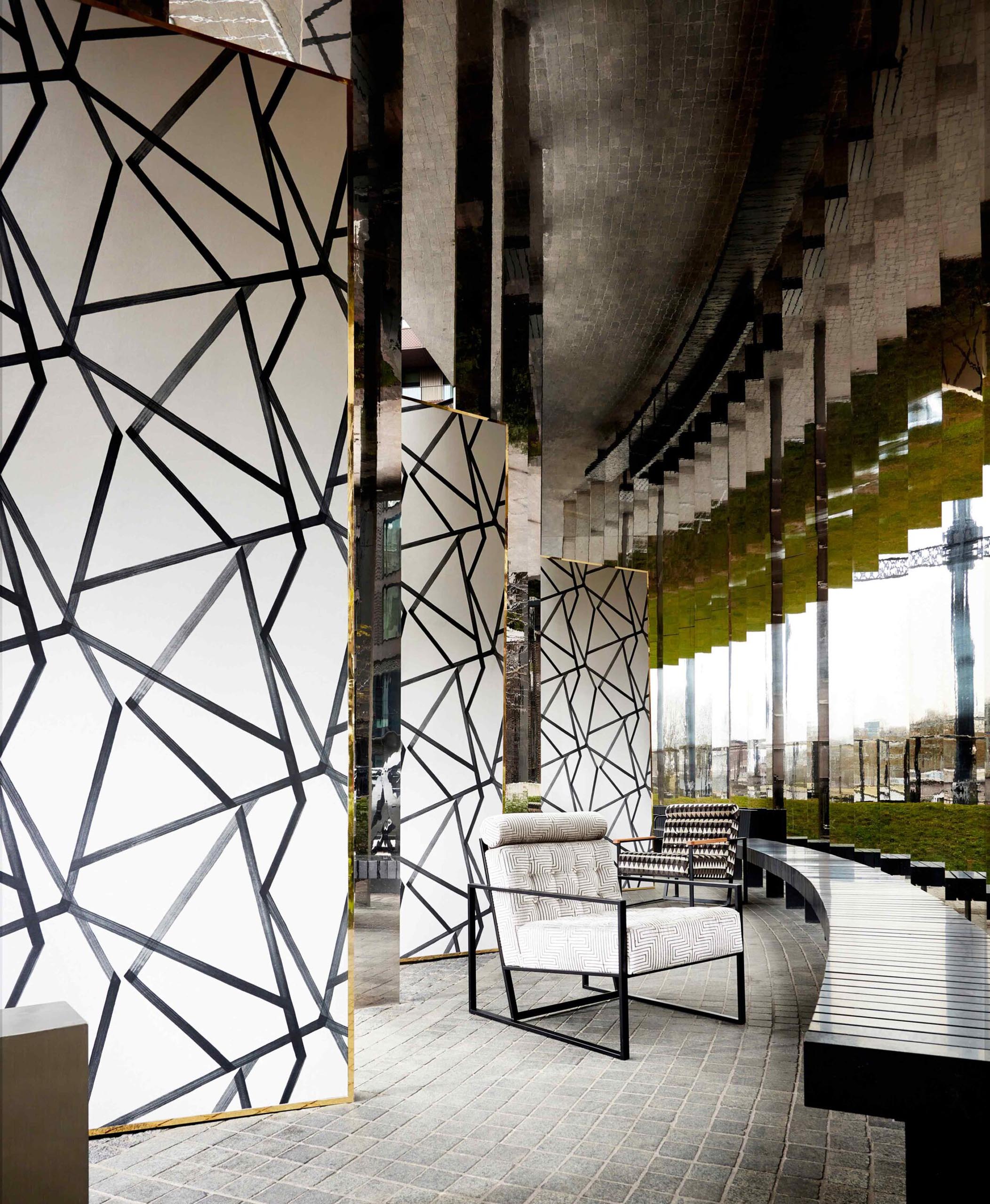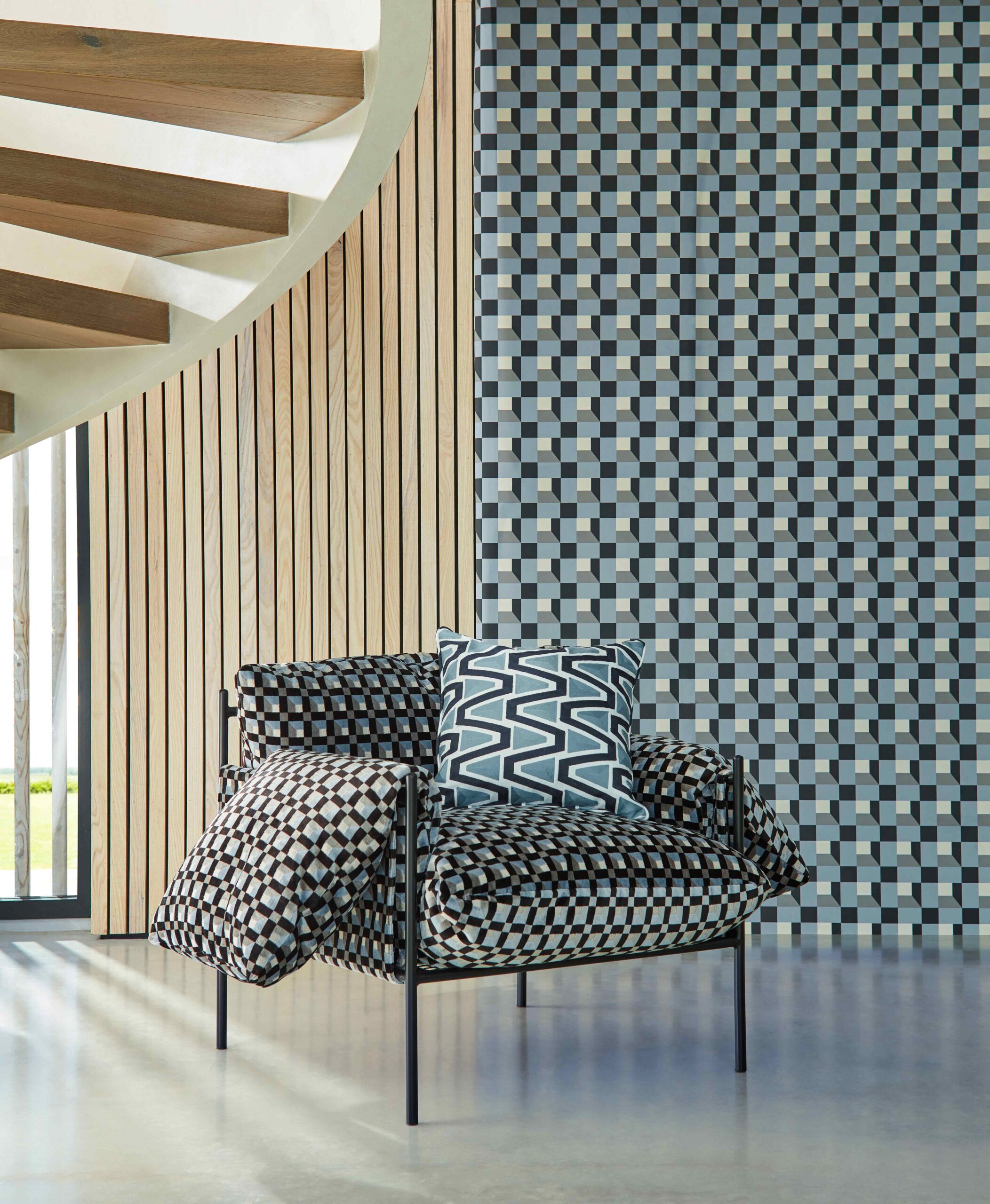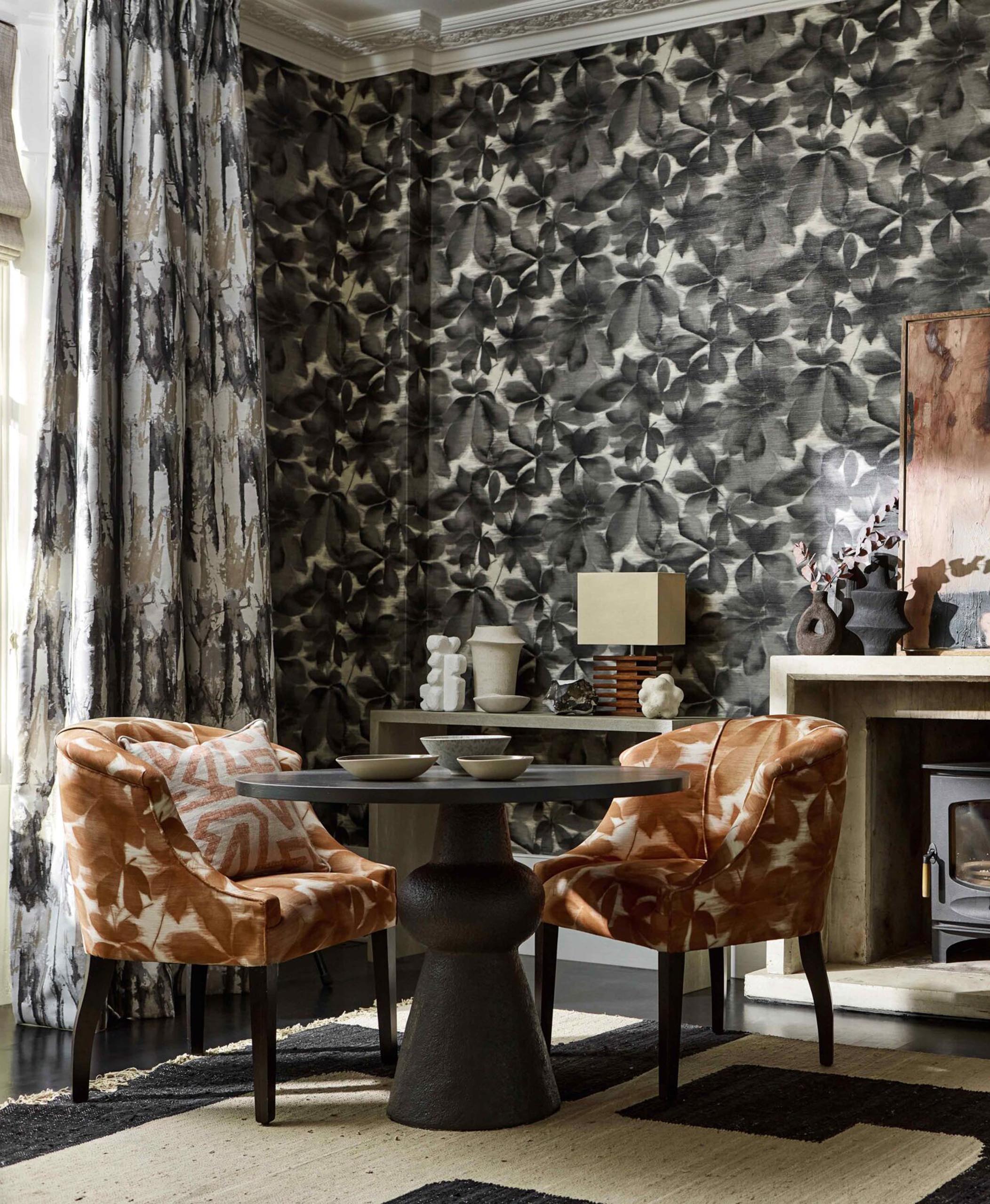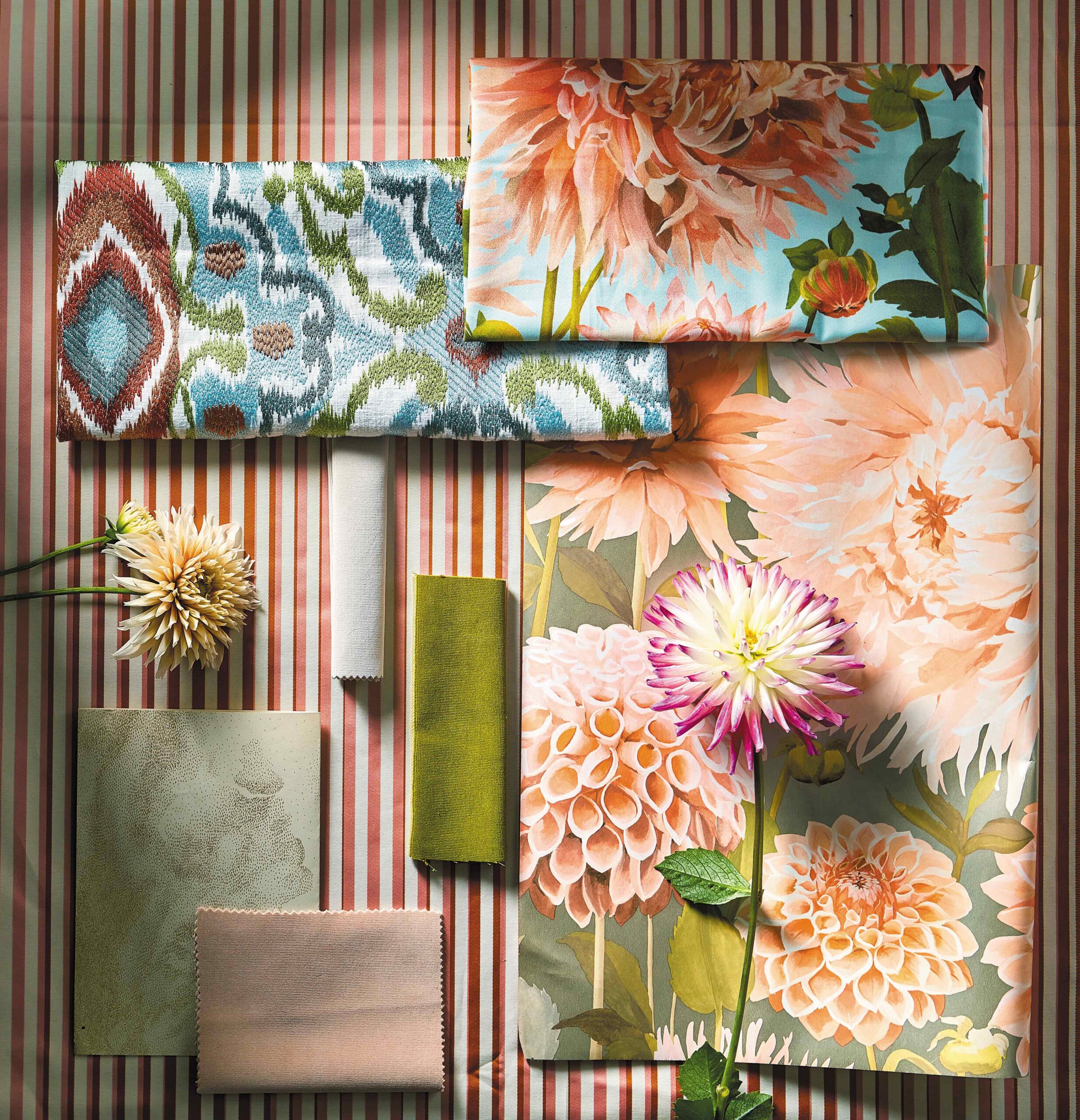 Styling the designs
Whilst mixing patterns can sometimes seem risky, the carefully curated fabrics and wallpapers in the Harlequin colour collections give you all the tools you need to find designs that complement each other tonally through colour. This enables you to experiment safely without the risk of inharmonious clashing. Shop across all the colour collection books for a cohesive look.
A coordinating plain fabric such as the Harlequin Empower Plains can also pick up accents in the designs to help bring the look together.
In Conclusion
The Harlequin Colour collections are the key to a truly bespoke interior, no matter your style and taste. Beautifully curated to inspire individuality, the ranges provide the perfect amount of creativity and flair to show your personality through your interior décor. Each collection delivers on style and colour, bringing a new and exciting dimension to each of the four looks. Feel empowered as you begin your journey to a more confident look that is unapologetically you.
If you're embarking on a home project and would like any help, advice or inspiration, please do get in touch. We offer a virtual and face to face bespoke design consultation service from our showroom in Brockenhurst. Click here to book an appointment with one of our home interiors advisers who would be delighted to help you with your project.
Please view our Trend Guides for ideas and inspiration.
Email sales@thehomeofinteriors.co.uk or call us on 01590 615775.
Follow us on Instagram and Facebook: @myhomeofinteriors