Designers Guild offers a luxurious range of fabrics and trimmings, wallpapers, paint and homeware products including rugs, bedding, cushions and throws.  They also offer a contemporary range of furniture designed in the Designers Guild studio and manufactured to the highest standards.  Their furniture collection includes sofas, chairs, daybeds, modular units as well as footstools and ottomans.
The Designers Guild philosophy is to combine creativity and innovation with the highest levels of quality; quality of design, product, service and people, and this is evident throughout all of their collections and product launches.  The stunning designs are translated onto beautiful fabrics and wallpaper substrates using various printing techniques from rotary Galvano printing to modern digital printing techniques delivering outstanding collections that lend themselves to modern and traditional interior design schemes.
We are delighted to stock a curated range of Designers Guild fabric and wallpaper collection books, along with rug samples in our showroom in Brockenhurst.   Designers Guild fabrics can be transformed into beautiful curtains, roman blinds and cushions through our hand stitched, made to measure service, so please get in touch for a quotation.  We offer a complimentary Bespoke Design Service to realise your vision and help you to create a home you love.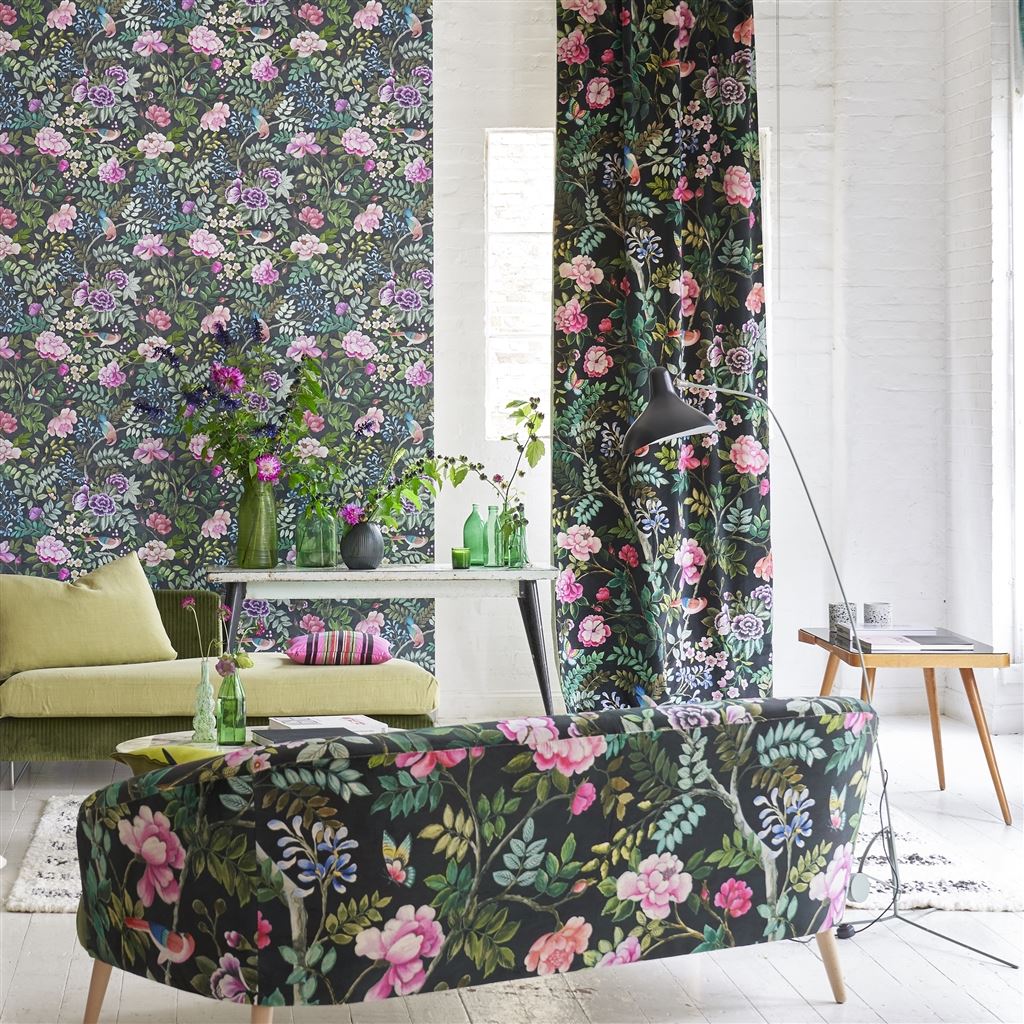 Designers Guild Porcelaine De Chine Fabric & Wallpaper Collections
Launched in 2022, this is a spectacular collection of bright and decorative prints, inspired by the craftsmanship and detailing of fine Porcelain from the 18th Century.  The collection includes a 100% linen print that will bring a light, airy feel to your room, along with more opulent printed velvets, for a Maximalist look.  Team the fabrics with co-ordinating wallpapers and Designers Guild paint for colours that work tonally together and complement each other.
Designers Guild Brera Striato Fabric Collection
This is a fabulous collection of contemporary woven stripes and checks that lend themselves beautifully to country cottages and coastal retreats.  All the designs are created using Designers Guild well loved 100% pure tumbled Brera Lino yarns, combined with heavier slubbed yarns, including those used in the Brera Mode fabric.  The collection also includes a 100% cotton, heavyweight, tartan check to complete the collection.  The colour pallet ranges from warm neutral and earthy tones, to airy whites and the collection is finished with some brighter hues to offer versatility to suit a variety of interior design colour schemes and styles.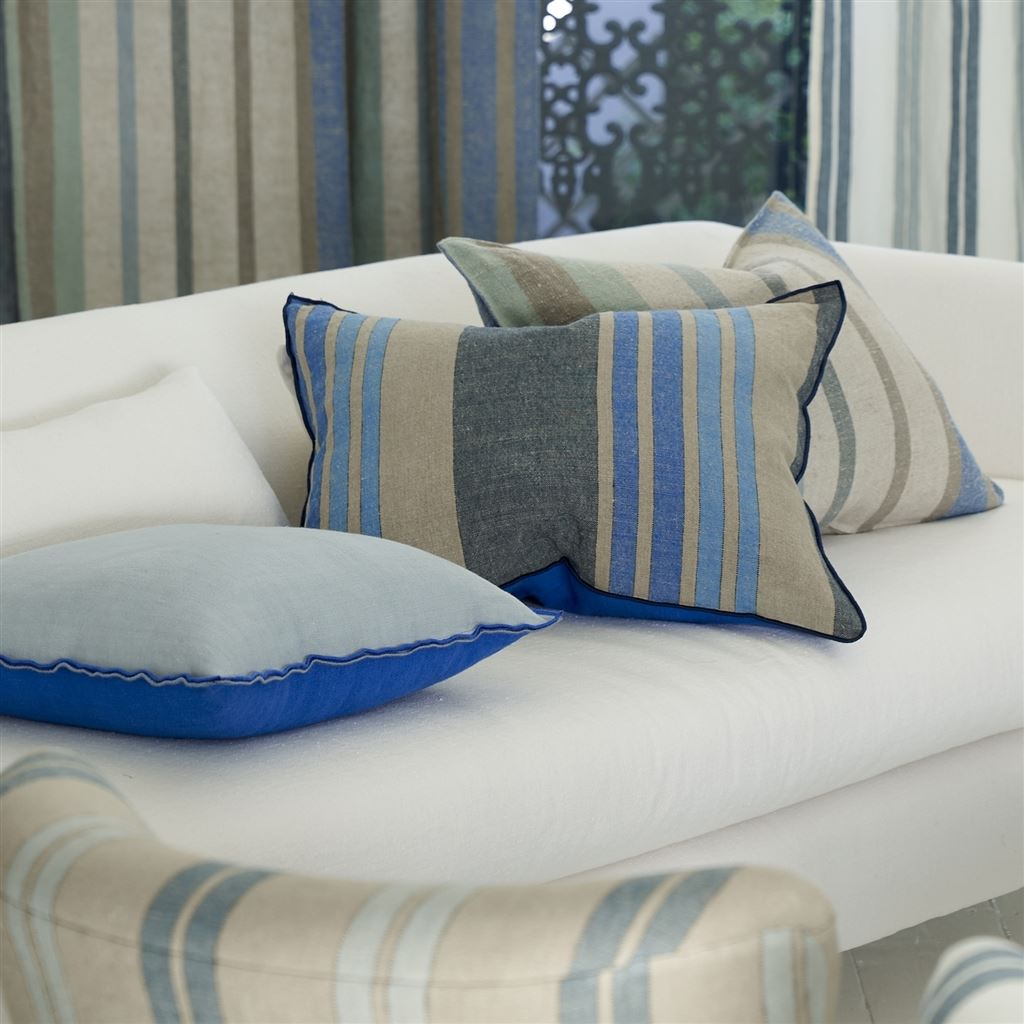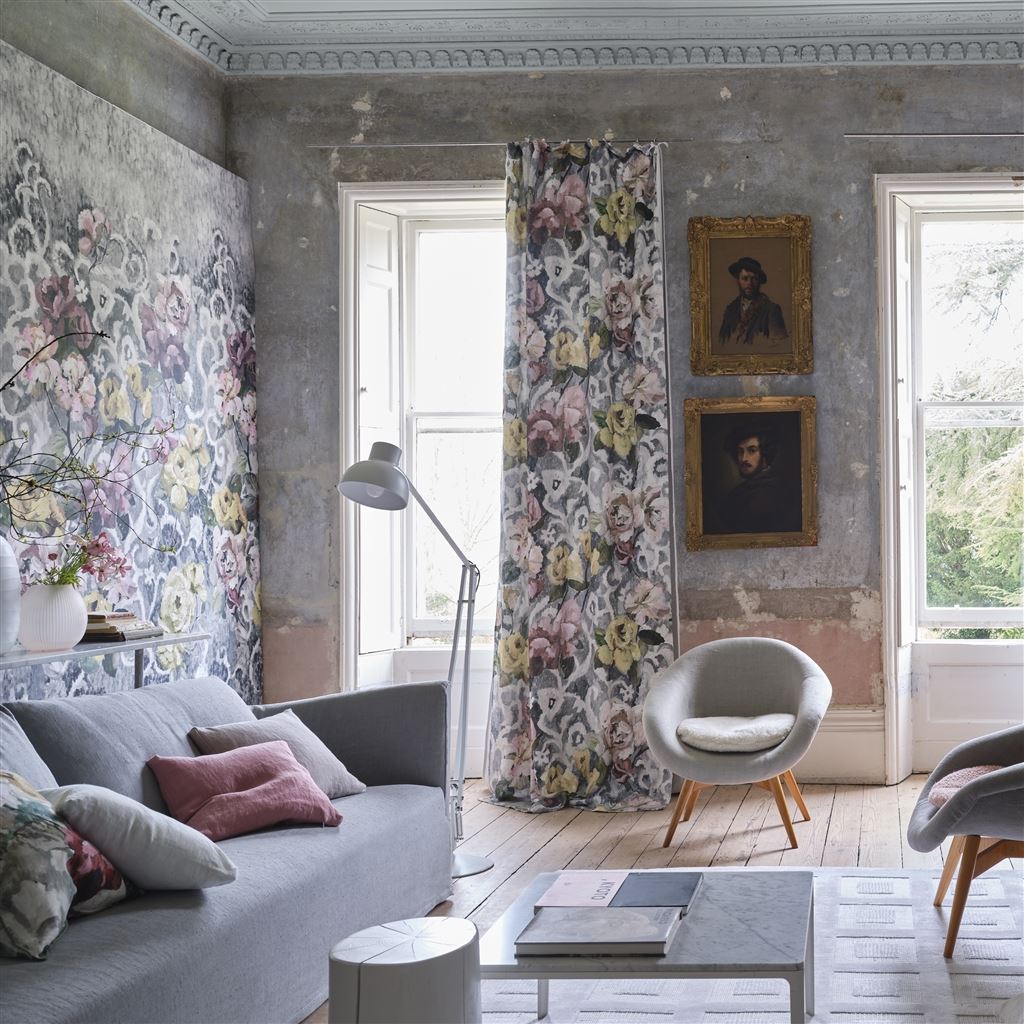 Designers Guild Tapestry Flower Fabrics and Wallpapers
This year sees the return to Maximalism and this Designers Guild collection is perfect to create a Maximalist look.  Inspired by rich colours and painterly brush strokes of the Camden Town group of artists dating back to the early 20th century.  The fabric collection is complemented by a range of stunning wallpaper murals to continue the dramatic look.  The collection includes bright and impactful romantic florals, to painterly geometrics and elegant damasks.  The colour pallet ranges from soft, pastel shades to rich jewel colours to complement your interior style and colour scheme.
Designers Guild English Heritage Fabric and Wallpaper Collections
The Designers Guild creative team have re-worked and re-imagined designs held within the English Heritage archive, to deliver a contemporary collection of fabric and wallpaper designs in a calming colour pallet.  Intricate details within the designs are produced from specialist mills, using traditional surface and gravure rotary printing to modern digital printing methods.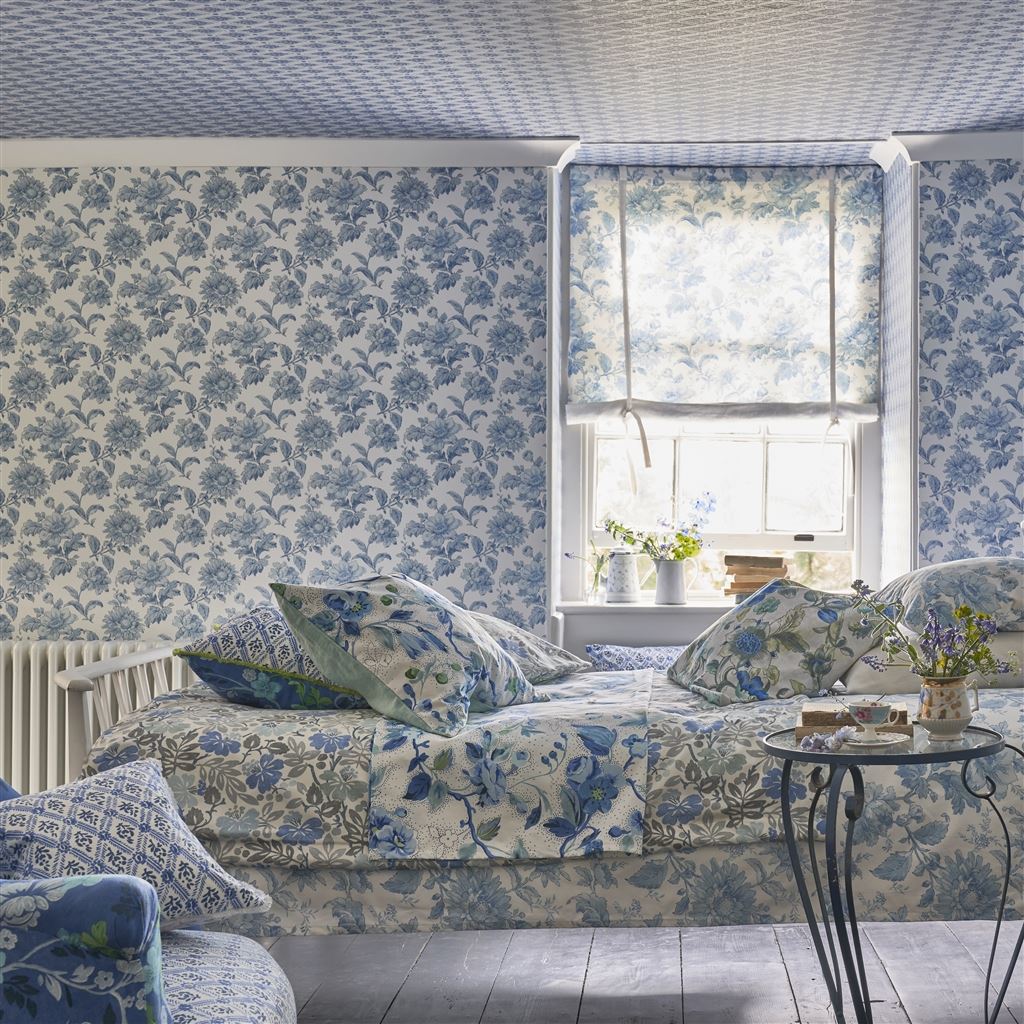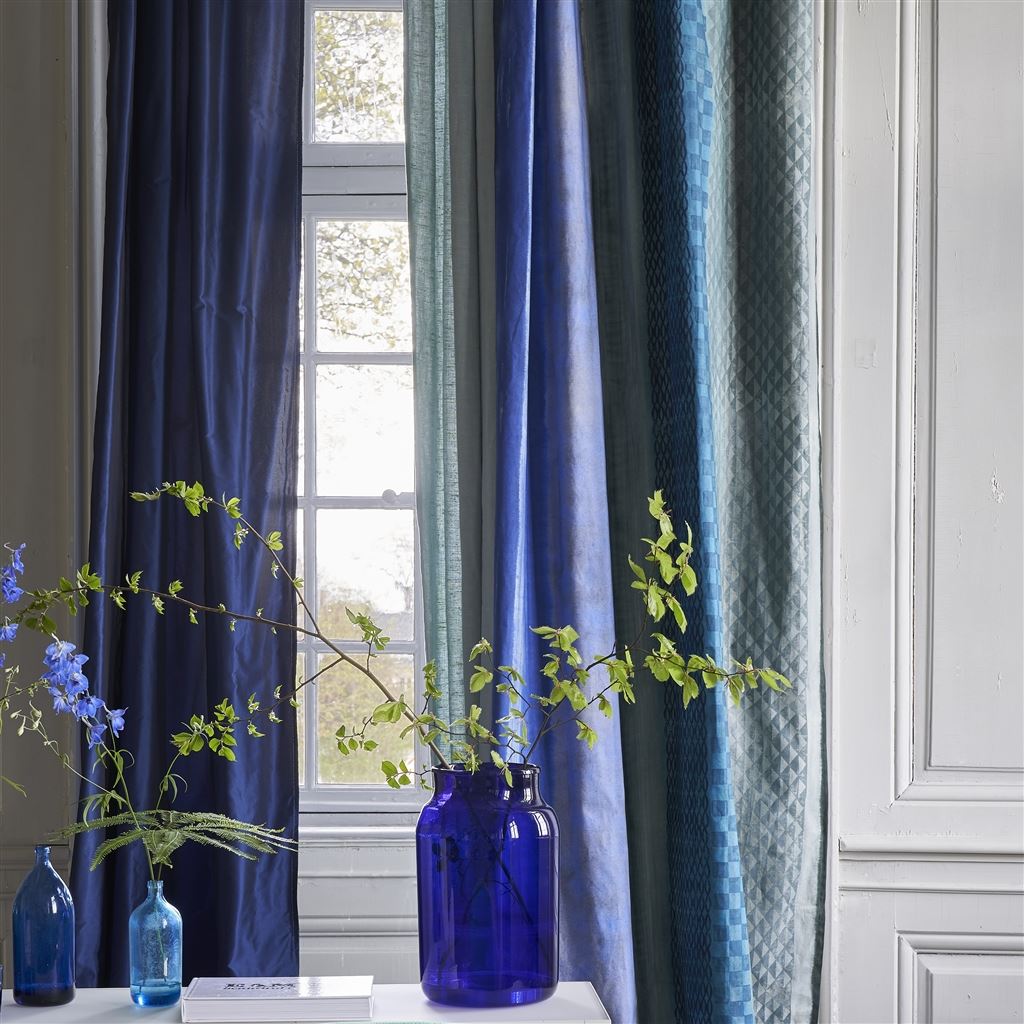 Designers Guild Wide Width Fabrics
Designers Guild offer a comprehensive range of wide width fabrics from lightweight sheers / voiles, to dim-out and blackout fabrics, to metallics, ombres and velvets.  As long as the drop of your curtains is at least 25cm less than the width of the fabric (which is typically 300cm on a wide width fabric), this means by using a wide width fabric we can make up your curtains without any joins in them.  This is particularly advantageous for the wave curtain heading style, where a fabric join may fall on the front of a wave fold.  A wave curtain offers a neat, simple window dressing and is a popular choice for large expanses of glazing.  It delivers a slim stack back so enables as much light as possible to flood into your room.
Please view our customer project using the Designers Guild wide width Velluto Velvet.
Designers Guild Brera Lino Fabric
The Designers Guild Brera Lino fabric is a best selling, washed, 100% pure linen fabric available in 153 colours so there is a shade for everyone!  It is luxuriously soft, is suitable for upholstery projects and also drapes beautifully for curtains as well.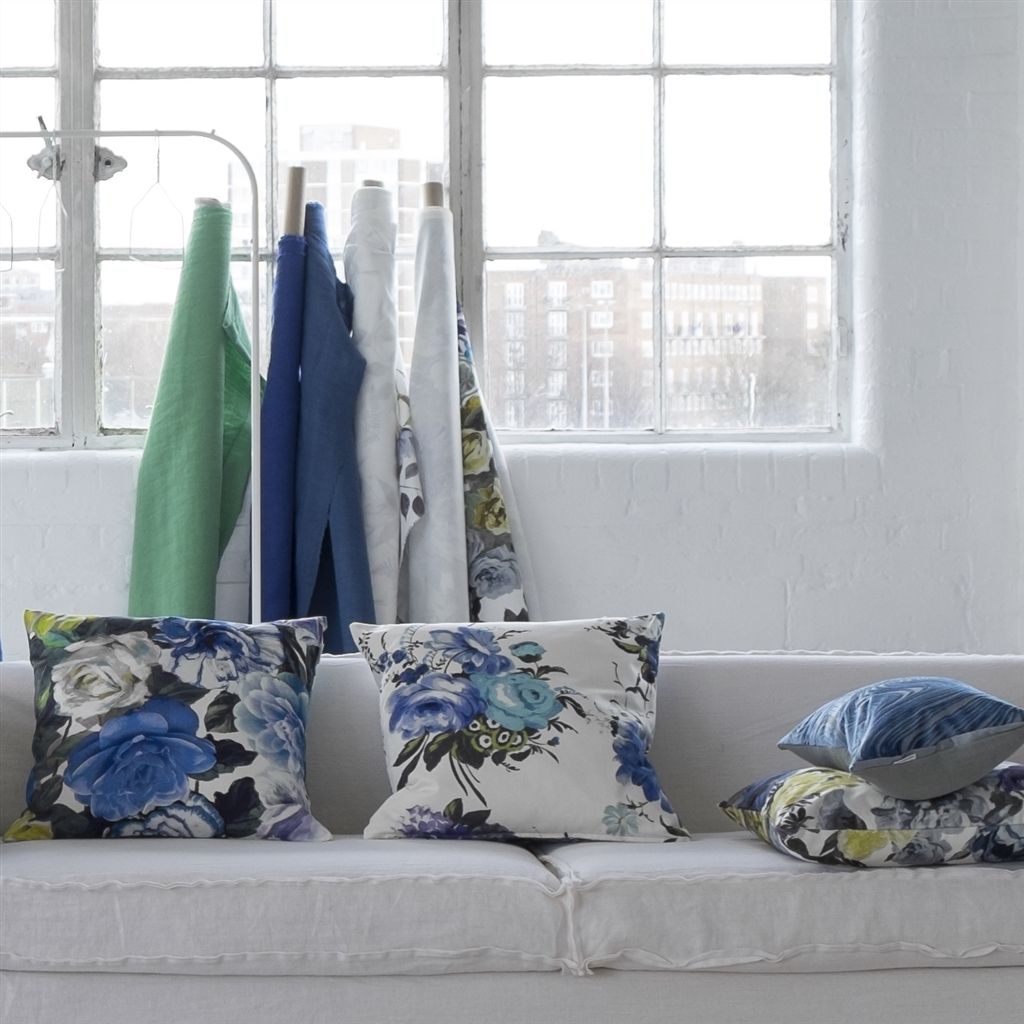 Please get in touch if we can arrange for any Designers Guild samples to be sent out for you or if we can help with your project in any way.
We can also supply a quotation for any of their products or for us to make up curtains, roman blinds or cushions in one of their beautiful fabrics.
Please call our sales team on 01590 615775 or email sales@thehomeofinteriors.co.uk
We hope we can be of assistance to you with your project.
Follow us on Instagram and Facebook: @myhomeofinteriors