Rejuvenate your walls with Sanderson's beautiful collection of paints. Featuring 154 attractive colours, this versatile palette has been carefully designed to complement a range of interior design styles, both traditional and modern. Based on the original 1900 small paint collection by Arthur Sanderson, the brand has creatively developed a limited selection into an eclectic range of stylish paints. These work in harmony with their extensive fabric and wallpaper collections to help you create the perfect finish to your home. View the full Sanderson paint range here.
Each paint in the collection is carefully produced in the UK, with every colour tinted in house for absolute precision. With sustainability at the forefront, Sanderson also makes each paint to order and formulates them in a way that reduces the Environmental impact by minimising atmospheric pollutants such as Volatile Organic Compounds (VOCs).
Sanderson Paint Finishes
Sanderson offers two fabulous paint finishes: Active Emulsion and Acrylic Eggshell. Both are wonderfully versatile and are available in each colour featured within the collection, helping you to create your ideal look, anywhere in your home.
Active Emulsion
Active Emulsion is a classic matt paint finish, offering a low sheen that's suitable for use on interior walls, ceilings and woodwork. This finish is greatly flexible, working beautifully in a wide range of interior settings including hallways, living rooms, kitchens, bathrooms, playrooms and children's bedrooms. More resilient than traditional emulsions, Active Emulsion is stain resistant and is easily washable, perfect for withstanding the tests of everyday living.
This paint finish is available in 2 sizes: 2.5 litres and 5 litres. Both provide good coverage, offering approximately 12 square metres per litre. However, please note this may vary depending on surface type and porosity. Sanderson's Active Emulsion also offers a low odour and contains quick drying properties, suitable for touch dry in 1-2 hours and application of new coats in 2-4 hours.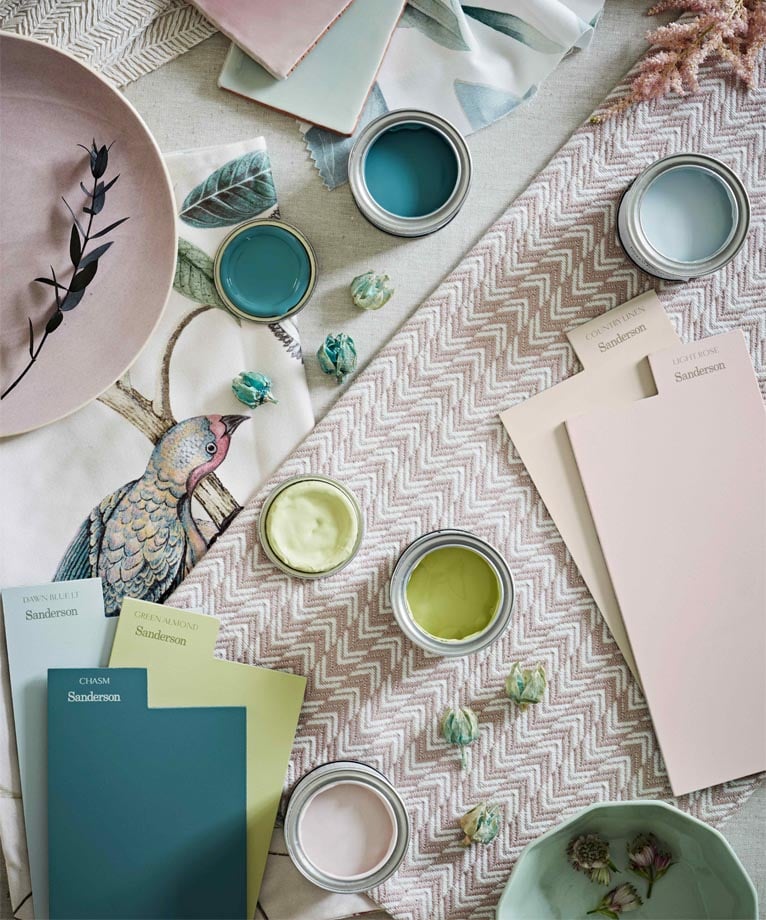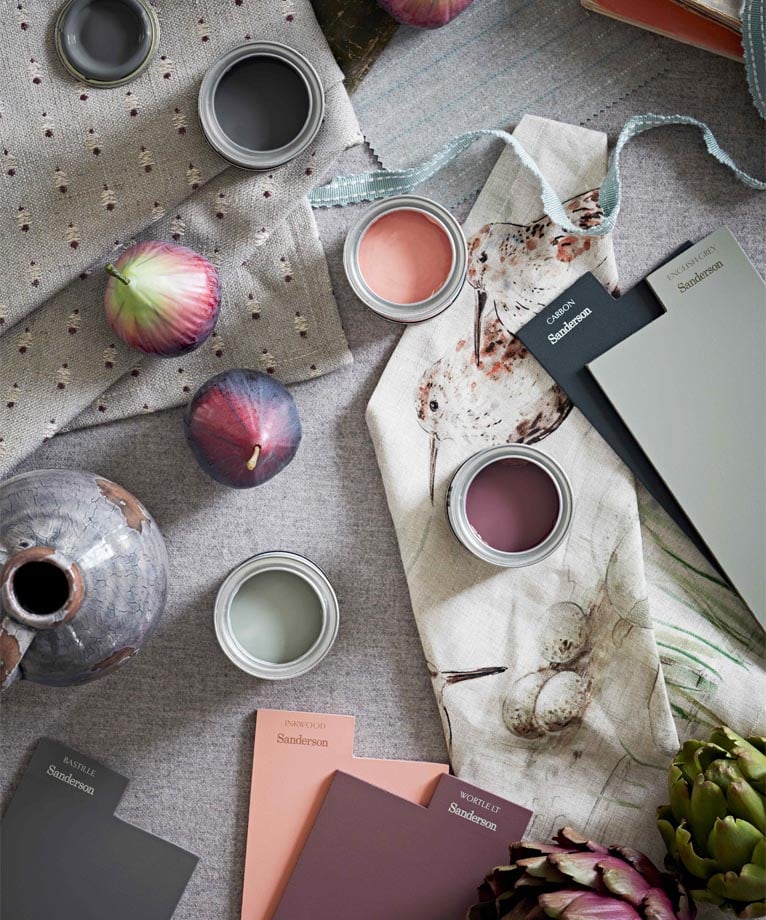 Acrylic Eggshell
Alternatively, Acrylic Eggshell is a low sheen, water-based premium paint finish, ideal for interior walls, ceilings, radiators, woodwork and metalwork. Designed with durability in mind, this hardwearing finish is resistant to condensation and yellowing for long-lasting perfection. Also washable, Sanderson's Acrylic Eggshell works beautifully in kitchens, bathrooms, hallways and conservatories, and can also be used for exterior woods that have been primed. Interior materials such as wallboards, concrete, cement rendering and blockwork also hold this paint well for a great end result.
Acrylic Eggshell is available in 2 sizes: 1 litre and 2.5 litres. Both offering good coverage, this paint achieves approximately 10 – 12 square metres per litre. Similar to Active Emulsion, this finish also offers a low odour and contains equally quick drying properties following application.
For further guidance, please see the chart below. The paint finish you require will largely depend on the space and materials you intend to decorate. But whichever option you go for, you can be sure Sanderson's paint will make a great addition to your home.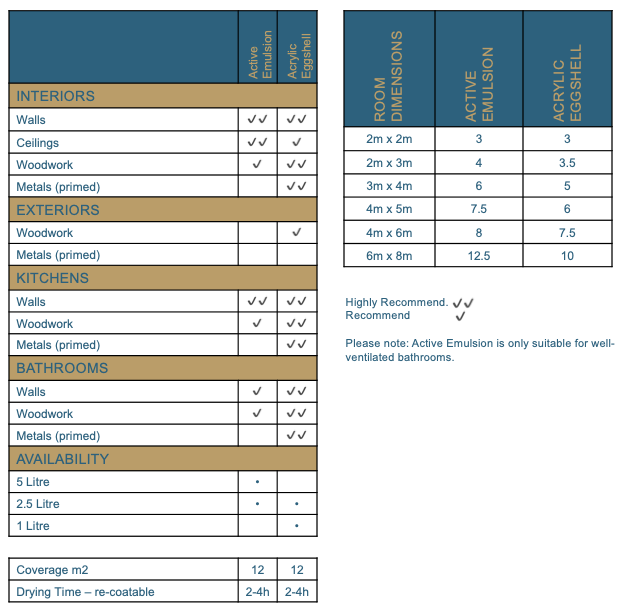 Considerations When Choosing a Sanderson Paint Colour
Paint can make all the difference to the overall look of a room. A simple coating of your walls can completely transform the feel of your space, adding character, depth and dimension to help create your unique, desired look. However, when it comes to choosing a colour, the decision process isn't always easy. With so many colours and shades available, it can be difficult to choose the right tone for your individual tastes and requirements. So here's a few things to consider when selecting your paint colour.
Firstly, it's worth noting that the type of lighting in a room can significantly affect your paint choice. Natural lighting, artificial lighting, warm lighting and cool lighting can all impact the colour differently, so it's important to consider this when choosing your tone. The amount of light exposure is also important. Some areas of a room may receive more light, while others may receive less, again impacting the overall appearance of the colour.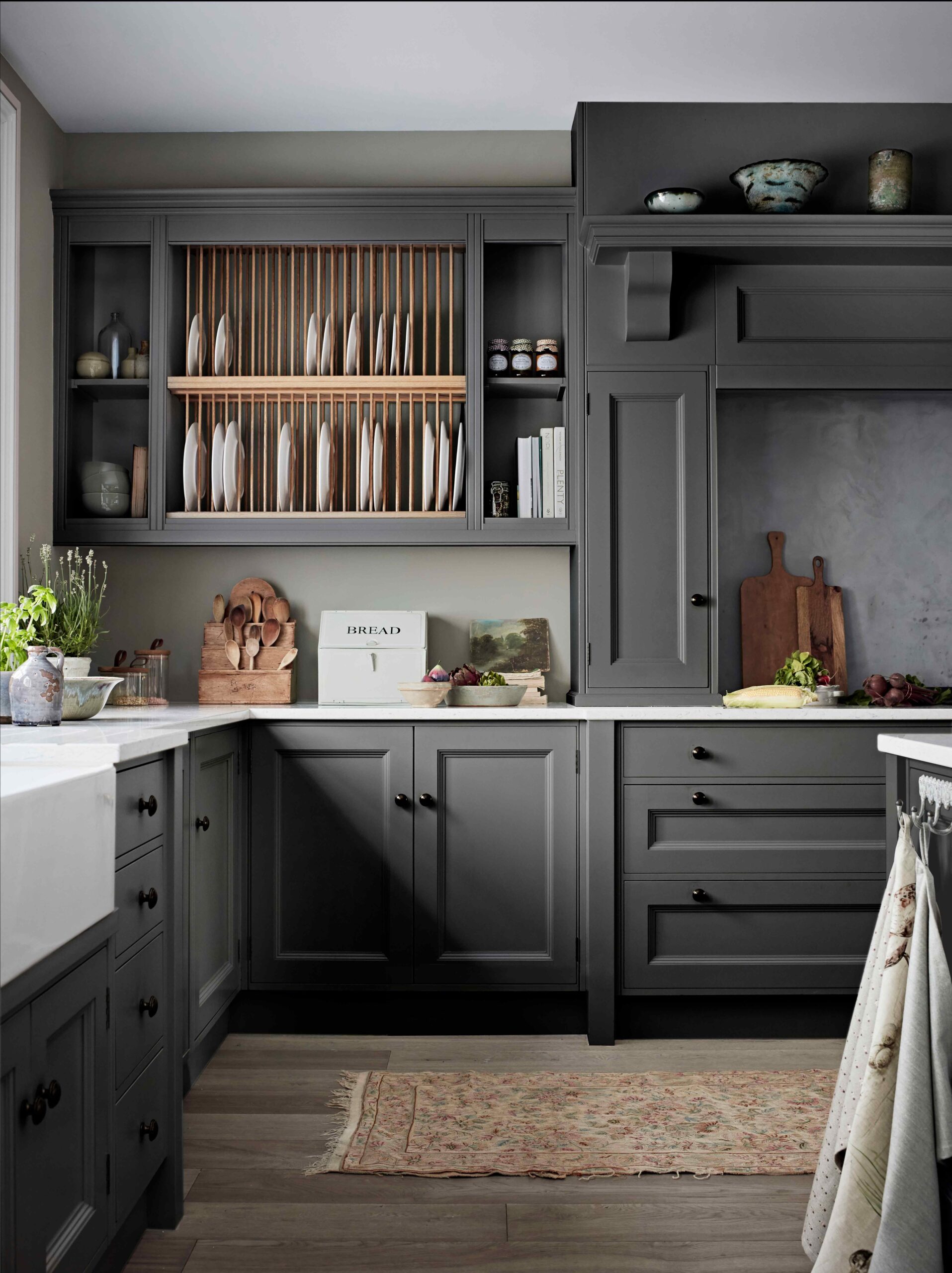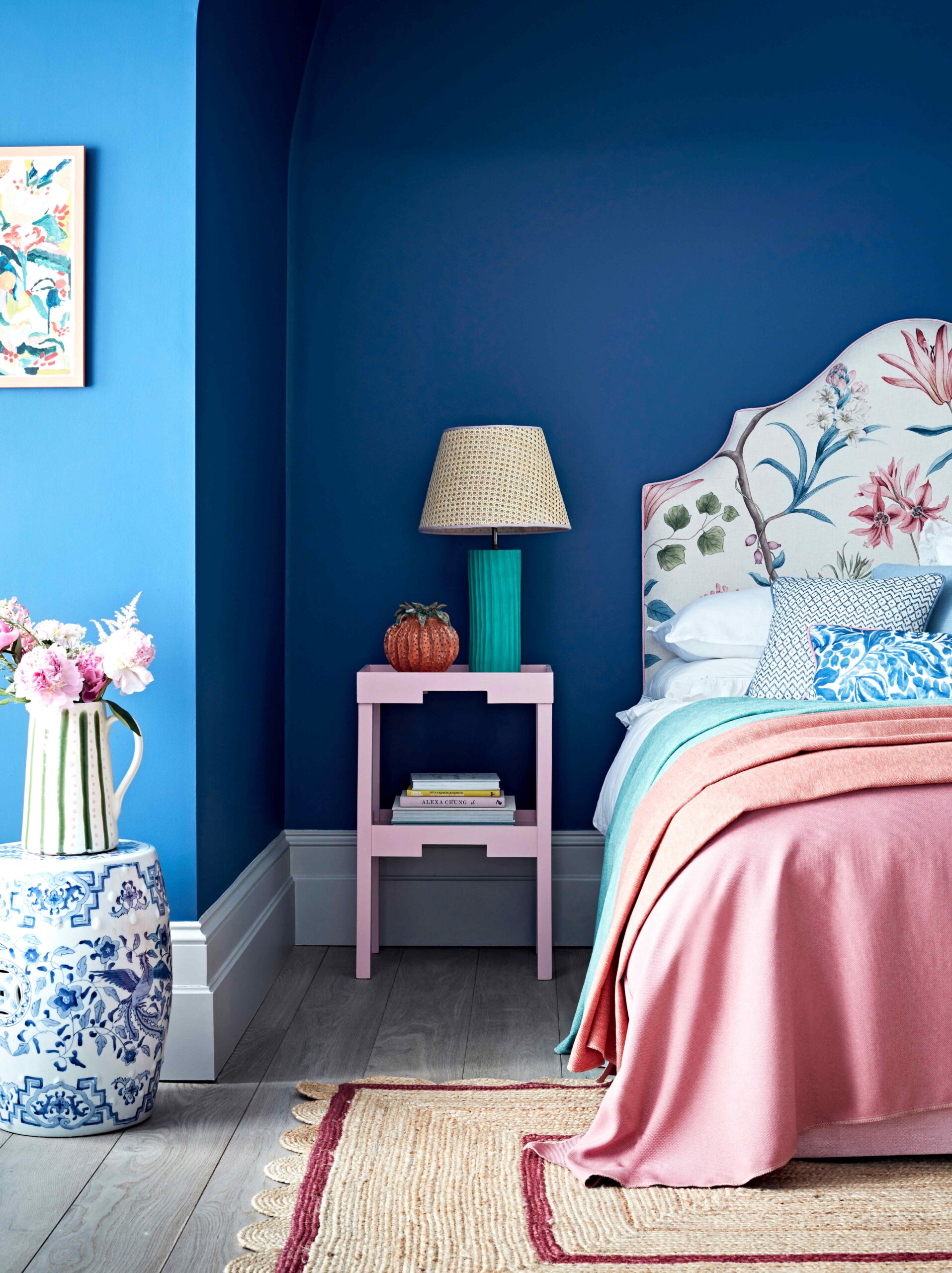 Secondly, different aspects of the room such as architectural features, size and ceiling height can influence the way a colour works in a room. Certain colours such as darker tones may lend themselves to more spacious settings with higher ceilings, while lighter tones work well in smaller spaces. Furnishings can also affect the appearance of a paint shade. The placement and colour of your decorative furnishings can make or break your paint choice, either complementing or clashing with it and influencing how dark or light it appears.
Finally, the finish can really impact a paint colour. Some finishes offer more of a matt look, while others provide varying levels of sheen to suit different materials and uses. All finishes reflect differently on the colour and should therefore, be taken into consideration when choosing your colour.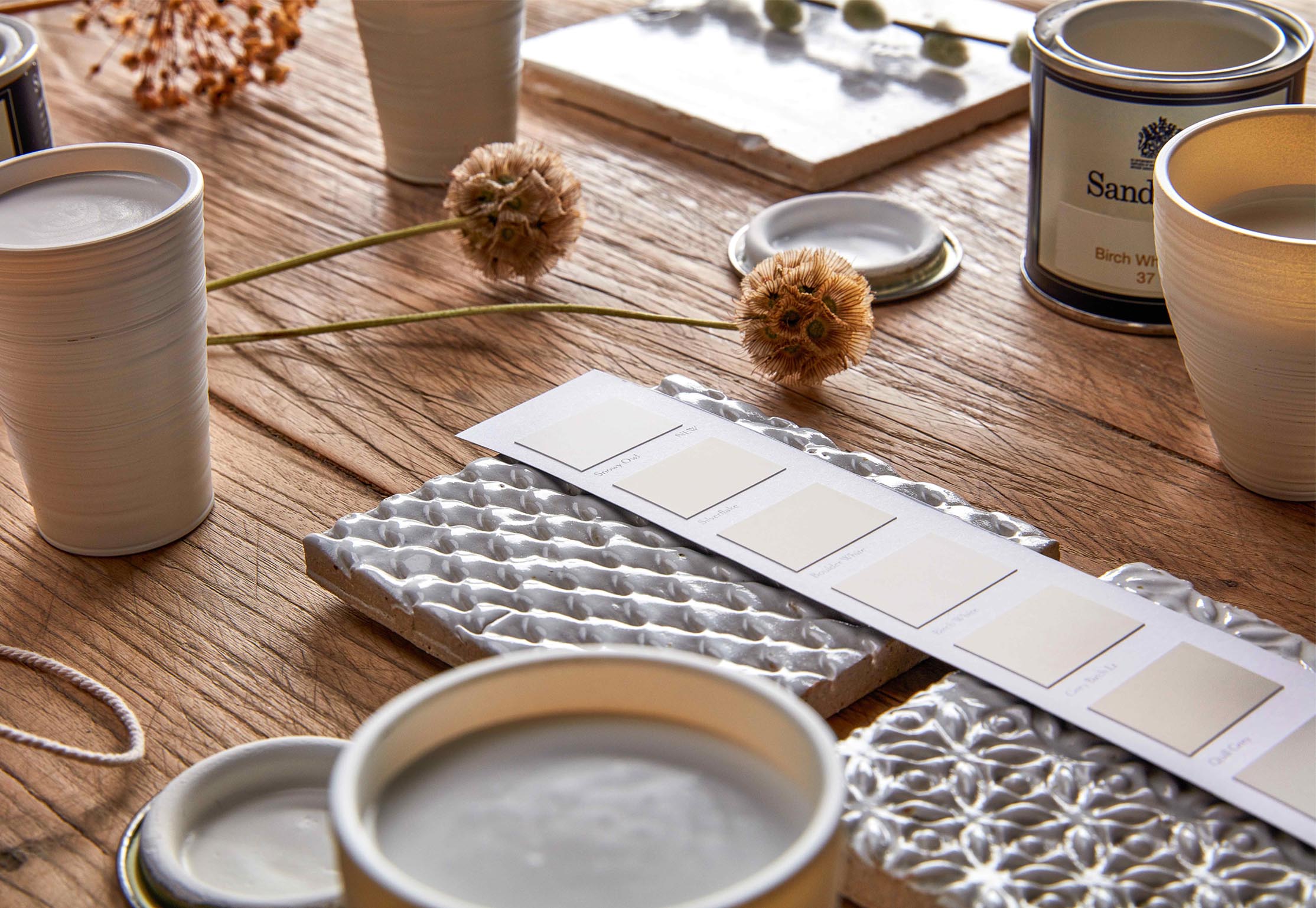 The Home Of Interiors Recommendations
As paint colours can vary so much, depending on the aforementioned factors, we strongly recommend purchasing sample pots before committing to a colour. With Sanderson's collection of paints, you can opt for a 125ml Active Emulsion sample pot in any colour of your choice to see if the colour works for your environment.
We recommend painting a large piece of lining paper or foam board in 2 coats of the sample, moving it around the room to see how the light and different aspects affect the colour. This way, you will have a better idea of how your chosen colour will work in your home and get a feel for if it's right for you, giving you that extra piece of mind before committing to your purchase. We do not recommend applying any samples directly to your walls as this will require extra prep work when it comes to decorating, particularly if your samples are quite dark and need to be covered.
If you are considering a Sanderson fabric or wallpaper, each product page contains some recommended paint colours to coordinate with your chosen product. We have also curated some complementary colour schemes for each Sanderson paint colour. Please see the individual paint colour pages on our website for these suggestions.
Sanderson Colours
Sanderson offers a stunning selection of paints across a broad spectrum of colour palettes. From calming neutrals and soothing pastels to vibrant yellows and Autumnal reds, there really is something for everyone.
Many tones in the Sanderson collection also fit seamlessly with some of 2021's most prominent interior colour trends. A great example is the colour green. Reminiscent of nature, this popular colour offers a great deal of flexibility to suit your individual preference. If you're looking to immerse yourself in nature, particularly after the recent lockdowns, Sanderson's more natural tones such as Devon Green and Canopy Green would work beautifully. These help to bring the outside in for an all-round calm and refreshing feel. Deeper tones such as Gardenia Green and Vineyard are also a great choice for that natural, heritage look that is right on trend at the moment. Alternatively, if you're looking for a lighter, more vibrant green, English Pear, Green Grotto and Artichoke all work well for a light, airy feel.




Furthermore, Sanderson offers an alluring palette of blues to complement traditional and more contemporary interior design styles. Blue is a timeless colour that works beautifully in a range of interior settings, from living rooms and kitchens to bedrooms and bathrooms. Popular for its versatility, this colour comes in a range of shades from cool, coastal blues and pastels blues, through to darker inky blues and indigos. This year, darker blues are on trend, with many homes encompassing deep, rich tones such as Sanderson's Cadet Blue, Yacht Blue Light, Indigo Blue and even Night Fishing. This is perfect for creating a confident, contemporary look, whilst also keeping a sound and serene feel.




Sanderson also includes a wide selection of creams, beiges, taupes and earthy tones, in keeping with the ever-popular neutral trend. Each year, the neutral colour scheme makes an appearance, and 2021 is no exception. With its ability to fit anywhere in any style of home, the natural look never goes out of style! This year, warmer neutrals are taking centre stage as opposed to cooler whites and greys. Colours such as Sanderson's Silver Dust, Mushroom Grey Light, Nightshade and Starling are all great examples, creating a calm restful air with an added touch of warmth.




Continuing on with the warmer tones, rich reds, oranges and plums are also becoming more prominent as we begin to welcome more natural, warming elements into our interiors. Sanderson's bold Autumnal shades such as Amanpuri Red, Bengal Red, Squirrel and Rowan berry work beautifully for creating that warm, cosy feel while adding some depth and character to your interior.




For more information on how to work some of these gorgeous colour trends in your home, please see our colour of the month blog posts. For design inspiration and ideas, please take a look at our featured collection of trend guides. If you have any questions or would like any advice, please do not hesitate to get in touch!
Email: sales@thehomeofinteriors.co.uk or give us a call on 01590 615775.