Cameron Fuller offers a beautiful range of well-crafted metal and wooden curtain poles and track systems, all carefully designed and made in their Devon workshops.
The Cameron Fuller 19mm bay curtain pole is available in a variety of finishes and finial styles, complementing traditional and modern interior design styles.  This bay pole is supplied with a barrel style finial.  It is suitable for bay windows up to 4.8m long and can be supplied with 1, 2, 4 or 6 bends (including return bends).  Please note the pole cannot be bent as a gradual curve.
For more product information, please watch our YouTube video (the video is in the image gallery).
The bay pole will be supplied and bent to your requirements, however please note the pole will be supplied over sized so that it can be cut to the exact size on site.  A drilling piece is included in the fittings pack so that you can drill holes into the poles where required for the passing brackets.  Please see information below on the unique design of the Cameron Fuller bay pole and how the poles work.
Please download our bay curtain pole measuring form without returns here, or if you require returns please click on this link to download the 'with returns' measuring form.  If you require a mix of ceiling and wall fix brackets please let us know which brackets you would like where on the measuring form.
The pole kits include: poles bent as per your requirements, 3 standard brackets (one for each end of the pole and one for the centre), a centre connecting piece (for split poles), support brackets (Cameron Fuller will supply the required number for your window measurements and shape), 1 C ring for every 10cm of pole, 1 x pair of finials.
A Unique Solution: Cameron Fuller's special pass bracket supports the pole near the corners and by using the unique 'C' ring, a single curtain can be pulled smoothly around a full half of the pole.  The pre-bent poles enable a smooth glide around the corners.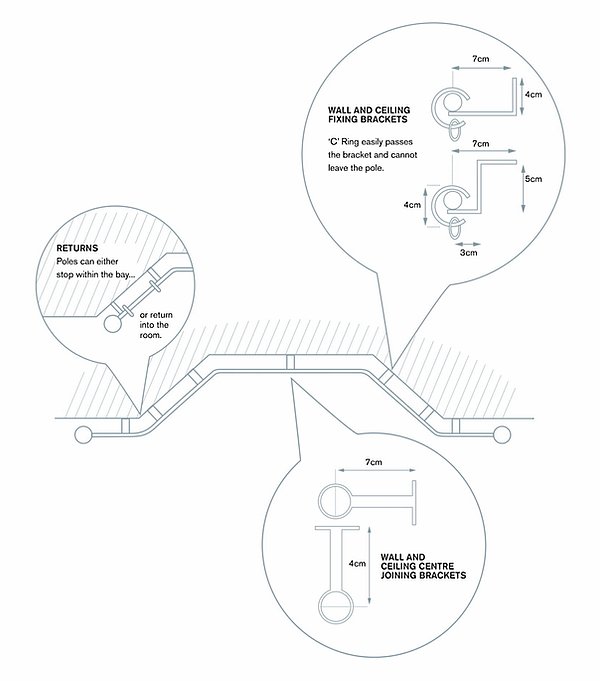 Please note the 32mm poles cannot be bent, and these bay poles are not suitable for eyelet curtains as the eyelets won't passover the corner brackets.
Additional C rings can be ordered separately.  Co-ordinating holdbacks and draw rods are also available.  Please see accessories below.
There is a 5 working day lead-time for these poles.
Please don't hesitate to give us a call on 01590 615775 if you have any questions or need any advice.