Blindspace – Blind Box Profiles
Designed to Disappear
Blindspace blind box profiles to conceal any type of blind, in any type of window. The unique Blindspace design provides millimetre precision and a better finished aesthetic than traditional building methods whilst saving you time in both design and installation.  
The hidden space inside the wall or ceiling can be prepared for manual or electric blinds and accessed for blind installation when construction work is completed. From the smallest windows to massive doors and skylights, our solutions are made to make any blind disappear. The alternative is surface-mounted products with visible side channels, cables or cords.
Multiple Configurations
Blinds are concealed in any of the following ways using Blindspace boxes.
Concealed inside the wall.
Concealed inside the ceiling, with the blind gap towards the window or towards the room.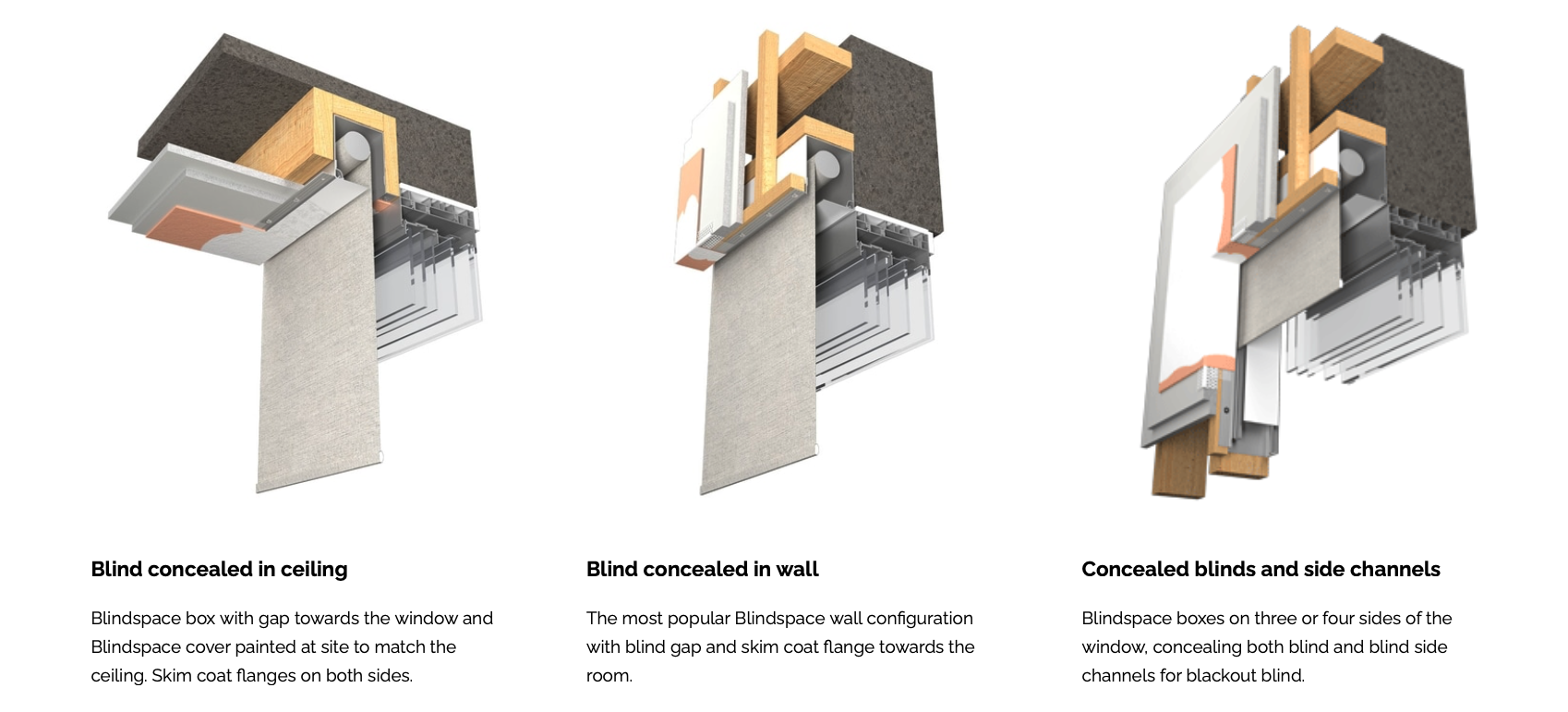 RAL Colour Matching
All Blindspace blind box profiles can be primed and painted on site, alternatively we can offer a colour matching service  to any RAL reference.  Either the entire box or just the hinged cover plate can be colour matched.  In most instances if the box is being fully recessed, it will only be the hinged cover plate that would need to be colour matched.  Both options are available when you specify the product above.  For the majority of colours a powder coating process is used, however for some special colours that are not available in powder coat, a durable wet spray paint will be applied.  The Standard profiles are supplied in RAL 9003 30% gloss.
Buy Blindspace blind box profiles online using our product configurator  – or call for assistance and advice.
Our prices are for a fully made to measure specification cut to your exact specification.  If you want to save on the BlindSpace cut to size charge then order in 600cm lengths.  All our prices include end caps as standard.
Blindspace Blind Box Fitting Instructions
Headbox & Side Boxes for Windows & Doors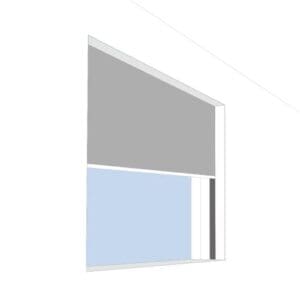 Fitting Tips:
Blinds can be concealed inside the wall or inside the ceiling, with the blind gap towards the window or towards the room. The most common configuration in windows and doors, is to use a headbox only, however in rooms where blackout blinds may be required, Blindspace side boxes and bottom boxes are also frequently used.
As a general rule, blinds should be installed as close to the window as possible to minimize gaps on the sides of the blind. This increase privacy, reduce light coming in and warm air circulating to the room. With Blindspace side boxes, gaps can be eliminated and 100% blackout can be achieved.
It is important to allow for protruding door and window handles when configuring the blind gap close to the window.
Please note:  Due to the size and weight of these products we can only offer subsidised and not free shipping.  Shipping costs are detailed at checkout.