Integra Masterpieces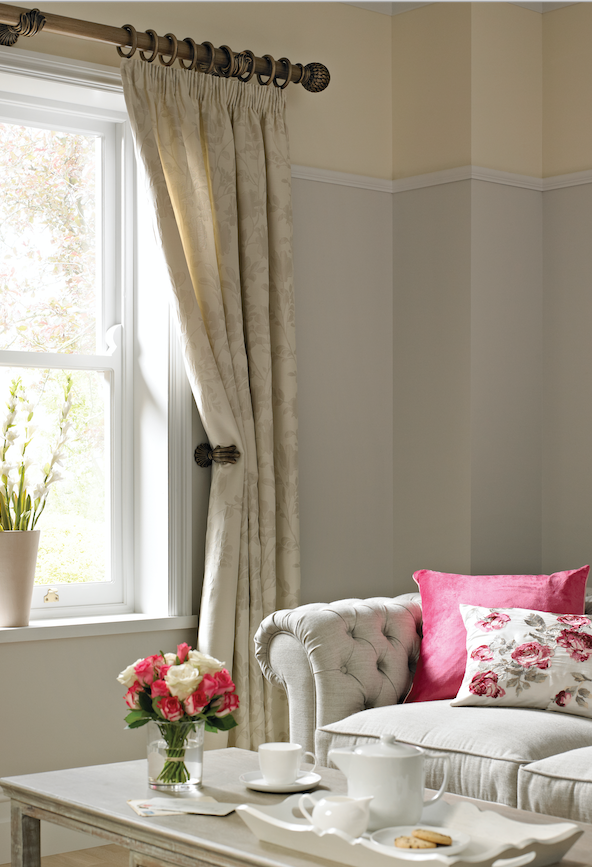 The Masterpiece Collection oozes luxury and opulence and complements the exotic interior design trend that is prevalent at the moment.  The poles are available in sumptuous two-tone finishes including cream, gold, silver, bronze and pewter inspired by the romance and exquisite exuberance of the Rocco period.  The darker tones of the black gold, burnished bronze and pewter work well with velvets, bold prints and dark coloured fabrics to bring a richness to your room.  For an understated look you may prefer the ball or urn style finials, however for a more opulent look the Phoenix and Chantilly finial styles are truly stunning to give a real wow factor at your window treatment.
Why choose an Integra Curtain Pole?
The wooden curtain poles come in two diameters – 35mm and 50mm. The 35mm diameter is suitable for up to medium weight curtains 11kg) and the 50mm diameter is suitable for medium-heavy weight curtains (11kg-15kg).  The 50mm diameter works exceptionally well in large rooms, at tall ceilings and to balance richer fabrics.
What's included in your Integra Masterpiece Curtain Pole Collection?
Curtain pole
Curtain Rings – Rings supplied 1 per 10cm e.g. 180cm pole has 18 rings
Brackets
Finials – Pair
 To complete the look ….
For a more decorative look, you can choose the Ornate style bracket instead of the standard wood cup bracket