How to measure for a curtain pole:
Decide where the pole is to be positioned. This can be either on the window frame or above it on the wall.
Measure the required width (A), taking into account the space needed for the curtains to be drawn back either side of the window (B).  The industry recommendation is to add on 15cm either side of the curtain pole, however we would recommend adding on a little bit more if you have a wide window or heavy fabric.  This will ensure the curtains will clear the window when in the open position.
Ensure there is space for your chosen finial at either end of the pole (C). Where space is tight, we can supply stud end cap style finials in place of finials, or recess brackets
Curtain Pole Measurements
All pole measurements throughout our website are for the pole length only and exclude the length of the finials.  Please refer to the finial tabs on each product page for information on the finial sizes.
If you are unsure which pole length to choose always choose the longer size, as the poles can easily be cut down to fit.
Most longer poles will be in two pieces and are joined in the centre by a centre bracket. If you need to cut these poles down to your exact required size, remember to cut half the amount from each end so that the centre bracket will still cover the join in the middle.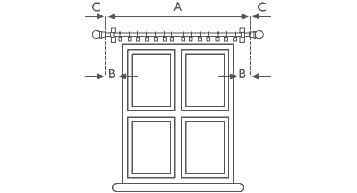 SaveSave