Transform your interior with the superior Alchemy of Colour Paint range by Zoffany. This collection is one of sophistication and luxury, offering superb coverage for a refined finish. Comprising of 156 colours across a plethora of elegant palettes, the deluxe Alchemy of Colour collection unlocks a path to self-indulgence with its colour richness and decadent finishes. Harmonising with Zoffany's extensive fabric and wallpaper portfolio, these sumptuous, designer paints are the perfect addition to your redecoration project for a flawless end result. View the full Zoffany paint collection here.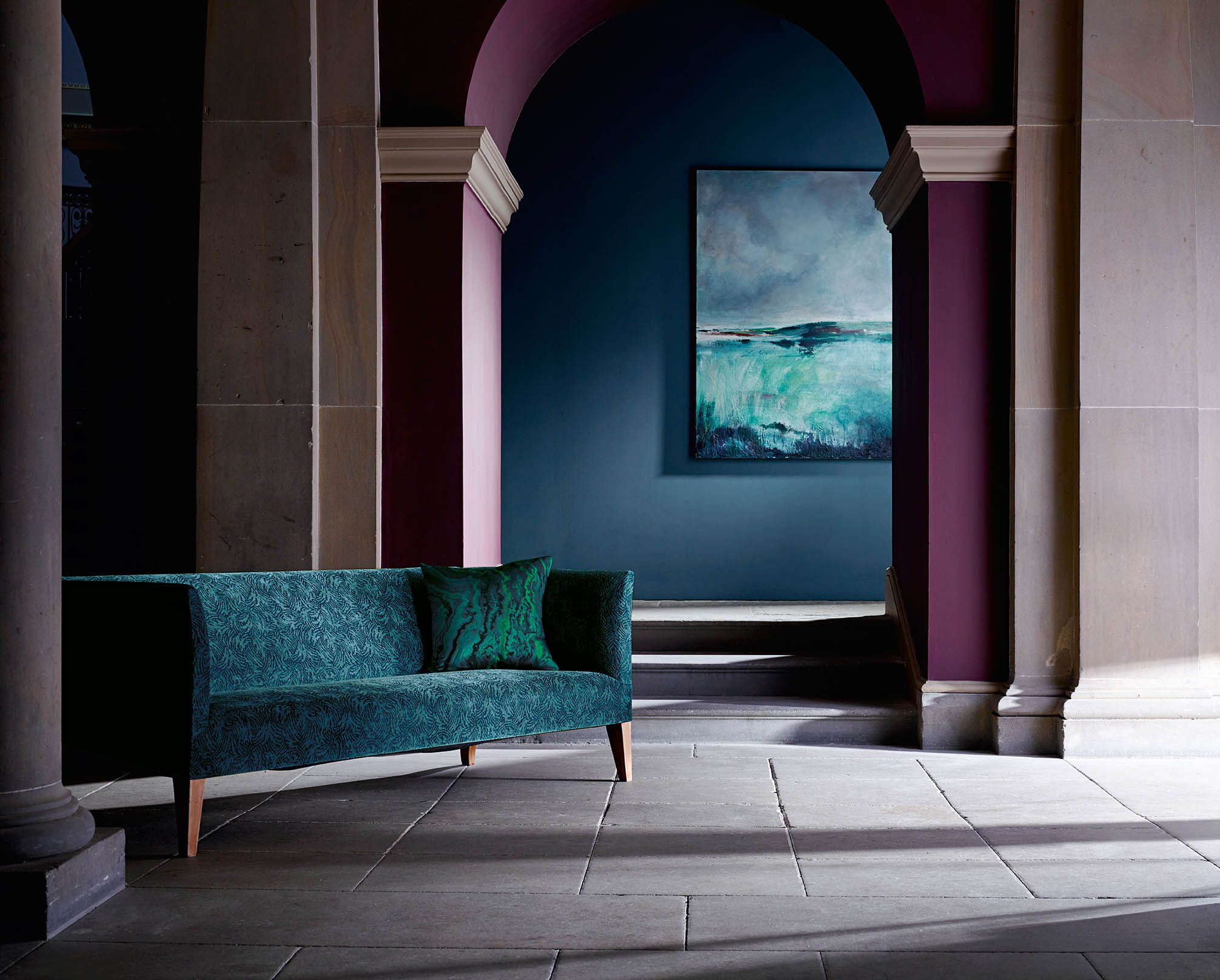 Each paint is expertly designed for absolute precision, containing high quality grade pigments that create exceptional depth of colour. Retaining environmentally conscious values, these paints are also sustainable, with low Volatile Organic Compounds (VOCs) to help reduce atmospheric pollution. Additionally, the Zoffany paints are vegan friendly, offering a universal appeal that truly caters for everyone.
Zoffany Paint Finishes
Zoffany offers 3 robust paint finishes: Elite Emulsion, True Matt Emulsion and Acrylic Eggshell. These work beautifully for walls, ceilings, metal and woodwork, helping you to decorate consistently throughout your home. Each finish is available in every Zoffany colour, so you can create your desired look to the highest specification.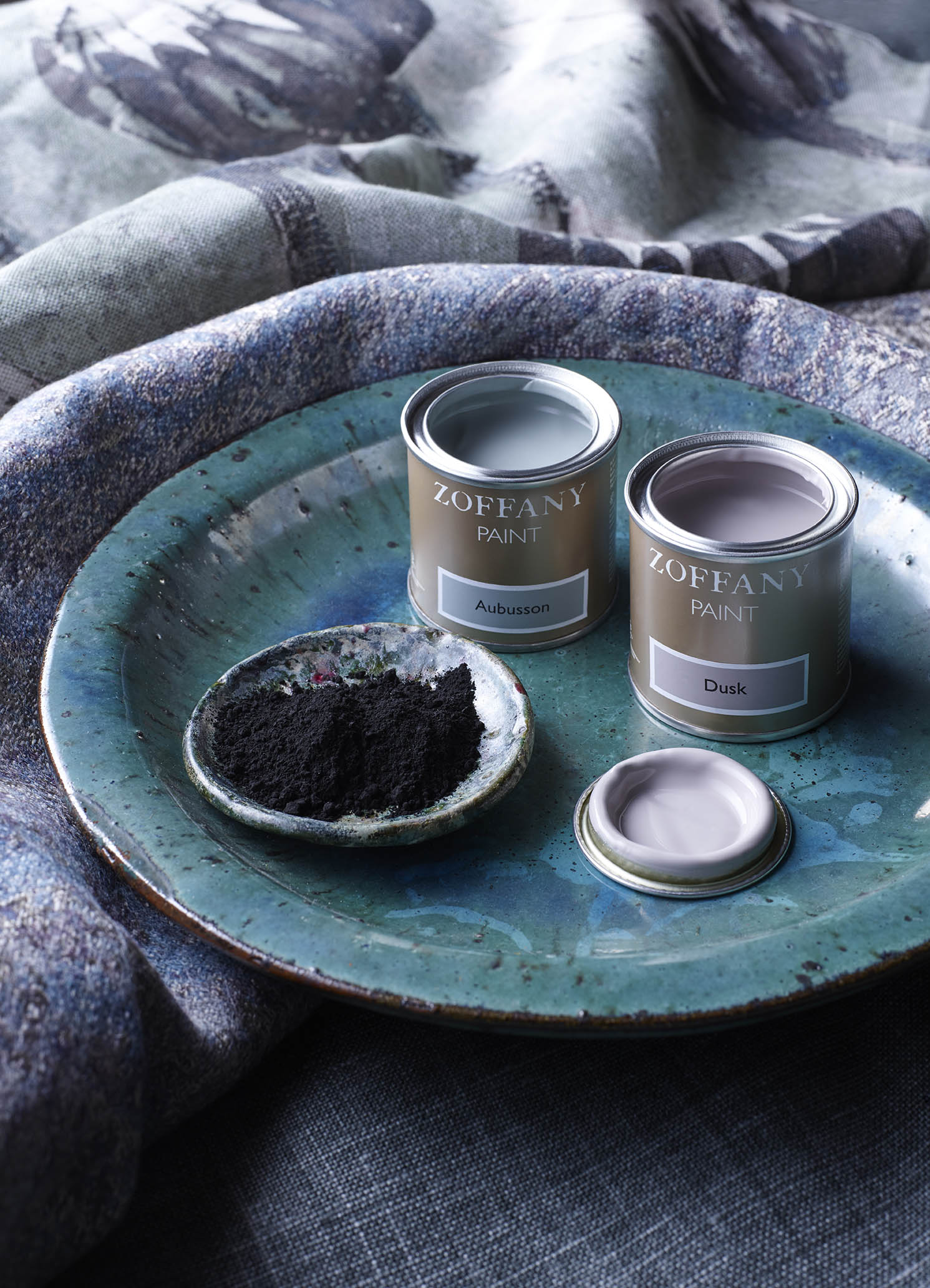 Elite Emulsion
Elite Emulsion is a versatile, flat matt water-based paint finish with a smart low sheen. Offering stain resistance and washable properties, this durable finish performs well in all interior spaces. Its enduring qualities offer the resilience to withstand busy areas and the tests of everyday living. This makes it the ideal solution for kitchens and children's bedrooms where easy to clean surfaces are more desirable. Suitable for application on interior walls and ceilings, as well as primed wood and metalwork, Elite Emulsion is a highly flexible option to suit your individual decorating requirements.
This superb paint finish is available in 2 standard sizes: 2.5 Litres and 5 Litres. With 1 litre coating around 13 square meters (depending on surface nature and porosity), Elite Emulsion offers excellent coverage to transform your living space. It is also a quick drying, low odour finish that is ready for touch in 1-2 hours and reapplication in 2-4 hours.
True Matt Emulsion
True Matt Emulsion is a luxurious water-based paint, offering a magnificent flat chalky appearance and a remarkable depth of colour for an elegant finish. With wipeable properties and resistance to scrubbing and marring, this environmentally friendly finish works beautifully for interior walls and ceilings. It is also suitable for application in both commercial and residential settings. The high performance of this finish makes it ideal for busy spaces including kitchens and hallways, where durability is key.
Zoffany's True Matt Emulsion comes in 2 sizes: 2.5 Litres and 5 Litres. Offering exceptional coverage with 1 litre achieving up to 15 square metres (depending on surface nature and porosity), True Matt really is a fantastic option. Similar to Zoffany's Elite Emulsion, this finish also contains quick drying properties following application.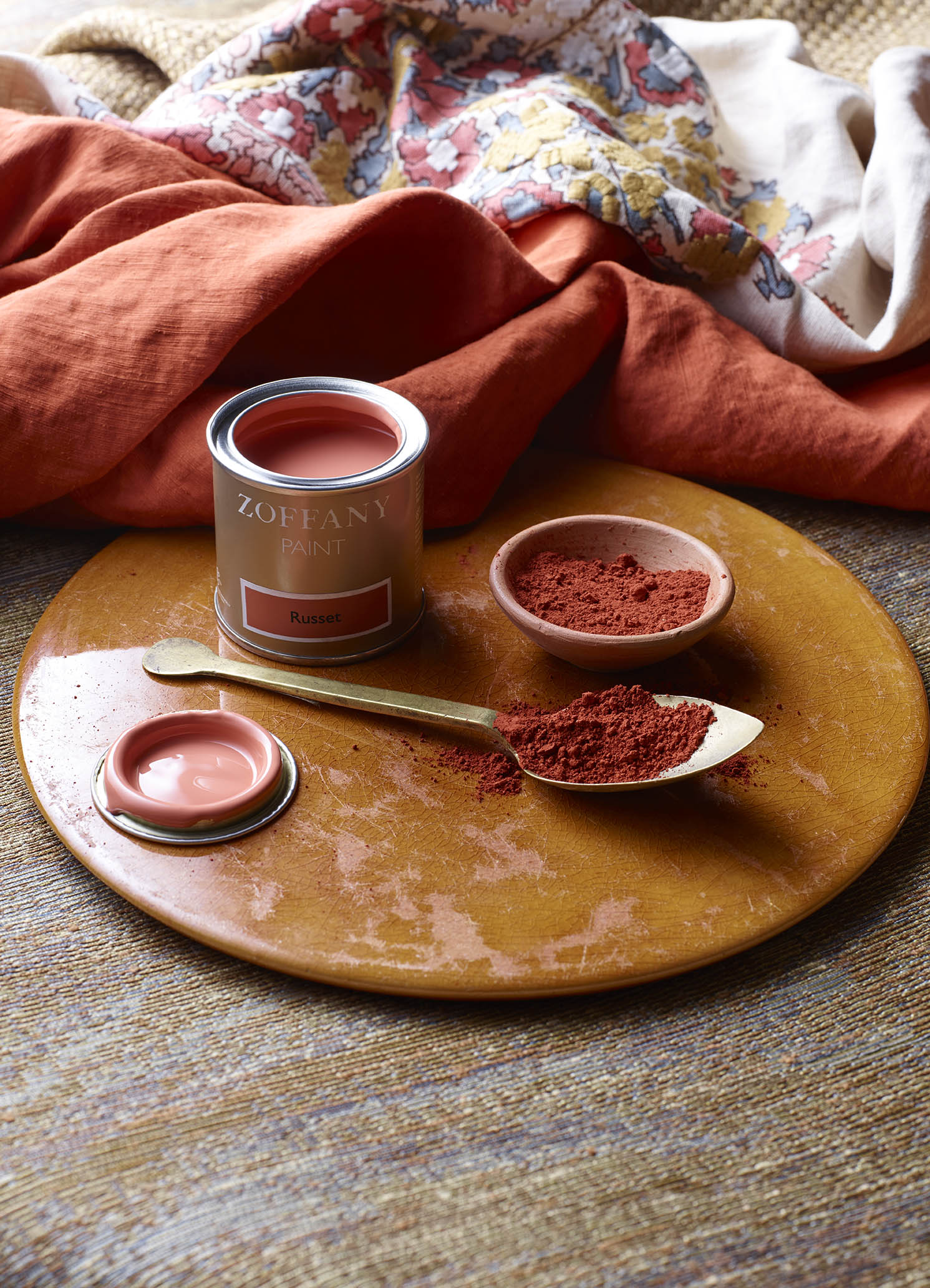 Acrylic Eggshell
Acrylic Eggshell is a highly durable, water-based paint that offers high opacity and low sheen for a premium finish. Containing washable properties with resistance to condensation and yellowing, Zoffany's Acrylic Eggshell works beautifully for kitchens, bathrooms, hallways and conservatories. Suitable for interior walls, ceilings and primed wood or metalwork, this finish is greatly flexible to decorate throughout the home. This finish is also designed for exterior application on suitably primed woodwork (i.e. doors or window frames) and metalwork.
Available in a 1 Litre and 2.5 Litre size, this fabulous paint finish achieves excellent coverage with 1 litre coating around 12 square meters (dependant on surface and nature porosity). Also offering low odour and quick drying properties, Acrylic Eggshell dries ready for reapplication after 2-4 hours.
The paint finish you require will largely depend on the space and materials you intend to decorate and the overall look you want to create. Please see the chart below for further guidance.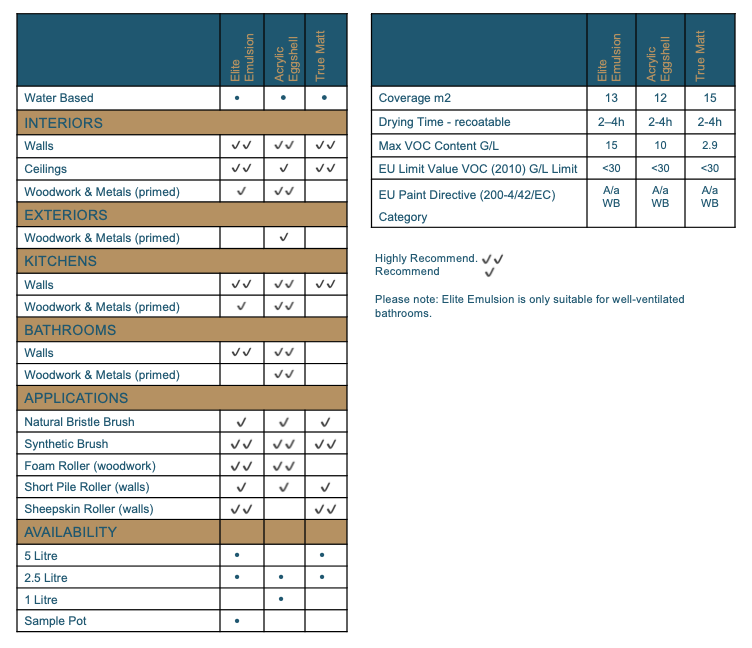 Considerations when choosing a Zoffany paint colour
The Zoffany paint collection has the ability to completely alter the look and feel of your home. It can add depth, dimension, character and interest to create your own, signature look. However, choosing a paint colour isn't always as easy as it may seem. With such a wide selection of colours available and variable factors impacting the end result, it can be difficult to know whether a colour is right for your chosen space and requirements. So here's a few things to keep in mind when selecting your paint colour.
Firstly, it's important to note that lighting can significantly influence the way a paint colour looks in your home. Natural light, artificial light, warm light and cool light all impact the colour differently. The amount of light exposure the colour will receive is also worth considering. Some areas of your room may be prone to more shading than others. This will likely make the colour seem darker in places, so it's important to account for this when making your decision.
Secondly, different aspects including architectural features, room size and ceiling height can influence how a colour works in your space. Darker tones may lend themselves to more spacious settings with higher ceilings, while lighter shades work well in smaller areas. Furthermore, furniture colour and positioning can also affect the paint. Your chosen furnishings should complement your colour for a cohesive finish, without clashing with or detracting from it.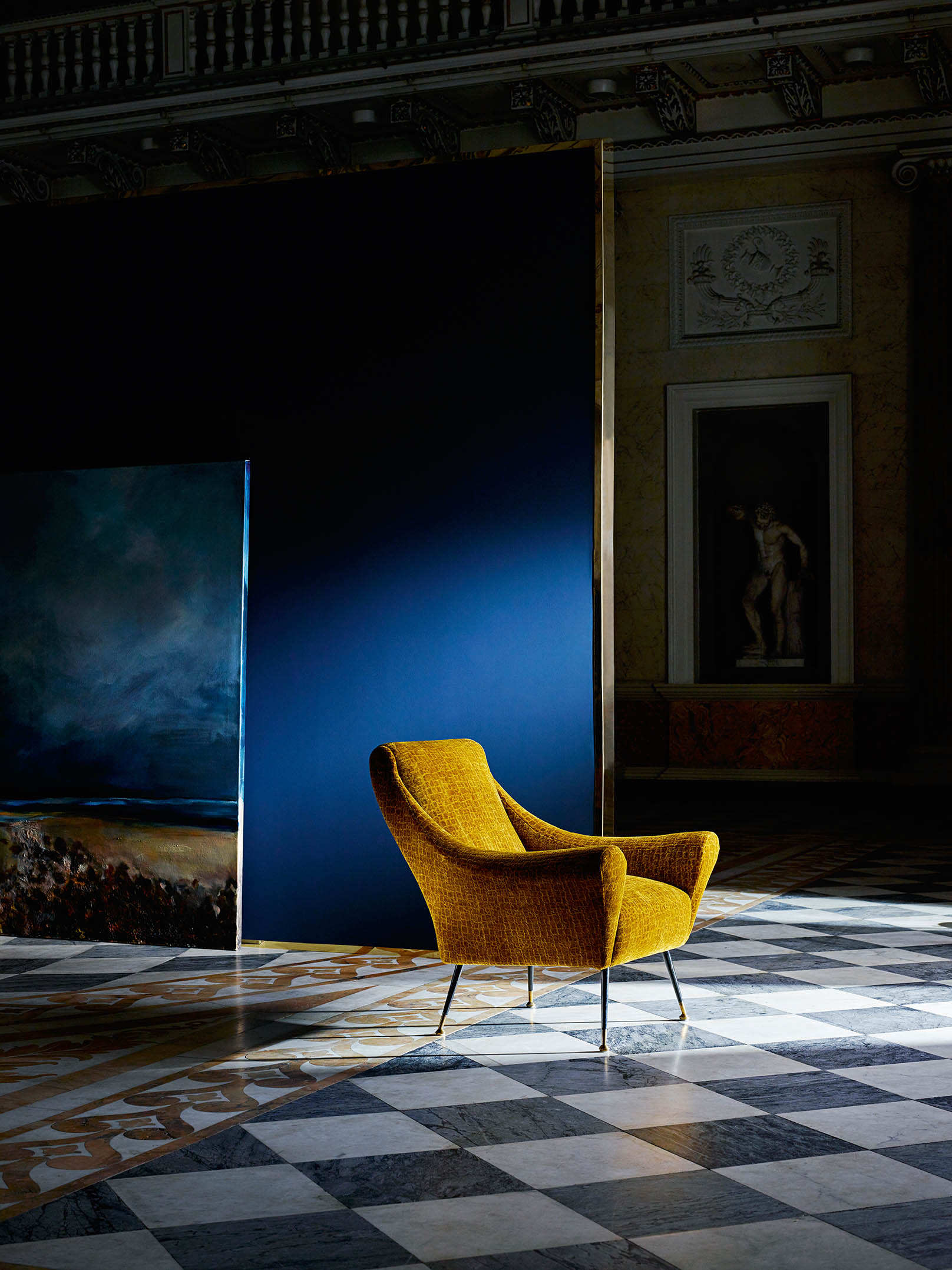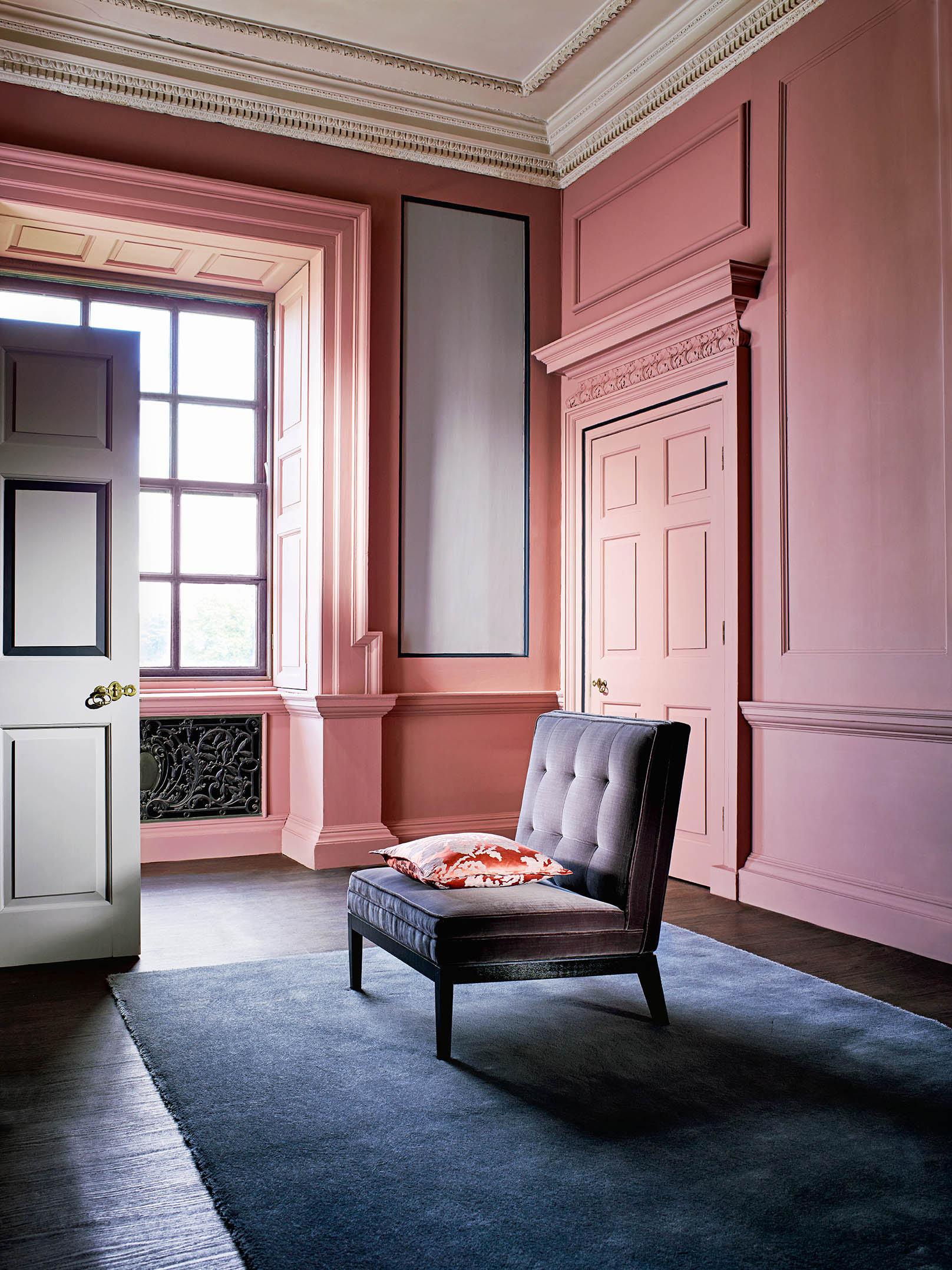 Finally, paint finish. This factor significantly affects the overall outcome of your chosen paint colour. Some finishes offer a chalky matt appearance, while others provide varying levels of sheen to suit different materials and uses. It really comes down to the overall look you're trying to create, so it's important to consider finish when making your selection.
The Home Of Interiors Recommendations
As outlined above, a range of factors heavily influence the way a colour works in a space. That's why we strongly recommend purchasing a sample pot before committing to a paint colour. For the Zoffany paint collection, you can opt for a 125ml sample pot in Elite Emulsion as standard. This is available in any Zoffany colour of your choice to help make your decision just that little bit easier.
We also recommend applying 2 coats of the sample to a 30cm x 30cm piece of lining paper / foam board. Once dry, you can then position it in different areas of your room to see how lighting and different aspects of the space affect the colour throughout the day. This way, you will get a feel for if the colour is right for you and your environment, giving you that extra piece of mind before purchase. Please note, we do not recommend applying any samples directly to your walls. This will only create more prep work when it comes to decorating, particularly if a sample is quite dark and needs to be covered.
If you're looking for more inspiration and ideas on how to style your preferred paint colour, we also provide recommended complementary colours for many of the Zoffany paints to help create the ultimate look. Please see our suggested colour schemes on the individual paint pages on our website.
Zoffany Colours
Zoffany's premium selection of paints is truly luscious. Ranging from bold, jewel tones to charming muted and neutral shades, these paints provide an exquisite, colour rich backdrop for you to completely immerse yourself in. Each colour is curated with both style and versatility in mind, working well in both contemporary and traditional settings. So, whether you're looking to create a tranquil space for relaxing and socialising, or a bold statement as a form of self-expression, the Zoffany paints are the ideal go to for any room.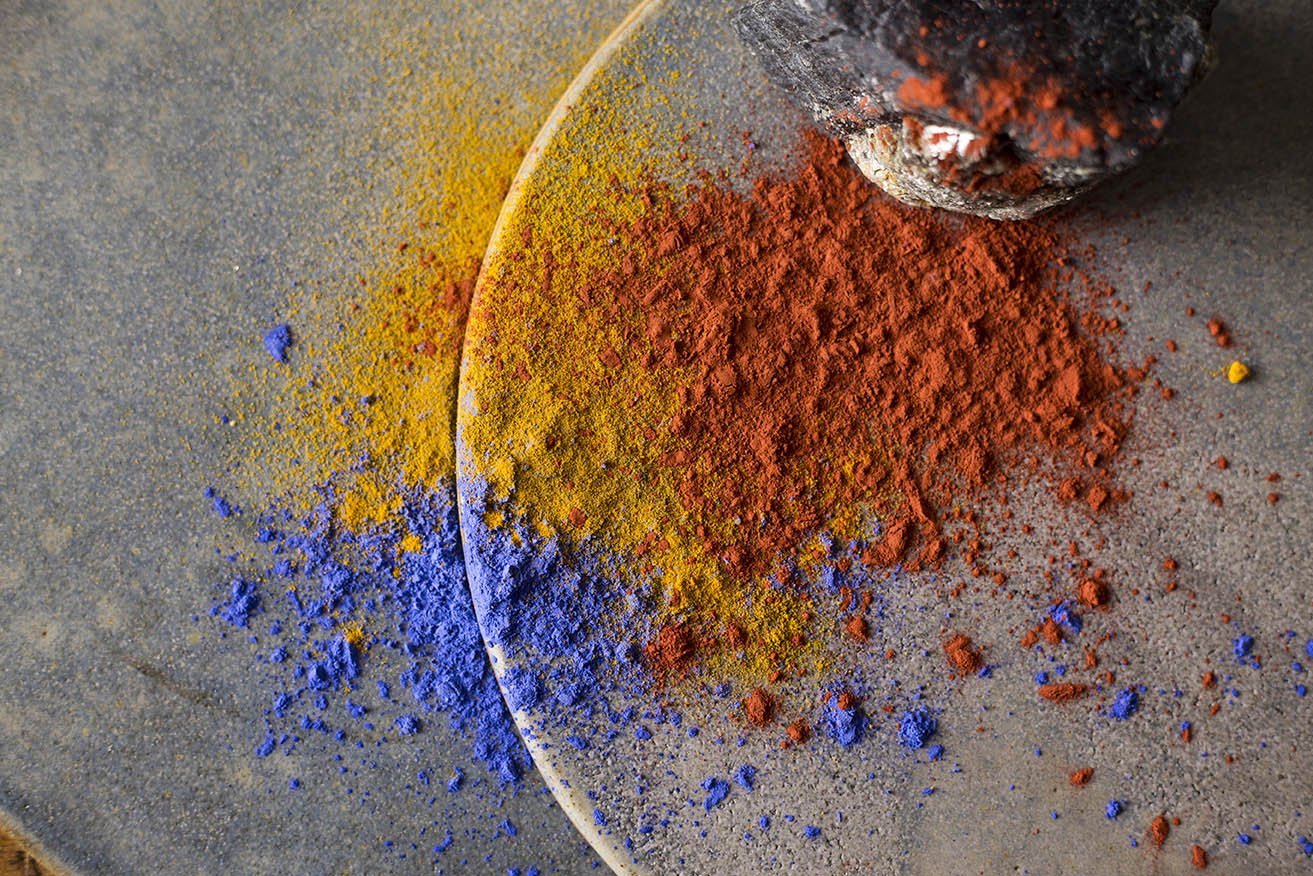 Greens
Many of the Zoffany paints also fit seamlessly with some of 2021's most prominent interior colour trends. The colour Green is a great example. Reminiscent of our natural surroundings, this versatile colour evokes feelings of calm and serenity. If you're looking for a subtle green that is both soothing and comforting, Zoffany's Ice Floes is a perfect choice. Paired with Quarter Ice Floes, Half Ice Floes and Double Ice Floes, this contemporary colour can bring an air of sophistication to your space. Whilst these shades are part of the same colour scale, the differing undertones can help to add interest through layering and depth of pigment. This will provide a simple, yet effective finish that remans cohesive throughout your space. Alternatively, if you'd prefer something a little more natural, Green Stone and Fennel would work beautifully.




Neutrals
Zoffany also showcases a beautiful neutral palette, featuring an array of creams, beiges and taupes to suit any style of home. Reflecting the ever-popular neutral trend, these colours simply never go out of style. They are truly timeless in the world of interior design and continue to be loved for their flexibility and subtle charm. Zoffany's Chalk, Latte, Mushroom and Taupe are all beautiful neutrals, bringing a calming feel with an added touch of warmth.




Greys
Furthermore, Zoffany offers a magnificent palette of greys which are both stylish and right on trend. Available in a plethora of shades, this colour offers the flexibility to suit any room in your home. Zoffany's Quartz Grey scale offers cooler tones with a contemporary feel. Combining the lighter shades with darker hues will create a truly harmonising finish throughout your chosen room. For example, you may choose to paint your room in Quarter Quartz Grey or Half Quartz Grey, but incorporate a feature wall or fireplace in Quartz Grey or Double Quartz Grey for a stunning impact. If you're looking for a warmer grey with more earthy undertones, the Empire Grey scale would also make a great choice.




Jewel Tones
Alternatively, if you'd like to add a pop of colour to your decor, Zoffany offers some fantastic jewel tones for a beautifully striking statement. With trends shifting towards more confident colour palettes, rich jewel tones have become increasingly popular in interior design. Working well on feature walls, these vivid colours add interest and can create a real focal point within your space. Go bold with Zoffany's Poison, Lazuli, Raspberry Sorbet or Tiger's Eye. These paints are extremely rich and are the perfect way to inject some exciting colour into your home.




For more information on how to work these gorgeous colours, please see our colour of the month blog posts. For design inspiration and ideas, please take a look at our featured collection of trend guides. If you have any questions or would like any advice, please do not hesitate to get in touch!
Email: sales@thehomeofinteriors.co.uk or give us a call on 01590 615775.