Rako RA-IBB Silent Gliss AM Wireless Interface Module for 5100 Curtain Track and 2345, 4955 Blinds
The RA-IBB is an interface module which allows wireless Rako commands to be retransmitted to Silent Gliss AM wireless blinds. The RA-IBB receives a RF Rako command and retransmits it to the blinds as an AM signal.
The RA-IBB can be used with Silent Gliss products 2345, 4955 and 5100.
Connections: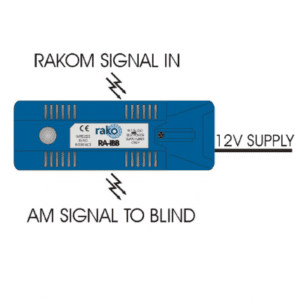 Product details:
The RA-IBB comes with a 12V supply fitted with a 13A plug
Remove the lid and plug the jack cable of the power supply into the connector
Locate or install a 13A socket to provide power for the RA-IBB
Help guides: