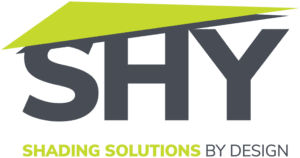 Our partner SHY can design and manufacture roller blinds to fit any shape of window.  Specialising in creating and manufacturing bespoke roller blinds, together we can provide roller blinds to accommodate the most unusual of applications.
SHY has many years of experience in designing triangular blinds and non-symmetrical blinds, as well as window shading solutions for gable ends.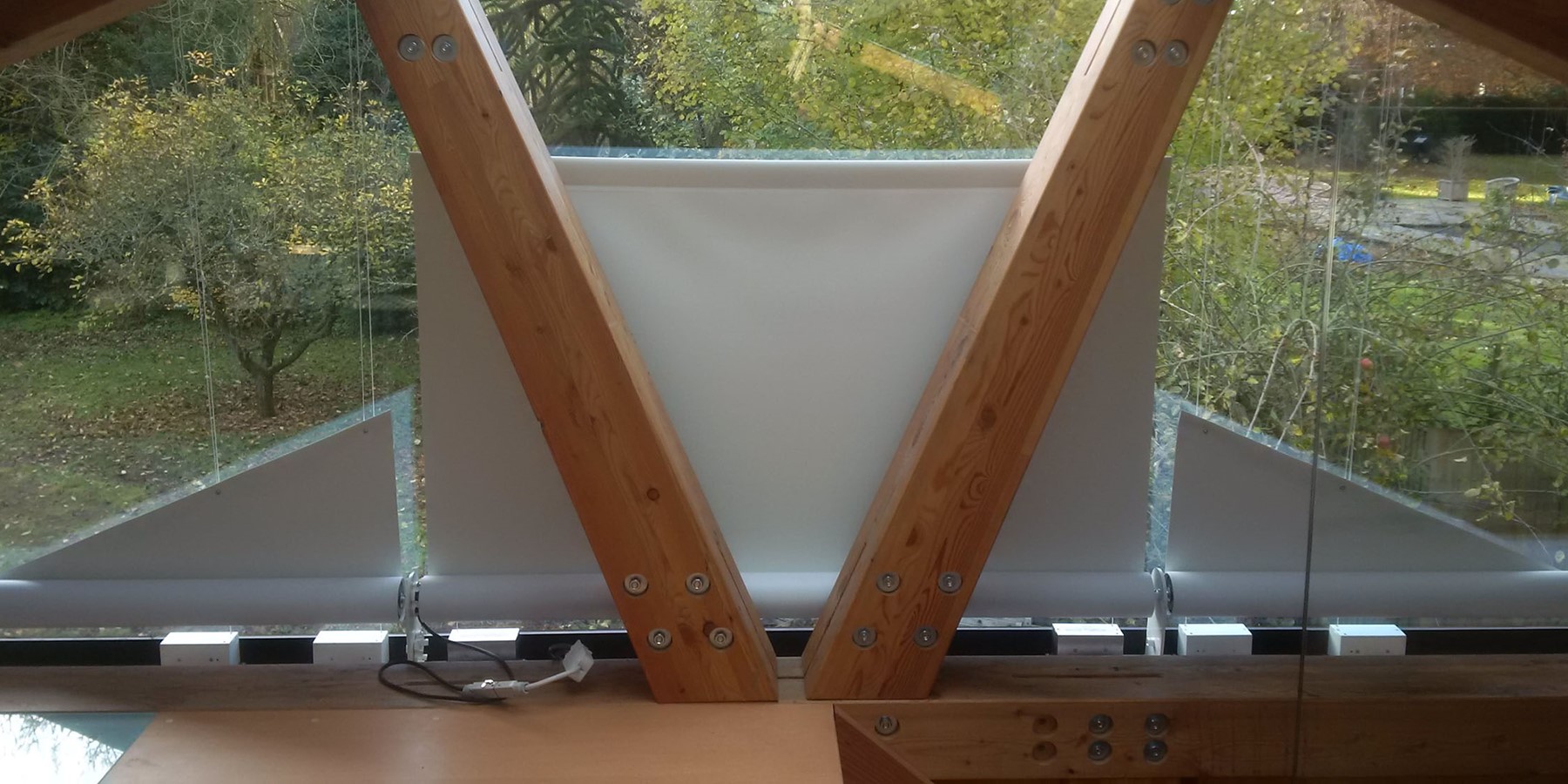 Either an open roller (Obscura), or a roller encased in a headbox (Sunfacta) are available depending on space available and the desired aesthetics.
The Shaped lifting systems are mains powered.  These can be radio operated with either a hand held remote or wireless wall switch, or hardwired and controlled by your AV system.
The tube and/or headbox size depends on the dimensions of the blind, with larger blinds requiring larger tubes and/or headbox.
Systems are specified as either CTS (Constant Tension Spring) or FTS (Fabric Tensioning System) depending on the size of blind.  We will specify the best product for the window and if there are options wil discuss these with you.
Tension cords will be evenly spaced to give equal tension throughout the blind and will always be visible.  There is no way to avoid these visible cords on these shaped systems.  Horizontal ribs will be used to stiffen the fabric and give locating points for the tension cords.  These too will be visible on the room side of the cloth.
A range of fabric options are available.  Blackout fabric can be chosen to significantly reduce the amount of light passing through the window and glass fibre and polyester screen fabrics protect against heat and glare of the sun.
Hardware can be powder coated to any RAL colour (standard colours are white and black) to suit existing surrounds.
Please do contact us as early as soon as you can, if possible whilst still in the design stage of your project.  We are then able to discuss concealment options, such as wall channels, blind boxes or pelmets/facias to help conceal the spring boxes and roller tubes/headboxes.
How to Shop
These shaped blinds do require a trained installer, however for an initial consultation, please email us details of your requirement with images and rough dimensions.  For customers in the South / South East we can provide a quote for an initial survey and for installation.  For any customers wanting their builders to survey and fit the product or if you have your own fitters to survey and install the product, please email us details of your requirement with images and dimensions  to sales@thehomeofinteriors.co.uk or call us on 01590 615775.
Please note: a sample swatch of fabric is recommended before any order is placed as the colours shown on screen are not accurate enough for colour approval.