Our colour of this month is yellow. This is an uplifting colour evoking thoughts of spring, sunshine and daffodils. As a colour it brings joy and happiness into our homes and all around us in our natural surroundings.
Yellow can help us to feel optimistic and positive and often brings a warmth into a room scheme. It is an excellent choice for hallways, lobbies and rooms that do not have much natural light.
Yellow is a colour that strongly affects our emotions and triggers a range of responses. This is dependant on the individual, the light, the setting and the tone or shade of yellow being used. It can sometimes even help us to feel more uplifted and confident.
Paints
Little Greene have an array of yellow paints to choose from. Yellow Pink (46) is a great example with its bold and deep tones used in the image above. This is a rich earthy Regency colour and provides a striking backdrop for a feature wall or for a complete room. The bolder yellow hues also include Mortlake Yellow (265) a warm golden tone and the brightest 'older' yellow, Mister David (47). These evoke the feeling of capturing the sunshine into your home. The more subtle tones of yellow include Little Greene Sunlight (135) and Lemon Tree (69). If you are looking for a more traditional yellow try adding Light Gold (53). This is a Victorian colour which adds a beautiful deep level of warmth to your room.
Wallpapers
Little Greene also offer a striking range of co-ordinating wallpapers. The Little Greene Belton Scenic Wallpaper in Sunbeam (Image 1) offers an uplifting continuous design of a Chinese garden party. If you would like a unique design statement for a feature wall or for the complete room, Little Greene Hencroft wallpaper in Punch from the National Trust collection (Image 2) is a perfect choice. It is based on stitched stylised design of repeated cowslips and will add a touch of sunshine to any room. Other stunning choices include Little Greene Sakura Wallpaper in Yellow Lustre from the Archive Trials collection (Image 3) and Little Greene Loriini Wallpaper in Dorian from Archive Trials 11. Lorinni is a classic 1930's design featuring oriental blossom and Lory birds. This wallpaper makes a striking scheme paired with Little Greene's Trumpet paint (196) applied to the woodwork (Image 4).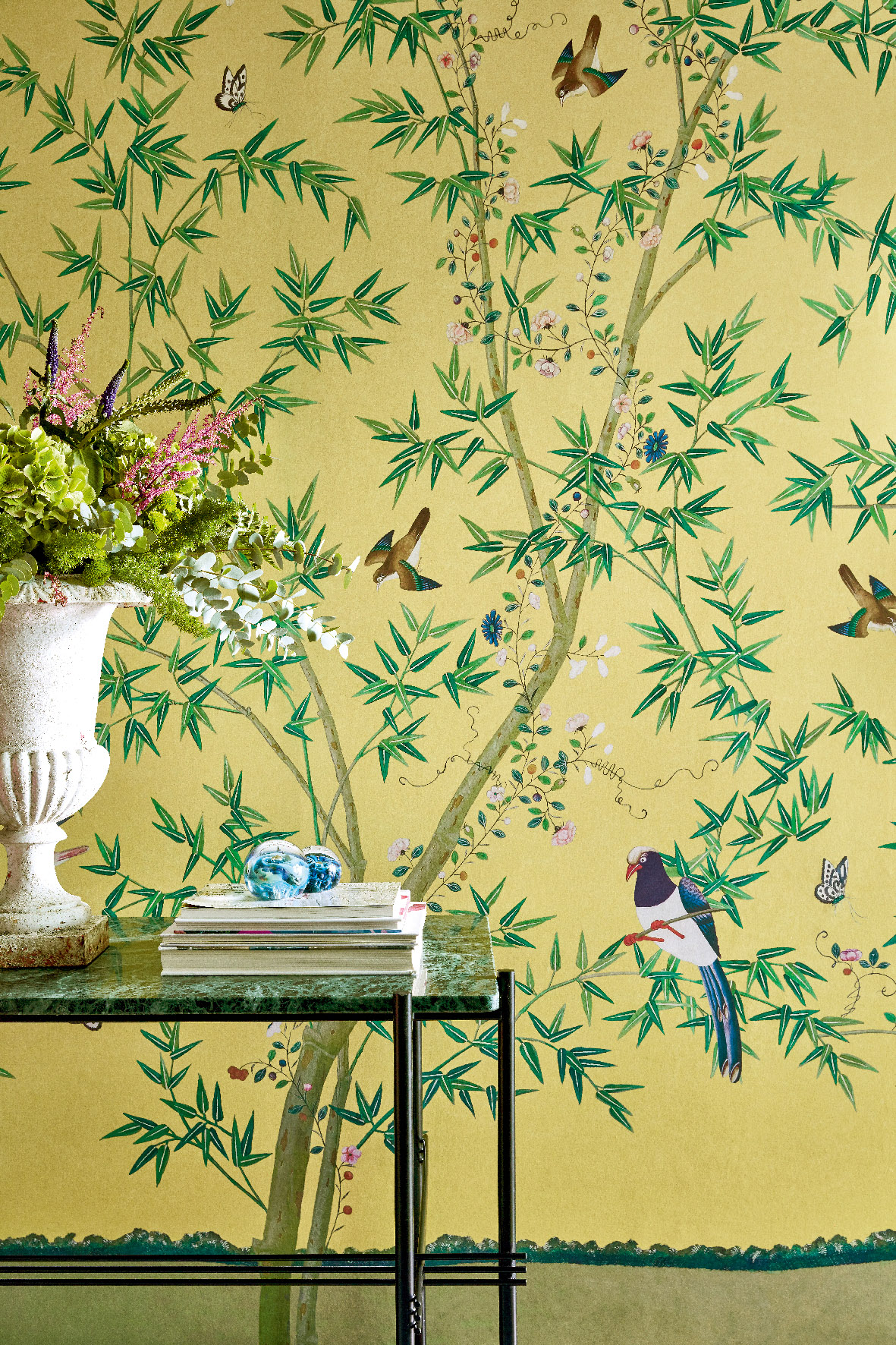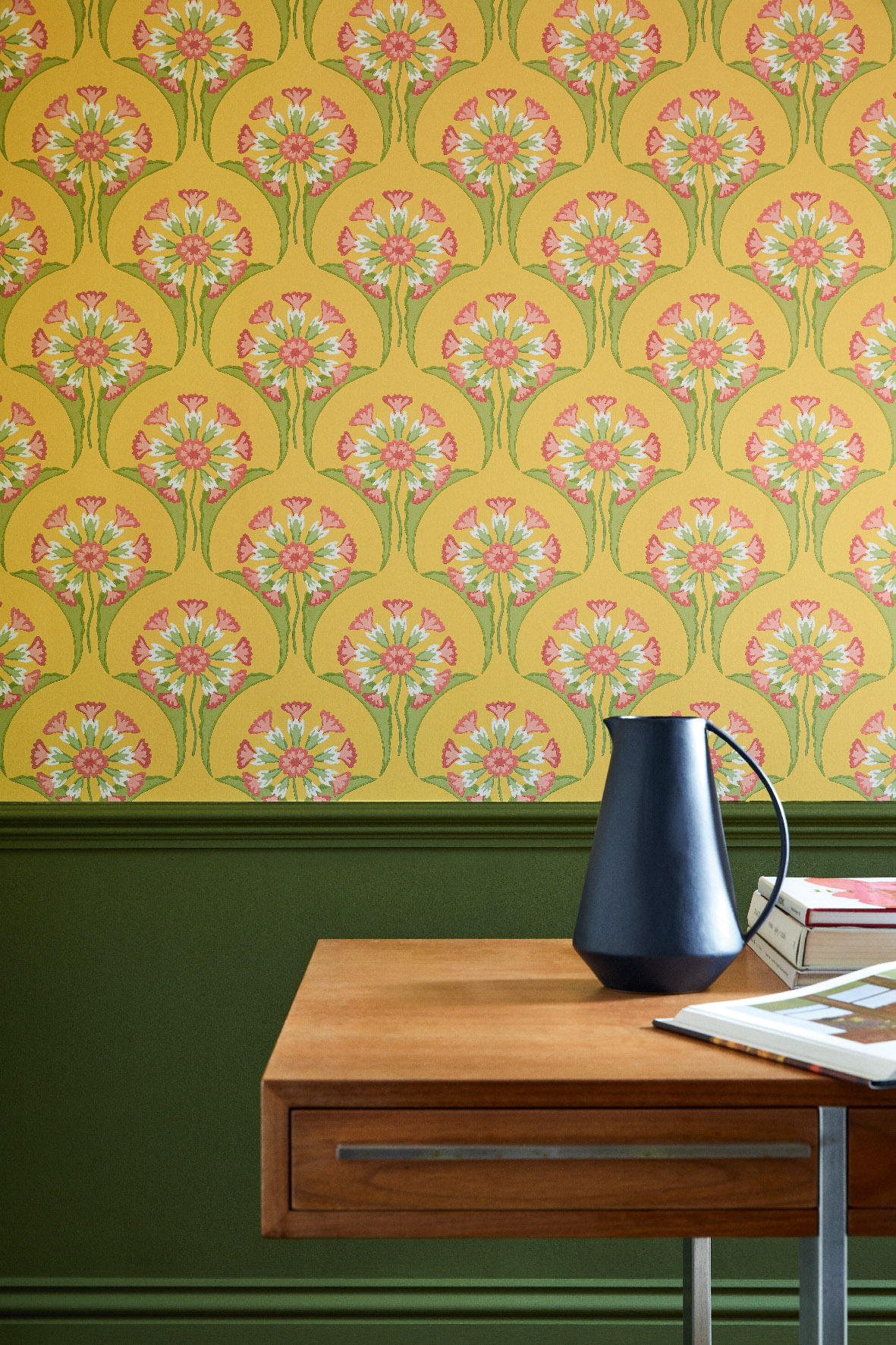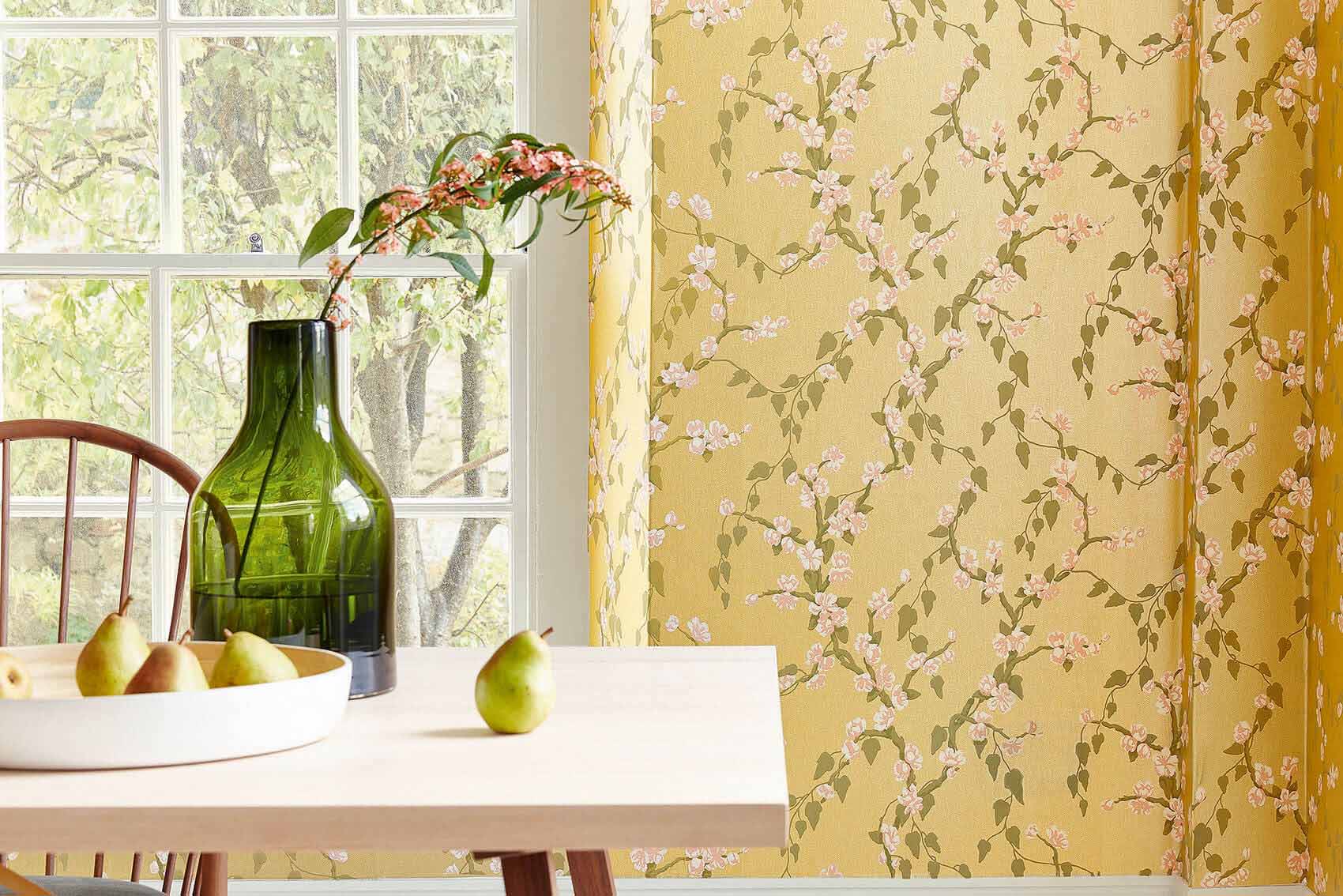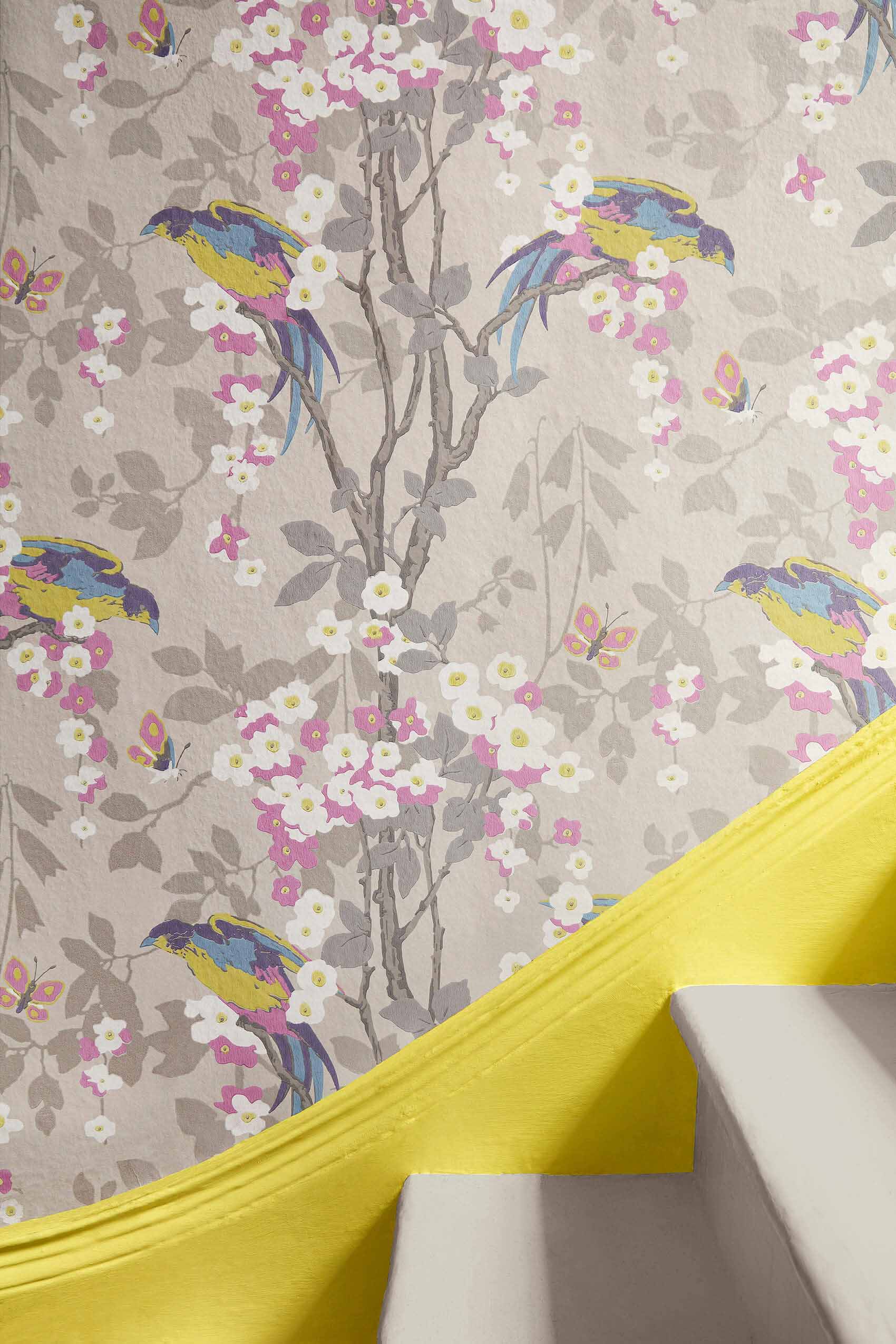 Curtains and Blinds
If you would prefer to bring in yellow as a pattern or plain for a window dressing we offer a beautiful collection of fabrics from a range of design houses. These include Sanderson, Morris & Co, Harlequin, Zoffany, Scion, Anthology, Clarke & Clarke and Prestigious Textiles.
We can use our fabrics to make your Curtains, Roman Blinds and Cushions with our bespoke hand finished curtain and blind making service. Please see our blog post Curtains and Roman Blinds – a hand made finish. This provides further details on how our curtains and blinds are beautifully made to suit your individual requirements.
Cushions
If you would just like to add a splash of bold colour, try a beautiful Clarke & Clarke readymade cushion. The Emma J Shipley Amazon Square Cushion in Gold would make a perfect choice. Alternatively, add a touch of 1920's charm to your room with the Tess Daly Gold Bolster cushions.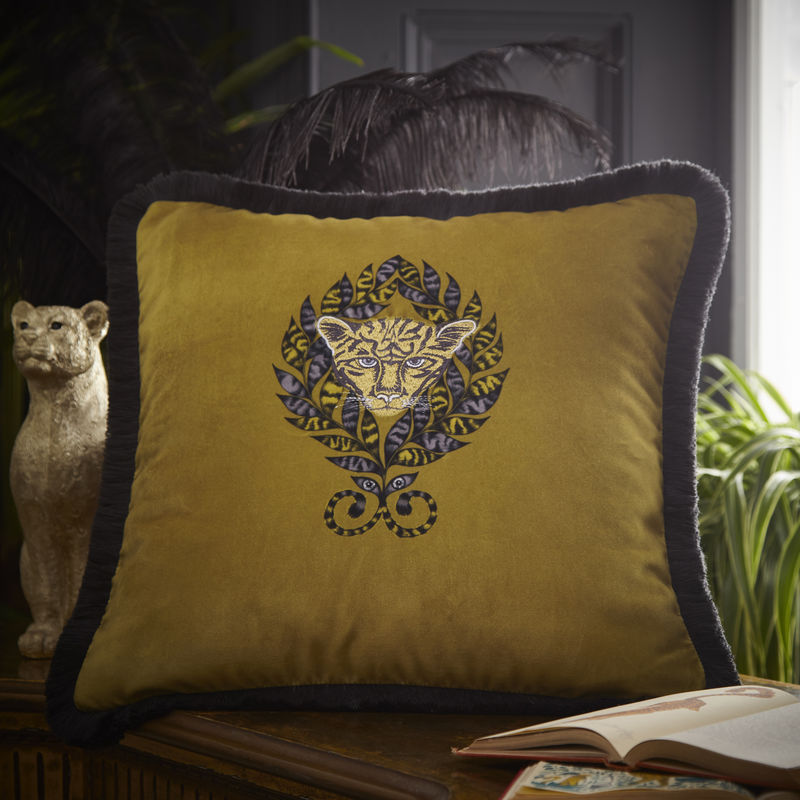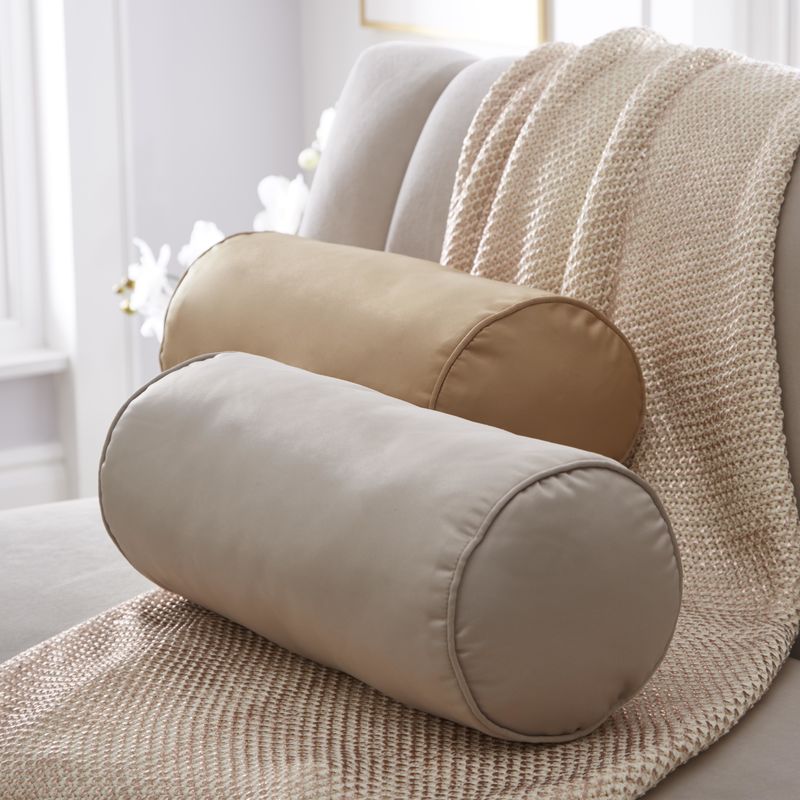 Finishing Touches
For your finishing touches please see our curtain poles and tracks to find the perfect match for your window dressings. If you would like to select your own yellow shade, consider our Jones 50mm Wooden Bespoke Painted Curtain Pole Range. You can have these poles painted in a Jones standard wooden paint finish or a Farrow & Ball paint choice to suit your decor.
If spring has found you craving a splash of colour to uplift your decor you can select your own paint and decorate your Rolls Unfinished Curtain Pole with co-ordinating holdbacks for the perfect match to your room scheme. Please see our blog guide on  How to paint an unfinished pole ready to embark on your creative adventure.
Depending on your personal style and existing colour palettes, our colour of the month can be incorporated into your home in a variety of ways to work with your interior design style and personal taste. Whether you add a splash of yellow or use it as your primary colour choice in your decor it is a perfect choice to bring the outdoors in and just add a taste of spring sunshine into your home.
Please contact us if you would like any advice, fabric swatches, pole ring samples or any other samples sending out.
Email: sales@thehomeofinteriors.co.uk or give us a call on 01590 615775.