VELUX

VELUX Blinds 
From daylight control to efficient darkening: The combination of VELUX roof windows with interior VELUX sun screening products always offers an effective solution with stylish design choices. The system can be easily retrofitted with a convenient operation and makes it possible to fill living space with individuality and functionality.
The advantages of original VELUX sun protection:
100% perfect fit with VELUX windows
Easy installation
Simple operation – on request, also electric or solar
Easy operation
Convenient operation via smartphone and intelligent sensor control using VELUX ACTIVE with NETATMO
Particularly discreet design thanks to slim guide rails (Slimline)
Unique Slimline frame system
Thorough testing for best quality and a long lifespan
Child-safe products

VELUX Blind Accessories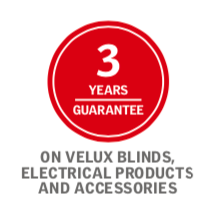 Why choose VELUX?
VELUX manufacture the largest range of roof window blinds and shutters on the market, so you're spoilt for choice. VELUX blinds and shutters are made especially for VELUX roof windows. They're easy to fit and made for long-lasting and reliable performance.
VELUX darkening options
With VELUX blackout blinds you can enjoy optimal blackout in your bedroom. A particularly popular option for kids' rooms is the Disney & VELUX Goodnight Collection, available as a Cars, Frozen or Winnie the Pooh option: VELUX makes children's dreams come true. Our new blackout blind Classic also offers a reasonably priced standard option for older roof windows. Alternatively, with VELUX blackout energy blinds, you decide how much blackout, view or privacy you need. The aluminium coating of the weave helps prevent additional heat loss.
VELUX privacy and sun protection
Whether in the living room, kitchen, bedroom or bathroom: VELUX sun protection offers individual lighting control, comfort and privacy for every living space. A versatile product range, including different operating options and colour collections, gives you a wide ranges of choices. With VELUX pleated blinds and Roman blinds you can alternate between light and dark. VELUX privacy roller blinds ensure privacy thanks to a large selection of materials to block the view inside.
VELUX insect protection
The VELUX insect screen roller blinds effectively keep annoying insects out of your living space while you continue enjoying the views, the daylight and the fresh air.